If you don't know what anal beads are, then you need to read Fifty Shades of Grey!
Anal beads (sometimes even called butt beads or anal balls) are in short a string of beads. Like it happened for other sex toys, a simple concept has been taken by manufacturers and evolved in multiple directions. Now all sorts of variations of the classic anal bead exist including large and vibrating anal beads. Anal beads vary in size, shape, color, etcetera depending on what you are looking for.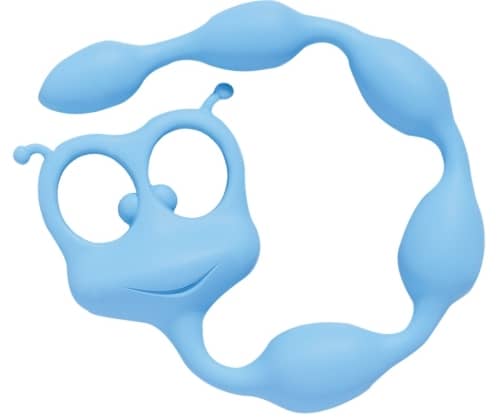 Top 3 Anal Beads
nJoy Fun Wand – If you accept nothing but the best for your asshole
Sassy – Great anal beads for beginners
Booty Bliss – Vibrating beads that will make you forget your name
There are 25 more great anal beads reviewed in this article.
If you have never experienced anal play, but are curious and want to experiment, then anal beads are a great place to start. Anal beads allow you to indulge in anal play on a very basic level, but also give you the option to step it up when you are ready for more.
You are also a prime candidate for anal beads if you have already indulged in anal play and are looking for a toy to bring some fun into your sex life.
The sex toy market is an ever expanding sweet shop of goodies with hundreds of different toys to choose from, and anal beads are no different.
Top 25 Best Anal Beads
We have found the best the market has to offer with a variety of options for those at different stages in their anal journey.
1. Sassy Anal Beads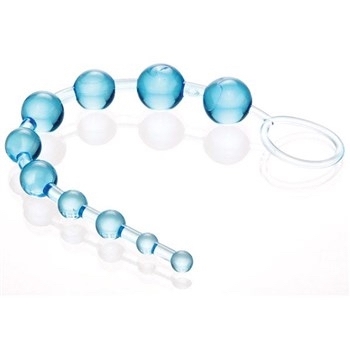 The Sassy anal beads are a 12" string of 10 plastic beads, ranging from the smallest at ¼ inch, to the largest at 1 inch. You can ease yourself into anal play slowly and build up to the big beads with this basic toy.
2. 3 Strands Anal Beads
This handy little set of three anal beads is great for offering some variation and experimentation. The pack offers small, medium and large for those who want to get to the big boys with ease.
3. Njoy Fun Wand
This is the swiss army knife of the sex toy world. The entire toy is stainless steel. One end of the wand is a dildo, whilst the other is three big anal beads. The stainless steel means it also holds temperature for those who like to play with the senses.
I like steel for its smoothness, its durability and the fact that it's easy to care for. Water based lube, silicone based lube, saliva, whatever.
Keep it slick during use, and afterwards you can literally sterilize it. It's also stunning when you want to play with hot or cold sensations. Three well spaced knobs ranging from 0.75" to 1" around slowly build pressure while angling against your prostate.
The dildo end of the Njoy Fun Wand made my mind leap to very, very naughty places. Oh, the places I would go, with this wand. So very practical for something so very kinky.
4. Silicone Love Rider Dual Penetrator
This is a great toy for those who like a lot of sensation. There is a rubber ring at the bottom of this string of silicone beads, which means they can be attached around the shaft of the penis. You can have it every way at the same time. Win win situation.
5. Double Penetration Anal Beads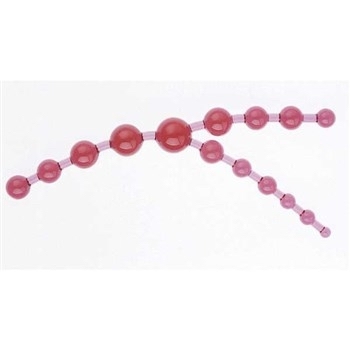 This is an odd looking toy, shaped like a Y. It can simultaneously stimulate anally, vaginally, and stimulate his prostate all at the same time. Clever little toy.
6. Fun Factory Flexi Felix Anal Beads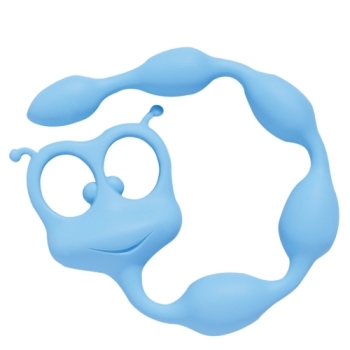 This typical Fun Factory creation looks like a big bendy caterpillar, with the ring pull shaped like a little bug face. The soft and flexible beads are more oval shaped making them less intrusive and extreme than some other beads.
7. Jelly Combo Anal Bead and Dildo
This is another multi-function toy with anal beads on one end and a dildo on the other. The smooth purple latex makes it look nice and girly. It can be used by two people at one time, making it a must for the toy box.
8. A&E Easy Anal Buddy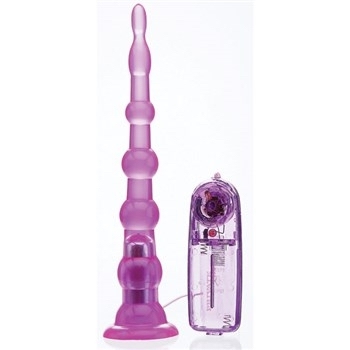 This great toy is another butt plug/ anal beads hybrid, but this one is even better. It has a remote. Insert and hand the remote to a partner, he can control you whilst having intercourse to make you explode.
9. Triple Pleasure Wand Attachment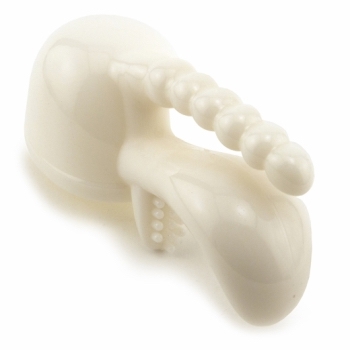 This nifty little device can be attached to your standard vibrator, turning it into a triple pleasure device. It adds a small 3" string of anal beads as well as a clitoral stimulator. Prepare for a sensation overload as this handy little toy comes at you from three different angles.
10. Aneros Peridise Anal Set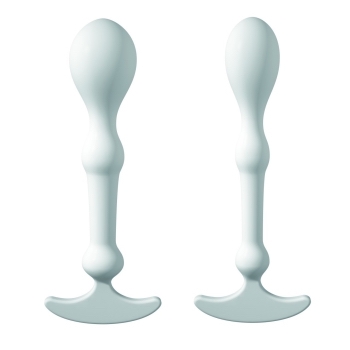 Though technically the Aneros Peridise Anal Set is classified as butt plugs, they have a textured surface like beads and are a cross between the two. This set contains 4 different sized toys, so you can cater them to your experience.
11. Tantus Silicone Anal Beads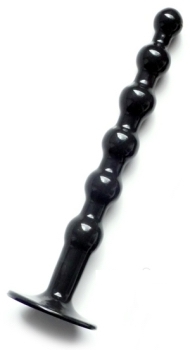 This rigid shaft of anal beads has a sucker, so it can be attached to a surface. This is not a toy for the faint hearted, with the circumference of the largest bead being 3.25". It could also double as a butt plug for those seeking to branch out a little.
12. P3 Power Balls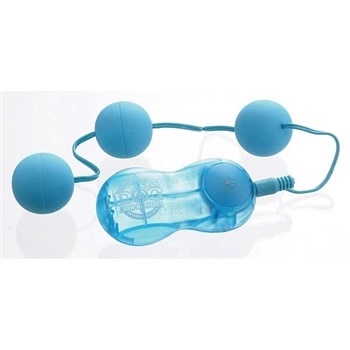 As opposed to most vibrating balls, which are a rigid shaft with a bubbled effect shape, these are three individual balls attached by a wire, and then attached to a remote. There's lots of fun to be had with these buzzy little balls.
13. Playful Lover Ensemble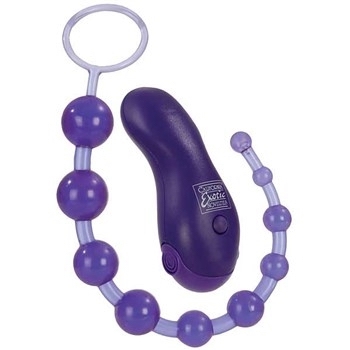 This firm silicone toy resembles the traditional ascending anal beads with a handle pull at the end, but these beads have a motor and a wireless remote. I can see public orgasms happening here.
14. Silicone Flexi Power Rod Anal Vibrator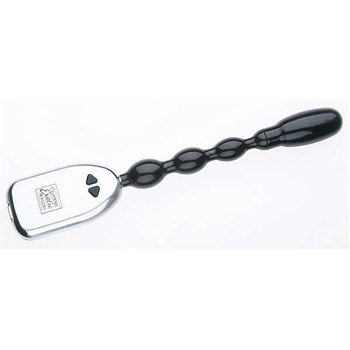 This handy little vibrator has undulated curves like anal beads, but has a power button making it vibrate. It's a very small and thin toy, making it a good one for those who lack experience of anal play.
15. Nirvana 350 Triple Stimulator
If you want to take pleasure to a whole new level then this baby is what you want. It features a vibrator with added clitoral simulator, which has multiple ticklers for extra sensation, and an anal probe. With these three in tandem, you'll be screaming within seconds.
16. Silicone Heart Anal Beads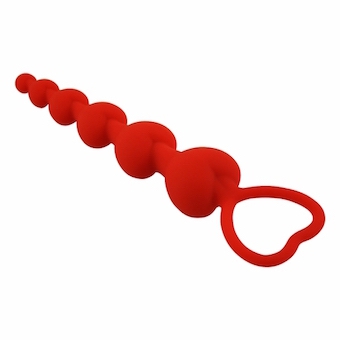 Silicone just feels plain old awesome on my skin…or whatever. And the quirky hearts make me giggle- who says sex has to be serious all the time? Smirking aside, the 4" strand of pliable little hearts will still fill you from bottom to top with awesome anal adoration.
And though they start small, they work up to a final heart that's 1.25" in diameter, making them a challenge that'll definitely make you squirm.
Invest in some high quality water based anal lube to get the best out of these sweethearts.
17. Smooth Mover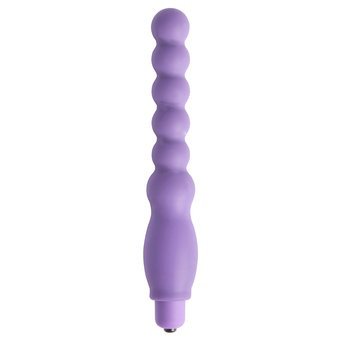 This toy made me crave raspberry ripple soft serve ice cream. The perfect lavender tone, with the smoothly stacked bump-bump-bump…I'd never thought of anal as a summer treat before. Now every time I see the local ice cream stand I smirk a little.
Ok, so it's a sweet ride. Seeing this thing vibrate though…this is an intense toy for an intense ride. Two speeds. Three rumbly patterns. Silicone, a gift from the gods themselves (as far as I'm concerned).
And I hope you're feeling accommodating, because it's feeling generous. As in 5" deep, 4" around, multiple-stimulating-bumps generous.
18. Double Lover Double Penetration Vibrator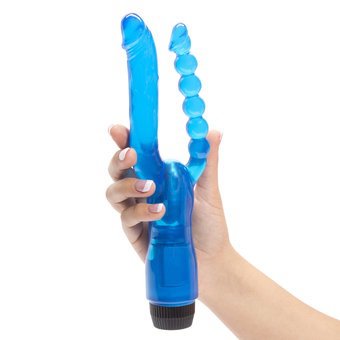 If you're still wanting to try DP, but flying solo, this is your ticket. It's a little odd looking and Y-shaped. It's also loaded with bumps and ridges to take advantage of every sensitive spot. PVC is a little firmer than my preferred silicone, but it transmits the vibrations better.
Thank heaven you can control the whole thing with a simple twist base. Click! Vroom! Aaah. Easy peasy, shaky- kneesy.
Try this crystal-blue beauty in the hot tub to really unwind.
19. Tracey Cox Supersex Silicone Anal Beads
These sweet looking, sugar-pink beads pack a deceptive punch. Yes, they're cutsey and pink. Yes, they're silicone-soft. And, yes, there are a lot of them!
Another easy to use toy with an intuitive handle, this 12" long string is simple, straightforward, and a terrific first anal toy. Ten beads start at a tushie-tickling 1.2" around to an ass-stretching 3" circumference.
It's packed with enough collective mass to still get your rocks off though, whether you like a subtle hint of perineal pressure or a whopping assload of satisfying stimulation.
20. Fun Factory Bendy Beads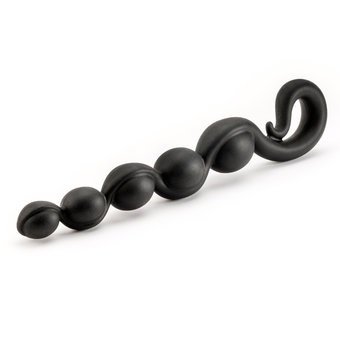 Something about this toy kinda makes me think that it might have a day job as an evil wizard's backup wand. It definitely wants to do wonderful, wicked things. Over the flexible 7" length are a series of…well, waves of pleasure.
There's a bunch of them in, too, in body-friendly silicone. They max out at 1.5" wide but still manage to accumulate a wallop. Because they're elliptically shaped and slightly offset, I think there's no point on insertion or withdrawal where you wouldn't be stimulated to the max.
21. Breeze Power Bullet 7 Inch Vibrating Booty Beads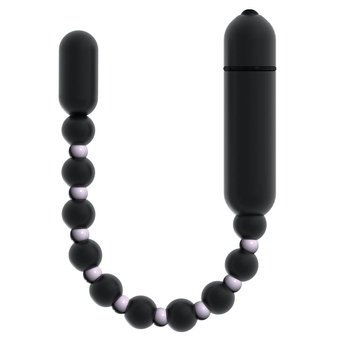 Products like this happen when sexy people are efficient. Someone took all their obsession with the pinpoint power of bullet vibrators and paired it with 7" of anal beads. And they made then easy to clean too, in PVC.
Three speeds of teeth-rattling power combine with each 2.75" around bead for an intense experience. I especially like flexible stems/shafts on beads. You can literally get a custom fit for your ass.
22. Booty Call Booty Beads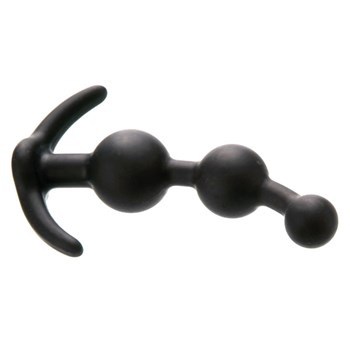 Is it a corkscrew? Is it an anchor? Dear heavens, is it in stock?
Well, yes to the last one at least. This set of silicone beads is super flexible, waterproof, and weirdly comfortable looking. Some water based lube and they slip perfectly into place. No fuss. Just three perfect bulbs graduating from 0.75" at the tip to 1.25 at the base.
Nice pull handle on these- I like the way it smoothly contours to your perineum, yet lets you feel safe all in one go. At 4.5" long, this is no monster strand- but is super easy to use and clean up.
23. Vibrating Anal Power Beads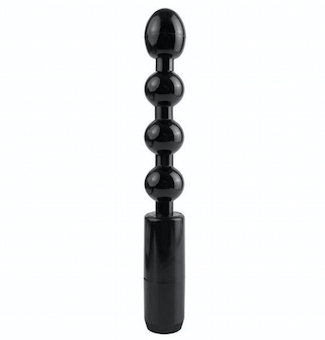 An easy to use, quiet toy that lets its actions speak for itself. Simple, understated black PVC is hard to argue with. It's easy to clean. It vibrates like hell. And when you just need something really firm in your ass, it's just what you've always wanted.
Each bead measures 1" across, so with four total, you're going to lose your mind just a little bit (try not to wake up the neighbors!).This is another instance of a great toy that's easy to clean up, durable, and waterproof.
24. Renegade Pleasure Balls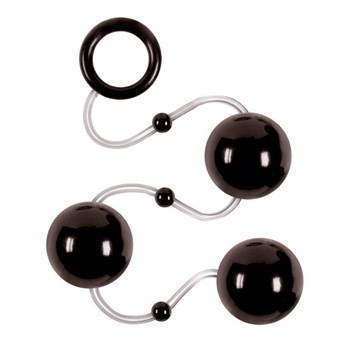 Anal beads not for the faint of heart. Each of these massive balls are an inch and a half in diameter, and there are three of them. You need a big brass set of balls to deal with these guys, 'cuz they're going to stuff you like a Christmas goose.
Just to add a little fun unpredictability to the game, some of the TPR balls slide up and down the string. I like surprises- you could take these firm little brutes spaced out over the full 15" of string, or all bunched together for a really intense session.
25. Icicles Gold Anal Beads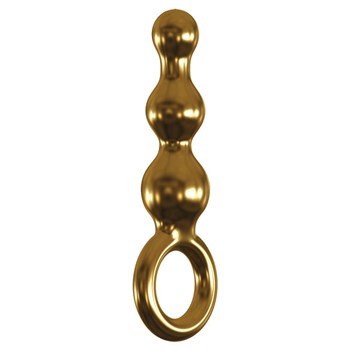 I can't stop looking at this thing. It's just so damn…golden. I have to say I am a fan of glass toys- they're smooth and easy to use, they put up with a lot of wear and tear, and you can use whatever lube you want with them.
Though it's not the deepest- reaching toy (only 4"), the wonderfully smooth beads make up for it. Three of them, starting at 0.5" at the tip and ending at 1" wide at the base give you a good, slow filling up.
Being rigid, a little twist, a little angling…you hit all those sweet spots with minimal effort.
How To Use Anal Beads
Anal beads are designed, as their name suggests, to be inserted into the anus. However they can also be used for some teasing foreplay in other areas. I wrote a detailed tutorial on how to use anal beads, but here is a few tips:
The general principle is that the beads are inserted one by one. Beginners should buy the ascending beads which offer smaller beads that increase in size, this means that the more experienced you become, the more of the toy you can take.
Anal beads are used as a stand-alone toy, but tend to work best when used in conjunction with other stimulation to heighten, rather than singularly cause an orgasm.
More experienced anal players can fully insert the beads whilst having intercourse, then at the peak of orgasm, your partner should gently but firmly remove the beads causing an incredibly intense and mind blowing orgasm.
You should work up to the more advanced stages of anal play, but once you're there, well you are in for one hell of a treat.
Your man can be only happy to indulge you with this particular activity. Most men love to participate in anal with a partner, and beads are a good first step on the road to being an anal expert.
| If | Your Best Anal Beads |
| --- | --- |
| You want to start small, with the ability to build. | Sassy Anal Beads |
| You want to experiment and ease into things. | 3 Strands Anal Beads |
| You want a 2 in 1. | Njoy Fun Wand |
| Plain old beads aren''t enough. | Smooth Mover |
| You like a sensation overload, and like anal play with vaginal intercourse. | Double Lover Double Penetration Vibrator |
| You like to experiment with different sensations. | Breeze Power Bullet 7" Vibrating Booty Beads |
| You have a sense of humour with your sex toys. | Fun Factory Flexi Felix Anal Beads |
| You like to indulge in toys with partner, at the same time. | Aneros Peridise Anal Set |
| You want to relinquish control. | A&E Easy Anal Buddy |
| You want to experience everything at once. | Triple pleasure Wand Attachment |
| You like them big! | Renegade Pleasure Balls |
| You want to try something new. | Silicone Flexi Power Rod Anal Vibrator |
| You play well with others. | Playful Lovers ensemble |
| You like sleek design with effective usage. | Icicles Gold Anal Beads |
| You take things to the extreme. | Nirvana 350 Triple Stimulator |
| You''re looking for a good place to start. | Tracey Cox Supersex Silicone Anal Beads |
| You want something a bit different. | Jelly Combo Anal Bead and Dildo |
| You''re ready to move up to harder things. | Fun Factory Bendy Beads |
| You want variation and options. | Silicone Love Rider Dual Penetrator |
| You like toys that are beautiful as well as functional. | Silicone Heart Anal Beads |
| You want more. | Double Penetration Anal Beads |
| You want it both hard and hardcore. | Tantus Silicone Anal Beads |
| You like balls very much. | P3 Power Balls |
| You like functional toys with no fuss. | Booty Call Booty Beads |
| You want it easy to clean. | Vibrating Anal Power Beads |
Best Anal Beads for Beginners
If you are a first time buyer of anal beads, the likelihood is that you're fairly new to anal play. You need to be careful not to jump in and over face yourself with anything too large.
Small and slim is the key when seeking anal toys as a beginner. You need something that will give you a safe and positive experience.
Here are our top 3 recommendations for the first time buyer.
3 Strands- Anal Beads are a handy little set of three with different sizes.
Tracey Cox Supersex Silicone Anal Beads are smooth, small, simple, and fun.
Silicone Flexi Power Rod Anal Vibrator is super thin and discreet for personal experimentation.
Best Anal Beads for the Experienced Anal Lover
If you like to walk on the wild side and dance with the erotic dark arts then we salute you. If you are more experienced with the anal loving, then there are a whole host of weird and wonderful toys out there for you.
If it's an overload of the senses and screaming orgasms you're after, then we have just the thing for you. Here are our top 3 recommendations for the kinky lady.
Silicone Love Rider Dual penetrator is a great way to turn your man into the ultimate sex machine!
Playful Lover Ensemble not only allows some awesome vibrations, but for your partner to control them.
Nirvana 350 Triple Stimulator is the Holy Grail of orgasms, surely.
Best Large Anal beads
As with men and penises, for some women bigger simply is better. Sex toy manufacturers know this, and there's always a monster in every range. Here are our top 3 recommendations for those who go for sheer size.
Nirvana 350 Triple Stimulator will blow your mind.
Renegade Pleasure Balls are each a wow one their own. Together, they are an unstoppable team of perineal pleasure
Icicles Glass Anal Beads

is a simple looking toy that packs a punch.
Best Vibrating Anal Beads
Anal beads are great, but what if you're looking for something a little more exciting? If you like some vibration in your anal beads then we have just the thing to make you scream. Here are our top 3 recommendations for those who like a little buzz in their butt.
Smooth Mover is a nifty vibrator, without being enormous.
A&E Easy Anal Buddy has a powerful motor that will leave you buzzing into next week.
The Triple Pleasure Wand Attachment: anal beads, clitoral stimulator, and G-spot stimulator all in one.
Whether you're an anal beginner or a seasoned pro there is an astounding range of toys to fulfil any fantasy.
Anal beads are by far the most diverse and all round anal toy for every user.  If you are more experienced and want to push the limits then try introducing a vibrator or bullet with your anal beads, to really send your senses into overdrive.
Where To Buy Anal Beads
If you want to buy any of the toys listed here, then here is a list of shops you can buy them from: