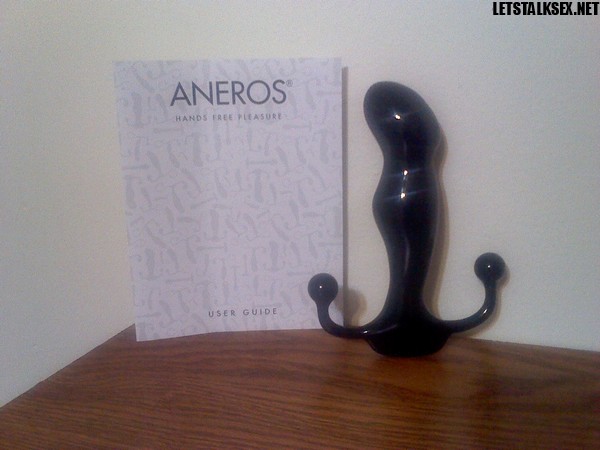 Aneros Progasm reviewed by a sexy couple: she's wild, he's an experienced anal player. Perfect match, crazy orgasms. Details in this Aneros story, enjoy!
Finishing off our run of Aneros's pleasure toys, we have the Aneros Progasm! The Aneros Progasm is one that I've had my eye on for quite some time, despite not having a prostate myself.
I just liked the look of it, and from the reviews I read online, I was pretty sure that I was going to like the way it felt in my hands and how my boyfriend reacted to it! So here's my Aneros Progasm review, enjoy!
Aneros Progasm Ice Review
I engage in anal play with my boyfriend on a fairly regular basis, and I already know that certain types of anal stimulation make his orgasm so much more intense. For those who are not familiar with the Aneros line, their toys are designed to help you get to a hands-free prostate orgasm, something that fans write about with gushing praise on the infamous Aneros forum.
As a woman, I love every kind of orgasm I can have, and of course I want to share that fun with my boyfriend!
We're going to start off with some of the basics about the Aneros Ice, and we'll go on to talk about the solo session he had with it and then the fun that we had together.
If you are looking for the short and sweet version of this review, it's this:
He felt that this was hands-down the best Aneros toy he's gotten to try, and though I had a few minor logistical issues with it when we started having fun with it as a couple, I would also completely recommend the Progasm for partner play!
Aneros Progasm Discreet Delivery
Aneros is a professional company with clients of all kinds from all over the world. I would have actually been shocked if they had shipped me the Aneros Progasm with anything less than total discretion.
Fortunately, they were right on the ball, and the plain cardboard box that was shipped to me had a return address that told the world that it was from HIH's shipping department. Nothing for a nosy neighbor to find at all!
When I slit open the box, I found a slick red and white box showing off the Progasm Ice in black.
The packaging was a little less sturdy than I thought it would be; at the very least, the top was a little loose, which startled me a little bit. I was pleased to note on the back that the Progasm Ice was marked for advanced users. This means that if you haven't done any anal play at all, perhaps you should opt for one of the smaller models, like the Aneros Helix (or check out our Aneros buying guide for more help in your choice).
When I opened the box, I found the display box on the inside, which is a very handsome red with a wavy feature. Maybe it's just the girly girl in me, but I do rather like those boxes. It makes the toy inside seem just that much more special!

The Materials of the Progasm
Like the Aneros toys I've reviewed in the past, there's not much going on inside the box, but with a nice toy, that really doesn't bother me all that much. There's a molded plastic bed for the Aneros Progasm Ice, there's the Progasm Ice itself, and there's a single-page pamphlet talking about the Aneros company in general and the use of prostate stimulators.
In some ways, I could wish the pamphlet was a little more thorough. It seems to be a generic pamphlet, and about half of it is related to another toy entirely (which actually looks pretty cool, but that's neither here nor there).
However, the pamphlet is worth it simply because of the illustration that shows you how to use the Progasm and how to make sure that that it is seated properly.
I'll also note that Aneros has a lively forum community on its site, so if you need more help than the pamphlet offers, that's the place to go.
Aneros Progasm Black Ice First Impressions
I liked the look of the Progasm the minute I laid eyes on it. It's made of a medical-grade plastic that is designed to resemble glass while having the benefit of being unbreakable. I've dropped glass toys before, and no matter how good they are, they will chip, rendering the toy unusable.
This plastic has all of the beauty of glass without any of the risk.
We ended up with the black version, though there is a clear version and a red one as well. There's a certain very real beauty to this toy, and just visually, I like it a lot. Many of the toys I've been testing and playing with lately have a silicone covering and a slightly sueded finish, which is fine, but that makes the Progasm Ice stand out a lot more than it would normally.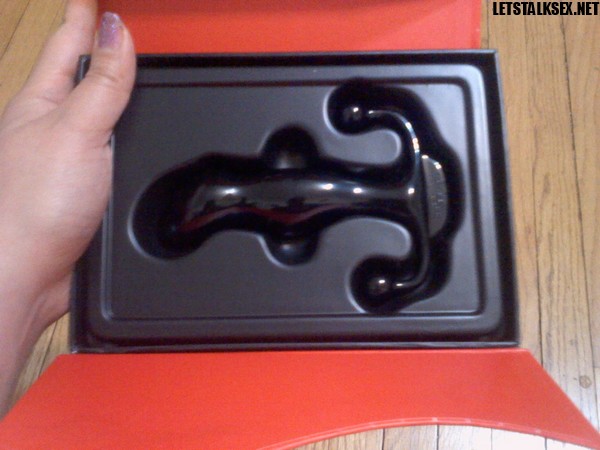 How Does The Progasm Look Like in Real Life?
As it is, it feels comfortable in my hand, lighter than a glass toy would, and it has a kind of futuristic look to it.
When I showed it to my boyfriend, he was actually a little put off by how hard it was initially. There isn't any give at all to the Progasm Ice, and though he does enjoy metal toys the fact that this was plastic and without the chill of metal made him a little skeptical. He's also tried prostate massagers in the past, and apparently one of the things that made him uncomfortable was how hard the arms were.
The Progasm Ice has two arms that curl up from the base. One is the handle which curls up towards the small of the back, and the other is Aneros' P-tab, which is designed to stimulate the perineum. People have lots of good things to say about them on the Aneros forums, and I was curious to see what my boyfriend thought.
Aneros Progasm Orgasm in Solo Play
There's already a lot of information out there about men working with the Prograsm on their own, so I'll keep this short. Over all, my boyfriend's impressions were completely favorable. He loved the way it felt, the hardness of the toy actually allowed for some wonderful sensations, the P-tab did its job, and it made his Aneros Progasm orgasms in the shower fun, easy and exciting.
He didn't get the hands-off orgasm, but that is definitely something he will be working on.
Regarding size, he would have liked something a bit girthier, but it hits the prostate with amazing accuracy.
I Jump In! Slippery Times with the Progasm Ice
We finally got an afternoon where we could test the Aneros Progasm Ice together, and the first thing I realized after slipping on a pair of gloves and lubing the toy up is that my boyfriend was really not joking when he said it was slippery when wet! I lost my grip on it once, so maybe that's something to keep in mind when you're using it.
I started slow with it, sliding just the first bump in and out, and that definitely got a reaction. However, remembering what he mentioned about too much play with such a rigid toy making it easy to get sore, I slipped it all the way after just a minute. The P-tab was quite effective when it came to inducing some stimulation, and after that, I decided that I wanted to play with a vibrator as well.
Aneros Progasm Ice + Hitachi Vibrator
Using the vibrator on the base of the toy itself was not very pleasant; something about the way the vibrations transferred through the toy was just not fun for my boyfriend.
Instead, I found having the vibrator pressed against the base of his penis with the Progasm inserted was just fine, and since he had been erect for a while, it was actually a lot of fun to play with edging, where I could get him to the edge of orgasm over and over again.
Overall, as an addition to couple time, the Aneros Progasm Ice stayed right where it was meant to be. It never slipped out despite the large amount of lube I used on it, and it stayed in while we cuddled, kissed, and did some spanking.
Finally, I decided I wanted him to orgasm while I used my hand, and that orgasm seemed extremely intense after all the teasing we had done beforehand.
I asked him to walk around with it in for a little while, and he said that though it felt a little strange after an orgasm, it was generally very pleasant. He told me that he could imagine wearing it under his clothes fairly discreetly, which definitely gave me some fun thoughts.
Aneros Play During Sex
For round two, we decided to see how well it would work while actually having sex. We took a break, and then I started teasing him with the Progasm again. It really seemed even more effective this time, and despite our fun earlier, he got aroused fairly quickly. Again, lots of lube is your friend, and once it was seated firmly in him, we started having some more fun.
For anyone with an interest in BDSM, this toy has potential. After his first orgasm, my boyfriend got aroused and erect, but he wasn't able to climax for quite some time. I also found that while we were having sex, I could reach around him and budge the base of the toy a little with my fingers, which worked out much better than using the vibrator before did.
As I write this, I do note that I was using the Hitachi on the Progasm beforehand. As I've mentioned in other reviews, the Hitachi magic wand really does not mess around when it comes to sensation. Something a little less intense might be a great thing to try with this toy, something that does not feel so jarring.
Aneros Progasm Review After Sex
My boyfriend was not able to orgasm a second time just from penetrative sex, which is not really a problem with me. It was a lot of fun watching him try though, and that meant that we got to continue for much longer than we would have if we had had sex the first time around.
When I got tired, I decided I wanted to use the Hitachi again on the base of his penis, turn it up to high, and let him orgasm quickly, which he did in very short order. I was a little startled, and he did tell me that it was intense enough that it almost hurt, but overall, he would be up for doing that whenever I liked!
My impressions of the toy as someone using it on someone else were that it was very sleek and very easy to insert. With all of the lube I used, it slipped in easily. If you are inserting this toy into a partner, I do recommend doing a little bit of fingering first. If you are doing it with someone who is really new to anal play, it might be a good idea to start with a smaller plug before working your way up to this one.
Wrapping Up on The Progasm
After playing with the toy, we cleaned it off with mild soap and water, and we happily added it to our collection. The thing that is likely going to ensure that this toy gets a lot of regular play is the fact that it is so smooth and sleek. Unlike a lot of other anal toys of the same size, it goes in very easily.
Like all Aneros toys, it is made from products that are safe to insert into the body, and as with all Aneros toys I've tested before, it slides into the body very well, and once there, it stays.
Given the size, I can't really recommend this toy for a beginner, but for anyone who's had some experience with anal play, I can absolutely say that this is worth the money that you are going to spend on it!
My boyfriend and I had tons of fun with this toy, and whether you choose to keep it for yourself or to share it with a partner, there is a lot of potential here!