Some of the best bondage ideas explained by a professional Dom. Enjoy!
Back in New York City in the 90s, a natural interest in bondage, toys, and domination and submission landed me a sweet job as a professional dominatrix, and after years of working in a dungeon (think the Red Room in Fifty Shades) you could say I earned the equivalent of a PhD in BDSM.
And now, friends, thanks to the wonders of modern technology, I am here to share my knowledge with you.
Forget About 50 Shades of Grey
First of all, BDSM means many things to many people. The literal translation is: Bondage & Discipline, Dominance & Submission, and Sadism and Masochism.
But it's really just shorthand for everything considered kinky and outside the realm of vanilla sex.
So, everything from spanking to fetish to roleplay gets lumped in with BDSM, and that's A-Okay. If there is one sexual family that welcomes all cummers, this is it.
There isn't anything weird or wrong about having fantasies about being tied up, spanked, or "forcing" someone to worship you.
In fact, by the time Fifty Shades of Grey appeared on the scene in 2015, Karen down the street was just as likely to have an interest in BDSM as your mom and dad (yeah, sorry to go there, but it's true).
The problem, of course, is that Fifty Shades is a terrible representation of the lifestyle and gives people some really shady ideas about how this game should work. So, I'm here to help straighten you out when it comes to kink.
Ground Rules Before You Start
The truth is that under the juicy, hot latex and leather, BDSM is about trust and communication. While you can tie your partner up on a whim, I don't recommend doing it unless they've been hinting hardcore that they want you to.
The best BDSM happens after conversations covering all the sexy, weird shit you fantasize about and figuring out if you're a top or a bottom. Or maybe you like it both ways.
Bondage isn't like surprising someone with a bouquet.
Safe Words
You don't have to schedule a time and date, but you should establish a safe word to use for play. But don't use the word "no."
In a roleplay scenario, begging, pleading, and saying no is often just part of the fun. Your safe word needs to be something completely out of context, like "banana" or "megaphone."
Some couples choose a traffic light series of safe words: "green" for go ahead, "yellow" for this is testing my boundaries, and "red" for stop. The point of a safe word is to have a code word that will shut things down if they get too weird, because sometimes they do.
SSSC: Safe, Sane, Sober, and Consensual
Last, but not least, it can be tempting to have a few drinks before a play session to loosen up and get in the mood, but this is NOT a good idea.
Alcohol can impair your senses and lead to poor decision making on both sides. There is a rule known within the BDSM community that play should always be SSSC: Safe, Sane, Sober, and Consensual. Don't play under the influence.
Now, let's get to the good stuff.

15 Bondage Ideas For Beginners
BDSM is all about the props and the play. Going from mild to wild, here's a list of 15 bondage ideas to get you well on the road to naughty nirvana.
We also wrote an article about the best BDSM toys and the best BDSM furniture for you to check out right now.
1) Sensory Deprivation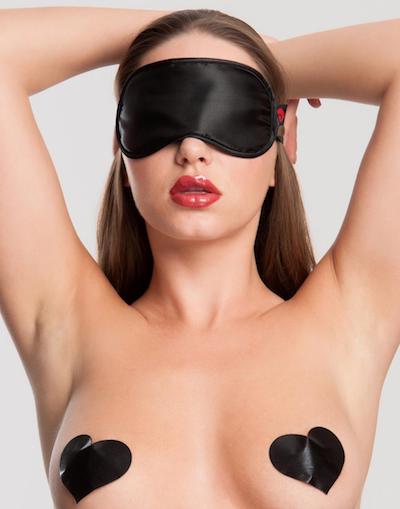 One of the most erotic things that you can do to your partner is taking away their sense of sight. When you can't see, all of your other senses are heightened, so every sound, smell, touch, and taste is larger than life.
Once you've slapped a blindfold on your sweetie, even the most basic moves become mysterious. You can kiss, caress, tease, and tempt them any way you like, and expect each touch to be amplified by the anticipation of what comes next.
Getting Started
You can use almost anything as a blindfold–a scarf, necktie, or a piece of clothing–but investing in a well-constructed, beautiful blindfold will help to set the mood.
For more intense, advanced sensory deprivation, some folks prefer hoods that cover the entire head (the infamous gimp hood).
The important thing is that it fits well and is comfortable. Being restrained is fantastic for sensory deprivation play, but you may want to start with just a blindfold.
How to Use a Blindfold for Sensory Deprivation
Step 1: Find the blindfold that best suits your style. I personally love the look, smell, and feel of leather, which makes for absolute blackout darkness.
Once you have your sub where you want them (moving with a blindfold on is awkward and clumsy), display the goods and let them know what's coming.
Step 2: Now is a good time to add any restraints you may want to use to keep your sub in position. Place the blindfold over their eyes and secure it, making any necessary adjustments. If using a hood, make sure they can breathe easily.
Step 3: Bring out toys, one by one, and talk to your sub about what you are going to do to them next. This is a perfect time to indulge in sensory play (more on that later) using candle wax, ice cubes, vibrators, and other props.
Step 4: Be creative, remember that all the senses are heightened when deprived of sight. Use sounds and smells to add to the excitement and use verbal communication to add to the suspense. Use the element of surprise by promising pain and delivering pleasure.
The first time I blindfolded a lover, the real surprise wasn't how they reacted, but how I did. Being unseen strips away self-consciousness, and without inhibition you might find the boldness and freedom to act out your wildest fantasies. Basically, what I'm saying is, everyone's a winner.
Pro Tip: You can use blindfolding in combination with any of the other toys and techniques on this list. Have fun with blindfolds and use the opportunity to introduce temperatures, tastes, and sensations. Narrating what you are going to do next is a tantalizing way to build the pressure as you go along.
2) Role Play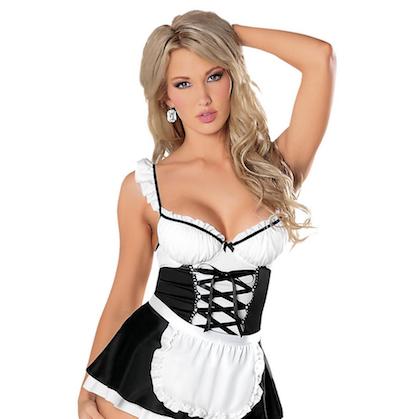 At the beginning, couples testing the waters of domination and submission may feel shy or even embarrassed.
Much like visiting an all-you-can eat buffet for the third time in a week, it might just be easier if you pretend to be someone else. If all the world is a stage, then the bedroom is no exception, and playing "master and servant" is a way better acting gig than faking an orgasm, right?
Getting Started
You can use costuming and props to get into character, but masquerade masks are a super-sexy, easy place to start.
Masks call attention to the eyes and mouth, and leave face holes open for long, meaningful glances, kissing and oh-so much more.
Meanwhile, just enough of the face is disguised to give the wearer the permission to say and do things they might be too shy to do otherwise. This is the main reason why we role play.
How to Use Masks for Role Play
Step 1: Decide beforehand which mask is for the dominant partner and which is for the submissive one. If you are interested in switching roles, use a coin toss to make it random. These are lightweight, classic, and can easily be worn to a costume party.
Step 2: Once you've got your roles and masks in hand, discuss the scene a little. Set the scene by discussing who you are, where you are, and why you are there together.
Step 3: Leave the room, with one partner remaining inside. Take a few minutes to rehearse what you are going to say and to collect any props you need. You'll be surprised how much this dramatic pause adds to the fun.
Step 4: Put on your mask, make your grand entrance, and get started. Let the scene flow naturally and try to stay in character.
Don't worry if you can't suppress a giggle– this is supposed to be fun, after all. And a giggle from a sub can add sweet punishment to the scene. Usually, you drop the act once everyone cums.
While your beloved wife or husband would never, ever call you a dirty little whore and demand that you lick their asshole, your Master or Mistress will do it without batting a masked eye.
And in roleplay, the same thing that might have you filing for a divorce (in real life) will have you so hot and horny you can't see straight.
This is the beauty of roleplay– when you open yourself up to being someone else, you are free from all the bullshit of being yourself. Forget about dirty dishes, bills to be paid, and boring day-to-day stress. When the bedroom door is closed and the masks are on, it's a whole new world.
Pro Tip: Bone up on sexy scenarios by reading erotic stories online or watch some 50 Shades (if you must). Porn won't help you much with storylines, so seek film and literature in a kinky vein to help rev your engine, if you need to.
3) Fetish Clothing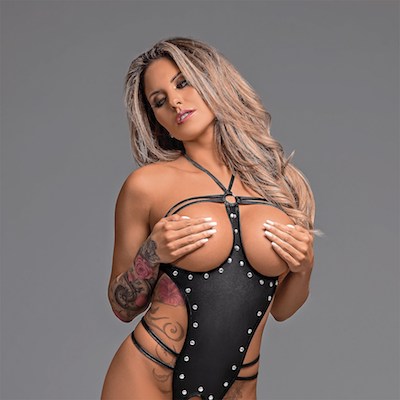 Fetish clothing is a huge part of many couples' BDSM playtime. There are obviously many reasons for this, but let's start with the obvious: leather, latex, and rubber are designed to look fucking hot.
Also, much like masks, wearing fetish clothing sets the mood and helps you get into character. Not to judge, but a woman in latex holding a riding crop is going to get you hard a lot faster than if she were wearing sweatpants and a T-shirt.
Most erotica, and certainly BDSM, is visual.
Getting Started
There are smells, shapes, and sensations attached to the clothing used in BDSM that trigger a physical reaction based on memory.
Some of these accessories are practical, with metal D-rings for attaching leashes, clamps, and gear to, but mostly they visually enhance your body and signal that it is playtime.
Decide what stimulates your play the most– latex, leather, chains, or whatever–and go from there. I'm going to describe latex clothing use because it is trickier and less intuitive than the other fetish wear.
How to Use (Latex) Fetish Clothing
Step 1: Choose your garment, preferably something that doesn't restrict movement and can be worn for an extended amount of time without discomfort or chafing. Latex is my favorite for its versatility, sensuality, and aesthetic.
Step 2: Apply a water-based lubricant lightly or use talcum powder or something similar to the inside surfaces of the piece.
Step 3: Lightly apply a little powder or lube to your body, and then slowly, carefully begin to slide it on. This is often easier with assistance and will require a little care and patience. Forcing latex clothing or using oil-based lube can cause it to tear.
Step 4: Whether the sub or domme is wearing the latex, create a roleplay scenario where the other partner polishes the garment while it is worn. Use a product designed for polishing PVC. This is both very sensual and will help your latex look its best for longer.
Step 5: Don't be afraid to make a mess. Once the fun is over and the latex is off, clean it by swishing it in the sink or bathtub with a dash of dishwashing soap. Dry it thoroughly.
Step 6: Apply powder to the inside surface of the garment before storing, and store it away from metals, light, and heat.
The first time I wore latex, I felt like a queen–a sexy, dominant queen worthy of worship. How you feel will influence how you act, so don't feel silly investing in some fetish wear that helps you slip into the role you want to play.
Pro Tip: Latex garments are amazing for all bodies, but particularly on women. The material molds the body, like a corset, making your hips and tits look fantastic and holding everything in place.
Latex and leather are often expensive items, so protect your investment by cleaning and caring for it between play sessions. Better yet, make your sub do the dirty work of cleaning up and caring for your gear both on and off.
4) Hand Spanking
Hand spanking is one of the most fundamental skills to master in BDSM. If you want to be a legendary spanker, first you need to forget everything you think you know about spanking.
Sexy spanking is both a punishment and a reward. Is that confusing? You bet your red-hot ass it is. People that love to be spanked and to give spankings understand that a good spanking is equal parts pleasure and pain. I'll explain.
Getting Started:
A spanking often starts with a threat that is actually a promise. "If you don't get over here by the count of 5, you're getting a spanking." When a sub takes her sweet time getting there, on hands and knees, you know it's time for a spanking.
This, by the way, is called "topping from the bottom" and it's a critically important concept to understand.
When a top gives an order and a bottom intentionally disobeys, this is the sub taking control and telling the top that they want to be "punished." It can be a funny, fun, and creative way to get into roleplay and drive a scene.
How to Give a Hand Spanking:
Step 1: Remove all rings, bracelets, and watches. Decide if this is going to be a short or long spanking and choose your position based on this.
Shorter spankings are best given over the knee, and longer spankings are usually better bent over a bed or piece of furniture for support. Have something on hand to deliver a soft, soothing sensation to counteract the spanking:
Step 2: Before you begin spanking, expose the ass and touch it lightly, stroking and teasing. Feather toys can help deliver light stimulation.
Step 3: Begin with a couple of light spanks from a slightly cupped hand. Alternated these with gentle strokes. This warms up nerves and the skin surface– making the spankee want more. Never start a spanking hard, always warm the skin up and create anticipation.
Step 4: Experiment with using different parts of the hand- the fingertips, held flat, can deliver stingy, tingling spanks, while a cupped hand is dramatically loud but gentle. A full, flat hand gives the most painful spank of all, but will also leave your hand smarting.
Step 5: Let your sub participate in the action by thanking you for each spank or counting as you go. Pay attention to the color of their ass-skin and move around to different parts of their ass to keep sensations fresh.
Pro Tip: Long spankings are best if you use a rhythm and then vary the tempo as your sub begins to anticipate spanks. Over the knee spankings for men can be extra sexy if their hard cock is pressing against you–it gives you another reason to punish or reward them.
5) Flogging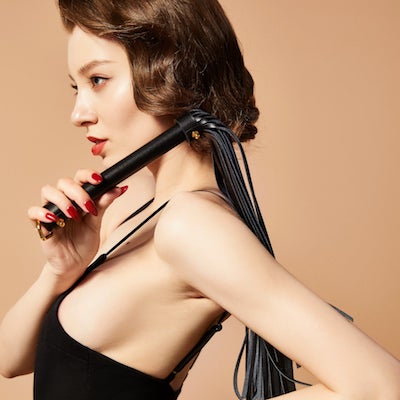 Warning: BDSM is addictive. You get hooked on entry-level action and soon you're moving on to the harder stuff. Once you've gotten the hang of roleplay and sensual spanking, you'll probably want to build your skills and start using props for "impact play."
The flogger is your new best friend. Floggers are basically the whip's gentler and more fun cousin. They look a little scary and capable of punishment, but it's almost impossible to inflict extreme pain with a flogger.
Getting Started
Invest in the highest-quality flogger you can afford. You want soft leather and solid construction that you can use for years to come.
Practice your aim a little on a couch cushion or even your own leg to get a feel for your new toy. One note of caution, please educate yourself on the exact location of the kidneys and make sure that you never spank or flog anyone in the kidney area.
How to Use a Flogger:
Step 1: Choose a worthy tool. I love this glass-handled flogger for its weight and multitasking potential.
This one is fun cumming and going: a flogger on one end and a glass handle on the other for teasing, massaging, or penetrating a partner.
Step 2: Get your sub into position. All-fours is a wonderful place to begin.
Step 3: Much like spanking, the fun of flogging lies in the buildup and anticipation. Use the many tails to tease, lightly running them over the body and talking about what comes next. If your sub is on all fours, gently swing the ends between their legs from behind, and then drag forward across their ass and towards their back.
Step 4: Begin by swing the tails in a circular motion by flicking the wrist and use just the tips to rhythmically graze your sub, exciting the skin surface. Do this until they are warmed up.
Step 5: Land quick, stinging blows across the ass and backs of legs by holding the tails in one hand before flicking your wrist forward and snapping back once they make contact with skin. For heavier blows, don't pull back, just let the tails land with a thud, then drag them across the skin to soothe.
Pro Tip: Use a flogger to tease your sub by letting the tails lightly tap their tender bits. On all-fours, their junk is deliciously exposed and in perfect position for a light beating. You'll know you're doing it right by how wet or hard they get.
6) Sensory Play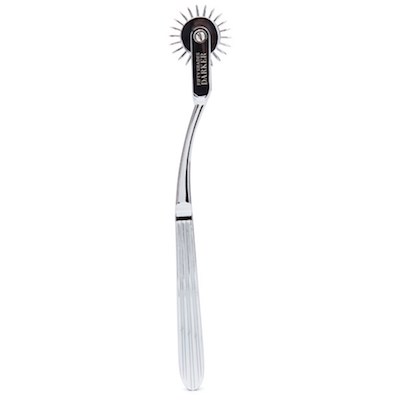 Sensory play includes temperature play–using ice cubes or frozen or heated props (glass dildoes are fun for this) and of course dripping hot wax.
You may even find yourself leaning into medical roleplay–the adult version of "playing doctor." You may want to experiment with sounds, tastes, and fragrances while you're at it.
Getting Started:
As your curiosity grows, so will your toy collection. The pinwheel is a totally terrifying looking toy with a much bigger bark than bite.
Before you begin to play with this toy, discuss what is on or off-limits. For example, breasts are a go, nipples are a no.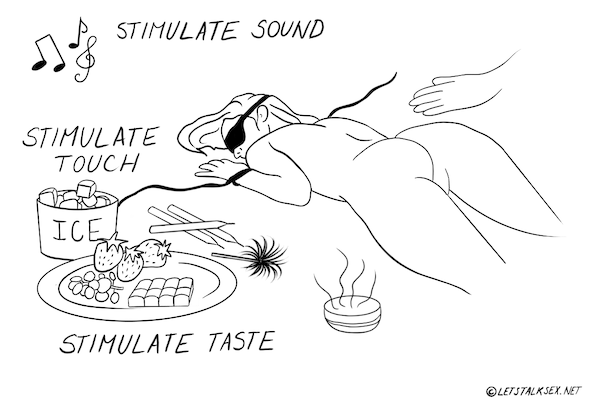 How to Engage in Sensory Play:
Step 1: Arm yourself with some fun weapons, like a Wartenberg Pinwheel. This little guy is a classic and has 22 needle-like pins on a wheel designed to run across the skin and excite the nerves with a unique, prickling sensation.
Blindfolding with sensory play is a solid way to build suspense and heighten the experience. However, if your sub is nervous, it's always better to leave the blindfold off and let them close their eyes if they choose to.
Step 2: Set the scene for a sexy, stimulating time. Build anticipation and then blow your sub away with sensation.
With a dramatic tool like the pinwheel, you can show your sub the wheel and then blindfold them, while explaining what you're planning to do to them with it. The anticipation will ratchet the sensation up to the next level.
Step 3: Use sensory "layering" techniques by combining sound, smell, taste, and touch at the same time. It's not as hard as it sounds.
Music can set the tone, as can toys that make sounds (slap the palm of your hand with a crop or paddle to build tension).
Burn incense or wear a fragrance that you know your sub loves on you. Feed your blindfolded sub sensual foods: chocolate, berries, anything that has an interesting texture or flavor.
Step 4: Mix it up. Build tension and then maintain interest and levels of stimulation by alternating sensations.
Give a spanking and then when your sub is reaching a limit, stroke and kiss their ass and legs until they are quivering with excitement.
Sensory playtime is some of the most fun, sensual, and drawn-out play you can have, so savor every moment.
The old hot wax routine is a dominatrix trope that everyone knows, but please, be careful. The first time I ever tried hot wax was at home, using some very expensive beeswax candles that smelled divine.
I nervously dripped a bit of wax onto my partner who reacted strongly, so strongly that I actually stopped and turned on the lights to make sure everything was ok. It wasn't!
The wax was too hot and had caused some second-degree burns. Needless to say, that ended the fun pretty quickly. I learned later that candles have different melting points.
Always use low-temp candles designed for play
Pro Tip: Do some "bait and switch" delivery of sensation. What I mean is, tell your partner that you are going to drip hot wax on them, and then run an ice cube across their skin instead.
Casually mention that you're going to hit their tender bits with a riding crop and then caress them with a vibe. This is guaranteed to drive them wild.
7) Gagging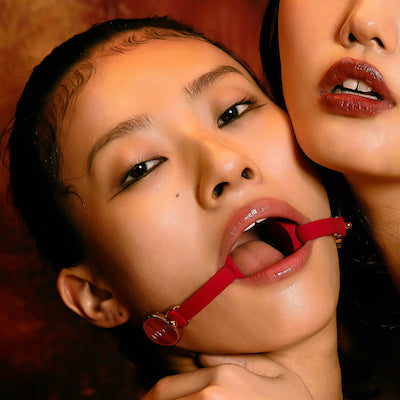 Sometimes the sexiest thing to say is nothing at all… And that's why god invented gags. In truth, we mostly love gagging our subs because it looks hot, and they offer a sensation of helplessness that is pure roleplay gold.
The classic ball gag is what you might imagine when you think of gags, but I prefer a bit gag for many reasons. Ball gags can be uncomfortable if used for long periods of time, and for anyone with TMJ or jaw issues they are unbearable.
Getting Started:
The most important thing to remember when you are using a gag is that it is no longer possible to use a safe word. You must agree to some other means of communication.
Also remember, it is the dominant partner's job in BDSM to pay close attention to the submissive partner at all times and make sure they are feeling safe and having fun.
How to Use a Gag:
Step 1: Choose a gag that works for your anatomy and aesthetic. Personally, the smell of leather gets me "in the mood" for BDSM, so a leather bit gag checks all the right boxes.
The position of this gag is comfortable in the wearer's mouth, and the leather bit is durable but flexible enough that you can bite down hard on it without causing any damage.
A bit gag or an inflatable gag is the best option for beginners.
Step 2: Place the gag in your sub's mouth and fasten it so that it is comfortable. Make sure they can breathe easily.
Step 3: Enjoy the sweet, sweet nothings your sub says as you tie, tease, and torture them.
In all honesty, I was terrified the first time I gagged a client. What if something went wrong? Of course it went beautifully. There was moaning, groaning, gasping, and plenty of body movement.
If anything, using a gag with your sub makes you a better and more attentive domme. You'd have to be a real asshole not to notice a partner in distress, and I strongly, strongly suggest using a foolproof safe word substitute.
Pro Tip: In place of a safe word, consider giving your sub a bell or squeaky toy to hold in a hand, or a ribbon to drop if things get too intense.
You can also use a blink pattern, humming a tune, grunting in a pattern, or tapping out (like in boxing) as a signal. Bonus points if you can make the alternative safe word part of your roleplay scenario.
8) Light Punishment/Discipline
No BDSM-inspired fashion shoot is complete without a riding crop. It's an iconic part of the dominatrix costume, and for good reason: high drama.
The riding crop is the drama queen of the kink and fetish scene. She's high-strung, nitpicking, makes a lot of noise and is so much fun to be on the giving or receiving end of.
Getting Started:
Thanks to its small footprint, the riding crop can be used to target any body part very precisely. It's also a visually threatening toy that inspires fear.
The swoosh it makes as it sweeps through the air is misleading–sure, you can inflict pain with a crop, but its specialty is landing a light sting that makes a lot of noise on impact.
Practice your aim beforehand so that you don't accidentally whack something you didn't mean to.
How to Perform Light Punishment/Discipline
Step 1: Find the right riding crop for your purposes. The smaller the tip, the more painful the blow it will deliver. Beginners will do best with a wide-tipped crop with a stiff handle.
My favorite crops have a loop so that I can loop it around my wrist to keep handy while I'm doing other things with my hands.
Step 2: Use the tip of the crop to tease your sub, lightly running it across the skin and using it to tickle and trace body parts as you talk about what you're going to do.
Step 3: Deliver light taps with the flat surface by flicking your wrist, warming up the skin surface before you lay into it.
Step 4: Making a slower, wider arc with the tip of the crop by making larger motions with the arm and wrist, deliver loud, stinging blows with the tip of the riding crop, followed by light circular strokes to soothe.
If I could only use one prop, the riding crop is the one I would choose. Once you get comfortable with it, it is an extension of your hand.
I developed a technique for using the tip of the crop to tease subs when they sported huge erections. By flicking the wrist, I would use the tip of the crop to slap the cock on each side, in a quick rhythm.
There is almost nothing more fun than doing this and then suddenly stopping and waiting for them to beg for more.
Pro Tip: The riding crop is also an excellent toy to use in combination with clips or clamps attached to nipples, balls, or any other area.
You can run the crop across clamps to enhance the sensation, or you can use it to slap the skin around the clamped area to distract from the clamping sensation.
9) Slave/Possession Play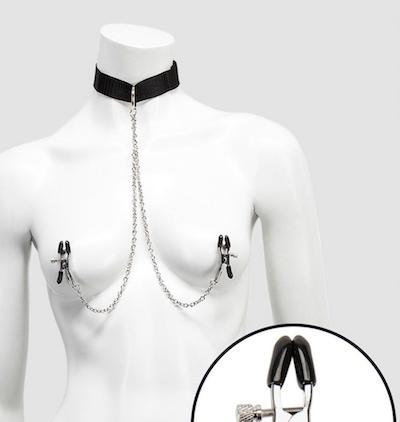 The owner/slave role play is another quintessential part of BDSM. Collars are a visible signal of ownership. The wearer of a collar gets the pleasure of being "owned," which is a turn on for most submissive partners.
While it can be merely an accessory used in role play, in some lifestyle BDSM relationships, putting a collar on a submissive is as serious as putting a ring on a partner's finger.
Some dominant partners want to be called Master or Mistress or will only respond to a Ma'am or Sir. How you play verbally is, of course, your business.
Getting Started:
There are a dizzying array of collars available on the market, in all colors, materials, styles, and price points.
Depending on the duration of time a collar is worn, it can become quite uncomfortable if it is made of stiff, unlined leather. For purely aesthetic use it's no big deal, but if used as part of a bondage ensemble, anywhere it rubs the skin can cause irritation or chafing.
How to Perform Slave/Possession Play
Step 1: Find a collar that fits right, first and foremost. Too-tight collars uncomfortable, but a too-loose collar can be just as bad. Choose a collar that you find sexy and that fits with your play style.
I think starting with a fur-lined collar is the way to go, because it offers a little cushion. This collar is simple, understated, and sexy.
If rope bondage is a part of your play, find a collar with multiple D-rings to use as an anchor for rope ties.
Step 2: Present your "slave" with their collar with them in a submissive pose, on their knees, ideally. Place it around their neck, securing it so that there is room for two fingers between the collar and the neck
Step 3: Use the collar, preferably with a leash or rope, to lead your sub around the room, explaining to them that they are now yours. The sub should always ask for permission to do anything and thank you for anything that is done to them.
Step 4: Engage in play, using the collar as a prop to lead and restrain as you desire. You may "force" your sub to perform acts of subservience such as cleaning, foot massages, or sexual acts. All actions should reinforce a relationship of ownership and servitude.
Pro Tip: A huge turn-on in submissive/dominant roleplay is making your sub ask for permission to cum. This is a major tension builder that can make climax that much sweeter. Of course, sometimes they can't hold back, which just gives you material for the next play session.
10) Wrist/Ankle Restraints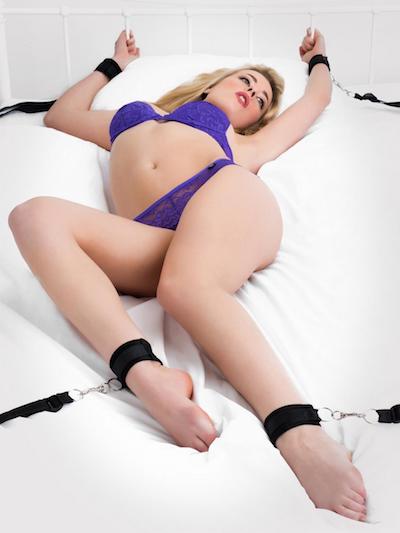 When it comes to bondage, no toolkit is complete without a good set of restraints.
Leather restraints look great and can be used in so many different ways: they can be linked together as handcuffs in front of the body or behind the back, they can be attached to ankle cuffs in a hogtie position or in a forward-bend for spanking, the D-rings can be used in with rope to tie a sub to a bed or chair, and of course they can work in symphony with spreader bars (more on that in #12) to open a sub up to new experiences.
Getting Started:
They may look fun, but I would never recommend handcuffs to a beginner. Handcuffs apply extreme pressure to a very small area and require a key to remove, which can be difficult to do in a hurry if you need to.
While handcuffs are sort of a one-note prop, cuffstyle restraints are easy on the eyes, gentle on the body, and great at multitasking.
How to Use Restraints (Seated)
Step 1: Select the right restraints for your play. Softer leather restraints are my weapon of choice– they are easy to clean and care for, last forever, and are easy to use and versatile. This well-constructed set of restraints just screams, "you're not going to be needing these hands for a while" to me.
Step 2: Place the restraints on your sub's wrists while they sit in a chair. Check to make sure they are snug but not tight.
Step 3: Pull both of your sub's wrists behind the chair they are seated in, having them clasp their hands together, if possible. Using rope or carabiners, attach the restraints to one another so that your sub is sitting up very straight and is unable to move their upper body much.
Step 4: Use ankle restraints (optional) to attach ankles to the chair legs so that your sub's knees are spread.
Step 5: Do whatever nasty, delicious thing you want to your sub, as they're not going anywhere!
Pro Tip: Purchase a few carabiner clips from the hardware store so that you can easily attach and detach wrist restraints to various other bondage accessories or each other.
Using chains, ropes, or any other strong material, set up a complete restraint system in advance and then surprise your sub by quickly clipping them into position. Attaching ankles and wrists to a four-poster bed is a fun way to "tie and tease".
11) Rope Bondage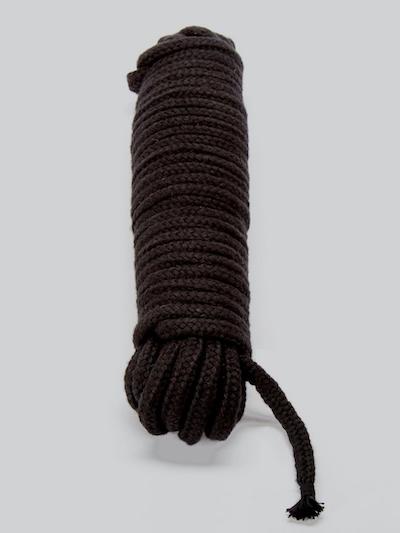 So, you want to tie someone down so they can't move while you do naughty things to them? I mean, don't we all? Unfortunately, unless you were a serious Eagle Scout, you probably don't have many knot skills aside from the ones you use to tie your shoes.
Rope bondage is an art form unto itself. Entire books have been written on the subject, so we're barely going to scrape the surface of rope bondage here.
Getting Started:
The most well-known rope bondage is the hogtie, but the possible variations are limited only by your skill level, confidence, and imagination. Some rope bondage is centered on the idea of restraint and some is purely decorative. There are many online tutorials that can get you started.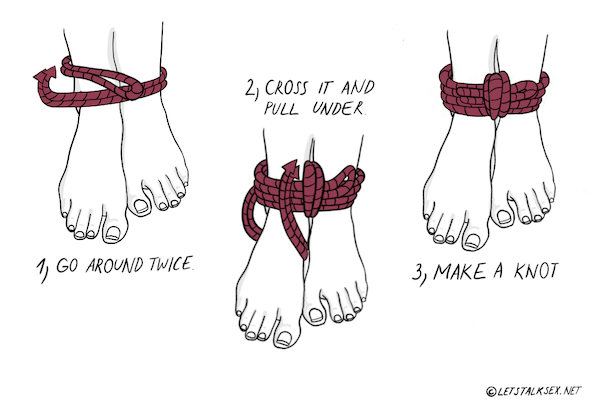 How to do Rope Bondage (a single column tie)
Step 1: Find some good bondage rope–and no, you can't just run down to the hardware store for it. The ropes you'll find there are either too rough and will cause discomfort or are too slippery and won't hold a good knot.
What you want it is a luxuriously soft cotton rope designed with tender human skin in mind–a perfect rope for beginners.
More advanced rope bondage can be fun with a stiffer rope, and if you just want to tie someone up but don't have the patience for fussy rope work, bondage tape works wonders.
This Japanese-style cotton rope comes in a few colors and has just the right qualities to make rope bondage a tasty menu item in your BDSM play.
Step 2: Using a generous length of rope (8 feet or so), fold the rope in half. The bent end is known as a "bight," the loose ends are called the "working end." Wrap the bight around your partner's wrist twice.
Step 3: Fold the working end over as if you were going to tie a knot with the bight, and then cross the bight over and pull it under the wraps using your fingers rather than pushing it through.
Step 4: Make a loop with the working end to pull the bight through. If it falls apart and doesn't make a knot, try again pulling the bight through the other side.
Step 5: Make another loop with the working end and pull the bight through. You can now tighten the knot by pulling on the working end. The tie around the wrist should be loose enough to slip a couple of fingers into, and it will not tighten during play or struggle. Now you know the basic column tie!
Pro Tip: Buy a book on rope bondage–there is no substitute for having a roadmap on hand to guide you in the beginning.
The Erotic Bondage Handbook is a great introduction, The Seductive Art of Japanese Bondage will help you learn more advanced Shibari with stunning photography and illustrations, and Naughty Knots will show you the ropes in terms of basic knots and light bedroom bondage.
My favorite ties involve high-tension configurations where a sub is bound so that that moving one part of the body causes the rope to pull on another part of the body–forcing them to be still.
But beware, restricting blood flow to any appendage can be dangerous and may require a quick release. I once had a client tied up in a side-lying hogtie variation that I was extremely proud of: if he bent forward, the rope pulled on his balls, and if he bent back, the ropes pulled hard on some nipple clamps.
Everything was going well until he panicked, and I was grateful for the medical scissors I had close by. Always keep medical-grade scissors in reach just in case you need to end a scene fast.
12) Spreader Bars
There's something exciting about letting go and opening up to new experiences. Ironically, being restrained often helps people feel free to receive pleasure.
When you can't say no or maneuver your body– let's just say you're pretty vulnerable. The only problem is that much bondage closes off access to the fun bits.
If only there were a way to combine bondage and sex…which brings us to the spreader bar.
Getting Started:
Designed to be used with cuffs, a spreader bar can hold the legs apart at the knees or ankles, exposing your tender bits for easy access. It also can be used to hold the wrists apart.
When a partner is spread wide like this, the opportunity to tease, touch, and torture is irresistible.
Adding to the fun is that, unlike being tied to bedposts or any other forced spread-eagle scenario, a spreader bar at the ankles makes it extremely easy to flip someone over to explore the other side of their body.
How to Use Spreader Bars
Step 1: Purchase a spreader bar that fits with your level of play.
There are plenty of Velcro options that allow for a quick release, but I personally favor bars that are compatible with wrist restraints and carabiners.
Because this is such an easy toy to use, I'm going to cover positions rather than steps, going from basic to advanced.
Step 2: The Basic Y is the easiest introduction to a spreader bar. Have your partner lay on their back and spread their legs. The spreader bar is attached to their ankles, and the wild rumpus begins!
Step 3: X Position is achieved by adding another spreader bar to the Basic Y, separating the wrists. This can be done with the restrained partner laying on their back or with the face-down. Just make sure there is no extreme strain on any body part.
Step 4: Four Points is a position recommended for flexible bodies only, because it is strenuous. Beginners will want to first try this facing upwards.
Spread ankles and attach bar as in Basic Y, but then have your sub reach forward to grab the bar with both hands. If it is comfortable, attach their wrists to the bar.
This can be done face down for enhanced doggy style, or with arms behind the back in a very dramatic hogtie position.
Pro Tip: Keep a few extra carabiner clips around in case you want to attach wrist cuffs to the spreader bar at the ankles.
Experiment with different positions, starting with easy ones and moving toward more advanced positions.
Keeping a few extra pillows around can help to prop the body for extended spreader bar use, which can be fatiguing for beginners.
I was a late adopter of the spreader bar, mostly because I thought it seemed unnecessary with all the other types of bondage available.
While I am a very dominant partner, I had one lover who I would let take the lead. After she used a spreader bar on me one time, I was a convert. There are no words for how exciting it is to be spread wide with no ability to close your thighs and refuse attention. This prop is fun on both sides of the bar.
13) Titty Torture/CBT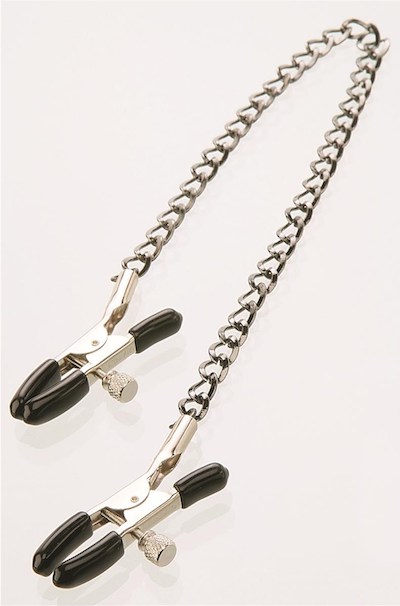 So, now that you're basically an expert on bondage, domination, and submission, you're ready to get to the Sadism and Masochism part of the party, eh?
This brings us to titty torture and cock and ball torture, CBT for short. Spooked by the word "torture?" That's a good and healthy sign, actually. Let's take a quick minute to talk about S&M and "torture" in this context.
The dominant partner inflicts pain on the submissive partner in a way that has been discussed and agreed upon beforehand, it's not random and not real torture.
It is fully consensual and the "sadist" in this scenario enjoys inflicting pain upon the "masochist" purely because it gives the receiver pleasure, not because the giver loves inflicting pain.
If that sounds confusing, then welcome to the twisted world of BDSM, where most things are not what they appear to be.
Getting Started:
While floggers, riding crops, and other accessories can put some punctuation into play, clamps add an element of sustained sensation. Generally speaking, this type of play involves using various toys and tools to "torture" erogenous areas.
There are so many nipple toys available that if pinching isn't your jam there's probably an accessory out there that is. If you're not sure and want to put pinching to the test, you can start out with classic, ever-available over the counter wooden clothespins.
How to do Titty Torture/CBT
Step 1: Select your tools, best done with a partner so that you can agree upon what looks fun and what doesn't. My personal preference is for clamps on a chain that can be pulled on to add a little emphasis, but there are many, many types of toys and tools that can be used in this category.
Step 2: Once your partner is in position, lay out the toys you plan on using. Tell them about what you're going to do, and then warm their bits up with a bit of stroking, pinching, or other stimulation.
Step 3: Attach a clip, pin, or toy to the nipple or balls. Then attach another to the other side. If using clothes pins, you may want to attach multiples.
Step 4: Play with the attached toys, lightly teasing or tapping with your fingers, a crop, or even a flogger to heighten the sensations. Continue play with clips attached until your partner is begging you to remove them.
Step 5: Remove toys and gently stroke and soothe to calm down the nerves. Titty torture and CBT are one of my favorite play activities.
Toys can enhance your fun, but your best tools are your fingertips. Before I ever used any toys with a sub, I would test the waters by teasing and pinching their nipples, increasing pressure and adding a twist if they could take it.
Doing this while looking into a restrained partner's eyes is strangely one of the most intimate, arousing acts I've found. The element of trust, pain, and sexual tension involved in this act makes it a top priority for my playtime.
Pro Tip: If your sub is into particularly hard play, you can make a game of knocking clothespins off with a crop, one by one. Don't forget to make your sub ask for you to do so and then thank you for doing it, one by one.
14) Corporal Punishment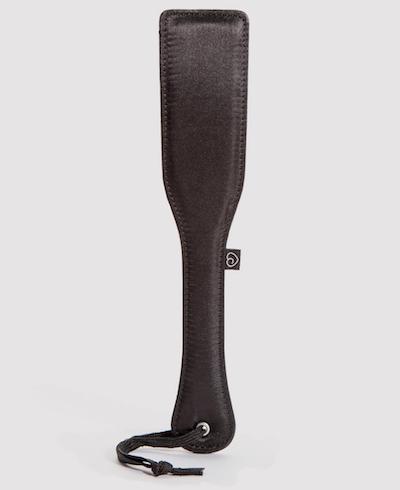 Have you been naughty? Do you need an authority figure to bend you over and paddle some sense into you? Well, join the club.
One of the most common fantasies is being punished by a headmistress or principal in their office. And let's face it, nothing says "you're in trouble" like a paddle– the weapon of choice for headmasters everywhere.
Getting Started:
Corporal punishment in BDSM is delivered fresh, hot, and in equal measure with sensual strokes, just like every other type of impact play in BDSM.
Corporal punishment begins with an infraction, real or imagined. Whether a naughty student got caught cutting class or a naughty husband forgot to take out the trash–this is the starting point.
No punishment is complete without a little drama and suspense, which is where roleplay comes in.
How to Use Corporal Punishment
Step 1: Choose a paddle that suits you. Leather is, of course, an ideal choice. I think a fur-lined paddle makes it easier to perform the warm-up and soothing strokes that transform a burning hot ass into a warm, sexy memory.
Step 2: Agree to a scene beforehand. The key to a sensual paddling is warm up, pacing, and setting the scene just right. If you have an office, use it. A teacher's note is a nice touch. Sit at a desk and await your victim.
Step 3: Once your sub arrives, interrogate them about what they did wrong. If they won't cooperate, put them in restraints and bend them over your desk. Reveal their ass and stroke it lightly as you develop a plan for punishment, out loud.
Step 4: Raise your paddle and slap it against you hand. Hold it at a right angle to your sub and bring it down in an arc, rotating from the shoulder.
Primarily hit the meatiest part of the buttocks. For more sting, pull the paddle away as soon as it makes contact, by flicking the wrist. For a louder, heavier thud, follow through on the stroke and allow the paddle to strike and remain on the skin.
Step 5: Pay very close attention to make sure that they are enjoying their beating. If they seem to be drifting off, make them count down from where you started to keep them present.
Listen, I don't want to freak you out, but I do want you to be hyper-aware of the risks that come with paddling. I once had a client who LOVED to be paddled, like this was what he lived for.
I would see him every couple of weeks, when possible. But, he liked to be paddled very hard and often, and sometimes I wouldn't see him because I wanted his skin to rest.
He would see another domme at times who was less careful than I was… and he would show up wanting a paddling and his skin would break and bleed in the first 15 minutes.
If someone wants to be paddled super hard all the time, it needs to be done with great care to preserve the integrity of their delicate ass skin. Take it from me. Less is more.
Pro Tip: Take your time preparing your punishment, talk about what you are going to do while you put your sub into restraints or get them into position.
Keep it fun. Pick a number of whacks and then make them do the counting, drawing it out as long as possible.
If you're on the receiving end and feel like you deserve a better beating, make a point of being uncooperative or bratty and see how it drives the scene.
15) Suspension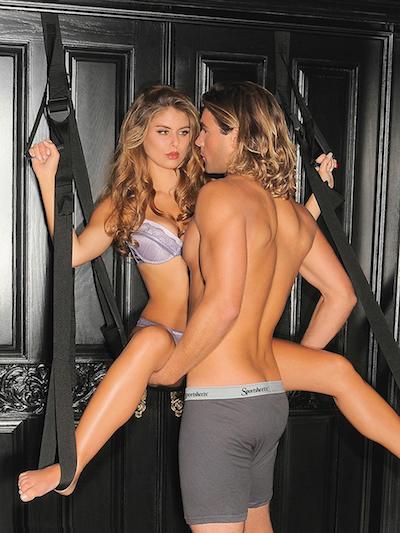 The more you play and explore, the more you'll want to take things to the next level. And if that means leaving your lover hanging while you hurt them so good, then you'll want to elevate your game, literally.
Suspension is not just for disbelief, oh no. It's also the name of the game when you want to lift parts of your partner into the air and leave them there to make way for fun below.
Getting Started:
Diehard fans of BDSM will invest in all sorts of wild equipment designed to keep a sub on their toes–but there's no reason to go there if you just want to try some basic suspension on for size and see if it fits.
Make sure that your doorway and restraints are secure before you start a scene–the last thing you want is a collapse.
How to Use Suspension
Step 1: Choose a suspension system. Plenty of people create DIY systems for suspension, but this over-the-door sex swing with built-in cuffs will deliver everything you want for basic suspension, plus it doubles as a prop for gravity-defying sex acts.
This particular model is–unlike almost every other BDSM toy out there–subtle enough that a nosy roommate or TSA baggage examiner won't look twice at it.
Step 2: Begin with the wrist restraints by having your partner raise their hands above their head and then strapping them into the overhead restraints using ropes or wrist restraints.
Step 3: With your partner in this exposed position proceed with play for as long as you like.
Step 4: Get the legs into the leg straps for complete suspension. This will require a chair or stool and some maneuvering.
Once in the swing, they are completely at your mercy. Note: a decent amount of upper body strength is required to fully use this style sex swing, for fucking and not just play.
Pro Tip: When your sub's arms are above their head, attach a spreader bar to their ankles for some very exposed, vertical fun.
Play with your favorite toys to tease, torture, and warm them up and then slip them out of the ankle restraints and into the leg straps for the main event.
This is an amazing position for oral teasing, vibrator play, or just good oldfashioned gravity-assisted up against the wall banging.
Aftercare
One of the important things to remember about BDSM is that if you're doing it right, you're pushing buttons and boundaries.
While that can be extremely sexy and a lot of fun, it can also be a mental and physical challenge. Just like you clean your sex toys and put them away in a safe place when you're done using them (please tell me you do that), after BDSM play you should engage in a little aftercare with your playmate.
BDSM play can trigger a huge endorphin spike followed by just as powerful a comedown. During that comedown, it is important to make sure your sub is well hydrated, fed, cuddled, and communicated with. Remove all bondage gear and relocate to a cozy place.
Get that blood sugar level up with some chocolate or juice. Make sure that everything you did was okay and see to it that they feel extra cared-for and safe. Then do some super normal shit like watching a comedy on Netflix together.
Skipping this important step can spoil the fun, so take your time and aftercare like you mean it.
Conclusion
Yes, BDSM is deliciously kinky and involves all the best toys, sometimes at the same time. It's also a surprisingly effective way to get closer to your partner and reach wild new sexual heights together.
So next time you start to feel like singing "The Thrill is Gone," maybe the tune you should be singing is "Hit Me Baby One More Time." I mean, it can't hurt, right? And if it does, just make sure it hurts so good.