Today, I'm gonna take you by the cock and balls and lead you to the promised land of the cock rings. Often overlooked in favor of flashier, more elaborate toys, these loved couple toys deserve some respect.
Whether you just want to bling your boner out or transform it into a 3-ring sex circus– we have reviewed, tested and researched countless cock rings, and let me tell you: there is a cock ring out there just for you.
No matter what you want out of a penis ring: a little extra mileage to please your partner, some flair to spice things up, or a full-service fuck-enhancing device, I've got what you need–– 21 of the best cock rings on the market.
This list is a collection of every type of cock ring at every price point. But before we put a ring on it, let's commit to understanding a little more about cock rings– what they are, how they work, and why every toy box should have at least one in it.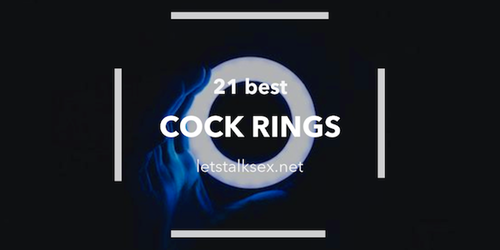 Here are 21 of the best cock rings available, organized by use:
Everyone's got to start somewhere, but once you start to rock out with your cock ring out, you may never want to go back to the old ways.
Best cock rings for Erection Enhancement
1. Get Hard Extra Thick Silicone Cock Ring Set (3 Pack)

Everyone knows that one size does NOT fit all, so this set of 3 silicone rings lets beginners test the cock ring waters and figure out what size ring they need. The rings are stretchy and soft to the touch– so they grip your goods without any discomfort.
Sliding your meat and potatoes through one of these rings gives you added girth and am impressive-looking erection.
But your cock isn't the only thing these rings make long and hard–you'll last longer in bed and cum harder with these rings. The pack of 3 sizes helps you find the right size, but you can also experiment with doubling up and mixing and matching.
Use a little lube to slide into the ring, starting with your balls if you want to get everything in there. Hands down, some of the best value you'll find for a cock ring.
The Tech stuff:
Minimum diameter: 1.25 inches
Maximum diameter: 1.5 inches
Material: Silicone
Manual
2. Ringo Biggies Cock Ring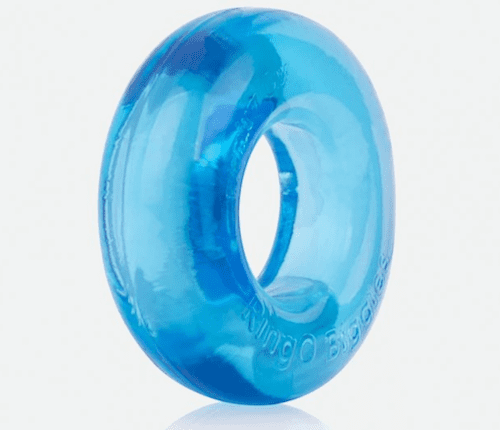 If you've ever wanted to slide your cock into a donut, then this cock ring might just be the perfect match for you. This massive toy is super-snug, and will make sure your member makes a big impression.
Its girth is perfect for solo endurance training, but guys carrying really big packages may find it a little too tight for a comfortable fit. Bonus points for the fact that the wide-load clearance on this ring can rub your partner just right for a little enhanced clitoral stimulation.
The Tech stuff:
Diameter: 1.5 inches
Material: TPE
Manual
3. Speed Racer Handmade Leather Cock Ring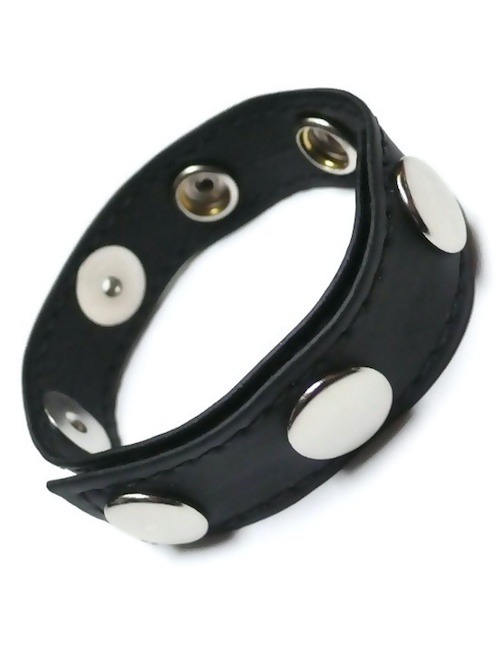 When you want to hang tough and hard in studded leather, this is the cock ring that will help you rise to the occasion. Handmade to order, you know it's going to be high-quality and built to last. It comes with five steel snaps to adjust your pressure to exactly where you want it.
The Speed Racer is perfect for guys whose cocks want to look every bit the part of a bad boy. Made for leather daddies, subs, and dentists who ride a Harley on the weekend. An easy ring to get around the cock and balls, just slip it around the package and snap it into place.
Basically, this is a good-looking cock ring with a no-nonsense attitude.
The Tech stuff:
Length: 10 inches
Minimum Diameter: 1.5 inches
Material: Leather/Stainless Steel
Manual
4. Magic 8 Stretchy Silicone Cock and Ball Ring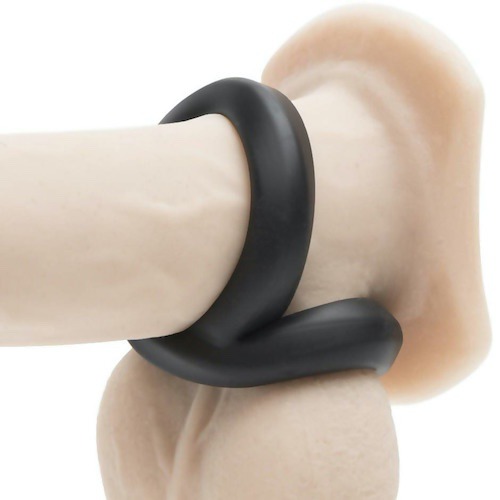 With this magic 8 cock and ball ring, all signs point to some extra-long wood and an out of this world orgasm. Adding your balls to the equation may be a step too far for complete novices, but for those looking to expand their cock ring horizons, this is a great option.
It is made of soft, durable, stretchy silicone and quite frankly it makes your manhood look like a gladiator heading into battle. Your partner won't believe their good fortune–it is certain that you are going to last a long hard time wearing this silicone sex-enhancer.
The Tech stuff:
Maximum Diameter: 2.5 inches
Minimum Diameter: 1 inches
Material: Silicone
Manual
5. Stainless Steel Heavy Duty Cock Ring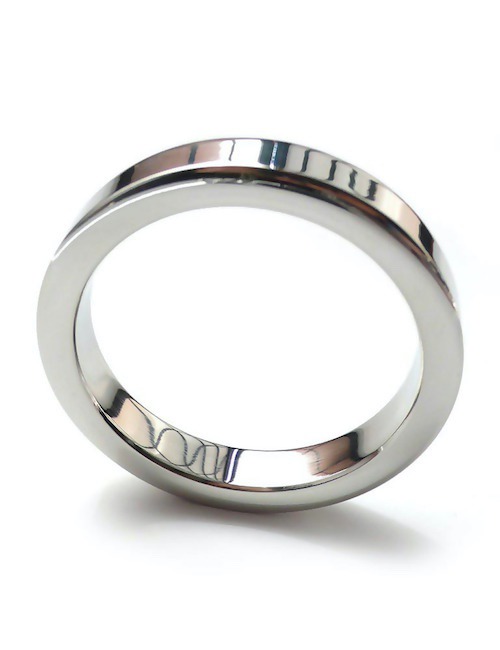 Add some flash to your fucking with this classy-looking cock ring. It's definitely on the advanced side, so if you're still taking your first steps into the wonderful world of cock rings, you may want to start with something more flexible.
The polished stainless steel body of this ring is classic and beautiful– like a piece of jewelry. It comes in two sizes, so make sure you get it right. Just make sure you lube up and get your balls in first, before pulling your Johnson through.
In my personal opinion, the beauty of a timeless piece like this is its simplicity– it gets straight to the point, can fit in a pocket, and is as subtle as a paperweight.
Leave it right on your desk at work and no one will suspect a thing.
The Tech stuff:
Inner Diameter: small is 1.5 inches, large is 2.16 inches
Inner Circumference: small is 4.7 inches, large is 6.8 inches
Material: Stainless steel
Manual
Best Cock Rings for Aesthetic Enhancement
6. Colt Snug Tugger Penis Ring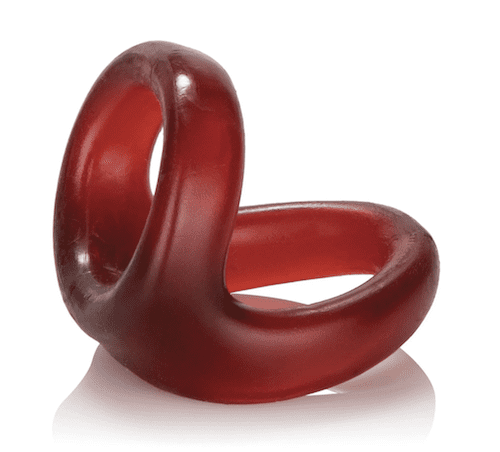 This best-selling cock sling is no joke. It displays your junk like a big, juicy snack. Sure, it keeps you hard as a rock and keeps you that way, but the real benefit is that it positions the balls so that they come into contact with your partner when you're in action.
The resulting sensation when your balls slap against your partner offers a little something for everyone. Plus, at this price, you can buy two just in case you ever need a backup. Again, subtle enough to leave hanging by the front door.
Your own mother wouldn't look twice at it, because it looks like something you might use to soften the grip on a tote bag.
The Tech stuff:
Cock Ring Diameter: 1 inch
Scrotum Ring Diameter: 1.25 inches
Material: Seamless TPR
Manual
7. Head Ring with Ball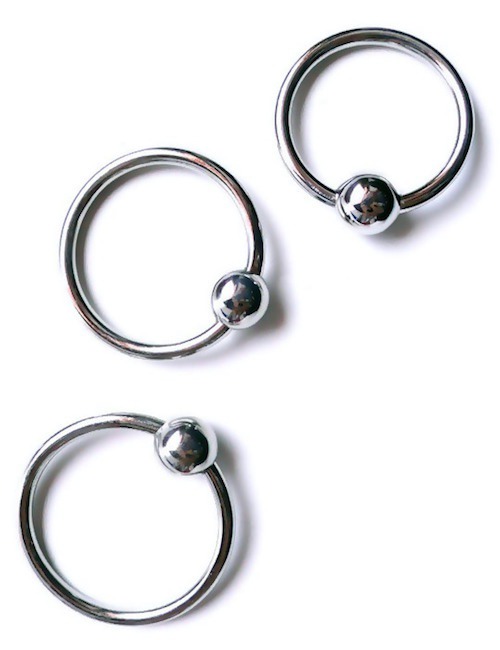 This is one for all you showoffs who want to strut your stuff. The head ring is slightly different than typical cock rings worn at the base of the shaft–this guy sits just under the head of the penis. With a sexy look that resembles a piercing, this brings the bling to your boner.
Sure, it creates greater sensitivity, but it also makes the head of your cock appear larger, which is a sure-fire way to grab your partner's attention.
This decked-out head can add a sensual element to giving head, and when your enhanced glans enters your partner, they will feel the extra stimulation.
The stainless steel material of this ring adds some weight that may take a little getting used to, but some guys like the sensation enough to wear it casually under their clothes as they go about their day.
The Tech stuff:
Smaller size Diameter: 1 inch
Larger size Diameter: 1.2 inches
Ball Diameter: 10mm
Ring thickness: 3mm
Material: Stainless steel
Manual
8. Ironman Duo Double Cock and Ball Ring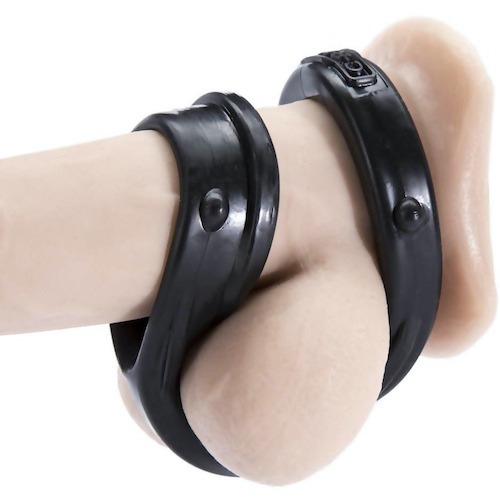 Step into the ring…the cock ring. This double-ring option is just a level above beginner cock rings, but it's a great way to broaden your boner's horizons. The twin silicone rings are designed to stretch to slip over your cock and balls to give help you last longer, look bigger, and cum harder.
They also make your Johnson look like it's ready to go into some hard combat. The ball separator pulls your scrotal skin nice and tight, making them deliciously sensitive and luscious-looking.
This is a nice combination of comfort and function. You can wear it for longer stretches of time than more rigid toys. This is a versatile option too – how you wear the large and small rings in combination is up to you explore.
They say that it's about the journey and not the destination, but in this case I think it can be both.
The Tech stuff:
Maximum Diameter: 3 inches
Minimum Diameter: 1.5 inches
Material: Skin safe rubber
Manual
9. Silicone Ball Spreader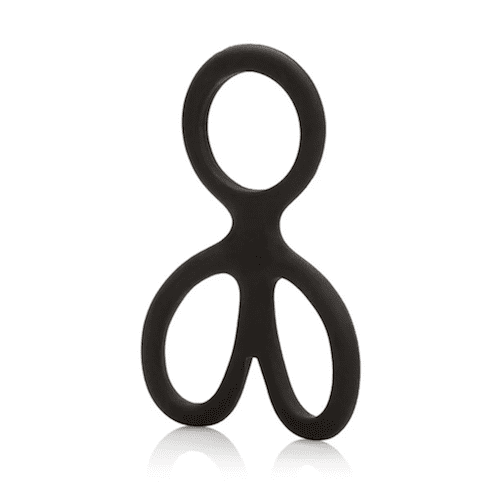 For showing off your boys in all their glory, you can't do much better than this silicone ball spreader. It's stretchy and accommodating, but also separates all your bits so effectively that it makes each ball stand out clear and tight. For oral play, this is great fun too.
The only drawback is that it can be a little harsh on hair, so you may want to do a little scrotal trim or add extra lube for a smooth transition.
The Tech stuff:
Length: 4 inches
Width: 2.5 inches
Material: Silicone
Manual
Best Cock Rings for Vibration/Stimulation
10. Double O Cock Ring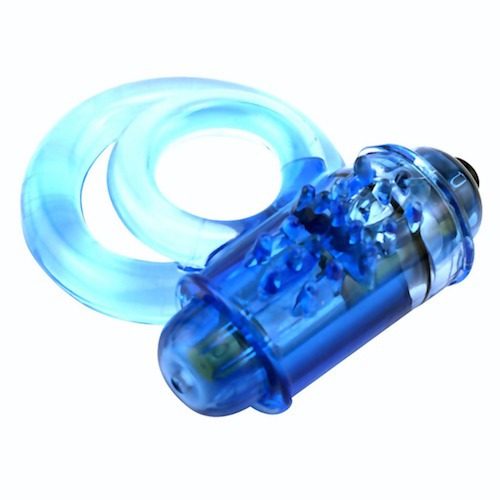 If you're looking for an inexpensive way to test out vibration and the prolonged pleasure of a cock ring in your bedroom adventures, the Double O is an excellent place to start.
With two rings – one for the shaft, one for the balls – and an attached bullet vibrator, this cock ring delivers simultaneous cock, ball, and clitoral pleasure.
The slick silicone material of the ring lets you easily slip the rings on, and the design is low-key enough to look like an LED flashlight rather than a kinky male sex toy.
This is an economy model, so I wouldn't expect the world from it. It's got six settings to get you and your partner's engines running, and should give you a good idea of whether you want to take your newfound love of vibrating C-rings to the next level.
The Tech stuff:
Maximum Diameter: 2.5 inches
Minimum Diameter: 1 inches
Material: Silicone
Battery: Takes 1 AG13 battery, included
Vibration/Stimulation
Electric
11. Vedo Roq Vibrating Penis Ring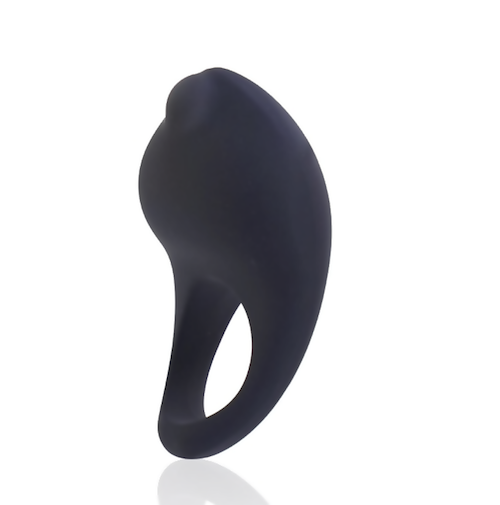 When you're ready to level up to a cock ring that brings its own futuristic party, Vedo has you covered. This buzzing cock squeezer is geared towards increasing your partner's pleasure with the most powerful vibration in the business.
Speaking of business, when you wrangle your bits into this and get your buzz on, it is seriously business time. It has 10 adjustable settings that will either stimulate your partner's clit or perineum while you to work on them.
What makes this one extra special is that it can be fully submersed so you can wear it in the pool, shower, hot tub, or anywhere else sopping wet. Hard, wet, and ready to party. What's not to love? It's also discrete enough that if you leave it sitting out, one could easily mistake it for a computer mouse.
The Tech stuff:
Weight: 8ox
Length: 3.46 inches
Material: Silicone
Battery: Rechargeable USB
Vibration/Stimulation
Electric
12. Fifty Shades of Grey Feel it Baby! Penis Ring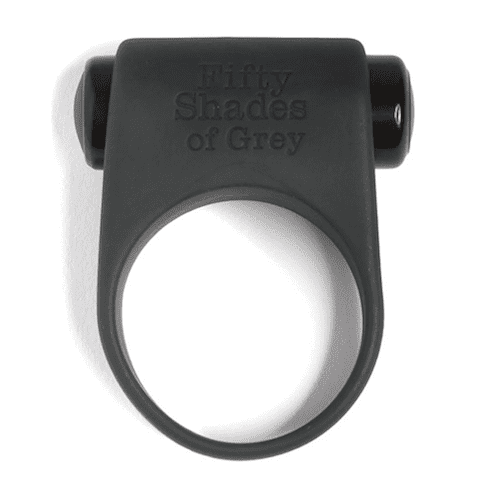 As you can expect from The Shades of Grey collection, this is a stylish, well-constructed toy on the pricier side. What we love about it is that it is solidly built and looks good on. The bullet vibe is detachable, so it's possible to tease a bit before locking and loading for action.
The vibe only has one speed, but it's pretty strong, so what it lacks in power it makes up for in power.
You can position this to give clitoral stimulation or a little tickle on the balls. It also only encircles the shaft, so there's none of the complication of trying to get the whole package in.
The Tech stuff:
Ring Width: 1.5 inches
Length: 2.25 inches
Material: Silicone
Battery: 2 G13A batteries, 4 included
Vibration/Stimulation
Electric
13. Dr Joel Kaplan Vibrating Testicle Stimulator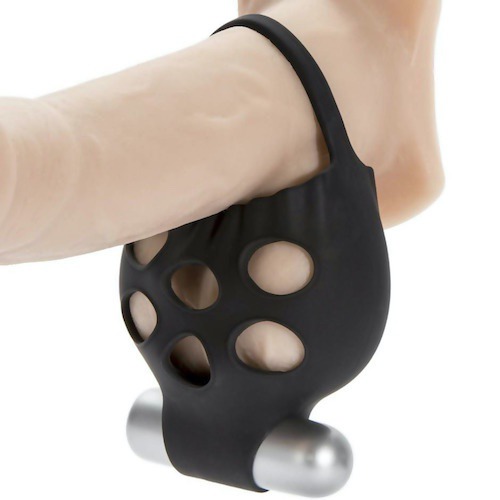 I don't know who Dr Joel Kaplan is, but today, he is the belle of your balls. A slightly unusual entry, but a lot of fun. With a stretchy silicone ring to slip easily over you shaft – whatever your size – the pouch underneath cradles your balls and offers 3 speeds of vibration for your pleasure.
The designers have realized that your partner may have a hard time keeping their hands to themselves and they've left holes for teasing fingers to explore–which we love.
If you're looking to have extra fun with your partner, the bullet vibrator is fully detachable, meaning you can use it independently. If you can get over the look of a feed-sack cradling your nuts, this toy is a great option if you're looking to take your bedroom antics to the next level.
It's not going to do much blood flow restriction, but it more than makes up for it in delivery of sensual pleasure for you and your partner.
The Tech stuff:
Maximum diameter: 1.75 inches
Minimum Diameter: 1 inch
Material: Silicone
Battery: 3x LR44 batteries (6 included)
Electric
14. Screaming O The Ohare Double Vibrating Rabbit Cock Ring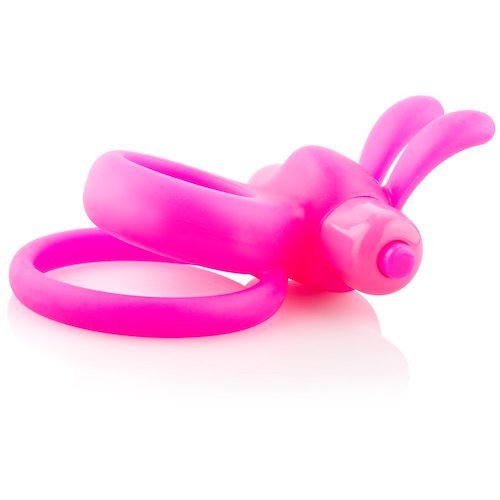 Pull this rabbit out of your hat to show your partner some magic. Rabbits have been popular in the bedroom for years now, and this toy combines the precise clitoral stimulation you'd expect, along with the longer, harder erections of a cock ring.
Like other options on this list, this toy actually features a double ring to wear around your penis and testicles. The vibrations from the rabbit vibe will not only pleasure your partner when you're in flagrante, but gives you an added hot pink thrill.
There are several speeds and patterns programmed into the toy, so plenty to explore.
This ring lacks a USB recharging option, which can be annoying, but it makes up for it in the excellent precision offered by the rabbit's ears. Even better, the rabbit bullet is can be used independent of the rings – it's two toys for the price of one.
The Tech stuff:
Maximum diameter: 1.75 inches
Minimum Diameter: 1.5 inches
Material: Silicone
Battery: 3x LR44 batteries (6 included)
Electric
15. Double Ding Vibrating Cock Ring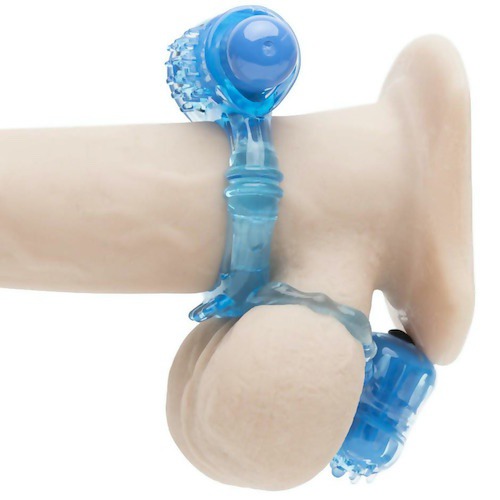 Cock rings are so much more than erection-extenders, and this toy goes the extra mile to prove it. The double Ding is two rings and two strategically-placed bullet vibes, so it's doing double duty twice over.
The thick, durable and soft rubber cock ring works much as you'd expect – simply add lube and slip it on, first on your shaft, then over the balls – and now the fun really begins.
The two connected bullet vibrators take this toy to the next level. The first is designed to offer clitoral stimulation while you're giving her the business, and the vibe down under gives your balls and perineum a buzz once the second smaller ring is placed around your balls.
This toy might look a little silly, but all those bells and whistles are working toward the goal of turning your cock and balls into a fine-tuned orgasm machine.
The Tech stuff:
Maximum diameter: 3.5 inches
Minimum Diameter: .75 inches
Material: TPE
Battery: 2x LR44 batteries, 3x LR44 batteries
Electric
Best Cock Rings for Multitasking
16. ElectraStim Solid Metal Cock Ring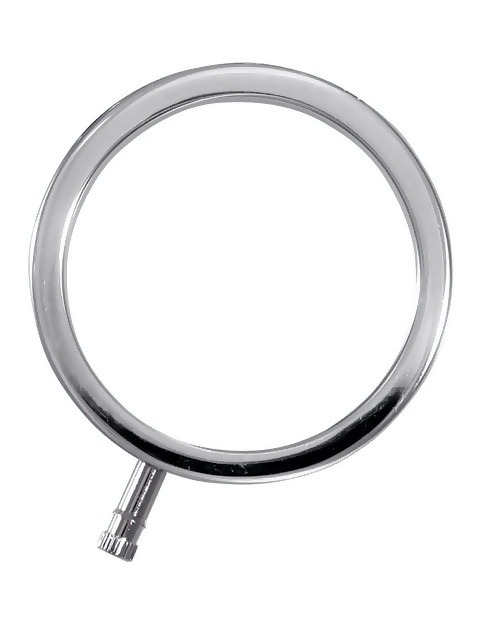 Okay, now something a little different, for you electro-freaks. This is a cock ring designed to be worn on the shaft, around the balls, or both. While it holds you in place, the main event comes in the form of a mild electric shock sure to curl your toes and keep your cock wide awake.
It has a smooth beveled edge, so you shouldn't worry about applying this toy, but lube is – as ever – always recommended. The Electrastim comes in a couple of size options, so this is certainly the ring for you if you've done your research (hint: you're going to need to grab your tape measure…).
The only drawback to this particular ring is that you can't just grab it and go. You must have the Electrastim unit to connect the ring to the 1x2mm pin connector, or else it's just a metal cock ring with a weird nub.
The Tech stuff:
Maximum diameter: 2.2 inches
Minimum Diameter: 1.25 inches
Material: Aluminum
Electric
17. Tweezer Clamps/Cock Ring Set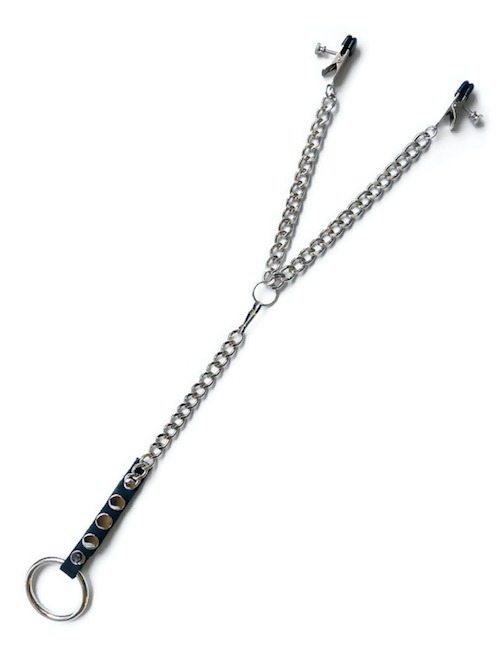 Sometimes a greedy little slut just can't get enough punishment, and that's when you need to call in reinforcements.
These tweezer clamp nipple clamps definitely add another erotic dimension to your cock ring play– the chains connecting cock to nipples are a kinky way to control the action and ramp up the sensation with a well-timed tug. As if that cock wasn't hard enough already!
This tasty duo puts the bridle on the pony and makes sure the ride is long, hard, and satisfying. Bonus points: the strap can be removed from the ring and attached to any other cock ring, so feel free to mix and match to your hard-on's content.
The tech stuff:
Ring Diameter: 1.75 inches
Chains length: 20 inches
Material: leather and metal
Manual
18. Penis Ring w/ Vibrating Anal Pleaser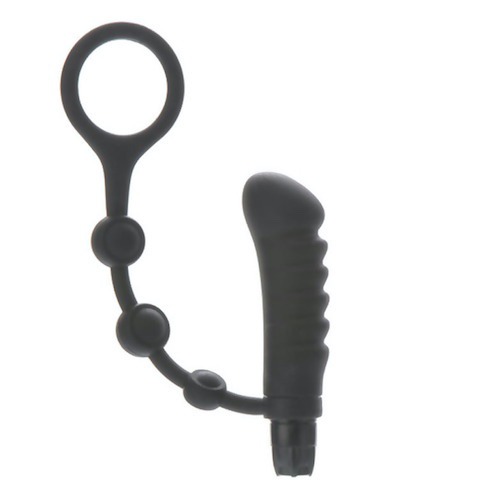 Not a traditional cock ring by any stretch of the imagination, but this toy can give you a boost on your front end and your back door. The stretchy silicone ring is designed to fit snugly over your shaft to heighten your sensuality and stamina, while the ridged anal toy pushes you to the edge.
This toy is obviously a bone booster that can add some flair to your fucking, but it works just as well if you're looking to upgrade your solo sessions. It is not the simplest of toys to use, so you may want to work your way up to using this bad boy. Use with plenty of lube, starting at the shaft and then working in the vibe.
The tech stuff:
Length: 4.25 inches
Ring Diameter:1 inch
Material: Silicone, ABS
1 AAA battery, sold separately
Electric
19. Fun Factory Bootie Ring Anal Plug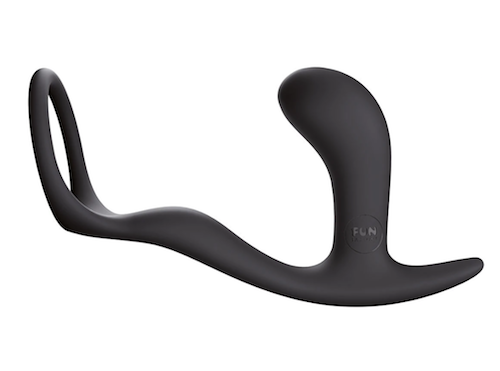 For anyone looking to expand their horizons and get it while they give it, this is a must-have– but certainly not for beginners. This silicone ring is stretchy and accommodating, but comes tethered to a perfectly-designed butt plug to help you explore the possibilities of anal stimulation and prostate play.
This toy may feel like it's all about you, but most partners report feeling the effects of a powerful erection and explosive orgasm when on the receiving end. Each thrust will deliver mind-bending pleasure from your P-spot.
Whether you're working out a solo session or if you're with a partner, use plenty of lube to gently insert the butt plug after you've got the ring on your shaft; the silicone ridge will also further stimulate your perineum for added enjoyment.
This is a perfectly contoured, expertly-designed toy molded to your body. If you haven't put much thought into the P-spot, let our male g-spot guide be your inspiration.
The tech stuff:
Plug Dimensions: 2.5 inches x 1.09 inches
Ring Diameter:1.75 inch
Material: Silicone
Manual
20. Double Fun Vibrating Beaded Double Penetration Strap-On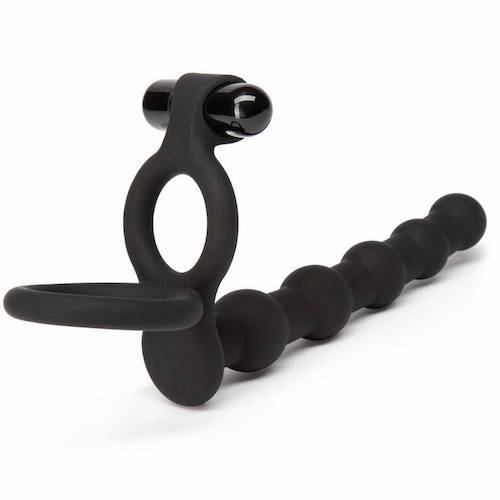 This is where things ramp up to yet another level, from intermediate to advanced. If you and your partner have tried and enjoyed other cock rings on this list, and anal play is one of your menu items, then it may be time to level-up to this double-penetrating cock ring/vibe combo.
This toy rings all the bells at once. Not only are there stretchy, comfortable cock and ball rings to help boost your stamina and hardness, but there is attached bullet vibrator and anal beads to give your partner maximum stimulation.
This is a complex device that may take a little practice and a lot of lube to get just right, but you will feel like a cock star when your partner cums so hard it wakes the neighbors.
The tech stuff:
Plug Length: 6 inches
Cock Ring Diameter:1.18 inch minimum – 1.57 inches maximum
Ball Ring Diameter:1.57 inch minimum – 1.96 inches maximum
Material: Silicone
3x LR44 batteries (6 included)
Electric
21. Rocks-Off Ro-Zen Pro Cock Ring and prostate Massager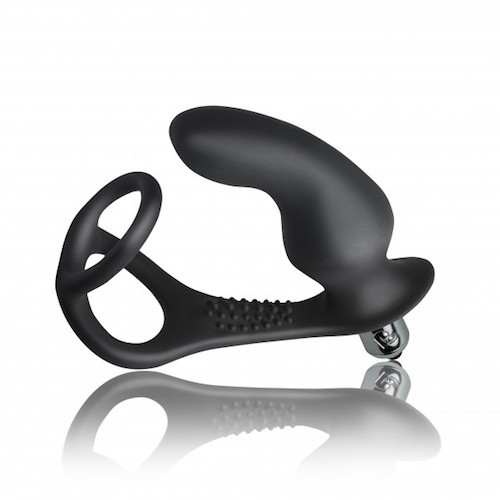 This is not for those merely curious about backdoor play. A bit of an advanced anal play option, but designed so beautifully that it would be a shame not to include it.
The cock and ball rings are solidly built and the entire device is geared toward stimulating the shaft, balls, perineum, and p-spot for ultimate pleasure.
You slide the shaft ring over your erect member, pull your balls through the second ring, and then using plenty of lube, insert the butt plug in and turn it (and yourself) on. Designed for solo play or sex, this will hit just the spot and greatly enhance the length and intensity of your orgasms.
It may feel like a bit of a stretch to go so seamlessly from cock rings to anal play, but such is this slippery slope. The key to remember (with all sex toys, really), is that there is no such thing as too much lube. Confidence, comfort, and curiosity are key.
What is a Cock Ring and Why Should I buy One?
Cock rings are designed to encircle the shaft of your cock, or balls, or both. They can be made of nitrile, leather, metal, plastic, rubber, silicone, Velcro, or even improvised with a piece of rope or latex. These devices are awesome at multitasking, so let's look at the categories of fun they provide.
Erection Enhancement: Basic cock rings will keep you harder longer, prolonging erections until it is time to cum. They can also lead to stronger orgasms and can be used for endurance training.
Aesthetic Enhancement: Cock rings present your man meat in a bold way. The angle is adjusted, the size is enhanced, and your veins are popping. Some rings only encircle the shaft or glans, others are worn around the testicles, but they all aim to visually enhance you.
Vibration/Stimulation: Vibrating models are designed to stimulate your partner's clitoris or perineum and/or your balls and shaft during intercourse, boosting and extending pleasure. The name of the game is still to keep your wood hard for longer periods of time, but this adds an extra dimension to the mix.
Multitasking: This is a special class of cock rings designed to do double or even triple-duty, offering vibration, deep prostate stimulation, double penetration, and other enhanced features such as BDSM play, aesthetic appeal, and electrical stimulation.
How Cock Rings Work
At their most basic, cock rings work simply by restricting the blood flow out of an erection, keeping your bone harder for longer. This is a simple, temporary dick fix that looks good, feels amazing, and can fit right in your pocket.
These longer-lasting erections can result in delayed climax, ending in super intense orgasms for both partners. But wait, there's more: some C-rings come with added bells and whistles like vibrating bits and butt plugs.
So, overall cock rings are a win/win, giving your partner extra satisfaction and enhancing your own pleasure, too.
Despite all their differences, there are two basic classes of cock rings: manual and electric.
Manual: These toys work by gripping your shaft, balls, or both, and sometimes include other bells and whistles like weights or butt plugs.
Electric: Toys in this category use the same flow-constrictive function as manual toys but have an added electrical component that stimulates you and your partner in all the right ways.
Warnings
We are not doctors here, ok? Like anything else in life, there are risks involved. Nobody, other than your doctor, can guarantee that playing with this shit is good for you. Got it? So, with no further ado, here's a word of caution and a few tips.
From the first moment, you should feel a firm, not unpleasant sensation. If you feel discomfort, tingling numbness or coldness, take that thing off immediately. Generally speaking, a cock ring shouldn't be worn for more than 30 minutes at a time, and you should never fall asleep with it on.
It may not seem like a big deal, but trust me, you don't want to end up losing your shit, and by losing it I mean living like a eunuch. And I shouldn't even have to say this, but clean your ring after each use. It is a sex toy, after all.
What Are Cock Rings?
Cock rings are circular bands that are placed around the base of the penis in order to maintain and enhance erections. The ring constricts the blood vessels in the penis, which allows for increased blood flow and a harder erection for longer periods of time. Cock rings can be used for both solo and partner play.
Wearing a cock ring can help to amplify, boost and supplement the size and hardness of your penis. Additionally, a cock ring can increase your stamina, making both masturbation and sex more enjoyable. And to top it all off, cock rings make your penis more sensitive, which can make sex even more pleasurable.
Usually (but not always!) cock rings are made from a stretchy material to accommodate various sized penises and can be used in combination with the right type of lube to create a unique sexual experience.
Cock rings represent a broad range of male sex toys and are produced from various, diverse materials, have various features and functionalities, and vary in price from cheap and disposable all the way up to a hundred or more dollars for a high-tech model with tons of features.
Types of Penis Rings
As with many other sex toys, the variations available in the world of cock rings is vast. We've broken them down into four broad categories; silicone, vibrating, metal and double.
Silicone Cock Rings
Affordable, comfortable and best for newbies to experiment with, but also loved by those with more experience, silicone cock rings are a great option if you're looking for a cock ring that is both pleasant and easy to use.
Silicone is body-safe, which is why so many high-quality sex toys are made from it. It's a stretchy material which will allow you to comfortably slide the ring on and off of your penis.
It's not uncommon for standard silicone cock rings to be sold in sets. This is useful for finding the size that works for you, but also for experiencing a range of sensations.
Vibrating Cock Rings
Vibrating penis rings offer an extra bit of stimulation for both you and your partner. They can be used to add more sensation during sex or foreplay.
Vibrating cock rings can also, of course, enhance your masturbation experience by adding stimulating vibrations to your session. But many couples love playing with vibrating cock rings because of the sensation they can provide for her.
Some models include an appendage meant specifically to stimulate the clitoris. When he's wearing the ring and thrusting away, she gets the benefit of both the vibration and the physical sensations of him moving inside of her. It's a win-win for everyone!
Some of the best vibrating penis rings come with a remote control or app connectivity so that you or your partner can control its intensity without messing around with the device while it's strapped to your privates.
Vibrating Vs Non-Vibrating Cock Rings
If you're using a cock ring for solo play or just to help you maintain a hard-on, then a simple non-vibrating cock ring is going to get the job done.
But if you're having sex with a partner, and want to add a bit of an extra tingling to your mutual pleasure, then I strongly recommend giving a vibrating cock ring a try.
The vibrations can provide stimulation to her clitoris, labia, and mons, increasing the chances of both of you reaching orgasm.
But in the end, both vibrating and non-vibrating cock rings are great ways to spice things up in the bedroom.
Metal Cock Rings
Solid cock rings, made from materials like metal and plastic, are a more intense option. They are often used by people who are looking for an extreme (but pleasurable) sensation. Unlike silicone rings, solid cock rings (as you can imagine) have no flexibility, so getting one that fits properly is of the utmost importance. Using an improperly sized solid cock ring can be quite dangerous because removal can become a challenge.
But that aside, solid cock rings have legions of fans. Some prefer them overall, and report that all of the positive attributes of silicone cock rings (harder erections, increased stamina, larger size) are amplified even further by solid cock rings.
How do I put on a metal cock ring?
To don a metal cock ring, you'll first need to make sure that you have an adequately sized ring.
Then, apply a little bit of water-based lube to the inside of the ring to help it slide on more easily and prevent any discomfort or pinching.
You'll want to push the ring as far down as possible toward the base of your penis.
And then, once the ring is in place, you're good to go.
Double Cock Rings
A double cock ring is worn around both the penis and the testicles. This type of ring can help to delay ejaculation and make erections last longer while simultaneously stimulating your testicle region. Double cock rings could easily be included in all of the aforementioned cock ring types because they can also be silicone, vibrating or even solid in some cases.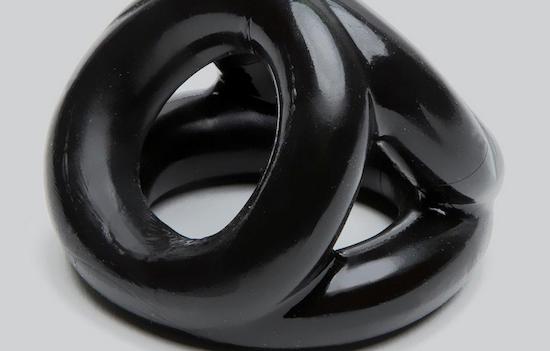 How to Choose the Best Penis Ring For You
People want cock rings for different reasons, and approach their purchase with varying degrees of expertise. Here are some common considerations to keep in mind.
1) Find a ring that's just the right size or buy a set
The most important thing when choosing a cock ring is making sure it's not too tight. You should be able to comfortably fit your penis inside the ring. If it's too tight, it will constrict blood flow and can be unpleasant. If it's too loose, it won't do its job correctly. The key is to find a cock ring that fits firmly when erect but that doesn't ever hurt or feel uncomfortable. If you're unsure or have doubts, one great way to deal with the issue is to buy a set. They can be rather affordable and will allow you to experiment to find the best size.
2) Use a stretchy silicone ring if you're a beginner
Silicone is a body-safe material that is used to make many sex toys, cock rings included. This is because it feels great on the skin and has a soft, squishy texture. Using a silicone ring to start out with will guarantee a comfortable and safe first experience.
3) If you're more experienced, a vibrating cock ring can take your experience to the next level
If you've used cock rings before and you're looking for something new, a vibrating cock ring can be a great option. They add an extra level of stimulation, both for you and your partner. Some men enjoy male vibrators. When having sex, the vibrations will turn your cock into a human, fleshy vibrator, which can seriously arouse and satisfy your partner's vagina.
4) If you're planning on using it with a partner, get one with a remote control and/or clitoral stimulator
As mentioned previously, vibrating cock rings can seriously enhance couples sex. But to make things even more interesting, get a unit that includes a remote control. This can make the entire experience more convenient and sexy. Messing around with knobs and dials on a device strapped to your body is no fun in the middle of sex. With a remote control, your partner can adjust the intensity of the vibrations to her liking in real time, while you go at it.
It's not for everyone (some women report that it can feel a bit too intense), but certain girls love cock rings with a vibrating appendage for stimulating the clitoris. These clitoral stimulators sit at the top of the ring and are either textured or protruding pieces, ergonomically designed to touch the clitoris while constricting blood flow to the penis.
5) Get a double cock ring if you love having your testicles stimulated
Some guys love having their balls touched, squeezed or pulled during sex. A double cock ring is for these guys. The first band on a double cock ring goes around the base of your penis, and the second goes around your balls. In addition to stimulating your testicles, wrapping them in a band can help you to last longer in bed by delaying orgasm.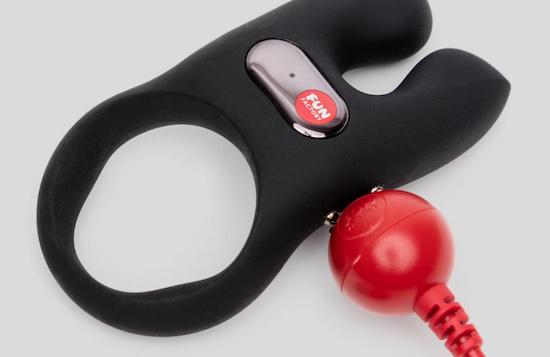 How to size a cock ring
To properly measure and size a cock ring, you'll need a piece of string, a tape measure, and a little bit of patience.
Let's take a look at a few steps to follow.
Get hard: To accurately measure for a cock ring, you need to have an erection. So, either think some naughty thoughts or grab your favorite adult content and get yourself aroused.
Measure your girth: Using a piece of string, wrap it around the base of your erect penis (or the widest part of your penis shaft) where you want the ring to sit. Make sure to pull the string snug, but not too tight, as this can give you an inaccurate reading. Then, with your finger, mark when the string overlaps, remove it, and then measure the string from tip to your marking with the tape measure.
Choose the right size: Once you have the measurement, note it down so you don't forget. Cock rings come in all sorts of different sizes, so use your measurement and choose the correct size. Remember, it's better to go a little bit larger than smaller, as a ring that's too tight can be uncomfortable to wear.
How tight should a cock ring be?
Your cock ring should be tight, but not too tight.
You want it to be tight enough that it stays in place, and restricts circulation a bit, which will help you achieve a harder erection.
But you don't want it to be so tight that it feels like your cock is being held in a headlock.
If you're not sure if your cock ring is too tight, here are a few signs to look out for:
Your penis is turning blue: If your cock ring is cutting off too much circulation, your penis may start turning blue or purple. In this case, remove the ring immediately to allow blood flow to resume.
You're in pain: If wearing a cock ring is causing you pain or discomfort, it's probably too tight. I know you might be into a bit of pain and punishment, but sex should be enjoyable, not painful.
You can't get it off: If you can't remove the ring by sliding it off, it's too tight. If you feel your cock ring is stuck, grab some lube or soapy water to help it slide off. The panic should also cause your erection to dissipate, which will also make it easier to remove.
What's the best cock ring for a thick dick?
If your cock is particularly girthy, I suggest using a silicone cock ring, which is going to be stretchier and more flexible than a metal cock ring.
But as long as you buy the right size, or buy a kit with multiple different sizes, you shouldn't have any issues using a metal cock ring, even if your package is on the above average side of the spectrum.
Where To Find The Best Penis Rings Online
Lovehoney, Adam & Eve, Good Vibrations, Babeland are some of the best, well-known online retailers for sex toys and accessories, but there are dozens of similar retailers that sell cock rings and all sorts of sex toys.
If you're buying from anywhere else, such as an Amazon or eBay vendor, just make sure to do your research and find a reputable seller.
Otherwise, you could end up accidentally buying a shoddy or counterfeit product that either won't last, or won't even be safe to use.
And you don't need that kind of disappointment in your life.
Can I Make A Homemade Cock Ring?
You probably can make a homemade cock ring, but I strongly recommend that you do not try to make a homemade cock ring from any materials you have laying around your house.
Sure, you could use a rubber band, a hair tie, or a piece of string, but do you really want to risk the health and well-being of your genitals for the sake of a DIY project?
Let's be real, if you mess up, you'll be calling up the emergency room instead of your fuck buddy's phone.
So please, just leave the idea of making a homemade cock rings alone, and stick to buying one from a reputable retailer.
What to Look For in a Cock Ring
You know you want a cock ring, but you don't know what exactly you should be looking for. Here are some tips:
Priced for simplicity or sophistication
The most basic, standard silicone cock ring costs just a few dollars. Some cock rings are, in fact, disposable. Others are extremely sophisticated, with customizable features, app connectivity, texture, etc. These can cost over a hundred dollars.
Your budget and your needs will dictate whether or not you want to go for something bare bones that will get the job done, or loaded with features. If you know you love vibrating cock rings and you think it's something you will use for years to come, it may be worth investing in a more expensive model.
Choose trusted brands like Lelo, Fifty Shades of Grey and Tenga
Buying a cock ring is no different from buying a computer or TV… you want to go with a brand you can trust. Top-selling brands like Lelo, Fifty Shades of Grey, Tenga, Tracey Cox and Basics are sure to have cock rings of dependable quality and endurance.
Cock rings come in all sorts of shapes and sizes. Some are simple bands, while others have nubs or ridges for extra stimulation. Again, it's up to your preference, but a simple band might be best cock ring for a beginner.
If you want to have sex in the shower with a vibrating cock ring, make sure it's waterproof. If you're using a standard, non-vibrating silicone ring you're all good for any kind of water play.
If you love vibrating cock rings it's best to go for a model that has a remote control. These tend to have more options so you can hone in on the vibrations that feel best to you.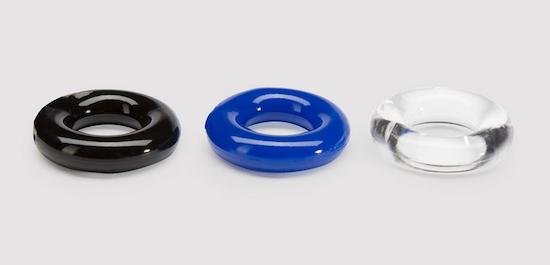 How To Put On a Cock Ring
If you are using a cock ring for the first time, it is important to remember that safety always comes first.
Before going full speed ahead with your cock-ringed sexual exploits, you will want to try it on for size first. Assuming it feels comfortable, leave it on for five minutes, then make sure you're able to take it off comfortably. Assuming you have the cock ring that's just right for you, here are the steps you can take to put it to use.
1) Shave your pubes
Before getting down and dirty, make sure your pubic hair is trimmed or shaven. Otherwise hairs could get stuck in the ring and thrusting back and forth could be painful.
2) Lubricate yourself and your toy
As with other sex toys, lubrication is your friend. If you're using a silicone cock ring, water-based lube is best. Apply lube to the base of your penis, and to the ring itself.
3) Slide the ring over your penis
If you are fully erect already, you may not be able to properly and comfortably slide the ring onto your penis, especially if you are using a solid ring.
Best practice is to be partially erect (but not fully flaccid either). While partially erect, carefully place the ring over the head of your penis and then slide it down the shaft to the base. Once engorged and erect, the ring should feel tight but pleasant.
You shouldn't experience any pain, discomfort or numbness. If you do, remove it. The sizing is wrong.
4) Enjoy your sexual experience
Have fun with your toy by yourself or with your partner. You should notice a firmer, stiffer erection and a bigger size.
5) Remove the ring
Once you're all done, carefully remove a silicone ring by simply sliding it off of your penis. If it's a solid ring, you will need to wait until you are flaccid to take it off… do not try while you are erect.
6) Wash up
Always thoroughly wash your cock ring according to the manufacturer's instructions after each use to prevent the buildup of bacteria.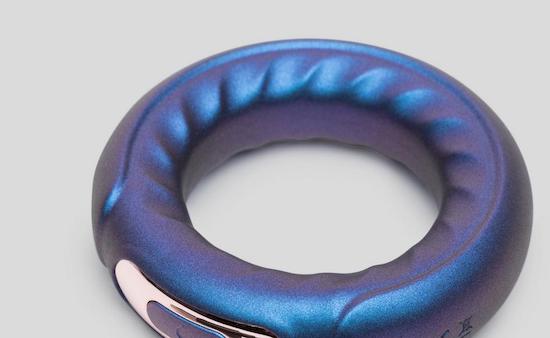 How To Clean A Cock Ring
To clean your cock ring, simply use a damp cloth or towel to wipe away any bodily fluids or lubricants.
Next, give your cock ring a gentle scrub with some warm soapy water. Then, rinse your cock ring thoroughly with warm water to remove any soap residue.
Finally, dry the ring completely with a clean, lint-free towel or let it air dry.
Cleaning all of your sex toys, including your cock rings, is crucial for maintaining good hygiene and ensuring it lasts as long as possible.
How to store a cock ring
The best way to store your cock ring is in a cool, dry place away from direct sunlight.
You can keep it in a small box or bag, or simply in a drawer or cabinet.
If you're tossing your cock ring into a drawer, just make sure that it's clean!
Trust me, you don't want to reach for your cock ring only to find it coated in dog fur, dirt, and other debris.
Definitely not sexy!
Benefits of Using Cock Rings
Cock rings have a plethora of positive attributes. They include:
Can give your penis a larger appearance
Make fuller and more firm erections
Create Longer-lasting erections
Create more intensity and pleasure in your sex life
Can be more affordable than other sex toys
Certain models stimulate both sex partners
Disadvantages of Cock Rings
As with everything in life, there are some negative things about cock rings. They include:
Not safe to wear for more than 30 minutes at a time
Can be tricky to find the right size
Improperly sized rings can cause pain or numbness
Solid rings can be difficult to remove
Must be cleaned thoroughly after each use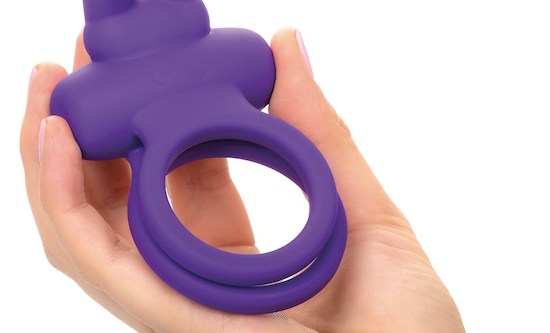 Using Cock Rings Safely
First of all, let's get this straight: wearing a cock ring can be a perfectly safe and enjoyable experience for most guys, as long as you don't have any pre-existing health conditions and use the ring as specified by the manufacturer.
But just like anything in life, there are some risks involved.
Realistically, the biggest risk of wearing a cock ring is using one that's too tight, which can lead to the ring getting stuck, and a whole host of other unpleasant problems, like pain, swelling, and penile discoloration.
Additionally, wearing a cock ring for too long can cause serious damage to your penis
So have fun with your cock ring, but don't forget to give your little buddy a break.
Can I wear a cock ring all day?
No! Absolutely not! Wearing a cock ring for more than 30 minutes is likely to become painful, uncomfortable, and may lead to irreversible nerve damage.
So please, only wear your cock ring for 20 or 30 minutes at a time, and wait an hour or two in between sessions!
Can I get hurt from wearing a cock ring?
Yes, you can injure yourself by wearing a cock ring that's too tight, or by wearing one for too long.
If you wear a cock ring that's too tight, you run the risk of cutting off blood flow to your penis, which can lead to numbness and potential nerve damage.
And even if you get the size just right, wearing a cock ring for too long can cause problems too.
If you keep the ring on for hours on end, you could end up causing priapism, which is basically a painful and persistent erection that won't go away on its own.
And while having a boner all day might sound like a dream come true for some guys, it can become a serious medical issue that I really don't want you to have to experience for yourself!
Cock Ring FAQ
Here are a few commonly asked questions about cock rings
Can I use a cock ring and a condom at the same time?
Yes, you can absolutely use both a condom and a cock ring simultaneously. Keep in mind that if not done properly, wearing both could cause the condom to rip. Best practice is to place the cock ring on your penis first and once you are fully firm and erect, put the condom on.
How long can you keep a cock ring on for?
Cock rings should not be worn for longer than 30 minutes at a time. Wait 60 minutes between sessions before re-using a cock ring.
Is it safe to wear a cock ring?
Yes, cock rings are generally safe as long as you follow the manufacturer's instructions.
Keep in mind that if it hurts, you're doing it wrong, and it could be dangerous. So if at any point you feel pain, know that it shouldn't be that way.
In the case of solid rings, you must ensure that you are using the right size. If you find that you can't remove the ring, you may need to take a trip to the emergency room!
What sex positions are best with a cock ring?
You can use a cock ring in any position, but if you want to focus on your partner benefitting from vibrations or clitoral stimulation, a straddling position is recommended.
You sit down, and your partner gets on top of you. Then they can grind on you to maximize the feeling of the vibrations and find just the right angle to fully utilize any clitoral stimulation your cock ring may provide.
Should I use lube with my cock ring?
The answer to this question is yes. Lube is always necessary with a cock ring. A good quality water-based or silicone-based lubricant will make your sexual experience more comfortable and will make the cock ring easier to remove.
Do Cock Rings Work?
Yes, cock rings work, and can help you achieve harder, stronger, and longer-lasting erections.
But they're not a magic solution, and no metal, rubber, or silicone cock ring is going to turn you into a sex god overnight.
So if you're looking for a little boost in the bedroom, like making your penis slightly bigger, a cock ring may work.
Just don't expect it to do all the work for you. You'll still have to put in some effort too!
How does it feel to wear a cock ring?
Wearing a cock ring will feel tight and might be a bit uncomfortable at first as it will restrict the blood flowing into your penis.
But as long as you're wearing a properly sized cock ring, it shouldn't hurt or be unbearably uncomfortable.
So I must warn you again, if you wear a cock ring that's too tight, it will be uncomfortable and potentially hazardous.
Can I Use A Cock Ring With My Partner?
Yes, you can use a cock ring with your partner!
In fact, most guys wear a cock ring to help them achieve a harder erection, which makes it easier to play around and make love to their partners.
Of course, you can also use a cock ring to play with yourself when you're all by your lonesome.
But in most cases, you'll want somebody to play with so that you can show off your newfound size and prowess!
How to play with a cock ring with a partner
Don your cock ring and let the rest happen naturally. You'll have an extra hard erection, which can help enhance intercourse and makes things extra sexy between the two of you.
If you're using a vibrating cock ring, I suggest trying different positions that will put her clitoris in contact with your ring for added stimulation.
You can also try out different types of cock rings, positions, or vibration settings.
Don't be afraid to play around and tease (and be teased).
The best way to play with a cock ring with a partner is to find out what gets both of your engines revving.
So strap that thing on and see where the night takes you!
What are the best positions for vibrating cock rings?
The best positions for using a vibrating cock ring are the ones that place your partner's clit in direct contact with the ring.
If you really want to make her cum, the key is to make sure the vibrating part of the ring touches or vibrates near her clitoris.
After all, that's where she's the most sensitive to this type of stimulation.
Luckily, many cock rings are designed specifically for this, and will naturally be aimed towards her clit once you have it on.
So really, any positions that allow for that type of clitoral contact, like missionary or cowgirl, are going to be winners.
On the other hand, if you're doing it doggy style or in reverse, you might need to rotate the cock ring so that the vibrator will hit the right spot.
Ready to Say "I, do."?
When you slip on a cock ring, it's less like saying "I do," and more like saying, "I'm gonna do you," even if you're just talking to the man in the mirror. One thing is certain: you are making a commitment to fantastic sex when you put a ring on it.