This review of the best flavored lubes was written by someone who knows what it takes to make a good lube. She went personal in this review to take both personal preferences and professional testing into account.
I love getting hot and sweaty between the sheets. I'm always out to try something new while I explore my partner's nether (and upper) regions. If it can get me the ooh's and the ah's up to pleasure mountain, I'd try it out, no questions asked. Besides, they say oral sex is good for us, so who are we to disagree, right?
Top 3 Flavored Lubes
Sliquid Swirl – So good you'll lick it straight from the bottle
Wicked Aqua – Salted mild caramel, delicious
Wet Dessert – Alternative to fruity flavors
More amazing flavored lubes below.
My partner and I used to have a – how do you say it – quite a boring sex life. Don't tell him I told you, but there were times I even have to ASK him to go "down there". You know what I mean, right?
That was before we discovered flavored lube. Sex after discovering flavored lube turned into a new adventure every time. We would let each other choose the flavor for our next one.
My Criteria when choosing a flavored lube
Now before we head on to the 12 lubes that I collated for you, let's talk about my criteria. Aside from the flavor, I also make sure that the lubes that I am buying are safe. I specifically check if it has glycerin, because you know, pussy + glycerin? Not a good idea. Hello, yeast infection.
The taste is a given criteria. It depends on whether you like your lube to be fruity, minty, chocolaty, or sugary sweet. It's up to you, but I'll tell you how I and other users find it.
On top of the taste, I look at the packaging among other things.
Does it come in a small bottle?
Can I bring it on a date that has a possibility to get kinky?
Is it messy and hard to clean?
Stuff like that.
I will also give my thoughts on whether I would buy again or stay away as far as possible from the product.
Best Overall Flavored Lube
Sliquid Swirl Green Apple
I have had a taste of flavored lubes and so far, I don't find special formulation for women very appealing. But behold, this Sliquid Swirl Green Apple Flavored lube has that natural taste. It will make you request your man to lick you all the way to orgasm. It tastes so delightful like you're licking candy.
Taste – I love its fresh, tangy taste. It does not taste synthetic at all. It has that refreshing effect on my taste buds and the same on my husband. Our oral sex had never been this good. We enjoyed it 100% more than we did before. I sometimes even see him lick it straight from the bottle!
Packaging – I must say a natural tasting lube should come in bigger bottles. Though this 4.2 fl oz bottle is convenient enough to take anywhere you like. You can have it on your purse especially for after date plans. It does look like a regular water-based lube in the market because of the plastic container. I love how the word "natural intimate lubricant" shows on the label. It makes it so discreet.
Yay or Nay? – Being experimental and adventurous with sex, adding this lube is such a game-changer. The natural taste feels like drinking fresh apple juice. I love that it does not leave any bad aftertaste and its sweetness is very natural. A little amount of this lube will go a long way.
Coolest Bottle
ID Juicy Lube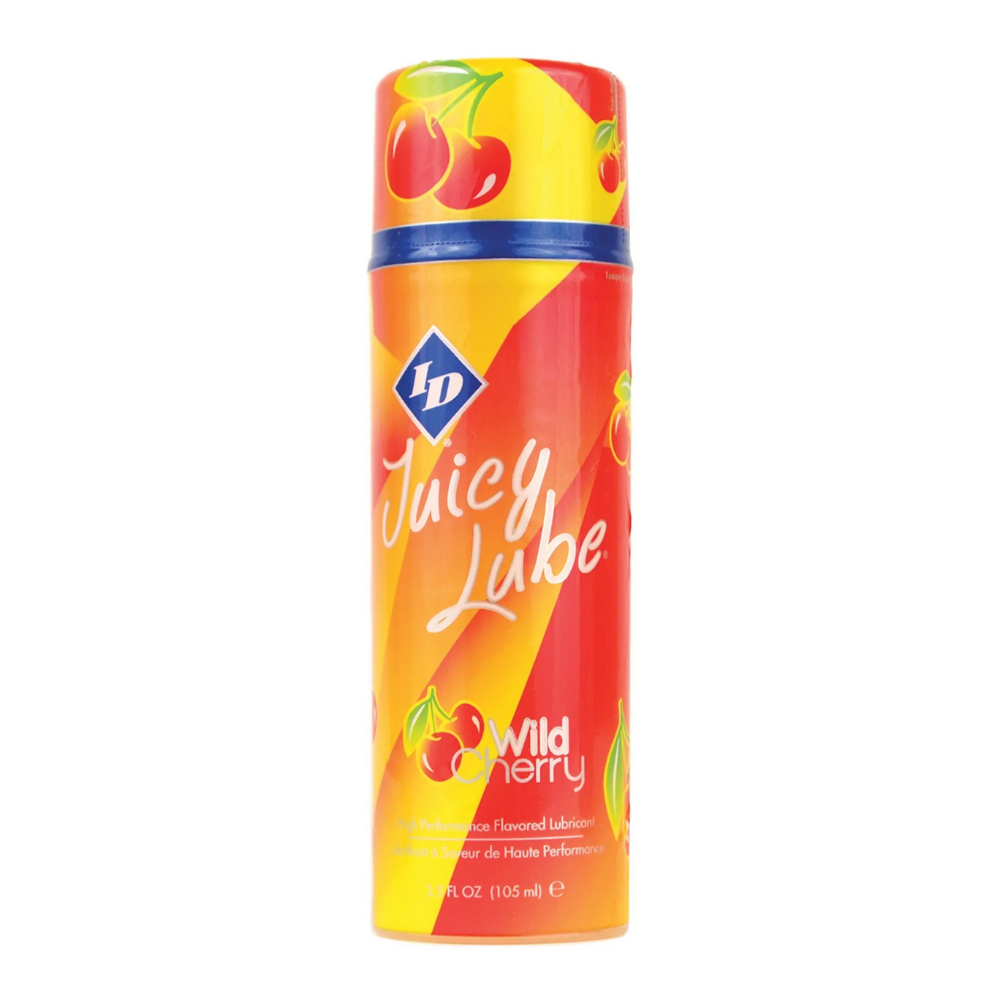 ID Juicy Lube is highly praised for its taste and sweet scent. Perfect for oral sex, it provides a slippery slide sensation for your clit, dick, or tits on top of the zesty fruit flavor. Available in Watermelon, Wild Cherry, and Bubblegum Blast that's packaged in fun colorful bottles. It comes on and off easily without the sticky feel.
Taste – This lube has different delectable flavors to choose from. I love that it tastes and smells sweet without leaving a nasty taste in the mouth. But don't expect it to taste like the real thing. It's lube, after all. With all things considered, it's not as bad as other people might say, at least not for me.
Packaging – This lube comes in a 3.5 oz airless pump bottle for easy one-hand use. While I myself go through lubes like I go through a carton of milk, I like the fact that the bottle is airtight so the product is safe and clean. The design for me is a little over the top but I'm not complaining.
Yay or Nay? – It is water-based which makes cleaning easy. It is not sticky and works well as a lubricant. It stays slick for a long-lasting fun which will you drive your partner, wet, wild, and tasty. I'm a little iffy with the ingredients list since it has paraben but if that doesn't bother you, then it's something you and your partner can enjoy together.
Best Flavor
Sliquid Swirl Blue Raspberry
A lube that is light and doesn't dry out easily? It must be a dream come true, right? But hey, at least they are trying. Sliquid Naturals' Blue Raspberry Lube surprisingly gives in to those criteria.
Taste – I love that it doesn't taste "fake". It's not too overwhelming and not underwhelming as well. It's just kind of right in my opinion. If you like mixing lubricants like me and my husband do, this lube mixes well with other natural lubes without giving you that metallic aftertaste.
Packaging – The packaging is discreet enough to pass as a hand sanitizer. The push pop top allows for that one-handed swift movements when the situation asks for it. Have it ready in your purse when you are out on a date night. Hey, a girl's gotta be ready for anything, right?
Yay or Nay? – I love that it comes in different flavors that do not overwhelm your taste buds. That means we can mix and match with other lubes without the risk of making it taste funny. My favorite combination is this Blueberry with some drops of Strawberry Pomegranate.
Best Vegan
Lovehoney Cherry Flavored Lubricant
If you love an extra-fruity sensation when giving your partner some lip service, this might be the one for you. The cherry flavor drizzles onto your lover's sweet spots. You can kiss and lick every juicy bit of them. It is water-based and perfect for licking every part of your body. It's great for beginners who are new to flavored lubes.
Taste – Cherry isn't always a favorite among lube lovers, even for me. Some cherry flavored lubes often taste artificial like cough medicine, but this one really pops out. It's as close as it can be to the real thing. It's sweet without a bitter aftertaste. This could be the best pick if you are a cherry lover.
Packaging – It comes in a traditional feminine wash bottle *paging the marketing peeps behind this, can we get a bit more creative?* with a pop-up cap for an extra breezy application. Nice and clean while you get down and dirty.
Yay or Nay? – If you are a beginner, you might want to consider choosing this. It is not too sweet but it tastes and smells heavenly. I love cherries and this flavor is very delightful indeed. It's nice and slick but I must say that I don't like that it dries up very quickly. You may also need to put on more product if using it on the backside.
Sexiest Smell
Wet Dessert Flavored Lubricant
I have a sweet tooth and I love giving my man a blow, if this sounds like you then let's revel on this next lube. This lube satisfies both my sugar and sexual cravings. It has a slick and slippery consistency which helps lengthen foreplay time. There's a mild heating sensation when blown. It's nice to have handy to instantly turn your partner into a sweet dessert.
Taste – It's a good alternative from your usual fruity flavored lubes. It has 5 flavors available with frosted cupcake being the most popular. Some users say it has a bitter aftertaste while some say it's too sweet. If you're not into that, you may want to steer clear of this.
Packaging – I like its simple black cylinder bottle. You can bring it anywhere you want without anyone batting an eye. The 1 oz bottle is small enough to slide perfectly inside your bra or pouch and doesn't take much space in the nightstand drawer. If you find that too small, they also have a regular 3 oz. bottle so you don't run out too quickly.
Yay or Nay? – If you love prolonged foreplay before the big event, then this lube is for you. It's got a good performance considering its price point. Choose from five flavors or try all of them. It's worth a try if you want something that's beyond fruit flavors.
Best Organic
Aloe Cadabra Pina Colada
Aloe Cadabra is one of my personal favorites. A two-in-one product that's both lubricating and moisturizing with 95% aloe vera extract. Vegan, organic, and chemical-free, it's one of the few lubes around that's approved by the FDA which is nice. If that doesn't scream "SAFE" I don't know what does.
Taste – It has a mellow taste of pina colada with a slight hint of bitterness because of the aloe vera. But nothing that will make you want to gag. It smells pretty sweet which goes nicely with the flavor.
Packaging – This 2.5 oz tube fits in the palm of your hand. It has a flip top cap to prevent spillage while also allowing for a quick one-hand operation. It doesn't say "lube" on the packaging so even the shy ones can have it around without the effort of trying to hide it.
Yay or Nay? – This is one I would highly recommend to the ladies who need some help in the moisture department on their cooches. The consistency is great for soft and gentle lovemaking, but may not be enough for anal or rough sex so you may want to reapply or reactivate with water once it dries out. Still highly recommended for its moisturizing benefits. But we wrote a full anal lube guide.
JO Gelato Salted Caramel
Now here's something to switch it up in the bedroom. System JO Gelato Salted Caramel Flavored lube is for couples who are looking for something to increase their sweet appetite for each other.
And, honestly, any excuse for frequent fellatio and cunnilingus sounds fun!
Taste – Imagine licking a shaft (or a pussy) that tastes like ice cream! Wouldn't you scream for dessert after dinner? This lubricant can sure turn you to a huge delight. It tastes sweet and a bit salty.
Plus, it wouldn't leave any taste of chemicals in your mouth at all. You just get to enjoy the yummy caramel taste as it continues to tickle your taste buds.
Packaging – I love how it comes in a cute 30ml flip-top bottle. This means I can easily hide it even in a small purse during date night and just pop it out when it feels right. Because, hey, you gotta do what you gotta do when the urge comes, eh?
Yay or Nay? – If you're up for the flavor, then this is definitely a must. Just be mindful, though, as it has glycerin content which can cause an imbalance in your flora.
So, you may want to save this for foreplay and be hungry for each other! This is a perfect way to pleasure your partner while satisfying your sweet tooth.
OraLove Delicious Duo
It's the first time I've seen lubes sold as a set before so it intrigued me to find this while looking online. When you buy, you'll get two separate flavors that complement each other, yummy! Its slick, water-based, hypoallergenic formulation is safe for even the most sensitive pussies and dicks. Drizzle them together or use them one after the other. What's your choice going to be?
Taste – Reviewers say that the Duo Lickable Lube is as sweet and tasty as it can get for this type of product. You can get either the Strawberry and Mint or Peaches and Cream. There's no bitter or odd taste that follows. It's far from being too sweet for anyone who's tried it, and the Mint flavor has a cool tingling sensation to the skin.
Packaging – I feel like a 1 oz bottle per flavor is a bit too small for regular use. On the other hand, it would be a good size for first-time buyers and those looking for lubes they can bring wherever they go when they travel. It comes in a handy plastic box so you can store them both together. The easy-to-open flip top cap allows for easy dispensing but not flimsy enough to cause accidental spillage.
Yay or Nay? – We love this lube because it is not sticky and messy at all. There's nothing to complain about the scent and flavor, either. It's hypoallergenic and stain-free, too, so you only have to worry about sucking off that dick (or clit) in front of you. Users agree about the comfort it gives during oral sex. I just hope they sell larger bottles so we'll always have enough.
LubeLife Watermelon Flavored Lubricant
They really did a good job with advertising. It's vibrant. It's cool. But not without reason. Users love the slip-n-slide it gives without the tacky feel. As with other edible water-based lubes, it's great to use with condoms and toys. The sweet fruity scent and taste helps heighten sensual pleasure for both you and your partner.
Taste – Think about a warm watermelon flavored lollipop. Mix the jizz in and you got yourself a treat for your tongue. There's no nasty bitterness which makes getting it on much more fun and exciting. They have a mint chocolate chip variant, too. Some reviewers note having a minty aftertaste which you may or may not be crazy about. Either way, you have two delish choices to choose from.
Packaging – I love the cool and clean aesthetics of this product. You may need two hands to get some squirt from it since it's huge, but I'm not mad about it. Having a press type cap ensures you don't lose it while you're busy doing the deed. I respect the creators for the thought that they put in this product.
Yay or Nay? – I've seen nothing but good reviews on this one, and I totally agree. You get a real hard BANG for your buck considering the price vs. size. Performance-wise, it'll work as hard as a dick and as slick as your tongue.
Wicked Aqua Salted Caramel
I personally don't like lubes that are too thick that it feels like I have a coating around my tongue. If you're like me, then this may be of interest to you. Wicked Aqua's lube is light and borderline runny with a subtle taste.
Taste – It tastes like mild caramel with underlying vanilla zest. The mild taste coupled with the light consistency is just perfect for that looong and oooh so titillating cunnilingus from my husband. Hey, I give him head too, of course!
Packaging – The packaging looks like a cross between lotion and shampoo. The unprotected pump top scares me to death. I mean who wants a purse with lube all over it in case you have a bottle accident, right?
Yay or Nay? – What I love about this lube is that it is light with a subtle taste. It eliminates the times that you would involuntarily gag because of the taste or consistency of other lubes. The only downside for me is that it is too runny that we only ever use it for oral. You need to be ready to reapply a lot of times if you want to use it down there.
Wet Platinum Lube
If you hate how lubes dry you out while doing the deed, then you may want to consider using silicon-based lubricants. Wet Platinum Lube lasted me for hours of uninterrupted humping to my heart's desire. It didn't dry out at all which gave me more time to feel full and pure pleasure without worrying.
Taste – It doesn't really taste like anything especially when things start to get wet down there as well. I couldn't even notice its mild hint of sweetness that other users pointed out.
Perhaps it's because I personally don't like using it when giving head, so I don't actually taste it. For me, it's great to use both in your ass and pussy.
Packaging – I'm not so happy with their container as the lid opens easily. I couldn't even count how many times I have spilled it. I know, call me clumsy but I'm not alone with this sentiment. It would've been better and perhaps closer to perfection if it comes in a much secure pump bottle.
Yay or Nay? – If you're a little kinky like me and love being ravaged, then this would be a good investment. All I had to do is lather it around his penis and we're good for an hour of sexual adventure!
It doesn't even heat up on extreme friction positions. And the best part is, I can do it even in places like in the shower, tub, or even pool without a worry of drying up.
It sometimes stains the fabric though, and can even take you forever to wash out this lube. But hey, what's that small sacrifice just to get a smooth glide, right? Still one of the best for me!
Adam & Eve Flavored Lubricant
This lube is something that can do what a lube can do. This water-based formula is safe for toys and condoms, easy to rinse and doesn't stain clothes.
Taste – The watermelon and strawberry flavor seems to be a crowd favorite, and I totally agree. Its sugar-free formula doesn't fall short on being sweet, almost saccharine for some, with a fruity smell to go along with it. You may just want to stick to the other less flavorful ones from this list if that's not your thing.
Packaging – It comes in a low-key designed bottle that doesn't scream "LUBE!" It's transparent so you can tell easily if you need to buy some more. The 4 oz. size makes it easy to take it anywhere so you'll be ready when it hits you.
The pump on top lets you dispense with one hand, while the other hand is busy with – you know? The separate cap keeps it nice and spill proof. It also makes sure your lube is dirt and dust-free when not in use.
Yay or Nay? – Users love the silky-smooth sensation they get between their thighs. It gives a nice sweet scent and flavor while you're sucking off or just giving yourself pleasure. Washing it off can take a bit of work compared with others, but hey. Not like cum rinses off easily either, right?
Final Thoughts
Lubricants are more than just substances that make you slick and slippery. It makes the experience much more pleasurable and exciting. With the huge sea of flavors available, there's surely one for every palate around. You don't have to settle for nasty petroleum jelly, lotion, or baby oil which may cause some equally nasty diseases on your love box.
Remember, oral sex is good, but just like everything else, moderation is the key. In those time we do it, why don't we up it up a notch and add flavor, right?
I hope this guide sparks some ideas to spice things up in the bedroom (or car?) to add some flavor to your sex life. If you haven't tried flavored lubes yet, give yourself (and your partner) a favor by using some of these delicious treats.