If you've read our website before, you might have noticed that I consistently sing the praises of glass toys: butt plugs, dildos, I love them all. Not only because they're high quality toys, but because they're GORGEOUS.
I'm not saying I have them showed off in my home in their own display case with a big ol' spotlight on them…don't tell my dad.
Now, this is going to be a review article like we always do here, but this time, I'm not only going to be looking for the dildos' properties as toys, but I will also be judging them on their aesthetic merit. Call me unreasonable, but I want everything that goes inside my vagina to be BEAUTIFUL.
With that in mind, I'm going to be looking at how pleasurable they are, the price point they're sold at, and the way they look – whether beautiful, or… insane.
Top 3 Glass Dildos
Beaded 7 Inch – Great for G-Spot stimulation. Can be cooled or heated.
Twisted Love – Best glass dildo for anal.
Icicles N.29 – The most beautiful glass dildo. Great for temperature play.
I'll give you a spoiler: there's more than one tentacle on this list.
With every review, I'm going to ask myself: would I fuck myself with this? And would I put it out in public? Don't make that disgusted face, obviously I would wash it first!
Glass Dildos 101 – 5 Things To Know Before Using a Glass Dildo
If you're not a complete idiot, you'll know this about glass play
1. Glass must be made to be inserted
Listen, as someone who's fucked herself with a perfume bottle before (yes, REALLY), the existence of glass toys doesn't mean you can reach under your bed for that bottle of wine you emptied before 10 am and just stick it up your cooch.
No no no.
Glass needs to be body-safe and especially created for this purpose, so please, for the love of God, only fuck yourself with honest to God glass sex toys. I didn't end up in the emergency room, but I was just as stupid as those people who do.
2. Glass is hard (hehehe…hard)
You're probably sitting there thinking "DUH", but if you're a beginner, perhaps a glass dildo is not the best choice, only because it doesn't follow the curves of your body.
Remember that perfume bottle I was telling you about? I'm pretty sure I bruised my cervix with it once or twice. Lemme tell ya, it didn't feel good.
Silicone is one of the most popular materials for toys because it's comparatively softer and more flexible, so you might want to start with that.
Glass is great for a hard fuck, but it can feel a bit overwhelming if you're new to this. Don't expect it to be as easy to manipulate as silicone or jelly, or for it to be as comfortable, especially with large sizes.
You'll need way more lube.
3. Glass is sensitive to temperature
Do you know what your glass dildo and your mother's oven dishes have in common? They can both withstand extreme temperatures, because they undergo a process known as Pyrexing. The More You Know!
You and your Pyrexed dildo can turn the heat up or down without risking it breaking, melting, or otherwise becoming compromised.
Glass will heat up or cool down, depending on the temperature in the room. So, if it's the middle of winter and you pull out your dildo, you might need to work it between your palms for a bit or hold it in front of an electric radiator to warm it up. Otherwise, it might prove to be uncomfortable.
But that can also be an advantage, if you're into temperature play – you want your vagina to feel like it's literally on fire or like your partner is shoving ice cubes up your hooha? Glass is the appropriate material to do that with.
4. Glass is excellent to use in the shower
If you like a nice shower wank, then you might be running into trouble when it comes to the ideal toys and lube. See, if you're in water, you can't use water-based lube, because it washes right off, so you need silicone-based lube.
BUT silicone-based lube can't be used with silicone toys, so that becomes a problem.
That's where glass toys come in – they slip in and out super easily and they can be used safely with silicone-based lube.
In addition, because of that sensitivity to temperature, they'll also heat up to body temperature really quick underwater, so you don't have to wait for it to warm up.
Quick recap:
Water + Water = BAD
Silicone + Silicone = BAAAD
Water + Silicone = GOOD
5. Glass is sensitive to damage
Now, a less fun one that you need to pay VERY close attention to and be careful about: this shit is breakable, yo, so don't let your toddler play with it.
That also means that you have to handle it with care and do your best not to knock it against things or drop it on hard flooring.
If you do, you need to throw it away, because any impact like that can create small fissures in the glass, meaning that it is no longer safe to use, especially since you're inserting this inside your body.
I know you – you're going to drop it, shit shit sh- oh wait, it's not broken, back inside my ass it goes!
NO.
You may not be able to see microfissures, but that doesn't mean they're not there. I'm not playing around here. I don't want you to end up with cuts inside your body or shards of glass up your vag because you were too cheap to throw it away.
Your health is more important than that $30 you paid for a hunk of glass.
Be aware that this is especially likely when you're washing the dildo, because it's so slick and slippery, but also when you're lubing it up. So, just exercise more caution and don't just dump it in the sink like you do with your silicone toys. This one CANNOT take a beating.
The 21 Best Glass Dildos You've Been Scrolling For…
Glass Dildos You Want To Fuck
For all my blabbing about ~aesthetics~, these are still sex toys, so we're going to look at their properties first, and determine where you can find the most pleasurable glass dildos.
What makes a good one? Does the shape matter? What should you be looking for? Do all those swirlies DO anything, or are they just there as art porn?
1) Nubby Textured Sensual Glass Dildo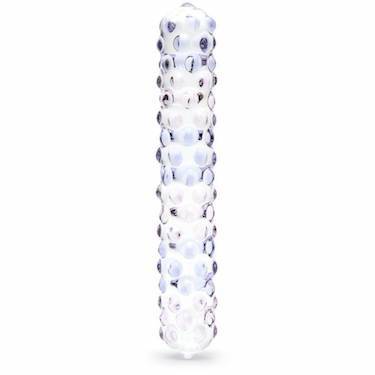 If this looks diseased to you, that's because it is. No, I'm joking. But you've gotta admit it looks weird, but compelling, in a strange way. Would my first instinct be to fuck it? I don't know. But the idea would occur to me eventually, after playing around with it for a while.
Anyway, this glassy cucumber over here looks like it'll give you a GREAT time. I'm not going to comment on the mention of the "hand-blown" nature of this toy in the description, because that's too easy.
I went into this planning to refrain from making 593456 jokes about "blowing" glass, but I only made it to the first toy review.
Would I fuck myself with this? Fuck yeah I would, it looks better than any other dildo I've ever seen. More stuff should come covered in nubby shit like that; if guys can have nubby Fleshlights, why can't we have nubby dildos?
Would I put this out in public? I think this looks…interesting enough to display, but subtle enough to fly under the radar. Your grandma will never guess, although she may think it smells weird.
2) The Rotator Glass Dildo

This one's interesting – short, fat, and with a veeeery interesting handle, and with a name like that, you can pretty much guess what THAT's for. This one's made to be used by a partner on you, and you can also successfully use it in your ass.
Well, you can use the other ones too, but the size on this one lends itself to that kind of play. Plus, it's all nubby and it's got that head (described as strawberry-shaped on the website, for some reason) so you know it'll feel good inside you. It's non-offensive, so I'm pretty into it.
Would I fuck myself with this? Yeah I'd go for this one because I've never had one of these and I don't think they're that common tbh. Especially if you're trying to entice a partner into incorporating toys into your shared playtime, this could be the way!
Would I put this out in public? I wouldn't really, because it's pretty clearly a dildo, albeit a midget-looking one. It doesn't really have any special aesthetic properties either, so I'll pass on its decorative aspect.
3) Brutus Glass Thruster Dildo

I feel like I somehow mislabeled this because this kind of looks terrifying and gross, right? That head just looks so…graphic? I know it's see-through, but this also has veins and it looks hella thick. But that's kind of the reason why I put it here.
The other reason is the other end on this thing, which is all swirlyyyyyy. I'd fuck both these ends, but that section comes later. Actually, it's coming right now.
Would I fuck myself with this? Not to repeat myself, but yes girl (or boy I guess), this is a good one to fuck yourself with, no matter what end you choose. If you've never done this before, maybe start with the slightly thinner end.
Would I put this out in public? Don't leave this out, guys, it looks like a dick. Is it ironic that I need to say that on a dildo review?
4) Double-Sided Handmade Textured Crystal Glass Dildo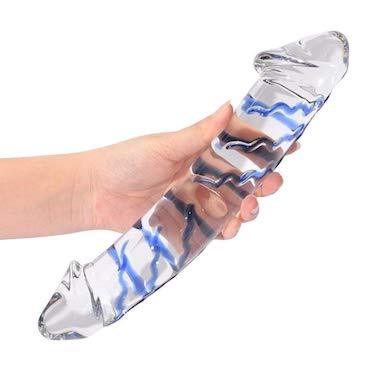 Listen, this isn't pretty and it isn't cheap, but it's exceptionally girthy, which makes it REALLY interesting. I don't know why the fuck you would mention "beginners" in the name of this AT ALL, because – look at this thing. It's a literal monster.
That hand model is having a hard time, and it doesn't look like her hands are really small or anything. This is a big boy dildo and that's something you need to know before buying this.
Yes, that sensation of "fullness" will be more than you've ever felt in your life, probably, but remember that this is glass and doesn't bend, so it'll take a bit of effort. You'd better stretch beforehand.
Would I fuck myself with this? Not gonna lie, and call me weak, but I'm a little bit afraid of this one. I would certainly give it the old college try, but if it doesn't work out, I wouldn't really make it a point to force-feed it to my vag, ya know?
Would I put this out in public? You can't put this monster cock out in public, are you kidding me? Small children would probably run screaming. Hell, I would run away screaming if I went to someone's house and it was just…there. Watching me.
5) Tracey Cox Supersex Glass Dildo Set

This is cheating, because there isn't just one, it's two of them. But they both look good enough to fuck, so I'm gonna add them in anyway. One is great, but two is twice the fun! They've got balls, nubs, ridges, they're curvy – what more can you possibly want, woman? It's only a dildo!
While I certainly like both of these, I don't really understand why they had to come together? Like, they're not THAT different to say they offer some intensely separate, mind-blowing sensations. I 100% think this is to sell you $40 worth of dildos instead of $20.
Would I fuck myself with this? These are great choices, especially if you're a beginner. They're not intimidating in that This Is A Cock kind of way and they look feminine and pretty. They're shaped right, to hit your G-spot, and they're decorated with all sorts of shit to make you feel good.
Would I put this out in public? Hmm. Hmmmmm. Hmmmmmmmmmmm. I'm torn. On one hand, they're pretty obviously dildos. On the other hand, they're kind of…delicate and pretty? The jury is out on this one.

Glass Dildos That Give You The Most Bang For Your Buck
Get it? The most bang for your buck? I'm not nearly as ashamed as I should be for that joke. Anyway, the fact that you need to pay lots of money to get fucked properly is just a classist myth.
I say we put the power back into the people's hands by offering cheap glass dildos to all! That is the platform I'm running for president on.
Sometimes, you get what you pay for, but other times, a cheap fuck is really all you need, and I'm not talking about that $5 blowjob guys can get at the street corner, behind the 24-hour supermarket.
6) The Blue Bubbler

If you like them colorful, this one's for you! It's gorgeous! It's bubbly! It's called The Bubbler! This is one of those that I could actually stick in any category, because it's pretty, it's pretty affordable, and looks like it feels good to fuck.
Real talk, now – it's not as intense as others, as far as the shape goes. Like, some of the others on the list have insane nubbing or ridging or whatever, and this one is pretty tame, so maybe if you're looking for an entry-level glass dildo, this can be your pick.
Would I fuck myself with this? You know what? If I were a young, nubile masturbator who was broke or otherwise inexperienced, this could have been something I were interested in.
Would I put this out in public? While this is beautiful, it's also extremely phallic. Which is the point, I know. But that also means that you probably can't display this, because it's not really artistic; more utilitarian.
7) Glass Purple Rain Ribbed Glass Dildo

Sometimes, all the money in the world doesn't buy you a good fuck, but 30 bucks does. This thing has an interesting shape, and it's cute and purple, and you KNOW how I feel about that.
Let's list some advantages on this one: it's not wildly expensive, it's purple, it has a well-defined head, it's got two ends, and it's ribbed…ehhh bulbous for your pleasure.
That other end looks like it would feel interesting as well, right? It's literally a ball of glass, and I'm going to admit that I don't know what that feels like, but I sure would like to. Not saying I'm clicking Add To Cart Right Now, but…
Would I fuck myself with this? I probably AM going to fuck this, and you should, too! I know all those bulbous bits can be intimidating but this is entirely body-safe, so you won't die if you shove this inside your body repeatedly.
Would I put this out in public? Listen, just like it is the case with all the other ones that look like dicks or dildos, you probably don't want to put it out.
8) Slimline G-Spot Sensual Glass Dildo

I really like this one, it's so subtle and almost delicate. I don't know what it is about it that I think it's subtle, because you can totally tell it's a dildo, right? I guess it could also look like a flower bulb, if you wanted to look at it that way, but anyway, if you know, you KNOW.
Like others, this won't necessarily give you a SFDSKDJDEOETOITO reaction and insane orgasm, but it's a very good option for someone who wants a milder sensation, someone who's new to glass, someone who wants to introduce it with a partner and doesn't want to scare them off, etc. And for like, $20, why not?
Would I fuck myself with this? At this point in time, not necessarily, just because I'm looking for something more…exciting, nowadays, but if you're looking for a new toy, then this is "cheap and cheerful" like the Brits say.
Would I put this out in public? I don't think you can get away with this in public TBH, because it's very much a classic dildo shape. Like, that's a stylized penis head, baby. Don't show it to your mom.
9) Prisms Erotic Glass – Hamsa Glass Dildo

I love thiiiiiis, I love ittttt! It is not only beautiful, but it's a great shape! And it comes in different colors, y'all! Pink and black and purple and white (see-through?) oh my! You get to pick your own adventure in a way, and choose your fave dildo.
The good thing about this is that it's double-ended. The bad thing about this is that it reminds me of cat poop. There's something about that shape at the other end that's just…uhm, unappealing. Although I guess most dong-shaped stuff kind of DOES look like poop. Ok, gonna stop talking about poop now.
Would I fuck myself with this? It's a good deal and it's got two ends, so even if you're not crazy about one end, you can always go to town on the other.
It's a decent-looking toy, and I'd give it a try, why not? If you're strapped for cash and you want to experiment with glass, but don't want to pay $80, please put the perfume bottle down and buy this instead – which is what I wish I would have told my younger self.
Would I put this out in public? I'm torn on this one, because on the one hand, it IS pretty, and the pink one has swirly colors and my basic white girl ass likes that. I low-key think it could pass for some sort of artsy shit. On the other hand, if you've ever seen a dildo…this is a dildo.
10) Mr. Swirly Glass Dildo

I may never be able to stop laughing, because this is called Mr. Swirly. I wonder who I have to pay to get a gig as a person who names sex toys, 'cause it looks like those guys are either completely taking the piss or smoking something REALLY strong.
Anyway, Mr. Swirly isn't as bad as he sounds – he has one of those "strawberry-shaped" heads and a swirly ridge that envelopes it from base to tip, so he's gonna show you a good time. You just have to let him. Okay, can we stop referring to this thing as "him" now? It's getting creepy.
Would I fuck myself with this? I don't know if I can take this thing seriously because of that name and because it looks low-key ridiculous, but I'd be dying to test drive those swirlies, so I probably would, at least once. It does look like that exact feature might make it hard to clean, though.
Would I put this out in public? There's no way you people wouldn't be able to tell. I know it's kinda pretty and it feels like it's wasted if you're just gonna hide it inside your body the whole time, but please, don't leave this out in public.

Glass Dildos That Are Too Pretty To Fuck
This category may be a cop-out because I'm gonna be completely honest – I love ALL glass toys. I think they're beautiful works of art and I would display each and every one of these babies in my home. I wouldn't DREAM of defiling some of these by covering them in my own…secretions.
11) Crystal Heart Of Glass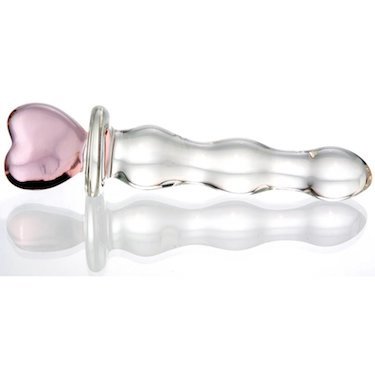 I'm gonna tell you right now, if it's pink and it's got a heart on it, not only am I going to fucking buy it, but I will also use it as my own personal Sailor Moon cosplay. This shit looks like it was ripped out of Sailor Moon's cold dead hands and like it has some magical bad guy fighting powers, and I am INTO it.
Now that I think about it, all those wands she had were always so…phallic. Ladies and gentlemen, How to Ruin Your Childhood in two paragraphs or less.
But let's talk about this dildo. It's ~wavy~, so that's prettier and more pleasurable, the girth looks right, and it's ideal to give as a present to your special someone, to a friend at her bachelorette party, to your sour-faced mother in law, etc.
Would I fuck myself with this? It's too pretty to lose inside my ass or up my vag, and personally, I think burying it inside me and only having the heart come out would look…weird. But I would absolutely give it a try, at least once.
Would I put this out in public? Fuck yes, I would take it with me every way and use it to fight crime. Rude old people who cough on you, manspreaders on the bus…the applications are endless. Plus, can we talk about that name?! Crystal Heart of Glass? ADORABLE.
12) Chrystalino Superior Glass Wand

Have you ever seen something so elegant? It's absolutely gorgeous, and if I didn't know, I wouldn't have guessed this was a sex toy.
Okay, maybe that penis head would have tipped me off, but it could also be just some weird modern art that I don't understand, or a beautiful paperweight, or a gorgeous weapon for gorgeous people.
It's not. It's a dildo. This one doesn't have any crazy nubbies, swirlies, or ridges, but it's sleek and dignified, almost.
Like, imagine a very rich woman, in her 40s. Her hands are perfectly manicured and her elderly husband died in mysterious circumstances. THIS is the dildo she'd be using. I want to be that woman.
Would I fuck myself with this? I mean, yeah, who wouldn't? It's not as exciting as others, so I probably wouldn't reach for it often, but for a quick maintenance fuck with no explosions? Sure.
Would I put this out in public? Are you kidding? I'd have this at my front door, greeting guests, if I could. Or I'd replace my knocker with it. Either way, this needs to be seen.
13) Icicles Pink Heart Swirled Glass Dildo

This is one of the cutest things I've ever seen in my life. It's pink, it has a heart on it, and it's got swirlies. Maybe I just have extremely juvenile tastes (I do), but I LOVE this. It's my very own magical princess wand (not to be confused with the Hitachi, which is a different kind of magic wand…).
Only display this one if you don't have kids or easily excitable friends, you wouldn't want someone to drop it and possibly break it.
Would I fuck myself with this? Can I fuck myself with this? Again, that handle seems uncomfortable as fuck and like it would be really awkward to hold, depending on the position. And the thing is, do I want to fuck myself with this? I have plenty of other fuck toys, and none are as pretty as this one. I wouldn't want to defile it by showing it the cavernous depths of my vag.
Would I put this out in public? YES. I would whip it out in public, I would take it with me to restaurants, I would use it as a pretend-microphone to lipsync into…oh the fun we'd have together!
14) Icicles No 57 Realistic Double Ended Glass Dildo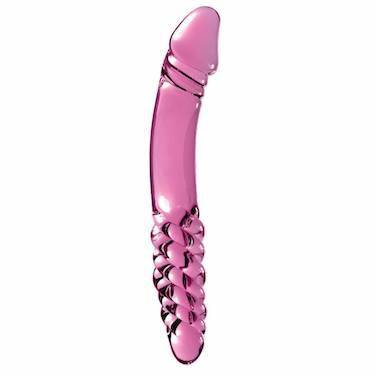 Okay, this one does look more like an actual dildo, because it's got a pretty well-defined head and that swirly bit at the other end that undoubtedly generates some Uhh-Ahh-Ahh sensations. But they just HAD to make it pink.
You know I'm a whore for anything pink and glassy, so I have to have it. Perhaps I wouldn't put this on a doily on the TV to display it like grandma's most prized porcelain figures (remember those? I bet you wish you didn't).
But I would definitely whip it out so that everyone who enters my bedroom can look (but not touch!).
Would I fuck myself with this? I'm sure I'd have a good time with this pink beauty over here, because it's clearly made for that. It's even double-ended, for fuck's sake! But I'd feel like I were desecrating it, so I'll pass. You have fun, though!
Would I put this out in public? As I said, this one might not pass the Is This Actually A Dildo? mom pearl-clutchy radar, but you can keep it in your bedroom to stare at how pretty it is. Some things are for your eyes only.
15) The Dipstick Glass Dildo

This one's actually pretty unclockable, and I'm not going to think about it too hard, because I have a feeling I've seen this in a relative's home at some point. It's extremely sleek and elegant, in an almost intimidating way.
It's just cool, you know. Cool in that I-don't-have-pink-juvenile-dildos-with-hearts-on-them way that I am obviously NOT. You could probably leave this lying around anywhere at all and no one would be the wiser; it's just a beautiful – if confusing – black-and-white artsy glass stick.
Would I fuck myself with this? This is beautiful and it even has some interesting shapes on one end, but to be completely honest…it's a bit too uhhh, lean for me.
Would I put this out in public? It's super classy and interesting and no one could ever clock that this is for fucking, so yeah, I would absolutely put this in a display case. I'll bet you $5 I can convince someone it's an expensive art piece or something to use in the kitchen.

Glass Dildos That Are Too Batshit To Fuck
Here is where things get FUCKING WEIRD. Weird shapes, insane toys, and stuff that NO ONE ever asked for. I would also display these in my home. No judgement, please. But would I fuck myself with these?
Mates, I'd fuck myself with anything, as long as it gives me a good time. You know I may not be here for a long time, but I'm here for a good time. Or at least that's what it says on the bathroom wall.
Okay OKAY that's what I wrote on the bathroom wall.
16) Icicles G-Spot Curve Glass Dildo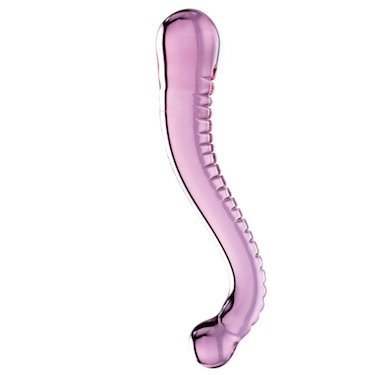 This…this is tentacle porn come to life. And I LOVE IT. Look at this thing – it's insane, it's beautiful, and it's got those little ridge-y bits; Durex would say it's ribbed for your pleasure. I would say it mimics the folds in octopus skin and I SHOULD be grossed out, but I'm not.
The shape is right, because it's all spiral-y and curved and it reaches your G-spot, so this tentacle is definitely made for fucking.
Would I fuck myself with this? If you have G-spot wands, this works the same way, because it has the same kind of shape. It follows the curves of your body, so it makes the glass feel less stiff and harsh. If you're a glass beginner, this could be a good first one!
Would I put this out in public? I know these are the scary ones, but I think it's so beautiful. It's partially because of that gorgeous color, but it also has a very elegant shape, and it's next to impossible to figure out it's a dildo if you don't know. Display it proudly, I say!
17) Candy Cane Glass Dildo

There is no easy way to say this: this is a giant candy cane that you fuck yourself with. I'll admit, I was torn, because it IS kind of cute, but I could NOT get over how weird it is.
And it kinda makes me feel dirty, but in a bad way? Because of the child and Christmas association? Plus, holy UTI, batman, you should NEVER put something sugary in your vagina. Never ever ever ever ever ever ever. And I know this isn't the real thing, but the mental image is scarring enough.
Would I fuck myself with this? I could maybe MAYBE see using this if I'm doing some naughty Christmas-themed roleplaying with a partner, but…would I be that gal? It would still be weird.
Would I put this out in public? This may be the world's most inconspicuous dildo. Who the hell is going to know that you can fuck yourself with this? It's literally just a giant ornament, and no one would know any better, so, maybe hide it if you have little hands around.
18) Icicles 55 Pink Curved Dildo

I feel like this is cheating, because while the batshit-ness is objective, I'm in two minds about it.
Like, there is A LOT going on here: it's curved, and double-headed, AND it's got ridging AND it's got nubs, AND it's as pretty pink color… it's doing ALL THE THINGS and while it may look intimidating, especially to beginners, it also looks like it would rock my fucking world.
It's…it's too much to be pretty, but that doesn't stop it from feeling good.
Would I fuck myself with this? I won't even pretend to be conflicted about it, I would 100% fuck myself with this. In fact, I'm doing it right now. No, I'm kidding, but I wish I was.
Would I put this out in public? Eh…maybe I'd just save this one to hide under my pillow and use it without anyone knowing. You know, like that guy you bang on the side who's too ugly to introduce to your friends but who fucks you really good, so you don't want to end it.
19) Glass Penis Masturbation Adult Toy
Okay, this one's just straight-up ugly. I thought we left shitty purple-green duochrome back in the 90s WHERE IT BELONGS. And can someone tell me what that ring in the bottom is supposed to be? Are they afraid it'll get stuck inside me?
I'm not going to sugar-coat it: it's not the prettiest choice on this list. But it has those bumpy bits that should stimulate you in all kinds of ways, so I can't bring down the hammer on it completely. Not every toy has to be displayed, plus if you're a raver, you might actually be into this aesthetic.
Would I fuck myself with this? I've used better, prettier dildos, but at the end of the day, this goes inside your body, not outside, so you don't have to look at it.
Would I put this out in public? It's a no from me, dawg, that bitch is ugly af. I see no aesthetic value to this thing, nor do I wish to show it off to anyone. Hard pass.
20) Double-Ended Huge Medical-Grade Ultra Smooth Crystal Glass Stick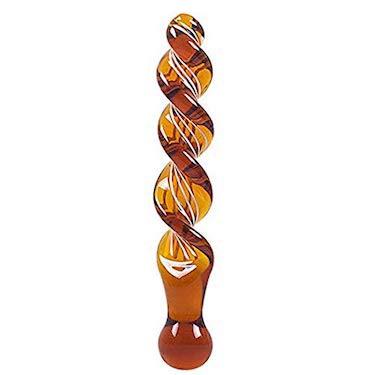 Wowowowowowow. I've…never seen anything like this. It's swirly as all fuck, and it looks insane. Truthfully, I didn't even know there were dildos like this or that you could put that inside your body, but I guess there's a first for everything.
Glass is an excellent material for unique shapes like this, because it allows for this sort of manipulation while it's being modelled hot. This one will definitely generate some extreme reactions, whether that's "NO NO NO" or "YES YES YES".
Would I fuck myself with this? You know I HAVE to give this a try; it's too intriguing not to. A "glass stick" (LOL) that's all swirly and shit? Sign me the fuck up. I'll report back with details.
Would I put this out in public? There is no way anyone can tell what this is, because it doesn't look like a dildo. It might smell like one, depending on how gross your hygiene habits are. But my personal guess is that you could literally take this anywhere and no one will ever know.
21) Icicles No 24 Tentacle Glass Dildo

This one's not even TRYING to pretend it's not a tentacle. It literally says it right in the name. Can I fucking ask WHY this is a category, suddenly? Is this a kink, now? Is it a fetish?
Is it because of tentacle porn? A whole bunch of women suddenly decided what they really want in life is to be able to realistically pretend they're being fucked by an octopus? I…I don't understand it, man.
HOWEVER.
…is it hypocritical to say that I actually kinda…like this one? It's prettier than the other ones. And those nubs look like they feel incredible. I know this is the gross section, but I think it's a combination of Yes I Want To Fuck It + Yes This Is Beautiful + This Is Actually Fucking Disturbing. Can you see it?
Later edit: So, I showed this to my friend and I quote: "Looks like an evil worm about to impregnate you and get you preggo with alien babies. This may be how the Alien franchise was started." I rest my case.
Would I fuck myself with this? Should I be ashamed of this? I would fuck this thing.
Would I put this out in public? Honestly? Yeah. I would go balls to the wall and just leave this out for everyone to see because it's so batshit, but so beautiful.