Want to transform your sex life? Then take a look at our best lubricant for women top ten review!
Lubricants are not just for older couples, or for anal fun, although these are consumers that will certainly benefit from lubes. Everyone should try a good lube at least once to experience the difference for themselves.
Even women who generally have no dryness issues can benefit from the enhancing experience of lube.
Top 3 Lubricants For Women
HS Gel – More than a lube, an arousal gel for women
Sliquid Original – Water based natural lube
Pjur Nude –  No additives, best option for sensitive skin
We've reviewed a few more lubricants for women.
The best lubricants for women are:
That said, it's easy to get lost in the lubricant internet forests. It's wild out there. Don't stay bewildered; we'll review the market for you. Things are sliding along nicely in the lubricant world, and we wouldn't want you to miss out.
Before we take a look at the best lubricants for women, it's important to know what you are putting on your body. Here's a run through the pros and cons of water, silicone and oil-based products because they are all different, and you may find that one type doesn't suit you all the way.
Water-Based Lubes For Women
Pros: Water-based lubes are smooth and slippery. They are water-soluble so you won't have any problems getting stains off the bed-sheets, sofa or kitchen table. They wash from the body easily too.
A big pro for some is that water-based lubes are condom compatible; a must if you rely on condoms for contraception.
Cons: Water-based products absorb into your body, and vaginal membranes are thinner than the rest of your skin. Be aware of your chosen lube's ingredients if you plan to use it long-term.
You may also have to re-apply water-based lubes as they can dry up quicker than oil-based versions. That's not always great when you don't want to stop.
Water-based lubricants may also contain glycerine, which some women are sensitive too. Lubricants shouldn't make you burn. Always wash off lube to avoid any bouts of thrush or soreness. No falling asleep now!

Silicone-Based Lubes
Pros: Often seen as a half-way house between water and oil, silicone lubes can provide the best of both worlds. They are closer to water-base lubes in texture and don't need reapplying as much as their water-based counterparts.
Oh, and they work in water for shower-time fun too. Surely silicone must be the best lubricant for women you say? Well, possibly not because….
Cons: Some women may be allergic to the synthetic ingredients – wouldn't you just know it! Plus, they can stain and require more cleaning up than water-based versions.

Oil-Based Lubes
Pros: Oil-based lubricants are heavier in texture and stick around longer than water or silicone products. Because there's rarely a need to re-apply, it makes them great for longer sessions.
Cons: They can be a bed-sheet killer. Also, condoms and toys can get damaged by the oil which breaks down rubber. Always check the instructions.
Oil-based versions can be tricky to wash off your body, and sometimes they can taste like Vaseline. Their cloying, artificial smell may remind you of new bike tyres.
Top 10 Best Lubricants for Women
OK, so now you have some information – brace yourselves, here we go on a lubed up rollercoaster ride (in no particular order).

1. HerSolution Gel
HerSolution Gel is a water-based women's lubricant that might be a natural libido enhancer too. This premium lube is applied directly to the clitoris and labia, and may provide some orgasm-enhancing sensations.
Their official website claims HerSolution Gel is doctor approved because it featured on The Doctors TV show, where it was recommended as a way to combat vaginal dryness.
It's not a cheap product, but if its claims stack up, then it may well be worth the price. The best lubricant for women ought to increase the chances of an orgasm, so this may be one to try.

2. SLiquid Organic
We really don't like the name 'SLiquid', but that shouldn't mean we exclude it from the top ten. The ingredients in its organic range are certified organic botanicals, which are added to the Sliquid Naturals core range.
These botanicals are said to condition skin and are free of parabans, sulphates and other nasty ingredients.
Sliquid is water-based lube, and the official webpage states they are hypoallergenic, meaning you shouldn't develop sensitivity to them. Some lubes include perfumes and colourings, but the best lubricants for women should be as natural as possible, making this one a winner.

3. Vigorelle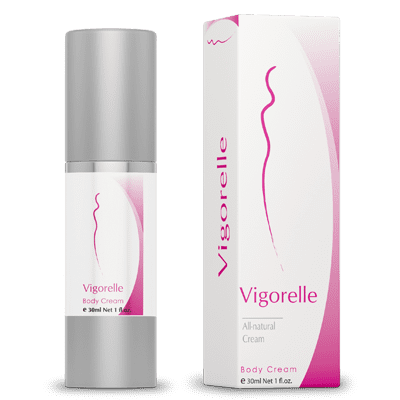 Vigorelle is marketed as a libido-enhancing lube. It has all-natural ingredients which claim to provoke deeper, more intense sensations than ever before. The blend is formulated from plant extracts, including blood-flow stimulants such as L-Arginine.
The cream is applied to the clitoris and may work immediately, so there's no waiting around for a libido-enhancing pill to start stimulation in its own time.
Vigorelle backs up its claims with a 'doctor-approved' section on the official website. This lube is a popular water-based choice, and its added libido-enhancing claims may make it a great lube.
4. Coconut Oil
Yes really, this kitchen ingredient is hailed as a cracking lubricant. It's solid at room temperature, but melts as you warm it on your skin. You don't get much more natural than pure oil!
Problems with this oil are that it stains the sheets, is difficult to wash off, and can get too slippery. That said, it smells fantastic and no-one will know what you are up too when you buy it at the supermarket.
Plus, you can fry up some post-coital crepes if the mood takes you. Some say the best lubricant for women is getting their partner to cook!

5. KY Intense
We've all heard of KY, and it would be remiss to exclude it from this review. It's not generally on any top lube lists, due to the connection with dreaded pelvic exams. It's had a makeover since its KY Jelly heydays though.
One of the newest range out is silicone-based Yours And Mine Couples Lubricant which claims: "His excites, Hers delights. Together feel them ignite". Shakespeare is turning over his grave right now, but the concept is good because the best lubricant for women might not be the best lubricant for men.
The KY lubes are readily available in pharmacies and super-markets. They are good value too, which makes them great for beginners who are searching for their favourite lube.

6. Female RX Oil
Unfortunately, this product has nothing to do with sexy female car mechanics, but all is not lost. It's a non-sticky lube that's safe with condoms because, despite the name, it's water-based.
Female RX Oil is pretty new to the market, but the official website says it contains menthol and vitamin C, and is 'an incredibly effective and powerful lubricant'.
It's a bit different from the other lubes because it tastes of vanilla, making it good for oral. If you like vanilla.

7. Zestra Essential Arousal Oils
Want to experience the Zestra Rush? Calm down, it's not a theme park ride. The Zestra rush is a tingling, warming sensation that Zestra claims takes place when their oil is rubbed into the clitoris and labia.
They say that in clinical trials their oils increase a woman's feelings of desire and arousal, but it's not condom compatible.
Kris Jenner of Kardashian fame must believe it's good, because she was recently their spokesman. The Kardashians probably know a bit about the best lubricant for women.

8. Astroglide
This was one of the first lubes about and remains pretty popular. It's not just for women, men can use Astroglide too. It's got a pretty thin consistency, so if you are new to the lube world it could be one to try out first. It's water-based and some of the range is glycerine and paraben free.
Their water-based sensitive skin lube could be good for women with sensitive skin or allergies. Buy it over the counter or in the supermarket, it's not going to break the bank.

9. Yes
This lube is water-based and comes in different sizes. Perfect if you want to find the best lube without spending too much cash. It's one of the better value lubes but it's still got some impressive claims such as, 'Yes provides intensely realistic lubrication.'
If you are looking for organic, then this is a winner. It's made from organic aloe, flax and plant-based gums, which are mixed to match vaginal Ph. This may stop irritation occurring. Yes comes in an oil-based version too, which can also be used as a massage oil.
Oddly, it's certified by the Soil Association! Yes has many ethical awards under its slippery belt, but is it the best lubricant for women? Well, if you are an environmental warrior then yes, it's a yes to Yes.
10. Valentra
Discover the magic – Oooo! That sounds fun. Grown-up Harry Potter may have some of this, though perhaps he doesn't need it – his millions of dollars may do the trick.
Valentra is an organic, water-based topical cream that may boost libido in women. Its ingredients include 'active natural aphrodisiacs for intense arousal'. The aphrodisiacal ingredients are wild yam, damiana leaf and ginseng 'pin-pointed for…clitoral arousal, erection and sensitivity'.
There are no known side-effects from this cream, in fact Valentra believe its ingredients may even be good for you.
When it comes to finding a lubricant that you will cherish with all your heart, don't just take our word for it (although we are right). Jump in and start experimenting. It's worth trying out a variety of lubes to find the best lubricant for women, because your sex life is an important aspect of your well-being.
Finding a good lube can make a huge difference in your attitude to sex. Take inspiration from the above selection and enjoy yourselves. It'll be the best science experiment you ever undertook.