We have spent the last 10 months trying and testing close to 100 male sex toys, from masturbators, pocket pussies, Fleshlights, sex dolls, prostate toys, cock rings and more to select the best male sex toys to put on this list.
My name is Deon, and I am the world's leading sex toy expert and reviewer since 2012. I have personally tried over 300 male sex toys over the years. You can read more about me in our about section.
Too many men are still terrified of bringing male sex toys into their bedroom.
In a hurry? Skip to the best toys for men!
| Name | What we think | Click to see |
| --- | --- | --- |
| Fleshlight Launch Interactive Stroker | Dystopian | |
| Tenga Eggs | Disposable | |
| Fleshlight Turbo | Vacuum | |
| Fifi | Ratchet | |
| Stoya's Fleshlight | Intense | |
| Kiiroo Titan | Electrocution risk | |
| Cobra Libre | Luxurious | |
| Tenga Flip Zero EV | Retro | |
| Fleshlight Fleshskins | Aggressive | |
| Tenga 3D | Art | |
| Fleshlight Shower Mount | Bougie | |
| Kiiroo Onyx and Pearl Interactive | Teledildonics | |
| The Rabbit Cock Ring | Good vibes | |
| Lelo Tor 2 | Partnered | |
| Hot Octopuss Atom Plus | Prince of cock rings | |
| We-Vibe Verge | Fancy | |
| Nexus Revo 2 | Joystick | |
| Fun Factory Duke | P-spot | |
| Aneros Helix Syn | Butt clench | |
| Loki Wave Lelo | Treat yo self | |
| Edge by Lovense | Tech-y | |
| LuvDollz Becca | E$$pen$$ive | |
| Doc Johnson Sasha Grey Deep Penetration Vibrating Pussy and Ass | Extra | |
| Pipedream Extreme Fuck Me Silly 2 | Silly | |
| Carmen Realistic Sex Doll | Realistic | |
| Phallosan Forte | Willy work-out | |
For years there has been this stigma around men using sex toys with the implication that it somehow makes them inadequate. Thankfully, with the rise of pornography in every area of our lives (Instagram and Twitter included), the use of male sex toys is becoming normalized.
I mean, are you really going to deny yourself the simple pleasures in life and let women have all the fun?
Buyer's Guide: How To Choose The Best Sex Toy For Males
When it comes to buying a male sex toy, there's only so much we can suggest or tell you to consider. With such a personal purchase, you'll need to figure out a big portion of the purchasing process for yourself.
While you are going to like what you like, there are a few tips I can provide you with so you're not totally scammed by online sellers.
Learn to Spot the Fakes
They might not be Rolex or Channel, but that doesn't mean you won't get knock-off versions on Amazon or other sites. The best way to avoid the fakes and ensure you're buying quality products is to get your toys directly from the company's official website or direct distributor.
There's a higher chance of your toys being falsities if you purchase them through Amazon or eBay as sellers have figured out how to game the system.
Embrace your desires
Maybe you're a first-time buyer? Or you've just discovered a new kink that tickles your fancy? Whatever it is, you shouldn't be ashamed of it. You're buying a male sex toy. Everyone involved already knows the business and what comes with it.
Honestly, they've probably seen a lot weirder and if they can turn a blind eye for that, they can turn a blind eye for you. Don't hinder your sexual exploration or limit your options because you're embarrassed because you'll be the only one who suffers from it.
Know your reasons
Determining why you want a sex toy for men will help you narrow down the countless options out there. Sexperts know that there are multiple functions when it comes to male sex toys that extend past busting a load.
Some toys can help to improve stamina and others aim to extend your penis so make sure you understand what you want your toy to achieve before making a purchase.
Decide if you want realistic or fetishized toys
We've all seen the advanced sex robots that have stopped looking like something out of a 1980s horror film and are beginning to resemble real women. We've also been exposed to devices that appear to have been thrown to earth by an alien race.
Now I know not everyone is going to get off to a toy that looks like it belongs in Area 51, so think about what's actually going to get you hard.
If realism is your thing, you don't have to spend your life savings on a sex doll either as Fleshlights exist to give you that realistic feeling, even if it is detached from any semblance of a body.
Fetishized toys are also in abundance and can be found at practically any price point allowing you to get your kink on.
Narrow down your options
Different toys are designed to feel like different sex acts so before you choose one ask yourself what action you want it to perform. A lot of automated machines are there to give you the sensation of a blowjob.
Other toys let you fuck them and have sleeves with ridges, not unlike the ridges of a vagina. Of course, we can't forget the anal toys either. With prostate massagers and buttplugs, there's always something to stimulate your rear end.
Some toys out there will even claim to replace a whole range of sexual acts, but we all know that's a little unrealistic so don't be afraid to keep it simple when it comes to functionality.
The Best Male Sex Toys
Fun Fact: 50% of men in the United States have used a sex toy. However, only 16.6% of men have used a sex toy during solo play.
1. The Fleshlight Launch Stamina Training Pack – Best Hands-Free Male Sex Toy
Summary: Some guys just can't stop themselves from nutting too early, which is where this toy can help.
Why did I pick the Fleshlight Launch Stamina Pack? Ever found yourself start to orgasm as soon as things are getting hot and heavy? Probably yes, 30% of men have this problem. Then maybe a stamina toy like the Fleshlight Launch is what you need to avoid any further embarrassment.
There are many raving reviews about how this toy helped many a man last longer in bed.
This toy is going to help you master your ejaculation. Yes, you could go ahead and just buy a normal Fleshlight STU, and train by hand, but the advantage of using a Fleshlight Launch is that it's hands-free.
This makes it for a more realistic feeling (see "woman on top" sex position) and by setting speed or by syncing it to your favorite porn you will be masturbated and can practice edging.
Look dude, worst case, you've spent some money on a new male sex toy that doesn't do everything it advertised (what's new?). But best thing, it can improve your sex skills.
Pro: It can Bluetooth connect to your favorite porn videos and pump to the rhythm of the pornstars fucking.
Con: It's top-heavy and bulky, meaning you'll be doing more work just holding this in place.
Did you know? Most sex toy accidents happen to guys and involve sticking unsuitable objects up their anus.
2. The Fleshlight Stamina Training Unit (STU) – Best For Training Yourself to Last Longer in Bed
Summary: Designed to train you to stop releasing your load too early.
Why is it on this list? Basically, this is just the insert to the Fleshlight Launch without the added bulk of the Kiiroo machinery. So if you're interested in upping your bedroom stamina, but can't be fucked with something as complicated and hefty as the Launch, then this is your solution.
The interior of the Fleshlight STU has been designed with unique bumps and ridges to help you develop a mental and physical resistance to the feeling of a pussy. Ultimately, by using it regularly, the Fleshlight Stamina Training Unit will halt any premature ejaculation in its tracks.
My tip is to try 10 pumps to start and work your way up. If at any point you feel like you're about to let loose, hands up and step away from your tools. Then when you're sure you can give it another crack without pouring your contents into the toy, repeat the process.
Pro: It's a dream to clean regardless of all the nooks and crannies.
Con: No fancy electronics here, you'll be doing all the hard work yourself.
3. The Autoblow Artificial Intelligence – Best For Robotic Blowjobs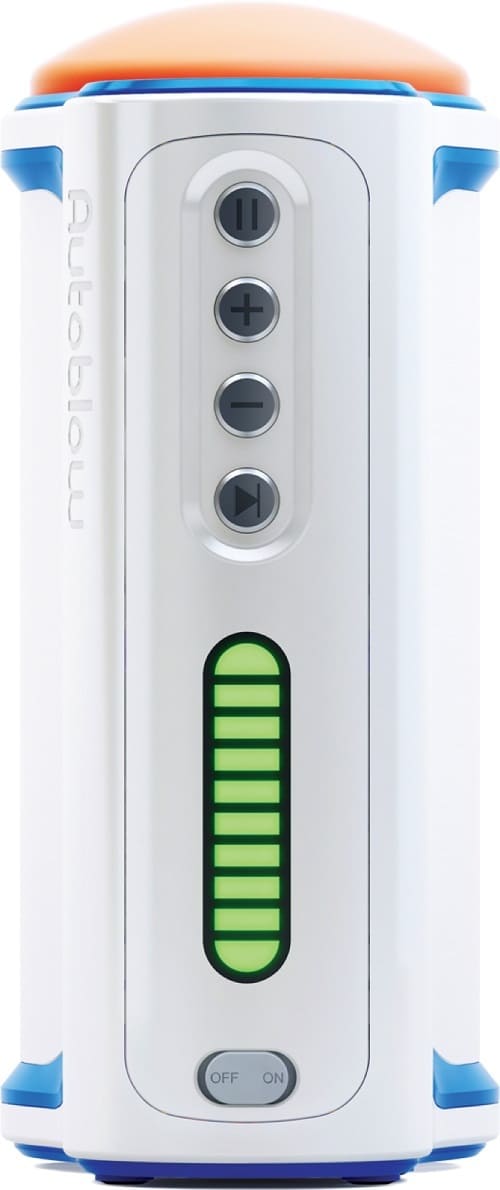 Summary: Artificial intelligence programmed to give you mind-blowing blowjobs. That. Vary. Every. Time.
Why is it on this list? If you're into high tech toys, the Autoblow is right up there. This blowjob machine has a setting designed to give you personalized blowjobs using artificial intelligence. And that's just the beginning.
The other nine settings were chosen by paying people to watch popular Pornhub videos using a custom plugin. This plugin allowed users to wank off a digital dick to the rhythm that the pornstars were fucking each other…
I am sure that Charles Babbage (inventor of the computer) would be proud.
While on paper the Autoblow sounds like the cock-milking machine of the century, in reality, it's far from it. Even the company's crazy CEO believes it will be three to five years before the toy is at the top of its game.
With so many impressive features, you shouldn't be surprised that this toy is the size of a brick. You definitely won't be taking it traveling any time soon. You also have to plug it into a socket to use it as there is no internal battery. However, you could see this as a perk because that's just how powerful this bad boy is.
Pro: The texture of the toy is unbelievable and fuck they patented it or I would have stolen their idea.
Con: Your dick could be electrocuted and you would become the new Captain America… actual Captain Dick. Come on, you'll be fiiine…
4. The Cobra Libre 2 – Best For Those Who Need Their Snake Charmed
Summary: This penis head vibrator charms your snake by concentrating on the sweet spot on your head — making it ideal for all sizes.
Why is it on this list? The Cobra Libre 2 focuses on pleasing men who like "just the tip" of their penis stimulated. It's definitely not for guys who need more shaft action or deep penetration. The device vibrates and its powerful motor really helps send one over the edge.
Being able to adjust this toy around the head of your dick will also result in some pretty insane sensations. Like taking your toys for a swim? That's not a problem with Cobra Libre 2 as it's 100% submersible and will happily jump in the shower or bath with you.
This is a luxury toy: the materials feel very high-end and unfortunately, so does the price. It's just the right kind of heavy though since it's totally body-safe and latex-free.
Once you've corked your willy with the Cobra Libre 2, you can choose between lots of different vibration patterns or press the "Fun to Play" button and let the Cobra Libre 2 cycle through the patterns by itself. It's the laziest – or "luxurious", I guess – wank you've ever had
Pro: If you struggle to get a hard-on, you can still use this toy with ease and have the time of your life.
Con: It's not for everybody. You must be a "head" freak to enjoy this toy.
5. The Kiiroo TITAN – Best For Bigger Dicks
Summary: Big dicked boys can also enjoy some VR synced fun with the Titan.
Why is it on this list? Initially, you may think that bullets and dicks don't mix. But with the Kiiroo Titan, that's false news. Don't be scared, you're not going to get your dick shot off. No, the bullets refer to the inside mechanisms of the Kiiroo Titan that stimulate targeted areas through vibration.
With this toy, you can have mind-blowing orgasms and not have to move a muscle.
If porn is your thing, then the Titan may just be your new BFF. It shows a lot of love to the porn community and is compatible with over 4,000 x-rated videos featuring names such as Lisa Ann, Tanya Tate, and Jessica Drake (which means nothing to me, but if you're a big fan could mean something to you).
Pro: Couples can also get a kick out of this toy as it can be hooked up to any other Kiiroo device for double the fun.
Con: Designed to fit penises on the larger end of the spectrum, so for you regular Joe's it might be a looser fit.
6. Nexus Revo 2 – Best For Experienced Prostate Explorers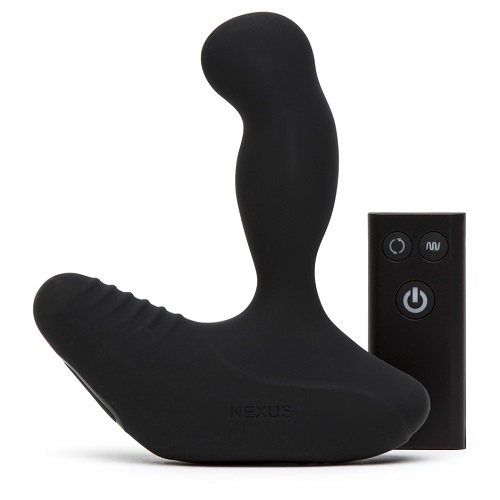 Summary: This toy can actually massage your prostate (not just put pressure on it) with its unique rotating beads.
Why is it on this list? This toy is sleek and stylish (not that many of you guys are going to care about that) when it arrives in its little black box. For first-time prostate explorers, I'd say hold off before giving the Nexus Revo 2 a ride.
One Amazon user warns: Tried this for the first time and my God was it intense! I think that in order to go past the first setting you need to be a pro at the pro(state), soz. Other than feeling bruised the next day (on the inside that is, which is due to the intensity) the orgasm was quite unbelievable.
If that half-hearted warning didn't scare you off yet then you'll want to know that the best way to insert this toy is by lying on your side and pulling your knees up to your chest. From there, you can take a breather and get used to the sensations of the toy before pulling out the remote control.
Once turned on, you'll get a crazy massage from the rotating beads. Yes, I said rotating, not vibrating. That's how this toy continues to blow it's users away.
Pro: Its shape is designed to also stimulate the often forgotten region of the perineum.
Con: You've got to be very careful to clean this one properly, and as it isn't waterproof you'll also be stuck with wiping it over a million times rather than throwing it into hot soapy water.
Did you know? Half of your dick is actually located inside of your body and prostate massagers target those hidden parts of the penis to get you off.
7. The Fun Factory Manta – Best to Use with a Partner
Summary: Ever wondered what it would be like to turn your penis into a vibrator? Now you don't have to.
Why is it on this list? Manta is the perfect name for this toy because just looking at it reminds me of a manta ray. To say it's one of the most interesting toys out there, would be an understatement. You don't often see toys inspired by underwater creatures hit the market.
The Manta is essentially a male vibrator and can be used solo or with a partner. However, I wouldn't recommend it as a solo toy because the vibrations are more of a rumble and work far better as an enhancer to sex or a penetrable toy.
Its flexible wings allow you to position the toy in multiple ways, whether it's around the base of your shaft or on the balls for a BJ blaster.
Pro: The wireless charger means the baby is fully waterproof like its manta ray brethren.
Con: It works best paired with other toys or a partner.
Did you know? The sex toy market heavily relies on couples and 70% of people buying toys are in long term relationships.
8. The TENGA Zero Flip EV – Best Male Sex Toy for the Lazy Man
Summary: Literally everyone with a penis can put it inside this toy and enjoy a sensational orgasm.
Why is it on this list? Finally, an all-inclusive toy where the size, fit, and function won't stop you from using it. The hinge design accommodates all types of dick from the small, large, bent, or suffering.
That's right, even men with erectile dysfunction or penial issues can make use of this device. The electronic vibrations paired with the manual pressure points on the device make for a great fuck (or masturbate).
It has frequently been likened to a flip phone, and I'm here to do it again. The fact that you can just whip it out, pop your dick inside, and close it back up brings back the ease of the 2000s. Okay, that might be a stretch but it does open up like an old-school Motorola to reveal a jiggling chamber of joy.
Pro: It's for everybody. Do you know how rare it is to find a toy for every fit?
Con: You'll have to manually pump in and out of this toy.
9. Tenga Eggs – Best For A Quick, Clean Fuck
Summary: Can't be bothered cleaning up after you've come? Using a Tenga egg means you won't have to.
Why is it on this list? Now I shouldn't start this review by calling it a cheaper, disposable Fleshlight but that's technically what it is. Before you turn up your nose at that description, hear me out. You never have to clean a Tenga egg.
They're a one-stop come shop. For the busy boy, it's hard to walk past a grab-and-go like this but it has its downsides too. First off, it's no good for your wallet. Buying countless eggs every time you want and wank can add up. And secondly, you'll be putting more waste into the world.
On a more positive note, even the thickest individual can work out how to use this male sex toy safely. I mean you wrap it around your dick and can fuck it as roughly as you want. Not only is the material super stretchy but there are endless textures for you to explore.
Pro: The variety is endless when it comes to texture and this toy works for any dick, big or small.
Con: Tenga eggs hate the environment as they're only good for one use and then you've got to bin them.
10. The Lovense Max 2 – Best For All Shapes and Sizes
Summary: The 360-degree contractions and the optional vacuum seal on this toy make for a masturbation session like no other.
Why is it on this list? After reviewing several of these male automatic machines, I'm getting sick of being told it was the first one or has the best vibration technology. I'm over it. I don't know if this was the first authentic automatic sex toy that was created but it has taken the internet by storm.
What's actually impressive about the Max 2 is its simplicity. Clean white lines make the toy visually appealing and turn the usually intimidating automatic mastubator into something more enticing.
It specifically tries to recreate the feel of oral sex with its manual pads placed on either side of the device. These allow you to adjust the pressure of the device on your dick and even create some suction to feel like you're being sucked off.
Pro: You can remote control the device from an app on your phone.
Con: It's less high tech than most other male sex toys out there.
11. Lelo Hugo – Best For Luxurious Prostate Orgasms
Summary: Stepping into the world of prostate massagers doesn't have to be rough and dirty, as the Hugo will help you achieve orgasms unlike anything else.
Why is it on this list? Being a Lelo toy, are we really surprised that Hugo looks like it belongs in a modern art gallery? Their toys have an uncanny air of class and luxury to them that's hard to beat.
The Lelo Hugo is great at reaching your prostate and curving in just enough to make you feel full without being so girthy that beginners can't pop it in easily.
You can adjust the vibrations yourself or use the pre-programmed settings to send you through the roof. If anal play (and the dirtier side of it) still has you worried, then take Hugo for a bath or shower. He's fully waterproof and can accommodate your every need.
Pro: It's not too big so even newcomers can try this one on for size.
Con: It's stupidly pricey, you can buy 6 other prostate massagers for the same amount.
Did you know? Men are more ashamed of using sex toys than women.
12. Quickshot – Best For Discreet Business Men
Summary: It's pretty much a Fleshlight that doesn't look so obvious when it goes through airport security.
Why is it on the list? If you're constantly away on business trips, the Quickshot is the perfect toy to take with you. Being half the size of a Fleshlight, this toy can easily slide through security monitors at the airport and is discreet enough to be passed off as a fancy pencil holder in desperate times.
It's length and ring shape means that the average male will always have their shaft or head exposed when masturbating, which may make it slightly harder for some to reach their climax using this toy on its own.
With that said, the size of this toy isn't made for hung men and trying to fit a bigger dick into this toy may result in a trip to the emergency room to get it removed.
Pro: The Quickshot Launch currently has the fastest stroke speed compared to any other toy.
Con: You're stuck with the same texture as you purchased as you can't switch them around like most.
13. Hot Octopuss Pulse III – Best For Guys Who Struggle To Come
Summary: This should be the go-to toy for any guy that struggles to get erect or get off.
Whey is it on the list? Can't get a hard-on? No worries, the Hot Octopuss Pulse III doesn't need you to be set like a rock before use. That's right, you can go into this device floppy and you'll come out of it floppy (given that you'll have gone back to being soft after orgasming).
The 5 different vibration variations have been proven to help customers struggling with desensitization get themselves off with ease.
Many older men and those struggling with erectile dysfunction have loved this device and the results it brings them. Embarrassment and shame can be thrown to the wind, along with all the jizz you'll be squirting out after using it.
It also has a cult following online, with many reviews like this one:
Build quality is fantastic, clean up is simple. It has added a completely new dimension to our foreplay. Really impressed at how well it aids foreplay – I don't think there is another toy out there like it.
Pro: You can set and forget. It's really one of the best sex toys for lazy men.
Con: We wished there were more than 5 vibration speeds and patterns.
Did you know? It's likely that shame around male sex toys evolved in the 1970s with the release of the first blow-up doll.
14. Fifi – Best For Budget Buyers
Summary: If you wanna feel like you're back in the prison yard then the Fifi is your best option.
Why is it on this list? I know it looks like a blood pressure sleeve lined with a female condom but bear with me — despite its DIY vibe — the Fifi deserves a firm place on this list.
Not only is it pretty cheap, but it's also basically the ratchet (let's just call it environmentally friendly, shall we?) version of the Tenga Eggs.
The Fifi takes both its name and shape from a rather… unconventional place. Gather 'round for a mini-history lesson: traditionally, a "Fifi" is a sex toy that prisoners fashioned out of a towel and a plastic glove.
This sex toy is the reimagined version: the foam exterior mimics the towel and the sleeve the glove. Why you'd want to pay for something to look like a DIY with stuff you buy at the prison commissary, I don't know.
When you're done, you simply toss the insert and that's it. If you want to play out your fantasy — I'm not going to kink shame you — you can always go the whole hog and make your own pocket pussy. You've probably got all you need at home already!
Pro: The sleeve is fully adjustable and because it's made out of softer material than other male masturbators, you're in charge of the pressure.
Con: It looks cheap.
Can you believe? 5% of men have experimented with a vacuum cleaner and regretted the decision.
15. We-Vibe Verge – Best For Men Wanting To Please Their Partner
Summary: Is the bedroom looking a little boring these days? Then the We-Vibe Verge will help you spice things up again.
Why is it on this list? Sure, they go on your cock and enhance your orgasms, but most vibrating cock rings are for the ladies.
The We-Vibe Verge is the complete opposite.
It will tickle your fancy (that's your perineum) with 10 different vibe settings. And because your perineum is in a…uh, remote place (unless you're a contortionist) you can fully control the We-Vibe Verge via an app.
If you're flying solo, play with yourself with your right hand and control the vibrations with the phone in your left. Also, even though the We-Vibe Verge was designed with you in mind, if you want to share the love, you can wear it upside down.
Pro: You can hook it up to other We-Vibe toys to increase the fun.
Con: The app can disconnect occasionally, meaning you'll have to manually adjust the settings from time to time.
Fun Fact: Teledildonics, app-enabled toys, and other high-tech mastubators are seeing more advancements than any other type of sex toy.
16. The Lelo F1s – Best For The Man Who Likes To Customize
Summary: The Lelo F1 is for any man who has ever wanted to customize their sex toy.
Why is it on this list? Look as far as sex toys go, I thought the Lelo F1 was super discreet. You can barely tell the difference between it and a BOSE speaker. That's just one of the minor benefits of this toy.
With the F1, you'll be blown (literally) into the future as this male sex toy allows you to program it the way you like it. You need to be a bit of a hacker for this and have a fair bit of computer knowledge since it's not very user-friendly.
Not a hacker? Have no fucking idea how to switch on a computer? Don't worry. You can use the in-built settings. Lelo F1 won't leave you dry.
As with any Lelo toy, they haven't forgotten the final touches and you'll the F1 arrives with hygienic gloves, cleaning gear, and a "Do Not Disturb" sign.
Pro: The app allows you to easily adjust the sensations and tracks what settings you use through its app.
Con: To get the best results out of this pocket pussy, you've got to be a coding nerd.
17. Aneros Device – Best For Prostate Play
Summary: Smooth soft silicone paired with 4 thick inches makes this the toy for anyone who enjoys feeling full.
Why is it on this list? The worst part about anal devices is the mess they tend to make if you've come underprepared. Thankfully, that mess is a little easier to clean up with the Aneros Device as it's made completely of body-safe silicone and can, therefore, be fully submerged in water.
As far as anal toys go, this one is pretty big and may cause a bit of strain to the inexperienced. On the other hand, if you're used to anal play, the Aneros may just give you that full feeling you've been craving.
Once it's in you'll get waves of pleasure from even the smallest activities, but don't let that stop you from pushing the limits and grinding or walking around with the toy inside of you for orgasmic pressure.
Pro: The firmness of the toy really helps to push into your prostate and delivers incredible sensations.
Con: Its massive size isn't going to work for everyone.
18. Fleshlight/Kiiroo Onyx 2 – Best For Porn Fanatics
Summary: If you love your porn, you'll love this Fleshlight and Kiiroo love child which can sync up to all your favorite videos.
Why is it on this list? Much like the other Kiiroo products on this list, the Onyx 2 has a reputation for helping a guy out when it comes to hands-free play. You'll feel the intense vibrations of this toy through your entire body but thankfully it's power doesn't make it unbearably noisy.
I was pretty stunned when finding out that this toy doesn't make a peep and you can pretty much just here your own heartbeat and the squashing of lubricant as it does the job.
When it comes to Kiiroo products, you can expect the device to connect to your most-watched porn videos. The canal is also wrapped in the same high-grade silicone which promises to feel like a real pussy (well at least it tries, but we all know that it doesn't feel like an actual vagina).
Pro: It can be used as a hands-free sex toy or a manual device, you get the best of both worlds here.
Con: It's a "one-size" kind of toy that doesn't actually fit everyone and the texture can't be swapped out when you get bored.
19. Aneros Progasm Ice – Best For Anal Play Beginners
Summary: When you're just starting out with prostate massagers, the last thing you need is a toy with 10 million settings. That's why the Aneros Progasm Ice helps you reach that orgasm without electronics.
Why is it on this list? It doesn't buzz. It doesn't rotate. The Aneros Progasm Ice seems plain compared to all the extras sex toys come with these days. But that's not necessarily a bad thing.
You won't have to fiddle around with Bluetooth connectivity or complicated settings. Instead, you can just sit back and enjoy with some lube. The sleek black body is made of FDA approved material is appealing to almost everyone.
What can I say, Aneros has once again shown us that it knows how to take care of everyone's undiscovered assholes with this toy.
Pro: Both men and women can get a kick from this toy, so make sure to share it with your partner.
Con: Way too big for any beginners to even attempt working it into their ass.
Fun Fact: Using a prostate massager is actually recommended by some doctors for prostate health and to improve stress levels and reduce pain.
Male Sex Toys Comparison Table
NAME
STIMULATE
LENGTH
WATER-
PROOF
RECHARGE-
ABLE
MODE
MATERIAL
The Fleshlight Launch
Penis
9.75"
NO
YES
Automatic
PC ABS, PU Coating
The Cobra Libre 2
Head of Penis
3.5"
YES
YES
Manual
Silicone
The Autoblow Artificial Intelligence
Penis
10"
NO
NO
Automatic
Silicone
The Kiiroo TITAN
Penis
7.4"
NO
YES
Manual
ABS shell, TPE sleeve
Nexus Revo 2
Prostate
4"
Splashproof
YES
Manual
Silicone
The Fleshlight STU
Penis
9.75"
YES
NO
Manual
Silicone
The Fun Factory Manta
Penis, Balls
7.5"
YES
YES
Manual
Silicone
The TENGA Zero Flip EV
Penis
6"
Splashproof
YES
Manual
Soft plastic
Tenga Eggs
Penis
2.75"
YES
NO
Manual
Silicone
The Lovense Max 2
Penis
9.5"
Splashproof
YES
Manual
Silicone
Lelo Hugo
Prostate
4.1"
YES
YES
Manual
Silicone, ABS
Quickshot
Penis
3.5"
YES
NO
Manual
Soft Plastic
Hot Octopuss Pulse III
Penis
4.6"
YES
YES
Manual
Silicone
Fifi
Penis
6.7"
NO
NO
Manual
N/A
We-Vibe Verge
Penis, Balls, Perineum
4.5"
YES
YES
Manual
Silicone
The Lelo F1s
Penis
5.6"
YES
YES
Automatic
Silicone, ABS, Aluminum Alloy
Aneros Device
Prostate
4.75"
YES
NO
Manual
Silicone
Fleshlight/Kiiroo Onyx 2
Penis
6.4"
NO
YES
Automatic
ABS, POM0
Aneros Progasm Ice
Prostate
5.5"
YES
NO
Manual
Plastic
Male Sex Toys Buying Guide Check-List
Even once you've worked out what type of sex toy you're on the hunt for, you'll notice there are still countless options to pick from. To ensure you're getting your money's worth, you can run each toy through the following checklist:
✔︎ Cost: Can't buy a sex toy without considering the cost first. You need to eat, so ensure your sex toy is within your budget. Don't forget that toys are often more costly than they first seem.
From lubricant, batteries, VR systems, and more, some sex toys actually require a few more pieces before you can use them to your advantage.
✔︎ Features: Anyone new to buying sex toys can often get overwhelmed by the number of features it can rattle off. But having lots of features doesn't mean it's a good toy. Sure there are a few classics to keep an eye out for but some are a load of bullshit.
Waterproofing, rechargeable batteries, compatibility with other toys, ergonomics, and touch-sensitive controls are the only features that truly matter. Don't get lost in the long lists that most toys hand out if they don't have most of these aspects, move on.
✔︎ Dimensions: Embarrassment and pain aren't commonly associated with good sex (unless you're into humiliation or BDSM), so to avoid buying a shitty sex toy you're going to want to ensure you buy a toy that fits the dimensions of your dick.
Most toys out there do accommodate a wide variety of penises but some have customizable sizing. Bypass the awkwardness of purchasing a toy that just doesn't fit by checking out the dimensions before you buy.
✔︎ Materials: As Madonna says "we are living in a material world, and I am a material girl." And you should be too. The material of your sex toy can make or break whether it's worth your money.
Body-safe silicone is what you want to be hunting down, but other materials that are compatible with lube can also work such as thermoplastic elastomer (TPE), polyvinyl chloride (PVC) or a patented polycarbonate blend. F
or your own sake, avoid anything with latex, phthalates, and parabens if you want to keep your dick safe and sound.
✔︎ Compatibility: These days we're seeing more toys that can be paired up which is fucking fantastic for couples and fuck buddies alike. It's definitely worth checking out what toys you can link up with your own.
Before purchasing a new toy, sit down and have a think about what you want to do with it. And what you want it to do for you. If you are planning on using your toy with a partner, make sure it can be enjoyed by all.
You don't want someone feeling left out during the act, cause nothing will kill the mood faster.
✔︎ Complexity: DO. NOT. GO. TOO. COMPLEX. It's a major mistake, which is why I've laid it out as big and bold as possible. Getting an overcomplicated toy will make for more effort than it's worth and trust me when I tell you that it's not going to be used enough to justify its price tag.
The more pieces to the puzzle the less likely you'll whip it out in the heat of the moment. So don't overcomplicate things or get lured in by flashy advertising and features.
✔︎ Functionality: The functionality of the toy is key. What the fuck does it actually do? Cock extenders, for example, shouldn't double as a prostate massager, so make sure your toy does what you want it to before buying.
Looking at the functionality of your toy for its intended purpose will help you determine if its right for you.
✔︎ Versatility: As the market gets more competitive, the versatility of the sex toys out there is increasing to impress you. But don't get too drawn in because sometimes when a machine says it can do everything, it can't do any of those things well.
It's better to have a toy that does one thing well than 10 things half-assed. That's not to say you can't get a toy that can both massage your prostate and vibrate on your dick either. Just be selective and extra critical when toys bring more versatility in the mix.
✔︎ Warranty: With an increase in high-end sex toys, we're also seeing an increase in cost which most guys aren't used to spending to get themselves off.
Thankfully, warranties have also increased in popularity especially amongst the more expensive toys as manufacturers realize that customers are more likely to buy their products with a little guarantee of their quality.
While the option isn't there for budget options, you really should be looking out for a warranty when searching for sex toys in the higher price ranges.
✔︎ Texture: Rough and ridged and bumpy, whether it's in the shaft or the sleeve, will change the feel and ultimately the effectiveness of your sex toy.
Different textures vary just as much as sex toys do and many companies pride themselves on the "human-like" feel of their materials and texture combinations. Choosing the right texture really depends on the sensitivity of your dick.
Getting something too rough may not enhance your time in the bedroom but put it to rest, so don't get too ambitious.
How To Use A Male Sex Toy
Step 1) Make Yourself Comfortable
When using a sex toy for the first time, the last thing you need to worry about is something disrupting you. Clear your schedule, mute your phone, and make sure no-one is going to burst in on you. Having a shower or bath beforehand can also help you relax and loosen up.
Step 2) Watch What You're Doing
People tend to close their eyes during the most intense parts of sex, but when you're using a toy on your own, I really suggest you watch what's happening. Not only can it be a big turn on, but it'll also help you associate good feelings with your new device.
Step 3) Tease Yourself
If it vibrates try running the toy up your inner thighs, across your taint, and over your nipples before using it as it was originally intended. For prostate massagers, take things slow and extensively tease your asshole before slipping it inside.
If you own a Fleshlight or similarly penetrable toy, hover over the entrance or stick in just the tip of your cock. All of these will build your anticipation and make for a better happy ending.
Step 4) Explore What The Toy Can Do
A lot of sex toys have multiple functions and you should be testing them all out to find what you enjoy. From trying out each vibration pattern or speed to different areas of the body where the toy can be used, don't limit yourself.
Step 5) Turn Up The Heat
Now that you know the ins and outs of your new toy and have built up a considerable amount of anticipation, go for gold. Pick your favorite method and just fuck the damn thing.

5 Tips and Tricks When Using A Male Sex Toy
Tip 1) Find your stroke, then switch it up. Introducing variety in your stroke will mean you're penis can't predict what's going to happen next. By speeding up and slowing down (also known as edging), you'll experience more intense sensations when you finally orgasm.
Tip 2) Use multiple devices at once. Get one toy to massage your prostate and another to stick your dick into. Hell, bring some nipple clamps and light bondage into the mix to really get things going. Don't be afraid to mix and match your favorite toys in the bedroom.
Tip 3) Don't ignore your balls. Too many men forget about the joys that come with tossing your dangly bits around. Tickling those balls with a vibrator can give you endless pleasure and really shouldn't be overlooked.
Tip 4) Pair your toy with some sexy visuals. Turn on the porn and, if your toy allows, sync to what is happening on your screen. Up the ante with VR, fully immersing yourself in your fantasies.
Tip 5) Take your time. Remember that while these sex toys have the capacity to get you off within a few minutes, biding your time will result in more spectacular orgasms.
FAQ
Should I get an automatic sex toy or a manual one?
First, you need to know the difference between an automatic machine and a manual device. An automatic device will pump and stroke your dick without you needing to raise a hand, while manual devices often require you to get down and dirty.
If you like kicking back, then an automatic may be the choice for you but be prepared to sacrifice a little. Any half-decent automatic male sex toys tend to be noisy and bulky, so you'll need to seek out some serious privacy to avoid any awkward encounters.
Manual toys do have the benefit of not making any noise at all and some are so small you can take traveling with you. Hand-held toys like this also allow for more personal preference when it comes to pattern and technique, giving you full control of your orgasm.
All in all, you need to ask yourself what qualities you value most to decide which toy to put your money on.
Can straight men use prostate massagers?
Of course, they can. Whether your heterosexual or homosexual all males have the same anatomy and that includes a prostate. Sex toy brand Lelo even saw a 200% increase in prostate massager sales in 2015 and the number has only been growing since.
Still unsure? You shouldn't be because 71% of straight men admitted to wanting to try or have tried a prostate massager.
The biggest misconception we have about using sex toys is that it somehow reflects our overall identity. Stimulating your body and finding unreal pleasure (no matter where it comes from) doesn't mean you're "gay" and can't define your sexual orientation.
Pleasure is a simple thing and should be overcomplicated with stupid labels. So if you're straight there's really nothing stopping you from taking full advantage of your pleasure hot spots and using a prostate massager.

I finished using my toy, now what do I do with it?
Maintaining your sex toy will differ depending on the many aspects it possesses. However, generally, all toys will need to be cleaned, dried, and stored after use.
Some high-end sex toys will even come with their own cleaning products, but often some good old fashioned soap or cleansing wipes should do the trick. Always ensure your toy is completely dry before storing and often air-drying is the way to go. You can then pack them away for another day's play.
While correctly storing your sex toys may not seem like a big deal, it takes a little more effort than throwing them all in your bedside drawers. Depending on the material of your toys, you'll need to keep them separated or wrapped up for safe-keeping.
Soft silicone, cheap plastics, and rubber will become deformed and tend to melt into each other if stored together so ensure to assign them their own little bag, cloth, or sock. If the toy arrived with special packing, it's a good idea to keep them together and store as instructed in the manual.

What are the benefits of using a male sex toy?
Some sex toys do claim to enlarge your dick, make you last longer in bed, and get you harder. A few actually aren't lying either and have medical studies backing up what they're putting down. But don't be fooled, as pretty much every toy out there will claim to have some sort of benefit.
Therefore, don't go falling for the bullshit without getting a bit of medical proof first. Other notable positives to using a sex toy include reducing erectile dysfunction and curing Peyronie's disease.
In general, there are heaps of benefits to regular masturbation. Studies show significant changes when it comes to reducing stress levels, improving sleep quality, boosting self-confidence, promoting positive body image, and more.
It should also go without saying that using sex toys and masturbating also has the benefit of knowing what you like sexually. Self-exploration allows you to discover the best ways to get yourself off and will inevitably make sex more enjoyable with a partner.

If I masturbate too much will it desensitize my penis?
The majority of the time masturbating is totally healthy and normal. But let's just say you've got a limited number of strokes until the healthy and normal affects trespass into dangerous consequences. In short, yes too much jerking off will land you a limp dick.
So exercise a little caution and be wary of toys that offer intense stimulation, penis correction, or stamina training.
In saying that, it's hard to put a number on what is "too much" masturbation. Some people get off every day or multiple times a day, while others will only pull the rope once a fortnight. These are all considered completely normal by sex professionals.
Masturbation really only becomes negative when it starts to affect your life, job, responsibilities, or social life. If you ever find that taking a load off is impacting your life, it is probably time to hit up a therapist or counselor.
Why Should Men Try Sex Toys?
Men should try sex toys because every man deserves pleasure, and there are so many different types and styles of male sex toys, that you're missing out if you've never experienced one for yourself.
I believe all men should try playing around with male sex toys because there's literally a whole world of exciting, pleasure-inducing toys out there, just waiting to be explored.
And, I mean, what year is it? The future of sex is pretty much here! And many male sex toys come with vibrators or stroking mechanisms, Bluetooth and app connectivity, and all sorts of other high-end futuristic features.
So it's time to step up your game, fellas.
If you're still relying on the old-fashioned way to pleasure yourself, AKA your hand, then you're missing out on a world of fun and excitement.
Not that I'm bashing hand-based masturbation.
It's just that there are literally hundreds of ways you can step up your masturbation, and here you are, using your hand like a caveman!
Let's face it, your hand can only do so much.
Sure, when your hand is lubed up, it can feel pretty sexy against your penis.
But why settle for a plain ol' hamburger when you can have a juicy, gourmet burger with all the fixings?
Male sex toys are like the gourmet burgers of masturbation.
They come in all sorts of different shapes and sizes, some rotate, vibrate, or can be paired with remote controls or other sex toys, and others are even designed to look exactly like your favorite pornstar's pussy or asshole!
On top of all that, a male sex toy never complains, never gets tired, and never disappoints!
And what's not to love about that?
So, if you want to elevate your solo game, or maybe surprise your partner with something to spice up your together time, then it's time to give male sex toys a try.
Your hand will thank you for the break.
More Male Sex Toys
Masturbators Roundups
Pocket pussy
Fleshlight
Fleshlight Girls
Fleshlight Sleeves
Cheap Fleshlight alternatives
Kiiroo
Fleshjack
Blowjob machines
Cock milking machines
Male masturbators
Hands-Free masturbators
Male strokers
Fake vaginas
Realistic butts
Realistic vaginas
Realistic masturbators
Male vibrators
Cock rings
Masturbators reviews
Tenga Eggs
Quickshot Launch
Fleshlight Mini Lotus
Kiiroo Titan
Kiiroo Feel Stroker
Kiiroo Keon
Fleshlight Launch
Fleshlight Turbo
Fleshlight Stoya Destroya
Fleshlight Riley Reid
Fleshlight STU
Fleshlight Original
Fleshlight Flight
Fleshlight BYO
Fleshlight ICE
Fleshlight V-Stroker
Fleshlight Shower Mount
Fleshlight Lube
Cobra Libre
Kiiroo Onyx 2
Masturbators guides
How to use a Fleshlight
How to clean a Fleshlight
How to make a pocket pussy
Male masturbation techniques
---
Prostate massagers roundups
Prostate massagers
Aneros
Aneros alternatives
Prostate massagers reviews
Aneros Device
Aneros Progasm
Aneros Vice 2
Aneros Progasm Junior
Aneros MGX
Aneros Eupho
Aneros Helix
Aneros Maximus
Prostate massagers guides
---
Sex Dolls Roundups
Sex dolls
Cheap sex dolls
Realistic sex dolls
Blonde sex dolls
Sex robots
Japanese sex dolls
Pregnant sex dolls
MILF sex dolls
Sex doll shops
BBW sex dolls
Black sex dolls
Sex Dolls reviews
Are There Good Sex Toys For Men Out There?
Yes, 100% there are a ton of great sex toys out there, just waiting for you to come out of your basement and try them out.
There are pocket pussies, basic masturbation sleeves, Fleshlights, male vibrators, prostate massagers, pumps and penis extenders, cock rings, and so much more!
And that's really just the tip of the iceberg!
When you combine male sex toys with the dozens of different ways you can use them, like using different lubes or playing with them together with a partner, the possibilities are virtually endless.
Types of sex toys for men
Masturbators, strokers, sleeves, Fleshlights, male vibrators, cock rings… These are just a few of the different types of male sex toys you'll find for sale.
There are literally so many great sex toys for men out there, that it's really hard to narrow a short list.
So if you're a dude who's never owned a male sex toy before, I really hope you consider exploring the realm of male sex toys, and buying one for yourself.
You will be so glad you did.
In order to help you choose the best male sex toy for you, let's explore some of the most popular types of sex toys for men you might run into.
Masturbators: Masturbators are really a broad category of male sex toys that come in all sorts of different shapes and sizes, ranging from discreet pocket-pussy options to more elaborate designs like Fleshlights and automatic masturbators.
Fleshlights: Fleshlights are masturbators, but they're more like the next level of masturbators! These popular male sex toys are designed to look like the shape and size of a flashlight, but when you remove the cap, you find a vaginal or anal orifice ready and waiting for your penis! Fleshlights come in all sorts of different configurations. Some look like vaginas, some are anuses, and some are even molded directly from the private parts of your favorite pornstars!
Male vibrators: Like traditional female vibrators, male vibrators are used to provide direct vibratory stimulation to your penis, testicles, perineum, or anus. These areas are extremely sensitive, so when exposed to the intense rumblings of a male vibrator, you'll wonder why you ever settled for plain old manual stimulation in the first place.
P-spot massagers: Yes, that's right, I said P-spot, otherwise known as the prostate. Because why should women have all the fun with their G-spots? Prostate massagers are specifically designed to help you stimulate your prostate gland, which can lead to some pretty intense, hands-free orgasms.
Cock rings: These sometimes stretchy rings (other times they can be solid) fit around the base of the penis or testicles. Sometimes penis rings will vibrate or will be textured to provide a bit of extra stimulation to a partner. Other times, they're simply designed to increase sensitivity or help dudes achieve firmer erections.
Butt plugs: Butt plugs are toys that are designed to be inserted into the anus to provide a pleasurable sensation of being filled up. Butt plugs can be used by both men and women, but they really are a great way to stimulate the prostate.
Penis sleeves: These are toys that fit over the penis to provide additional length, girth, or texture. Generally, penis sleeves are worn to enhance intercourse, but they can also be used alone as part of your solo masturbation routine.
Penis pumps: Penis pumps are mostly used by men who need a bit of help getting it up. They can also be used by dudes looking to add a bit of size, length, or girth to their dicks. Note that while penis pumps can help men add a bit of size, gains from using a penis pump are only temporary. If size is what you're after I recommend you to avoid penis pumps and look into penis extenders instead.
Of course, these are just a few examples of all the wonderful male sex toys out there!
So, whether you're looking for a quickie with a classic masturbator, or an intense prostate massage that will take you to the moon and back, rest assured that there truly is a sex toy out there for every man.
What's the best male masturbation toy?
Fleshlights truly are one of the best, most realistic male masturbation toys on the market, but the Kiiroo Keon or Onyx 2, and all of the other choices I've listed above are great choices as well.
Realistically, the best male masturbation is one that gets you excited, and is capable of providing you with the pleasure and satisfaction that you're after.
So, as much as I'd love to tell you that Fleshlights are the best male masturbation toy, there's really no single answer to this question.
You see, there are so many different sex toys and tools males can use to masturbate. And what works best for one guy may not work at all for another.
Some guys prefer the simplicity and versatility of a basic pocket pussy masturbator.
Just lube 'er up, stick it in, and have fun!
While others may prefer the intense rumblings of a male vibrator, the back and forth stroking of a blowjob machine, or the targeted stimulation and hands-free orgasms that come along with a prostate massager.
It's really all about finding what works for you and experimenting with different toys and techniques until you find that perfect combination of pleasure and satisfaction.
The only thing that really matters is that you're enjoying yourself and having a good time!
What are some household items that could be used as sex toys for men?
Pillows, blankets, towels, fruits and vegetables, and even olive oil are all household items that you can use to complement your masturbation routine.
However, depending on what you use, I do need to mention that using household items as sex toys can be dangerous and harmful to your health.
That's why I strongly recommend you masturbate with actual sex toys and not household items.
While it's more or less safe to wrap your dick in a blanket and fuck it, using anything sharp, abrasive, or items that you don't know what they're made of can be dangerous.
Using such items can pose the risk of irritation, infection, or injury, so it's best to stick with toys that are specifically designed for sexual use.
Furthermore, always use male sex toys that are made with body-safe materials, which means they've been designed and tested to reduce the risk of allergic reactions.
That being said, I have covered some crafty ways that you can build your own pocket pussy using body-safe household materials.
Just make sure to use caution!
How Do You Clean Men's Sex Toys?
You can clean most sex toys by simply using soap and water, then leaving them out to air dry before storing them in a cool, dark location like your bedside drawer.
However, there are also sex toy-specific cleaners and wipes on the market, such as Fleshwash, a cleaner made specifically by Fleshlight for their products.
Either way, cleaning your sex toys is important to ensure they stay hygienic and safe to use.
Doing so will also help keep your male sex toys in good condition for all the years to come.
If you're looking to clean a Fleshlight, after use, simply flush the toy with warm water. Then use a bit of soap to clean the surface, rinse, and leave it out to dry.
As mentioned, you can also use a sex toy cleaner (like Fleshwash), but any mild antibacterial soap should do the trick.
After cleaning, make sure to leave it out to air dry before storing it away until next time.
Penis rings, prostate massagers, butt plugs, realistic butts, penis sleeves, cock and ball toys, penis pumps, and all other toys should also always be cleaned thoroughly after coming in contact with your or your partner's genitals, bodily fluids, or lubricants.
When you first buy them, you should also always check the manufacturer's instructions on how to properly clean and maintain your sex toys.
I should also mention that you should never use harsh chemicals or bleach for cleaning your toys, as these can damage them, and pose a health risk as well.
You know, since you'll be playing with these toys around your junk…
Are Gay Sex Toys Different From Straight Male Sex Toys?
No, there is really no difference between sex toys for gay or straight men.
Some toys, like prostate massagers, may be used by gay men more often, but nothing is stopping straight men from exploring prostate play (in fact, I recommend it!), or gay men from using a pocket pussy or masturbator!
That's right, whether you're into men, women, or a bit of both, most male sex toys can be enjoyed by all dudes!
Again, it's all about what you like, whether you're gay, straight, or somewhere in between.
There may be some toys that are marketed specifically towards gay men or that cater to certain preferences or kinks.
But for the most part, male sex toys are designed to provide pleasure to the male anatomy, which is exactly the same whether a person identifies as gay or straight.
Remember, there's no such thing as a one-size-fits-all approach to your pleasure!
So, don't let anyone tell you that you need a special set of toys just because of who you sleep with.
Should I Buy Male Sex Toys On Amazon?
You can, but I highly recommend buying sex toys from specialized sex toy retailers.
There's really nothing wrong with buying sex toys from Amazon, as long as you're checking customer reviews, and buying from trusted, reputable vendors.
Amazon isn't really a sex toy-specific retailer, which is why I strongly encourage you to buy sex toys from websites like Lovehoney or Adam & Eve, or directly from manufacturers like Fleshlight or Aneros.
Buying from these retailers ensures that you'll be getting a better customer experience, discreet shipping, and it guarantees that you'll be getting an authentic product.
So if you do decide to buy from Amazon, just make sure to do your research and check the product details carefully to ensure you're getting a safe and high-quality toy.
And as always, buyer beware!