The best remote control sex toys? Seriously? Yes. Keep reading.
If technology interfering in your vagina sex life disturbs you a bit, raise your hand. I mean, the concept is really fucking cool from a look-how-far-we've-come point of view, but in practical application, I was a bit more reserved, at first.
What even are the best remote control sex toys and why would I trust to put them anywhere near my vagina? Let's try and answer some of the questions I had and that you may have about remote control toys.

Top 3 Remote Control Sex Toys
Lovense Lush – Wearable egg vibrator. App controlled. Easy to use
Onyx & Pearl Couple Set – Great remote controlled set for long distance relationships
We-Vibe Vector – Remote controlled prostate massager
Keep scrolling for 14 more epic remote controlled sex toys!
What are Remote Controlled Sex Toys?
Remote control sex toys are, just like the name says, sex toys that can be controlled with a remote. By you, or another willing participant (always ask!). These remotes work at different distances (same room or long-distance) depending on the toy and the manufacturer, which opens or limits your sexing horizons.
They've been on the market for a few years, now, so here are the categories you can find at the moment. While not all of them have been inside, or near my nether regions, I put on my sexy librarian glasses, did some very pleasurable research and found:
Remote control bullet vibes, love eggs, vibrators, anal plugs, dildos, cock rings, Fleshlights, vaginal exercise devices.
Now, the list I have compiled below is by no means meant to be exhaustive; there are plenty of other good toys out there and entire categories of toys I haven't included, like cock rings and Fleshlights.
But this list features toys that are popular, high-quality, easy to use and to find, that are mostly for the ladies.
How did We Choose These Teledildonics Devices?
I employed a super scientific process in which I fucked myself with all 14 and now I'm very sore. No, I didn't, can you imagine if I did that? No, I went online and looked for what's popular in stores and what has the best reviews.
It doesn't matter if a store has 957646 types of remote dildos if they're crap, right? So, I picked what people buy and what people enjoy. Give the people what they want! Also, we've got a word limit and my editor would have killed me if I came up with like, 35 of them. Sorry, gang.
How Can I Use Remote Control Sex Toys?
Babe, you can use them however the hell you want.
That being said, they're generally meant to be used with a partner, but you can also use them solo. In my experience, the best application is in public – you know, at the movies, at a PTA meeting, or while you smile sweetly at your mother in law from across the table. Just don't let her hear the buzzing.
14 Best Remote Control Sex Toys – Vibrators
1) The Kiiroo Pearl 2
What it is: While other toys I'm going to talk about today are bullets and little clit vibes, this one's here to play with the big boys. The Pearl is a full-length G-spot vibrator that can be controlled remotely.
However exciting a vibrating black cock may be, I advise that you keep this one for home use; you can't exactly stick this in your pants and go out. Or maybe you can, I won't judge your kink.
What's so special about it? Touch Sensitive Technology, whatever the hell that means. It can be used for mutual masturbation, so you don't have to do that awkward thing where one of you is having fun and the other is just sitting there like "What about me?".
The really cool thing is that it's interactive and can "communicate" with other toys from Kiiroo. Now THAT is some cool futuristic shit.
The tech specs:
1 year warrantee
Rechargeable
Wireless Bluetooth Connected
Password protected
Touch-sensitive vibrations
2) Lelo Ida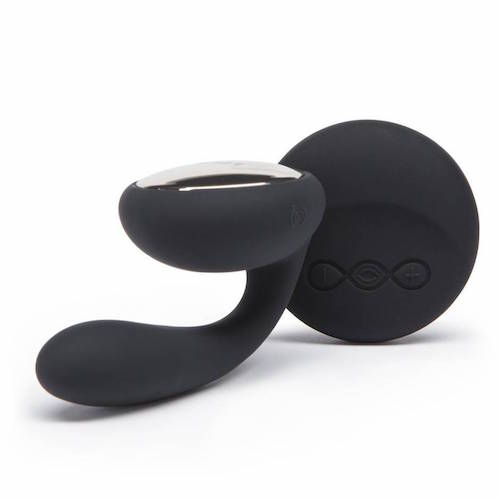 What it is: It's not a vibrator, ok? It's a massager. Whatever the hell this is, it works. And it has a dual function – I love me some 2 for 1. Look, I'm a simple woman, I don't need a lot, so if something stimulates both my G-spot AND my clit at the same time, in 6 (!!!) ways, I consider myself satisfied.
What's so special about it? Ohhhhh boy, a lot of things. Get this – the shaft on this thing rotates inside you to make you scream. I bet you haven't found a dick that can do that yet, eh? Plus, it buzzes your clit in like, 8 different ways AT THE SAME TIME.
On top of all this, your partner can control the rotation and vibration pattern and speed. Oh, and it's waterproof, so you can play in the tub. AND it runs for a mind-blowing and very sore 4 hours. Phew. I'm just gonna say it now: throw out all your other toys, throw out your man, Ida is The One.

The tech specs:
Length: 3.5 inches
Circumference: 3 inches
Waterproof
1 year warranty
Run time: 4 hours
Charge time: 2 hours
2 AAA batteries
3) We-Vibe Sync
What it is: I'll tell you what it is, the coolest toy on the list. Another one that has a dual purpose and fucks your clit and your G-spot at the same time. Not only that, but it's flexible and adjustable, so it can correctly stimulate your specific G-spot, not some other skank's. It's the little things that make the difference.
What's so special about it? It has an excellent and techy as fuck feature – the vibrations sync with the music on your phone, making it possible to personalize your buzzing, in addition to the already existing modes. How cool is that?!
This thing has a freaking app that allows you to customize patterns and even control it from far away (when was this thing when I had that sad and sexless long-distance relationship?).
The tech specs:
Length: 2.94 inches
Width: 1.23 inches
Run time: 90 minutes
Waterproof
USB rechargeable
Best Remote Control Sex Toys – Love Eggs
4) Alive 10
What it is: It's a bullet vibe! It's a dildo! It's a vibrating love egg! For you prudes who are unfamiliar with this type of toy, it's an egg-shaped vibrator that you insert up your vag for a good time. This one has a remote control for you or someone else to play with the kind of vibrations you desire to impart.
What's so special about it? It's pretty standard, as far as love eggs go (but what a shitty name, right? Love egg), but it has the advantage of being wireless, but with a removal loop (can you imagine how awkward it would be to stick it up there and have a wire coming out of you, plugged into the wall?) and of featuring 10 different vibrating functions for your masturbatory pleasure.
The tech specs:
Length: 6.5 inches, of which 3.5 inches are insertable
Circumference: 4.5 inches
1 A23 battery + 2 AAA batteries
Wireless
10 vibrating modes
5) Desire Luxury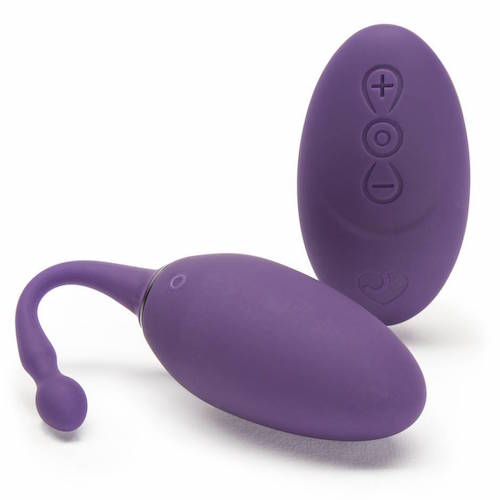 What it is: Look at that, another fucking love egg! They're all pretty similar, really, but they each have their little thing that sets them apart.
Remote-control operated and USB rechargeable, this egg will give you 60 minutes of incognito buzzing, so you could make a quick grocery run or say, half a movie, with your partner trailing a maximum of 26 ft. behind, playing with the remote like a naughty kid.
What's so special about it? With 12 speeds, this thing is like a mountain bike. It also has 8 vibration modes, to keep things fresh and exciting for your vag; that's one relationship you do not want to become stale. Most importantly, it's USB-charged, so it'll be lighter than the battery powered ones.
I mean, who wants a saggy vagina, right? Gotta keep things tight up in there. My favorite feature is that it's waterproof – think of how fun showers would be if you just happened to forget your remote somewhere where your partner can find it…
The tech specs:
Length: 5.75 inches, of which insertable: 4 inches
Circumference: 4.5 inches
Charging time: 120 minutes
Running time: 60 minutes
1 CR2032 battery
Best Remote Control Sex Toys – Bullet Vibrators
6) Strongest Remote Control Bullet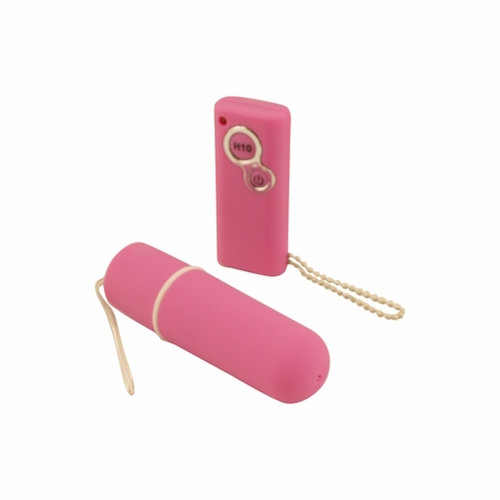 What it is: …apparently, it's the strongest remote control vibe this store has to offer! How… unoriginal. With a name like that, it has a lot to live up to, so they might have shot themselves in the foot there. What if it's underwhelming? Not a great move on the name, there, guys.
What's so special about it? It certainly lives up to its name, in that it's super intense. In my enthusiastic, beginner youth, I managed to desensitize my clit for a while from a vibe that was too strong.
I'm not going to say which one it was *cough*HitachiMagicWand*cough*, but I will warn you. Otherwise, have at it in public, from across the room. It's small and quiet, so no one will ever know you're squirming because you're coming, not because you have to pee really badly.
The tech specs:
Length: 3 inches
Circumference: 0.85 inches
Rechargeable
7) Little Black Thong
What it is: Really, it's your run of the mill bullet vibe, but it's disguised as a black, lacy thong. Is that just a gimmick meant to charge you more for a shitty piece of lace?
Maybe, but it's hot, so no one cares. It comes with a remote, so that you or someone else can literally be in control of what happens in your "vibrating panties".
What's so special about it? Nothing can beat a quality piece of lingerie – except for one that also contains a sex toy. Look, I take pleasure in wearing my nice lingerie anyway, I do it for me and so should you. But this does a lot for you, too.
It can be controlled from 19 ft. away, so you can even engage in a little stranger fantasy, if you'd like. What you can't see, can't hurt you, but it can make you come wildly in the fruit and vegetable isle at the supermarket. Gross.
The tech specs:
Length: 2.5 inches
2 AAA batteries
Waterproof
Wireless
8) Cupid's Perfect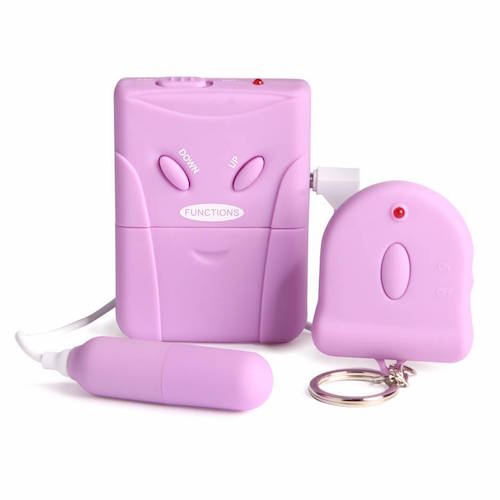 What it is: The actual toy here is a bullet vibe – am I putting it on this list just because it's cute and pink? Bitch, I might be. This one actually comes with several accoutrements, one of which looks like the Walkman I had when I was 10.
If you're too young to know what that is, then get off my lawn, 'cause I'm not sure you're even old enough to be reading this.
What's so special about it? I mean… it's a super powerful bullet vibe that can give you remote control orgasms? Is that not amazing enough? This baby will buzz your pussy off from 24 ft. away with 6 different functions.
You can even attach your remote to your keychain so it's always handy. The only thing is, while the remote is wireless, the actual vibe isn't, as it plugs into the Walkman. That can get a little awkward.
The tech specs:
Length: 2.5 inches, insertable: 2 inches
Circumference: 2 inches
3 AAA batteries, 1 23A battery
Batteries not included
9) Aneros Wired Bullet
What it is: This is another bullet, and you're gonna see a lot of these on the list. What can I say, they're just super popular, especially the remote control ones.
It's small and easy to insert, and it features a string, so you don't have a vibe stuck up your vag, because that would be uncomfortable, and probably dangerously orgasmic.
However, it does mean you've got a wire coming out of you and it's attached to the remote, which limits the ways in which you can use this.
What's so special about it? Well… nothing that hasn't already been covered by other options, but this one brings buzzing power to your vagina for super cheap. I would have appreciated something like this when I was 15 and all the good toys were out of reach for my broke teenage ass.
Small, discrete and you can change the speed of the vibration with the dial on the remote. Oh and it's made by Aneros, a company that won many xBiz awards for men's sex toys… Are their women's toys just as good? We'll see.
The tech specs:
Wired
Dial-controlled speed
Batteries required
10) Waterproof Remote Control Bullet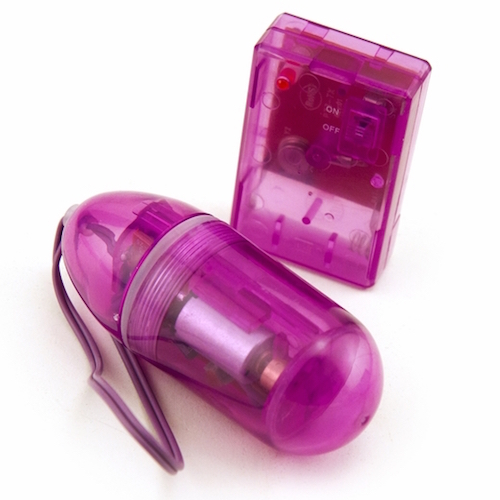 What it is: It's a yellow pink submarine that you can steer right into your love cave. Or at least that's what I pretend it is when I play with my waterproof bullet toys in the tub. Come on, I cannot be the only one who does that.
What's so special about it? Obviously, it's the perfect bath time toy. But it can also be the perfect shower toy, pool toy, sauna toy… And with the remote control working from 25 ft. away, public play can get steamy and wet in new and interesting ways.
Wear it inside you to the neighborhood 4th of July pool party and suddenly, your next-door-neighbor Meg won't seem as fucking boring anymore. Your eyes glaze over and your knees buckle – your partner has just given you an orgasm from across the lawn. She invited me to come to her pool party, so I did!
The tech specs:
Length: 3 inches
Circumference: 1.5 inches
Waterproof
2 AAA batteries + 1 N battery
Best Remote Control Sex Toys – Butt Plugs
11) B-Vibe Rimming Plug
What it is: Why should your pussy be the only one that vibrates? There's remote control pleasure for amateurs of anal play, too. (Show of hands?) The b-Vibe is a butt plug, but one that vibrates and has features that open up some interesting possibilities.
What's so special about it? A vibrating butt plug is enough to get a gal wet, but the special thing about this one is that it's remote control operated, which means you can hand over control to someone else. Not only that, but it has rotating beads especially designed for rimming.
That probably gets extra Horrify Your Mother-in-Law points. Plus, it has a motor in the tip to please prostate and G-spot owners alike. I'm all for equality and equal-opportunity butt pleasure.
The tech specs:
Length: 11.6 inches
Circumference: 6.3 inches
USB rechargeable
30 ft. range
12) BigBanana Anal Plug
What it is: Surprise, it's a prostate massager! Didn't see that one coming, did you? It's a vibrating anal plug, plus a penis ring, and they're remote control operated. The joy of this set is that it can stimulate both partners at the same time, no matter who wears the pants cock ring in the relationship.
What's so special about it? It's excellent value for money, because you get two toys, and it has a dual function with some strong vibes going, so dicks, clits, and assholes might be competing for who's having the best time.
The fact that it's waterproof and quiet means this can be a great out-and-about-toy, especially with the 33 ft. range of the remote control. You could buzz the fuck out of your partner's ass and no one would ever know.
The tech specs:
Dimensions: plug – 5.5 inches x 4.6 inches; ring – 3.5 inches
USB charged
Run time: 2 hours
Waterproof
Remote control vaginal exercise devices
13) USB Kegel Dual Exercise Weighted Device
What it is: This is not marketed as an actual sex toy, or maybe I'm just super dumb. It's a Kegel weight, and Kegels are exercises for your vagina (yes, really – the younger your vagina looks, the younger you look!).
The device is meant to be inserted and by contracting the muscles to keep it up there, you're strengthening them and supposedly improving your bladder control. Hmm baby, putting a stop to urinary incontinence is so sexy.
What's so special about it? This isn't just any Kegel device, though – it vibrates, which essentially makes it a vibrator, or a love egg. Obviously, it stimulates your bladder pussy up the wazoo, so it's hilarious that they're trying to pretend it's an exercise device.
I mean, this thing has a remote control, 10 vibrating frequencies and it's waterproof. Really guys, if it walks like a sex toy and quacks makes you come like a sex toy, it's a fucking sex toy.
The tech specs:
Measurements: 2.7 inches x 1.3 inches
Run time: max 2 hours
USB charged
Remote control dildos
14) Get Real Remote Control Realistic Dildo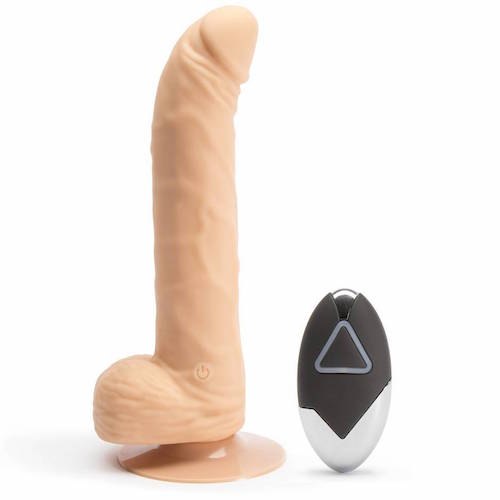 What it is: This is 7 inches of realistic looking plastic cock. It's big, it's veiny, it's anatomically correct, and it vibrates. As I said earlier, not a lot of real cocks do, so you could argue this is better, but I digress.
Use it by yourself or have a partner control it and hope that men are better at using cocks that aren't theirs to make you come.
What's so special about it? If you've ever been incorrectly rammed by some idiot and wished you could just control his dick with a remote, well, here it is. Remote controlled dick is the best kind of dick, because you can make it do whatever YOU want.
Suck it, selfish-boyfriend-I-had-in-10th-grade, my orgasm is important, too! …which is why this toy stimulates your G-spot in like, 10 different ways.
The remote would suggest that you could have a partner control it, but this thing features a suction cup, so you can just ride this baby wildly into the night all by yourself.
The tech specs:
Length: 8.5 inches, of which 7 are insertable
Circumference: 5 inches
2 AA batteries
So what did we learn from this?
When you've got no control over your life, a shallow illusion can be enough, and that illusion can be provided by a literal remote control, so you can dominate your (or your partner's) pussy, or ass. Do both at the same time for maximum results.
Extra Dirty for Your (Reading) Pleasure!
If you still need some inspiration, here is more ideas to help you choose your remote control toy. One woman already tried some of them and let her husband control her orgasms around town. And just for shits and giggles, here are some stories about mothers in law that are not my own, but that are batshit insane.