In this Build Your Own Fleshlight review we'll help you build the best Fleshlight for YOU.
Build Your Own or BYO Fleshlight is a flexible and popular way to buy Fleshlight toys while enjoying a never before seen combination of cases, sleeves and orifices of your choice.
So if you would like to combine the best of everything Fleshlight has to offer, this may be your best bet.
The best thing about BYO Fleshlight is that you can really combine a number of awesome possibilities and build your own Fleshlight according to your own taste, preferences and needs.
It's kind of like building your ideal girlfriend:
I want her blonde, with big… that doesn't complain… and one that likes inviting her shapely girlfriends over a night…
But, beside the color of the case which is not particularly relevant, there are a wealthy amount of sleeves and orifices to choose from whether your goal is to please or train yourself.
But let's take a quick look at the Fleshlight sleeves that are available and how actually the BYO Fleshlight process works.
The first step is choosing the case color.
Step 1: Choose the Color of Your BYO Fleshlight Case
You can choose between black, blue, red and silver. Update 2023: You can now only choose between blue and black.
As you can see, while you do have option when choosing the case, you cannot have a golden case (the one used for the Fleshlight Stamina Training Unit) and not even the transparent case of the Fleshlight ICE or the sleek case of the Fleshlight Flight.
You do have options, but there are some cases that belong to specific Fleshlight models and that are not sold in the BYO package.
Anyways, the case color is not extremely important, so let's move on to the orifice.
Step 2: Which Fleshlight Orifice Do You Prefer?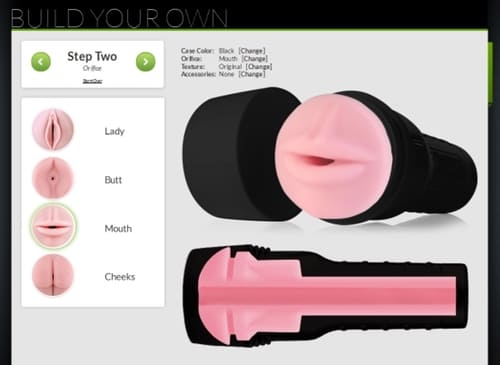 Update 2023: You can now choose only in between Lady and Butt.
The second step in building your own Fleshlight is about choosing an orifice. There are four orifices you can choose from: butt, mouth, lady (vagina) and cheeks. The "pure" orifice is missing from the collection and it's only available with some specific Fleshlight like the Flight or the Stamina Training Unit for example.
Choose the lady if you want to experience intercourse pleasure, the mouth for oral sex on command and the butt and cheeks for naughtier satisfactions.
Step 3: Get The Right Fleshlight Sleeve
Here's where the game gets interesting. The internal sleeve is what really makes the difference. When you Build Your Own Fleshlight you can choose among 12 Fleshlight sleeves:
Destroya
The Destroya sleeve alternates rings of bumps, piercings, soft teeth and fangs to grab and stimulate at 360 degrees. The further you go inside it, the tighter it gets and the more intense the stimulation.
Mini-Lotus
The Mini-Lotus sleeve takes the realistic vaginal sensations of the normal Lotus texture closer to the orifice, so that every man can enjoy them, right from the entrance.
Bi-Hive
Not as extreme as the Destroya, the Bi-Hive alternates pleasure-points, ribbons and soft rings to gently massage the user while increasing the sensations for intense climax.
Wonder Wave
One of the best selling textured masturbation sleeve and very popular among first time buyers, Wonder Wave features a textured canal enriched with mind-blowing waves.
Original
The Original Fleshlight sleeve is flat and smooth. This sleeve is perfect if you have a very sensitive penis and therefore want a light sensation, or if you have an above average girth and want a smooth experience. The diameter is one inch.
Speed Bump
All these soft massaging beads… hmm. This Fleshlight sleeve is tight and intense. If you like strong sensations, go for it.
Super Tight
All right, Speed Bump is a tight sleeve, but take a look at Super Tight: 1/2 inches (13mm) in diameter. The biggest difference is that Super Tight is flat and smooth inside. So if you want it tight and ribbed go for Speed Bump, otherwise Super Tight will do it for you.
Vortex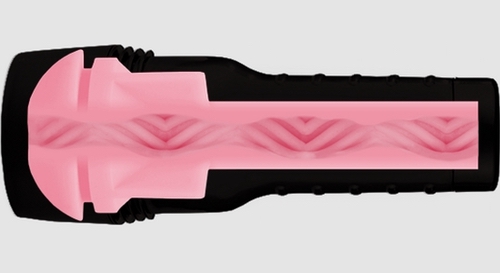 This sleeve is crazy. An hypnotic spiral of sexy chambers will grab you and take you on a unforgettable trip.
Super Ribbed
This is great if you want to test your stamina. Super Ribbed feels good, too good… so good that you may come before you even realize it. If you're after uncontrollable pleasure, a Super Ribbed sleeve may be the best Fleshlight for you.
Heavenly
This is another of those sleeves that can drive a man nuts! Heavenly has an elegant and incredibly stimulating texture… They say it's like flying with an angel, a naughty beautiful naked Angel I would add…
Tornado
Twister canal and deep indentations are just some of the features of this Fleshlight Sleeve. You can get addicted to Tornado and use it like if there is no tomorrow…
Barracuda
Barracuda is one of the most controversial Fleshlight Sleeves in my opinion. You'll encounter some resistance when entering it the first time and find more ease as you thrust, just like with a partner who is losing her virginity with you.
Step 4: Fleshlight Add-Ons To Spicy Things Up (Optional)
This is optional but a lot of fun. There are quite a few add-ons that can make your Fleshlight experience much better and in some cases much more realistic (like with the incredible V-Stroker for example).
Here they are:
Shower Mount
Wow, the Fleshlight Shower Mount is a must. Best thing about it, you don't need any hole in the wall since the attachment is suction based. So stick it to the wall, plug in your best Fleshlight (the one you have just built) and enjoy hand-free masturbation. I know, I should be used to this, but I'm not: the Shower Mount is a genius idea and everyone should have one in their house. Pure pleasure.
VStroker Virtual Sex Adapter
Update 2023: V-stroker doesn't exist anymore.
This is amazing virtual sex so close to the real thing. In fact when you attach the Vstroker Virtual Sex Adapter to your Fleshlight case your thrust will be transmitted to the girl on your computer that will moan and scream according to your rhythm and intensity. If you haven't yet you gotta look at this and tell me if this isn't the most brilliant invention since the wheel.
So Fresh and So Clean Combo Pack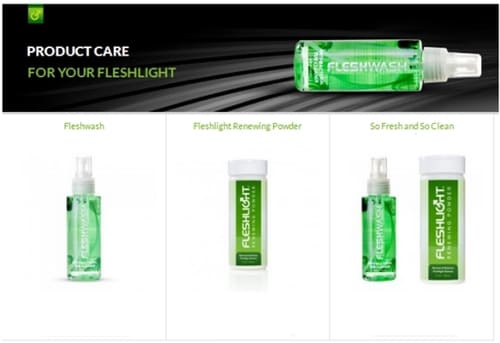 All right, all right. After having so much fun with your sex toy you'll want to clean it and this combo pack helps you with just that. Keeping your favorite male sex toy tidy and scented.
Fleshlube Elements Pack
This Fleshlube Elements Pack contains Ice, Water and Fire lubricants to make your masturbator sex toy smoother and sexier while adding some spice in the middle… You don't want a life without spice, do you?
Fleshlube Water (4oz.)
Let's say you hate water, ice and fire. What do you do? Here's Fleshlube Water, a soft, silky and smooth lubricant that will make your rides much more realistic and powerful.
There are other lubes you can use with Fleshlight too.
Step 5: Have Fun!
Buy a few combinations and then let us know which one you think is the best Fleshlight sleeve, by ticking your favorite on the poll below.
What's a Fleshlight Made Of?
A Fleshlight is made of various materials designed to provide a realistic and pleasurable experience. The main components of a Fleshlight typically include:
Outer Casing: The outer casing of a Fleshlight is usually made of a sturdy and durable hard plastic. This casing provides the structure and support for the device when you're using it.
Sleeve: The sleeve is the inner part of the Fleshlight where your penis is inserted. It is made of a soft, flexible, and skin-like material called SuperSkin. SuperSkin is a patented material developed by Fleshlight (Steve Shubin, how sneaky are you), designed to mimic the feel and texture of real human skin. Note that SuperSkin is similar in texture and appearance to silicone, but it's actually a proprietary blend of materials that make Fleshlights one of the best pocket pussies on the market. The inner sleeve of a Fleshlight often features a variety of textures, patterns, and ridges strategically designed to enhance stimulation and provide a realistic sensation.
Opening: Fleshlights come in different openings, such as vaginal, anal, or oral.
Lubrication: To enhance the glide and overall experience, Fleshlights often come with a sample of water-based lubricant or advise the use of water-based lubricants. Fleshlight lubricants are specifically formulated to be compatible with the SuperSkin material and ensure a smooth and pleasurable experience.
It's also important to understand that while most materials used in Fleshlight are completely safe, some individuals with sensitive skin may have adverse reactions. That being said, reactions are very rare.
Always read and follow the manufacturer's instructions before, during, and after using your BYO Fleshlight, especially when it comes to cleaning your Fleshlight.
Is it more expensive to build your own Fleshlight?
Not really, check Fleshlight's official website. Prices are more or less the same.
The materials, components, and accessories you choose, and the retailer where you purchase your BYO Fleshlight will all play a role in how much it will cost as well.
What's the best combination when building my own Fleshlight?
Short answer:
Case: Black (just because it looks better)
Orifice: Butt (because it's tighter and you can imagine having butt sex with your sexy neighbor)
Sleeve: Destroya (just because)
Long answer:
Every dude is going to have his own preferences.
This means that the best combination of BYO Fleshlight parts depends entirely on what you're into.
Building your own Fleshlight is all about exploring what floats your boat. The key is to tailor your toy to your own specific tastes. Not what anyone else is into.
That said, let's take a look at a just a few options to consider:
Classic Lady Orifice: For a more traditional masturbation experience, a classic vagina orifice, which is referred to as Lady, is the way to go. This option aims to replicate the sensations of vaginal penetration, providing a familiar and pleasurable encounter.
Super Tight Sleeve: A tight sleeve like the aptly called "Super Tight" sleeve can be a great option if you want something as similar as possible to the feeling of real sex. You can even use this sleeve to train your stamina and lasting longer in bed.
When it comes to designing your own Fleshlight, the possibilities are virtually endless.
So don't be shy, explore every combination that Fleshlights have to offer, and don't be afraid to try new things!
Maybe you've always tried vaginal penetration before, if that's the case, maybe trying an anus orifice would be a bit more exciting.
Just make sure to land on a combination that suits your unique sexual desires.
Homemade Vs. Real Fleshlight
Of course, you can always build a DIY pocket pussy.
But Fleshlight truly is one of the best brands out there when it comes to male masturbation toys.
We don't doubt your ability to get off using a handful of household items, but there's truly no comparison to the quality, durability, and exceptional sensations provided by a Fleshlight.
If you're not into the idea of buying a Fleshlight, or you feel that Fleshlights are simply out of your price range, you'll be glad to know there are plenty of cheap Fleshlight alternatives available too.
Both homemade DIY pocket pussies and Fleshlight are great ways to get your rocks off, but if you're looking for a grade A sexual experience, quality, durability, and realism, then a real Fleshlight is your best bet.