Riley Reid Fleshlight is one of the best-selling Fleshlight Girls sleeves, and it has the likeness of its namesake, which explains the popularity.
Riley Reid is a solid choice if you are unfamiliar with Fleshlight and would like to try one, because it provides decent stimulation, intensity, and variety, but without being intimidating or overwhelming. Her tightness is generally touted as a good thing, but not if you're a girthy guy, in which case you may lose some texture and should pick a slightly roomier choice.
Meet Riley Reid
The beautiful Riley Reid started her career at just 19 years old as a way to earn an extra buck on the side. Never would she have imagined that it would bloom into an extremely successful career and she'd become one of the world's most coveted porn stars.
She is the winner of multiple industry awards, has starred in more than 300 films and is the leading lady in thousands of men's fantasies. One amazing this about Riley is her positive, fun attitude and her commitment to being a role model for other women and showing you can be a young, independent, successful woman in an industry that is extremely competitive.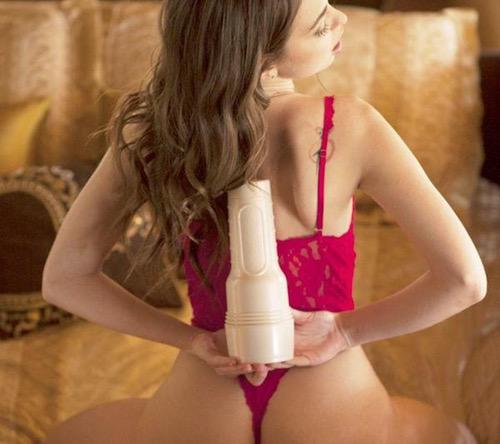 Riley Reid Quick Cheat Sheet
Age: 29
Eye Color: Hazel
Bust: 32A
Waist: 25"
Hips: 36"
Height: 5'4"
Weight: 107 lbs
Pros:
It's a high-quality, stimulating sleeve that provides good intensity, particularly towards the end. The third chamber and the last one are not only tight, but the nubs and ridging are almost guaranteed to provide an orgasm.
The SuperSkin material feels incredible to the touch and can be almost realistic. It doesn't feel like skin, despite the name, but it does help enhance the overall experience, particularly when you warm it up and add lube.
This sleeve has been updated and the intensity has been turned up, compared to the previous version. Both chamber 2 and 3 have been modified to have more pronounced nubs and teeth in order to provide a better, more stimulating, more intense sensation.
Cons:
The sleeve is good, but if I want to be a real pain in the ass, I would say that it doesn't stand out through anything in particular. It scores decently on all counts, but it hasn't blown my mind. Not a stand-out option for an experienced user, but a good one for a beginner.
It appears to have good variety at first – and it does feature 4 different chambers – but I found them to be kind of similar. Chambers 1 and 4 have the same kind of ridging, almost, and 2 and 3 could be more different. I guess what I'm saying is they could have used these 9 inches better, to offer more.
Not to complain about chamber 3 again, because it's hands-down the best one, but it comes a little too far down in the sleeve. You have to be at least 5" long to get to experience it, and I think that's unfair to leave the best till last.
Should You Buy This Thing?
Riley Reid is one of their best-selling sleeves, and for good reason. It provides all the right kinds of stimulation for the average consumer, including some good variety, tightness and texture.
Where I can criticize it is to say that it didn't leave me open-mouth gagging or anything, but perhaps I'm being too hard on her. Using Riley is an extremely satisfactory experience, and I'm sure it will become one of your go-tos.
In some ways, it's better when the sleeve is not extremely tight or textured, because you're not always looking to scream in pleasure or pain.
I will say that if you're under average length or over average girth that you may not get much out of it. It's still good, but you won't be able to experience it fully, and for 80 bucks, I expect to get my money's worth.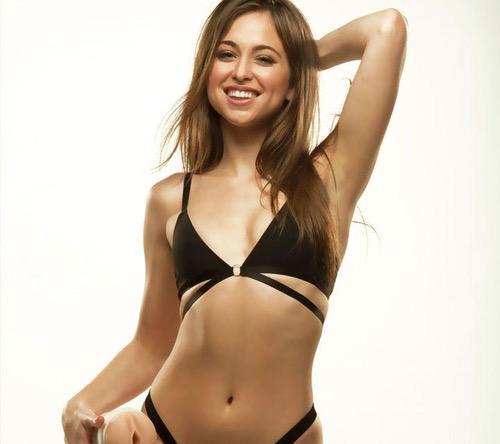 Getting to Know Riley Reid
Name: Riley Reid: Utopia
Length: 9 inches
Circumference: 0.1 – 1.2 inches
Colors: Flesh-toned
Materials: Soft Plastic
Category: Realistic Vagina
Orifices: Vagina (Utopia), Butt (Euphoria)
Waterproof: Yes/Submersible
Riley Reid is one of the best-selling Fleshlight sleeves of all time, which means it's pretty much hyped up constantly.
What you need to know about it is that it's a replica of Riley Reid's pussy. You decide if that's worth paying for.
If you want to check it out, Riley's butt sleeve (that is literally what it's called) is under the name Euphoria.
First Impressions – What does she look like?
This isn't any old plastic vag from a shitty Chinese website. It's made out of smooth, beautiful soft plastic that is nice to the touch and dare I say it – almost realistic. Almost.
As I mentioned before, the lips are molded after the muse's lips and it even has her signature on the side. There's a heft to it and the finishings are beautiful.
One thing that you'll notice is a bit at the bottom that allows you to screw and unscrew (I know, I know), in order to control the suction power of the toy. Even without trying it, you can tell that this feature is really going to change the way this feels and how you use it. It's one of the most popular and highly rated feature on Fleshlight products.
What Do You Find On The Inside?
If she's so beautiful on the outside, just imagine what she's like on the inside. Thankfully, you don't need to turn her inside out to see what she's like.
Like all Fleshlights, this sleeve from Riley Reid is intensely textured. In this one, you can identify around 4 distinct "chambers" and each bit is supposed to provide a different type of sensation with the help of the little nubs and teeth and offers a variety of diameters from beginning to end. She's 9 inches long in total.
One thing I want to note here is that this sleeve used to look a little different. The overall vibe of the texture is kind of the same, but it has had an update in order to intensify the nubs and texture in order to provide a superior experience.
That is why you may find that if you look her up online, the pictures may not match with what you've got at home. But it's ok, because this new version is better.
Let's also talk about the fact that the inside is made from a special type of proprietary silicone that they dub SuperSkin, supposedly because of how realistic and skin-like the sensation is. We're about to test that out.
How to Use
Enough babbling, let's see how you use this male sex toy. It's easy, I promise.
1- If you've never used a Fleshlight before (or just don't know all the tricks), I'm gonna teach you something that will enhance the experience: before using it, submerge it in warm water, first.
That is going to warm up the toy and really contribute to that realistic feel. A human vagina will never be cold. The warmth, combined with the SuperSkin texture should make for a realistic, if slightly creepy, good time.
2- You absolutely can't skip phase two: LUBE. Squirt a lot of this inside. No, really, just pour it in. If you're not sure what to use, Fleshlight sells Fleshlube. What this does is make sure you can actually use it and aren't rubbing a dry penis in a dry tube.
3- Pay attention to the suction bit at the bottom. That will make ALL the difference. Adjust the suction in order to add variety to the sensations and the experience. It'll be like fucking a new one every time.
In my experience, the cap isn't the easiest to work with (especially with slippery hands), and it may not be the most secure. I've had it fall off a couple of times, so make sure you put it on right.
How does she feel?
Okay, so we know how to use it. But – what does this thing actually feel like on the inside?
There is no breathing room with Riley, because the very first thing you feel when you enter is a super tight bit with rings that get wider as you go in deeper. I'd say this starts out with a bang, with a diameter of just 0.4" – 0.6".
Then, you get an even tighter transition into the next bit, that regales you with some longer nubs. Now, this bit doesn't look very appealing, but I promise it feels better than it looks.
It also feels tighter than it seems like it would, because the long teeth don't leave much room to slide through. That can be a good thing or a bad thing, depending how girthy you are.
Having an average-sized dick will serve you well, as you will feel each and every one of these long nubs tickle you as you glide along them like a set of long, squishy fingers. If you're bigger, you may encounter an issue with getting to feel all the texture.
The transition from this area to the next chamber is particularly small and you will feel it intensely, but it leads into a way, way wider section, so you get a bit or reprieve. That just means you're not likely to blow right here. But that doesn't last long because you're thrust directly into the most intense section.
I am confident in my analysis that the third chamber will be the most popular among most men, because it has a deadly combination of being both tight and intensely textured.
The nubs are arranged in a diagonal pattern and surround your penis in a nubby embrace. This bit is only 0.1" to 0.2" in diameter. I don't have to tell you that this is the most intense this sleeve gets, you'll feel it for yourself as you graze past the little dots.
Unless you're above average in the length department, you may not fully reach this part, but the last inch of the sleeve is a tight (0.1" to 0.6"), ridge-y set of rings. It's a good final bit for this pocket pussy, and a poetic ending that kind of mirrors the beginning, and specifically designed to help you cum.
Buy This IF:
You're a beginner – Some varieties of Fleshlights can be a little intimidating, especially when every review says that it's overwhelmingly intense and you cum instantly. This is a happy middle where it provides some great stimulation, but it won't shred your dick.
You're looking for some variety – A lot of sleeves make the mistake of not providing enough variety, but this one has 4 textures to enjoy if you're bored of your existing ones.
Don't Buy This IF:
You're looking for something extremely intense – I'm gonna be honest, this is a great toy, but if what you're looking for is a life-changing, out of your mind, instant orgasm kind of intensity, move right along. This is vanilla.
You're very girthy – Look, these are some small passageways, so if you're over 5", that will be a problem for you. What happens is that you can't really experience the full feeling of the texture because it's all squished up in there, particularly in that second chamber. It can even veer into discomfort.
Stimulation: 4/5
The sleeve is very well thought out, you can tell they didn't just throw these areas out at random. Every bit is designed with the act in mind, how to make you cum, etc.
You'll notice that it gets increasingly smaller towards the end and that every bit is textured sort of equally, so that everyone can experience it, even if they don't reach all the chambers. I'm going to deduct one point for the fact that you have to be at least 5" long to even get to the most stimulating chamber at all.
Intensity: 4/5
This sleeve brings a lot of elements together to create an intense masturbatory experience. The third chamber with the spiral nubs is by far superior to the others in terms of stimulation and intensity, but this sleeve ranks well, in general.
I'd say its weakest point is, controversially, the very start of that third chamber, because it's just a wide space with nothing going on. I understand the need for a change and reprieve, but it's wasted space, especially for the under 5" set.
Realism: 4/5
The SuperSkin material they use feels really nice, and there are things you can do to enhance the realism, like warming up the toy beforehand and using a generous amount of lube.
However, I'd be lying if I said this felt just like the real thing, especially since I know there are other Fleshlight girls who do come closer to that feeling. *cough* Stoya Destroya *cough*.
I want to note here that the sleeve can even get colder as you use it if you don't maintain a certain amount of friction, which can certainly disrupt the fantasy.
Variety: 3/5
I appreciate that this sleeve offers a solid 4 chambers to experience, but I also feel like they're very same-y.
I think it's a very smart move on their part to update this, because the new version is way superior, but the first and last chambers are similar in build and feeling, and the middle ones aren't wildly different in texture, either. If you got the earlier version of this sleeve, you may even feel a bit cheated.
Lube Usage: 5/5
With lube, this male masturbator definitely comes into its own and offers the full experience you are meant to have using it. It is not only better to use it, it's necessary, both for the integrity of the toy and your dick. Trust me on this.
Cleanup: 3/5
The clean-up is the one point of contention I (and a lot of other dudes) have with Fleshlight products, in general. It's not a quick job. In fact, it's not even the actual clean-up that is the problem as much as the drying time.
Because of the build of this thing, that textured canal understandably takes a long time to dry out completely, and it's a large and cumbersome object to leave out in the open. Kinda awkward – explain THAT to your mom, wife, or roommate.
Overall Satisfaction: 3.8/5
Overall, I'd say Riley Reid is a solid choice as far as Fleshlight Girls are concerned. Excels in some areas, but not others, but is a pretty well-rounded device. It's not mind-blowing by any means, nor does it have any extraordinary features, but it offers the stimulation and intensity it promises, as well as a pretty good orgasm when all is said and done. That alone ticks off the satisfaction box.
The clean-up is annoying, but that goes for every single one of these toys, so I can't really fault it for that.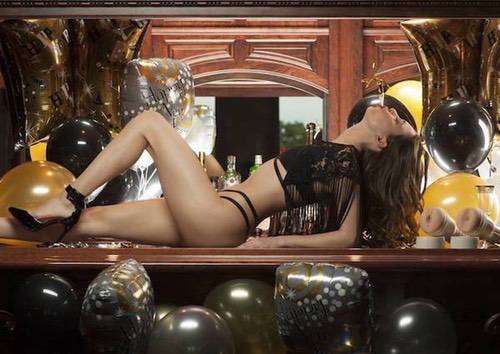 Riley Reid VS Stoya Comparison
| Riley Reid | | Stoya Destroya |
| --- | --- | --- |
| | Specifications | |
| 9" | Length | 9" |
| Yes | Waterproof | Yes |
| Fleshtoned | Color | Fleshtoned |
| | Ratings | |
| 4 | Intensity | 5 |
| 4 | Stimulation | 5 |
| 4 | Realism | 5 |
| 5 | Variation | 4 |
| 5 | Suction | 5 |
| 4 | Orgasm rating | 5 |
| 5 | Lube usage | 5 |
| 3 | Dry speed | 3 |
| 4 | Clean up | 4 |
| 4 | Overall satisfaction | 5 |
| | | WIN |
Riley Reid VS Lisa Ann Comparison
| Riley Reid | | Lisa Ann |
| --- | --- | --- |
| | Specifications | |
| 9" | Length | 9" |
| Yes | Waterproof | Yes |
| Fleshtoned | Color | Fleshtoned |
| | Ratings | |
| 4 | Intensity | 3 |
| 4 | Stimulation | 4 |
| 4 | Realism | 3 |
| 5 | Variation | 2 |
| 5 | Suction | 5 |
| 4 | Orgasm rating | 4 |
| 5 | Lube usage | 5 |
| 3 | Dry speed | 3 |
| 4 | Clean up | 4 |
| 4 | Overall satisfaction | 4 |
| WIN | | |
Best Place to Buy Riley Reid Fleshlight?
So, you've fallen in love with Riley Reid and you can't wait to have her. Where can you find her?
The Official Fleshlight Website
The best place to find her is on the Fleshlight website. Since she's such a hit over there, you're bound to find her in stock.
If you prefer Lovehoney, they also stock genuine Fleshlight products, including some of the best-selling Fleshlight Girls and among them is – you guessed it – Riley Reid, with both her textures.