The Fleshlight Stamina Training Unit (STU) is the number 1 best selling male sex toy in the world. From my experience, there are two reasons for her success: great quality and even greater timing.
The Fleshlight Stamina Training Unit is made of realistic materials (the famous and patented SuperSkin) and when it came out in 1998 it had no competition and it sold like crazy (12 millions so far).
Side Note: If you're reading this Fleshlight STU review because you're looking to last longer in bed, I have written an epic program called "The 47 Hour".
Pros
One of the most realistic Fleshlights.
Designed to help you train your stamina. It delivers a lot of what it promises.
Only Fleshlight with a golden case. Who cares about the golden case? It looks pretty cool actually.
Cons
A bit outdated, there are more interesting models now.
You cannot replace the inner sleeve?
A bit pricey.
Related
Fleshlight STU Review in a Nutshell
12 million men around the world have bought a Fleshlight STU. I‌ personally owned a Fleshlight Stamina Training Unit for almost 10 years. It's still in great shape and the investment was totally worth it, but I took good care of it indeed, and I used it maybe 50 times in total (not that much).
This is an iconic sex toy who will be in all the male sex toys history books for years. I even‌ recommend buying one, don't use it and keep it stored in your basement for 3 generations. Your grand-grand-grand child will be able to sell it to a collector for God knows how much money.
My Complete Fleshlight Stamina Training Unit Review
I bought the Fleshlight STU so many years ago and I am now re-writing this review trying to freshen it up a bit. But I remember when I‌ received the STU because I had bought some Fleshlube together as well as a Fleshlight LaunchPad (no longer on the market) and the Fleshlight Shower Mount.
No need to say, packaging was anonymous, just showed my name and ILF (Interactive Life Forms – the genius company behind Fleshlight) as sender.
Specifications:
Name: Fleshlight Stamina Training Unit (or Fleshlight STU)
Length: 9.75in
Insertable Length: 8.5in
Colors: Gold
Materials: Superskin™️
Category: Manual masturbator/pocket pussy
Orifices: Lady (vagina), Butt, Pure
Waterproof: Yes
First Time Using Fleshlight Stamina Training Unit
When I received the STU, I‌ was very keen to try it out. After all, the year was 2011, there were not that many sex toys comparable to the STU. I mean there were some but they looked ugly and cheap. The STU really stood out.
If you are a 20-something guy just reading this and about to buy your first Fleshlight you are in a completely different scenario than I was in.
Now Fleshlight has produced so many masturbators, including automatic ones like the Fleshlight Launch, in partnership with Kiiroo, and the Quickshot Launch (almost as good as the Kiiroo Keon). So nowadays the STU‌ doesn't look so glamorous as it used to, but I‌ still believe it's the best Fleshlight for improving your stamina, especially if used in conjunction with the Fleshlight Launch.
Anyway, I removed the Fleshlight sleeve from the case. And I‌ put it in a bowl filled with warm water for a bit.
Top secret tip: I also threw my bottle of Fleshlube in the same bowl of warm water. That way the lube warmed up. There is nothing worse than cold lube!
I put the STU sleeve back inside the case, I splashed in some Fleshlube and I (not so slowly) started pounding away.
The Fleshlight Stamina Training Unit feels fuckin' awesome.
Fleshlight STU Intensity
Is the Fleshlight Stamina Training Unit better than a real girl? Is it more intense? Well my friend, it depends on how much experience you have.
When I‌ first wrote this review, 10 years ago almost, I wrote that the Fleshlight STU is very intense, way more intense than a real pussy. Now 10 years later, after spending dozens of hours with the STU and a lot of girls I‌ slept with in the meantime, my answer is a bit different. Yes it is intense but I can manage it easily.
If you are unexperienced the Fleshlight STU will be intense af. Get ready for a rollercoaster of emotions as you practice sexual intercourse in the comfort of your own room.
If you do have experience but want to learn how to last longer in bed (oh and besides, I wrote an epic book that teaches you how to last longer in bed) it can help, but it won't make miracles. As you will learn in my book, the most important thing to last longer in bed is confidence, not a toy.
Stimulation
The pillow-like bumps inside the Fleshlight Stamina Training Unit make for a stimulation that is not realistic but very close to it.
I have a Lady orifice STU, and the penetration feels so much like penetrating a real girl. The pussy orifice is beautiful and looks like a realistic vagina. I love pussy so much. Warm up the sleeve before you penetrate it, that makes a huge difference.
The Lady orifice of the Fleshlight Stamina Training Unit looks 100% realistic. The inside sleeve of the Fleshlight Stamina Training Unit is also one of the most realistic masturbators I‌ have ever tried. Yes girls don't have those small bumps in them, but what they have in there is way closer to small bumps than it is to a Stoya sleeve or anything else as crazy as the Fleshlight Girls' sleeves.
No variation. There is no variation in the Fleshlight STU. This is a down point.
Tight but not so tight as others.
Like all Fleshlights you can regulate its suction from the bottom lid. Nothing different
The Fleshlight STU is very smooth, since there is no variation in the inner texture.
Little to no noise. When suction is stronger, noise level is higher of course.
The Fleshlight Stamina Training Unit is a bit of a lube eater.
From my experience the Fleshlight STU is slower to dry than the Fleshlight ICE or the Fleshlight Flight, or even slower than the Stoya Destroya. But we are talking about a very small difference. Take the sleeve out of the case, reverse it and place it somewhere ventilated to dry and you will be fine.
Very easy to clean. I wrote a detailed guide on how to clean a Fleshlight.
Overall, I‌ confirm what I‌ wrote above. The Fleshlight Stamina Training Unit is a great male masturbator, and a great first-timer Fleshlight.
Fleshlight Stamina Training Unit Compatibility
Fleshlight Launch = Compatible
Fleshlight Shower Mount = Compatible
Fleshlight Top Dog = Compatible
Fleshlight QuickShot Launch = Not Compatible
Why is the Stamina Training Unit So Popular?
Well, beside giving you enormous pleasure, this Fleshlight is designed to help you last longer in bed by training your body to handle high levels of arousal and continuous stimulation.
One of the main reasons why most guys suffer from premature ejaculation is lack of experience. Most young men at their first sexual experiences don't need anything else but the ability to resist the intensity of their partner's intimate parts and the feeling of being inside them.
While there are many techniques to last longer in bed, and I've written four books myself, including my best-selling training program "The 47 Hour" I must admit that the idea behind Fleshlight STU is pretty smart: giving the stamina of an experienced man to someone who is at their first sexual experiences through an intense sexual training.
How do You Exactly Give Stamina to the Inexperienced Man?
The secret is in the unique (and patented) material composing the Fleshlight inner sleeve and its texture, in the adjustable and resistant case and in a gift you get with your purchase of the STU, but more on this later…
The Fleshlight Stamina Training Unit's inside texture is made of large, pillow-like bumps which give you a sensation even more intense than sexual intercourse.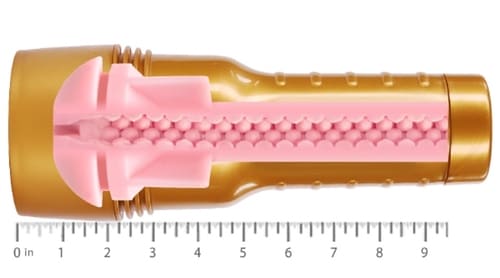 Learn how to last 10 minutes with a STU and you'll be able to last 20 minutes with any woman, no matter how sexy she is.
As soon as you slide your penis inside this intense male masturbator sex toy, you'll feel like you're penetrating the hottest of the women, and the excitement you'll feel inside your body will be extremely high.
Most people don't know that the internal sleeve composing the Fleshlight works even better when warmed up in warm water before use and that the patented SuperSkin material used for it gives you a sensation insanely close to a moist vagina.
You might come quickly at the beginning, but it's normal and actually, it's useful.
After a continuous pleasurable practice with the Fleshlight Stamina Training Unit you'll start lasting more and more and literally build your stamina in the comfort of your own room.
As said before, the transition between a Fleshlight STU and a vagina will be easy and you'll be able to last into your girlfriend about double of the time you last with the STU.
The Fleshlight STU comes both with a Lady Orifice (Lady Orifice STU) and Pure Orifice (Pure Orifice STU) with the difference being in the level of privacy you're after, where the Pure Orifice STU doesn't look like a vagina from the outside while giving you the same exact sensation from the inside.
Both Lady Orifice STU and Pure Orifice STU can be used with the exclusive Fleshlight shower mount to enjoy hand-free masturbation.
Let's Get in Detail About the Stamina Training Unit
First of all, the Fleshlight STU is one of the best Fleshlight and certainly the most popular. If you didn't know it the Fleshlight is the top selling sex-toy in the history (basically almost every man in the western world has got one – no matter whether they say it publicly or not) and among these, the STU is the top seller.
Improving your performance by training with a Stamina Training Unit is safe, effective and a lot of fun.
Best of all, you won't be left of your own, trying to figure how to use it for best results, not at all. When you order the Fleshlight STU you'll get an order confirmation email, with a download link.
Here's the secret gift that helps creating the magic: the STU field manual.
Follow that download link and you'll get your hand on the STU field manual, which will literally show you methods of penetrations, techniques and rhythms that will help you develop incredible stamina in no time, while experiencing powerful orgasms.
Yes, the Fleshlight STU gives you a very intense masturbatory sensation and it replicates the actual intercourse, but since the texture inside the Fleshlight Stamina Training Unit's sleeve is so intense, also the orgasms that follow will be particularly mind-blowing.
Fleshlight STU Review: The Golden Case
The Fleshlight STU comes with a Gold Fleshlight case, which basically models a proper flashlight, but with a set of interesting features.
First of all, in order to be able to store it as discreetly as possible, you can remove the internal sleeve from the case, and of course clean it whenever you decide. After that, all you have is a case that looks like an actual flashlight, and not like a male masturbator or a pocket pussy, which makes it very discreet to store.
Furthermore, by regulating the end cap you can decide the amount of suction you want to enjoy while using the Stamina Training Unit, which gives you the option to decide whether you want to train with a more "tight" or "loose" sex-toy-girlfriend. Keep in mind that a lower suction will also generate less noise which is ideal if you want a quiet and silent experience (ideal if you have people in other rooms next to yours).
The Fleshlight Stamina Training Unit measures 10" in length and 4" in diameter and is made with Non-Toxic and Phthalate-Free material. It's easy to clean, durable and resistant.
There are many sex toys in the Fleshlight collection that are a must for men, and among these the STU is certainly one of the greatest by allowing you to last longer in bed with a pleasurable and more than enjoyable training.