Learn how to use a vibrator for vaginal, clit, anal play and during sex in our epic guide we should have printed and put our for sale if we were just less lazy.
We all know that vibrators are cool and interesting, but did you know they're excellent at multi-tasking?
There's more than one way to skin a cat, and 11 different ways to use vibrators. Spoiler: they're not even all for sex. Let's take a look at how to use a vibrator – in 11 different ways!
But first of all let's make sure you've got a great vibrator in your hands.
Top 3 Vibrators
Vibrator
Price
Information
Magic Wand
Best wand vibrator

Check Price
Allergens: Latex-Free, Phthalate-Free
Features: Rechargeable
Run Time: 180 minutes
Circumference: 7.75 inches
Length: 12.5 inches
Eve's Rabbit
Best rabbit vibrator

Check Price
Batteries: Rechargeable
Insertable Length: 5.5 inches
Length: 9.5 inches
Material: Silicone, ABS (plastic)
Power Source: Rechargeable
Width: 1.6 inches

Lovense Ferry
Best vibrating panties

Check Price
Material: Silicone
Power Type: Rechargeable
Allergens: Phthalate-Free
Length: 3 in
Waterproof: Submersible
How to use a vibrator for:
How to Use a Vibrator for Vaginal Play
When you're allllllll byyyy yourseeeeeeeeeeeeelf. Listen, there's no shame in masturbation, and vibrators are excellent tools for that. Here is how you can put them to good use.
One of the most common uses for a vibrator is to insert it in your vagina for some penetrative fun – dildos are great, but a dildo that vibrates is twice the fun, and it can help create some interesting and unique sensations, especially for your G-spot.
Before You Start:
One of the most important things, with vaginal play, is to remember to use lube. Lack of lube can mean that you can't insert the toy properly, or that it hurts when you do. Friction is painful, so the more lubrication you have on hand, the better.
Next – let's size this baby up. Vibrators for vaginal penetration generally need to be long, as for the girth- that's up to you. The second important feature for a vaginal vibrator to have is some curvature. It should curve upwards towards the end by some degree. This is the secret to stimulating the G-Spot. Unlike the clitoris, the vagina can withstand much stronger vibrations as it's less sensitive – so don't be shy choosing a model that really shakes yer bones!
Step 1: Pick your weapon from our list of vibrators, rabbit vibrators, and G-spot vibrators, or buy this one: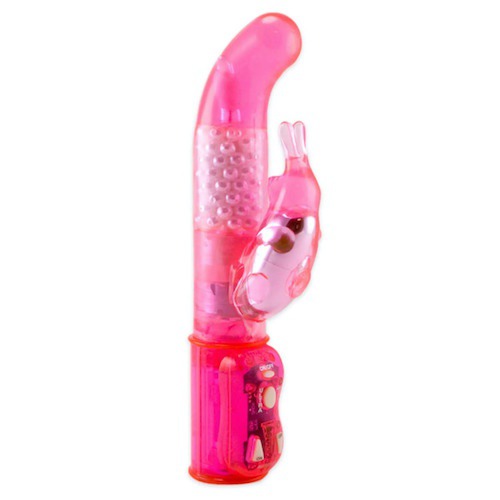 You can get dildos that spin, pulse, and even tickle your clitoris to create extra sensations! Try the famous Rabbit vibrator for an all round amazing intimate massage. The new Rotating G-Spot Rabbit Vibrator has got everything. Penetration, internal rotating shaft, clitoral nub, and a curved and enlarged G spot tip. Plus it doesn't snore. You may want to replace your boyfriend with it.
Step 2: Start by getting in a comfortable position for vaginal play. You can lie down and spread your legs if that's comfortable for you, you can stand up on your knees, with your legs apart, or you can even stand up and put a leg up on the bed.
Step 3: Pump a bit of lube on the end of the vibrator that you're going to insert, and you can also take a bit on your fingers to spread around the entrance to your vagina. That makes penetration easier and more comfortable.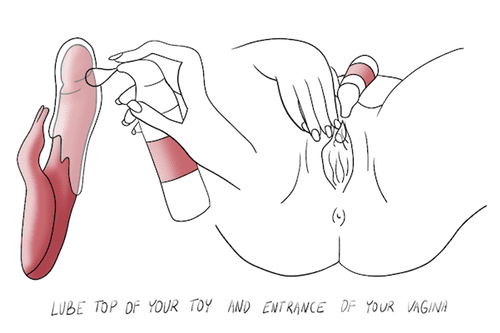 Step 4: Insert the tip of the vibrator inside you, and turn it on – make sure it's on the lowest setting, for now. Keep it there for a few seconds, maybe playing with it in and out. You're just getting acclimated to the feeling of having the buzzing contraption inside you.
Step 5: Find your G-spot. Your G-spot is technically part of your clitoris, so it's located on the front wall of your vagina. If you put two fingers inside and curl them towards you, you should be able to feel a patch of slightly textured skin that feels good when you apply pressure on it – BINGO! That's your G-spot.
Step 6: You can start playing with speeds, intensities, and vibrating patterns, as you move the vibrator inside you, either in and out, or back to front, as much as space allows. A curved toy will allow for extra G-spot stimulation, so if your mission is to tickle that particular spot, up the intensity and either hold the vibrator in place, or move it to push against the G-spot harder.
Special Tip: Massaging the G-Spot is a surefire way to find out whether you are able to ejaculate or 'squirt'. It takes 4 things in order to achieve female ejaculation: practice, hydration, relaxation, and stimulation. While some women do it naturally, others may never achieve it, but trying is always fun! We have a whole squirting guide if you're interested in achieving that particular goal.
How to Use a Vibrator for Clit Play
The clitoris is not nearly as mysterious as pop culture would have you believe, and making it sing is actually easier than you thought, if you've got the right tool and you learn how to use it.
Before You Start:
Clits are sensitive piece of equipment, so you've got to be very careful about the speed you come at them, and the intensity. If you're using a more sophisticated vibrator with different speeds or vibrating patterns, you may want to check those out before you start.
If you're using a magic wand, know that these suckers are POWERFUL, and there is a very real danger of desensitizing your clit, so exercise caution and wrap it up in a towel to dissipate the buzzes. You wouldn't want to burn yourself out before you even start.
Step 1: Pick your weapon: a bullet vibrator, clitoral vibrator, wand vibrator, or a rabbit vibrator, or the latest trend – an oral simulator:
Listen, this is unlike anything you've ever seen before – it won't buzz, but it uses AIR to stimulate your most private part. Pretty neat, huh? This one's the new and improved next generation one, and it supposedly mimics oral sex VERY accurately.
Step 2: Make sure you're comfortable. Lie down, spread your legs slightly, and allow yourself to relax. You can sit up, if you want to be able to see what you're doing. You can even prop up a mirror in front of you.
Step 3: Find your clit. Many men, and a surprising number of women, are unfamiliar with the female anatomy. The clitoris is about 15cm long, and while it includes your G-spot, the head of the clitoris is usually the real pleasure centre. This is a hard and extremely sensitive bundle of nerves located somewhere above your urethra, near the top of the opening where your labia meet. While for some women, it's visible, other clits are hidden away under the clitoral hood and in between the folds of the inner labia.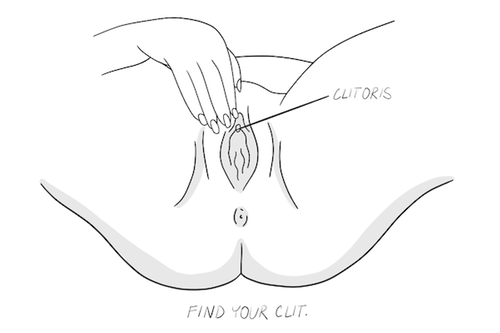 Step 4: Take your vibrator of choice, and turn it on the lowest setting. Start moving it around the outer labia to get used to the sensation. This should give you some pleasant tingles. If it doesn't feel uncomfortable, you can start moving it closer to your inner labia, and to your clit.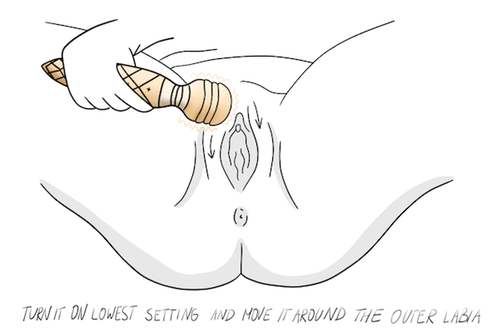 Step 5: Do not make direct contact with your clit just yet; that may be too much for you right away. In addition, some women prefer a more indirect type of stimulation around the clit, rather than on top of it. So, start by moving the vibrator slowly around your clit to see how that feels. Feeling better?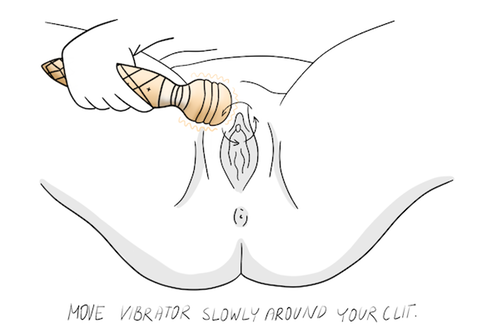 Step 6: You can try making contact with your clitoris now. You can leave the hood down, or you can pull it back – some women find that they do need the direct, full-on stimulation. Make sure to try both ways to find the ideal way to pleasure yourself.
Step 7: You can try keeping the vibrator in a single spot if it feels good, whether that's above the clit, below it, or off to the side, or you can move it around. Sometimes, keeping it in the same super pleasurable spot is a great way to reach orgasm. You can also play with the speeds, intensities, or vibrating patterns.
A lot of women find that circular movements on the surface of the clitoris feel incredible, but moving it up and down or from side to side, or just randomly can be a great hit, too. Think about what kind of movement and stimulation you like during oral sex and try to mimic that.
Step 8: At some point, you may feel your orgasm building up. If the feeling is getting more and more intense and almost overwhelming, that's a sign you are about to reach climax. It's very important that you keep up whatever you were doing before – removing the vibrator now may result in plateauing or losing your orgasm entirely.
How to Use a Vibrator for Anal Play
Sometimes, a gal just wants to know what it would feel like in the butt, and that's why God invented anal vibrators. You can absolutely engage in some anal exploration of your own, as long as you have the right vibrator.
Before You Start
You can get typical dildo or 'wand' vibrators, prostate massagers, vibrating butt plugs, anal beads, and double penetration vibrators. Find whichever suits you best, but if you're new to anal play, choose a smaller size.
Lube is even more important here, because the anus, unlike the vagina, is not self-lubricating. That means that you absolutely must source some lube, and use plenty of it. Use it on the toy, and use it around the anus and inside it. That said, be sure it's compatible with your toy (which could be made of silicone, for example) and don't drown your vibrator with it unless it's totally waterproof. Consider applying the lube to your body instead of the toy.
And most importantly, only ever insert especially made anal toys inside your anus, and I'll tell you why – the anus is tight and tends to suck in whatever object you put in there. The golden rule of anal play is never to insert a vibrator so far that it is not easy to use, to hold, or to retrieve. Any vibrator you attempt to use should be anal-safe.
Step 1: Pick your weapon – an anal vibrator or a butt plug.
Our other option is for the gentlemen – if you're interested in experimenting with butt stuff, this is your guy. The Aneros Vice. 'Nough said.
Step 2: No easy way to say this: make sure you go to the bathroom beforehand. You want things to be as comfortable and as clean as possible.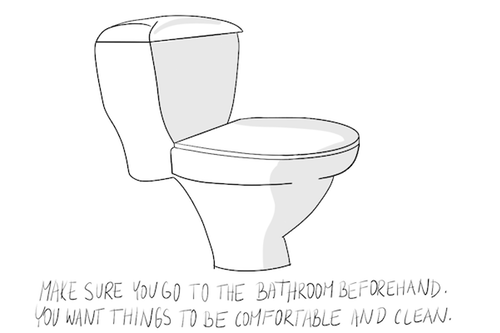 Step 3: Make sure you're relaxed and aroused. This goes for any sort of sexual play, of course, but it's so much more important in this case, because anal insertion can be difficult. The more relaxed and willing you are, the easier it's going to be, and the better it will feel.
Step 4: As I mentioned earlier, take some lube and, if the vibe is waterproof, cover your toy in it, and you should slather some around your anus, too. That way, you make things much easier and more comfortable for yourself. Remember that dry friction hurts and can be dangerous.
Step 5: Don't be afraid of making use of the highest intensity the toy can offer, and I'll tell you why. When you're playing with your vibrator on your clit, on your G-spot, or even on your nipples, you're stimulating them directly, because there are nerve endings that tingle and make things feel good.
The anus does not have these, so anal play is more about transferred sensations and indirect pleasure. In short, you want other parts of your body (your clitoris, your prostate, etc.) to pick up on what's going on in your butt. So, don't compromise on vibration. If you're looking for something extra during anal play, use a vibrator that makes your teeth chatter!
Step 6: For beginners, anal play is usually easiest when initiated 'doggy style' i.e. on your hands and knees. Find the movements that feel good for you; if you're wearing a vibrating butt plug its sustained sensation, perhaps while you masturbate or have sex with your partner. If its a vibrating dildo, the usual slow 'in and out' feels best; while if you're using anal beads, its recommended that you slowly pull the beads out of the anus – repeatedly or just during orgasm.
Step 7: For male use, the steps are very similar, except you're trying to please the male G-spot – the prostate. The same doggy style position works, but try moving your toy in and out while tilted upward in order to rub along the front of your rectum. If you feel with your hands first, the prostate is a small but noticeable mass. Once you locate it, try to massage it up and down, or hold the vibrator against it. Read our male g-spot bible for more information.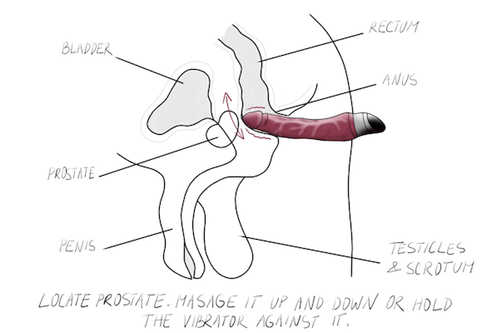 How to Use a Vibrator During Sex
If you want to spice things up or add to your partnered sexual repertoire, vibrators are a great way to do that. There are several options when it comes to positions.
Before You Start
Discuss it with your partner. When you want to introduce something new in your partnered sex life, you always need to talk about it with your partner, first. Do they like the idea? Are they open to it? What would they like to try? What kind of vibrator is the best option for both of you?
Think about how you're going to incorporate the vibrator in a way that's not going to be uncomfortable for either of you. You want it to enhance your sexual experience, not take it over completely.
Step 1: Pick your weapon: bullet vibrator, classic vibrator, rabbit vibrator, or one that straps on, like this one:
Choose your toy wisely, is it fit for purpose? If you need something super discreet, consider a wearable vibrator for example something like the Adam & Eve Purple Venus Butterfly. This is excellent to use during sex, because it straps on, so it doesn't go anywhere. Plus, it's small enough to not get in the way.
Step 2: You may want to play with the toy beforehand a little bit, so you can both get used to using it and having it as part of your sex act. You can play with it on yourself, by moving it across your clitoris, or you can allow your partner to do it. You can even use it on other erogenous points, like the nipples.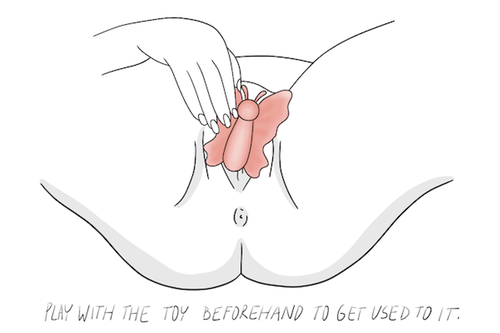 Step 3: A very easy position to try is just classic missionary – you can lie on your back with your partner on top, penetrating you, and you can put a small bullet vibrator on your clit, between your bodies. Not only will the buzzing be pleasant for both of you, but your partner will also move the vibrator up and down on your clitoris every time they thrust, offering you extra stimulation.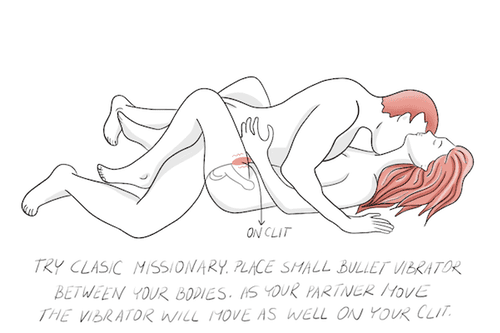 Step 4: A modified version of missionary also works, and might even provide better, more intense sensations for you – instead of lying with your legs straight, lift them on your partner's shoulders. That should provide a perfect angle for a deeper penetration by your partner, and it also means the toy placed here applies more pressure on your clitoris.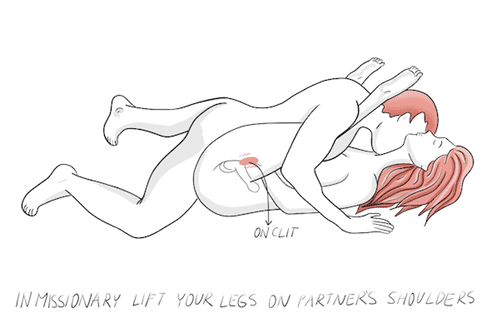 Step 5: Another good position is for you to be on top, with your partner on their back, underneath. Your knees should be on either side of their body, facing them. You can place your vibrator on your clitoris and enjoy the pleasant buzzes every time you move forward.
Step 6: If your lover is penetrating you anally, there is no reason why you can't enjoy the same vaginally. Insert a vibrator inside you – a classic one, a G-spot one, or even a rabbit that does double duty, stimulating both inside and outside at the same time.
How to Use a Vibrator During Oral Sex
Normally, oral sex is an activity that strictly involves two partners, but there are certainly extras you can add to make life sweeter for both partners. Vibrators of all kinds can enhance your oral sex experience.
Before You Start
For oral on you or female partners, a tongue vibrator is great – it's basically a cock ring that you strap onto your tongue, instead. That means that every touch and movement will feel even better with the enhanced vibrations.
For oral on male partners, a basic vibrator or even a wand vibrator is more effective, because it brings in more buzz. This is going to be for outside use, so you don't have to worry about things like size.
Step 1: Pick your weapon: classic vibrator or wand for him, a tongue vibrator for her, or simply something like this:
THIS is what I'm TALKING about! It's nubby and it straps on to vibrate all over the damn place. The tongue turns into one big, wet vibrator, but you can also use the nubbies to stimulate directly. WINNING.
Step 2: For the tongue vibrator, strap on the toy, and make sure it's fixed into place. It shouldn't feel uncomfortable for the wearer – it shouldn't pinch, it shouldn't be too tight, etc. Like cock rings, they usually have a stretchy or elasticated ring to use.
Step 3: Turn it on and test it on a different body part first, to see what the sensation is like. This is a good way to avoid making your partner uncomfortable or even desensitizing their clit on the first go.
Step 4: Begin by teasing around the outer labia, just to get the receiver used to the sensation. Again, this is all about making sure you are both comfortable. The tongue has essentially become a vibrator now, so you've got to be careful with those movements.
Step 5: If the receiver is ok with all the work you've been doing so far, start stimulating on and around the clitoris, in circular movements, up and down, whatever feels good to the receiver.
Step 6: If the receiver is male, things work a bit differently; the toy to use here is not a tongue vibrator, but a classic one, or even a wand, because it has greater power. Like we saw with anal play, this is going to be about transferred sensation, so you need something strong.
Step 7: Envelop the penis with your mouth and close your lips around it. Now take the vibrator, press it against your cheek, and turn it on. The vibrations should transfer all through your mouth, providing new and interesting sensations for the receiver.
Step 8: Remember that your vibrator has different settings for a reason! Play around with higher and lower ones, depending on how much buzz you're trying to get from this. You can also play around with the placement of your vibrator – from one cheek to the other, more towards the front, or further in the back, you can roll it front and back, etc.
How to Use a Vibrator on Him
As you know by now, there is no reason why men can't also enjoy vibrators, and there are even toys made especially for them, with that in mind. From the head to the perineum there are plenty of uses for any kind of vibrator. They can be used alone, during sex, or as a masturbatory aid.
Before You Start
The most important aspect of picking a cock ring is finding one that fits and that is comfortable. Most cock rings are made from a really stretchy material, but you'll still want to check for sizes, so get into a literal dick measuring contest before you buy the ring.
Warning! – while cock rings are perfectly safe to be worn as an accoutrement to your sexual proclivities, it should not be worn for longer than 20 to 30 minutes. Wearing one for too long can cut off circulation, and THAT's not sexy at all.
Step 1: Pick your weapon: a really good cock ring, like so:
The Big O Multi-Stage Vibrating Penis Ring is a good bet if you're searching for a cock ring. It auto-cycles through nine stages of vibration to keep the good sensations coming. There's clit stimulation for her too, making it a bargain sex toy that both partners can appreciate. Don't forget you can often wear vibrating cock rings back to front to tickle her behind!
Step 2: Grab some lube and grease your ring up; that will help it slide right over the penis and won't give you more trouble than it's worth when it's time to put it on.
Step 3: On the flaccid or semi-erect penis, slide the cock ring down to the base. This is where that elasticated ring really helps – especially when it comes time for removal – because you can stretch it. Because it's so flexible, you can move it to wherever feels best on your penis, and you could even stretch it over your balls if that's what feels good, but be careful not to snap it!
You can find vibrators that only cover the head of your penis, only the shaft, or even vibrating flesh-lights. Whichever part of your penis enjoys vibratory stimulation – there's something to fit the bill.
Step 4: Just like other vibrators, penile vibrators often come with a tantalizing assortment of settings and suggested uses. Take some time to get to know your toy and what your favorite things to do with it are. Do you like strong or gentle vibration? Do you like to move it around or keep it still? Practice makes perfect.
Step 5: Certain positions are better than others if you also want a female partner to be stimulated by the cock ring. The male partner should be sitting down, with the female partner on top, straddling his lap. This position also works if the male partner is lying down on his back. This is a great opportunity to stimulate the clitoris during sex.
How to Use a Vibrator for Relaxation
Vibrators can actually have multiple uses, and they are not all dirty, surprisingly. You can make your vibrator part of foreplay – alone or with a partner – or even just a regular old relaxing massage.
Before You Start
Like most vibrating sex toys, many of the massage wands require batteries, however some also plug in and charge up. Make sure you charge yours correctly, and remember NEVER to put them in water. They usually cost a pretty penny, so you don't want to ruin them.
Remember that if you're going to be using lube, lotions, or oils, it has to be something that is compatible with your vibrator, particularly if it's made of silicone.
Step 1: Pick your weapon: classic vibrator, rabbit vibrator, but the best is a wand vibrator: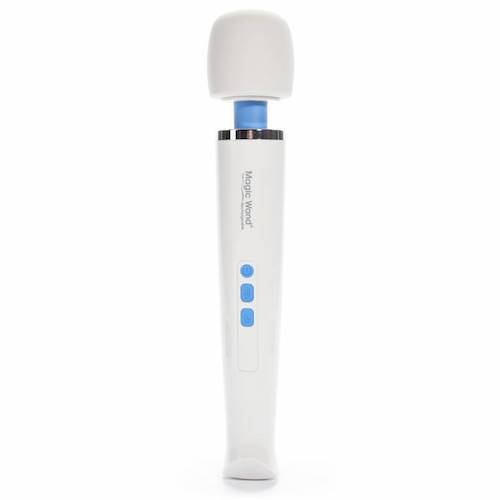 I mean…do I even need to say much about this? I'm sure we're all familiar with this one, because it's a modern classic with a long history. The best thing about the Magic Wand is that it's literally a massage tool, so you're not even misusing it. And if it has…other benefits, that's just an added bonus.
Step 2: Assume a comfortable position. You want this to be a nice, relaxing experience, so you have to make sure you are sitting (or rather, lying) comfortably.
Step 3: Close your eyes, and turn on the vibrator. The first setting should be fine for now, as you want to give yourself some time to get used to the vibrations and the way they feel.
Step 4: Start moving the vibrator up and down your body; no area is off-limits, as the vibrations can feel good even in the most unexpected of places, including down your back, on your tights, shins, arms, neck, feet, etc.
Step 5: While massage is all well and good, there is something even more exciting you can do with these vibrators. The large round heads vibrate against a large surface area and can bring on new and novel orgasmic sensations. Women have begun raving about these wands, and for a good reason.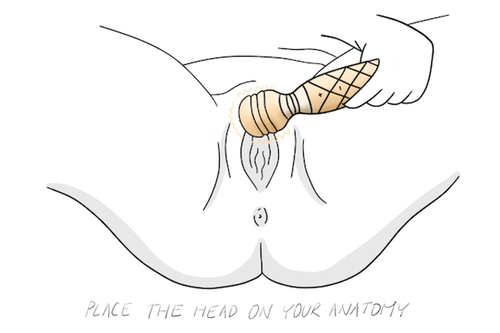 Many have more settings and buttons than your TV remote, and if you can get your head around them all, you're in for one hell of a ride. Hold the vibrating head against your anatomy, like you would a clitoral vibrator, and let the pulses run through you for a deeper, more intense orgasm.
Step 6: If you are giving someone else a massage or they are giving you one, using the vibrator, you can even use massage oils to add to the experience. Just make sure they're 'kiss safe' so the massage doesn't end up leaving a bad taste in your mouth, or worse.
How to Use a Vibrator to Wake Up
I don't know about you, but I'm not a morning person. At least I wasn't until I started using a vibrator as an alarm clock. Not only do you wake up in the midst of pleasurable vibrations, but you save on blusher, and start the day with a spring in your step. Try to steady your trembling legs before arriving at the office or your colleagues might become suspicious.
Before You Start
Make sure to choose something comfy, as you'll be sleeping with it on you overnight. It also should probably not be super powerful; you want a gentle awakening, not a Buzzsaw.
If you're sharing the bed with a partner, be sure to let them know what you're planning. Otherwise, they may be in for a startling and bizarre awakening.
Step 1: Pick your weapon: alarm clock vibrator – take a look at this one:
There are a few alarm clock vibrators on the market now, the most popular being the little Rooster. It's small, discreet, and ever so comfortable. Slip the vibrator into your underwear, lie back, and drift off. It simply sits against your anatomy, and is shaped perfectly to adapt to any sleeping position. If you can't cough up for one right now, try using your regular vibrator in increasing increments before you get up in the mornings – it's still guaranteed to improve your day.
Step 2: Place your vibrator accordingly. Since you want this to wake you up, you'll be sleeping with it on, so find a comfortable position for you to sleep in, where it won't bother you.
Step 3: You don't have to use a high setting; in fact, you can have the vibrations start off at an imperceptible level. In fact, if you fancy a weekend treat you can even set your vibrator not to wake you, but to give you pleasure as you sleep. Let the sensations enter your morning dreams and enjoy!
Step 4: Play around with the settings and try out different ones every morning. Starting your day off with an orgasm can boost your mood, your energy levels, and even your sex drive. Choose from a wide and highly adaptable range of settings and be slowly brought up and out of sleep by growing vibrations – before you know if you will be glad to see that first crack of sunlight. Give yourself plenty of time to enjoy and recover before starting your day on the right side of the bed.
How to Use a Vibrator for Keeping Fit
Hang on, don't quit your aerobics class just yet! It may not replace a jog in the park, but playing with your vibrator is much more exciting and has a whole host of health benefits too. One doctor is even prescribing vibrators to cancer patients…
Before You Start
Anything goes here, the point isn't to stimulate a certain part of yourself; it's just to relax and enjoy the good vibrations.
Pick out a silent toy, if you're concerned about discretion and how your little self-care will be perceived.
Step 1: Pick your weapon: technically, anything, like a classic vibrator, wand vibrator, G-spot vibrator, or better yet, a rabbit vibrator: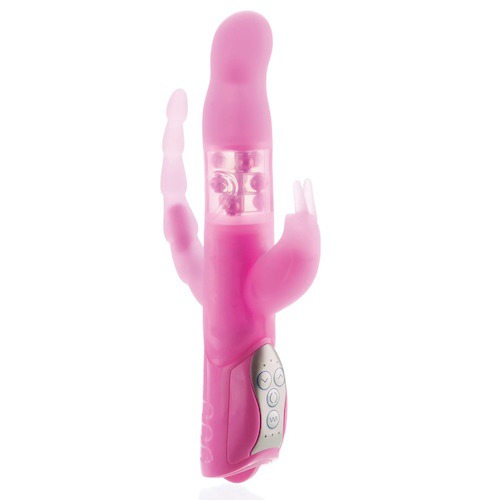 Most women opt for the classic rabbit style vibrator, which is perfect for simultaneous penetration and clitoral stimulation, but Eve's Triple Pleasure Rabbit adds one more dimension – a vibrating anal toy. You don't need to use it every time if you don't want to – it's optional. If you are curious about anal, trying this on your own is a great way to get started. If you're an anal pro, well, you already know this is going to be good! The Pleasure Rabbit is so great you'll need to book a week off work to become better acquainted.
Step 2: The point here is mostly to relax – orgasm isn't the most important thing about sexual pleasure. Simply enjoying yourself and exercising your erotic muscles is enough to have significant health benefits. As well as boosting your mood and your sex drive, using vibrators can improve circulation, energy levels, stress levels, and hormonal imbalance! That means you should be less concerned with climaxing, and more concerned with having a good time and fully enjoying the sensations. It's good for your health!
Step 3: You're a pro with the vibrator now, you have probably learnt how to make yourself purr, palpitate, and you may have even practiced a little karaoke. It's a great way to wake up on time, stay on top of your wellbeing, and play with your partner.
As mentioned by the doctor prescribing vibrators to her patients, if you're menopausal, playing with a vibrator to stimulate both the clitoris and the G-spot can have particularly beneficial qualities! Perhaps your doctor might even give you a sick note to go with your new vibrator.
How to Use a Vibrator to Help Brestfeeding
I was just as surprised as you are at this bizarre use of a vibrator, but it works, and it's really cool! So many women are mothers and struggle with breastfeeding issues, so if the humble vibrator can help, who am I to say it's wrong?
Before You Start
You need a tool that can pack a bit of punch here, so a small bullet won't do. You'll be better off with a classic vibrator or something like a rabbit, because it's more powerful, so it does its job better.
Obviously, make sure you are using a squeaky clean toy.
Step 1: Pick your weapon: you can use a rabbit vibrator or a wand vibrator.
Step 2: Uncover your breast and remove your bra or anything that could obstruct it. You want to have full access to the areas that are giving you a hard time so that you can use this method effectively.
Step 3: Take your vibrator of choice and turn it on. You can keep it in one area or massage it across the area; it should not hurt or feel uncomfortable. This should help open milk ducts and prevent occurrences of mastitis.
Step 4: Keep this up for around 10 minutes. You can repeat the massage a few days a week or whenever you feel like your milk ducts are becoming clogged again or your breasts ache.
Special Tip: Btw if while you were here… massaging your breast… you felt like: "hey how about my nipples", then maybe (?) you are ready for the best nipple toys.
How to Use a Vibrator for Entertainment
I know, I know, it doesn't seem like this one is serious, but I want you to know I am dead serious about vibrators. And yes, you can absolutely use one to race your friends, and place bets on which one is going to win.
Before You Start
First: please only ever use vibrators that are thoroughly clean. No one wants to see your crusty toy and it's in poor taste to expose the world to it.
Second order of business: please do not use a vibrator on yourself after it's been used to race against others – it will never be the same.
Step 1: Pick your weapon: classic vibrator or rabbit vibrator.
Step 2: Choose the length of the race. Obviously, these are toys, and they will move slowly. A couple of meters is more than enough, because otherwise, you might all get bored waiting around for them to cross the finish line.
Step 3: Draw the start and the finish line and line up your vibrators, making sure that they are all starting in the same spot and no one's got a head start.
Step 4: Step back and enjoy cheering your vibrator on, and may the best vibrator win!