Learning how to use anal beads can be a worthwhile, if slightly unusual, study. Being very adaptable, there are countless ways to include them in an adventurous sex life.
Their exact provenance and age is shrouded in mystery- no one seems to know their origins. Regardless, many people enjoy them as a treasured addition to bedroom toy boxes.
What Are Anal Beads
Though not often sought after for primary stimulation, anal beads provide a delightful enhancement to 'regular' sex or masturbation. Composed of 3 to 10 smooth beads on a string or flexible rod, they are meant to stimulate the sensitive nerve endings surrounding the anus. In particular, they heighten and repeat the intense feeling of penetration (as opposed to a butt plug, which after entry provides stimulus in the form of stretching and fullness).
Anal beads are made of silicone, though glass, rubber, and plastic are all commonly used (sometimes with weights to enhance sensation- more details on that later). These are connected by string or lined up on a pliant shaft. Depending on the style, beads can be uniform or graded in size and range in shape from round to elliptical to cone- like.
How To Use Anal Beads: The Top 5 Ways
Practical Considerations Before We Start
Safety should always be of primary importance. While there are many designs of anal beads, all of them should be inspected out of the package and before each usage. Rough edges should be filed down with an emery board. It is a good practice to check your beads every time before you use them, and discard them if you find any flaws.
A good quality water based lube is absolutely essential. Anal specific lubes are thicker and safer for the rectum, which has no natural lubrication. Proper lube helps to prevent the injury of delicate internal tissues and improve the quality of your experience. Some even have numbing effects that make first time anal easier.
Cleanliness is vital, so when choosing anal beads avoid nylon strings which cannot be properly sanitized. Designs with silicone- coated strands or rods are preferable, being hypoallergenic, smooth, and easy to clean. A simple scrub with warm soapy water or sex toy cleaner will keep them sanitary. Air dry and store away from vaginal toys.
Every string of beads should have a sturdy, easy to grip handle to prevent it from becoming 'lost'. Wide T- shaped handles and rings are sensible and safe.
1. Self Love and Anal Beads
Step 1: Get Clean, Get Relaxed
Get completely relaxed with a hot shower to loosen up any tense muscles and get really clean. Douching can ensure extra cleanliness and avoid unexpected messes.
Step 2: Wind Yourself Up
Get really aroused first. Depending on what you prefer, indulge in porn or self- teasing. By making sure you're all fired up, you will have a much better experience.
Step 3: Get Slick
Apply lubricant to a finger and lube around your anus. Run your finger several times around it until you feel it loosen naturally. Slowly- patience and care will pay off. Once you relax, apply more lube both inside and outside your anus.
Step 4: Get Your Beads Ready
Coat your beads well with lube. Starting with the smallest one, gently rub it around and against your anus. Bearing down slightly, carefully insert the first bead. This should be slow, intense, and pleasurable. Taking your time, insert as many beads as you want- you do not have to take the whole strand. Listen to your body and respond appropriately.
Step 5: Build Up And Release
Additional stimulation is fantastic when paired with anal beads. Dildos, vibrators, or hands are all great. When you get close to climax, slowly and gently pull the beads out. This can be done before, during, or after orgasm. Different people like different sensations, so experiment to see what you like. Do not pull fast- you are not trying to start a lawnmower! Also, pull the beads straight out.
Check out more suggestions. Many different designs are available, but these examples below stick out as terrific first time tools:
These smooth silicone anal beads have an easy-to-grip handle. Multiple uniformly shaped beads are arranged along a 9" length, allowing room for experimentation. Each bead is teardrop- shaped, making it simple for first timers to insert.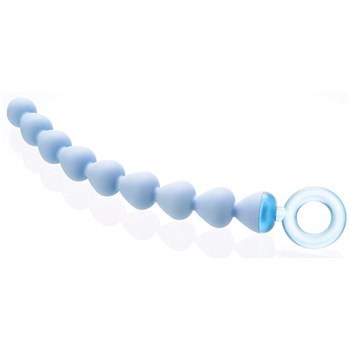 Anal beads here are arranged on a flexible rod with a wide handle. The diameter of the beads maxes out at 1.5", making these a comfortable challenge for the newbie and a good time for the more experienced. Beads in this arrangement are longer and more oval in shape, giving a different stretching sensation that rounder ones.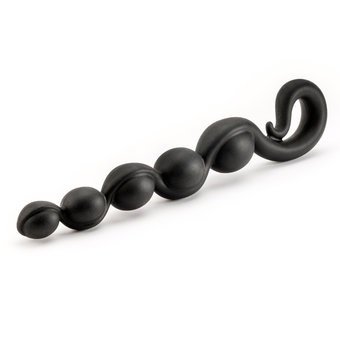 2. Sharing Beads With A Partner
Step 1: Details
Sharing the experience of anal beads has many things in common with solo play. You both should be clean, relaxed, and enthusiastic. For a first time experimenter, you want to ensure that your partner is very aroused- indeed, if they are female, having orgasmed at least once before will help.
Step 2: Lots Of Lube!
Generous amounts of lube should be part of foreplay. Give your lover a lot of what they like, while you apply lube to their anus. Gentle, patient fingers can most effectively smear it both inside and out. Only when your partner is ready should you start inserting beads.
Step 3: Slowly Insert The Beads…Gently!
Here's where communication becomes especially important, whether it be verbal or agreed- upon unspoken signals.
Spread out a dark towel and lube up your beads generously. Give your partner time to become accustomed to the feel of the toy outside their body by rubbing it against their perineum and anus before you start inserting beads.
Press the first slick bead into their anus firmly but gently. It should feel soft and yielding and not require any effort. At this time it is good to incorporate your additional arousing techniques (using fingers, tongue, vibrator, etc) and bring them close to climax.
Step 4: Pull
Once your lover has been brought to the edge of orgasm several times and has accepted as many beads as they wish, it may be time to grant them release.
Watch your partner carefully until they start to show the first signs of orgasm, then slowly start to pull the beads out with a deliberate and measured motion. Done correctly, this will increase the already intense sensations.
Afterwards, snuggling and lots of praise are in order. Anal sex of any variety can make people feel very vulnerable, so it is in your best interests to make sure your partner knows how amazing they are.
More suggestions can be found here.
Smooth, pretty, and progressively sized beads like these are very popular. The hard ABS plastic provides a terrific texture and is very easy to insert. Additionally, styles like these can be boiled for 3 minutes to sterilize them.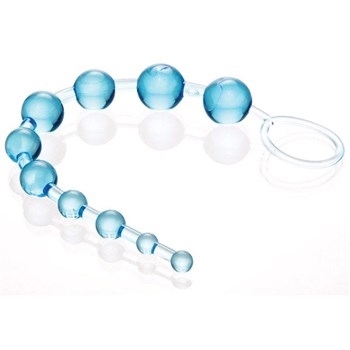 3. Beads Are For Vaginas!
Step 1: Dedicated Beads
Anal beads are extremely versatile, and can provide pleasure beyond anal sex. That being said, if you choose to experiment with beads for vaginal use they must be used solely for that. The potential for an uncomfortable infection exists if you share toys between orifices.
Step 2: Lubrication
Even though vaginas are self- lubricating, additional enhancement is always good. Slicked up beads can be particularly stimulating used outside the body to rub over the clitoris and labia. Rounded surfaces disperse pressure differently than flat ones, so external masturbation with anal beads can be pleasantly surprising.
Step 3: Insertion
Beads are designed to enhance the feeling of penetration/ re- penetration. In this way they are an excellent choice for vaginal insertion, providing intense stimulus in a small package. As many beads as wanted can be inserted to produce the sought after feeling of fullness.
Once stimulated to orgasm, the beads can either be pulled out to heighten the sensation of muscle contraction, or left in for stretch. Both work very well. Vaginal use of beads can be extremely pleasant with some of the hybrid variants of anal beads that feature bullet vibrators.
Firm, smooth textures like glass can enhance physical sensations- like those involving heat and cold. Shaft- like designs like this are simple to use for solo play and provide excellent anal or vaginal stimulation. The gold finish is an attractive touch that adds to the experience.


Designs like this one incorporate a small but powerful bullet vibrator into the chain of beads. The result is a toy that elicits multiple pleasurable sensations and is equally well adapted to vaginal or anal use. The bullet is easily removable for quick clean up or if vibration is not wanted. Anal beads are very versatile and can adapt well to most sexual scenarios.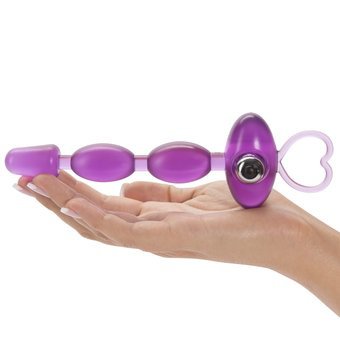 4. Games To Play With Anal Beads
Games exist that involve anal beads- some more practical than others. Depending on what you like, they can be great fun.
Game 1: Hide The Necklace
Anal beads are adaptable…this needs a 'vaginal only' set of beads though.
Step 1: A female partner should lie on her back comfortably. Her partner performs oral sex on her, but denies her climax.
Step 2: While still stimulating the bottom partner, the top partner runs the beads over her labia and into her vagina.
Step 3: Once she begins to orgasm, the beads are slowly removed.
Game 2: Edging With Beads
This is a game that employs discipline, control, and denial.
Step 1: Make sure your partner is comfortable. Take your time and arouse them in whatever way you wish.
Step 2: When they are well aroused, lube up the anal beads and slowly push in one. Tease them to the edge of orgasm, then allow them to cool. Repeat this with five beads, but don't allow them to come.
Step 3: Slowly pull the beads out while stimulating your partner. Keep them on the edge.
Step 4: Reinsert all five beads. Stimulate your partner to orgasm and pull the beads out while they climax.
This set of anal beads is particularly nice because it not only features a large, no- nonsense handle, it's completely made of silicone. Silicone feels nice on skin, is hypoallergenic, and cleans up easily. Pliable designs like this are optimal for teasing.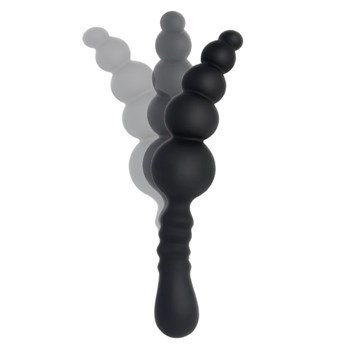 Another option to enhance teasing and tantalizing. While being completely smooth in luxurious silicone, these beads hide a bullet vibrator inside that helps ratchet up the tension during 'bead games'. The diameter of the beads ranges from a modest ¾" to 1-¾", allowing for experimentation and growth. By the way if you like this anal beads and want to know more here's our Tantus Progressive Beads review with our video and pictures.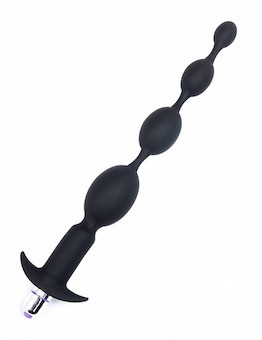 5. Pelvic Floor Training With Anal Beads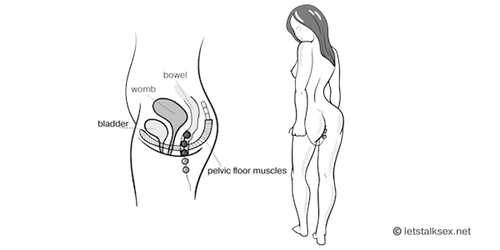 While anal beads can add fun to the bedroom, they can also be extremely useful. Most people carry excess tension in their pelvic floor unconsciously- and cannot release it. This can result in unpleasant conditions like urinary incontinence, hemorrhoids, and prostatitis.
Anal beads- especially weighted anal beads- can help to release this tension and retrain muscles. Conscious control allows for better bloodflow to the pelvic floor and surrounding tissues. Kegel exercises like this can help produce better orgasms.
Some caution should be exercised attempting these exercises. Not everything is equally healthy for everyone, so getting a professional medical opinion is wise. This is especially important if you have an existing medical condition that may be exacerbated by any of these exercises.
Step 1: Get Ready
Make sure you are clean, comfortable, and turned on. Unlike many mundane exercises, you really need to be relaxed for this to work properly..
Step 2: Lube Up And Insert Your Beads
This should be slow, comfortable, and within your tolerances. Use more lube than you think you will need- too much is better than not enough. Carefully insert as many beads as comfortable. Make sure that you have a dark towel nearby to mop up extra lube.
Step 3: Stand Up
Stand up and concentrate on the feeling of weight on your pelvic floor. Assume a comfortable stance and inhale deeply for a count of four. Contract your pelvic floor muscles (like you are stopping your flow of urine). Exhale and consciously release your pelvic floor for another four count.
Step 4: Repeat And Build
Repeat this cycle three times, working up to three sets daily. Remember that the relaxation phase is as important as the contraction, if not more so.
Step 5: Reward
Having completed a muscle- toning session with weighted kegel exercises, make yourself comfortable. Reward yourself with an orgasm using your anal beads in one of the ways suggested above.
Anal beads can be used like kegel balls. Toning your pelvic floor can be done without toys too.
Weighted balls can also vibrate to increase pleasurable sensations and to assist with awareness of the pelvic floor. Some people simply enjoy the combined sensations of weight, fullness, and vibration.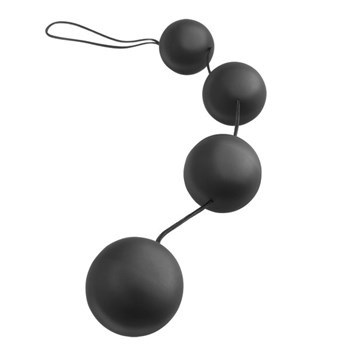 While pricey, the nJoy Fun Wand is worth the investment. Stainless steel is heavy, withstands hard use, won't break when dropped, and makes for a handy massage tool for stubborn shoulder tension.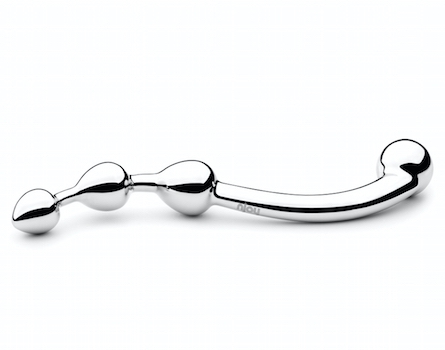 Steel has the advantage of holding temperature, so this set of beads can be cooled in the refrigerator (not the freezer) or heated in warm water. Both ways significantly change the way that the toy is perceived and how a body adapts to it. For this, nJoy is favored by those who enjoy BDSM- but is still accessible enough for those with mainstream sensibilities.
In the end, anal beads have a strong foothold in modern sexual culture, with multiple uses and a distinct fan base. They shine as a secondary stimulator and a are terrific step towards more adventurous toys like those made by Aneros.