Natural's great and everything, but sometimes you want to give Mother Nature a little help. Especially if you're unhappy with your natural size.
Now, there are all kinds of fantastic (and not so fantastic) machines to help us get a little bigger, from penis extenders to penis pumps, and the HydroXtreme UltraMale Kit could be one of them.
But is it? Will it help you increase the size of your penis?
We're going to answer all of your questions about this kit in this review. By the end of this article you should have a clear idea of precisely what this product is and what it can do for you.
Disclaimer
This article (like every article on this website) is for informational purposes only. We make no warranties regarding the safety, reliability, and suitability for use of any items or advice described in this article. If you wish to apply the information contained in this article, you are taking full responsibility for your actions.
Pros And Cons of The HydroXtreme UltraMale Kit
Check Price on Shop 1
Check Price on Shop 2
Check Price on Shop 3
Pros
Different sizes are available
Easy to set up
Comes with a strap for hands-free use
Comes with a couple of extra toys for pleasure
Lifetime warranty
60-day money-back guarantee, no questions asked
Quick use
Free shipping
Comes with a trimmer
Easy to clean
Cons
You'll need to be cleanly shaved to generate enough suction
The strap could be improved upon
Pressure might feel a bit painful at first
The Design of HydroXtreme UltraMale Kicks Asses
The HydroXtreme UltraMale Kit came wrapped in a nondescript package, for which I was glad. Unlike several other Hydro series, this penis pump comes in black. In addition, it came in a carrying case that had compartments for several parts.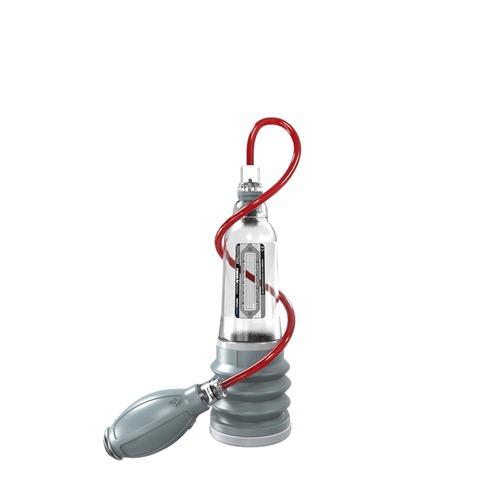 The Bathmate HydroXtreme UltraMale Pump
A handball pumper
A soft hose that connects to the HydroXtreme and the handball pumper
Shower strap
Instruction manual
Removable comfort pad
Bathmate's jelqing liquid, Max Gel
Cleaning supplies
A trimmer
Bathmate's delay gel, Control Gel
A set of Bathmate's cock rings
While the HydroXtreme UltraMale doesn't look that different from other lower-priced Bathmate pump models, it is functional.
It's straightforward to put together and easy to use. You can finish training your penis within ten minutes. Once that's done, there's even a kit to help you clean your HydroXtreme.
Check Price on Shop 1
Check Price on Shop 2
Check Price on Shop 3
The HydroXtreme UltraMale is many times more powerful than the previous Hydro Max and HydroXtreme models. Because of this, you have to be careful that you aren't putting too much pressure on your penis. While experienced hands might know precisely how much pressure they need to see results, beginners need to take it slow.
One of the most comforting things about this pump is that its manufacturers know that one size does not fit all. Having a penis pump that's too big for you renders it almost ineffective. On the other hand, having one that's too small can be painful and leave you with the impression that you're growing when you're not.
Then, we have the Bathmate HydroXtreme UltraMale Kit, which is just right. And if it's not, there are four other sizes to choose from. This design is what might make this Bathmate HydroXtreme the most comfortable penis pump ever.
Lots of Features, Some More Useful Than Others
The Hydrovibe
Some people might find penis pumps sexy, and others might not. But even if you don't think a pump is worth tenting over, Bathmate has decided to make the HydroXtreme UltraMale sexier by adding two vibrators you can use during the pumping process.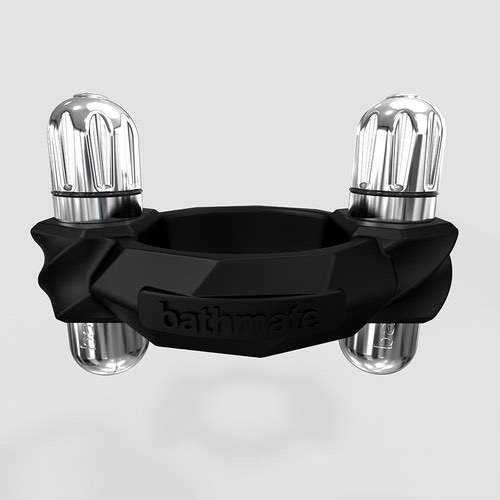 This is a fantastic extra to help you get over the mild discomfort that comes with penis pumping. Vibes have also been linked to increased sexual functioning, which is another plus right there.
The vibes, plus the pumping and the warm water, all contribute to creating a hardness that gives a whole new meaning to "pump time." It's a sensation that's close relatives with getting oral sex but also not.
Plus, the vibrators are detachable, so you can use them as both sex toys and in tandem with the HydroXtreme. I dig the concept, though, because why have a penis pump that only pumps when you can have a multifunctional pump complete with sex toys.
Power Rings
Yes, I did say sex toys, as in plural, as in more than one pleasure device. For example, the HydroXtreme UltraMale also comes with a set of cock rings. This inspires all kinds of sweet torture scenes where you or your partner can use the pump, vibes, and rings to achieve an incredible orgasm (or a visit to the hospital).
You might be thinking… Ok why would I want these rings here when I can just buy them at my local sex shop?
Well, buying cock rings can get a bit dicey because your penis might be too big or small for the ones you choose. However, since you've picked a size for your pump, your cock ring will be in that size as well.
This means these might just  give you that snug fit to hold back any premature expulsions, precisely the way a ring should.
Bathmate Trim
This tool is an exclusive gift from Bathmate. It's essential for beginners who may have been cultivating a small mangrove but now want to increase the height of the tree.
The Bathmate trimmer makes it easier to manscape than average trimmers. It's easier to manipulate and, with some careful work, you should be able to chop down any bush to a reasonable length.
Make no mistake; I'm not saying you'll be able to shape your pubes into a hydra symbol or anything, but these trimmers should help you get it down a little more comfortably.
Bathmate Control
Check Price on Shop 1
Check Price on Shop 2
Check Price on Shop 3
This is where things get a bit useless in my opinion.
Bathmate's delay gel, Bathmate Control, is supposed to help you with your erections. But listen to me, my friend, if you have such issues visit a doctor and don't rely on anything else.
This gel is supposed to delay orgasm. It includes ingredients that theoretically boost blood circulation, libido and act as natural aphrodisiacs. Key amongst them are Siberian ginseng, ginkgo Biloba, and Tribulus Terrestris.
They claim that this mix is safe to use (of course we're not chemical engineers and don't have a way to verify this information) with sensitive skin, is 100% biodegradable, and is alcohol-free. Plus, apparently you can use it with sex toys as long as they're made of silicone and skin-safe rubber.
Cleaning Kit
There's a special brush and antibacterial gel to help you keep your pump and side pieces as clean as possible. The brush is ergonomically designed to ensure you can thorough clean the pump without stress. The cleaning kit comes with quality and super-absorbent towels to dry the pump so you don't have to leave it to dry. Proper care of your pump using a cleaning kit promotes hygiene, ensures safety, maximizes results, and helps the pump last longer.
The Ultramale Guide
While the UltraMale guide is essentially an instruction manual for the HydroXtreme UltraMale Kit, it's also a guide to teach you how to use the equipment in this kit to boost your dick size.
It contains detailed instructions for all components, including the sex toys, so that you understand what you have and how to use it in the best ways possible.
While Bathmate puts manuals and guide slips in all their products, the UltraMale guide is remarkable for the sheer wealth of advice it gives. Some of the methods I read, I had no idea could even work with a pump.
In essence, the UltraMale guide teaches you how to have fun working your penis, with and without a partner.
Price and Warranty
The Bathmate HydroXtreme UltraMale Kit comes is worth around $650. While this is wildly expensive for a penis pump, you have to remember that this penis pump is the best of its series. It also comes with several other extras that can make penis pumping pleasurable.
Plus, this price comes with a free lifetime warranty which Bathmate normally prices at $100. This means you can send it back for repairs at any time, and their technicians will restore it and send it back to you.
Money-back Guarantee
It takes time and consistent effort to see results when using a penis pump. So Bathmate offers all their customers 60 days to evaluate the HydroXtreme UltraMale's efficacy. If you try it for a few weeks and feel it's not working, then you can happily chuck it back to the company, and they'll give you your money back, no questions asked.
Shipping
The shipping cost can be a burden, especially when you're already paying so much for the product itself. Bathmate takes that load off by offering free regular shipping from its distribution warehouses in various countries. Customers can expect to receive their goods within three to five days, but it may take longer for those living in more remote areas.
If you really can't wait to start lengthening your penis, you can pay an extra $12 for Express shipping. You'll have your pump in two days at the latest.
So, Does the Hydroxtreme Ultramale Give Results?
This is unarguably the most crucial section of this article. The HydroXtreme is one of the top products from Bathmate's Hydro line. According to the company's survey, a whopping  92.9% of customers had seen results after two months of use.
However, these results can only manifest after consistent effort and regular use for several weeks. Therefore, it may take over a month for you to see any apparent changes and the results vary from person to person.
Unfortunately there are no guarantees in life. It's up to you to take the leap of faith and give it a try. Life is short after all.
FAQs
Is using the bathmate hydroxtreme ultramale painful?
Using the HydroXtreme is not supposed to be painful. However, if you are experiencing pain, the pressure might be too high, or your pump might be too small. Contact their customer service and if nothing work simply stop using it, send it back and ask for a refund.
How many weeks will it take to start seeing results with the hydroxtreme?
It may take over a month. Most users reported seeing clear results at the two-month mark. Just like any workout, results from penis pumping take consistency and effort.
How often should I use the hydroxtreme ultramale?
You should use it at least three times a day, five times a week.
Are there any side effects to using the hydroxtreme?
Mild soreness in the penis is normal within the first week as your skin adjusts to the pressure. Always make sure to consult your doctor about it.
The Takeaway: Do I Recommend The HydroXtreme UltraMale Kit?
Bathmate's HydroXtreme UltraMale Kit is very expensive, but the results they promise seem worth it. Think about it, wouldn't you rather have one penis pump that works than have to waste money on cheaper junk that won't give lasting results?