Japanese sex dolls are an absolute classic and one of the most requested items in sex shops. For some reason, the best dolls on the market come from Japan.
Do you want company, do you want to have fun, or maybe you already have a partner and you have decided to add some spice to your relationship?
In this article I will introduce you to the best Japanese sex dolls that you can find in online stores. I'll also give you some advice on how to make your choice and take care of her.
Top 3 Japanese Sex Dolls
Japanese Sex Doll
Price
Information
See Price
Height: 4 ft 11 in
Weight: 51 lbs
Bust: 29 in
Hips: 29 in
Material: TPE
See Price
Height: 5 ft 1 in
Weight: 75 lbs
Material: Silicone
Bust: 35.4 in
Waist: 22 in
Hips: 35.4 in
See Price
Height: 4 ft 10 in
Weight: 70 lbs
Bust: 33 in
Hips: 35 in
Material: Silicone
The Best Japanese Sex Dolls
Most people consider Japanese women some of the most beautiful in the world. Their beauty comes not only from their physical appearance but also from their virtues. They are respectable, shy, and the perfect incarnation of the housewife.
Although it's easy to approach Japanese women and take them to bed, some of you may not want to cheat on your girlfriends and prefer to have fun with a toy.
This is where the need for Japanese sex dolls comes in. With these dolls you will bring home a real geisha who will fulfill all your wishes.
1) Hyoon – The Best Japanese Sex Doll
Features
Extremely realistic
For those who want a middle size breast
Lightweight and easy to carry
Specifications
Made of silicone
Weight: 62 lbs
Height: 5 ft 4 in
Hyoon is one of the best Japanese style sex dolls on the market. Why? Simply because she is realistic and elegant, and you don't find many dolls that fit that description.
Purchasing Hyoon is a big investment, but sometimes the money you invest in a doll really brings happiness, which is what you will (probably) feel once you have this Japanese beauty in your hands.
Asian dolls are highly sought after and always have beautiful hands, feet, and very sensual traits that would turn anyone on.
Hyoon is mature , but still in the prime of life, and her great merit is her experience. She looks like a real Japanese woman, if not better.
The attention to detail is astounding, but one downside is the inability to make changes or customize it.
She has a metal skeleton with movable joints, so she can be placed in any position you want. You can have fun with her with anal, vaginal, or oral intercourse.
She is also quite easy to handle due to her low weight, but her silicone skin makes her very durable.
2) Rina – Naughty Japanese Doll
Features
Exciting
Dressed as a waitress
Breast cup D
Specifications
TPE
Weight: 66 lbs
Height:  5 ft 5 in
Rina is a gorgeous Japanese sex doll perfect for role playing as a maid. But you can buy whatever dress you like best to make her into whatever you want.
She's the perfect combination of a sexy oriental face and the curvy figure of a true sex goddess. Her face is absolutely stunning, don't you agree? And that purple hair only accentuates her look.
You can have fun with her vaginal, anal, or oral holes, and she will be happy. You can position her however you like thanks to her movable joints.
Make any changes you like, change the color of her eyes or hair, or even her skin. Make Rina the Asian woman of your dreams.
3) Kaori Asian Beauty
Features
Beautiful slim figure
Exotic Asian features
Petite breasts with big brown nipples
Specifications
Silicone
Weight: 60 lbs
Height: 4 ft 10 in
Kaori is an exotic Japanese sex doll that will fulfill all your wildest fantasies. She has big brown nipples that are just begging to be played with, and her silicone body is soft and realistic, making her a perfect companion for a night of passion.
She's so realistic that you'll forget that you aren't with a real woman. So you don't have to worry about the drama and pain of being in a relationship with her. She's yours and you can do anything you want with her, 24 hours a day.
Her face is also made of silicone, and she has amouth that is sure to please. Her 7 in Japanese vagina and anus are waiting to be penetrated, and her breasts are just the right size for a night of fun.
Kaori is also highly customizable, from hair color to eye color and even skin color. You can also change the shape of her breasts and vagina to suit your needs. She is lightweight and easy to handle.
If you've always dreamed of making sweet love with a Japanese beauty, Kaori is the girl for you.
4) Irina Sexy Japanese
Features
Sweet and delicate
Fully customizable
Excellent for those with a passion for long legs
Specifications
Made of silicone
Weight: 66 lbs
Height: 5 ft 5 in
Irina is one of the best-selling Japanese sex dolls. An ethereal and delicate beauty, perfect for those looking for realism and exciting long legs.
You will fall in love the moment you set your eyes on her. Irina is modeled after the Japanese archetype, slim and adorable as hell.
5 ft 5 in tall, Irina has long shiny hair and realistic silicone skin. Her skeleton is made of steel and the joints are all movable. Place her wherever you want and have fun with her vagina, anus, or mouth.
You can customize her as you wish, by adding body heat, or by changing her hair or eye color.
5) Sai Nipponese Doll
Features
Huge busty breasts
Penetrating and mysterious eyes
Petite Japanese figure
Specifications
Silicone
Weight: 70 lbs
Height: 4 ft 10 in
Sai is an exotic and mysterious Japanese girl with huge tits. She's short and slender, with long black hair that cascades down her back. Her eyes are dark and seductive, and her lips are full and inviting.
She's the perfect mix of naughty and nice, and she's always up for a good time. Sai is made of a special silicone material that feels just like real skin. And her body is perfectly proportioned, with huge breasts that will make your eyes pop out of your head.
Dress her up in sexy lingerie and you won't be able to resist getting your hands on her.
Featuring a removable vagina with a depth of 7 in, Sai also has an asshole and mouth that can be penetrated. You can do her any way you like. She has a steel skeleton with movable joints so you can fuck her in any position imaginable.
Sai is always ready to have a good time, and she loves nothing more than making all your dreams come true… in the bedroom or anywhere else you can think of!
6) Katia Japanese Geisha Doll
Features
Small and manageable
Perfect for those looking for high quality materials
Possibility to choose an extra wig
Specifications
Made of silicone
Weight: 55 lbs
Height: 4 ft 11 in
Katia is an elegant and sophisticated geisha doll. Her cost is higher than other dolls, but the realistic appearance given by her silicone skin is unmatched.
A very manageable Japanese doll, with reduced dimensions and weight, suitable for those who do not want to work hard while having fun.
This beautiful geisha sex doll wants to satisfy your every desire and is waiting for nothing more than to be at the service of a man like you. Her skeleton is metallic and the joints are completely movable, so go ahead and try all the positions of the Kamasutra with her.
Katia has a C cup breast, and is customizable in according to your preference. Change any features that make her fit your wishes.
7) Sexy Japanese Kaori
Features
A beauty of other times
Adapts to your body temperature
Breast cup F
Specifications
TPE
Weight: 90 lbs
Height: 5 ft 6 in
If you are looking for more than just a simple, albeit realistic, Japanese sex doll, then Kaori is for you.
Kaori is an asian sex doll equipped with artificial intelligence and what sets her apart from a normal sex dolls is her intelligence.
Obviously she has a higher cost, but her beauty and idiosyncrasies make her unique. Her physical characteristics are customizable, making this oriental beauty even more within your reach.
Kaori has an F cup and an anus to penetrate at any time. Of course, vaginal sex will also be available to you. The only negative point: her mouth is not usable because it's mechanical.
Her skin is created with TPE, a material integrated with a touch sensor to make Kaori respond to your touch. Her face will express emotion, intensity and excitement.
The skeleton, on the other hand, is made of steel: a perfect support so you can have your way with her anywhere. A Nipponese doll with artificial intelligence is perfect for even the most demanding shopper.
8) Sexy Sumie From Japan
Features
Durable material
Sexy and exciting
Breast cup D
Specifications
TPE
Weight: 66 lbs
Height: 5 ft 4 in
Sumie is one of the best-selling Japanese sex dolls in the world for a variety of reasons. She is beautiful, has a perfect body, silky smooth skin, a reasonable price, and a mysteriously beautiful face.
Also, her hair is very realistic and her body proportions are just perfect and easy to manage.
Sumie is one of the best Japanese sex dolls on the market, suitable for those looking for both elegance and excitement.
From a quality-price ratio perspective, Sumie is a bit expensive for being made from TPE, but she is extremely realistic. She has the features of a real Japanese woman, and this is definitely arousing. She's simply fantastic.
9) Mini Japanese Sex Doll
Features
Economic
Convenient to use and store
Customizable
Specifications
TPE
Weight: 8 lbs
Height:  2 ft 2 in
This mini Japanese doll will appeal to those who want a sex doll, but don't know where to store her, and don't want to just buy a bust.
With her 26 in length, this doll is perfect for the purpose and will entertain you immensely, despite her unrealistic proportions. She has three working holes and the ability to customize her vagina.
This doll was designed to be an innocent and sexy Japanese beauty. Miniature dolls, or mini dolls, are very similar to their larger counterparts, except they were made to be affordable and smaller in shape.
With a doll like this you won't have the storage, moving, or cleaning problems you have with larger dolls.
10) Best Japanese Anime Hentai Doll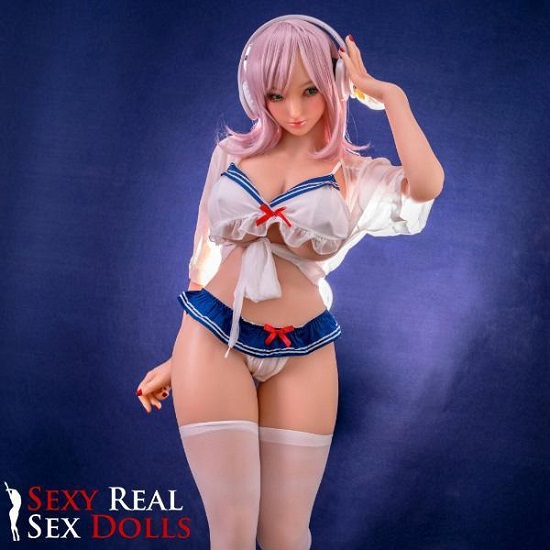 Features
Directly from yours dreams
Sensual and sweet
Fully customizable
Specifications
Made of silicone
Weight: 75 lbs
Height: 5 ft 1 in
If you are looking for something that matches your innermost fantasies, then you are in the right place. This Japanese sex doll is straight out of a hentai manga.
She has bursting breasts, a petite waist and a firm ass. Her shape is cartoonishly sexy and this ensures her a place of honor on this list.
This Japanese anime doll is made of silicone, with a metal skeleton and movable joints, so you can place her in any position you want.
You won't have to worry too much about stains, because the silicone is easy to clean and very resistant.
This doll is perfect for those with somewhat bizarre sexual desires.
11) Yoko Japanese College Doll
Features
Completely customizable
Innocent but sexy
Breast cup D
Specifications
TPE , face in silicone
Weight: 66 lbs
Height: 5 ft 5 in
Light, delicate and waiting for a man to sexually train her. Yoko is a doll that can fulfill your fantasies of sexy Japanese students.
Her weight and height make her easy to handle, while the TPE with which her body is made will make you think you're handling a real woman without feeling bad for cheating on your partner.
Her face is made of silicone but for some reason, you can't have sex with her mouth.
In any case, you will have the opportunity to penetrate a 7 in vagina and anus. Her breasts are also pleasant and exciting to the touch.
Yoko is extremely customizable, from hair color to eye color and even skin color. You can also change the shape of her breasts and vagina.
How to Choose The Perfect Japanese Doll?
At the time of purchase, pay close attention to some details that will help extend the life of your doll.
You have seen the costs of these plastic beauties and you know that this is a real investment.
The best sex dolls are generally made of silicone or TPE, or a mixture of the two. Both types have an internal metal structure that facilitates positioning.
TPE is more porous and more realistic, especially to the touch, but it is more difficult to maintain due to the ease with which it stains.
Silicone is a more resistant material, but the cost of these dolls is much higher. They are harder and firmer, but they won't spoil very easily.
Other elements to consider are size and the presence of holes to penetrate.
Dolls usually has three holes available: vagina, anus and mouth. The vagina can be removable, and therefore more easily washable, while the anus and mouth are not always present and/or removable.
The skeletal structure allows the doll to stand upright, while the movable joints allow her to be positioned in any way.
In most cases, sex dolls are life-sized, but you may want a smaller, or larger size depending on your preferences. The weight, on the other hand, characterizes the ease of movement of the doll.
Cleaning Your Japanese Doll
Your doll will need some maintenance to ensure that it does not create hygienic problems and that it lasts over time.
The cleaning process also varies between silicone dolls and TPE dolls, as the latter need a more thorough cleaning to avoid the development of bacteria.
Tip : Give your doll a shower once or twice a month, but don't get her head wet, as water could get into the metal joints.
Depending on whether the orifices are removable or fixed you want to approach cleaning differently. For the removable ones, rinse them with neutral soap and warm water and wait until they are dry before inserting them again.
The fixed orifices, on the other hand, must be cleaned together with the doll, perhaps in the bathtub, using a shower head or inserting a sponge inside.
Have fun!