Kiiroo is a world-renowned brand that creates innovative interactive sex toys for men and women. Interactive sex toy equal more pleasure and less work, for you.
You masturbated with a Fleshlight and you're looking for something that feels more 21st century, or just more real. Probably you're feeling lazy and tired of moving your hands… or you're in a long-distance relationship and want to try something interactive with your partner.
I know how your balls feel. Well, my dear friend, Kiiroo got your back.
Top 10 Best Kiiroos
Kiiroo
Price
Information
Kiiroo Keon
Best automatic Kiiroo

Check Price
Materials: ABS, PC, Silicone
Weight: 2.42 lbs
Charging: 4 hours
User time: 30 min - 2 hours
Kiiroo Onyx Plus
Best interactive Kiiroo

Check Price
Materials: ABS, POM
Hole Depth: 6.50 in
Weight: 2.87 lbs
Charging: 4 hours
User time: 1 hour
Kiiroo Titan
Best Kiiroo masturbator

Check Price
Materials: ABS shell, TPE sleeve
Weight: 1.88 lbs
Charging: 3-3.5 hours
User time: Approximately 30-40 minutes
Length: maximum 7.5 in
Kiiroo Toys Collection

Check Price
Materials: ABS, POM
Hole Depth: 6.50 in
Weight: 2.87 lbs
Charging: 4 hours
User time: 1 hour
Kiiroo Feel Stroker

Check Price
Outer Casing Material: ABS + PC
Sleeve Material: TPE
Length: 7.87 in
Dimaeter: 3.3 in
Weight: 1.76 lbs
Kiiroo Titan Power Sleeve
Best Keon Kiiroo sleeve

Check Price
Materials: TPE
Length: 7.48 in
Kiiroo Tight Fit Sleeve

Check Price
Materials: TPE
Length: 7.48 in
Kiiroo Pearl 2

Check Price
Materials: ABS, silicone
Size: 7.87 x 1.54 x 1.44 mm
Weight: 0.30 lbs
Charging: 2 hours
User time: 1 hour
Kiiroo Cliona

Check Price
Materials: ABS, silicone
Size: 0.42 x 0.2 x 0.16 in
Weight: 0.16 lbs
Charging: 2 hours
User time: 1 hour
OhMiBod Fuse

Check Price
Material: Silicone & PU coated ABS
Length: 7.09 in
Diameter: 1.33 in
Weight: 0.93 lbs
Operating time: up to 1.5 hours
Imagine you're on your way back from work, super bored, your girlfriend/boyfriend is in another city and you don't have any better alternative… You have two options:
Get out there and meet some other girl (recommended choice).
If you're monogamous by choice, then Kiiroo can be your fuck-buddy for tonight.
Below are the best Kiiroo toys in the world. So let's get started with this review.
Know that what might've worked for me might not work for you. We may or may not have the same top choices because it's really down to personal preference, so read through the article below and I'll help you find your dick's soul mate.
These Kiiroo toys are not ranked nor listed in any particular order except that I divided them into three categories: For Him, For Her, and For Couples.

The Best Kiiroo Toys For Men
Great for the lazy man who wants to enjoy some fun solo time without working too much (hello wrist pain!) take a look at the toys below: Titan, Feel Stroker, Keon, Onyx and more…
I've also included some of the sleeves that are sold separately so you can have a complete picture of your buying options.
Have fun folks!
1) Kiiroo Keon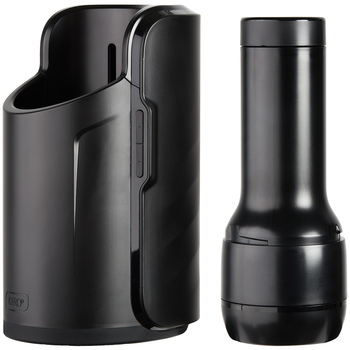 See price 1
The Kiiroo Keon was designed to be used with the Feel Stroker, but it's not exclusive for the latter. In fact, you can use Fleshlight toys with the Keon as well. The Keon comes with its own sleeve and has a full plastic case.
While other Fleshlights won't fit as well as the Feel Stroker, they do fit well enough that you can use it without any problems. In my Keon review, I mentioned this is the ultimate way to enjoy the Feel Stroker.
In order to enter the Interactive Mode, you need to download the FeelConnect 3.0 app and this opens up a whole new world for you. To find out more, check out my Kiiroo Keon review.
Buy the Kiiroo Keon if you already own a Fleshlight or a Feel Stroker, and want to enjoy hands-free orgasms. I loved it.
Specifications:
Materials: ABS, PC, Silicone
Combined weight: 4.2 lbs.
Size: 220x130x146 mm
Speed: 6 – 230 strokes per minute
Stroke length: 0.8 – 2.56 inches
Max charging time: 4 hours.
2) Kiiroo Onyx +

See It
The Kiiroo Onyx is by far one of the best Kiiroo male strokers in the market thanks to a range of new features.
The first thing you will notice about the Onyx + is its weight. Or specifically, the lack of it. This toy is unbelievably lightweight. The Onyx is in its third iteration, and comes with a more powerful rotating motor that simulates intercourse very well (with some imagination).
Usually with these automatic masturbators the constant whirring noise of the motor can pull you out of the experience. But actually the Onyx makes far less noise than some of the best male masturbators I've tried.
Like most other Kiiroo devices, you can connect the Onyx with other Feel Technology toys, including:
Kiiroo Pearl 1 or 2
Kiiroo Onyx 1 or 2
OhMiBod Fuse
OhMiBod Esca
When my girlfriend's out of town and I'm feeling horny, we often connect with the Kiiroo Onyx +. The device makes me feel as if my partner's right there with me.
But it's not just about use with a partner. During my Onyx review, I tried it also with VR porn, and it worked just as well.
Buy the Kiiroo Onyx if you are looking for a high-tech sex toy that oozes class.
Specifications
Size: 9 x 7.9 x 26.3cm
Materials: ABS, POM
Hole Height: 16.5 cm
Charging time: 4 hours
Max usage time: 1 hour (depends on stroke intensity and speeds)
Finish: Glossy
Weight: 1.3 kgs
3) Kiiroo Titan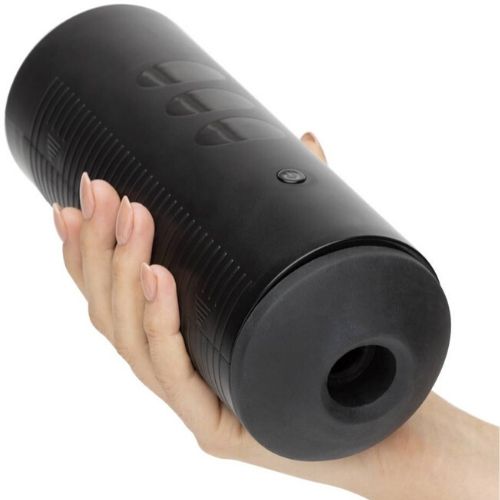 See It
If you're looking for a high-end pocket pussy, you can't go wrong with the Kiiroo Titan. This is the ultimate male stroker with a host of excellent features, including touch-sensitive-vibration-tech built into it.
Kiiroo Titan isn't your average pocket pussy. And for sure it doesn't cost like one…
It contains a RealFeel sleeve and 9 discrete bullet vibrators that will absolutely blow your mind (ok I am hyping it up a little bit) and leave you writhing in pleasure… My experience with the Kiiroo Titan was frankly, phenomenal. I loved it.
The RealFeel sleeve is really something, and (almost) perfectly replicates the feel of a realistic vagina. It has three touch-sensitive buttons at the top that you can use in order to change the settings and the intensity of the motors.
Kiiroo also sells the Titan VR Experience, which just takes the whole experience to another dimension altogether. While you can connect the Kiiroo to a partner's device using the web, you should know that it also supports interactive VR porn available through Kiiroo's FeelPornstars platform.
Their collection features big names like Asa Akira (ugly as fuck) and Romi Rain to create interactive VR porn, so you just have to put on the headset (supplied with the VR Experience Pack), and you can watch and feel your favorite pornstars (which I hope are not the two above) play around with you.
With more than 4,000 interactive videos available, there is plenty of opportunities to waste your precious time.
Buy the Kiiroo Titan if you are looking for the best sex tech experience in the world right now.
Specifications:
Material: ABS shell, TPE Sleeve,
Finish: Matte finish
Size: 221 mm length, 87mm diameter
Battery: 1,000 mAh
Charging time: 3.5 hours
Maximum penis length: 4.5cm x 3.41 cm circumference, 19 cm length.
4) FeelStar Experience

See It
VR porn in general is complete crap and you should not use it, unless you have a partner and simply want to try VR porn for the fun of it. Like to laugh at yourself. Then ok, have fun.
Not everyone will buy the Kiiroo interactive toys to use with their partners. That is why they promote VR porn with it. And, to make sure that there's plenty to offer, the company has partnered with some of the hottest (oldest I'd say is a better word) pornstars in the world right now to release special editions of their best sex toys.
These are really big names, too:
Asa Akira
Tanya Tate
Lisa Ann
Romi Rain
Jessica Drake
Bobbi Eden
There are limited edition Onyx + and Kiiroo Titan toys available, with their photos on them. It's the same sex toy as the original, but with different packaging. And, they also have a photo of the pornstar on the toy itself (omg a photo… wow).
Buy FeelStar if you are a big fan of these pornstars and want a collectible sex toy that you can resell in 50 years to some crazy antique shop. I think these will be fun to look at in a few years.
5) The Kiiroo Feel Stroker

See It
The Feel Stroker is an ordinary pocket pussy. It doesn't include all the bells and whistles that come with the Titan. This is designed to be a casual's stroker and works like a charm.
The RealFeel sleeve, a signature feature on most Kiiroo masturbation toys, is also included with the Feel Stroker. If you want, you can even add a Fleshlight sleeve inside the Feel Stroker. There are so many different Fleshlight options to choose from, so you do have variety.
The Feel Stroker is designed to be used in tandem with the Kiiroo Keon, but it is good on its own as well. The material inside feels very similar to actual skin, and that's why it gets top marks from me.
A word of advice: if you really want to get the best out of your Kiiroo Feel Stroker, I recommend buying the Kiiroo Keon along with it.
Buy Kiiroo Feel Stroker if you are looking for a pocket pussy that is both affordable and high quality.
Specifications:
Outer casing: ABS + PC
Size: 200×84 mm
Weight: 800 grams (approx.)
Sleeve Material: RealFeel (TPE Blend)
6) Kiiroo Power Sleeve for Titan

See It
The Kiiroo Titan Power Sleeve is an interchangeable sleeve designed for use with the Titan. But, I'm going to review it as a separate offering because it's completely different from the default sleeve that comes in the package.
The Power Sleeve is designed for people who want to "increase their stamina and performance in bed." In order to equip it, you just have to take out the original sleeve and slide this one in.
It's also an incredibly affordable sleeve, so you won't have to worry about splurging over the top once you have bought the Titan. The Power Sleeve has a much smaller opening than the original sleeve, though it's not as tight as the Tight Fit Sleeve.
Despite its relatively small opening, the flexibility of the sleeve allows you to easily penetrate and start using it. There are grooves all along the sides to really enhance your pleasure.
I tried the Kiiroo Power Sleeve for this Kiiroo review and noticed a few things. Here are some pointers:
It dramatically reduces sensitivity
It's made from a very durable form of plastic
It's immensely pleasurable
Buy Kiiroo Power Sleeve if you already own the Titan and want some help to train to last longer in bed.
7) Kiiroo Tight Fit Sleeve for the Titan

There had been a lot of demand for a tighter sleeve for the Kiiroo Titan, and the company responded by releasing not just one, but two options: the Power Sleeve and the Tight Fit Sleeve.
As the name suggests, this is a super-tight sleeve designed for the Kiiroo Titan, and really hugs the shaft. It's perfect for those who want to simulate anal sex on their own (use it with an anal VR video for the best experience).
It goes without saying that you are going to need lots of lube for this one, especially if you are going to use the higher settings. The powerful vibrations generated by the Titan are going to bring you on the edge in no time.
However, I have to say: this thing is true to its name. The Kiiroo Tight Fit is incredibly tight and with a relatively small opening. The rim of the opening hugs your shaft, generating a truly amazing sensation.
Buy the Kiiroo Tight Fit Sleeve if you have the Titan and want to simulate the feel of anal sex in your next session. I tried this during my Kiiroo Titan review and it felt completely different than the original.
The Best Kiiroo Toys For Women
Next up, it's time to talk about some of the best Kiiroo toys designed for her. Although Kiiroo is more known for their male masturbators, they also make the most innovative sex toys for women.
Don't think that the sex toys for women are lagging behind. They have the same tech and innovation as that of their male counterparts. To prove that, here are some of the best Kiiroo toys for women.
8) Kiiroo Pearl 2

See It
The Kiiroo Pearl 2 is one of the most technologically enhanced G-spot vibrators out there. Ladies, I know how difficult it can be for most men to find the G-spot, and this toy is just what you need to fill the void (until you find a better man).
The Kiiroo Pearl 2 Black is future proof: the company has announced that the Pearl2 will be compatible with all existing and future Kiiroo sex toys. Hopefully this won't matter for you, as you will meet some cool guy who know his way around a vagina.
It also works with existing videos, VR content, 3D gaming and all partner sites of Kiiroo. This isn't your ordinary vibrator. You can connect it to:
A partner
A video
Your VR headset
Webcam
Oh, and for lesbian couples, the Pearl 2 has Bluetooth, so you can pair it up with another Pearl2 as well.
Buy Kiiroo Pearl 2 if you are bored of your old one and need to spice up your long-distance relationship.
Specifications:
Material: ABS, Silicone
Battery: Li-ion 540 mAh
Charge time: 2 hours
Usage: 1 hour
Size: 200 x 39 x 36.5 mm
Weight: 139 grams
9) Cliona by Kiiroo Clit Stimulator

See It
The Cliona is truly a marvel of technology. A fully waterproof, pocket-sized clit vibrator, the Cliona allows you to connect to the web for access to interactive porn content, or connecting with your partner.
The company packs so many amazing features in such a mini vibrator that you'd be hard-pressed to find a better alternative out there. This is a touch-sensitive device with extremely heightened sensitivity, so you can really get it going at a touch.
There are thousands of videos that you can connect the Cliona to simulate the experience on the screen. It offers the following features:
Touch vibration control
Remote control for your partner
You can transmit touch to your partner's device
Use online content to have your pleasure controlled by interactive porn
Buy Kiiroo Clit Stimulator if you want a powerful, feature-packed stimulator for your next orgasm.
Specifications
Material: Silicone, ABS
Size: 11.5 x 5 x 4 mm (approximately)
Finish: Matte chrome
Battery: 540 mAh
Charge time: 2 hours
Usage: 1 hour
10) OhMiBod Fuse

See It
A jackrabbit massager, the OhMiBod Fuse has a lot more than meets the eye. At the surface, it looks like your average dual-stim massager. However, it has Bluetooth integration and allows for two-way communication.
The OhMiBod Fuse is fully compatible with Kiiroo's range of sex toys for men. You can also connect it with the Pearl 2 or the Cliona for a truly amazing experience.
With the OhMiBod Fuse you and your partner will be able to drive each other crazy in bed. There's a LED light that provides visual cues when the device is being controlled.
Oh, and did I mention that it works just as well with VR? Like all the other Kiiroo devices, this one also allows you to connect to their online interactive platform. Get access to VR porn videos, put on the headset, and have fun.
Buy Kiiroo OhMiBod Fuse if you want a remote controlled sex toy that you can use with your partner.

The Best Kiiroo Interactive Toys For Couples
Kiiroo has introduced several packages combining their most popular sex toys for couples. These are not unique toys from their product line for men and for women but these are the same toys paired for several exciting and good reasons.
Without further ado, here are the best pairs of Kiiroo sex toys for couples.
11) Kiiroo Onyx + and Pearl2 Black

See It
This is a great set for beginners. It gives you the Onyx +, which is one of the best strokers in the Kiiroo lineup, along with the Pearl 2, an excellent vibrator for women.
The company's ethos focuses on bringing people together despite the distances, and I think these two masturbation toys are a great way to begin. They are affordable, and you get all of the functionality that Kiiroo is famous for.
12) Kiiroo Titan and OhMiBod Fuse Set

See It
The Kiiroo Titan and the OhMiBod Fuse set is an excellent combination. Though a bit pricey, this combination is ideal for couples who are used to Kiiroo's sex toys.
You can always switch out the sleeve from the Titan and use the Tight Fit one for stimulating the anal experience, and you also get two-way control using the touch-sensitive buttons for the OhMiBod Fuse.
It'll help build intimacy unlike anything else. Both of these can be used as standalone toys as well. There are other combinations available:
Kiiroo Onyx+ and Cliona
Kiiroo Onyx + and Onyx +
Titan and Kiiroo Pearl2
Titan and Cliona
Pearl2 and OhMiBod Fuse
Buy these combo sets if you have a partner who wants to try some new fun toy with you.

How Do I Choose The Best Kiiroo Toy For Me?
Remember, we all have different anatomies, preferences, and kinks so what works for me might not work for you. I don't see any problems trying out different toys from different brands but Kiiroo has helpfully narrowed the options down.
If you are totally at a lost, do not worry. I started the same and didn't know what I was looking for. But along the way, once you try and explore more sex toys, you'll know what you like and don't like. At least a little bit more every time.
Having said that, I can't truly point out that single best toy that's perfect for you but let me give it a try and hopefully that could help you decide too. When choosing a toy whether for myself or as a gift for my girlfriend, the following are the things I look for.
Specifications and Materials
First thing I normally check for is the weight and the materials. This says a lot about the sex toy or the device. Somehow you get a hint of how the toy would feel to the touch and whether or not it is durable.
I prefer lightweight toys as they're less strenuous when you are totally in the zone. However, brands don't always tell you the weigh but generally they do write the material in the specifications section.
Remember this tip, ABS plastic will feel more lightweight but can sometimes feel cheap. You will learn that they are also more sturdy and stable yet sometimes too stiff.
Silicone, on the other hand, will feel a lot more premium and more plush but somehow comes with a little more weight. It can, however, give you some flexibility.
This is especially important to know for toys that you insert inside you like dildos, anal toys, and prostate massagers.
The design plays a major role when I choose a new sex toy. I especially love it when they're not too obvious of a sex toy. This is what I like the most with Kiiroo devices. They always have a sleek and discreet-looking design.
Main Features and Power
Just for the fun of it, I highly suggest that you look for something that has a VR function. The VR Experience is a whole new level of adult entertainment and sexual experience. The perfect toy for synced interactive porn is yet to be developed but Kiiroo is way ahead on this.
VR toys may have some hiccups here and there but they're significantly less with Kiiroo.
My first time with the VR was mind-blowing and I had such an explosive experience. If you haven't tried it yet, I suggest you get the Kiiroo Titan and you'll experience amazing orgasms.
Connectivity Capable
I enjoy this feature a lot. I think that this deserves to be the new standard. Since I've tried this I feel any device that is not capable of connecting to a partner's device/interactive porn is boring.
I love connecting to my partner's device and giving her the controls either through her own pleasure device or through app control. I recommend the Kiiroo Onyx + for him and the Kiiroo Pearl 2 for her.
And if you are into it, you can even connect to live cam girls. They usually use teledildonic devices. As long as they are compatible you should be able to connect and sync.
Price
There are high-end brands of sex toys and there are also those in the mid-range. I think Kiiroo prices their stuff competitively and you really get more than what you pay for. I know some brands that are overly priced and hyped up by marketing but can't par with Kiiroo. Don't be deceived by them.
But also don't try to be a cheapskate. Sometimes, you justly get what you pay for and that becomes more costly in the long run. A little research can really save you a ton of money and I suggest you go only with trusted brands.

Kiiroo Frequently Asked Questions
Do these strokers really feel like the real thing?
As close as possible (the real thing is always better). Kiiroo has put a great deal of thought and care into the design, from the shape of the sleeve to the material itself. Honestly, even I was surprised at just how realistic it feels during my Kiiroo review.
What kind of lube should I use with these strokers?
While you can use any kind of lube, I personally recommend water-based lube. They are much easier to clean afterwards, and they also last longer. Just know that on average, you will have to replenish the lube after every 15-20 minutes. I only wrote this Kiiroo review after trying it with water-based lube.
How do you charge the Kiiroo toys?
The best part about Kiiroo is that it makes devices that are incredibly easy to connect and use. All of these are USB compatible, so you can charge them easily with any socket. You can also charge them in the car if you want! Just use the USB cable supplied with the toy, and you are good to go.
My Kiiroo isn't working anymore. Can I replace it?
This is highly dependent on several factors: your warranty period, and how it stopped working. If it died on its own, you can get in touch with the support at Kiiroo, and they will tell you if you can replace it. If not, you will have no other option than to replace it altogether.
The connection breaks when I'm connected online. Is this normal?
Unfortunately, yes. Hiccups are expected with such high-tech toys, and Kiiroos are no stranger to them. The company does regularly release firmware updates, so they are going to iron out the kinks over time.
Are these waterproof?
Erm… no. The Feel Stroker is, but the rest of Kiiroo's toys are not. Any Kiiroo review that says they are waterproof is not accurate. They contain motors and sensors so washing them in water is a terrible idea. You can take out the sleeve and clean that, but that's about the only thing that's waterproof.
My Kiiroo's battery doesn't last as long. What's the issue?
Like all Li-ion batteries, this one is going to lose charge over time as well. It's important for you to think about replacing the toy if it's not holding any more than a 15-minute charge. The battery cannot be replaced, so replacement is the only option.
So there you have it. The 12 Best Kiiroo toys to spice up your sex life. Whether you are looking for a new toy for yourself or your partner, you can choose one from this list. They are all the best that Kiiroo has to offer and all have received rave reviews. If you own any of these amazing Kiiroo interactive toys, I want to hear from you too. Let me know what you think.
Have fun!