MILF sex dolls are perfect for anyone who doesn't want to risk ending up in a dangerous relationship.
These beautiful women are mature and experienced, have large breasts, and stunning bodies. And you can do whatever you want with them.
In this article I want to list the best MILF sex dolls on the market today and I want to give you advice on making a satisfying purchase.
Top 3 MILF Sex Dolls
Milf Sex Doll
Price
Information
See Price
Height: 5 ft 5 in
Weight: 90 lbs
Material: Silicone
Bust: 30 in
Waist: 22 in
Hips: 39 in
See Price
Height: 5 ft 6 in
Weight: 81.6 lbs
Material: TPE
Bust: 36.6 in
Waist: 22 in
Hips: 35 in
See Price
Height: 5 ft 3 in
Weight: 61 lbs
Bust: 30 in
Hips: 30.3 in
Material: Silicone
The Best MILF Sex Dolls
MILF is a colloquial expression meaning "mom I'd like to fuck." I am sure you've already heard it because nowadays it's used everywhere.
MILF sex dolls feature traits of women between the ages of twenty five and fifty, still as sexy and perfect as ever. These women can bring out the sexual animal in you. So take a look at this list and get your hands on one today.
Let's dive right in!
1) Bridgette – The Best MILF Sex Doll
Features
Toned body
The mom you've always wanted to take to bed
Super realistic
Specifications
TPE
Weight: 81 lbs
Height: 5 ft 6 in
Bridgette is a sweet, tan, mature woman with an exciting body. She seems to come from another era.
The ready-to-ship version features blue eyes and short, wavy blonde hair. She looks like a beautiful Marilyn Monroe.
Your world will be rocked by her beauty and gorgeous boobs. Her erect nipples beg to be touched.
Made of TPE, everything about Bridgette screams ultra realistic MILF sex doll, starting with her extraordinarily sexy female figure.
I can confirm she's a real bombshell for her age. With a nice round ass, a remarkably small waist, and lifelike orifices, you won't need to look elsewhere for your sexual needs.
Making love with her is an experience that won't be forgotten, be it vaginal, or anal.
2) Ellamae
Features
Sexy and lifelike
Fully customizable
G Cup
Specifications
TPE
Weight: 116 lbs
Height: 5 ft 4 in
Ellamae has a sexy and extremely curvy body. Her curves come from her experience as a mother, but she never stopped seeking pleasure.
Her face is realistic and mischievous, surrounded by soft red hair that increases her charm.
Her G-cup breasts and 44 in hips will enchant and excite you every time you handle her. You can make love with her in every hole and it will be a unique experience, every time.
Her anus and vagina are 6 in and 7 in deep, while her oral cavity is 5 in deep.
Ellamae's only downside is her weight, 116 lbs. She is not an easy doll to handle and that makes her more realistic, but it means she may not suitable for those looking for their first sex doll.
3) Hyoon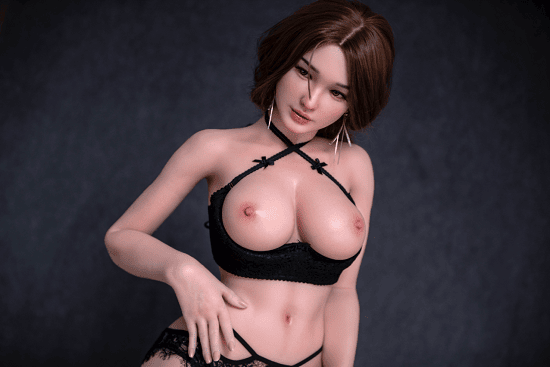 Features
Extremely realistic
For those who want medium sized breasts
Lightweight and easy to carry
Specifications
Made of silicone
Weight: 61 lbs
Height: 5 ft 3 in
Hyoon is one of the best Japanese MILF sex dolls on the market. Elegant and realistic, she's exactly what you are looking for if you love Japanese women.
She's a bit pricier than the average doll, but that's because she's made of silicone, which costs more and lasts longer. You will have made an investment for life if you treat her well.
She has a metal skeleton with movable joints, so she can be placed in any position; you can fuck her doggystyle or put her on her knees for a blowjob.
She's also lightweight which makes her easy to handle, but she's still a resistant doll.
Hyoon is mature, but still in the prime of her life. Her great merit is experience. She looks like a real Japanese woman, if not even more beautiful.
4) Bella
Features
Completely customizable
Blonde and sexy
Breast cup N
Specifications
TPE perfection
Weight: 90 lbs
Height: 5 ft 5 in
A girl named Bella has got to be beautiful, right? This real life MILF sex doll is sensual and mature, just what you're looking for.
If there was a woman created to represent all women, she would be it; you wouldn't want to add or subtract anything from her.
Obviously Bella is customizable. You can do whatever you want with her; she can be perfect for you and your needs.
Her boobs are just the right size and there's a beautiful roundness surrounding her little nipples.
Her curves are accentuated by a tight waist that you can squeeze as you take her to bed.
She has a metal skeleton (that makes her stable) and movable joints, so you can try all of the thousand positions of the Kamasutra. With Bella you will always be satisfied.
Given her size, this doll may be too heavy for weaker men; but if you like her, she's the doll for you.
5) Rozanne
Features
Mature and sexy
Customizable
Breast cup C
Specifications
TPE
Weight: 85 lbs
Height: 5 ft 6 in
Rozanne is your best friend's mom who you've always dreamed of taking to bed. She has a curvy, firm body shaped by her obsession with going to the gym and attending Zumba classes.
Her smile is that of a woman who knows how to bring you maximum pleasure. And she will never say no to you, no matter what you ask of her.
This doll is an undeniable MILF: mature and sexy, with soft tits and a body just waiting to be loved.
She's made of TPE which makes her very realistic to the touch. If you want to get even closer to your ideal of a mature woman you can customize her in any way you want.
It is a slightly heavier doll, with a vaginal depth of 5 in.
Who is Rozanne suitable for? If you want a tight hole to have fun with everyday, Rozanne is for you.
6) Saya
Features
Shapely
Huge tits and ass
Three usable holes
Specifications
TPE
Weight: 97 lbs
Height: 5 ft 2 in
The perfect MILF doll for those who want to try an exotic, exciting and welcoming experience. Her measurements are just as exaggerated as you want them to be.
Saya has a curvy body, like a real black mom. The great thing is that she will always be there for you and you don't even need to talk to her.
She has long curly black hair and a sweet and cheeky face. Her boobs are so big that you can have some fun and hide your face between them.
You can enjoy vaginal, anal or oral sex with Saya. The orifices are 7 in, 6 in, 4 in in depth, respectively.
Saya is not a doll for beginners, as she's rather heavy and difficult to handle.
But don't be discouraged, with practice you will learn to easily play with a black MILF doll like Saya.
7) Maria
Features
Ability to modify breasts
Body shaped by the gym
Breast cup H
Specifications
TPE
Weight: 83 lbs
Height: 5 ft 6 in
Maria has big juicy breasts and is without a doubt a great fantasy for men who love Latina MILFs.
If you are looking for a spicy woman with curves, Maria will give you lots of love and lots of sex. This big ass MILF sex doll also loves going to the gym, which is where she got her six pack.
Her big MILF ass is firm and she has a growing appetite for your manhood. Maria was meticulously designed to provide a very realistic experience.
Thanks to her mobile joints you can do anything you want with her and she'll fully comply.
Enjoy healthy anal and vaginal sex with Maria while squeezing her firm breasts or adjusting her in the way that excites you most.
You may have noticed the particular conformation of her breasts: don't worry, the nipples are modifiable and these boobs are perfect for those who love fake breasts.
8) Camille
Features
For those looking for a dominatrix
Total mobility
Mature and sexy
Specifications
Made of silicone
Weight: 91 lbs
Height: 5 ft 5 in
Camille is the perfect silicone beauty for those seeking extreme sex play. She has soft, auburn hair that frames her face together with a voluptuous smile.
She's a full-size MILF sex doll who knows what she wants and enjoys holding a whip in her hand. She's a control freak who you can silence and make love with whenever you want.
Her metal skeleton, silicone skin and movable joints make her a durable and flexible doll. This in spite of her 91 lb. weight, which is comparable to that of a real woman.
Camille is simpler to clean and handle compared to her TPE counterparts.
9) Violet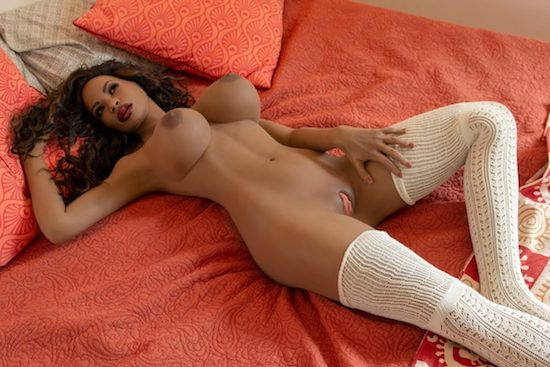 Features
Seductive ebony mom
Huge round tits
Looks great in lingerie
Specifications
Made of silicone
Weight: 80 lbs
Height: 5 ft 1 in
Violet is the kind of woman who knows what she wants and isn't afraid to go after it. She's confident, sexy, and knows how to work her curves to their best advantage.
This ebony MILF loves nothing more than getting freaky with a hot man, and she's got the skills to make sure that you're always left wanting more. She's got huge knockers and a big, fat ass, both perfect for grabbing at your leisure.
Her long curly black hair looks great on her. Her eyes are about as mysterious and seductive as they come. Violet's lips are full and ready to be kissed. And top it all off she looks incredible in lingerie. You can dress her up however you like.
Keep in mind, if you're unhappy with any of her attributes she's fully customizable, from her body type to her breast size, eye color and more.
Whether you want to enjoy some slow and sensual sex or go for something a little more hardcore, Violet is always up for anything. And thanks to her movable joints, you can position her however you like for maximum pleasure.
So if you're looking for an ebony sex doll who knows how to give a good time, then Violet is definitely the woman for you!
10) Carmen
Features
Cute, short black hair
Big curvy tits
Seductive, horny Mom
Specifications
Made of silicone
Weight: 75 lbs
Height: 5 ft 3 in
Carmen is a hot MILF with an insatiable appetite for sex. She loves to do it with her man, and she's always up for trying new things in the bedroom. Carmen also loves a little glass of wine with dinner. Sometimes she gets a little tipsy and it brings out an insatiable horniness.
With her big tits, tight ass, and welcoming pussy, Carmen is guaranteed to get you hard. And she knows how to use all of her assets to please her man. Trust me, this is one Wine Mom you don't want to miss out on!
If you're looking for a mature woman who knows how to have a good time, Carmen is your girl. She's got the experience and the skills to make all your fantasies come true.
She's got soft, silicone skin that feels incredible. And thanks to her steel skeleton she can be placed in any position known to man. You can do her any way you want and at any time.
Carmen is also fully customizable, so you can make her look exactly how you like. Different eye color? Different body type? Even a different face! Any attribute can be changed to create your dream MILF.
What is a Realistic MILF Sex Doll?
A MILF sex doll is no longer an inflatable plastic mannequin, unrealistic and a little ugly.
Now sex dolls are realistic and affordable for everyone. Contrary to popular belief, fans of sex dolls come from all walks of life. Sex dolls are no longer the exclusive domain of bachelor parties populated by drunks and lonely men who can't find a real partner.
These full-size dolls are now part of the sophisticated world of sex toys enjoyed by many thousands of people, all over the world.
There are some who buy these mature dolls for fun, while others use them to try something new in bed with their partner. Women are also buying sex dolls.
You could buy a realistic mature sex doll because you are curious and are looking for a new adventure, or to satisfy a particular fantasy.
In short, you have nothing to hide: sex dolls are just like any other sex toy, except they cost more.
Maintenance of Your MILF Sex Doll
A sex doll costs quite a lot and if you choose the more realistic dolls, like the ones on the list, you will need to take special care of them.
You may have noticed that there are two types of dolls:
Silicone MILF dolls are more expensive and firmer to the touch, while TPE dolls have a softer, more porous texture, and are cheaper.
Some dolls are produced with a TPE body and silicone head to combine the beauty of the two materials.
The cleaning process varies between silicone dolls and TPE dolls, as the latter need more attention and a deeper cleaning to avoid the proliferation of bacteria.
Tip : Do not use clothes that can stain your TPE dolls. Use light colors and eliminate dark colors.
Once a month it is advisable to give your MILF doll a full shower, being careful not to wet her head too much. Water could touch the skeleton and rust it.
Also, do not leave the doll wet for too long: pat it dry with a towel, but do not use a hair dryer because that could ruin the materials.
Remember to wash the orifices after each use. For removable vaginas, it's simple: just a solution of neutral soap and a sponge. You will be able to reposition the removable vagina once it's dry.
If, on the other hand, her orifices are fixed, then you should give your doll a full shower.
These beauties, if kept with care, can really last a long time.