In this Quick Extender Pro review we have tested the Quick Extender Pro, and we did get some results, as you will read, although it was not the results we were expecting.
A big dick garners awe, respect, and confidence. For some men, the knowledge that their penis is smaller than average has led to a complete lack of self-confidence. If not in their daily lives, then when talking to someone they find attractive. It's a total bummer that the size of a body part has such an effect on the way we see ourselves. Some dudes have turned to other methods of increasing their penis length.
The only surefire, scientifically proven way of doing that is using a penis extender. A penis extender uses a steady, light stretch of the penis to enlarge it slowly over the course of a few months. Now, in the world of penis extending, there are already some established giants in the industry. The product we're going to be examining- the Quick Extender Pro (QEP)- is one of them.
The Quick Extender Pro has been in the business of penis enlargement since the mid-2000s, so they've had a good twelve to thirteen years to refine their extender. QEP has developed a steady and thriving base of customers who swear by this product. So, we knew we had to check this thing out. In this review, we're going to be examining the Quick Extender Pro. What's so great about it?
Table of Content
The Quick Extender Pro: What is it?
Packages
Features of the Quick Extender Pro
My Experience and Results with the QEP
How Does the Quick Extender Pro Stand Up Next to the Competition?
Frequently Asked Questions (FAQ)
Conclusion
The Quick Extender Pro Review: What is it?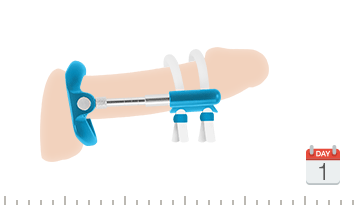 The Quick Extender Pro is a penis extender that works on the science of traction. It pulls on the penis gently and creates micro-tears in the skin. Once there are a fair amount of these little tears, your body reacts by producing more cells to fill in the gaps. The creation of cells serves to increase the size of your penis. This process is called mitosis and cytokinesis.
Most extenders achieve this tension by creating a base and a noose or vacuum which the glans pass through. There is usually a strap to prevent slippage and for comfort. Unfortunately, in my experience, that well-meaning strap doesn't really do much to enhance comfort. The makers of the QEP, Innovatech Designs have actually provided a way to help the QEP be more comfortable than other extenders. How? By simply adding another strap.
The QEP has been praised for its Dual Strap System (DSS). It's one of its most distinctive features. The theory is that instead of putting all the weight on one strap, two straps might evenly distribute the load, thereby making it less painful. The company also decided to change the materials used in making the QEP to lightweight, hypoallergenic, medical-grade aluminum.
With all the upgrades, Innovatech decided to level up the maximum amount of tension the QEP can give to 4000g. To be honest, we all know nobody's going to apply 4kg worth of force to their dick. But it looks good on the product description, and it's nice to know it's an option.
Quick Extender Packages
The Quick Extender Pro has four packages you can choose from:
The Deluxe Limited Edition
This package comes with a whole lot of goodies, including your QEP machine. It came with items such as:
The DSS system.
A mahogany case.
Three months' worth of Rizer XL, an enlargement supplement.
The tension springs some for use right away and spares.
A booster pump.
Medical-grade memory foam comfort pads.
Aluminum spring assembly
Aluminum bars
Foam pads
Silicone tubes
Travel pouch.
Instructional DVDs
Illustrated reference cards
Progress tracking chart
Measuring tape.
The QEP Deluxe Limited also comes with a 6-month warranty. If you're not satisfied with the QEP at the end of six months, you can get your money back. Simple.
The Deluxe Standard Edition
The Standard Edition is the most popular version of all Quick Extender Pro's products. It can apply less tension than the Limited Edition at 3500g. Which should be enough for any man looking to enlarge his prick. The Standard package also includes:
The DSS system
Tension springs, one set.
A month's supply of Rizer XL
Aluminum pivots and bars.
Foam pads
Silicone tubes.
Travel pouch.
Instructional DVDs.
Illustrated reference cards.
Progress tracking chart.
Measuring tape.
The deluxe standard edition has a one year warranty.
The Value Edition
The value edition is sort of like a penis extender maintenance kit. It only has a few items in it and can only extend up to seven inches. I don't recommend this product if you're a beginner, as it may not be able to give you all the support and tools you need to enlarge your dick correctly. The value edition includes:
The DSS system.
Tension springs up to 3000g
A few aluminum pivots and bars
Silicone tubes.
Foam pads
Travel pouch
Instructional DVDs
Illustrated reference cards
Progress tracking chart
Measuring tape.
A voucher for savings of $100 on Rizer XL supplements.
Curvature Correction and Peyronies
This edition was designed to help men with Peyronies or who just want their penis as straight as possible. Everything in this package was made to help men correct the curve of their penises. The curvature correction package comes with:
The DSS system
4000g calibrated springs, with extras.
A bottle of premium vitamin E supplements.
Aluminum spring assembly, pivots, bars and rods.
A storage case.
A memory foam upgrade.
Silicone tubes
Foam pads.
Travel pouch.
Instructional DVDs
Illustrated reference cards
Progress tracking chart.
Measuring tape.
The QEP curvature correction kit comes with a total protection coverage of a year and a six-month money-back guarantee.
Quick Extender Pro has a package for everyone. But to give an honest, unbiased review, we had to try it for ourselves.
Features of the Quick Extender Pro
I'm no stranger to penis enlargement tools or even penis extenders, so I tried my best to approach the QEP with an open mind. Most of the features are standard for a penis extender, but there are a few unique bits
Website: The first thing I like about the QEP wasn't even the product itself. It was their website. If you're no stranger to buying penis enlargement products, you know that these websites can look a bit dicey. A good looking website is not an assurance of a good product, but it does give you a bit of reassurance.
Delivery: My Quick Extender Pro Deluxe Standard Edition arrived in two days, which was really speedy. It came in a very dull brown box with an address in the US. Points for nondescript shipping and delivery. Opening the box, I was extremely pleased to see that the extender really was preassembled, like the website claimed.
Fitting: All I had to do was adjust the fitting. The instructional video helped a lot with that. One thing I noticed right off the bat was that it was uncomfortable. It was really uncomfortable, and I was getting a bit bitter about ordering an extender I couldn't even wear.
Customer Service: I called their customer service to complain and whine a bit, before asking for a refund. The friendly dude there explained that I was probably just wearing it a little too light. I decided to take his advice and adjusted it a tiny bit. It made a world of difference.
Double Strap System: Once I got adjusted, I had to give it to Innovatech; the Double Strap System really does work. I mean, wearing an extender can never be an orgasmic experience, but some extenders make it hard to do even the littlest of things like sitting down. The DSS also didn't allow slippage, and it doesn't require a lot of tension to hold the penis.

My Experience and Results with the Quick Extender Pro
I work from home, so I wore it for about five hours a day in the first week. The website claims to be able to increase penis size by up to three inches in six months. I aimed to achieve 1200 hours of use in six months. I took breaks every three or so days to let my penis recover and do that cytokinesis thing. I measured every three weeks because I wanted to give my dick enough time to benefit from the device.
My first measurement showed an increase of 0.4 inches. I was damn excited, and it motivated me to start wearing the QEP more. I increased to seven hours a day, six days a week, but after only two weeks, I was sore as hell. I tried wearing it at night, but I move in my sleep. When I woke up for the fourth time, because I was uncomfortable and had to remove it, I never tried it again. Unless you are sure that you don't really change positions in your sleep, I do not recommend wearing this stretcher to bed. Even with the DSS and memory foam pads, it's not a good idea.
Though the QEP is pretty lightweight, it still makes a distinctive enough imprint under clothes. It's light, not small, and if you wear under your clothes and go out, you may be uncomfortable.
But apart from those two things, this cock stretcher did what it was supposed to do. After wearing it seven hours a day for a few weeks, my dick got used to it, and it wasn't uncomfortable. Some days, I forgot it was there until I wanted to pee. I continued to see growth every few weeks, but I won't bore you with all my measurements, just the final one.
After six months with the Quick Extender Pro, my penis grew 2.2 inches in erect length and 2.4 in flaccid length. Not the three inches, the website claimed, but this was a damn good result. A surprising development was how much better my erections are. They're harder, and I'm better able to control when I cum. This is a fantastic side effect. Bigger size and better in the sack.
Pros
The QEP is made with light, hypoallergenic materials.
It comes preassembled.
Shipping is free and discreet
Some users get more sensitivity during sex.
DSS ensures pain-free usage.
Results are visible within three weeks to a month.
Cons
Results take a lot of consistency.
It's not recommendable that you wear the QEP while sleeping.
How Does the Quick Extender Pro Stand Up Next to the Competition?
No doubt, there are other extender heavyweights beside the QEP. Competition like SizeGenetics and Phallosan Forte are always ready to usurp its position. These products also have their own fans who swear by their efficacy. So, I'll make an honest comparison between all three by using four criteria:
Comfort
Durability
Refund Policy
Warranty
Length Extendable
Comfort: In this area, the Phallosan Forte wins with its vacuum cup head. It's also small enough to be worn under clothes. The Quick Extender Pro comes a close second with the DSS. But the SizeGenetics wide strap brings it in last. It's more comfortable than many in the market, but its materials make it too heavy.
Durability: The QEP can take a bit of a banging but not as much as the SizeGenetics. The Phallosan has some parts made of glass, so it's pretty damn fragile.
Refund Policy: The Phallosan Forte has the most straightforward policy out of all three. You're given two weeks to ask for a refund. That's all. QEP asks that you use the product for six months to allow it time to show you results. SizeGenetics asks that you wear your device for five hours a day for four months and record your progress online with their "My Diary" feature. That's the only way to qualify for a money-back guarantee.
Warranty: The Phallosan Forte wins with two years warranty for spare parts. SizeGenetics has one year, and the QEP varies from six months to one year, depending on the package you buy.
Length Extendable: The QEP can be extended to up to sixteen inches long. The Phallosan Forte has no actual length extendable stated, but it's assumed that it's incredibly adjustable with longer rods. SizeGenetics has a length limit of ten inches.
Though the QEP has less or more of a particular attribute, it's still a tremendous all-round penis extender.
Frequently Asked Questions (FAQ)
Q1: Does the Quick Extender Pro actually work?
Well, there is no guarantee. But if you're still in doubt, take a look at this article.
Q2: Is the Quick Extender Pro going to increase girth, too?
It should. Your gains should be proportional. If you had a wide dick before, the QEP would widen.
Q3: Is the extender gonna hurt if I get an erection while using it?
Some other extenders might (can't speak for them). But not the QEP. I had an incident like that just a few months into wearing it. My cock stretcher just shifted with my growing erection and changed the angle in which it held my prick. No pain.
Q4: Are there any side effects of using the QEP?
I have never seen any reports of users of QEP complaining of anything worse than pain when using the QEP. I researched this a lot because you don't just put anything on your dick without knowing precisely what you're getting into.
Q5: When should I start to see results?
Most people start to see results within a month.
In conclusion
The Quick Extender Pro is a premium penis extender. It's not perfect, but it's damn close to it. This product has been clinically tested, and there loads of reviews testifying to its works. I recommend the QEP to anyone who wants a larger penis. With consistency, you'll get your results one hundred percent. Don't hesitate.