Whether you are seasoned at BDSM or just looking to explore the lifestyle, it all starts with the right toys. In this best BDSM toys review, we will expose 20 different pieces of bondage gear so that you know which are best for you, your comfort zone, and your lifestyle.
From sex swings, to restraints and accessories, we will take a look at some of the sexiest and most erotic bondage fun you can spend your hard-earned cash on.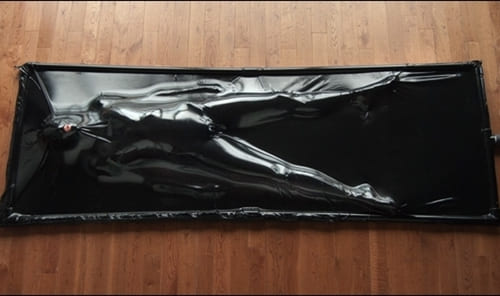 Liberator Furniture
Liberator furniture is the cream of bondage furniture. It's made by folk who have paid their sex dues. Each curve supports you in new and exciting positions as virtually eliminates cramp, muscle fatigue and general complaining.
The furniture is well made; there are no rusty springs or tearing material with Liberator. There's a great selection, and all of it is specifically constructed to help you on your sex adventures.
1.  Liberator Ramp
Well suited to couples looking to explore, Liberator Ramp can easily be set up on the floor or bed, allowing for elevation and new positions. It's a simple design, which really helps with g-spot or prostate stimulation.
Pretty much every couple is trying to replicate this with cushions! Why not try this purpose build piece of furniture instead? The shape makes it very easy to hold your partner down – the very beginnings of bondage play.
You can always store your clothes on it, or do sit ups when you're not testing out all the amazing sexy positions you can easily get into.

2. Liberator Wedge/Ramp Combo
One of the best bdsm toys for beginners this combination wedge and ramp lets you try virtually any position you can imagine. It's the next step on from the simple ramp.
It's designed for all sorts of play, and helps prevent back ache, cramp, and muscle fatigue during a steamy session. The height also helps access for oral, and the depth of penetration. It's a great piece of kit that you should try it out.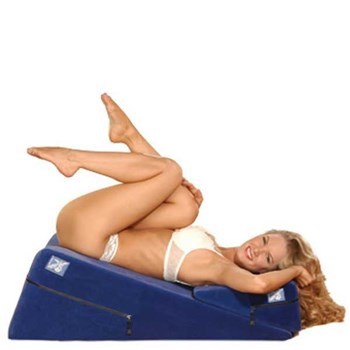 3. Liberator Obeir Spanking Bench
The Obeir Spanking Bench is the perfect way to act out those naughty schoolgirl fantasies. Haven't done your homework again – off to the bench! It includes four adjustable cuffs for bondage and even throws in an instruction manual.
Imagine reading that on the bus ride home. You'll be in such a state you won't even able to make a coffee without spilling it on yourself. Designed for dominance and control the Obeir bench is the perfect height for doggy style, and features loads of padded foam curves to make it comfy.
Who say dominance has to hurt your knees? Oh, and its cover zips off for washing. Result!

Sex Swings and Slings – Ideal for Reaching New Heights
Ideal for newcomers and seasoned S&M enthusiasts alike, sex swings allow you and your partner to experiment with a wide range of new positions.
With toys from basic to expert, there is something in this category for people of all skill and experience levels.  Sex is definitely more fun with these unique pieces of furniture, and we can help you find the one that is right for you.
4. Deluxe Fantasy Door Swing
This door swing is made of strong stuff – it'll take up to 300 pounds in weight and it's pretty simple to use too. You throw the straps and metal bars over a door top, and then close the door securely. This locks the swing into place.
Then you're off on a night of filthy exciting multi-position sex – all whilst hanging from the doorframe.
We're not going to lie, you will need some body strength to use this swing, but the good news is that it has a padded seat and foot-straps to help you. It's a great alternative to a full-on sex swing which requires set up time and permanent space. It's a best seller for exactly that reason.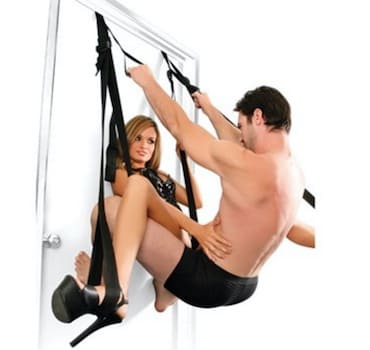 5. Fetish Fantasy Swing
This sex swing ticks all the boxes when it comes to free-hanging, easy position sex, not to mention all those acrobatics you've been thinking about since watching Tomb Raider. The swing is supported by a metal bolt that must be fitted into a ceiling beam or doorframe, after that the world's your oyster.
Sex swings bring a new dimension to doggy style and oral. It's great to control the level of penetration and thrust, rather than getting dictated to by the limitations of the bed or floor.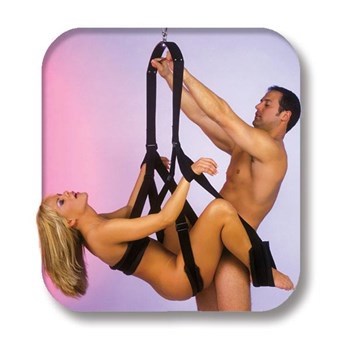 6.  Fetish Fantasy Spinning Swing
This spinning swing is a step on from the Fetish Fantasy Swing above because once attached correctly to a ceiling beam or doorframe, this swing rotates 360 degrees. Total freedom of movement awaits you!
It has supports under the arms, across the stomach or bum, and for each foot, ensuring you'll be safe if you use it properly. The straps are padded, which is good news because you don't want to be explaining nylon burns to your father do you?
With a weight limit up to 350 pounds this is a serious bit of kit for the bondage lover.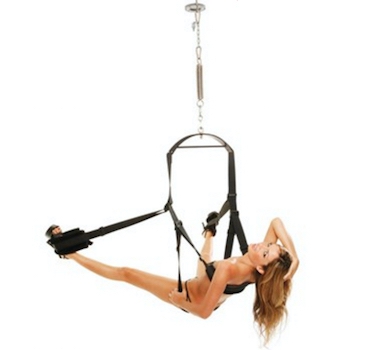 7.  Fetish Fantasy Bondage Swing
This bondage swing is a great piece of kit. You don't have to be a Russian gymnast to use it either, because the swing does the hard work. It'll take up to 350 pounds in weight with its metal and rubber constructions, whilst allowing you the freedom of movement you thought was only possible in the EU.
This is more than a swing because it incorporates elements of bondage – there are adjustable wrist and ankle restraints to tie you up in a variety of positions whilst swinging away. There are hours of fun to be had here, lock all the doors.

Restraints
Oh yes, restraints are the holy grail of bdsm toys. There are many different items for different kinks. Here are our top recommendations for bondage restraints
8. Under Bed Restraint System
The Under Bed Restraint System is both a kinky piece of bondage gear and the perfect way to disguise your naughtiness. Simply push the visible restraints back under the mattress when the in-laws come to stay.
The restraint system is simple. The main body lives under your mattress and the four restraints, one for each limb, are pulled up and over the sheets.
It's great for beginners as you can start by playing with lightly velcroed cuffs, before moving on when you feel more comfortable. The restraint system is flexible enough to allow leg shackles, handcuffing, and hog-ties if you want to venture further into Bondage World.

9. Hot Tie & Cuff Set
The Hot Tie and Cuff Set doesn't require any type of furniture for installation. You simply tie your partner up in knots anywhere you please – though a restaurant is probably not the best place.
It's made from strong stuff, and whilst not inescapable, it's not going to break on you. The star-shaped set-up belies what you can actually do with it. The basic hog tie is just the start because the connectors all unclip to form different positions. This is a recommended versatile piece of kit.

10. Fetish Fantasy Giddy-Up Harness
Wooah there horsey! You might gallop to a climax far too quickly with this bondage harness. It's made to restrain your partner, so you can ride them to your heart's content. A light bit of whipping with the reins wouldn't go amiss here.
The harness gives you a great grip and makes it easy to thrust hard. Your partner can't escape forwards because their shoulders are taking your weight. It's all round great for leverage and penetration. Team this with a whip and you're Ben Hur with less fake tan.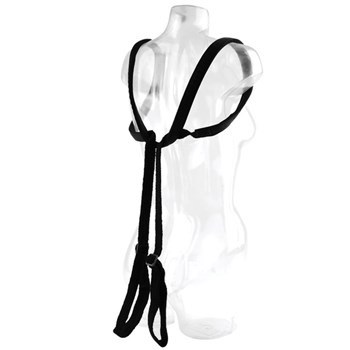 11. Fetish Fantasy Web Restraint
If a great view is your thing then you are going to love the Fetish Fantasy Web Restraint. Just like a spider you'll be able to prey on your helpless victim.
This web looks great, and it's made well too. The red and black neoprene restraint cuffs are adjustable, so they can be positioned anywhere on the web for extra stretch or access.
It's easy to fit too, which is just as well because your private area will go off like the Apollo space mission when this arrives. You simply put the red straps under any size bed mattress – and that's it. Voila. Sexy Spiderman adventures start and end here.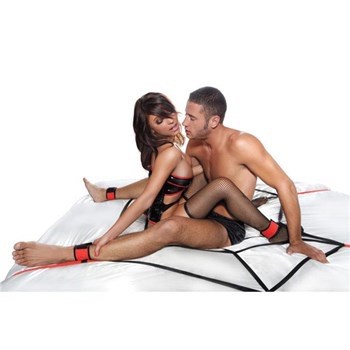 12. Heavy Duty Position Master
The Heavy Duty Position Master is perfect if you keep getting muscle cramps when trying out difficult positions. Don't book yoga classes, try this out instead.
This is a sturdy piece of kit for bondage fun. Not only does it tie up the submissive in a black-strapped naughty kind of way, it's resistance helps keep their muscles from seizing up. The harness doubles as grip for deep thrusting too, so lucky it's padded.
The harness clips into plenty of different styles so it's very versatile. This a harness for the more experienced bondage fan, it looks a bit intimidating, and has all the resistance you need.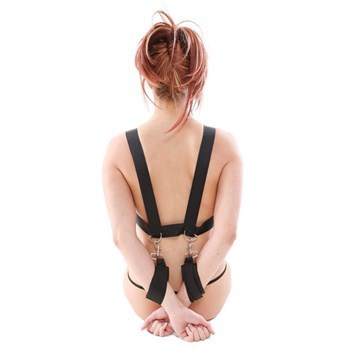 13. Sportsheets Expandable Spreader Bar & Cuff Set
A spreader bar is a rod that spreads legs or arms and keeps them firmly apart. They are pretty popular items and are easy to use. The great thing about spreader bars is that they provide resistance. That really makes it feel like you are unable to escape.
This spreader bar is made from 3 aluminium tubes that fit together providing a spread of 29″ to 37″ wide. There are Velcro cuffs for each end, or they can be used independently as simple cuffs.
Use this spreader standing up, lying down, hook it over the bedposts, or use it to lift your partner's legs up during your kinky games.
Spreader bars are simple and easy to use and store. They are a great intermediate product if you are bored of lacy cuffs and fancy something a little more hardcore.


Accessories
A great woman once said 'Accessories make the outfit – accessories make the bondage'. It was possible Hilary Clinton said it, but don't quote me. Here are some naughty accessories to spice up your bondage sessions.
14. A&E's Scarlet Bound to Surrender Cuffs
Whether rubber, metal or velcro, cuffs are integral to bondage play. Nearly every girl gets a pair at her bachelorette party, perhaps to signify her sex life is over (we are kidding folks!) but don't dismiss them as a joke item.
Cuffs can be used on the wrists and the ankles. Cuff your partners hands together, to the bed post, or to the kitchen sink depending on the slave task they have to fulfil.
The first step towards bondage is a pair of cuffs. Many are fail-safe to ensure you can get out in case of problems, such as A&E's Scarlet Bound to Surrender Cuffs. Safe and sexy.

15. Sex Mischief Bondage Tape
Some people prefer tape as a bondage agent, shunning straps and chains. Bondage tape generally sticks to itself rather than your skin, so you won't need to worry about an impromptu wax.
It's perfect for beginners looking for gentle bondage play and fetish looks. One thing's for sure you'll never look at sellotape the same way again.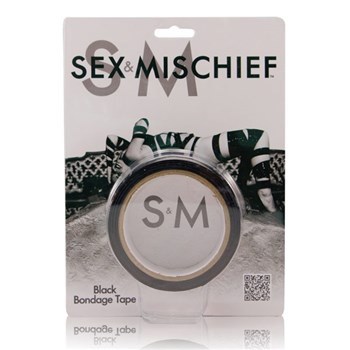 16. First Time Fetish Nipple Teasers
Nipple clamps feel like nothing else and certainly look the part, especially the First Time Fetish Nipple Teasers. A bit of bondage isn't complete with rubber and metal is it?
These clamps are a great buy because beginners can start off with low tension and the rubber tips in situ.
Experts can turn the tension right up and remove the rubber buds so that the metal is squeezing hard. Whatever your level of intensity, these clamps will push you over the edge.

17. A&E's Scarlet Spank Me Paddle
Faced with a bare bottom few of us can resist smacking it. It seems to be nature's way.
You can be gentle or give your partner a good smack with A&E's Scarlet Spank Me Paddle. It's 14 ½ inch long by 3 ¼ inch wide and has a 90 inch rope for bondage play. I like multi-purpose money-saving sex toys, so this gets my vote.

18. A&E's Scarlet Obey Me Blindfold
When you remove the sense of sight, it leads to the enhancement of other senses, especially touch. If you like BDSM you'll know that a spanking session is heighted with a blindfold.
It can be exciting to wonder what is coming next, or to feel you are totally in control of your partner. You could have a sneaky Cornetto too, and they won't even know.
A&E's Scarlet Obey Me Blindfold has good reviews, and it colour co-ordinates with the paddle above – if you are into that kind of thing.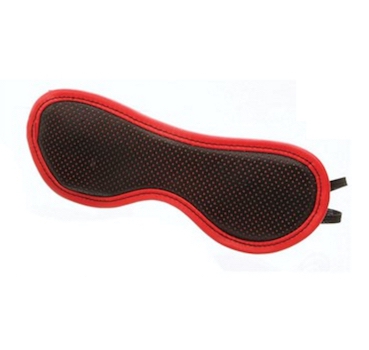 19. Fetish Fantasy Masquerade Mask & Ball Gag
Going a step further, gags are restraints that some people enjoy as an addition to their bondage play-set. A gag certainly sets the scene for domination play.
That black PVC look is synonymous with bondage. Both men and women can play with the Fetish Fantasy Masquerade Mask & Ball Gag.
If you don't want the ball gag, then try the Entice Open Mouth Gag. It's easier to breath, and your slave can poke out their tongue out when told.

Sex Machines – Automated Sex For Solo and Partner Play
Looking for the ultimate in solo play or a great way to add more pleasure for your partner?  Not designed for beginners, these sex machines are a great addition to any dungeon or bondage bedroom. Why not turn your house into the ultimate pleasure residence!
20. Robo Fuk Adjustable Sex Machine
Robo Fuk is such a great name we're tempted to buy it for that reason alone.
This machine looks great, and will make a kinky addition to any bondage games or BDSM play you can devise. These machines are for the seasoned BDSM pro, but that doesn't mean you can't have a play if you think it's for you.
They are pricey, though, so you may want to start on a manual version such as The Hot Seat Vibrator Sex Toy.
The Robo Fuk machine caters for men and women – whatever your preference. There are pocket pussy and penis attachments that thrust on the piston. The penis measures roughly 6 inches and the pussy is roughly 6 inches deep.
The machine plugs into the mains and is pretty light and portable considering it resembles a medieval cannon. These are modern versions of what you may have seen on your cousin's 'adult films' twenty years ago though! Technology has moved on.
Robo Fuk machine is multi-positional to hit the right spot too. If your partner is always too tired or finished after 3 minutes then this is the sex machine for you!

21. Fetish Fantasy Portable Sex Machine
Smaller than the Robo Fuk machine at 9 x 5.5 inches and weighing in at only 3 pounds is the Fetish Fantasy Portable Sex Machine. It is fully portable so of course, it's lighter. No matter though, because it has suction feet and foot straps to keep it close.
The piston attachments are a rubber dong and a G-spot dong. Thrusting speed is controlled by a dial and its mains powered. Cancel your date and stay in with Mr. Portable. Or introduce your date to him – you never know it might be the best night of your life!

The Lowdown – Which Bdsm toys Is Right for You?
| Best BDSM Toy | For You If |
| --- | --- |
| 1) The Liberator Ramp | You are looking for new positions or are new to BDSM |
| 2) Liberator Wedge Combo | You are looking to take sex to new heights- literally |
| 3) Liberator Obier Spanking Bench | You're looking for naughty tie-down positions |
| 4) Deluxe Fantasy Door Swing | You want a quick and easy swing |
| 5) Fetish Fantasy Swing | You're looking for a swinging good time |
| 6) Fetish Fantasy Spinning Swing | You spin me right round baby, right round |
| 7) Fetish Fantasy Bondage swing | You want inescapable kink with your swing |
| 8) The Under Bed Restraint System | You are new to bondage and want a quick set up |
| 9) Hot Tie & Cuff Set | You want an easy to use bondage set |
| 10) Fetish Fantasy Giddy Up Harness | You really want to be a naughty cowboy |
| 11) Fetish Fantasy Web Restraint | You like to tie up your victims and appreciate good design |
| 12) Heavy Duty Position Master | You want a tough restraint for experts |
| 13) Sportsheets Expandable Spreader Bar & Cuff Set | You're looking for portable resistance |
| 14) A&E Scarlet Bound to Surrender Cuff | You want quick and easy bondage |
| 15) Sex Mischief Bondage Tape | You're like bondage but don't like rubber |
| 16) First Time Fetish Nipple Teasers | You like to look the part |
| 17) A&E Scarlett Spank Me Paddle | You want to slap, smack and tease |
| 18) A&E Scarlett Obey me Blindfold | You like to enhance your sense of touch |
| 19) Fetish Fantasy Masquerade Mask and Ball Gag | You like dress up and quiet |
| 20) Robo Fuk Adjustable Sex Machine | You want all night long thrusting |
| 21) Fetish Fantasy Portable Sex Machine | You want a portable sex friend |
Bringing BDSM Into the Bedroom
Bringing BDSM into your sex life can seem intimidating for newcomers, but it can take a relationship to a whole new level.  Imagine letting your partner have complete power over your body or imagine taking complete control over your partner.
Whether you are experimenting with position play or tying one another up, BDSM toys can be a great way to boost intimacy. 
Of course, some couples are already experienced in BDSM and are looking to take things to the next level.
For some, this might mean buying a sex swing, dungeon bed, or other dungeon furniture, while for others it might mean experimenting with humiliation or torture play.  The options are limitless, and the right BDSM toys can make anything possible.
Whether you are looking to boost intimacy or to take a ride on the wild side, there are definitely BDSM toys adapt for you.  Let's take a look at what items are best suited to which lifestyles.

Best BDSM toys for Beginners:
If you are new to BDSM, the chances are good that you don't want your first purchase to be a complete dungeon set.  Below, you will find a few of our picks for beginners.  Whether looking at simplicity, ease of use, or beginner friendly setup, these pieces are great for those new to or just exploring the lifestyle.
1. The Liberator Ramp: Easy to set up and use, the Liberator is the best bondage furniture for the beginner to experiment with position play and light tether play.
2. The Under Bed Restraint System: Giving the look of a dungeon without the intimidation of serious dungeon furniture can be ideal for those just getting started.
3. A&E's Scarlet Spank Me Paddle: A great non-threatening way to get into domination play.

Best BDSM Toys for Advanced Users:
So, you already know all about BDSM toys including pussy pumps and inflatable butt plugs and you love them.  Well, then the picks below should definitely be on your wish list. These items are great for those who know their way around a set of tethers and chains and can be perfect for adding a lot more excitement to your play.
1. Liberator Obeir Spanking Bench: Punish your naughty partner on the bench. Can't stay still? Use the restraints.
2. Fetish Fantasy Bondage Swing: This sex swing is ideal for advanced users.  It's supportive, sexy and provides all kind of dominance play with ease of access.
3. Heavy Duty Position Master: Tough bondage restraint for those in the know.

Best BDSM Toys for Those Truly Into Kink:
If you know what you like and it is plenty of kinks, then these pieces are for you. Probably not for beginners or for those without ample experience in the lifestyle, these pieces are the kinkiest on our list.
1. Entice Open Mouth Gag Position: Lock your slave's head and make them lick whatever you want. They can't complain, because they are gagged. Great for masters of bondage.
2. Fetish Fantasy Spinning Swing: All the positions you can think of whilst your helpless victim is tied in. This swing requires dedication to the cause because it needs sturdy installation.
3. Robo Fuk Adjustable Sex Machine: Firm thrusting all night.

Best BDSM toys for People on the Go:
Sometimes, you just want BDSM toys that you can bring on vacation or to sex parties.  While there are ample options on the market, the ones below make the top of our list.
When you are looking for an item that you can just set up anywhere and find yourself ready for incredible sex, these options are perfect for you!
1. Deluxe Fantasy Door Swing: The perfect portable swing. This cracking piece of kit will fit anywhere there's a sturdy door. It might even get you that sale should you be at a conference.
2. Sportsheets Expandable Spreader Bar & Cuff Set: This spreader bar folds down into 3 pieces and fits inside an overnight bag, but be wary of flights – it's not something for hand luggage.
3. Fetish Fantasy Giddy-Up Harness: Easily packed and doesn't require any furniture to make it work. Don't forget your whip.
Bondage can be great fun. Dominance and submission is an age old game. You've only got to look at those old Greek vases to see how filthy our ancestors were.
If it worked for them, why not give it a go. Just remember to be safe, and if you are with someone else, make sure you both really want to play. If not, you can always have a hot night in with your mirror.
More BDSM Toys
Roundups
BDSM Furniture
Sex Machines
Pussy Pumps
Nipple Clamps
Guides
BDSM Guide

Sex Studies and Statistics
More BDSM Resources
Additional Useful Resources