Get your tits out, because the topic de jour is… a buying guide to the best nipple toys. When it comes to titillation, no matter what your pleasure may be: sucking, biting, licking, twisting, flicking– there is a titty toy out there with your name on it.
As a professional Dominatrix (yes people paid me to slap them, pinch them etc…) I have tested and tried so many toys for my nipples that I can recognize them with my eyes closed.
Top 3 Nipple Toys
Nipple Toy
Price
Information
Crown Chain
Best nipple clamps

Check Price
Length: 2.28 in
Width: 0.39 in
Long chain: 9.84 in
Short chain: 8.46 in
Perfect Pair
Best nipple suckers

Check Price
Allergens: Latex-Free, Phthalate-Free
Length: 2 inches
Material: Silicone

Nipple Teasers

Check Price
Length: 2.25 inches, 12.75 inches
Material: Rubber, Metal

With all the focus on clits, slits, and dicks, those sweet, tender nips can end up feeling a little left out of the –for some. For others, these love nubs above are the main event, and let me tell you, toy makers of the world are paying attention.
Listen, while some nipples get rock hard at the slightest breeze, others need some serious pressure to even take notice. Anyone who says titty play doesn't do much for them is either lying or hasn't had it done properly yet.
Every tit is a Goldilocks just waiting to get tweaked, buzzed, or sucked just right.
Whether you wish someone would bite the shit out of your nips or you just need a little titty buzz to get your cock rock hard, I've got your number– 19 of the best nipple toys in the world. This list covers every type of nipple toy in every price range.
Before we get started, though, just a quick bit of background on nipple toys– what they are, how they work, and why you need one.
What is a nipple toy
Nipple toys are designed to stimulate the nipple, duh. BUT that means different things to different folks.
Pinching: some toys are designed to simulate the sensation of pinching and come in a variety of pressures or are adjustable.
Sucking: these toys are designed to suck the nips, engorging them with blood and leaving them hyper-sensitive for further play.
BDSM: some toys are made for BDSM play and are intended to inflict painfully strong sensations, and others are intended to lightly stimulate and tease.
How they work
Titty toys come in many shapes and sizes, but can be broken down into 2 types: manual and electric.
Manual: these toys pinch or suck using hand-operated mechanisms.
Electric: this class of toys uses battery-powered electricity to suck, vibrate, or deliver a mild electrical shock.
How did we select and rank these sex toys
I've chosen a wide variety of the top titty toys in all categories to tease, delight and torture nipples of all shapes, sizes, desires, and price ranges.
If you happen to be sporting a pair of nipples– I don't care if they are teensy-tiny or shy and inverted– you will find something on this list that will tempt your sweet tits to indulge. That is a promise…and a threat.
Before you begin, yes, we're starting with the light stuff– nipple play gateway drugs– and moving on to the harder stuff. If you're into advanced nipple play, you may want to scroll down to some titty torture that's on your level.
Best Vanilla Nipple Toys: Level 1
1) Her Fantasy Vibrating Boob Suckers
What's so special about it? This is a gentle, sexy nipple sucker that is perfect for folks who just want to dabble in some light-duty nipple delight. If your nipples are extremely sensitive, this might be all the nipple play you need.
I'm gonna level with you: serious and prolonged nipple clamping, pinching, and sucking can change your nipples forever (which is exactly what some people want), but this particular toy can't do that.
I personally prefer nipple play on the harder side, but a little simulated sucking is always welcome. You'll probably want a little lube to make the suction extra-secure, but remember not to use silicone lube on silicone toys– it can degrade them over time.
Slap these suckers on them titties and turn on the vibe for a succulent sensual experience. If these are taking care of sucking my nipples, that means my lover's mouth is free to roam. Yes, please!
The tech stuff:
Length: 3 inches
Width: 2 inch
Waterproof Silicone
Battery operated- one AAA battery each
Electric
Sucking
2) Perfect Pair Purple Silicone Nipple Suckers
What's so special about it? These little suckers may look subtle, but once you've applied a dab of water-based lube and attached them to your teats, the sensation will drive you wild.
I'm not crazy about my tits wearing clown-noses, but my rock hard nipples beneath these bulbs make me forget about how they look pretty quickly. And once that sweet titty teasing has your pussy sopping wet, let's just say you wouldn't be the first lady to stick this sucker on your clit.
The suction will engorge your nip-tips, leaving them juicy and ready for more fun when you remove them– if you do.
This is the simplest multi-purpose titty toy around– use them to coax out shy, inverted, or tiny nipples and get them plumped-up enough for clamps, leave them on to use as "nip extenders" to amplify sensations, or use them as handles that can be tugged, tapped or rubbed.
The tech stuff:
Length: 2 inches
Width: 1 inch
Waterproof Silicone
Manual
Sucking
3) Mini Nipple Suckers
What's so special about it? These nipple suckers are the smallest, least expensive tit-teasers around. Unlike the previously listed pair, these are dare I say…sexy! I prefer the look of hard, hot pink "party hats" to the clown nose look, but that's just me.
They are closely contoured enough that you could probably manage to slip them on under a padded bra and a loose blouse at the office and make everyone wonder, "what is she so damned happy about?"
You know the drill: with a lick, suck, or a touch of lube, squeeze the air out, stick to your nips and let these suckers work their magic. Great for solo play, you can set it and (definitely not) forget it while you work yourself up to climax with your hands and other toys.
These might not work for extra tiny nipples, but I suspect that where there's a will to cum there's a way.
The tech stuff:
Length: 1 inches
Width: ¾ inches
Plastic
Manual
Sucking
4) Fifty Shades of Grey Sweet Tease Vibrating Nipple Clamps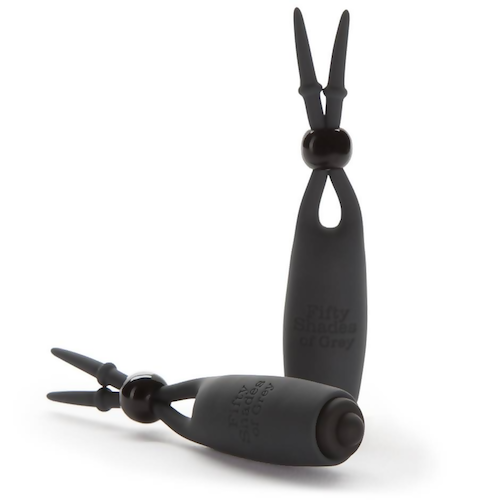 What's so special about it? Here we go again with the bunny ears. So, I know this is supposed to be a super-luxury toy, but only if you can get over the bunny ears, which more or less make your nipple look like a throbbing, sexy…bunny schnozz.
As one might expect from a Fifty Shades of Gray branded sex toy, this one is totally soft core. The super luxe silicone body is enough to give your titty tips a light pinch, but nothing more. The vibrations will get you going, and might be enough to get you all the way there.
Definitely a beginner's toy, but we all gotta start somewhere.
The tech stuff:
Length: 4 ½ inches
Silicone
Battery operated: 3 x LR41 batteries (12 included)
Electric
Pinching
Best Nipple Toys for the Adventurous: Level 2
5) Kinklab Nipple Suckers
What's so special about it? The fact that I can see my nipples getting sucked into this sucker, one twist of the screw at a time is super-hot. I mean, this is the perfect toy for someone who loves the slightly painful feeling of deep suction and wants to take it to the next level.
It looks like something Dr. Zoidberg might use, but if medical role play is what gets you wet or gives you wood, then this baby is just what the doctor ordered. This is the kind of intense, prolonged suction that wet dreams are made of.
The tech stuff:
Cylinder Height: 2 ½ inches
Cylinder Width: 1 ¾
Length fully extended: 5 ½ inches
Manual
Sucking
6) Hi-Beam Vibrating Nipple Pump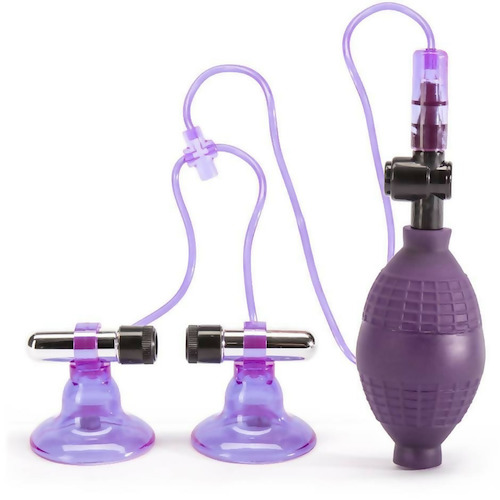 What's so special about it? This is the holy grail of nipple suckers: the hand held pump controls the suction, and bullet vibes give your hot, hard nipples a buzz while they are in a state of high arousal. Also, it just looks so cool, and glows in the dark.
I don't know about you, but having permanently bigger, more sensitive nipples is on my bucket list. The only problem is knowing how to accomplish this goal. This, my friends, is the right tool. Those shy, inverted nipples can be permanently reversed with this titty-teaser.
Train your nips to reach out and touch the stars.
The tech stuff:
Diameter: 2 inches
Jelly rubber
Battery operated- 6 x LR44 Batteries included
Manual/Electric
Sucking
7) Nipple Play Nipple Teasers
What's so special about it? If you love having your nipples pinched (really, who doesn't), then this hot pink puppy can give you what you need. It's doing a lot of things at once: applies a pre-warmed, adjustable pinch to your love nubs (yes, you can use it on any nub) and vibrates the shit out of them.
I'm gonna be honest though, the appearance is a little like some sort of contoured mp3 player, and those wires are not going to make this toy very useful once you move beyond foreplay. That said, I can see this being a fun appetizer before an explosive main course.
For someone who can get off on nipple play alone, though– this might even be the main course.
The tech stuff:
Length: 1½ inches
Width: ¼ inches
Plastic with silky finish
Battery operated: 2 AA batteries (sold separately)
Electric
Pinching
8) Nipplettes Vibrating Nipple Clamps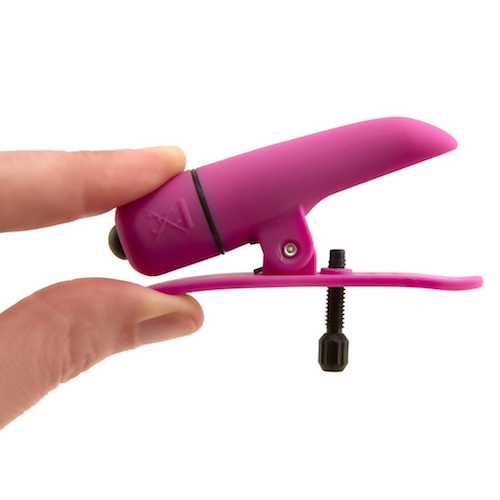 What's so special about it? I love vibrators and nipple clamps, and this brings the two together into one package that is simply delicious. The plastic is soft, making the pressure of the clamps completely bearable for as long as you want to wear them.
Unfortunately, with the vibration going, it's impossible not to cum super-fast, so if you're like me you won't be wearing them for long.
This is a perfect toy to share, because all the things that make them amazing for the ladies also will drive dudes over the top, and fast. Plus, they're cute and hands-free, so you can let them do their thing while you work on other activities.
Bonus points: if mom comes over and sees them, they literally look just like something you might use in the office. What she doesn't know won't hurt her.
The tech stuff:
Length: 3 inches
Smooth coated plastic
Battery operated: 6 x LR44 batteries included
Electric
Pinching
9) Fifty Shades Darker At My Mercy Beaded Chain Nipple Clamps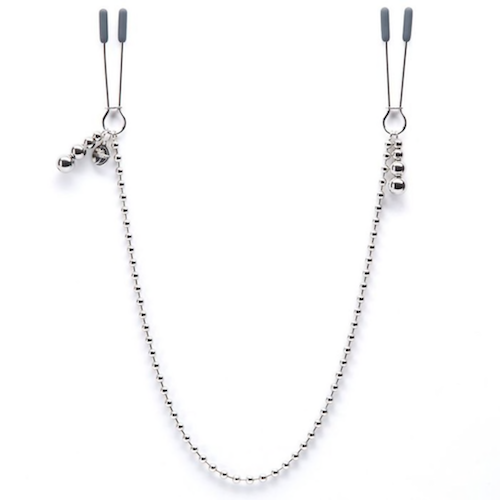 What's so special about it? I know that some incredibly lucky people can orgasm from nipple play alone, and I'm only a little jealous. If I were one of the Chosen Ones, this would be on the top of my list of toys for getting myself off.
Totally intermediate-level titty torture, the adjustable clamps and weights are enough to provide killer stimulation on their own, but add in the chain and now you have something really special.
This is a ridiculously sexy look to wear around the house for yourself or your domme. The chain makes it easy to tease, torture, or just remind a partner who they belong to.
The tech stuff:
Length: 19 inches
Silicone/stainless steel
Manual
Pinching
10) Steel Shields Screw Body Piercing Circle Clamp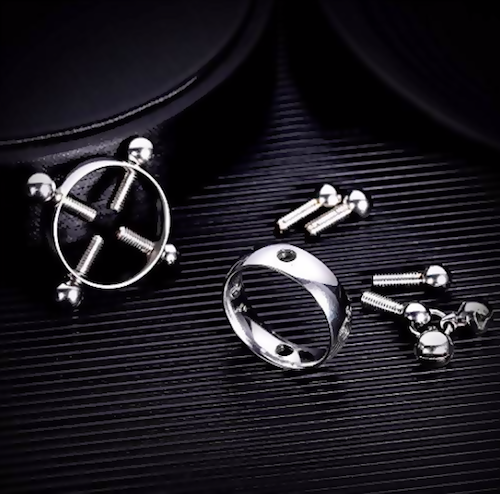 What's so special about it? Having pierced nipples is edgy and sexy, but also a huge pain in the tits, haha. But really. These nipple clamps are just good wholesome fun for nipples that don't have any holes but wish they did.
They come in two different sizes to suit nips large and small, and are fully adjustable. And they come with a bell option, and you know how I feel about bells (really good).
I personally can see wearing these under my clothes and turning the screws gradually to add a little spice to my day before I head home and pour some spicy hot sauce on my night.
These have such a sexy look, and the way they frame and position the nipple definitely invites plenty of highly-sensitized play.
The tech stuff:
Diameter: ¾ inches
Stainless steel
Manual
Pinching
Freaky Nipple Toys: Level 3
11) Chain Me Up Kink Clamps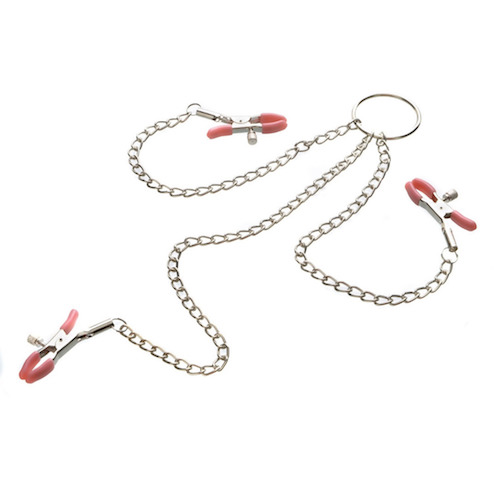 What's so special about it? These clamps are all adjustable, which means you can make them just barely pinch or tweak so hard you'll see stars. Also, there are three of them, so you know what that means– no clit is safe, even if both nipples are already on lockdown.
This is for all those greedy little gluttons who always wished that they could put a clamp on their clit or dick without having to take any of the pressure off their tits.
And if having all your bits pinched at once isn't enough to make you cum, the convenient ring in the middle of the chains is just right for some sweet little tugs. If this doesn't pinch and pull you over the edge, I don't know what will.
The tech stuff:
Chain Lengths: 12 inches
Clamps: 1 ½ inches
Rubber
Stainless steel
Manual
Pinching
12) Sportsheets Collar with Nipple Clamps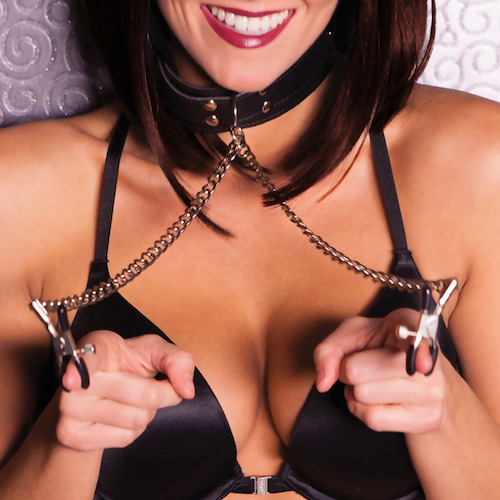 What's so special about it? This collar is made of luxurious leather and has clamps at the end of chains, which takes the weight off and helps them stay on while you do…whatever freaky thing you feel like doing with these clamps on your tits.
This is the perfect accessory for when you want to show your playmate just who is in charge, and make sure their nipples don't forget it, either. For role play or BDSM, a collar is pretty much required, but the nipple component adds a ridiculously hot element into the fun.
Without the weight of the chains pulling on the clips, these stay on during even the roughest ride. Giddy-up!
The tech stuff:
Collar Length: 12 ½ to 17 inches around
Chains Length: 10 ½ inches from collar to clamps
Vinyl
Stainless steel
Manual
13) Nipple Clamp with Bell
What's so special about it? It's an adjustable nipple clamp with a bell. If that doesn't get your creative (and other) juices flowing, then I'm sorry about your vanilla sex life, and we need to talk.
Listen, this is a deceptively simple toy that is potentially SO much fun in so many different ways.
Does your sub need to serve you? How about some delicious dinner in bed? Ding! Do you need your sub to play jingle bells with her titties? Shimmy time! Is your slave misbehaving?
Grab your riding crop and ring her bell! And while you're at it, you could attach that clamp to anything else that protrudes…
The tech stuff:
Length: 2 ½ inches
Silicone/stainless steel
Manual
Pinching/BDSM
14) Bondage Boutique Squeeze and Tease Nipple Clamps
What's so special about it? I had to include them because these are the ONC– the original nipple clamps.
If you stepped into a time machine that took you to a leather bar in the 70s, I guarantee you that half the daddies there would be sporting a pair of these clipped onto their suspenders, waiting for their next victim.
I love these clamps because they are simple, classic, and deliver the goods: exquisitely intense nipple pressure with a sexy, elegant design. These are definitely not for beginners, but they are for nips that can't get enough strong, steady pressure and an occasional yank of the chain.
Plus, they are stylish enough to wear around the house when you are just feeling frisky.
The tech stuff:
Length: 20 inches
Stainless steel
Manual
Pinching/BDSM
15) Turning Point Nipple Clamps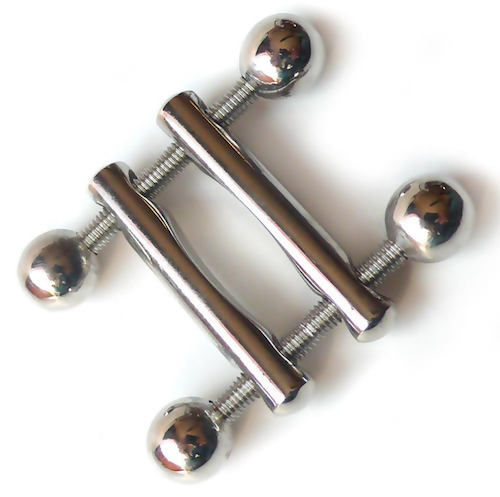 What's so special about it? These nipple clamps are so classy and well-designed that I would be tempted to wear them to the pool. Is that creepy? Probably, but just look at them. It's as if John-Paul Gaultier designed this gorgeous device to enslave the nipples he just set free.
The opposing screws tighten, pulling the bars closer together and putting deliciously deep pressure on the captive nip. This might be a little tricky with very flat or tiny nipples, but as long as you have some sort of suctioning device to perk them up and get them erect, you should be good to go.
The tech stuff:
Length: 1½ inches
Width: 1 inch
Manual
Pinching
16) Electric Shock Climax Nipple Stimulator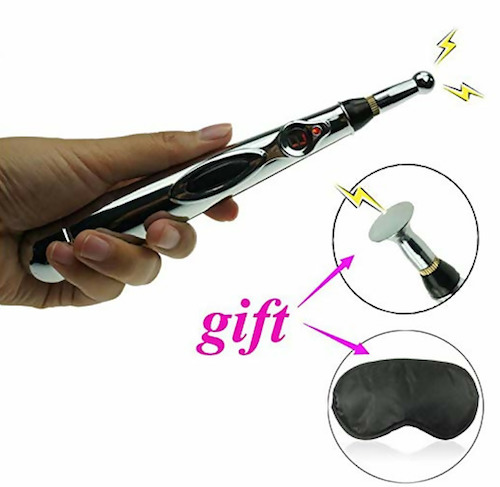 What's so special about it? This sleek, well-designed device is a delicious way to dabble in electro-stimulation, or e-stim. Small enough to fit in a breast pocket, powerful enough to bring you to your knees… and who knows what you'll do while you're down there.
If you're curious about e-stim but have always been afraid to try, this is an entry-level toy. The current is gentle but adjustable, and for those stubborn nipples that don't love pinching or sucking (I know, do these nipples even have a pulse?) this might be just the thing.
This device has the subtlety of an electric toothbrush, but will put you on the train from Tingletown to Cumville and back again.
Bonus points: comes with a kinky eye mask so that you can tease and torture your playmate without them seeing the evil grin on your face.
The tech stuff:
Length: 7 inches
Width: 1½ inch
Hypoallergenic plastic
Battery-operated: Double A battery included
Electric
BDSM
Totally Crazy Tit Torture
17) Magnus Mighty Nipple Orbs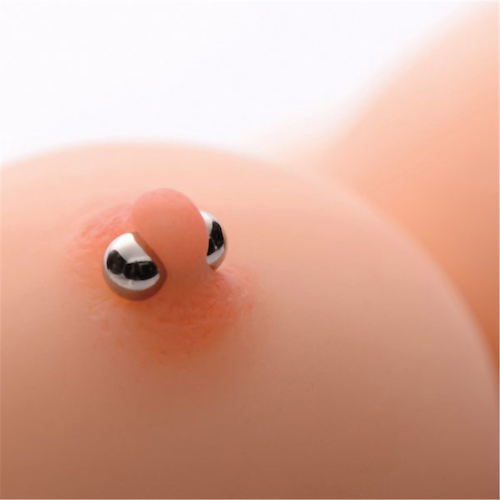 What's so special about it? Okay, these may look cute and sexy, but they are vicious and expert-level pain slut titty masochist I mean that. These are so intensely magnetic that you could wear them on either side of your hand, for crying out loud.
So, if you find that moderate nipple clamps just leave you wanting more, then this is the answer to your tit's prayers.
Easy to use, just stick them on either side of your nipple and melt into the mind-bendingly, intensely arousing pressure. Only the most hardcore titty torture enthusiasts are able to take these tiny but powerful pinchers on their throbbing nips for long.
In other words: beginners beware. Don't try this at home unless you want to be scared off from tit play, which would be a tremendous loss.
Leave this toy to the pain pros whose desensitized bits "can't feel" light clamps and vibrations. Bonus points for versatility– you can place these on either side of any appendage. Use your imagination and you won't be disappointed.
The tech stuff:
Length: .37 inches diameter
Metal coated magnets
Manual
Pinching
18) Tit Tuggers
What's so special about it? Looks like a medieval torture device and feels…like a medieval torture device. What's not to love? Seriously, if you've ever had any medical fantasies, or if you just fucking love the feeling of your nipples being tugged so hard it feels like they're going to be torn off your body (yo, don't judge), then this is the stop where you get off.
And you are gonna get off so good.
The stainless steel clamp is clipped onto the nipple, clothespin-style. The clamp is on a stem that passes through a hole in the frame with a wingnut on the other side. The beauty of this design is that you can increase the intensity of the pull on the nipple as much or as little as you like.
Unlike any other toy I've showcased here, this one pulls the nip away from the body, stretching it out. Folks into hardcore nipple play, stretching, and training are not going to want to pass this one up.
The tech stuff:
Total length: 6¼ inches
Diameter: 2 inches
Stainless steel construction
Manual
Pinching/Pulling/BDSM
19) Hot-Electric Handheld Massager Ring Electro Expander Massagers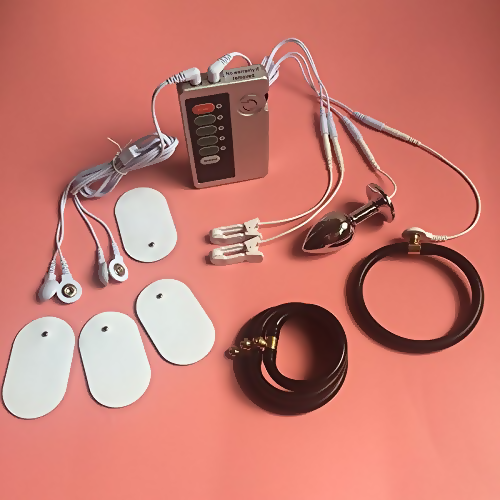 What's so special about it? Some like it hot, like really, really hot, as in live wire hot. I had to include this toy because no nipple toy toolbox would be complete without a device capable of generating a mild electric shock to your sweet titties.
And quite frankly, if you look at the set of fittings that come with this e-stim unit, there isn't an appendage or orifice this unit isn't ready to deliver a jolt to.
Just clip the electrodes onto your nipples and let the juice flow! I know this is not everyone's jam, but if you're hot and bothered at the mere mention of voltage, then this is definitely the toy that will complete you.
The tech stuff:
Length: 7 inches
Width: 3 ½ inches
Battery powered: takes 2 AAA batteries (batteries not included)
Electric
BDSM
Why you need a nipple toy?
Because having your nipples played with feels fucking awesome. Some dudes won't admit it (or don't know it yet), but given an opportunity to play with some of these toys will blow their minds–and probably their loads, too.
Plenty of women can cum with just nipple stimulation, so this is a useful tool in the couple or solo toolbox.
Thanks to the wide array of nip-centric toys on the market, you can choose from toys that look discrete and subtle to over-the-top high-drama. As far as sensations go, the range varies from lightly teasing entry-level sensation to mind-bendingly intense, depending on what your nipples are asking for.
Titty Takeaways
If you were under the impression that nipple play was just a little pinching, licking, licking and sucking, it should now be clear to you that your imagination was barely scratching the surface of what tit play looks like.
No matter what size, shape, or level of sensitivity, there is a nipple toy out there that can satisfy any nip's needs. The world of tit-torture is about the journey, not the destination, although a screaming orgasm is a pretty great place to land.
If you've never put much thought into turning your tits into an entree instead of an amuse bouche, it might be time to rethink your erotic menu. Whether you're having a dinner for one or a big group feast, there's always room at the table for a little–or a lot–more titty time.