We've reviewed the best sex toys for couples. The following couples' toys are easy to use, great for beginners and are non-intimidating. Enjoy!
Coupling up with someone is neat. But what happens when you get stuck in a rut? How do you ride out? By binge-watching porn? Cueing up the latest episodes of your favorite romance shows? (Nuh-uh!)
Well, here's an idea: Test the waters with a couples' sex toy and explore your body as well as your partner's.
I've always maintained that toys not only enhance your climaxes but add more excitement to couple play. And they're handy in any affair. Whether you're looking for some extra fire or trying to bridge the gap in an LDR.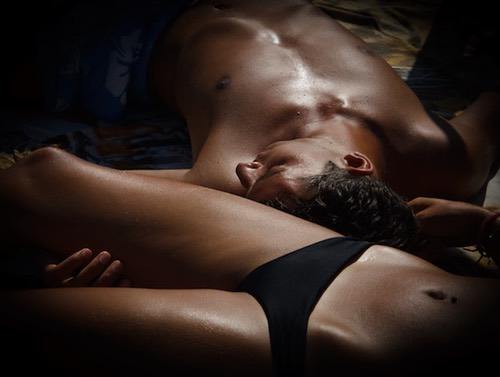 We're here to find the right couples' sex toy for YOU. So, stay with me here as I go through 18 best sex toys for couples that'll intrigue you two.
Best Sex Toys for Couples: Ranking Factors
Before we proceed, let me share the 6 criteria I considered when cooking up this list:
✔︎ How pleasurable it is for you and your partner
✔︎ How comfortable it is to wear during couple play
✔︎ Are the materials safe for couples' use?
✔︎ How long the couples' toy will last
✔︎ Its aesthetic appeal
✔︎ How versatile it is in terms of foreplay and interplay
The 18 Best Sex Toys For Couples
With each toy, there'll be some reasons why I'd recommend it to you and otherwise. (After, let me know what tickles your pickle.)
1. Bionic Bullet 5 Function Vibrating Rabbit Cock Ring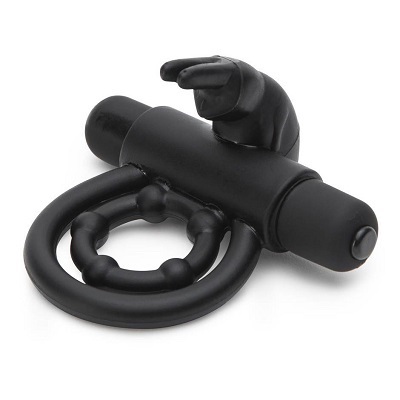 Best for couples that want to share climax without too much BS
The thing with lovers using a cock ring is, you won't feel much difference. At least that's my experience with most cock rings. But this. This offers something new. A cock ring that doubles as a vibrator for both the clit and the balls. (Pretty well-thought-out.)
Spontaneous fun's at your disposal with this waterproof couple-friendly toy. It packs a powerful punch for everyone. The bullet itself is detachable, so you can have fun with or without. Next are the stretchy twin-rings made of soft, body-safe silicone — they're pretty roomy for most girths.
Remember versatility? Well, the triple-A-powered bullet offers 5 vibration settings that further pair exploration. You can have constant medium-speed vibrations for foreplay, and delight each other with escalating oscillations and short pulses during interplay.
Delve into varied sensations and find the settings that work best for each position. Did I mention it's discreet to play around with?
Why'd I recommend this to you?
A favorite type of couples' sex toys. You get sensations that buzz you two simultaneously.
Once on, this bad boy won't move or slip off.
The bunny ears are positioned perfectly to touch your clit with heated thrills.
Quiet despite its powerful 3-pattern, 2-speed vibrations.
It spots a soft, stretchable silicone build that's easy to clean.
Why not to recommend?
Awkwardly-placed button makes it difficult to reach during use.
Well-girthy dudes may find it difficult getting into the loop.
2. Nu Sensuelle Point 20 Function Rechargeable Bullet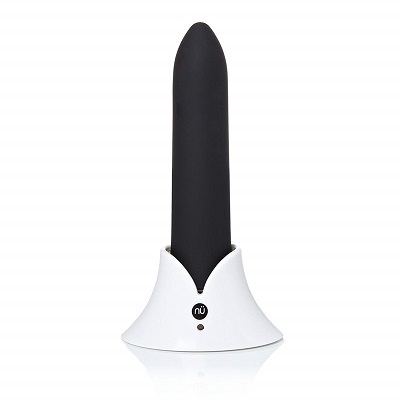 This is a sex toy for cool couples looking for something minimalistic
For most women, vaginal stimulation alone won't cut it. I, for one, must excite all that highly-sensitive clitoris to push me over the edge. That's why bullet vibes are a must-have in any gal's collection. If God forbid, I'm to own one fuck-toy, my money's on a bullet.
Their tiny size means you can carry 'em wherever you go. This particular playmate sits nicely between me and my OH when we hump.
Riding solo or bringing your man in as he penetrates you simultaneously, it's unlike any other. This neat bullet sends concentrated vibrations to your lovebud — 20 of them! It ain't all good, though; the lowest vibration mode could be 'way too intense.'
One reviewer actually couldn't use it. So, you wanna kick off with the lowest setting and experiment till you find the right thrill for the right moment. Another interesting way to use bullet vibes is with vibrating panties.
One thing I did find strange with this little devil was the LED light — it can be too bright. If you're hooked regardless, it comes in black, pink, silver, purple, and tiffany blue. You could otherwise grab the one with textured tips.
Why'd I recommend this to you?
Compact-sized for noninvasive couple play, plus mobile.
It's pretty powerful and versatile for that size.
Capable of giving nipples, feet, inner thighs, his shaft, and other sensitive zones a real workout.
It's rechargeable via USB.
Comes with a cool-ass charging stand. Just plug in the base and you have 1-2 hours of play after a full charge.
Why not to recommend?
After a while, it either stops holding a charge or the charging port stops working. The charger could also die in no time. (Cleaning the connectors should fix that.)
It's neither waterproof nor splashproof.
3. Wild Weekend Mega Couple's Sex Toy Kit (11 Piece)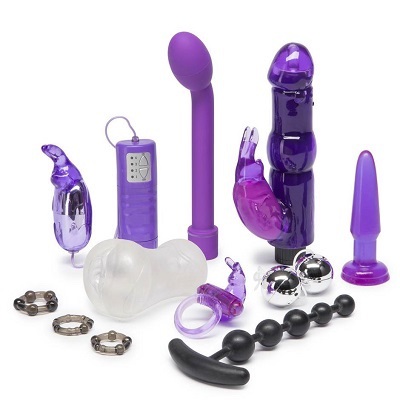 As far as intimacy goes, sticking with a routine isn't my thing. I don't suppose you get down like that either. So, why not make this weekend the wildest one yet? With 11 hand-picked toys, you've got options for nights and nights of fresh fun — not just one weekend.
A variety pack of fascinating goodies for you, for him, and for both of you to have some action-packed frolic. Depending on the mood, of course.
It's the perfect couples kit to experiment and explore together, especially if you're new. Experience novel paths to pleasure and find out whatever floats your boat as a couple.
Add a touch of diversity to the bedroom with an ecstatic mix — a G-spot vibe, bunny ears, a male stroker, jiggle balls, cock rings (a rabbit one and a set), anal beads, a butt plug, and a bunny vibe.
Every piece is simple to use, and they're sure to uncork a massive bottle of memorable climaxes. Yeah, if I showed this to my man, I'm sure he wouldn't be able to resist.
Why'd I recommend this to you?
Packs everything you need to start in one bag. You'll struggle to get bored.
A real bang for your buck — 11 exciting toys for like half the price.
It's a great way to build your collection.
The fun's in going from one toy to the next, unaware of what pleasure awaits.
It's suitable not only for couple play, but your solo times will also ginger up.
Why not to recommend?
Some of the toys may be useless for well-girthy guys.
4. Fleshlight Launch & Kiiroo Pearl2 Couples Set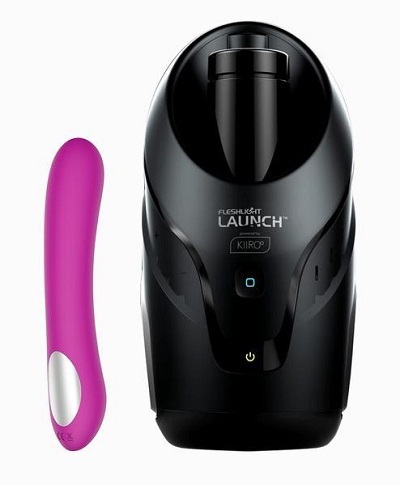 Branded as the ultimate solution for LDRs, this couples' set tries to bridge the gap. And it does a great job reducing distance disparities. This remote controlled sex toy is made of a male stroker and a vibrator that use the Internet to enable interactive pleasure whether you're in the bedroom, separated by a wall, or miles apart.
And coming from someone who's been in two LDRs (boy, were they boring, sheesh!), these toys could've been a real lifesaver.
Make your wildest fantasies a reality despite the difference in distance. Both teledildonic devices are designed to turn solo play into couple play by sending/receiving haptic signals. Plus, they're pretty good to look at.
What you get is intercourse simulation that's as close as doing the business. Either of you can take charge of how the Pearl2 vibrates your G-spot via the touch-sensitive technology.
As for your man, he'll be getting a real thrusting treat as the Launch strokes his member gently. He could rather go hardcore — the stroker delivers up to 180 automated strokes in 60 seconds.
Why'd I recommend this to you?
Enjoy real-time sensations as you feel your partner's actions no matter the distance.
Access to FeelMe™, i.e., erotic interactive content (such as online porn, VR, video games, and live webcams) that puts you in the moment.
You can control the length and speed of automated strokes, without the Launch making noise.
Depending on your Fleshlight, the Launch fits most cock sizes.
The Pearl2 is 100% waterproof.
Why not to recommend?
The Launch needs a Fleshlight/Fleshjack to work and there's none included, which means extra $$.
Connectivity issues. You'll have a hard time orgasming when securing a connection becomes a Herculean task.
5. Booty Bliss Vibrating Beads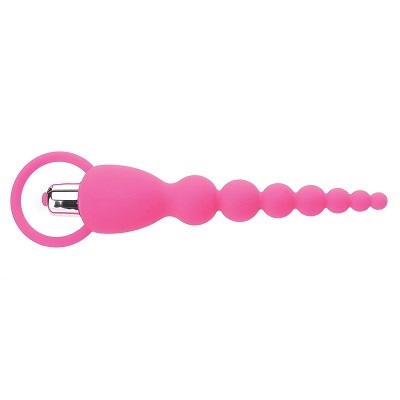 Ah, anal beads. What a great place to start your butt journey. Simple yet effective. Lube up that ass, slip one in, and you'll have the time of your life. The Booty Bliss Vibrating Beads feature a removable bullet to add gripping sensations to the equation.
There are 7 functions to switch up the pattern and speed until you wow. It's perfect for training your tushie for constant stimulation. And I mean that for both you and your partner, whether you're fucking a man or woman.
The vibrating stick is 6 inches long to give some serious reach. And the beads graduate from .25″ to 1″ wide so you can start with the tip till your arse can take more.
It's made of 100% silicone that makes it easy to clean and safe for your body. They're pretty easy to control/remove too, thanks to the retrieval loop in its base.
Why'd I recommend this to you?
Removable vibe lets you enjoy backdoor entrance with or without.
Not too big. Not too small. Perfect for starting your butt journey or furthering it.
You get intense vibrations and pulsations with varying speeds to spice things up.
It offers whisper-quiet action.
Why not to recommend?
The vibe uses watch batteries, which is kinda old-school for a playmate, don't you think?
You can't walk around while wearing this, which isn't a problem if you're restricting it to couple play.
6. Aneros Helix Syn Trident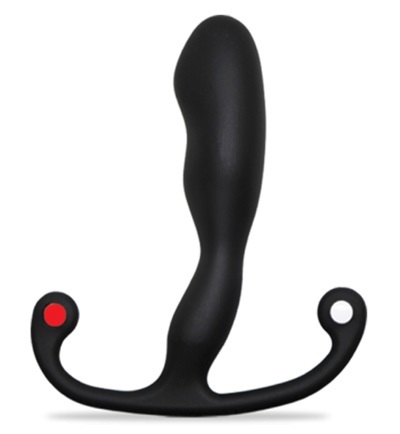 With regular prostate massage, blokes tend to cum harder and enjoy sex more. Isn't it wonderful that more straight men have stopped blackballing anal sex?
Here's a cute 4-inch butt toy, folks. You won't be needing half of your lube to get this one up your bum. It's great for starters — nonintimidating, cheap and cheerful. The Aneros Helix Syn Trident can satisfy your hunger for prostate stimulation or anal play in general.
Shaped and angled to rub against his insides while fitting snugly, watch as he cums more explosively with this hands-free playmate. Just stick it in, and within minutes, stirring waves of pleasure rush down his spine.
Hell, he could start his journey to the super-O — a full-body climax that comes with a longer-lasting feeling of bliss.
One letdown, though, is its lack of motorized vibration. You instead must move your body around, and even exercise your kegel muscles, if you don't want a lame result.
Why'd I recommend this to you?
It's contoured and angled to hug the prostate gland with a soft and tactile grip.
Its skinny base lets you enjoy prostate massage comfortably for as long as you please.
The U-shaped handle offers secure handling and insertion.
Your hands can handle other business while having hands-free orgasms on repeat.
It's nonthreatening for those new to prostate massage.
Why not to recommend?
Its narrow shape may not be for those heavily into prostate massage.
It could take some time to find the sweet spot with this stimulator.
7. We-Vibe Melt Clitoral Stimulator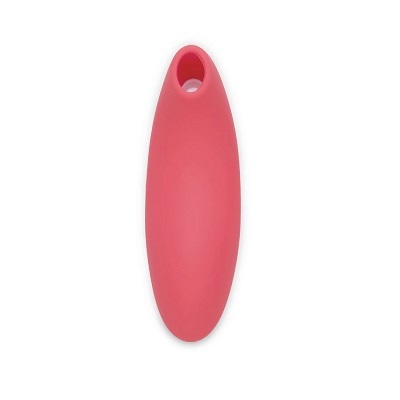 As couples around the world embraced the Sync, We-Vibe sat there contemplating their next gem. I reckon they came back with this. Yeah, this will make you melt. The vibrating suction head knocks my clit into a trance of multiple orgasms, just minutes apart.
It first builds a seal around your jewel, and then blow air pulses at it.
This clitoral vibrator is custom-built for couple play. That's seen in its slender shape that allows perfect fit between you and your S/O. It also connects to the We-Connect app, much like the Sync.
Your partner can control it via the user-friendly app or just stick with the controls on the handle. There are 12 vibration strengths to keep the fun going.
During interplay, the buttons can be reached and are easy to navigate. Next is its discreet action. It's not whisper-quiet, but you won't have to worry about a housemate looking at you with a disgusted face.
Why'd I recommend this to you?
Pleasure Air™ surrounds your happy button with sensations that feel like pussy-eating. (Great living in the 21st century, isn't it?)
12-level suction power keeps you coming (back) with or without him.
Controllable with phones so your man can run the show anywhere.
Curved to fit your hands and sit well between you two.
It's incredibly easy to use and pretty easy on the eye.
Some lovely bonus: a sachet of lube and a silky satin drawstring bag.
Why not to recommend?
Sadly, it's one of the noisier ones I've used… but I'll still use it.
The We-Connect app can be buggy at times, notably over long distances.
The suction pads cannot be replaced. So, if it doesn't fit around your clit size, this ain't it, gal.
8. Vibrating Inflatable Butt Plug 4.5 Inch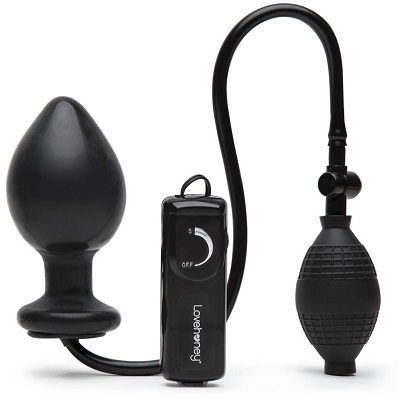 There's many ways to use a butt plug. Unlike your regular plug, this 4.5-inch bad boy can go from 5″ to 9″ in circumference via a hand pump. And if your insides are stretching beyond limit, just press the side valve for quick deflation.
This allows you to safely stretch yourself and push your boundaries as well as your man's. Open new horizons as he helps you with both anal and vaginal training so you can learn to take the full load that you deserve.
With this inflatable butt plug, you can start small and, as the vibrations deliver pleasurable sensations, pump it up for a full-body outburst. The higher you pump, the fuller the pleasure. I like that the waves are customizable to your liking.
Whether you want gentle tingles or shaking quivers that resonate deep in your anal cavity. Mess around with the intensity and speed to find out what feels right in different scenarios. And if you wanna go all the way, let the toy stretch your butt while you get penetrated at the same time.
Holy moly!
Just don't forget to lubricate. Without lots of lube, this toy can be painful/uncomfortable for anal amateurs.
Why'd I recommend this to you?
With a few pumps, this toy can fill your butt to the brim.
If it's inflated beyond pleasure, there's an air release button to deflate it immediately.
So versatile, it can be used in both holes and by both couples.
It's comfortable to insert/remove and sits snuggly once inserted, thanks to the tapered tip and flared base.
Vibrations stimulate your butt for added sensations, and there's a range of speeds to explore. Or just turn it off.
Why not to recommend?
It can't resist the ingress of water.
It uses double-A batteries and a wired controller.
Made of rubber that contains latex.
9. LELO TIANI 3 Luxury Vibrating Gold Couples' Massager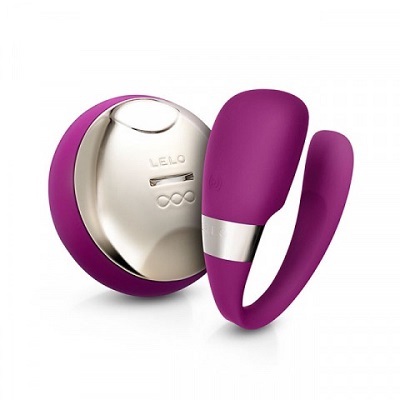 Partnered play gets juicier with the Tiani 3 — a remote-controlled massager tailored for the luxury couple. Its ravishing design makes it nonthreatening to integrate into pair play.
Considering how that could go for couples, this toy's not afraid to amplify the pleasure you derive from your partner while keeping an amazing aesthetic appeal. A sexy, velvety body made of supple silicone that can sit on your cabinet without raising eyebrows.
Talk about function, this lovely toy delivers. You get simultaneous internal and external vibrations that can be controlled by you or your partner.
What's more, the internal vibrations will put your man in a sweet groove as well. Its controller offers 4 vibration modes, and the toy itself spots a navigation button for another 4. Making 8 patterns and speeds of stimulation to get you in the mood to explore during foreplay and interplay.
While easy to insert, you could find this playmate challenging to use, depending on your body. For some, it stays put throughout the whole party — comfortably sitting with your man's member inside you. Others have to hold it in with their hands as it keeps slipping out, which can kill all the magic.
Why'd I recommend this to you?
Whether in Black, Cerise, or Deep Rose, this is one of the most elegant playmates out there.
It's a duo-massager, with the larger arm vibrating against the vaginal while the smaller arm stimulates the clit.
100% waterproof build guarantees non-stop bath/shower fun.
Choosing from 8 different modes to tease and play, it delivers consistently-pleasing vibrations.
SenseMotion technology responds to your body, increasing the intensity as you tilt the vibrating remote.
Why not to recommend?
Some find it slipping out during play — which defeats its intended purpose. Fiddling with a toy turns me off. Yuck!
Its squared head only benefits women who find direct clitoral stimulation too strong.
The vibrations ain't as intense as you'd expect. Half the price will get you vibes that are 3x stronger.
10. Clone-A-Willy Glow In The Dark Vibrator Molding Kit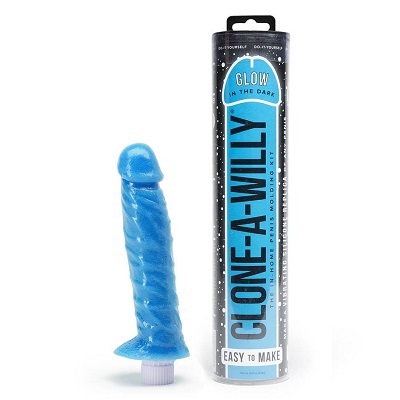 Am I the only one who thinks this sounds like a silly joke? It looks like something my stoned-ass could come up with after a wake-and-bake session. But I didn't … and right now, I can't help but call the clone-a-willy kit a brilliant idea.
First, you get to spend a hot evening keeping your man rock-hard as you make the mold. And then afterward, you have a special toy for double penetration. Or a sexy souvenir to ride while he's away.
The detailed copy of your favorite penis vibrates for more blasts in your vag or ass. If that's not your dream, I don't know what is! The vibration is powered by a double-A battery, but I found its one-speed function rather uninspiring.
Well, I like how it glows in the dark — makes it perfect for Halloween. The kit comes in dark blue, pink, and green. Your choice, love.
Mind you, the process can be a complete disaster if care is not taken. There are easy-to-follow instructions on the package, so don't fret about making a mess. Just relax, follow the instructions, and I'm pretty sure you'll have the time of your life creating and using it.
Why'd I recommend this to you?
This penis molding kit is a fun way to bond with your partner.
If done right, the result will come out ultra-realistic — a clone of your man's shaft down to his veins and texture.
Instructions are clear and easy-to-follow, so you can mold your personalized dildo in no time.
The glow in the dark feature is darn cool.
There's no gift naughtier than a lifelike cloned dildo to give to your woman.
Why not to recommend?
It's pretty messy and time-consuming.
11. A&E Naughty Couples Door Swing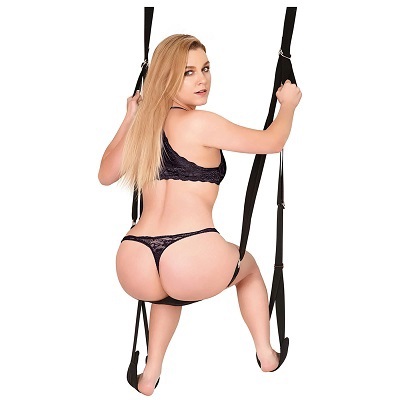 Okay, ladies, it's time to satisfy each of your erotic desires. And believe me, yoga isn't a requirement for relishing each other in the craziest of positions. Sex swings are so great, they're often considered the single best sex toy for couples.
Is it any surprise? Consider the flush of uninhibited excitement that the Naughty Couples Door Swing provides, for example.
Get seated and go for hot positions that put you two on the edge of your seats, and with comfort. Its stirrups and handles are well-built, so you can step into it pronto and change angles rapidly to reach every spot.
Makes you feel weightless throughout. And before you start exploring wilder positions, you could add piquancy to old favorites.
Just throw it over a door (a sturdy one), adjust it to your preferred height, step into the stirrups, and it'll provide support for even the longest of intense sessions. At that, you'll have to muster up some upper-body strength to stay in place.
And unless you're sloppy, your kids won't know how naughty their mom is (since it's quick to set up and takedown).
Why'd I recommend this to you?
This sure will be a thrilling new experience for you two. It's the spark you need.
Setting it up is easy. Same as taking it down.
The thick straps support your weight, as long as you're 220lbs or below.
You can try out crazy positions that are beyond your wildest imaginations.
This toy will make sex steadier between partners with a big height difference.
Why not to recommend?
NOT usable by plus-sized women, and even slimmer chicks need good upper-body strength to support themselves.
Prolonged use could cause slipping, rubbing, tugging, bruises, sore muscles, etc.
12. Fleshlight Quickshot Vantage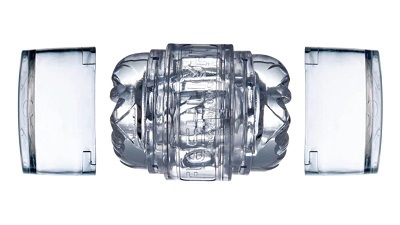 The first thing that struck me about the Fleshlight Quickshot Vantage is its unique see-through design. Seriously, whoever came up with that idea has my kudos. I'm already anticipating seeing my man's cock through it, and I'm sure seeing himself in action will heighten his arousal too.
The 3.5-inch stroker is tailored for enhancing your blowjobs and handjobs. The visual entertainment, the stimulatory boost. Expect a lot of happy endings with this lightweight toy.
Fleshlights are usually massive and have a shape that screams what they're for. But with the Vantage, you have a discreet, easy-to-hide stroker that your partner can carry anywhere.
The worst reaction he could get is a knowing smile, and that's only because of the huge "Fleshlight" written on it. I don't see why they had to go overboard with their branding.
Anyway, each thrust of the ribbed Vantage swallows his cock tightly while leaving you some meat to throat. The feeling and pleasure respond to how fast and deep he goes.
The suction isn't the quietest I've seen, though. It also has a somewhat chemical smell out of the box. Not to worry, it wears off after a wash.
Why'd I recommend this to you?
Great for improving blowjobs as he orgasms much quicker than using just your hands.
It fits most cock sizes pretty well. Not too tight or loose.
It's half the size (and price) of a regular Fleshlight. Travel-friendly for solo pleasure. Easily concealable for you two to have a restroom quickie.
Lightweight and easy to use, clean, and store.
Why not to recommend?
A little small for bigger guys.
It gets sticky and messy real quick because of the duo-orifice.
The strokes are quite loud.
13. Magic Massager Rechargeable Rose Gold Edition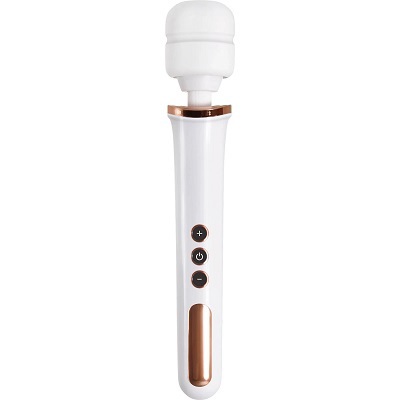 Next up is the Magic Massager Rechargeable, A&E's rechargeable take on the famous Hitachi. Ever since the original Magic Wand was introduced 5 decades ago, wand vibes have been a favorite at bringing women to orgasm.
But the fun doesn't stop with you — this wand vibrator offer thrilling pleasure for men too. (And to think they're intended as a personal massager.)
Well, with this, you can massage your way into orgasmic ecstasy. You have the power of the humbled wand without being tied to a wall. It's gorgeous, too. I can show it off as a massager and get unsuspecting thumbs up.
Come to think of it, I could barely put my first wand down. It had it all. Deep, powerful vibrations? Check. Discreet design? Check. This one's designed with a smooth silicone head and a flexible neck to hit the right spots every time.
It's big and bulky, though. I couldn't dare to try some positions with it. Other than that, it's the ultimate orgasm tool. You can also slap an attachment on it to turn this bad boy into a G-spot massager, a dual penetrator, etc.
Here's a speedy guide on massage wand attachments to do much more with this magical machine.
Why'd I recommend this to you?
This toy is chic as hell, thanks to its sleek body and lush rose gold accents.
Its polished silicone head vibrates for maximum clitoral chills and feels comfy against the skin.
There's no getting bored with the 10 vibration modes — each with 5 intensity levels.
USB rechargeable with a cord-free design that allows spontaneous usage.
Works great for erotic back and muscle massages.
Why not to recommend?
You don't wanna start with this — wands are often too powerful for beginners.
Quieter than corded wands but also less intense.
14. Fetish Fantasy Sex Position Master with Restraint Cuffs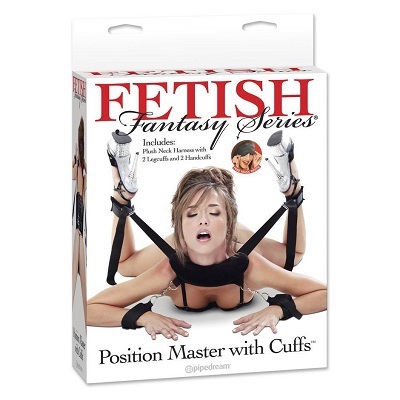 Okay, maybe your man'll be more excited about this one. But trust me, you don't want to miss out on the wondrous pleasure this kit can create. It restrains pretty well, even if you can't bend like that chick on the box.
If you're looking into bondage, this is just what you need. And even if you're no stranger, the kit comes with perks that scream fun for everyone. It includes a pair of wrist cuffs, ankle cuffs, and a blindfold.
Let him have his way while you're restrained comfortably with your legs up in the air. The Velcro-fastened wrist and ankle cuffs are well padded to ensure that. Plus, you get a neck cushion (also well-padded) to experiment without discomfort.
You can adjust both pairs of cuffs to your liking. Or just remove the wrist cuffs, to start slow. Different experiences await as it provides support for even the craziest of bound-up scenes.
The package comes with some stunning illustrations to show what can be done with these boys. And of course, its versatility enables you to do much more.
It also doubles as a position enhancer, allowing your man to thrust in novel positions to achieve an unforgettable climax. Goodbye, muscle strains. Goodbye, aching thighs. Enter, uninterrupted orgasms.
Why'd I recommend this to you?
Great for dipping your toes into the world of bondage as it's handy for different shapes and sizes.
It opens a whole new world of positions for explosive bliss. It's as blissful as your imaginations get.
If you crave vulnerability in the safety of your S/O, this is your toy.
The cuffs, straps, and cushions are sturdy and well-padded to hold you in position as he nails all areas. Adjustable, too, via Velcro fasteners.
Built from high-quality materials that make it incredibly comfortable to wear.
Why not to recommend?
Uncomfortable for plus-size ladies — the cuffs won't accommodate your thighs.
15. TCSR 6 Different Size Cock Rings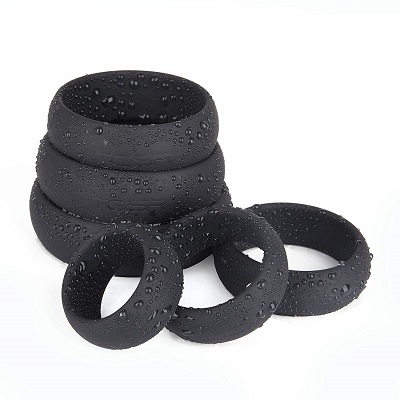 Another cock ring on the list. This time, it's a six-piece set of smashing little rings that restrict blood flow to your man's member. You'll feel his erections harder inside you, and he'll last longer than ever. All 6 sizes are wearable without much effort and get the job done like that.
No vibrations, just greater erections. Now, it's a matter of experimenting to see what works best for his girth.
Slip the loops over the balls and shaft and assume a good position to make you moan. And thanks to the stretchy silicone they're made of, these black rings go gentle on the cock without being too tight or hurting the skin. What sold me, though, is how cheap they're.
I mean, could you believe the fun you can have with something going for just $16? I've bought movie tickets for around that.
Needless to say, this set is a classic and a great way to spice up your lives without breaking the bank. It's a rite of passage.
Why'd I recommend this to you?
Beginner-friendly rings that come in a variety of sizes for easy experimentation.
Gets the dick harder, veinier, for longer.
The rings are made of soft, sturdy silicone. It's really cozy having this thing on your ding during interplay.
Durable rings return to their original shape no matter how you manipulate them.
At under $20, it's the cheapest entry in this roundup of the best sex toys for couples.
Why not to recommend?
Could be a little painful after extended use.
16. Fetish Fantasy Double Delight Vibrating Double Dildo Strap-On Set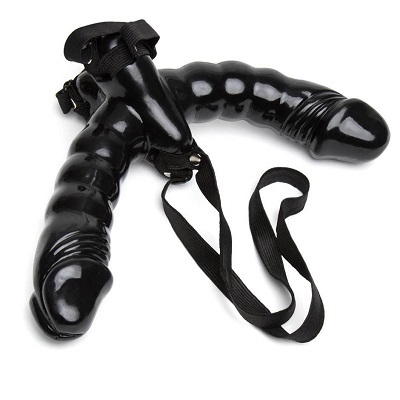 At first, the idea of pegging your man may come on too strong. I mean, just picture bending him over to smash his ass as you wank his rod (intimidating, right?).
However, it's a new affair you wanna try — trust me, love. Switching up the dynamics is so fucking awesome, it'll bring you right out of that rut without a hitch. And let's face it, it's going to be a real visual feast too! So, if you ever wanted to feel like a man for a day, this is it.
This strap-on allows you to fuck your partner as well as being penetrated yourself. Two vibrating dildos with straps that don't get in the way of couple play. They're controlled by separate remotes, so you can guide your own pleasure or stun each other.
Their rippled texture, curved shape, realistic tips, and size (6 inches each) — it's all so they fill your sweet spots with jaw-dropping pleasure.
You even get a free blindfold to bring sensory play into your bedroom. This vibrating double dildo set also works great for all kinds of girl-on-girl action. On that note, check out the guide we wrote on the best lesbian sex toys.
Why'd I recommend this to you?
Shared climaxes await as the double dildo leaves no one out, whether its M/F or F/F.
With the textured feel, rippled coat, and curved rods, these feel like the real thing.
The elastic harness gets on easy for most sizes and firmly stays on.
They're flexible and feel comfortable inside you.
The bulbous heads are easy to insert into the front and backdoor.
If you wanna feel in control, this is an excellent tool for pegging the shit out of your OH.
Why not to recommend?
Being porous, PVC toys are hard-to-clean bacteria magnets.
Shafts can be uncomfortable for first-time pegging. (Nothing a generous amount of lube won't fix.)
The vibe uses double-As.
17. Aneros Progasm Black Ice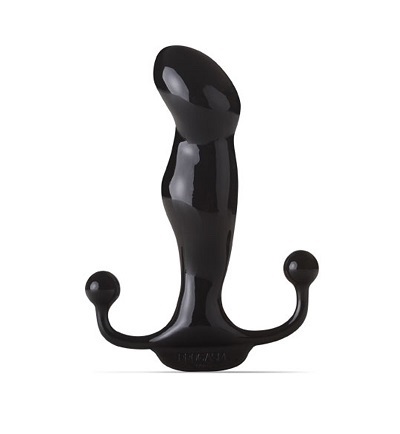 Here's another one of Aneros' repertoire of prostate massagers that are bound to buck up interplay. Not just for him but for you as well. I recommend this to folks who're not new to massaging the p-spot. But first, let's talk about the aesthetics.
I've had my eye on the Aneros Progasm for quite some time now. Since I'm not blessed with a prostate, the function mattered more to my partner than me. For me, it's more about beauty.
Not to say the function isn't worthwhile. In fact, the opposite — the intense orgasms he'll be having with this thing will blow your mind. I'm a sucker for anal play but my man seems to even be more into it. Some butt stimulations will have him shaking in ecstasy. Others ain't so much to write home about.
This stunning toy is in the first category. Its length massages the prostate while its external knob stimulates the perineum. Watch your partner get the O of his life as his internals hug the toy comfortably. Won't be so cozy without being amply lubed up, so you wanna keep a good lube nearby.
Why'd I recommend this to you?
The sleek, sheeny design makes it sexier than most prostate massagers.
It's bigger than the Helix Syn Trident and hits harder against the prostate.
It's specially curved to sit in your butt and stroke the P-spot for immense sensations.
Your man'll reach the super-O in a matter of minutes — thanks to its vigorous, filling sensations.
Made of hard medical-grade plastic, the superior build quality is evident.
Why not to recommend?
Beginners should go for the Helix Syn Trident instead. Because you may not be ready for such powerful prostate orgasms. (Still, I've seen folks pick the Helix over this because, well, it just works for their arse better for some reason.)
If you're overweight, the K-tab meant to send tingles up and down your back can injure your perineum.
18. LELO Insignia Soraya Luxury Rechargeable Rabbit Vibrator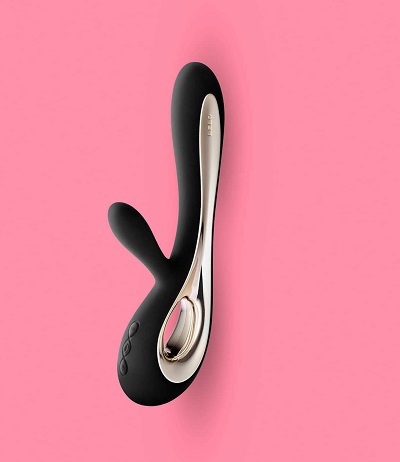 If you know anything about Lelo, their attention to luxurious detail is prolly old news. Seriously, these guys have pumped out some gorgeous toys in recent years. The Soraya is no exception. A beast concealed in a sexy body, its dual motors deliver delicious stimulations to your clit and vag all at once.
Funny, a pal once told me it's a blessing to have a clitoris and a vagina. With blended orgasms, I couldn't agree more. And trust me, it's nothing like you or your partner have ever seen. Lay on your back with your legs spread wide as he takes charge of your double delight.
The tip gently rubbing against your happy button while the shaft sends thrilling vibrations to your g-spot. Plus, oscillations are customizable. (For $200, it better, right?)
Anyway, you get 8 intensities and patterns that hint at its versatility. What blew me away was its ghost-like action. This sexy gal doesn't make a whimper (until the power calls for a little buzz) — great for use anywhere. (The kids don't have to find out, do they?)
Good as it sounds, this playmate spots a shaft that may be too slim or short for some. I repeat, your anatomy still counts.
Why'd I recommend this to you?
Keen on experiencing a blended climax? There's enough settings to explore during foreplay, lovemaking, or alone.
It's made of hard ABS plastic covered in body-safe silicone that's delicate, gentle, and silky.
It's downright luxurious in all aspects. (Damn right, I'm in love with that gorgeous look.)
Talk about whisper-quiet. This toy gets it.
You can submerge it entirely in water during pool play or while heating it up in the shower/bath.
Why not to recommend?
NOT budget-friendly. It's pretty pricey compared to other rabbit vibrators.
Cleaning the plastic ridges is hardly possible, which can be home to bacteria in a couple of months.
Not always so, but the metallic coatings may start peeling off after some time.
| | Best for: | If You Couple: |
| --- | --- | --- |
| Lovehoney Bionic Bullet 5 Function Vibrating Rabbit Cock Ring | Sharing climaxes without BS | You want a toy that stimulates both partners at once |
| Nu Sensuelle Point 20 Function Rechargeable Bullet | Concealable on-the-go action | You want something versatile and easy to carry around |
| Lovehoney Wild Weekend Mega Couple's Sex Toy Kit (11 Piece) | Couples new to sex toys | You'd like to experiment with multiple toys |
| Fleshlight Launch & Kiiroo Pearl2 Couples Set | Long-distance interactive intercourse | You're in a long-distance relationship |
| A&E Booty Bliss Vibrating Beads | Anal amateurs | You're just getting into anal play |
| Aneros Helix Syn Trident | Subtle prostate stimulation | You're new to prostate massage |
| We-Vibe Melt Clitoral Stimulator | Touchless clit-focused pleasure | You want intense clitoral thrills |
| Lovehoney Vibrating Inflatable Butt Plug 4.5 Inch | Curious anal lovers | You're well into butt play |
| LELO TIANI 3 Luxury Vibrating Gold Couples' Massager | The stylish couple | You want to spice things up in style |
| Clone-A-Willy Glow In The Dark Vibrator Molding Kit | Having a rush of fun | You're looking for a bonding activity |
| A&E Naughty Couples Door Swing | Untamed couple play | You like to walk on the wild side |
| Fleshlight Quickshot Vantage | See-thru oral escalation | You want more from oral sex |
| A&E Magic Massager Rechargeable Rose Gold Edition | Discreet delights | You'd rather skip toys that look like body parts |
| Fetish Fantasy Sex Position Master with Restraint Cuffs | Kinky bondage sex | Vanilla sex isn't revving your engine anymore |
| TCSR 6 Different Size Cock Rings | Budget-friendly excitement | You're on a tight budget |
| Fetish Fantasy Double Delight Vibrating Double Dildo Strap-On Set | Reversing sex roles | You want to fuck sexual stereotypes up |
| Aneros Progasm Black Ice | Intense prostate stimulation | You're confident about prostate massage |
| LELO Insignia Soraya Luxury Rechargeable Rabbit Vibrator | Dual stimulation in style | You want an influx of blended orgasms |
Best Sex Toys for Couples: Tips and Warnings
Eager to start aiding how you play and explore together? Hold your horses, pal! Here are some tips and warnings to bear in mind before making a decision:
Tip 1. Talk about it.
Most couples struggle with open sex discourse. But without this, you can't get the rush you both deserve. It's time to run your likes, dislikes, wants, and desires by your partner. And find out what arouses him as well.
Are you all for ass play? Has Fifty Shades of Grey piqued your BDSM curiosity? Talk about it. Being on the same page, you'll take less time to hand-pick an exciting toy.
Tip 2. Start slow. It's okay!
Using a couples' sex toy can help you be more in-tune with your body. You'll find erogenous zones that unleash new waves of ecstasy. But the most intimidating part is introducing one. So if you're new, grab a simpler toy and work your way to crazier playmates. Also, start with a low setting and maintain a gradual build-up.
Tip 3. Lube, lube, lube!
I doubt you wanna miss out on a smooth, enjoyable experience. See, that's what lubricants do. They decrease friction, letting your man or toy (or both) slip 'n slide in-and-out of you without any discomfort. Evidently, a good lube, should be constant in your arsenal.
Tip 4. Clean your toys regularly.
Here's the name of the game: Make washing your toys (after each play) a habit. And if you're short of a cleaner custom-made for toys, employ warm water and dish (or liquid hand) soap. Alternatively, run it through the dishwasher or submerge it in boiling water (if it won't be damaged).
Please, don't submerge battery-operated toys, electric non-waterproof vibes, and toys with moving electrical parts.
Tip 5. Store your toys correctly.
Because they degrade faster if you don't. Looking back, I didn't give a fuck about how I stored my first toys. Stuff 'em aside till intimate time spun back around. (Newbie alert!) The key is to clean, disinfect, and dry toys before putting 'em in a cool place.
Some options: bedside tables, closet shelves, drawers, plastic bins, boxes, or their original bags. A proper storage system will keep your private life, well, private. Moreso, if kids or family members are around.
Warning 1. You get what you pay for.
It's possible to spot a super-cheap (yet super-sleek) vibe. But that's probably because of its cheap build. If you stick with pleasure products from tried-and-trusted brands instead, you're getting a premium toy that does the job.
Sure it'll be pricier. But as for you lovebirds beefing up your bedroom affairs, don't be afraid to splash a little.
Warning 2. Stay away from pervertibles.
Maybe not that strict, but pervertibles can't replace sex toys. Perverting a household item for sexual use is actually cool. Your erotic imagination can expand without spending. Heat it up using ice cubes, wooden spoons, foods, etc. It's allowed.
But some could get real messy. Toys are generally safer (since they're made for our anatomy). Helpful advice would be to use toys for what they're designed for. If you insert a bullet in your rectum, you'll likely lose it in there — no base! (FYI, that's a prevalent toy-related injury.)
Warning 3. You can't go back and forth.
Pornstars do it, but don't try this at home y'all! Yeah, this rule guarantees safer sex. Bacteria inside your fanny ain't harmful until they travel to your vagina. Safety demands that you clean the toy thoroughly before switching (and before sticking the same toy up your bums).

Sex Toys for Couples Comparison
| | Material | Waterproof | Dimensions | G-spot | Clit Stim | P-spot |
| --- | --- | --- | --- | --- | --- | --- |
| Lovehoney Bionic Bullet 5 Function Vibrating Rabbit Cock Ring | Silicone | Yes | 1" - 4" | No | Yes | No |
| Nu Sensuelle Point 20 Function Rechargeable Bullet | Silicone, Hard Plastic | No | 3.6" x 0.9" x 0.75" | No | Yes | No |
| Lovehoney Wild Weekend Mega Couple's Sex Toy Kit (11 Piece) | *Bundle* | No | *Bundle* | Yes | Yes | Yes |
| Fleshlight Launch & Kiiroo Pearl2 Couples Set | SuperSkin, Silicone, ABS Plastic | Yes | 12.6" x 6.18" x 6.58" & 7.87" x 1.54" x 1.44" | Yes | No | No |
| A&E Booty Bliss Vibrating Beads | Silicone, Plastic | Yes | 6" x 1" x 0.25" | No | No | Yes |
| Aneros Helix Syn Trident | Silicone | Yes | 3.5" x 0.86" x 0.98" | No | No | Yes |
| We-Vibe Melt Clitoral Stimulator | Silicone | Yes | 5.25" x 1.5" | No | Yes | No |
| Lovehoney Vibrating Inflatable Butt Plug 4.5 Inch | Rubber | No | 4.5" x 2.5" x 5-9" | No | No | Yes |
| LELO TIANI 3 Luxury Vibrating Gold Couples' Massager | Silicone, ABS Plastic | Yes | 3.1" x 1.8" x 1.3" | Yes | Yes | No |
| Clone-A-Willy Glow In The Dark Vibrator Molding Kit | Silicone | Splashproof | N/A | Yes | No | No |
| A&E Naughty Couples Door Swing | Acrylic, Metal, Nylon | No | N/A | No | No | No |
| Fleshlight Quickshot Vantage | SuperSkin | Yes | 3.5" | No | No | No |
| A&E Magic Massager Rechargeable Rose Gold Edition | Silicone, ABS Plastic | No | 13" x 2.25" | No | Yes | No |
| Fetish Fantasy Sex Position Master with Restraint Cuffs | Nylon | No | N/A | No | No | No |
| TCSR 6 Different Size Cock Rings | Silicone | Yes | 1.36" x 1"; 1.65" x 1.3"; 1.85" x 1.5"; 2.15" x 1.8"; 2.35" x 2"; 2.55" x 2.2" | No | No | No |
| Fetish Fantasy Double Delight Vibrating Double Dildo Strap-On Set | Firm PVC Plastic | No | 6" x 4.75" | Yes | No | Yes |
| Aneros Progasm Black Ice | Silicone | Yes | 4.0" x 1.25" x 1.15" | No | No | Yes |
| LELO Insignia Soraya Luxury Rechargeable Rabbit Vibrator | Silicone, ABS Plastic | Yes | 8.7" x 2.7" x 1.7" | Yes | Yes | No |
How We Ranked the Best Sex Toys for Couples
1. How pleasurable it is for you and your partner
Although there are toys dedicated to pairing pleasure, you can employ most fuck-toys. If not all. Where they differ is the pleasure you and your partner will collectively derive from 'em.
When comparing the best couples' sex toys, clitoral stimulation was given top priority since more females reach orgasm through it. Clit toys also leave room for your man to penetrate. That's double trouble.
App-controlled toys are great for LDRs as both parties can be involved from a distance. Anal toys also got a higher spotlight as they can be incredibly pleasurable for both genders. If it's exploration you're serious about, bondage toys can be your copilot. Restraint, impact/role/breathe play, name it.
You get to go through your sexual fantasies together. Just ensure you agree on safe words to maintain boundaries.
2. How comfortable it is to wear during couple play
To keep your nether regions from discomfort, a toy's size, shape, and texture matter. So, I picked toys that work for most couples — they fall within the average range of size and shape. This serves as a starting point to find out what sizes and shapes work best for you two.
As for the texture, I know couples could find some curves, ripples, swirls, and other textured surfaces a little discouraging. So, I picked toys that are entirely smooth for easy insertion (or gingerly-textured for added entertainment). They work for most anatomies and are easy to bring into your sex life.
3. Are the materials safe for couples' use?
There's a rule of thumb when buying toys from even the biggest toy store. And trust me, you wanna stick with these reputable companies (because there's no regulation in place!). A shitload of couples' playmates is loaded with potentially toxic substances.
But some materials (e.g., Borosilicate glass, pure silicone, wood, stone, ceramic, metal, and ABS hard plastic) are safe to use with your lover.
All these are tasteless, odorless, and non-porous. Meaning they make a terrible bacteria magnet, unlike porous materials. Non-porous materials can also be disinfected quickly. Another ground rule is to refrain from toys that contain phthalates.
These chemicals can lower sperm count and quality, mess with your sex hormone levels, and cause cancer… and that's not all. The horror!
4. How long the couples' toy will last
I'm no stranger to buying cheap-ass toys. I once had a couples' vibe that broke down in 2 months. The not-so-rumbly buzz dropped in intensity, and the material started fading. Since the experience was meh anyway, we tossed it out without hesitation.
So in this regard, I enlisted toys that won't break after a silly accident with your OH. Or worse, disintegrate after a few nights. Once you take good care of 'em, these high-quality toys are designed to last long.
5. Its aesthetic appeal
When shopping, I always choose sex toys that tickle the intimate part of my imagination. That's how I make each order count — ensuring I absolutely love the way it looks in my drawers. Lovers, listen.
If a toy seems unappealing to you or your partner, it's best to back down — no matter how powerful it is (I mean, how can it get you off if you find it horrifying?).
As you can see, this list features toys that are appealing to the eyes without sacrificing function. And since aesthetics can be personal, it's best to pick a toy that speaks MOST to you two.
6. How versatile it is in terms of foreplay and interplay
Nobody wants a boring, one-function toy that hamstrings their bedroom creativity… right? With the broad variety of toys available today, there are far too many features to get your pulse racing.
It's only right that selected toys offer a range of these desirable features to intensify foreplay, interplay, and everything in-between. This versatility permits your mood (and your partner's) to decide how you'd aid your nights.
Even the single-purpose sex swing could let you try a-hundred-and-one moves that were once impossible.

Best Sex Toys for Couples: FAQs
I bet you're curious about a thing or two. Below are some questions commonly asked by couples who're keen on bringing toys into the bedroom.

Q: What is the single best sex toy for couples?
That's a difficult call to make. There's no such thing. Well, because we all respond to sensations differently depending on our anatomy. But, as I stated earlier, some toys are better suited for getting intimate with your partner.
If you're a total newbie, a bullet vibe, a vibrating cock ring, a finger vibrator or a tongue vibrator is a great start. Both increase sexual satisfaction without being intimidating. Easy to use, too. For couples living apart, app-controlled toys are the go-to.
They close the physical gap with hands-free pleasure controlled by your partner. It's a no brainer.
All things considered, you want to review the list with your partner. Take your time and see what looks most interesting to you two. That's the single best couples' sex toy for YOU.

Q: How do I introduce sex toys without offending my partner?
To avoid stories that touch, the idea of using a sex toy should be brought up with care. Since no one likes their desirability or sexual ability challenged, start by reassuring your man that he's good enough for you.
After this, try to win him over by telling him how great it'd be to jazz up your performance with a little bedroom assistant. The selling point is to look into unusual ways of being intimate together. (And the fact remains that vaginal stimulation alone cannot give most women orgasm. Bring it up.)
Mutual pleasure is what keeps the torch burning, and that'll probably fire him with enthusiasm. If he finds watching porn of masturbating models enjoyable, you can start off by playing with a vibe while he assumes a voyeuristic role in the privacy of your bedroom.
The openness to explore the possibilities that come with sex toys is key to thrilling sex.

Q: Is it safe to share a sex toy with my partner?
The short answer is, it depends.
If you're trying to reuse a toy that's been previously used with a lover, your current partner may find it disrespectful. Unless he says otherwise, just get a new playmate already. I, for one, don't see a problem as long as they're squeaky-clean and infection-free. But you have to respect your partner's decision.
Now, if you two plan on wearing one during the same session, I'd advise you to wash before flipping the switch. I know how impractical that sounds — it'd kill the vibe. But you know why it's a great idea to use one toy on one person?
Because infections from semen, blood, vaginal fluid, or feces can turn sharing a sex toy into a risky business. In one study, silicone vibes and thermoplastic rabbits were found to contain HPV DNA even after cleaning.
This rolls back to open communication. If you or your partner carry an STD/STI, you want to discuss it and agree on which protection to use. Pick a contraceptive method that's compatible with your toy, and as long as you follow standard precautions, sharing a toy should be harmless.
Moving on, I can't stress how important it is to clean and disinfect your toy after each use. Even if neither of you two carries an STD/STI, wash and sanitize your toys before sharing.

Q: How do sex toys impact a love affair?
First, most guys are terrified by the idea of using a toy with their partner. It's the most common misconception surrounding sex toys for couples. Despite their balls, most men tend to think the worst once their lady leans toward taking in an intimacy enhancer.
Some are even dumbfounded by the prospect of their woman relying on sex toys for orgasm. All right, guys, calm down. We get it.
However, partners who use vibrators have a more satisfactory attachment than those who don't. Sex toys won't replace your partner.
They're pleasure enhancers, giving you new ways to get intimate. Think of sex with your partner as a delicious dish; sex toys are the seasonings that take the taste to a whole new level.
There's more. Sex aids lead to more open communication — which, in turn, will define the impact of pleasure products in your relationship. It's all in your hands whether employing a toy would lead to conflicts or improve your relationship.
That being said, I've heard ladies finding it hard to orgasm without a vibrator. While it isn't permanent, your dude may feel inadequate. If this happens, get a less-powerful vibe or lower the use to regain the ability to orgasm with your lover.

Q: Is it safe to use a vibrator while pregnant?
The real question is, are you safe to do the business during pregnancy? (Yeah, reach your doctor for this one.) If the answer is yes, then that's your go-ahead. Just remember to keep your toy infection-free.
But if the doc forbids intercourse (due to any condition that makes even the mildest of uterine contractions severe), then you'd better keep your playmate for later.

Q: This is my first couples' toy. What should be my budget?
It's wise knowing the market range before you place that order. Don't cough up hundreds of dollars on something that might not be for you or your partner.
Instead, start small by grabbing inexpensive toys of different varieties. Time with these boys will help you two understand your body, so you can commit to a costlier tool later on. Still, don't skimp on your pair pleasure.
It's easy to sacrifice quality when looking for something cheap. A reasonable range, then, would be $50-200. Of course, the A&E Booty Bliss Vibrating Beads is one of the best couples' sex toys around — at just $20.