How do you feel about huge dildos?
The size of your toy is a personal thing, and whether you like something that gives you a bit of stretch every few months or you are a certified size queen who loves a challenge, finding the best huge dildos for yourself can take some time.
Let me help out by presenting 33 of the best huge dildos around. Some of them are monsters, some of them are conversation pieces, but a lot of them are just right.
Let's start with the Top 3.
Find 33 more amazing huge dildos below!
1) Basix 6″ Dong With Suction Cup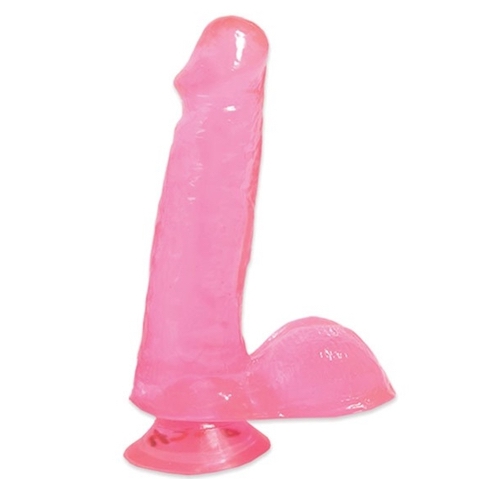 There's really nothing like a little bit of hands off fun, and when you are looking to start at the shallow end of the toys that they call huge, start with this Basix 6" toy, which features a handy suction cup. It's "only" six inches, but the 1½ inch diameter of the toy fills up your hands.
The realistic head shape of the Basix 6 is a good choice for people who prefer their sex toys to look like sex toys, not futuristic probes.
2) So Real 8 Inch Realistic Dildo
The So Real 8 Inch Realistic Dildo is 8 fantastic inches with a whopping 2 inches in diameter. This is a little tough for me to take sometimes, but with lube and hope, anything is possible!
The texture is firm, and though the veins look small when you are just looking at it, they provide some fantastic texture when you want to take a ride on this impressive realistic dildo.
3) Starlight Gems Aries Vibrator
Glitter, size, and vibrations. The Starlight Gems Aries Vibrator has it all. If you like sparkles, then this is a treat made just for you. It's a mesmerising, smoky translucent shaft with embedded glitter, but like a rocket this night-sky themed dildo will get you off in seconds.
It's a 9" in total dildo with realistic veins and nubs at the base to tickle your clit. It's made from soft and flexible TPE with a twist dial control to suit your mood.
Who said diamonds were a girl's best friend? Marilyn Monroe clearly didn't have this sparkly dildo to hand. Poor girl.
4) All American Whopper With Bullet
When you want to make sure that you are getting a little bit of everything, including your skin colour preference, choose the All American Whopper With Bullet. There's 8" of length, 1½" through the middle, and it's tapered.
It's bigger all over than a standard dildo, but not too overwhelming. It'll certainly give you some deep dildo action. Plus it vibrates – what's not to like?
5) Adam's 10 Inch Cock
Do you know an Adam? Is he hot? Then this is the dildo for you. It's a best-selling PVC dildo that will fill you up quicker than a bucket in a monsoon.
This one has a realistic feel, but if you don't want to feel and just want the action, then lucky you – because Adam's 10 Inch Cock has a suction base. It's compatible with strap on harnesses too, in case you feel like some naughty couples fun.
God created Adam in his likeness? Hallelujah. Suddenly we feel the need to go to Church.
6) A&E Blue Swirl Glass 4-Way 'G'
This is nice. Very classy huge glass dildo. The A&E Blue Glass 4-way 'G' is a bit of a mouthful, whichever way you look at it.
It's called the 4-way because there's a Hot Spot tip for your G spot (or prostate – we're not saying only girls want dildos), secondly there's the massaging bumps with bulb for some stretch, then a pleasure twirl that teases vaginal or anal entrances, and lastly the clear reverse tip for all round G-spot and P spot massaging.
If you like you can warm it up or cool it down and at 8.25" it's long enough to hit the spot, but not so massive it frightens you.
English folk may be concerned at the name. Don't be. A&E stands for Adam and Eve, not Accident and Emergency. This sophisticated glass dildo is shatter resistant. It's also hypo-allergenic – just in case you have an allergy to PVC or latex.
7) Realistic 9″ Big Boy Dildo with Balls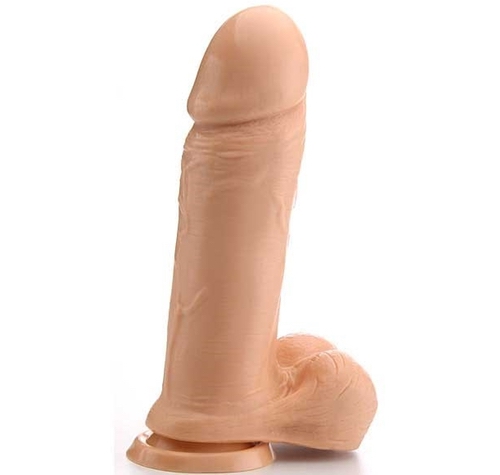 Get ready to grit your teeth. It's the Realistic 9" Big Boy with Balls. That's 9" of realistic latex giving you the ride of your life.
The balls are there so you can get a good grip, because you will need plenty of lubrication. When you get tired of all that thrusting, you can use the balls as a clit stimulator.
It has a suction base, which can stick to any flat clean surface such as a desk or door. It would stick to a window, but we're not sure the neighbours would appreciate that view over their cornflakes.
It's fully waterproof too, so you can have a great bath or touch your toes in the shower. Remember that yoga is good for you, especially when you've got this special friend to help you stretch.
It's not recommended as a beginners toy due to the length and girth. Those with a bit of experience are probably hyperventilating right now… we don't blame you. It's huge. If Frankenstein's monster was real and had a cock, this would be it.
8. Power Stud Clitterific Vibe
Now you're talking, the Power Stud Clitterific Vibe is a big vibrating dildo to get you off come rain or shine. It's big enough to merit a mention here, but the great thing about this one are the clit nubs.
Dildos are great, but with this size, you're going to need two hands and, if you're on your own, that leaves nothing over for clitoral play.
The shaft is realistic with raised veins and a realistic head. It has three vibration speeds, is waterproof and flexible for comfort. This is a good all rounder if you are scared, or put off by names like 'Whopper' and 'Huge Dong'.
9. 8 1/2″ Hot Pink Vibrator
It could have a better name, but this 8 ½ " Hot Pink Vibrator is good because alongside its length, it has the benefit of exaggeration. That's to say the realistic veins on the shaft are raised more than they would otherwise be, and the head is more pronounced. This means you are likely to feel more.
This dildo is great for size queens who really like to feel each thrust.
That said, although the ripples and ridges are exaggerated, it's not sharp, It's made of a soft jelly material which is gentle and smooth.  Big and Smooth. Oh yes. A king among vibrating dildos.
10. A&E Double Trouble Glass G
The A&E Double Trouble Glass G is a great conversation piece. There's a fantastic curve to it, and the overall shape is really quite beautiful. In girly, baby pink, it looks just like a post orgasmic blush.
It has a G-spot stimulator and two rounded balls on the shaft for extra stimulation. Most glass dildos can be heated or cooled for temperature play, and this is no exception.
We know you are waiting for the size of this gorgeous piece of art; well it has 9" of insertable loveliness for you to play with. The design was based upon customer request, so it's going to hit the jackpot G-spot for lots of you, and because its double ended you'll have more options.
It's amongst the more expensive, but what would a Van Gogh cost you? More than this, that's for sure. It's a great gift for a partner, or well deserved treat for yourself. Although the effects of masturbation on intercourse is understudied, so far it seems positive.
11. Mr. Perfect Realistic Dildo
There are many folk out there looking for Mr Perfect, and now they can simply buy him! Bridget Jones must be kicking herself.
Mr Perfect Realistic Dildo is made from Sensa Feel skin, so he feels like the real deal. The covering is soft and squeezable, but the inner spine is firm, so you won't be disappointed. He measures 8.5″ long and 1.5″ wide, with 4″ balls you can get a good grip on.
You'll want to marry Mr Perfect he's such a great dildo. Strong yet sensitive – he'd bring you flowers if he had legs.
12. Crystal Jellies 12″ Big Boy Dildo
Woah. 12 inches? That's an eye-watering dildo for the professional size enthusiast.
You can tell this is well designed because it's big, the whole shaft is thick, but it's also easy to use. This is because the tip is penis-shaped for easy insertion. This kind of thoughtful detail makes the fun so simple you'll be using the 12" Big Boy every spare minute of the day.
It's realistic if you like that kind of thing, with raised veins and ridges to massage the whole vagina – just make sure you have plenty of lube to hand, with this kind of size you may need a little help!
It's made from a special jelly-based material called Sil-A-Gel, which has an anti-bacterial formula to keep everything fresh. You're probably not interested in that bit but we thought it was a nice touch.
13. All American Ultra 11 Inch Curved Whopper
Realistic colour and realistic shape define the All American Ultra 11 Inch Curved Whopper dildo, but the best feature is the tilt of the head. There's just enough curve there to nail the G-spot, and if you are a lady who loves to have her G-spot told who's boss, then this is the right choice for you.
It starts off tapered for easy insertion and then, hold your breath because the length literally goes on forever. And breathe out.
Oh – it has a suction base too, so if you have wood floors and need to exercise those thighs, then this is your new best friend. Cancel your gym membership to spend more time at home with the All American Whopper!
14. Purple Pearl Dildo
OK, this is not the biggest dildo on the market, but I had to include it because the Purple Pearl Dildo is so pretty. Check out those swirls – we know you're squirming in your seat right now, wondering if they feel as good as they look.
You might want to skip over this if you are looking for huge dildo, but don't be too hasty because we all need a warm-up dildo. Some on this list are very large and if you are short on time, or just want to stretch a bit before the main event, then this gorgeous purple twister hits the spot.
Its 7" long and 1.5" wide, but the real prize-winning features are the smooth ripples through the shaft. Guaranteed to get you going for whatever treat you have lined up for yourself or your lucky partner.
15. Black Rose Violet Gems Glass Wand
The Black Rose Violet Gems Glass Wand is pure luxury. If you like to look before you touch this is perfect for you. The 8" black rippled shaft is a pleasure to hold, but it's even more of a pleasure to insert! The purple gem placed at the handle end lends a touch of class.
It's made of glass, but is body safe and shatter-proof. Rounded bulbs along the shaft's length grow in size, so you can tease yourself all night.  This dildo is going to get a lot of use.
This is a sophisticated dildo for the perfect lady who likes to be naughty. If Audrey Hepburn had a dildo this would be the one.
16. Real Feel 9
The Real Feel 9 is exactly that – a realistic dildo that's 9″ long. If you want something straight-forward, that gets to the spot with no faffing around, then this is for you.
This one has a lot going for it if you like realism, and are not interested in shiny glass art deco contraptions. We don't blame you, because the great thing about realistic dildos is that they warm up to body temperature pretty quickly, and that's very nice.
The whole shaft vibrates at different speeds if you fancy some tickling, otherwise just grab the 9", some lube, and do it! No messing about.
If you can't be bothered to thrust with your hands, then use the suction base on any smooth flooring or door. Its waterproof, so can be taken for a ride in the bath or shower as well. Be careful though, it's slippery in there – almost as slippery as you'll be once you start using this cracking dildo.
17. Ignite 7-Inch Vibrating Dong
This one is for serious stretch. Some like length, some prefer thickness, if you can't decide then be greedy and have both! Ignite 7-Inch Vibrating Dong is 6.5" long and 2.5" wide.
Use lube, and then use more lube! Luckily this huge dildo is made from flexible PVC jelly with realistic veins, shaft and head. Otherwise you might mistake it for a baseball bat or rolling pin.
The colouring is a nice touch, because if you are watching yourself in the mirror. It's nice to differentiate without the need for your glasses, and they get too steamed up. You'll see every thrust with this bright blue dildo.
18. Double Bullet Jumbo Dildo
Big dildos are great fun, but sometimes it's not enough and you need that vibration to get you off.
The Double Bullet Jumbo Dildo gives you the best of all worlds; length, width and good clit vibrations. Its shaft measures 11" and the width is a 2" stretch, which is not to be sniffed at.
The shaft has a realistic head for a great massage, and it's made from red Crystalessence jelly material that looks great.
Without a doubt its best features are the balls, which have a vibrating bullet in each. The vibrations are doubled, so they are strong and run down the whole shaft. Good news if you don't want the whole length inside when you come.
Be careful – you'll get so into this one you might not notice the smoke alarm going off. House on fire? More like pants on fire.
19. Super Jelly Realistic Double Dildo
And now for something different. We've seen you with your tape measure, trying to figure out the difference between 7" or 12" and wondering how big you are 'in there' so we've taken pity on you and added Super Jelly Realistic Double Dildo.
This a double ended dildo, so you can take as much length as you want. In fact, if you're into double penetration you can bend this baby around and go for some anal action too. We love multi-function sex toys, so this ticks our boxes.
The width is manageable at 1.5" and the grip you can have on the other end is formidable.
Available in baby pink or ice clear, this double ended dildo is scented, flexible, and realistically constructed with veins and ripples for a great ride.
20. Ripple 18″ Double Dildo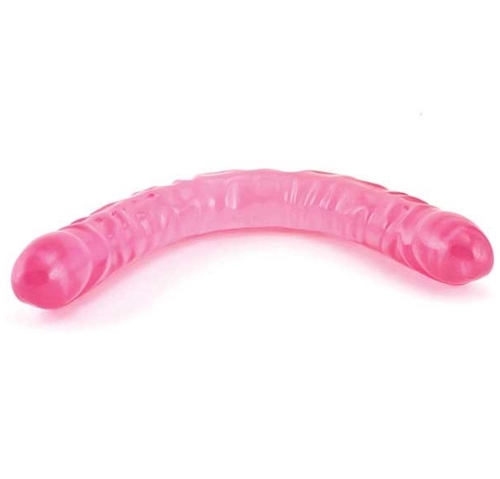 Here's another double ended dildo for your reading (and other) pleasure. The Ripple 18" Double Dildo is longer than the Super Jelly above, which makes it easy for partner play. That's right; you can both insert its realistic heads, at the same time, wherever you please.
The width is 1.5" so anal play is not too big a challenge. The Ripple is bendy, flexible and has no hard parts or batteries.
Your bath time will never be the same again.
We know some dildos state they are waterproof, but is there always doubt in the back of your mind that you might electrocute yourself and your mum will find out you've been doing naughty things? Or is that just us? None of those problems with the Ripple!
21 . Basix Twist N' Shout Anal Dildo
There's nothing wrong with loving the classics, and when you want something simple yet large for anal fun, choose this Basix Twist N' Shout Anal Dildo. Suetonius himself would approve.
Soft, textured, smooth and delightfully ridged, this dildo is designed to hit that prostate without any messing around. The ridges add extra pleasure and because it's made from flexible black rubber you have ease of movement should twisting be your thing.
The suction base adds a whole other dimension to hands free fun. The base is 2.5", so it isn't going anywhere – you can ride away to your heart's content.
The dildo itself is 8" long and 1" thick, perfect for those who like length but want to steer away from bulky anal dildos.
Latex free, easy to clean and pretty cheap too. Basix are great for low cost sex toys – they know how to tick all the boxes with no frills and pointless expense.
22. Fetish Fantasy Inflatable Backdoor Blaster
Whilst we're on the subject of anal dildos, check out the Fetish Fantasy Inflatable Back Door Blaster. It's quite a name, and quite a dildo – measuring 10 1/4" in length when fully inflated, and up to 2" in width.
This anal dildo is great because you can start off with a small amount of air, and graduate to full on blown up. It's easily washable because it's made from flexible PVC/vinyl. There are plenty of bumps and ridges to keep your attention.
Inflation is controlled by a squeeze pump, so you're in control at all times. There's a quick release valve, just in case you push it too far and want a quick escape!
Anal use only though! You'll need another if you're looking for double penetration or vaginal on its own – but hey! What a great way to spend your money.
23. Juicy Jewels Precious Pink Vibrator
This toy is cute enough to eat, which of course, you can do if you like. We can think of better things to do with it though. The Juicy Jewels Precious Pink Vibrator is a classic. Simply made, lovely to look at and does the job.
It measures 8.5" long and 1.6" wide, so there's plenty of size to keep you coming back for more. Despite its size, there's a lot of give, the shaft is flexible enough that you don't hurt yourself, plus its curved to fit your body.
The head is realistic with ridges and veins, which thoughtfully hold lube in place. That means there's no stoppage time.
If you're looking for pinpoint accuracy, then you'll like the tip of this dildo because it holds a vibrating surprise – an embedded vibrating egg. If you're finding it difficult to get there, and just need more stimulation, then this is perfect – it hits the right spots without leaving you frustrated.
24. Emperor 8″ Vibrating Dildo
The Emperor was modelled on Julius Caesar who is known by historians to have had the most perfectly shaped cock in all of time. OK that's probably not true, but it doesn't take anything away from this baby, it was actually modelled on a real penis.
If you can wait a few minutes before whipping your panties off, check out the head – it looks so real we have trouble telling the difference. That's because it's been hand painted so well you can even see skin wrinkles and pores if you squint a bit.
But never mind all that, because you'll want to know that the Emperor 8" Vibrating Dildo is a big one. The clue is in the title, its 8" long  but the width is 2". That's a lot of stretch for your money.
It's made of good quality rubber and feels smooth to the touch. The tip vibrates for accuracy, and it has a powerful suction base for floor and wall fun. Could you ask for anything more? It's so good it could conquer the known world. Buy a spare in case you break yours with overuse.
25. Fetish Fantasy Portable Sex Machine
Who needs a boyfriend when you've got the Fetish Fantasy Portable Sex Machine.  Seriously, this doesn't just exist in your most extreme cheese induced dreams. It is real, and the dildo is big.
Here are the details you're desperate for. The dildo is 7" long, and there is a soft rubber G spot dong included too. The machine has suction pads that stick to the floor, and Velcro foot straps so it isn't going anywhere.
There's also a vibrator attachment (you'll need a USB port). The pistons produce multi-speed thrusting which is controlled by a dial, and for the geeks out there, there is a surge protector, and a universal power adapter for travel.
Is that enough for you? No? hold on then.
The whole machine weighs 3 pounds, so it's lightweight, but reviews say this gives out some serious thrusting. It's easy to hide and comes with its own lockable bag. If you are single, lonely or just horny this machine will make you smile all over.
26. Sinclair Select Crystal G
Glass is truly the classiest way to go when you're choosing a dildo. We've said it before, but these glass beauties are works of art.
The Sinclair Select Crystal G is made from cyber-glass, which is specifically formulated to be the sturdiest stuff in the business. You can drop this dildo, or boil it in water and it won't break – so imagine all the stuff you can do with it elsewhere.
The ergonomic design makes this one a winner. It's so curved that's it's practically sitting up and begging – which is what you'll be doing if you partner whips this out. The curves make it easy to reach your G spot with ease, and at 7" you're sure to find it.
It's already got a slippery surface, but with lube it'll move faster than a TV on Black Friday.
Don't forget to admire the green etched vines decorating the bumpy shaft before you dive in! A little bit of eye foreplay will only increase those sensations.
27. Belladonna's Magic Hand
Curious about fisting? Start here first!
Belladonna's Magic Hands is a dildo that's moulded from the hand of a famous porn star, and the Sil-I-Gel components are pretty high quality. There's 11" of length and between 2 and 3" in width depending where on the hand you are.
If you want something a little different, boys and girls should definitely consider this one. Reviews are pretty good – it's not just a novelty product, although it would make a good gift for the person who has everything. They'll unwrap it and laugh, but ask a few weeks later and you're bound to see a blush.
28. Max Vibrating Dildo
If realistic is your thing then the Max Vibrating Dildo will satisfy you in more way than one.
It's soft and flexible, but firm enough for penetration. It's made from sci-fi sounding 'Futurotic' material, and reviews suggest that a lot of women (and men too) love the feel.
It measures 7" which is a decent length, but the shaft is a pretty large 2.5". As with most realistic dildos, this one has veins and balls to play with. Veins are great on sex toys because they give extra texture and make the experience as close to the real thing as you can get.
If you are looking for realism, we recommend warming your sex toys before use, and this is no exception. Rubber will warm quickly, and you can get excited thinking about it on the radiator, or even in your hands or on your breath. Calm down – you haven't bought it yet!
There is a corded dual bullet vibrator inside (cord length 23") so you can buzz your way to heaven. OK, that's not realism, but it's pretty damn good! The corded versions are handy because it's not fun removing the dildo to fiddle with a dial, just as you're getting into it.
29. Soldier Boy Curved Dildo
Got a military fantasy? The Soldier Boy Curved Dildo is standing to attention just for you. Polish your boots, get out your camouflage, and you'll be probing unknown territories before you can shout Yes Sir.
This body safe PVC dildo has an impressive curve designed to hit the G or P spots. He's a slim 8" long with veins, bumps and ridges for those that prefer length to stretch.
The suction base means you can enjoy hands free fun, and he is even harness compatible should you want to partake in body combat training.
Trying out a big dildo can be nerve-wracking, if not downright terrifying. 10" might not look that big on screen, but when it arrives in the post you may be left wondering how on earth you're going to fit it in. The good thing about the Soldier Boy is the width; it's slender but not lacking in length.
This is a good one to practice with before graduating to the monster dildos.
30. King Dong Dildo
And speaking of monster dildos, feast your eyes on this – it looks like something the Marquis De Sade would have on his bedside table. How much lube do you have in the house? We bet it's not enough to get this 15" dildo in.
OK, we'll stop tormenting you. This is a novelty item, but we just had to include it.
If you're looking for a huge dildo to impress at a bachelorette party, or a gift for an ex to tell him what a dick he is, then look no further. The King Dong is made from flexible jelly material and is scented, plus there's a square base to help stand him up.
Great as a paper weight or door stop, this dildo is the biggest around.
31. Mr. Softee Dong
Let's end this on a gentle note.  Mr Softee is fairly hefty, but as the name implies, there's a ton of give to the surface.
The flat base makes it easy to push in, but giving material won't give you a single moment of pain or discomfort even at 8" long. Mr. Softee Dong is great if you want size and realism, but are feeling a little nervous about it. Made of latex, he bends with your body and massages you all the way.
This dildo is very popular for ladies and gents who like the gentle touch.
Huge dildos newly added to our top list:
32. Glas Mr. Swirly Textured Glass Dildo 8"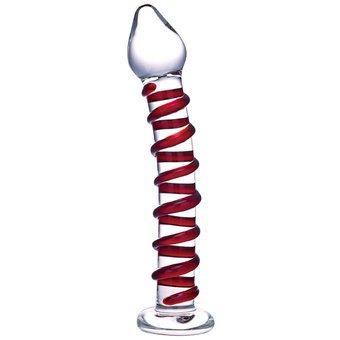 I own this one- it was actually my first glass dildo. The mesmerizing ruby spiral on this blown glass beauty is just so pretty!! It's a nice 5" around, so while not a truly epic stretch for your body, I like it for the weight, smoothness, and texture.
That candy cane swirl just keeps going- one of those things that makes my head spin just a bit.
And that HEAD! I adore the heads on glass dildos. So smooth. You're riding the full shaft before you know it with these guys. Oops, can't believe I took the whole thing that quickly. It's got a sweet little bend perfect for teasing your G-Spot or P-spot too.
This one makes the list because it's the dildo equivalent of a backscratcher- it gets that one place you just can't reach. Perfect.
33. nJoy Eleven Extra Large Stainless Steel Dildo
At first glance I thought this might be something for a fight club! But once you get past the slightly odd appearance, this is a nice, large toy with mirror finished stainless steel. It's almost too pretty to use (well, no, not really).
And smooth! Steel feels terrific against my skin, it just glides even if it's not lubed up (though I highly recommend lube- all the time, every time!).
This shaft is f*cking heavy. If you have hand or wrist issues, it might not be the most practical toy (unless you have someone awesome to help you out).
This is a lot heavier than your typical dildo. Awesome weight on your pelvic floor, possibly a problem for your carpal tunnel syndrome.
A temperature play go-to here. Not to be put in the freezer, unless you want to ruin the finish and reenact the tongue-stuck-to-a-flagpole scene from A Christmas Story. If that's your thing, though, I won't judge…
| Best Huge Dildos | For You if |
| --- | --- |
| Basix 6" Dong With Suction Cup | You're a little nervous about anything called a monster cock |
| So Real 8 Inch Realistic Dildo | You're love things simple and straightforward. |
| Crystal Jellies 12" Big Boy Dildo | You like things soft and gentle |
| 8 Inch Vibrating Dong | You want stretch and good vibes |
| The World's Biggest Vibrating Dildo | You're an overacheiver |
| Inflatable Gargantua Dildo | You love the ability to customize. |
| Njoy Eleven | You love temperature play |
| Tantus Hoss | You want something harsh |
| Tantus Curve | You love G-spot fun |
| Laid Stone Dildo | You're a natural kind of girl |
| Silk Dildo | You love things smooth and easy |
| Outlaw Dildo | You're a bad girl |
| Boss Naked | You love G-spot fun but in a rough way |
| Pretty Purple Dildo | You're an unashamed girly-girl |
| Lelo Olga | You have expensive tastes |
| Art Deco Ac/dc Double Dong | You've got a real artsy side |
| Mr. Universe | You like a deep stretch but in a gentle way. |
| Tantus Cisco | You love backdoor fun |
| Partner One Vinyl Dildo | You love intense play |
| Basix 10 Inch Dildo | You're very down-to-earth |
| Buck | You like a rough ride |
| Black Velvet Veined Dong 6 ¼ | You crave rough romance |
| T-Rex | You want it wild |
| Corkscrew Glass Dildo | You love shiny things |
| Fat Jack Bumps | You're a party girl |
| Belladonna's Magic Hands | You're a little silly |
| Swelled Head Vinyl Dildo | You're a show-off |
| Elise 2 | You're a classy lady |
| Deep Penetrating Dildo | You're a tech geek |
| Rock Hard Man | You want a hero |
| Stainless Steel 2-in-1 Wand | You're a multitasker |
| Control Steel Dildo | You want a good grip |
| Giant Cock W/Balls | You want a weapon |
| Mr. Softee | You want something sweet |
Best Huge Dildos for First-Timers:
Huge dildos can be a little scary, so let's take a moment to ease you into it. These dildos are still sizeable, but they are perfect when you want to expand your boundaries.
Mr. Softee – Big but gentle play.
Soldier Boy Curved Dildo – Slender all action hero.
Basix 6″ Dong With Suction Cup – A good value beginner dildo.
Best Huge Dildos for Anal Play:
Who says huge dildos are just for the front? For some backdoor excursions, these big boys have you covered.
Basix Twist N' Shout Anal Dildo – Just like the Beatles say. We always wondered about Paul…
Super Jelly Realistic Double Dildo – Double the dildo, double the fun.
Fetish Fantasy Inflatable Back Door Blaster – Inflatable size for anal adventures.
Best Huge Dildos for Intense Play:
Sometimes, you just want something to give you a profound stretch, and you want it all at once. These are the best huge dildos, so to speak. Use with the preparation you need, and be prepared to be sore after!
Adam's 10 inch cock – We love Adam… Whoever he is.
Double Bullet Jumbo Dildo – 11" of vibrating fun.
Ignite 7-Inch Vibrating Dong – 2" of stretching pleasure. Buy lots of lube.
Best Huge Dildos for Looks:
Some huge dildos double as a conversation starter, and if you want to leave one out for shock value, these are the ones.
King Dong – 15". We don't need to add anything else.
Black Rose Violet Gems Glass Wand – Beautiful black and purple glass.
Sinclair Select Crystal G – Dildo gorgeousness.
How to Choose a Huge Dildo:
The thing to remember when you are shopping for your next huge dildos is that it's all about what you are looking for. Do you want something that's a challenge? Are you just generally roomier down there and find that the more modest 1-inch wide dildos don't suit you?
What are you really looking for? With enough lube and enough time, anything is possible, so let's discover which of the best huge dildos "fit" your needs.
Recommendations:
When looking to buy the best huge dildos, make sure that you shop around. Remember that texture is an important thing, and that if you hate the texture, you won't want to use it at all.
While you're buying the biggest dildos, don't forget to purchase a jumbo container of lube that goes with it. This is something that can make any huge dildo a breeze to play with.
Finally, don't be intimidated. There are lots of ways to play with the huge dildos, whether you want to take just the tip, you love rubbing it against your labia or whether you want to spend a long Saturday night taking the whole thing!
If you need some inspiration here's our top secret sexy guide on how to use a dildo – with our top 10 favorite ways. Or just save and make a dildo yourself.