Sex dolls are slowly becoming the vibrators of the decade. I mean, they're no longer secrets whispered about behind others' backs. Everyone knows they exist and knows that they're no longer used as just tools for sex.
Sex dolls are evolving, and if you want to hop on this train before it leaves the station, you've come to the right place.
Today, we're going to teach you all you need to know about sex dolls, and we've even picked out a few of our personal favorites to show you. All aboard!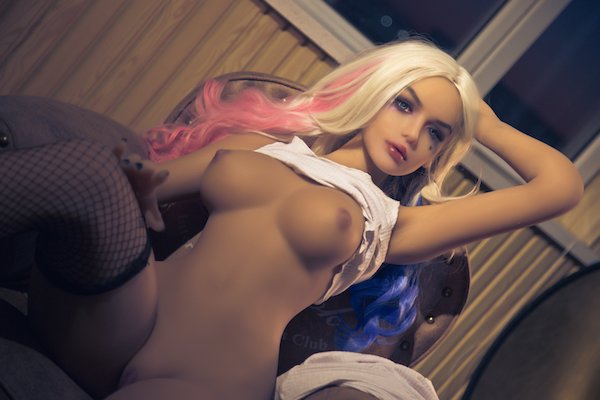 Top 3 Sex Dolls
Autoblow AI – Virtual reality experience better than any doll
Anastasia – Beautiful perfect blonde doll
Camilla – Cheap sex doll with all you need
Top 10 Best Sex Dolls
Sex Doll
Price (may vary)
Information
Anastasia

Check price 1

Check Price 2
Height: 5 ft 5 in
Bust: 31.9 in
Hips: 33.1 in
Weight: 72 lbs
Material: TPE
Lana

Check price
Promo code: LETSTALKSEX - 10% OFF

Height: 4 ft 11 in
Weight: 51 lbs
Bust: 29 in
Hips: 29 in
Material: TPE
Keon
Virtual Reality

Check Price

Promo code: LTSVIP - 10% OFF

Connects to VR porn
230 strokes per minute
Customizable
Autoblow
Virtual Reality

Check price
Save 20% - 50% today

Connects to VR headset
Realistic blowjob experience
Modeled after adult movies
A.I. Powered
Riley

Check price
Allergens: Phthalate-Free
Waterproof: Submersible
Canal diameter: 0.5 inches
Internal Length: 9 inches
Material: SuperSkin
Britney
Sex doll bust

Check price
Height: 1 ft 6 in
Weight: 29.76 lbs
Bust: 29.53 in
Hips: 29.92 in
Material: TPE
Stephanie
Most realistic sex doll

Check price
Height: 5 ft 1 in
Weight: 75 lbs
Bust: 37 in
Hips: 37 in
Material: Silicone
Dominique
Big ass sex doll

Check price
Height: 5 ft 4 in
Bust: 37.8 in
Hips: 43.3 in
Weight: 106.9 lbs
Material: TPE
Auburn

Check price
Height: 5 ft 2 in
Weight: 62 lbs
Bust: 26 in
Hips: 30 in
Material: TPE
Frankie

Check price
Height: 5 ft 4 in
Weight: 72.75 lbs
Bust: 30.71 in
Hips: 31.89 in
Material: TPE
We've also rounded up 33 best sex dolls for your added reference.

The Best Sex Dolls to Buy
1) Tanya X – Sex Doll With AI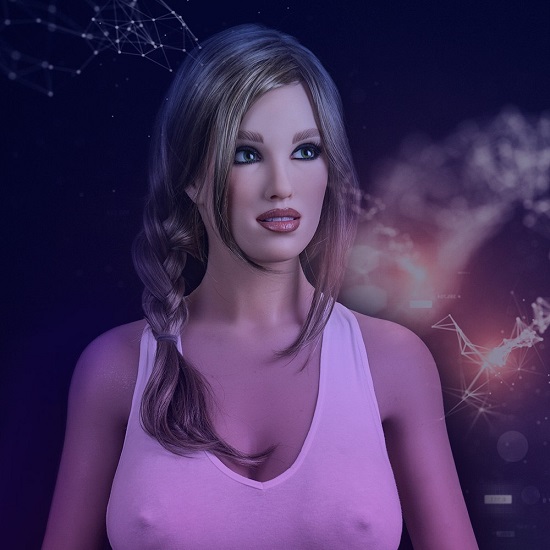 This one's for the guys who like them… healthy, shall we say. Tanya X is a full-figured gal, with huge breasts and an ass that's just as large. Not to mention her long blonde hair. She's also got some pretty impressive hardware under the hood, including vaginal and anal cavities, and a flexible internal skeleton.
Tanya X is a robot endowed with artificial intelligence. That means you can have a conversation with her. The downside is that the conversations may be a little… dull. And, because of the robotics in her mouth, she can't give you blowjobs. Tanya's a great listener though! But then again, most sex dolls are. If you value a woman for her listening skills over her ability to give great head, Tanya X may be the one for you.
Height: 4 ft 10 in

Weight: 60 lbs

Bust: 32 in

Hips: 32 in

Material: Silicone
2) Kitty – Blonde Sex Doll
Ah… the beauty of a busty blonde. Kitty has all the right assets, in all the right places. She's got looks to kill and a body that just won't quit. But what really sets her apart is her insatiable appetite for anal sex. Kitty is new to the game, but she's ready and willing to take it all in. And trust us, she's got the tightest, most lovable pussy you've ever seen.
Included with Kitty is an interesting USB heating wand that's supposed to make her body feel more realistic. Also of note, lingerie is included with purchase. Kitty is made from high quality TPE, a material that feels just like human skin. She has a steel skeleton that allows for any desired pose.
Height: 5 ft 6 in

Weight: 82 lbs

Bust: 36 in

Hips: 36 in

Material: TPE
3) Alicia – Torso Sex Doll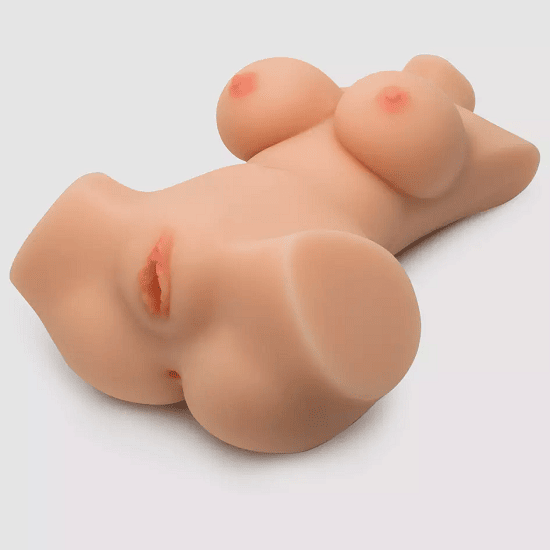 Sports lover and self-proclaimed cuddle bug Alicia is the newest addition to the Headless Harem! This petite, cute, and shy sex toy is perfect for those who crave spice in their life…and in the bedroom.
Alicia loves a good soft lovemaking sesh, but don't let her fool you – she can also be a wildcat in the sack. Her tiny frame is packed with power, so you can ride her hard and then put her away (after thoroughly cleaning her of course!).
Alicia weighs enough that she won't flop and wobble around while you do her. But she's light enough to handle with ease. If you're looking for a headless sex toy that's petite, discreet, but also hot as hell then look no further than Alicia.
Measurements: 15 x 8 in long

Weight: 16.5 lbs

Vagina depth: 5 in

Anus depth: 5 in

Material: TPE
4) Hentai – Anime Love Doll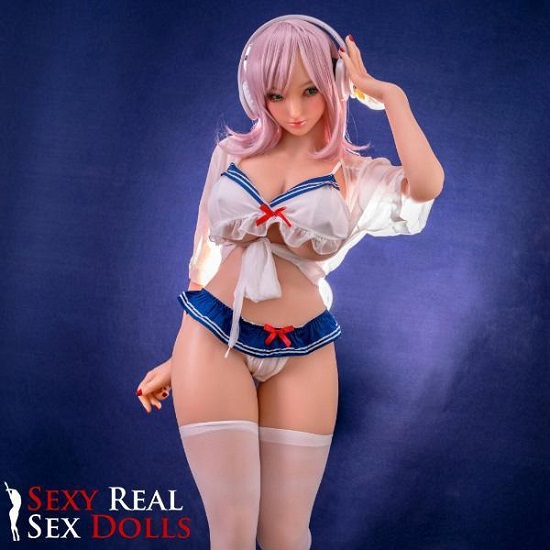 Sushi, kimonos and anime – what's not to love about Japanese culture? Hentai is the perfect embodiment of everything that's great about Japan, and she's also a smoking hot sex doll.
Buxom and beautiful, Hentai is the perfect woman for any man who loves Asian babes. She's got curves up the wazoo, and she knows how to use them. Her absolutely huge titties are perfectly shaped and rare to find, especially in an Asian woman. She's also incredibly flexible, so you can bend her into any position you want.
Hentai's got the looks of an angel and the skills of a devil, and she's able to use both to please her man.
Height: 5 ft 1 in

Weight: 75 lbs

Bust: 35.4 in

Hips: 35.4 in

Material: Silicone
5) Gabriella – Big Booty Doll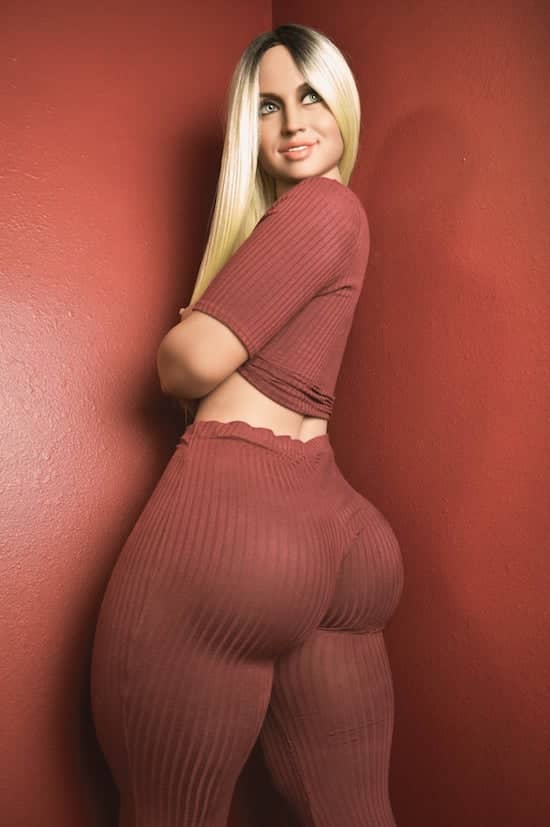 Gabriella's a freak with a great ass, and she knows how to work it. And work it she does. Gabriella is one of those girls with a booty so big, it seems impossible that she can even stand, let alone shake it. It's like a massive bubble, so jiggly that you fear it could burst any second. Her huge booty is begging to be grabbed, squeezed, and smacked.
She can ride a man all night long, and he'll never want to stop. Her long blonde hair is perfect to hold onto while you bounce up and down on her. Gabriella's proportions are seriously unreal, and you can do her in her vagina, her anus, or her mouth. Her TPE skin feels like the real thing. Real gals rarely have the features that Gabriella does.
Height: 5 ft 2 in

Weight: 95 lbs

Bust: 31.5 in

Hips: 43 in

Material: TPE
6) Anastasia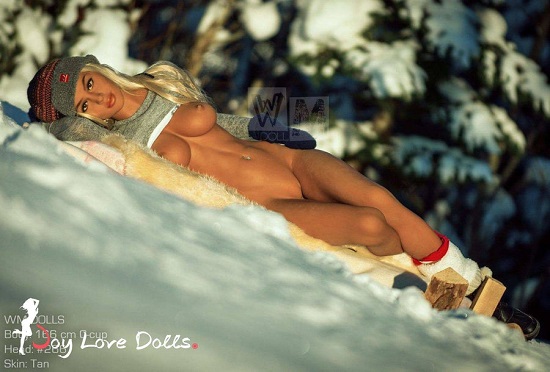 Who doesn't fantasize about getting it on with a foxy Russian chick? They're super hot no matter what they're wearing. This one can't speak. She's great at listening though. And that's not all she's good at. She's great at being screwed in any way you like, at any time of day. She's got a gorgeous, petite body with super toned abs. And her breasts and buttocks are actually quite bulky for such a skinny gal.
She also has a plethora of options to customize. You can choose an entirely different body, hair color, eye color, etc. You can also customize the type of mouth and breasts she has to maximize your pleasure with her. She can be a bit heavy and difficult to handle at first, but once you get the hang of it and find the right positions, she'll be good for tons of great sex.
Height: 5 ft 5 in

Cup Size: C

Feet: Standing or non-standing

Storage: Free Suspension Kit

Material: TPE
7) Quinn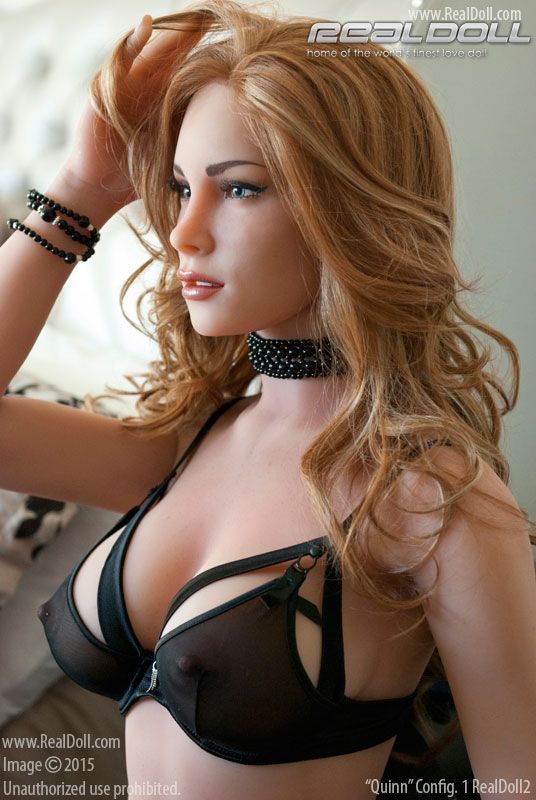 Everyone goes wild for a girl who's a freak beneath the sheets. And there's no better example than Quinn, an office worker who prefers penetration to paperwork. She absolutely adores dressing up in seductive lingerie and having hardcore sex with vigor. She's got penetrating eyes and her stare alone is liable to give you an erection.
And the best part? Her nipples are pierced, a rarity in the world of love dolls. Her lush hair is like a forest fire… red, hot and smoky. Quinn is no prude, so she loves the hell out of anal sex. And her silicone skin feels realistic. She also looks super hot in lingerie, which you can pick out for her. Obviously she's capable of doing oral, anal or vaginal. And she has a fully posable steel skeleton.
Height: 5 ft 3 in

Weight: 70-75 lbs

Bust: 33 in

Hips: 35 in

Material: Silicone
8) Lilly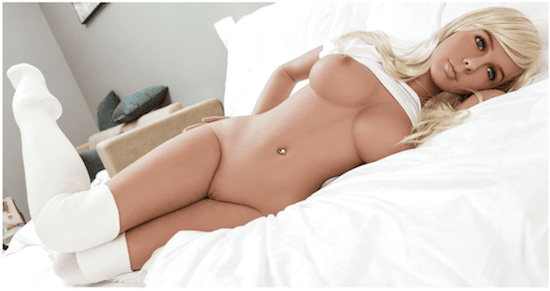 My, my my… what do we have here? Lilly is quite the catch, she's got a body that will make your eyeballs pop halfway out of their sockets… and that's not the only part of your body that she'll make pop. What really sets her apart is her face. It's… different. Some might even say it's weird. But we think it's cute! And her body is absolutely to die for.
She's made from TPE, which gives her an incredibly realistic look and feel. Underneath all that, she's got a steel skeleton which allows you to put her in any position you like. Her product description mentions that you can pose her to hold her hand, or watch TV with her. Of course you can! But more importantly you can stretch her out and ravish her petite body. The product description also mentions that you can spank her. It's odd to punish an inanimate object, but if it's part of a sexual escapade, it makes sense.
Height: 4 ft 9 in

Weight: 60 lbs

Bust: 31 in

Hips: 30 in

Material: TPE
9) Roxy

See Price
All dolls have their own unique features, but Roxy's are her big ol' tits. They're so big, they make her look like she's constantly in danger of toppling over. But that's part of her charm. Roxy is a fun-loving doll who loves nothing more than a good titty-fuck. And with her perky nipples and firm breasts, she's definitely built for pleasure.
Roxy is made from TPE, which gives her a realistic look and feel. Underneath her skin, she has a steel skeleton which allows you to pose her in any position you like. And with her long-flowing black hair, you'll be occupied for hours and hours.
Height: 5 ft 2 in

Weight: 99 lbs

Bust: 35 in

Hips: 33.8 in

Material: TPE
10) Willow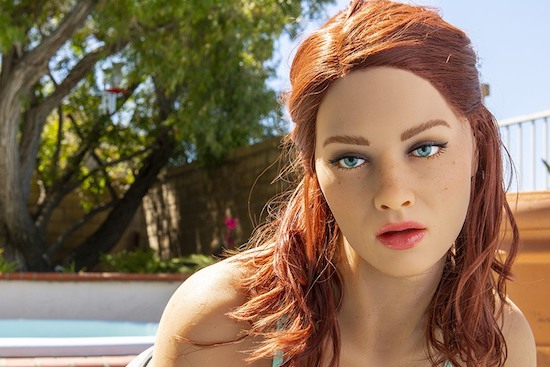 Some girls who go to the gym are all about the cardio. But not Willow. She's all about the weights. She loves to lift, and she's got the perfect body for it. Her muscles are toned and defined, and she's always working to get stronger.
Her physical prowess is directly correlated to her flexibility in the bedroom. She can be bent into any position humanly imaginable. And once there, she can be screwed until the cows come home.
But even though she's strong, she's still feminine. She's got a soft side, and she loves to be cuddled. She's the perfect woman for any man who wants the best of both worlds.
Height: 5 ft 3 in

Weight: 75 lbs

Cup Size: A

Hips: 30 in

Material: Silicone
11) Fuck Me Silly
Do you ever sing to your sex toys? "Love me tender, love me sweet…" In the original, the next line wasn't "Fuck me silly," but maybe it should have been. I mean, the Fuck Me Silly male masturbator is just a headless torso, so there's not much there to devote emotional love to. But that doesn't mean you can't use it for some great, repeated nights of fun.
This bad boy is specifically designed to give you mind-blowing orgasms, and it does not disappoint. It's made from body-safe materials, so you can use it over and over again without worry. Plus, it's easy to clean and store. The breasts are a bit stiff, but you can make them pleasant to squeeze with the help of some lube. As with other headless torsos, it's far easier to handle than a full size sex doll, plus it's much more convenient to store.
Cup Size: 36DD

Allergens: Latex-Free, Phthalate-Free

Vaginal canal depth: 8 in

Vaginal canal diameter: 1 in

Material: Soft plastic
12) Violet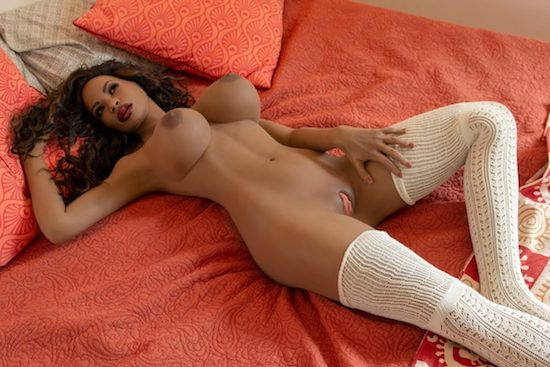 Violet is a mature ebony goddess and her face just screams the phrase "I'm gonna love you so good you'll never walk again." And we're here for it.
Mama Mia, Violet is one big, black, beautiful sex doll! This mature lady has got it going on! And her huge tits are something to behold… and to play with. Violet loves a good, hard screwing. But she's got a soft spot for cuddling and kissing as well.
If you're into MILFs, black chicks or both, Violet is the woman you need in your life. Her skin is made of soft and lifelike silicone. She has a steel skeleton so she can be bent into any position imaginable. And she has three holes which are ready to be ravaged.
Height: 5 ft 1 in

Weight: 75-80 lbs

Bust: 37 in

Hips: 37 in

Material: Silicone
13) Camilla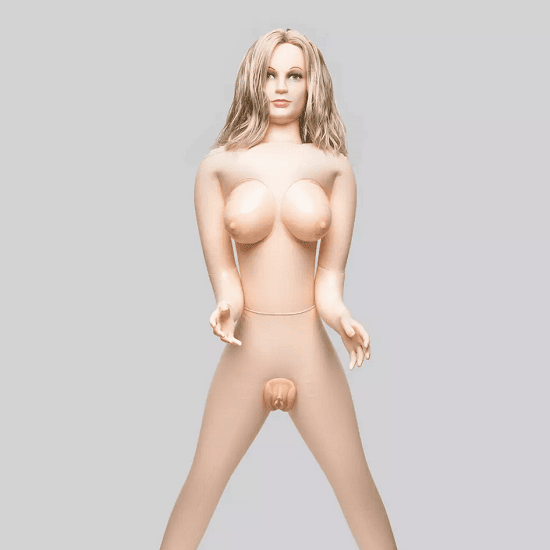 Have you ever gone to the beach and bounced around one of those multi-colored balls? Well, Camilla is like one of those beach balls… but she's a love doll. Camilla is made of PVC and is inflatable. She has a realistic face and body with big old boobs that are ready to be manhandled. Her nipples are hard and she has a tight pussy that is just waiting to be penetrated. It's five inches deep.
Camilla is perfect for those who want the companionship of a woman without all the hassle. She wants to have a good time with you and is always ready to please. She doesn't talk back, she doesn't get mad, and she doesn't have any needs of her own. So if you're looking for a plastic love doll that will make you laugh and get you off, Camilla is the girl for you!
Height: 5 ft 7 in

Hair: Blonde

Cup Size: C

Includes: foot pump, storage bag, puncture repair kit

Material: PVC
14) Amber

See Price
Amber Alert! A buxom sex doll with platinum blonde hair was spotted out and about in the city yesterday. Sources say that she was rich and spoiled, and that she was probably looking for a good time. Her name is Amber and she's as hot as they come. She has big breasts, a soft innocent face and an unbelievably curvy physique. It's a shame that most real women aren't as hot as Amber.
To top it all off, Amber even has sexy elf ears. She's dangerously cute and petite to boot. Standing at just under five feet tall, she weighs a little over 60 lbs, so handling her and having your way with her will be no problem at all. Enjoy Amber in almost any position imaginable, thanks to her steel skeleton.
Height: 4 ft 11 in

Weight: 64 lbs

Bust: 32 in

Hips: 34 in

Material: Silicone
15) Hyoon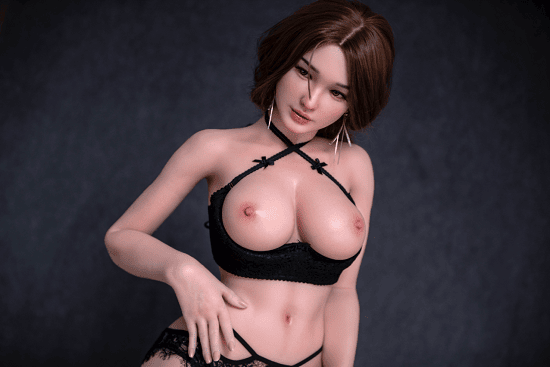 Hyoon is a curvy Japanese sex doll who's not afraid to show off her assets. She's got a big booty and a tight pussy. That, plus a cute face is the holy trinity. This doll is perfect for anyone who's looking for a mature Asian woman.
If you want a doll who can show you a good time without being too loud or aggressive, then Hyoon is the perfect choice. In fact, she won't make any noise at all.
Hyoon is one of those dolls that looks like a real woman in the pictures, and it's scary how hot she is. It's rare to see girls with cute, innocent faces have such voluptuous bodies and wear such titillating lingerie. Her skin is made from realistic silicone and she's got a steel skeleton for maximum flexibility.
Height: 5 ft 4 in

Weight: 62 lbs

Bust: 30 in

Hips: 30.3 in

Material: Silicone
16) Eve the Girl Next Door
Remember that hot girl next door? The one you always dreamed of making love to? The one who had a head, arms and legs. Well, now she can be yours…in the form of a headless, limbless masturbator called Eve the Girl Next Door!
The only difference between Eve and your real neighbor is that she lacks a head, arms and legs. I know that sounds like a downside, but just think about it. You don't need to carry on a conversation with her or experience any drama or emotional strife. Plus, she fits right in your closet so you can pull her out whenever you want and safely hide her away when you need to.
You can screw her in the pussy, the ass, or even her tits. She's got really big boobs and her nipples even feel realistic. She can be posed in multiple ways to simulate various positions. Eve the Girl Next Door is pretty damn hot for a headless torso.
Measurements: 15 x 8 in long

Weight: 11 lbs

Holes: Vagina, anus

Batteries: No batteries required

Material: TPE
17) Stephanie 1.0
Stephanie looks like the love child of  Kim Kardashian and some Real Housewife. In short, she's a complete knockout. She's 5'1 with three orifices available. Because she's a RealDoll, it's extremely easy to customize her. Not cheap, but easy.
Her head uses magnetic inserts to attach it, so if you get another head, you can attach it the same way.
You can also change things like nipple color, add piercings, freckles, change her hairstyle, and eye color. You can even buy her Hi-Realism eyes that reflect light.
It'll serve to make her even more realistic. Stephanie is one of the best-rated, real sex dolls, so if all her many, many qualities don't speak for her, judge her by public opinion. Or you can judge by her $6524.99 price tag.
Features
 Made of silicone
 High tech parts, such as head and vagina
 Customizable
18) Daria
Customizable dolls can be designed into any kind of woman you want. Daria has been described as "perfect" by many of her confirmed owners, and I have to agree. This doll is all woman, with a voluptuous, banging body and three holes available for use.
She's made from TPE, and you can customize her to your specific tastes. You can change her eye color, hairstyle, lip and nose shape, pubic hair, labia, shoulders, feet, areola color, nipple color, and type.
If you don't like her face, you can even swap her head with another doll head. She's yours to shape into whatever woman you want.
She can swallow pretty deep at 5.1 inches (13cm). Her vagina and oral depth are nothing to laugh at either; they both go 6.7 inches deep (17cm). This is the standard depth for most dolls.
But beware, she's 5'4 and weighs 48.5kg (107lbs). She might not be as portable as you want. She's pretty fairly priced at $2100, though.
Features
 Quite heavy
 Voluptuous body
 Highly customizable
19) Auburn Redhead Sex Doll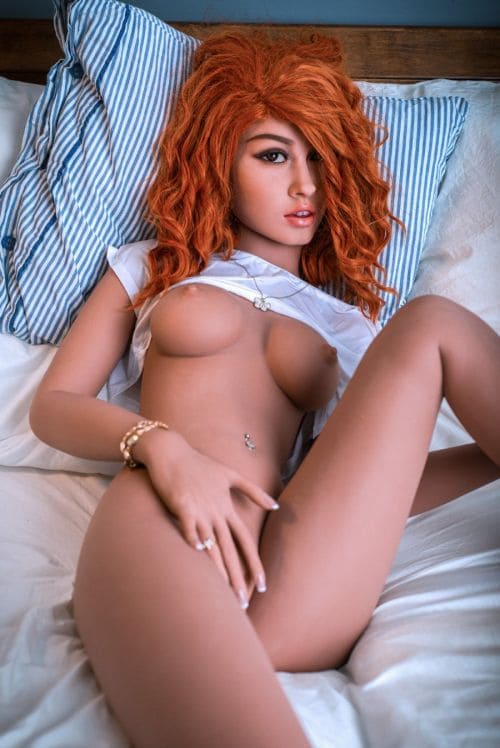 See Price
They say redheads have fiery tempers. Well, there's nowhere Auburn is hotter than in bed. This redhead is beautiful even with her default factory appearance, but you can customize her down to her eyeballs. If redheads aren't really your thing, but you still like her face, you can change her hair color.
She also has a steel skeleton that allows her to have movable joints. Her orifices are also fairly deep, with her mouth at 5.1 inches (13cm), and her ass and pussy both accommodating up to 6.7 inches (17cm). Auburn isn't a tall lady at 5'2, but she does weigh quite a bit – 28kg (62lbs).
Features
 Highly customizable
 Steel skeleton
 Made of TPE
Reviewers like J don't care about the weight, though, because she jiggles just like a real woman. And at only $1799. Can't beat that.
20) Mari Japanese Sex Doll
Mari is a sex doll that's positively tiny. She's only 3 feet and 3 inches tall. However, she's a Japanese sex doll, so she's as well made as they come with a full skeleton and flexible joints. I mean, flexible to the extent that she can almost move like a human.
Because of her size, her orifices are smaller than normal. Her mouth is 4 inches deep (11cm), her pussy is 6 inches deep (16cm), and her ass is 5.9 inches deep (15cm). Her pussy may not be deep, but it is exceptionally anatomically correct, and therefore feels fantastic.
Plus, she's only $899. Practically a steal for a sex doll.
She's so good that one of the reviewers, a satisfied Brian, said he's going to make a few videos of him and Mari and post them. We hope you had fun, Brian.
Features
 Portable
 Very flexible
 Customizable
21) Crina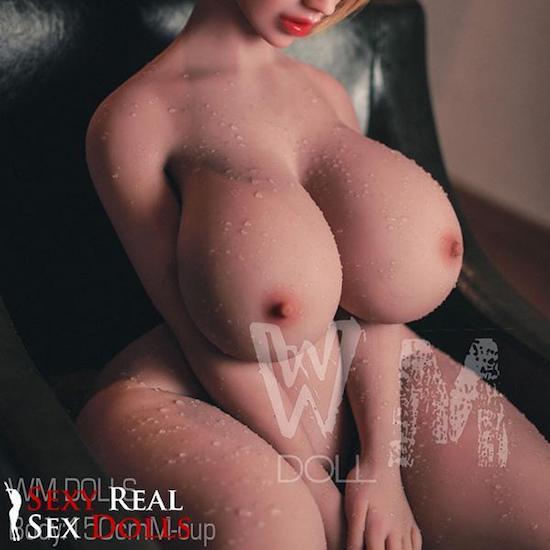 See Price
This one is for the guys who like watching that ass clap. Thicc dolls have huge breasts, teeny tiny waists, and huge asses, hips, and thighs. They're the classic figure eight. If you like BBW women, then thicc dolls are for you. Crina is a classy lady with the classic thicc body.
This huge tits sex doll has a 37.4-inch bust, 44.8-inch hips, and her waist is the coup de grâce at an itty bitty 20.7 inches.
Her orifices are the standard depth. She's only 4'11 (150cm), but that ass and boobs do add up, so she's quite heavy at 42.5kg (93.6 lbs). However, they jiggle like no man's business as reviewer Dexter can testify. She's definitely worth $2099 to him.
Features
 Voluptuous body
 Standard orifice depth
 Heavy
22) Dominique

See Price
Dominique has an ass that can achieve world peace. Okay, not really, but it's really close. She has H-cup breasts (37.8 inches), hips, and ass are 43.3 inches and her waist measures at 26.4 inches. So yeah, she's thick as hell. She's made of TPE, and the depth of her holes are standard.
She does have a steel skeleton, and her joints are movable so that you can place her in any position. However, this might be a bit difficult as she weighs 48.5kg (107 lbs).
But even with that, owners, such as Uncle Aaron, are still grateful for her. Big booty sex dolls like Dominique aren't easy to find, after all. Even if they do cost $2199.
Features
 Voluptuous body
 Steel skeleton
 Made of TPE
23) Taylor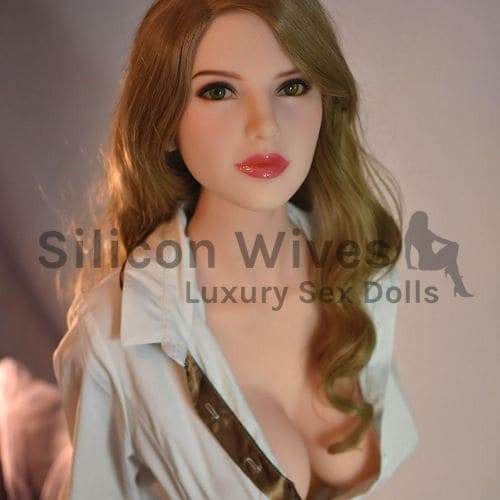 See Price
Yes, you know exactly which Taylor I'm talking about. The one that sings pop and country, rocks short skirts and hasn't aged since she turned seventeen. Taylor Swift. You can't have her, but with this doll, and for the price of $1899, you can.
That's the point of a celebrity sex doll. To make your hidden fantasies with the stars turn into realities.
Well, to kinda turn them into reality. You get my point.
This Taylor doll is here to serve you the way you'd want the real Taylor to, and she's entirely at your command. Her body is slim yet still sexy. Her bust is 33 inches; waist is 21 inches, and hips are 34 inches. That's not the best thing about her measurements.
The Taylor doll goes above and beyond the standard orifice depths. All her holes are deeper than the standard measurements. Her vagina can take up to 7 inches of dick, her mouth can take 5 inches, and her ass can take 6 inches.
She's even customizable to a certain extent. You can turn her into your dream lady and have her put on a private show just for you.
Features
Modeled after a famous musician
Orifices are deeper than average
Customizable
24) Stormy Daniels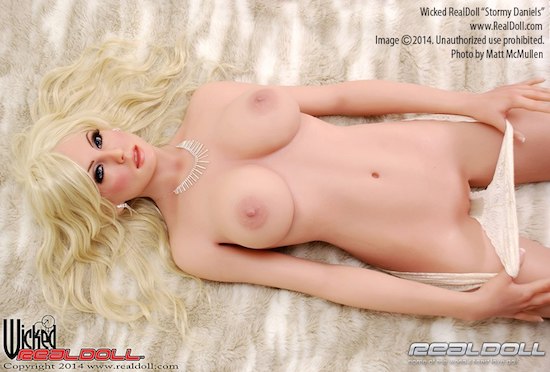 See Price
If you're one of the billions of people that watch lots of porn, then you'll know who Stormy Daniels is. You don't know her? Google her name. I'll wait.
Know who she is now? Great. Stormy Daniels is a living legend of the adult film industry. She's been doing porn for years, and her track record is unbelievable. If you've ever watched any of her movies and fantasized about playing with her perfect, flexible body in real life, well, you can't. Sorry.
What you can have, though, is an exceedingly well-made doll replica of her. This doll is built to be customizable, with loads of inserts. You can even change the way the pussy looks.
Her body dimensions are 36 inches at the boobs, 26 inches at the waist, and 36.5 at the hips, which is pretty spot on. She's priced at $6500. Fulfilling your Stormy fantasies never looked so possible.
Features
 Modeled after a famous porn star
 Voluptuous body
 Made of silicone
25) Harley Quinn
The Joker might look a little grim (and crazy) sometimes, but all I think about his girlfriend is that she's super hot. Fantasy sex dolls are created so that you can live out and fuck all those girls you secretly fancied from TV, video games, and movies.
They basically allow you to live your dreams, and if your dream is to fuck Harley Quinn (whose isn't), then you've come to the right article.
In Batman, Harley was a gymnast before she got the job that got caught up with the Joker. So you can bet your left ass cheek that she's flexible. And so is this doll.
It's got a steel skeleton and joints, which allow it to move like a human. Her holes are standard depth, but since you can position her however you want, you'll get maximum pleasure.
Harley's tall for a doll at 5'7, but she weighs 40kg, so she shouldn't be too hard to move around. After all, she can't be too light and still remain a badass. If you've been wanting one of the best life size sex dolls, then Harley's it. For $1750, she could be yours.
Features
 Tall for a doll
 Flexible skeleton
 Slim physique
26) Lyniel (Elf)

See Price
For those of us who played Dungeons and Dragons, watched fantasy movies or anime, fucking an elf is pretty high on our bucket list. As one of those fantasy nerds myself, only the prettiest, jiggliest elf would do. And then I saw Lyniel. *cue lovesick sigh.*
Lyniel's an archer elf with some huge tatas. She's made of soft silicone and is as flexible as they come. She also comes with unique options. For the standard price, you get Lyniel with textured skin, rotatable eyes, and soft boobs.
However, for an extra $250, you get Lyniel Deluxe, which includes all the things in the standard plus jiggle boobs, mildly soft butt, soft belly, pigmentation on both the areolas and the nipples, a hymen mod, and standing feet with pegs.
For an extra $450, you get a maxed out Ultra Lyniel with all the things in the Deluxe package plus a mildly soft butt and pigmentation on both labia and vagina (single color).
Plus, you can still customize her boobs, face, vagina, nails, etc., as normal. It might just be my horny inner nerd talking, but Lyniel sounds incredible to me. And she's only worth $2400 with the regular package.
Features
 Customization is expensive.
 Made of silicone
 Flexible edition skeleton
27) Sex Doll Torso with Arms

See Price
A half-body sex doll only has either an upper or lower body. These kinds of sex dolls tend to be cheaper, but some are no less in quality than a full-sized doll.
This torso with arms doll is a fantastic example. Some people prefer to look at a great pair of tits or a bouncy ass when they're fucking. But, other people also prefer the option to look at a face or grip some well-made arms while they're at it.
The torso with arms has a pretty face and big boobs with a bit of a bounce to them. There's not a lot of focus on her ass because she's just a torso. However, her pussy, ass, and mouth are as high quality as the rest of her, and in our opinion, totally worth $1400.
Take it from one of her satisfied owners, a guy called Joey, "This is my second doll, and I wish it was my first. It's more realistic and beautiful than it looks."
Features
Made of TPE
Jiggly
Realistic features
28) Climax Doll
I realize that you might be more of an ass man, and as I am supportive of most fetishes and preferences, I added the Climax doll as the best doll for lower body sex doll.
The Climax doll starts at a slender waist but drops down to a genuinely magnanimous ass with hips that are just shy of 80 inches long. It's one of the best TPE sex dolls around, so expect some softness and jiggle.
At $1775, the price of this doll may be an impediment to some ass men. A half-body doll is generally chapter than a full doll, but this one isn't. However, when it comes to sex dolls, if something is expensive, there's probably a reason for it.
Who knows, it might be the jiggle.
Features
 Made of TPE
 Jiggly
 Expensive for a half-body doll
29) Asa Akira
Luxury dolls can only be bought by people with a certain amount of wealth. They're the most expensive dolls out there, and for a good reason, too; most of them are so realistic that they can only be differentiated from humans by their silence.
Asa Akira is a sex doll made from a real Asian porn star. She was built with extreme care, only using the actual Akira's measurements. You could say she was created to satisfy all Akira fans, where the real Asa can't or won't.
However, fulfilling dreams and fantasies aren't cheap, and this fantasy costs $6500. Customization costs a few hundred dollars more. But since ALL parts are built according to the measurement of the user, I think it's well worth it. Definitely one of the best silicone sex dolls out there
Features
 Modeled after a famous porn star
 Made of silicone
 Customizable
30) Build Your Realdoll

See Price
I'm not sure there's a greater luxury than being able to make your own doll from scratch. With Build Your Realdoll, you can make your new companion from the quality materials that Realdoll is known for. You get to choose everything about your new doll.
From her face to her hair, to her eye and skin color, body shape, makeup, breast size, nipple color, and even her vagina style, they're all yours to shape. You have the tools to make the best realistic sex doll you can.
However, with almost every pick, you'll be increasing your final cost. You'll get a doll that you created specifically for yourself at the end of it – your perfect woman. However, you might be $6000 to $8000 short.
Features
 Extremely customizable —make your own partner
 Expensive
 Uses quality, high-tech materials.
31) Mei Lien

See Price
Another sexy Asian doll! Mei Lien looks like a disheveled queen, and that hot, sophisticated vibe she gives off is almost guaranteed to turn you on. A doll shouldn't be able to do that, but she does.
Mei Lin has big boobs, and her body is reasonably voluptuous. Her measurements are 33.5 inches (85cm) at the boobs, 22 inches (56cm) at the waist, and 34.3 inches (87cm) at the hips.
However, Mei Lin's most unusual feature is that, unlike most dolls, she can take more dick up her ass than in her pussy [7 inches (18cm) of dick up her ass and only 6 inches (15cm) in her vagina].
She can also take 5.1 inches (13cm) down her throat. Mei Lin is sexy and sophisticated and also an anal sex queen. And she sells for the queenly price of $2850.
Features
Looks like she was built for anal sex because her ass orifice is deeper than other ones.
Voluptuous body
Made of silicone
32) Marvella

See Price
While we're all busy with our daily lives, sex science is busy trying to figure out how to give us our own custom-made soulmate. AI sex dolls (alternatively, sex robots) are dolls created with artificial intelligence for sale.
The concept is to allow these dolls to learn like humans as they live with their owners, and they'll evolve their personalities to match their owners, thereby creating a soulmate.
Manufacturers are not there yet, but Marvella's an example of the great progress they're making. She's made of silicone but has an internal heater that keeps her body at human temperature. She can move her neck, wink, smile, and moan in response to touch.
She can also respond to questions in Chinese and English (you can command her to switch), and the more you converse with her, the faster she learns.
However, because she can speak, you cannot have oral sex with her. Well, you can, if you're willing to let the electrical current fry your dick. All of this for only $3400, folks!
Features
 Can learn
 Can speak and move
 Only has two entry holes, vagina, and ass.
33) Miko

See Price
Inflatable dolls or blow-up dolls are great for those on a budget. In fact, most sex dolls under 100 dollars are inflatable ones. And, dolls like Miko, prove that they don't have to be inferior.
Miko, when fully inflated, stands at 5'2 and has three fully functional entry points; her mouth, anus, and vagina and is the best blow-up sex doll I've seen.
Miko is made of thermoplastic rubber, so she's made to feel as real as possible. This realistic feel is what makes her the best inflatable sex doll plus the fact that she's also foldable and easy to pack away after use. However, reviewers do say that her mouth is a bit too tight. She's worth $169.95
Features
 Made of thermoplastic rubber (TPR)
 Can be easily stored
 Mouth is small
More Best Sex Dolls
There are sex dolls out there for every taste. Do you like blonde dolls or are you into pregnant women? Or maybe you would like a sexy mature MILF doll?
We've rounded up the best sex dolls by category to help you find your match.
Who do you want to see?
What is a Sex Doll?
A sex doll is your dream girl or guy, created by scientists to sex you up infinitely. That's one definition, but let's get serious. The sex doll is a male sex toy designed to resemble a human. They're mostly anatomically correct, and some of them are made with materials that feel very close to human skin.
Sex dolls are designed to be perfect in every way to enhance their desirability. Every day, new models are designed with deeper orifices, more customizable parts, softer skin, more flexibility, and even some form of intelligence.
There's a sex doll for everyone and for every fetish. There are black dolls, white dolls, mixed dolls, redhead dolls, lolita dolls, Asian dolls, etc. Whatever tickles your fancy. If it doesn't exist yet, it's probably in production right now.
People have undergone several changes in perception regarding sex dolls. First, they were taboo, a shameful thing that was never spoken about in public. Nowadays, that view has changed, and it's much easier to talk about them.
They've even provided help in some relationships, especially for couples where one or both have sexual problems. Some people even keep them as companions. Sex doll sales have exploded with this perspective change with the sex toy industry making $26.8 billion in 2019 alone.

Sex Dolls Buying Guide
You didn't think we'll just tell you which sex dolls are the best and toddle off. Good gracious, no. That's like giving a boy a chainsaw and not telling him what to do with it. It's a recipe for disaster.
Here's our short guide to sex dolls. Our little contribution to you and your sex doll(s). Dive right in!
Categories of Sex Dolls
Silicone Sex Dolls: These dolls are made of silicone, which is hands-down one of the best materials to use for any sex toy. Silicone doesn't trap bacteria, so it's much easier to clean and disinfect your doll after use. However, silicone does have a skin-like feel, but it can also be a bit hard.
TPE Sex Dolls: TPE stands for thermoplastic elastomers. This is also a fantastic material for sex dolls. It's also bacteria-resistant but not as much as silicone. However, it is softer and cheaper, so many sex toy manufacturers use this material. However, TPE does get stained by dye quite quickly, so white or light-colored clothing is preferred. These two materials make the mostrealistic sex dolls.
Blow-up Sex Dolls: Blow-up sex dolls or inflatable sex dolls are just as they're named. You literally pump them full of air and ta-da!– a sex doll. These dolls are usually made of vinyl (cheap), latex (better), and silicone (best). There's no in-between in genital texture for blow-up dolls. Depending on the quality, it can feel pretty great or like you're fucking nylon.
Cloth and Stuffed Sex Dolls: These sex dolls don't try to be realistic. That's not their allure. They're more for people with specific fetishes. To be blunt, they're fuckable plushies. They're usually created in the style of anime girls.
How to Use Sex Dolls
The hardest part of buying a new sex toy isn't using it. It's assembling it. And most people that have assembled dolls before know it only takes a few minutes for you to have a perfect doll at your service.
Now, a doll can be used for many, many things (we'll get to that later), but most people buy them for sex. And that's okay, 'cause they were made to be used for sexual activities. But,  there are a few things you need to know before getting in bed.
Sex dolls are fragile, so here are a few tips to get the most out of your doll while still keeping it in mint condition.
Test the limbs and flexibility before you begin having sex. This is to understand how flexible her skeleton is because it varies from manufacturer to manufacturer.
Wash your hands before touching, so you don't stain it, especially if it's made of TPE.
Only use water-based lube. Oil-based lube can accelerate wear and tear.
If you cum in it, it's best that you wash it out quickly.
Apart from these tips, yeah, you're free to go wild.

Sex Dolls Benefits
Real people are great, amazing, fantastic, awesome, etcetera, etcetera. But there are a few undeniable advantages that sex dolls have over them.
Always available: A sex doll always wants to hang out with you. You're its one and only purpose.
Raw: You can have raw sex without running about how you're going to end up paying child support for eighteen years.
No additional expenses: You don't have to take it out on dates. You both can Netflix and chill every day, or do what you want
No cheating: If you go and have sex with another doll, or a real person from time to time, that's your business.
Zero emotional expenses: No one to have to tell, "I love you." You don't have to consider another person's emotions.
No no's: It's always ready to have sex. No no's, no excuses.
Companionship: Having a doll's presence sometimes helps people stave off loneliness.
Health benefits: Sex is a great workout, stress reliever, and a form of catharsis. Having a doll to help you relieve some tension can help your body avoid the effects of a dry spell.
As models: Some people like to dress up and photograph dolls. It's a hobby.
Where to Buy Sex Dolls Safely
While there are hundreds of online sex doll retailers, not all of them can be trusted with giving their customers the best. So, in the interest of you and your future doll, we've created a list of some of our favorite and trusted online sex doll stores.
1) Realdoll

This online store is a tad more expensive than others and for a reason. Realdoll is the number 1 sex doll shop in the world.
Variety: This store only sells what it makes: Realdolls. It doesn't sell from other manufacturers. Its trump card is the customizability of its dolls. It also has some of the best quality sex dolls on the market.
User-friendliness: While it's website is pretty, it can be a little confusing to navigate, and the mobile version could be better.
Shipping: Sales and shipping are discreet, but it might take longer because of customization.
Customer Service & Returns: You can get in touch through phone and email. RealDoll only accepts responsibility for damages made during shipping. However, there's also a 30-day warranty on your doll's skeleton.
2) Sexy Real Sex Dolls
Reputation wise, this website is probably the best place to buy sex dolls on this list. Sexyrealsexdolls is a large website that's tried its best to cater to their customers' every need.
Variety: They have a large selection of dolls. Every category of doll is accommodated.
User-friendliness: Their website is easy to navigate, with a good mobile site.
Shipping: Shipping is free to some countries.
Customer Service & Returns: They've provided an email address and a phone number to contact them, and seem quite responsive. However, there is a rather long procedure in place for refunds or repairs on damaged dolls.
3) Siliconwives.com
They're a young but established sex doll retailer.
Variety: A very large selection of full-body dolls but not a lot of exotic, mini, or torsos.
User-friendliness: Their site is extremely functional. Everything is labeled clearly.
Shipping: They offer free international shipping.
Customer Service and Returns: They can only be reached through email. Returns and refunds are only possible if your doll is damaged during shipping or delivery.
4) Sexdollgenie.com
The store is a certified seller of The Doll Forum, so they're known to be extremely trustworthy.
Variety: They have loads of sex dolls in different shapes, sizes, and textures. You can even look at sex dolls by brand. They also sell some of the best TPE sex dolls around.
User-friendliness: They have a clear, straightforward user interface.
Shipping: This depends on how much you customized your doll.
Customer Service & Returns: You can send your sex doll back to sexdollgenie for repairs at any time. You can reach them through email, chats, or phone.
5) Ovdoll

They're a Japanese doll store, now expanded to accommodate other brands.
Variety: They have a large selection of dolls in every category.
User-friendliness: The website is straightforward, well-labeled, and uncluttered.
Shipping: Worldwide free shipping
Customer Service & Returns: They have an email and a phone number. They also have a 30-day guarantee or refund policy.
Sex Doll Shopping Tips
1. Budget
What type of sex doll can you afford? The sex doll type only depends on the depth of your wallet.
Torsos: These are the cheapest. They can range from a couple of hundred dollars to over a thousand.
Mini sex dolls: These small dolls can be priced as low as $500, but there are a few that cost nearly $2000.
Realistic sex dolls: You can buy one for $1600 and above.
Artificial intelligence sex dolls: The cheapest A.I dolls are over $3000.
Customized sex dolls: These start from $2500 and continues to soar as you add more features to your doll.
A cheap sex doll might look okay when it's first delivered, but when buying a sex doll, the cheaper it is, the higher the chances that it'll suck. Good materials make good sex dolls, and those are expensive.
2. Material
What sort of material do you like? Do you want it to feel as realistic as possible, or you have a particular fetish. The best materials for any sex doll is silicone because it's easy to clean and doesn't store bacteria. TPE is a good alternative, as it's soft and pliable and still body-safe.
However, plastic, vinyl, latex, and rubber are some of the absolute worst materials for sex dolls. If you choose one of these, I can't guarantee your pleasure or your genital health.
3. Body type
There are many types of sex doll bodies. There are voluptuous bodies, small bodies, slim bodies, etc. Choose the one that's best for you. You can now customize sex dolls to a certain extent.
4. Storage and temperature
If you live in a hot climate area, there are some materials that can easily warp or melt. Areas that are too cold may make steel skeletons stiff. The key is to keep your doll in a place that's not too much of either.
Also, if you don't live alone, it might be tough to hide a sex doll. Pick a doll that you can quickly put away.

Sex Dolls Cleaning and Maintenance
A clean doll is healthy. And by healthy, I mean, your health. Male masturbators that aren't properly cleaned can breed bacteria, smell awful, and can give you an infection. You need several items to keep your doll clean.
Antibacterial soap
Vaginal irrigator/ squirt water bottle
Microfiber or soft cloth
Powder and corn starch
Baby oil
Vaseline
Towel
Comb
Showerhead
Soft luffa on a stick
How to Clean a Sex Doll
Step 1. Immediately after using your sex doll, take your vaginal irrigator (AKA douche or enema bulb) and fill it with a little soap and water. Insert the small, open end into the dirty orifice and use it to flush her out.
Step 2. If you rested a bit after using the doll, you can soap up the luffa on a stick (just a little soap) and use it to gently wash your doll's insides. Then, you can use the showerhead, or squirt bottle to rinse out the soap.
Step 3. After doing this, remove your doll's head and wrap some foil or plastic around its head to seal it off. This is because it's important that water doesn't get trapped inside the doll's body. It can cause molding. You can now shower with your doll. A few tips for showering with your doll.
Never shower with your doll's head.
Use antibacterial soap.
If your doll is made of TPE, hot water WILL damage it. Don't do it.
Don't set your doll on the ground while bathing it; you may scratch it. Use the towel to cushion her.
Step 4. Now, carefully dry your doll with that microfiber cloth. Pay special attention to all orifices. Make sure they're all dry. TPE can absorb moisture and start to breed bacteria, so be careful.
Step 5. When it's fully dry, massage it with cornstarch baby powder, and use the Vaseline to oil the orifices and joints. Cleaning your doll this way will help preserve it for longer. For optimal cleaning, you need to clean your doll every time you have sex with her.

Sex Dolls Popular Questions
How long will a sex doll last?
A sex doll can last anywhere from two to ten years, with proper care and depending on the materials it's made of.
How realistic does a sex doll feel?
Depending on the materials and the heating mechanism and type of lube, a sex toy can feel very close to a woman's vagina. The best lifelike sex dolls are usually made of TPE or Silicone.
What's the difference between the best TPE sex dolls and the best silicone dolls?
Silicone is harder than TPE, but TPE is more flexible.
Silicone is more expensive than TPE.
TPE jiggles more than silicone.
TPE stains easily. Silicone does not.
Can my sex doll stain?
If your sex doll is made from TPE, it can stain. Easily at that. Silicone is only a little bit better at resisting stains. Never store your dolls with dark clothing on them. Only light clothes are acceptable for storage.
What is the best material for a sex doll?
The best and most durable materials for sex dolls are TPE and silicone.
What is the best sex lube to use on a sex doll
Water-based lube. It's the only kind of lube that won't stain or degrade your sex doll.
Do they come with clothes, hair, or other accessories?
Most sex dolls come with a wig, blankets, blow dryer, etc. This little tool kit differs from manufacturer to manufacturer, but there are almost always extras.
How to care for your sex doll?
Taking care of your sex doll is akin to taking care of something precious. Your sex doll needs to be properly stored in a place with good temperature and cleaned regularly. Sex dolls are rather fragile, so they need to be treated gently.
How to store and hide sex dolls?
Most people buy a case to store their full-body sex doll in. You can then keep this case in the closet or in a cool room. Some people choose to leave them out. Either way is fine, as long as they're not wearing dark clothing and are in a cool environment.
Who makes the best sex dolls?
Several companies make sex dolls, and each has its own pros and cons. These pros and cons depend mainly on material, shipping, price, and the prospective buyer. We've listed the five best companies that sell sex dolls, however.
Which sex dolls are the best?
Silicone and TPE sex dolls are the best quality sex dolls. These dolls can last for a very long time if well taken care of.
Who makes the best high-end Japanese sex dolls?
Once again, the answer to this question is subjective and depends on what you're looking for. The stores we mentioned all have several Japanese sex dolls on hand.
What is the best realistic sex doll?
Artificial Intelligence sex dolls are the most realistic sex dolls there are.
What is the best powder for sex dolls?
There are several doll powders around, but the tried and true powder is cornstarch. Cornstarch or any cornstarch-based powder softens the material of a silicone or TPE doll. It's also light enough not to scratch it, unlike talcum powder.
Where are the best value sex dolls?
You can find a great value sex doll on the list we gave you or at one of the shops we talked about in this guide.
Sex dolls are great companions and awesome sex partners with some equipment and imagination. There's a lot of misinformation about dolls, and we hope our guide has helped you pick a doll, learn how to choose a doll, or learn the proper way to clean your doll.