Every guy knows all orgasms aren't equal. Yeah, it always feels good to bust a nut, but some nuts feel so much better than others. There's a difference between an "I just came," and a "Shiiiiiiiittttttt, goddamn!" orgasm. One's okay, but the other is mind-blowing.
There are many different ways to achieve this fantastic nut. And it's different for all guys. Different guys have different hot spots and methods of stimulating them. It could be with your partner or your hand. But you're truly missing out if you haven't tried out a sex toy.
Or more, specifically, one of the best male masturbators.
Table of Contents
Types of male masturbators
There are two types of male masturbators; The manual masturbator and the automatic masturbator. Each of the two masturbators has its own pros and cons.
The manual masturbator is the one that comes to mind when most people think about the best male sex toys. The manual masturbator is a sex toy that's handheld, and you have to jerk off with it to get it to function. An example of a manual masturbator is the Stoya Destroya, of the Fleshlight brand.
This does allow you lots of power over your pleasure — you can choose to go slow or go faster, tighter, etc. But it can also make you feel exhausted. I've experienced a few awful shoulder cramps myself.
Automatic masturbators are great, but can sometimes be a costly way of experiencing pleasure without much work. These cock gobblers have motors in them that drive whatever machines are inside the toy up and down, to simulate vaginal sex, anal sex or a blowjob.
For example, the Autoblow AI. Some automatic masturbators are even hands-free. You don't need to do anything with them except adjust some settings to give yourself the best experience you can. An excellent automatic masturbator usually comes with at least three different stroking types.
Both types usually come with different sleeves inside with a different texture for each of them. Some masturbators work with the sleeves of other machines, but some don't. So, be careful where you put them.
Whatever male masturbator you choose, don't forget the lube. A good water-based one is best when you're sticking a dick inside a human-made material.

19 of the Best Male Masturbators
As you read through this list, you can make a table of pros and cons, to organize and look through later. Or you can search for a good male masturbator on your own using the factors I've explained above.
But hey, I'll review my nineteen favorites of all time tested on yours truly. So, just take the easy way, will ya?
Fleshlight Riley Reid (Best male masturbator for Sensation)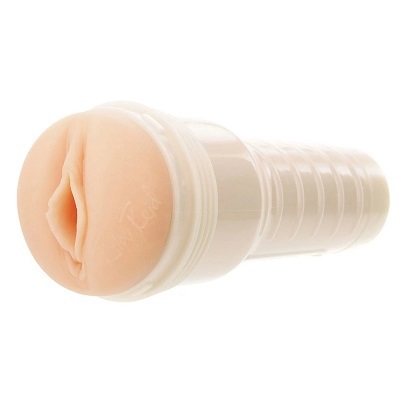 This baby was made out of a casting of a real porn star, the gorgeous Riley Reid. She's famous in the porn industry for doing just about everything from couples to gangbangs. This Fleshlight consists of four chambers to stimulate your dick as much as possible.
It's designed to get tighter as you push deeper into the toy. All four chambers have subtly different textures, designed to drive you insane.
The first chamber is lightly ridged and slightly wide, it gives a bit of a ticklish suction. When you push deeper to the second chamber, these large bumps massage your dick head and shaft with their rounded heads.
The third chamber has smaller bumps but also has ridges and is the tightest chamber. Now, the third chamber is like the finishing chamber, but if you're a little longer, you'll make it to the fourth chamber and the pronounced ridges there, which feel so good on your cock head.
The material for the sleeve in this toy is Soft SuperSkin™, and it's made with TPE. So, no allergies to interrupt your orgasm. Riley's really easy to clean up, too. Just take out the sleeve after you've cum and rinse it out. Spread it out to air dry or use a blow dryer set on cool. Don't ever use hot air.
Pro Tip: To maintain that tightness, you should clean your Riley with isopropyl alcohol and use cornstarch or a renewing powder after every five uses.
Pros
Easy to clean
Fantastic tightness
Feels awesome
Cons
Can cling onto the dirt
The hole may stretch a little bigger after every use
Lovense Max 2 (Best Discreet male masturbator)
Lovense Max 2 is one of the most digitally advanced toys in the market today. The only problem I have is the lack of complimentary lube and cleaning supplies in the package. Maybe it's because I'm used to receiving add-ons with my toys. Apart from that, the developers thought of pretty much everything.
This toy is shaped like a handheld manual masturbator, and it certainly can be. But that's not all it can do. It has an in-built vibrating system which is connected to a material that is lined all around the toy. When this vibrating sequence is turned on, it sends the vibrations around your dick.
There are also little bumps within the material which contract around your cock while the wave is going on. Add this to the fact that this baby has 2-3 hours of use time between every charge, and you've got yourself a good, hands-free, dick-milking machine.
The Max 2 can be hooked up to Lovense's app, Nora, and be used to have some fun with your partner from a distance as long as your partner also has a Lovense Max or Lovense Nora.
You can create your own rhythm of vibration with the app. Or you can use a stranger's, which is both creepy and sexy at the same time.
Pros
Feels real
App-enabled
Rechargeable
Discreet
Cons
Not compatible with many devices
Not waterproof
Cost may be on the high side
Kiiroo Onyx 2 (Best for Quick Orgasm)
As a follow up to their smash hit, the Kiiroo Onyx, the developers at Kiiroo launched the Kiiroo Onyx 2 a few years ago, and the popularity of this device hasn't slowed. I wanted to see why for myself, so I tested it out, and yeah, I get it.
The Kiiroo Onyx 2's show stoppers are the silky smooth SuperSkin™, and the ten vibrating rings inside the device designed to milk you dry. It comes with a virtual reality set so you can watch some life or recorded action while your dick is being gobbled.
The touch-sensitive keys on the sides make it easy to control. You can connect to its partner devices, the Kiiroo Onyx 1, another Kiiroo Onyx 2, or the Fleshlight Launch.
The only thing you have to do with this baby is turn it on (pun intended), keep it in place, and get ready to cum.
Pros
It has ten rings to milk your cock.
It is Rechargeable.
It can be used with your partner.
140 strokes per minute
Cons
Not a lot of virtual reality content
Long charging time
Touch-sensitive pads can get annoying
Fleshlight Stamina Training Unit (Best Male Masturbator for Stamina)
You can probably tell from the name, but this machine is not only meant to pleasure you but also to improve you. Or, more specifically, improve your stamina in bed. The Fleshlight STU is made to be hard on cocks.
By hard, I mean, you're probably going to cum real quick the first time. The super-smooth sleeve has these little bumps that are responsible for training your stamina. If you use this toy as directed and consistently, you'll be increasing your staying time and getting some mind-boggling nuts in.
Pretty good 2-for-1, eh?
The material used in making the STU is of high quality. Even the lube that comes with it is high quality too. This Fleshlight also comes with some cleaning solution and renewing powder, which is a big plus in my book. It's a manual masturbator, so you'll have complete freedom over how fast you go.
This improves the quality of your training because you're in charge of your own edging. I say this, but I just mainly used it to jerk off and found that I stayed a bit longer after some time. You don't even need to focus on the stamina training thing.
Just jerk off into the Fleshlight as usual, and when your stamina increases, it'll be a happy side effect.
Pros
It helps to better your skills.
Increases stamina
Simple to clean
Realistic feeling with SuperSkin™
Cons
None
Autoblow AI (Best Blowjob)
The Autoblow AI is the most technologically advanced masturbator on this list. Hands-down. There's no other masturbator like it, or if there is, I haven't heard of it.
Autoblow AI was developed to learn what you like. The developers watched and analyzed hundreds of hours of blowjobs in porn movies, to create the most realistic blowjob toy you've ever cum into.
The Autoblow AI has ten different modes or speeds, each designed to concentrate on a particular part of your penis or grip in a certain way. Then, there's the AI mode, which uses everything the machine has learned about your cock to make you cum as hard as possible.
The AI can also double as a stamina training unit, too. It has an edge button that pauses the device, and by pressing that same button restarts what it was doing before you stopped.
Some guys like CyberSkin or TPE's a lot, but I personally love the way my lubed dick feels in a silicone sleeve. The gripper on the Autoblow just made it even better, and the fact that the only thing you have to do is hold it in place just takes the cake.
The Autoblow AI isn't rechargeable, though. You have to plug it into an outlet to get it working. Don't freak out about it, though. It's been made so that the electrical parts don't go near your dick at all. You won't get fried.
The machine comes with nine feet of cord, so you have a good-sized leash. The Autoblow AI comes in seriously discreet packaging (mine came looking like office supplies), but there was only the Autoblow AI in that package. There's no lube, no extra sleeves, no cleaning solution, and no refresher.
Just the AI. But hey, it gives some damn good head.
Pros
Best blowjob machine
Ten different techniques
An AI to learn what you like best.
Can train your stamina by edging yourself with the pause button.
Cons
Expensive
Tenga Black Flip Hole (Best for Fun Times)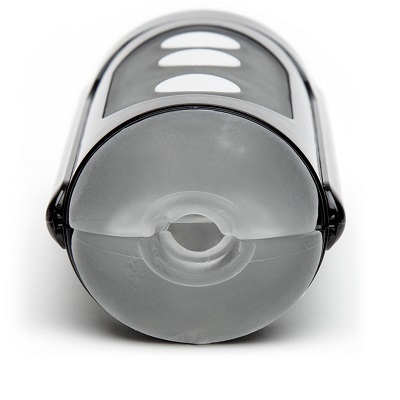 It's the black version of The Tenga Black Flip Hole that's most important. This sex toy also comes in white, silver, and red, but honestly, I prefer the black one. The textured nature of the TPE, the pressure points, and the suction.
Yeah, it's the black one, for me. The other colors of the Tenga Flip Hole line all basically have the same features, but it's the slight variation that had me flying over the edge.
The Tenga Flip Hole isn't shaped like a normal Fleshlight or manual masturbator. It opens from the sides like a kind of odd rocket. You insert your dick in it (lube first!) and press down on the pressure points at the sides to deepen the experience.
It doesn't take too long to suck the cum right out of you. The Flip Hole won't leak your juice all over your floors, and it's effortless to clean. Just unclip the sleeve, rinse with soap and water, and dry. The Flip Hole comes with a drying dock even.
Though, even with the dock, it takes quite a bit of time to dry.
Pros
Design is optimal for those with erectile dysfunction
Textured sleeves
Great suction
It comes with lube, drying dock, etc.
Cons
It takes a while for the sleeve to dry off.
Cobra Libre II (Best Quiet Masturbator)
The Cobra Libre II is a device meant for a specific type of guy. This toy is made out of medical-grade silicone to vibrate around the head of your dick. That's it. That's what it's for. A unique service for your second head and boy does this baby do its job.
Vibrating silicon may not sound attractive (or maybe it could, hmm), but it sure as hell lights up the nerves. Since this toy isn't made for actual thrusting, it's curved, and you can fit your dick in that 3.5-inch long space.
The vibrations come from two high-powered motors inside, and the Libre is waterproof so you can take her with you to shower and not be too worried if you end up jizzing all over it. The Libre doesn't come with lube or cleaning supplies.
Fair warning: Not too many of these toys come with cleaners. If you're going to play with toys, always have your own supplies ready.
Pros
High-speed motor
Can stay on for three hours
Extremely quiet
Rechargeable
Waterproof
Cons
Long charging time
Read my full Cobra Libre review.
Zhang Xiao Yu Realistic Pussy (Best Pocket Pussy)
As soon as you touch this toy, you can fee the difference. This one needs a bit more care than the average male masturbator, but in return, it's prepared to deliver a fantastic orgasm.
The Zhang Xiao Yu pussy (from this point on to be called ZXY), is made of a soft, nearly squishy material, but it's still firm enough for you to hold on to. The ZXY was cast from the vagina of a famous Chinese woman.
It's even been touted as the best pussy in China. The ZXY is amazingly soft both inside and outside with a highly textured canal and a closed-end for less mess. It's also waterproof, so it can be taken into the shower with you.
You don't need as much lube as a Fleshlight, but it can be overstimulating to some people. The ZXY's other problems are that it's not the easiest to clean, and it tends to wear with friction. As I said, you have to treat Xiao Yu with care.
Pros
Good material
Great sensations
Cons
Not the easiest to clean
The smell of plastic when first opened
Should be tighter
THRUST Pro Elite Alana (Best Ass)
Alana is thick as hell, damn. Thrust Pro Elite Alana is a sex toy like Zhang Xiao You, with a bit of torso. But, unlike Zhang, Alana has a big ass made for doggy style penetration. Her pussy is ribbed, and her ass is tight but welcoming with lots of lube.
Much like a real one. Alana's skin feels real, too. Its ass jiggles when you slap it, and it has a reassuring weight that pushes back when you thrust into it.
Alana comes in discreet packaging, but it's big, so it's definitely not easy to hide. You'll need to make space for this toy before buying it. You'll need lots of lube when playing with it, but the grip and the texture will still bring you to orgasm quickly.
For cleaning, all you need to do is direct the shower nozzle spray into one of Alana's holes, and the dirty water will come out the other hole.
Pros
Can be used hands-free because it's so stable
Waterproof
Easy cleaning
Durable
Cons
Quite heavy
The vagina color starts to fade after a bit.
Fleshlight: Stoya Destroya (Best Fleshlight Girl)
Another Fleshlight toy cast out of a real woman's body; this pussy is an effective way to draw out that orgasm quickly. The feel inside Stoya at first thrust is a lot of soft bumps that cling onto your cock head.
As you push in further, bigger bumps hook onto your dick and create merciless friction. The first time I used a Stoya, I stopped here, but if you push in further, you'll find a ribbed section that stimulates your tip and frenulum like a real pussy.
It's made out of TPE, but it has a realistic firmness and fleshiness to it that is damn close to the real thing. Even closer, when you add lube, it's waterproof and easy to clean, so don't be afraid to bring Stoya to the shower.
Pros
Realistic feeling with lots of detail
Waterproof
Skin-safe materials
It comes with instructions for use and care.
Cons
What cons?
Desire Luxury Rechargeable Male Vibrator (Best for Travel)
If your dick is a little thicker than average, then this cock vibrator is for you. It has three motors, eight vibration patterns, and twelve levels of intensity. This male masturbator will make you fly. The inside of the material is made from soft hypoallergenic silicone.
It is curved for optimal sensation when the vibrating begins. It's waterproof and can be locked during travel because I'm sure you don't want it buzzing in your bag while you cringe. It can also be tucked away discreetly in its storage case, and it can be charged from there.
While the Desire Luxury can be used for around sixty to eighty minutes, it takes nearly three and a half hours to charge, which can be a downer.
Pros
Soft silicone gives it a fantastic feeling
Has a variety of patterns and intensity
Waterproof
Discreet charging
Cons
It takes a long time to charge.
Not suitable for longer penises
Fleshlight Launch (Best App-enabled)
The Fleshlight Launch is a marvel of compatibility. You can use the Fleshlight Launch a.k.a the Kiiroo Launch with any Fleshlight device you have. This baby is an automatic masturbator; it does all your work for you. But just because it says Fleshlight Launch doesn't mean it comes with an actual fleshlight.
It doesn't. You have to buy that separately. The Launch is just a device to move the Fleshlight that your cock is in. It's compatible with most Fleshlight products, but not all. Fleshlights Ice, Flight, Turbo, Go, and Quickshot products are incompatible with it.
The Fleshlight Launch has sensors on the front for power and for speed changes. It's also app-enabled, so it's great for couples fun and your single fun, too.
Pros
App-enabled
It does all the work for you.
Easy use
Cons
It takes 6-9 hours to charge.
It doesn't come with its own Fleshlight.
PDX Elite Double Penetration Stroker (Best Two-for-one)
You get the best of both worlds with this male masturbator. There are two orifices for the price of one in this deal. A mouth and a pussy made from TPE Fanta Flesh. It's entirely safe for your skin.
The vagina and mouth are both curved to mimic the curve of a throat or canal, respectively. The vibration just completely finishes me off with a fantastic humming and suction through the softness of the Fanta Flesh.
The Stroker has enough width and depth to take the length of most men comfortably. Both lips cling onto your dick, no matter your size, so it's always tight. It's a closed-hole, so no spillage, and it's quick and straightforward to clean with just soap and warm water.
The Stroker comes with a care kit of lube, renewer, and cleaner, for a complete experience.
Pros
Realistic flesh
Two orifices
Sizeable
Comes with a care package
Easy to clean
Rechargeable
Cons
A little noisy
Control Rechargeable Warming Male Masturbator (Best Ultra-warm)
A few people don't like slipping into a room temperature hole. If you're one of them and you prefer your toy a bit warmer, the Control toy is a good one to start with.
The Control rechargeable has a very self-explanatory name. This toy has a heating mechanism stored inside that warms up as you use it. The device was a snug fit for me, but it had two motors to make up for it, and each was hitting a different spot on my dick.
The heat near the head and the suction brought me to the edge. That's another great thing about this toy; you can edge yourself. If you have ED, edging yourself with this toy may help.
The developer has gifted us with a Turbo button to drive the sensations high and finish off with a bang. The kind of orgasm that has you cross-eyed for a second.
Control is easy to clean and has a USB cord for easy recharging.
Pros
The vibrator works excellently.
Warm and snug inside
You can edge yourself.
Easy controls
Turbo button
Quick recharge.
Cons
Too tight for some men
Man Wand Starter (Best Vibrator)
A different sort of manual masturbator. The Man Wand is a soft oval silicone that's reasonably stretchy. This device may fit into the palm of your hand, but it packs a considerable punch.
When you turn it on, you'll find that it has ten different kinds of vibrations and all sorts of pulses. You then wrap it around your cock and jerk off with it. The vibrations it sends up and down your shaft will rock your world.
And since power is in your hands, you can focus on the more sensitive spots.
The Man Wand Starter is waterproof and a one-size-fits-all device. A new definition of the handheld male masturbator.
Pros
Rechargeable
The vibrations
Waterproof
Skin-safe
Cons
Long recharge time compared to use time
Doc Johnson Mood Exciter Double-Sided Stroker (Best Manual)
Now, this is a fun, simple, inexpensive toy to play with for both singles and couples. It's made out of a material called Ultraskyn that is entirely hypoallergenic. The Mood Exciter is open-ended at both sides. It's shaped like a squishy hourglass.
One hole is narrower than the other, but the material on the inside is textured with little bumps and ribbing. Once you lube up and slip into this thing, you can see your cock clearly. The texture and the shape of this toy will squeeze the cum from your balls!
It's waterproof, it doesn't require charging, and it's really discreet. If someone unexpected sees it, there are a hundred possible excuses to give because of the plainness of the toy. It just doesn't nearly look like a sex toy.
Pros
Discreet
Safe for the skin
Amazing feeling
Easy to wash
Cons
It can slip out of your hand during use if you overdo it with the lube.
Aneros Helix Trident Prostate Toy (Best Prostate Massager)
Just because I've been going on and on about cock masturbators doesn't mean I don't acknowledge the force of a prostate orgasm done right. Because I do.
The Aneros Helix Classic is a big favorite of mine for four main reasons. One, it's the perfect length to hit the P-spot. Two, it's head is large enough to press and massage that spot thoroughly. Three, it's designed for mobility with the tapering shape.
Four, it has a stand for easy pullout and to press against the perineum, which is a major hot spot for some guys. The material used is made out of non-irritants. This is infinitely more important to make sure of when a toy is going inside you.
There's nothing worse than an itch inside your ass.
Also, make sure to use lube. Use lots and lots of lube when giving yourself a prostate massage. It enhances the experience and prevents chafing.
Pros
Large head
The length is perfect.
Good shape for movement
Easy to pull out
Waterproof
Cons
You can't use it without some lube.
Sex Doll Lower Body (Best Sex Doll)
I can't write a best male masturbators list without including a sex doll or two. I'll give it to you straight. These dolls are fantastic. They're made entirely from TPE, which is why they're so expensive. So, no risk of any hives.
The pussy can be made to look like just a hole, or you can request for the labia, clitoris, etcetera, to be added. Both pussy and ass are made to grip and cling to a cock. They're also textured with small bumps and ribs.
You wash it with a shower nozzle in the hole you came in. The dirty water drizzles out the other end. That part's natural but you need to let it air dry for a few hours
Pros
Its substantial weight means you get feedback when thrusting, which makes the experience all the more pleasurable.
Both pussy and ass are well textured
Easy to clean
Cons
It might be too heavy.
You have to wait for hours for it to dry.
Ice Jack Ass (Best Fleshjack)
Don't take the name literally; this male masturbator is just as warm as your standard Fleshlight. This toy is an ass orifice geared towards the gay men reading. I didn't forget about you. This masturbator is textured to feel like the inside of a man's ass.
If you heat it up a bit and add some lube, it feels nearly identical. Though that's part of the lure of the Ice Jack, it's not the main attraction. When the company named this device "Ice," they meant it as transparency. This toy is as transparent as ice.
You can see yourself receiving the pleasure of the bumps and ridges. You can see yourself coming.
If that's a kink of yours, then the Ice Jack is going to be your new best friend.
Pros
You can watch yourself masturbating.
The feel on the inside is great.
Safe for skin
Suitable for men of all sizes
Cons
None
Best Male Masturbators Compared
| Toy Name | Type | Material | Product Dimensions (inches) | Special Features |
| --- | --- | --- | --- | --- |
| Fleshlight: Riley Reid | Manual | TPE | 10.4 x 4.6 x 3.7 | Four textured chambers |
| Lovense Max 2 | Automatic | TPE | 12.8 x 5.2 x 3.7 | App-enabled |
| Kiiroo Onyx 2 | Automatic | SuperSkin™ | 5.6 x 3.9 x 12 | Vibrating rings |
| Fleshlight Stamina Training Unit | Manual | SuperSkin™ | 12.8 x 5.2 x 3.7 | Helps stamina |
| Autoblow AI | Automatic | TPE | Unavailable | Ten blowjob modes |
| Tenga Black Flip Hole | Manual | TPE | 6.9 x 3.4 | Drying dock |
| Cobra Libre II | Automatic | Silicone | 9.8 x 4.7 x 2.4  | Very quiet |
| Zhang Xiao Yu Realistic Pussy | Manual | Skin Feel | 5.9 x 3.9 x 3.9 | Very soft skin |
| THRUST Pro Elite Alana | Manual | TPE | 14 x 14 x 9 | Firm body |
| Fleshlight: Stoya Destroya | Manual | SuperSkin™ | 10 x 4 x 4 | Realistic feel |
| Desire Luxury Rechargeable Male Vibrator | Automatic | Silicone | 5.5 x 9.75 | Travel lock |
| Fleshlight Launch | Automatic | — | 12 x 6.1 x 6.5 | App-enabled |
| PDX Elite Double Penetration Stroker | Manual | TPE | 9.2 x 3.4 x 6.1 | Two orifices |
| Control Rechargeable Warming Male Masturbator | Automatic | Silicone | 4 inch canal | Warming mechanism |
| Man Wand Starter | Automatic | Silicone | 3.25 x 1.8 | Ten vibration modes |
| Doc Johnson Mood Exciter Double-Sided Stroker | Manual | TPE | Length— 5 inches | Open at both ends |
| Aneros Helix Classic Prostate Massager | Manual | Soft plastic | 0.1 x 8.5 x 5.5 | Larger head |
| Sex Doll Lower Body | Manual | TPE | 39.37 x 33.86 | Well textured orifices |
| Ice Jack Ass | Manual | SuperSkin™ | 4.3 x 10.6  | Transparency |
What exactly is a male masturbator?
A male masturbator is a device created by some benevolent scientists to help you achieve that epic orgasm. It's a machine designed to give you the most amount of pleasure. Let's face it; your partner may not be willing to get down with you every time you're horny.
Or they might not be in town. Or you're just sick of always using your hand.
For whatever reason it is, you've come here looking for an excellent masturbator. I've not only shown you some good masturbators, but I've also highlighted the types of masturbators, what kind of dicks they're made for, and nineteen of my favorite cock gobbling tools (all personally tested).
Keep reading to find out what you should look for in a good male masturbator. Also, below, I'll answer some of those questions about masturbators that have got you all worried about trying one out all these days.
Why do you need a male masturbator?
It's not necessary to read this buying guide before you get your own masturbator. But, as the stigma for buying or owning a sex toy decreases, the market has become saturated with masturbators. Big, small, functional or not, adequately made or a ticking time bomb.
Some people buy their first sex toy and realize they've made a colossal mistake. And it could be a couple of hundred dollars error, depending on their tastes.
The point is before you buy your first, or second, or even third sex toy, you ought to know what's what in the sex toy industry. In fact, for your own safety, you must know. Why? A poorly made toy can cause some severe issues.
Or stir up some allergies you didn't even know you had. Alternatively, they can also break during or after the first use. And whether you've spent lots of cash on it, or not, that's freaking annoying.
I mean, this toy's going to be wrapped around your dick, so it better be made to take a pounding.
While there are several other types of sex toys for men, this buying guide focuses exclusively on male masturbators. And if you're not particularly sure why you need a masturbator, let me update you on four reasons for a stroker.
More frequent orgasms – For the dude who loves sex but doesn't have a partner, or the brother whose partner is miles away, a masturbator can be a nice change from your hand and some lotion. Plus, it never says "no" and is conveniently located in your drawers, under your bed or in your closet. Ready when you are!
Higher Intensity Orgasms – You're going to cum much longer and harder using a masturbator instead of your hand, especially if you've been suffering through a dry spell. You know the sort of orgasm I'm talking about? That swearing, clenched teeth, tense-muscled orgasm. The one that crawls from toes to balls. A masturbator can take you there.
Learn your body – A masturbator lets you explore your dick. I'm not saying you don't know what feels right by now. But some machines have shown me some spots that I never knew I had.
Better control – Not to be mean or anything, but some dudes may have a problem of nutting a bit too soon. This could be humiliating. The good news is it's totally avoidable. A masturbator allows you control over your orgasm, how, when, and from what exactly it'll come. You can edge yourself and by doing so, create enough stamina to last longer.
So, now that you know just how handy they could come, what exactly are you to look out for before you take the plunge and purchase a male masturbator?
What to look out for in a male masturbator
There are many things to consider before buying a masturbator. You've got to keep an eye out when you're getting a sex toy. It sucks getting hyped about a new toy and then realizing it's not what you expected.
Features – What can your prospective male masturbator do? What are its limitations? When looking at the features of male masturbators, you'll need to isolate what exactly you want it to do. That way, you'll have a much better idea of whether or not the toy is right for you. Then, you'll be able to bypass machines that don't perform your specific task.
Size – This particular bit bears repeating. Over and over again. Watch out for the SIZE! You do not want to buy a masturbator and then have it be three inches too small or too damn tight. I write from experience. Always, always check the size. If it's not in the specifications, check blogs, or check reviews.
Materials – There are different types of materials that a sex toy can be made out of: silicone, CyberSkin, rubber, or thermoplastic elastomers (TPE). These materials are some of the reasons why you need this buying guide. Rubber and CyberSkin can contain plasticizers or phthalates, which are harmful to the skin and can cause severe allergic reactions. Toys with latex or parabens aren't safe either. Ensure that the material used in the product is compatible with your skin. Or just make sure you know what you or your partner's skin reacts to and steer clear of any toys that use it in their ingredients.  Actually, many manufacturers are aware of the dangers posed by these chemicals. Most now use hypoallergenic materials such as silicone and TPEs. Nevertheless, you must always check. Rashes on your dick aren't sexy. Or comfortable.
Durability – I may have already said this, but you need to be sure that your new masturbator isn't going to fall apart at first use. You may not always be told the truth on the company or seller's website, so once again, read reviews.
Casing dimensions – It's crucial that you get a toy that you can comfortably grip or control. If it's a handheld masturbator, you want to be able to keep a firm hold of it. If it's an automatic one, you want something you can easily hold in place with control buttons within easy reach.
Design – The best male masturbators are made with the user in mind. That is, putting grips where they'll be most comfortable to the user, shaping the product in a way that'll enhance the user's experience and making the toy compatible with others. All these shape up to a fantastic, user-friendly masturbator. And although it may not always be in the power of the manufacturer, discreet packaging is always best. I'm sure you don't want a package labeled "FLESHLIGHT" delivered to you in broad daylight. Or you might. What do I know?
Cost – We're discussing features, dimensions, and materials, but prices for some of the more advanced masturbators start at a hundred bucks. Buying a male masturbator may seem like a frivolous expense to you. And until you start seeing it as an investment into your sexual wellbeing, you won't be able to get those high-tech models — another thing. When buying a masturbator, please note that there are other things you'll need to acquire before you can enjoy your machine. Items like lube, different sleeves, cleaning products, etcetera, may not come with the masturbator. You need to factor those in when you calculate the cost.
Now with all the factors you need to look for in a good masturbator listed, I'm now going to tackle some questions about masturbating and masturbators a lot of people need answers to.
Frequently Asked Questions (FAQs) about male masturbators
Q1: Can you get addicted to masturbating with a masturbator?
Yes, you can. Just like with any other thing you use too much, you might start being lackluster about different ways of getting off and begin to focus too much on masturbators.
Q2: Is there a proper way to use a masturbator?
A proper way? I don't think so. If it gets you off the way you want, then that is the appropriate way to use it, I guess. Masturbating is all about pleasuring yourself. So, masturbating in any way that is safe and feels good for you is alright.
Q3: Does masturbation lead to erectile dysfunction?
No, it doesn't. Erectile dysfunction is caused by a variety of things, such as heart disease, Peyronie's disease, high cholesterol, diabetes, obesity, etc. But masturbation is not one of them. If you believe that you have ED or you know someone who does, it'll do you good to read up on it.
Q4: Does frequent masturbation affect sperm count?
No, it does not. According to this 1991 study, though frequent ejaculation may water down the viscosity of the sperm. However, it does not, in any way, affect the fertility of your sperm. Your cum will be more watery and may come out in lesser quantities, but that does not mean your runners are any less virile.
Q5: Is it possible to masturbate too much?
There's no such thing as over-masturbating. According to this publication by WebMD, it's not how much you masturbate. It's how, when, and where. If your jerking off time is intruding into your work hours or interrupting your social time, you're probably addicted to masturbating, and you need to tone it down a bit.
Q6: Does masturbation affect my sex life?
Yes, it does. But, it can be for the better or worse. Surprised, eh? It's not doom and gloom with masturbation research. If you're responsible for how and when you masturbate, you can actually improve your sex life through masturbating. In fact, apparently masturbating can help you discover what you like in bed. And mutual masturbation between you and your partner can actually deepen your relationship. But like I said before, you can get addicted easily, so have fun with yourself but with caution.

Final thoughts
I hope this buying guide helps you to choose the best male masturbator for your needs. Remember that before you buy a masturbator, you must know whether you need it just to spice up your relationship, to try something new, or for any other reason. Being clear about this from the onset will help you avoid regrets when you buy your masturbator.