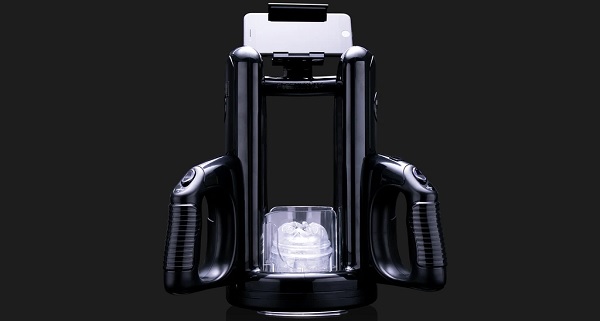 Cock milking machines are pretty much what they sound like; they're male sex toys that suck and tug the life out of you for an intense masturbation session.
These are typically hands-free and automatic. Made to wrap tightly around the penis tip and shaft, their passionate strokes can make you release about 3 to 4 times more semen than manual masturbation.
We spent the last few weeks researching, testing, and experimenting with dozens of them and we found that the top cock milking machine is Autoblow AI.
Top 3 Cock Milking Machines
Autoblow AI– Like the real thing, but better
Kiiroo Keon– Sucks the pleasure out of you
Lovense Max 2– Customizable, discreet, and high-tech cock milker
We've also rounded up 19 best cock milking machines for your added reference.
The Best Cock Milking Machines for a Realistic Blowjob Feel
Autoblow 2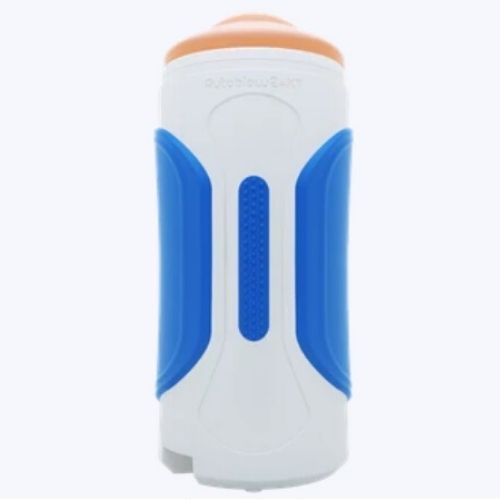 Autoblow 2 lets you experience realistic sensations during your solo or partner time.
This unlimited fellatio machine doesn't need batteries. It plugs into an electrical outlet to operate. It strokes in an up and down motion accompanied by strong vibrations. Just imagine how satisfying it can be.
It uses interchangeable, easy to clean sleeves that have 3 sizes to choose from. The sleeve pops out for quick cleanup using mild soap or a sex toy cleaner.
I like that it also comes with a packet of renewal powder to keep the sleeves silky soft for longer. You'll only need a bit so it will be a while before you need to buy some again.
This milking machine is strong and uses an all-metal motor rated to last more than 500 hours. That's almost 21 days of non-stop stroking actions.
Pro tip: Want to add some spice? Put one of your top penis rings on for extra grip and blood restriction. It sounds scary, but I suggest you give it a try.
Key Features:
Uses an all metal-motor that can last up to 500 hours
Interchangeable, easy to clean sleeves available in 3 sizes
Specifications:
Weight: 46 pounds
Length: 8.6 inches
Width: 3.93 inches
Material: Metal and Silicone
Pros:
Powerful action and ergonomically designed handle
Cons:
The Milker Automatic Stroker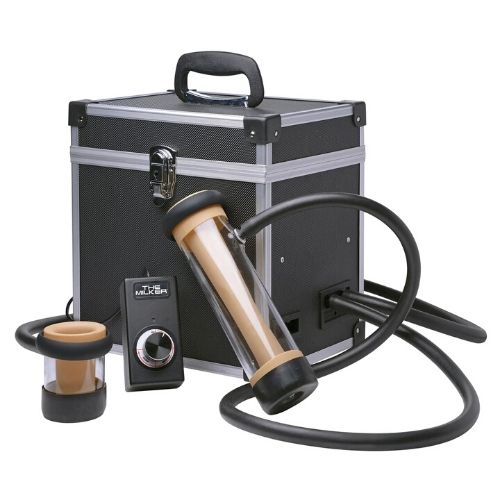 This Milker Automatic Stroker gives you the "huff and puff" effect, as the company calls it, providing the sensation of being sucked and stroked simultaneously.
It has two cylinders to add a bit of variety for sexy time. The long cylinder provides a stroking sensation for the entire penis, while the short one allows you to tease the head of your shaft.
It can also be used for your woman's clit and breast so you can share the fun with your lady.
If you're using the Milker for solo play, make sure the other nozzle is clogged shut, otherwise, the suction will feel weaker.
Unlike most sex toys, Milker's cylinder inserts are made of rubber, which gives it a soft and stretchy feel. Just imagine if someone's both stroking and sucking your cock at the same time.
This is a great choice for those who aren't into vibrations. Just prepare your pocket because this milking machine isn't cheap, but it'll do the hard work for you.
Key Features:
Super-charged motor and pressure valves for intense stimulation
Two cylinders for different kinds of stimulation
Advanced suction control and adjustable controller
Women can use the small sleeve as a clit or nipple stimulator
Specifications:
Weight: 15.8 pounds
Length: 11 inches (case), insertable lengths (large sleeve – 9.0 inches) (small sleeve – 3.0 inches)
Width: 8.25 inches (case), 2.0 inches (cylinders)
Material: Silicone, Rubber, ABS (Plastic)
Pros:
A luxury toy for the hardcore players
Cons:
Lovense Max 2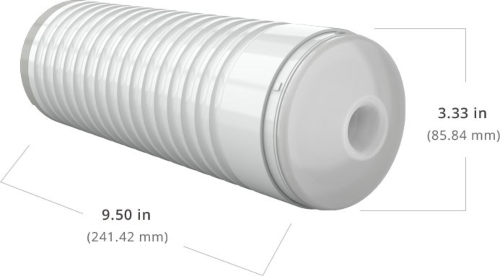 Lovense has been in the industry of sex toys for a while now, and by far, their Lovense Max 2 is one of their highly-rated products.
The improvements they made from the original Lovense Max made sex toy enthusiasts drooling over to give it a try.
This electronic masturbator is aesthetically designed to be handy and easy to use and keep, thanks to its textured body.
Its clear silicone orifice is easy to clean, and not so glaring like a straight-up woman's labia so it's not prone to scrutiny. You can also avail of the vagina sleeve which is sold separately.
Been missing your partner who is currently miles away? Download its app to your smartphone and have your long-distance partner control your toy while you use it, even if you are miles apart.
Sync it with Nora or another Max or Max 2 toy and see how these toys react to each other's movements.
It has an adjustable air vent to adjust the suction intensity. It also has a quick air release vent to reduce pressure levels and to safeguard the motor while it's cleaning.
Key Features:
360 degrees air pump contractions
Downloadable smartphone app specifically designed to turn your phone into a remote control
Specifications:
Weight: 1.65 pounds
Length: 9.50 inches
Width: 3.33 inches
Material: TPE Plastic
Pros:
Adjustable air vent for suction and 360 degrees pump contractions
Cons:
Not advisable for use in the shower or bath as it is not waterproof
Venus for Men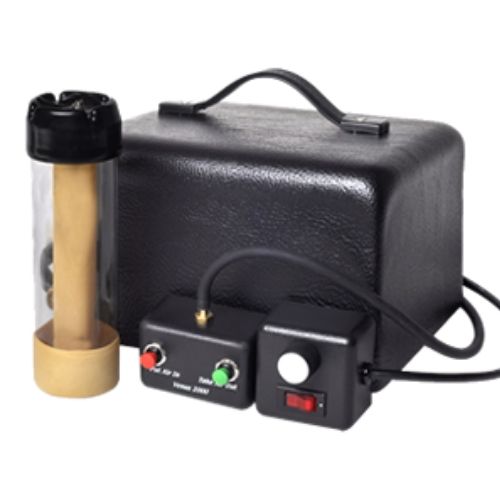 Earlier called Venus 2000, the Venus for Men is not like your ordinary eroscillators.
This milking box is designed for unlimited sucking, thanks to its plastic cock chamber with a skin-like liner inside. Just think hands-free fellatio-cum-handjob.
You can even adjust the suction pressure via the wired air control that comes with the package.
Another unique element when ordering your Venus is you have to send them your measurements (no, really) so they can provide you with a customized receiver that fits like a glove. That's thoughtful of them, considering the hefty price tag.
The package also comes with two 4-foot hoses (large and small) so you can use the milking machine while hiding under the bed or inside your cabinet.
This "Robocock" is said to be the cream of the crop, so it's no wonder why it doesn't come cheap. What's good about it, though, is it comes with a 45-day money-back guarantee so you can try and see if it can satisfy.
You have to be extra careful with this baby if you want to have it for a long time, so make sure to clean it before anything dries. No dozing off after a mind-blowing experience.
Key Features:
Custom-fit receiver with thin, skin-like liner
Air control for suction pressure adjustment
Specifications:
Weight: 11 pounds
Length: 12.5 inches
Width: 10 inches
Material: Rubber
Pros:
Strong, deep-throat-like vibrations
Cons:
Too expensive and high maintenance cleaning
Autoblow AI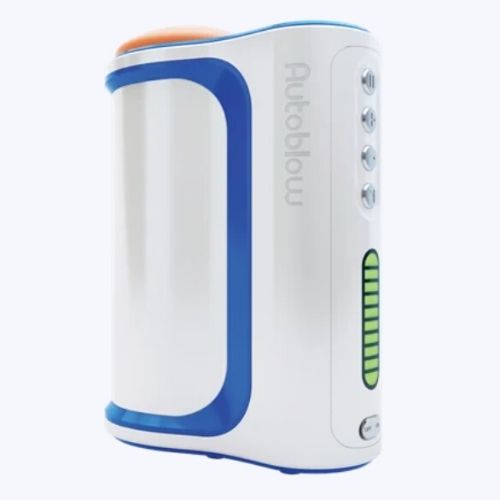 If you have read our guide on the best hands-free male sex toys, then you know why Autoblow AI is included on our best cock milking machine.
This sucking sex toy is the upgraded version of the Autoblow 2. It is powered by a heavy-duty motor with stroking modes from full stroke to full A.I experience.
This powerful toy does not need any batteries and comes ready for milking once plugged into an outlet. You can choose from any stroking modes and speeds depending on your pleasures.
Aside from the mouth sleeve that comes in the initial package, you can choose from 3 other mouth sleeve designs that can be ordered separately. They are easy to clean with mild soap and water.
Compared with the Autoblow 2, the Autoblow AI is 50% quieter, but 3 times much more powerful. Use with any of your preferred penis rings for added mind-blowing adventure.
Key Features:
10 blowjob experiences
Reusable, easy to clean sleeves that works with all sizes
Interchangeable sleeves
Specifications:
Weight: 1.5 pounds
Length: 8.2 inches
Width: 7 inches
Material: Silicone
Pros:
Plenty of stroking modes and speeds to choose from
Cons:
Though quieter than its predecessor, it's still quite noisy
Vorze A10 Cyclone SA+ Plus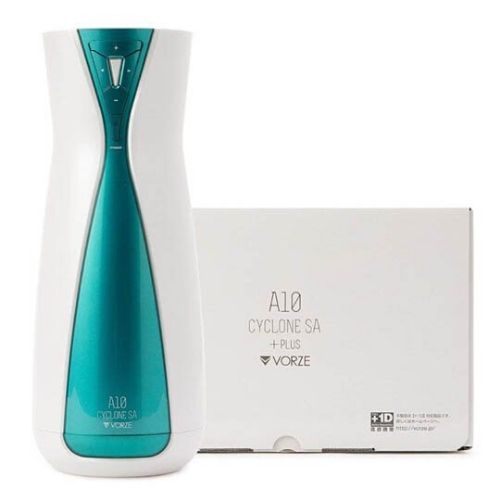 The latest upgrade in Rends' Cyclone SA Sex Machine, the Vorze A10 Cyclone SA+ Plus takes small yet quite remarkable improvements.
The Cyclone SA+ is an advanced interactive product in masturbation technology. It provides up to 49 combinations of speed and rotation to emulate different sex styles according to the moment's fantasy.
There is no need to worry about any disturbing noise because the toy uses a high-end, low-noise motor. You can confidently enjoy it even at full speed during silent nights.
They've kept some of the original designs. But this time, they gave the machine a more polished look and feel by replacing the silicone cap with plastic.
They also changed the exclusive cable with a regular micro-USB cable to charge. It also has other interchangeable sleeves you can purchase separately to increase your masturbation pleasure.
Key Features:
It has seven levels of speed from low to ultra-high and seven rotation function
It can be wirelessly synchronized with videos via a computer or smartphone
Specifications:
Weight: 3 lbs
Length: 11.6 inches
Width: 4.6 inches
Material: Silicone/Plastic
Pros:
Deeper penetration is possible because it uses a longer masturbation sleeve
Cons:
The DVD-ROM included for the Vorze Player software is in Japanese only
Pulse Solo Lux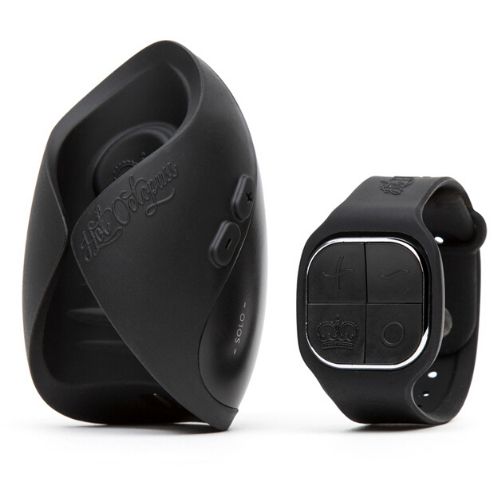 The Pulse Solo Lux is like a small version of the Fleshlight Launch. Though this vibe is small, it has a power strong enough to produce satisfying results in minutes.
I find the watch-style remote control pretty cool. I haven't seen many toys with the same concept. It's quite helpful since one of your hands will need to keep the thing in place.
You can play with the various patterns, strengths, and speeds to your heart's desire or go full-blown with its turbo function.
It's one of the toys I would recommend for the folks who love edging but still want the option to spill the sperm big time.
The only thing that I don't like about this toy is that it is heavier than it looks. It gradually slides from one side to the other if you're not careful. But that's okay since I still can use the low-level buzz to let this toy stick to my cock.
It is made with two silicone wings to wrap around your penis. It's adjustable so it can accommodate a range of penis sizes.
Key Features:
Pocket-sized, a good companion for travel
It has 6 vibration patterns, 8 intensity levels
Easy-to-use wrist-mounted remote control
Specifications:
Weight: 4.1 oz.
Length: 4.5 inches
Width: Specifications here
Material: Silicone
Pros:
The vibration and intensity patterns give soft to strong sensations at the touch of a button
Cons:
It is heavier than I thought
Hummer BJ Machine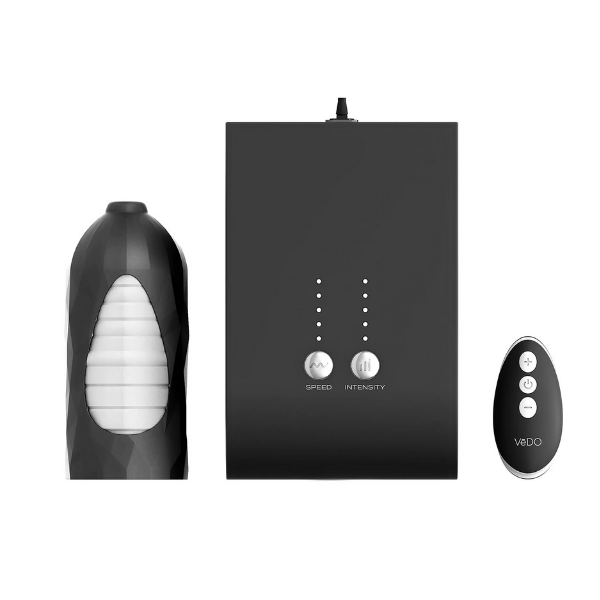 The Hummer Hands-Free BJ Machine is as close to the real thing as possible, with intense suction and oral-like sensation.
The masturbator's opening closely resembles a pair of lips, but at 109 suction impulses per minute, I'd say this takes the cake. The flexible sleeve cover glows in the dark, which I think is pretty neat.
It has a minimalist design, nothing too loud or too fancy. This plug-and-play device requires minimal effort to set up.
It's not 100% silent (the motor does pack a punch after all), but it does still live up to its name as it emits a low humming sound.
Just think of it as ambient noise to help you relax while your dong gets some nice taking care of, if you may.
The sleek egg-shaped remote control lets you control the five speeds and intensities separately to suit your fancy. That's 25 different fellatio varieties right at the palm of your hands.
This love machine is compatible with any water-based lube. You can easily clean the sleeve in warm water and soap before drying it up with a clean cloth.
Key Features:
109 suction impulses per minute
25 different BJ styles
Glow in the dark inner sleeve
Comes with sleek wireless remote control
Specifications:
Weight: 1.5 pounds
Length: 6.5 inches
Width: 2.9 inches
Material: TPE and ABS (plastic)
Pros:
Realistic BJ simulation with a powerful motor that works quietly
Cons:
Needs an electrical outlet to power-up
Feelingirl Automatic Male Masturbator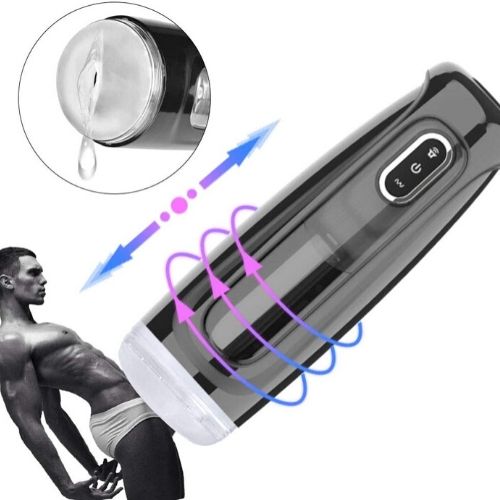 Feelingirl Automatic Masturbator is one of the sex toys I found that's sold at a pocket-friendly price yet still delivers.
Unlike other toys in this list, this guy only has one thrusting speed and frequency, but the 10 different rotations, coupled with the realistic pleats and ridges inside the sleeve can still provide titillating sensations.
The detachable suction cup that comes with it lets you adjust the angles from 0-135 degrees for comfortable hands-free drilling.
This cock milking machine comes with a built-in female voice that can be heard through headphones for added stimulation, but you can opt-out of it and still have a good time.
It can get confusing when it's time to clean up. If you're not careful, you might just rip the sleeve and ruin it. If you do get this product, make sure to pull the inner cup and sleeve together and clean with soap and warm water.
It's a simple machine that does what it's supposed to do even without the bells and whistles like the other ones on this list. And at that price point, who can complain?
Key Features:
10 rotating modes
Soft inner rubber sleeve that resembles a real vagina
Wireless and rechargeable with USB
Comes with a detachable suction cup for hands-free fun
Specifications:
Weight: 1.8 pounds
Length: 3.5 inches
Width: 1 inch
Material: TPE
Pros:
A simple device at a great price point, but still gets the job done
Cons:
Not waterproof, sleeve and inner cup can be tricky to remove
Fleshlight Launch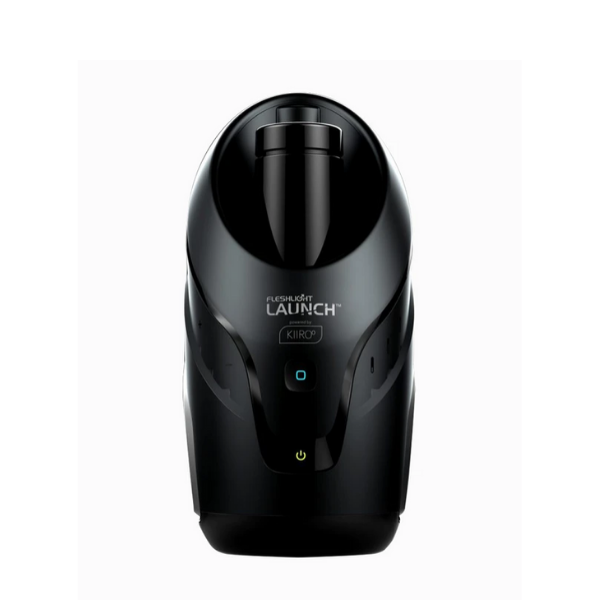 The Fleshlight Launch is a hands-free milking machine that uses advanced technology specially made for your sexual pleasure.
It can connect and synchronize the strokes from encoded videos and webcams so you and your partner can have long-distance fun, or to games and VR goggles for a nice 4D experience with your favorite characters.
This sleek-designed sex toy can go up to 180 automated strokes per minute. You can adjust the speed and length of strokes for different variations with the touch control system.
Launch gives you the flexibility to switch between interactive and manual mode at the touch of a button to accommodate the style of milking you want from your sexbot.
Launch comes with the Stamina Training Unit and a Fleshlube water-based lubricant for a quick test run.
You can go wireless via Bluetooth connectivity and just use the USB cable included for charging once it's out of juice.
Key Features:
Interactive mode can synchronize to other gadgets
With touch control system for easy adjustment of stroke length and speed
Can go up to 180 strokes per minute
Rechargeable using a USB cable
Specifications:
Weight: 4.41 pounds
Length: 12.6 inches
Width: 5.9 inches
Material: PC ABS, Silicone
Pros:
Advanced technology allows wireless interactive sexual play, great for long-distance partners and techie solo players
Cons:
Need some improvements for more ergonomic design
Kiiroo TITAN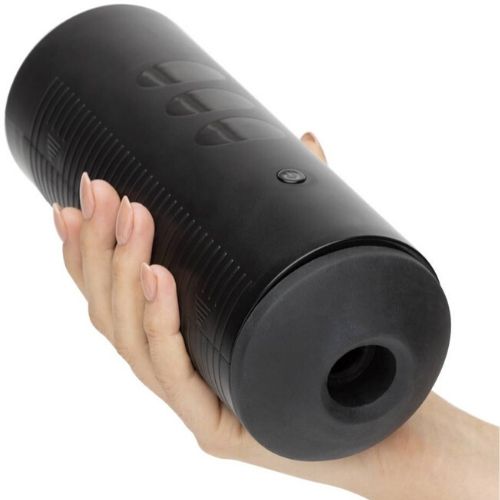 The Kiiroo TITAN is an interactive masturbator that can level up your solo sessions. It's a versatile cock milking machine that you can use during your playtime and connect to interactive videos in 2D, 3D, and VR formats.
Packed with removable lifelike sleeves and 9 vibrating bullets to upgrade your pleasure time.
It provides intense vibrations that you can easily control with its touch-sensitive pads as you manually stroke it to your nether region.
Simulate your sexual desires with your favorite adult performer and sync it with your phone, or even do it with your partner who has a compatible Kiiroo toy.
Best used with a good amount of water-based lubricant, this can give a whole new meaning to masturbation.
The only let down, though, is that this toy isn't waterproof, so it's important to make sure that the sleeve is fully dry before you put it inside.
Key Features:
An interactive masturbator that you can play with on your own or with a partner
Packed with removable lifelike sleeves and 9 vibrating bullets
Compatible with 2D, 3D, and VR video formats
Specifications:
Weight: 1.89 pounds
Length: 8.5 inches
Width: 3.43 inches (in diameter)
Material: Soft Plastic
Pros:
Full control in stroke speed as it automatically vibrates to your liking
Cons:
WeDol Male Masturbator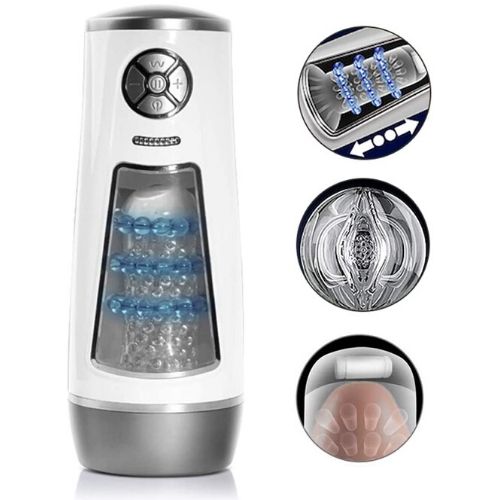 The WeDol Male Masturbator is an automatic machine that provides a realistic inner feel of a vagina with its soft and high-quality material.
This toy can satisfy your schlong with up to 280 constant stroking motions every minute. With a maximum insert diameter of 1.7 inches and a length of 5.5 inches, this masturbator is perfect for average-sized members.
It has 10 vibration modes and 10 different speeds so you can choose your preferred pleasurable experience. You can mix and match these to pick your favorite combo.
Whether you're into tip or shaft stimulation, this cock milking machine has it available for you.
It has 3 spiraling ball rings surrounding your penis to massage and thrust the entire thing. It also has a vibrator egg at the bottom for your glands.
It comes with a convenient USB magnetic charger. With its transparent design, you get to see what's happening in there to add visual stimulation.
Key Features:
10 vibration modes and 10 different speeds
3 spiraling ball rings and built-in vibrator egg
Convenient USB magnetic charger
Specifications:
Weight: 1.8 pounds
Length: 5.5 inches
Width: 1.7 inches (in diameter)
Material: Body-safe TPE
Pros:
It has a wide variety of stimulation for different pleasure points
Cons:
It's not very suitable for cocks larger than the average size
Cobra Libre II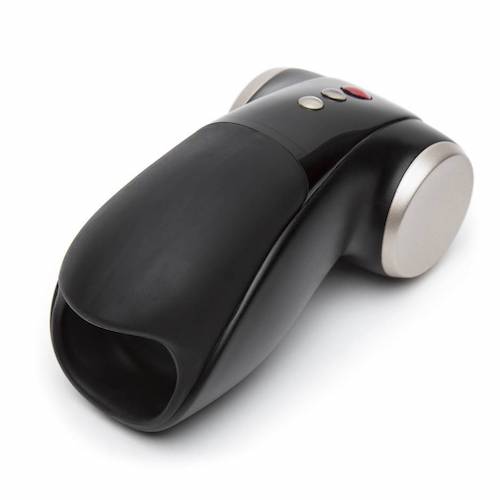 The Cobra Libre II targets vibrations to your glans and frenulum for different erotic stimulation.
This unique cock milking machine doesn't simulate real-life sex so it may not be for everyone. But for some, this can cause a knee-trembling orgasm.
Your dong's length or girth doesn't matter with this toy as its job is to hit your sensitive tip. That said, this masturbator is a one-size-fits-all package.
Insert up to 3.5 inches of your penis in its soft opening depending on where you want to target the vibrations. Explore its available five vibration speeds and six patterns to see what feels best for your sweetest spots.
This small and handy toy is not only ergonomically designed but is also fully rechargeable. You can massage your shaft even in the shower or tub as it's also waterproof.
Made with powerful motors, this machine can deliver intense vibrations to your satisfaction.
Key Features:
A unique vibrator made to stimulate the head and frenulum
Different vibration speeds and patterns to your liking
It's completely waterproof
It's fully rechargeable with a USB cable
Specifications:
Weight: 1 pound
Length: 3.5 inches
Width: 1.7 inches (in diameter)
Material: Silicone
Pros:
Waterproof device perfect for all sizes as it massages your shaft area only
Cons:
It doesn't simulate real-life sex
Quickshot Launch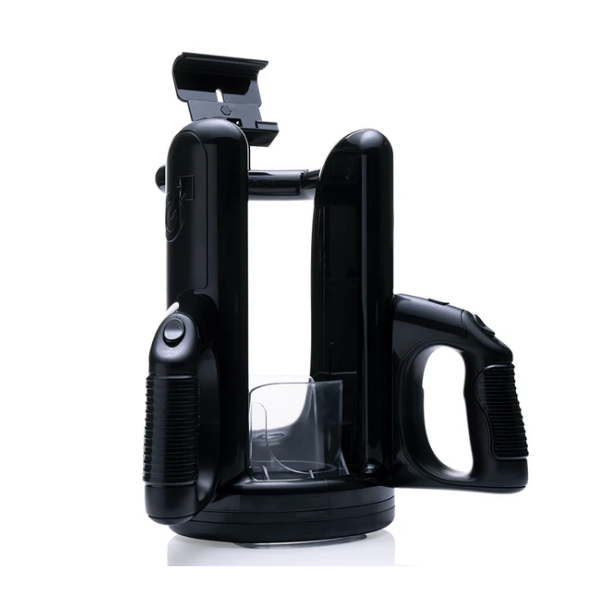 The Quickshot Launch is a fully automated Fleshjack that allows you to sit back and relax as it massages your penis. It has four different stroke lengths and speeds to accommodate each and everyone's needs.
This cock milking machine may be lightweight but it's powerful enough to make you ejaculate big time.
You get to choose from three different pleasure zones of the base, shaft, and tip depending on your preferred concentrated stimulation.
It can move as fast as 250 times per minute even on the longest stroke available. When fully charged, this machine can last you up to 60 minutes.
It also has an included universal mount that can hold your smartphone for you when watching naughty videos. With a sleek design, this toy provides a better grip and convenient use.
Perhaps it's one downside, though, is that it's only compatible with Quickshot toys, which leaves you with limited choices.
Key Features:
Three varied stimulations on the base, shaft or tip of the penis
Adjustable stroke speed for up to 250 times per minute
It allows easy viewing of videos with a universal mount for smartphones
Specifications:
Weight: 3.7 pounds
Length: 12.75 inches
Width: 6 inches
Material: PC, ABS, and silicone
Pros:
A lightweight machine that's powerful enough to give you intense orgasms
Cons:
Compatible with Quickshot toys only
Tremblr Milking Machine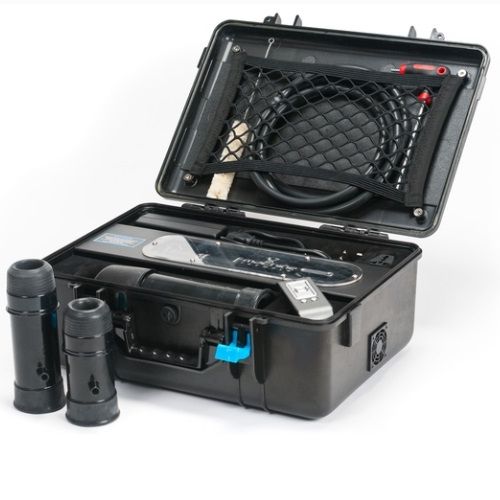 Tremblr Milking Machine looks like an ordinary carry case from the outside, but don't let that fool you (at least it can fool everybody else).
This corded device has a powerful motor that sucks and strokes your cock at a maximum speed of up to 180 times per minute.
You can adjust the speed and suction intensity to suit your guilty pleasure by using the remote control that it comes with.
Despite all that power, it is still one of the quietest sex machines out there. I recommend this for people who want to get the most out of their wares but still want some discretion from a nosy flatmate or family member.
It has three ultra-lightweight receivers with different sizes to fit every dong. And if that's not enough, you can order a customized one that fits your well-endowed member.
The whole package comes in a sturdy case with a strong handle and a small padlock for discreet stow-away, and inside the carry case are tools for adjusting, cleaning, and maintaining the machine.
Key Features:
3 different receivers for different penis sizes
No loud sound while using
Includes remote control to adjust the speed and stroke intensity
Can deliver a speed of up to 180 strokes per minute
Specifications:
Weight: 6.61 pounds
Length: 14.8 inches
Width: 7.9 inches
Material: ABS, Latex
Pros:
Perfect for worry-free intensive, but discrete solo play
Cons:
Rising Violet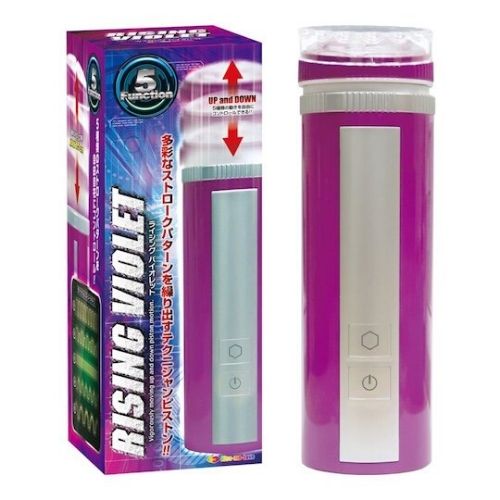 If you are new to the cock milking business and want to get your feet wet in the ocean of masturbation, then the Rising Violet might tickle your fancy. This is one of Kiss Me Love's popular "rising" series from Japan.
It features a 5-stroke pattern that varies from subtle rhythmic pumps to large deep strokes that replicates a handjob, and with a maximum stroke length of 3.44 inches.
The inner sleeve has long and soft bumps to stimulate your member as it slides back and forth inside.
You can easily grasp it with one hand since its slim casing measures only 2.94 inches. The Rising Violet's compact design lets you easily stash the toy in a small drawer.
Since it is a compact masturbator, some users say it lacks insertable length, so I wouldn't recommend it to boys with bigger guns.
Cleaning is a no-brainer. All you have to do is remove the inner sleeve and wash it in running water. It requires 4 AA batteries so you better store some juice for future use.
Key Features:
5 stroking modes
Piston-style automatic
Compact and lightweight
Specifications:
Weight: 440 grams
Length: 10 inches
Width: 3 inches
Material: Plastic, Silicone
Pros:
5 stroke patterns that replicate a handjob
Cons:
May not accommodate well-endowed cocks
KIIROO Onyx+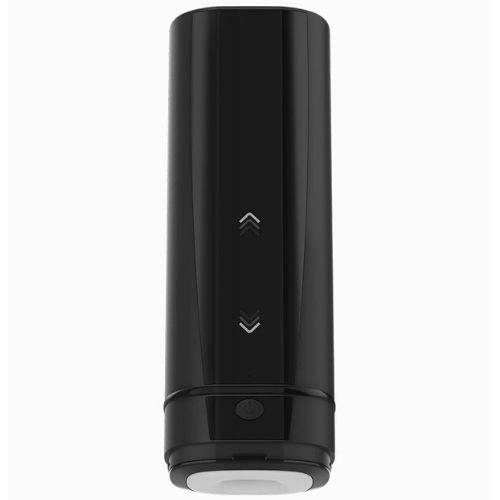 The KIIROO Onyx+ is an interactive sex toy with an easy-to-use minimalist design that can connect to interactive videos in 2D, 3D, and VR formats.
It's suited with a life-like Real-Feel sleeve and 10 contracting rings that move up and down to simulate your erotic fantasies with your favorite webcam performer.
You can also connect this milking machine to a long-distance lover who has a compatible device.
Switch between Interactive, Automatic, or Manual mode to suit your needs. The touch-sensitive trackpad lets you control the stroke speed.
Strong yet discrete, the speed can reach up to 140 strokes per minute without the annoying whirring sounds you get from some power-packed sex machines.
It goes neck-and-neck with Fleshlight Launch in terms of performance and technology, but what makes it different is the portability.
Its portable size makes it ideal for people who travel a lot. It connects via Wireless Bluetooth Connectivity which is great for use anywhere.
Key Features:
10 contracting rings moving up and down for simulated intercourse
A maximum speed of 140 strokes per minute
Touch-sensitive trackpad to control the stroke speed
Choose from Interactive Mode, Manual Mode, and Automatic Mode
Specifications:
Weight: 2.87 pounds
Length: 10.35 inches
Width: 3.11 inches
Material: ABS, POM
Pros:
Portable and discrete but still powerful when needed
Cons:
Fondlove Automatic Thrusting Masturbator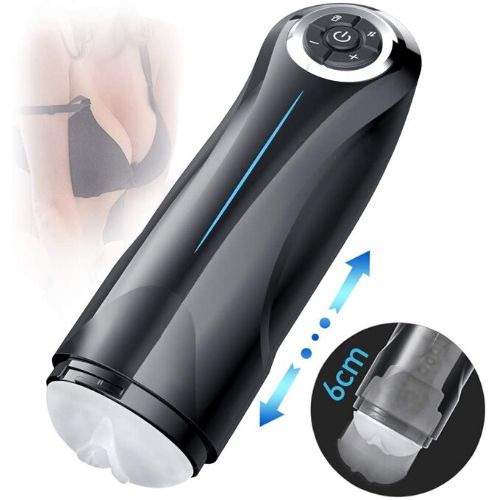 The Fondlove Automatic Thrusting Masturbator's unique feature is in its powerful motor. It can provide 4 thrusts per second with a stroking motion that remains constant for as long as you want.
It has 5 thrust modes with 6 different speeds to indulge your most erogenous zone.
The 3D design is, let's say, interesting. Its 3D outer layer looks like a real vagina but the inner layer is shaped like a throat.
The makers said it's designed like that to give you a realistic sexual experience. Look, it may sound bizarre by description, but just imagine how it would feel while it swallows and wrings you to oblivion.
I found that switching the device off and simply using it as a stroker to be more enjoyable than actually allowing the automatic functionality to work, but I won't blame you if you say otherwise.
On lazy days, it still really does the deed for me.
Some users find the size a little bit small for them, but for the average-sized Joe, there shouldn't be an issue.
Key Features:
12,000 rpm run speed
Two-layer inserts (3D design)
Hands-free with adjustable suction cups
Three different female moans
Specifications:
Weight: 1.8 pounds
Length: 11 inches
Width: 11.8 inches
Material: Non-toxic, odorless polymer medical materials
Pros:
Simultaneous thrusting and stroking action gives stimulating pleasure
Cons:
Does not accommodate large-sized penises
A10 Cyclone R1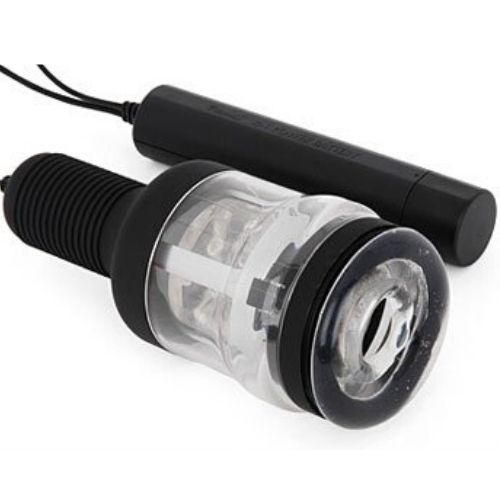 The A10 Cyclone R1 is a combination of the two top toys from Rends: the R1 base unit, and the Cyclone.
It was developed to address the overwhelming feedback of men who wanted a tool that can bring them to climax at the touch of a button.
It features a PWM controller that allows you to switch between 7 various patterns and 7 levels of speed from low to ultra-high, for a combination of 49 unique modes with the R1 base unit.
It twists. It rotates. It pulsates and vibrates. But it doesn't suck (I mean, literally). If you want a stimulating cock massage with a large selection of pattern choices minus the sucking motion, then this baby is for you.
You can also adjust the length using the included spacer for a perfect fit. Some users say it's a bit noisy and manual operation is much better, but don't let that stop you from exploring your kinks.
I recommend using it under the blanket to minimize the noise if that really bothers you.
Cleaning is a snap. Once you're done, simply twist the casing off the Cyclone and remove the closed-ended inner sleeve then wash with mild soap and warm water.
Key Features:
PWM control
Combined technology of R1 and Cyclone
49 unique modes
Specifications:
Weight: 998 grams
Length: 7.87 inches
Width: 1.77 inches
Material: Plastic, Silicone
Pros:
The gradual change in patterns and speeds gives a more customized experience
Cons:
Can be a little bit noisy
Cock Milking Machine Buying Guide:
If you're always in the mood for much more intense orgasms, then you should know what to look for when buying cock milking machines. The more you know, the better the experience for you will be.
So, I've arranged a buying guide to help you find one that milks you right and helps you unload crazy amounts of man juice.
1. Get a size that fits your manhood
There's nothing worse than getting a cock milking machine and then realizing it's too small to accommodate your penis.
While sellers may be keen to suggest one-size-fits-all models, you should always keep in mind the perfect level of tightness you prefer for maximum satisfaction.
It's also difficult for hands-free masturbators to be very versatile as men are blessed with a wide range of lengths and girths.
Most of these toys usually come in two or three size variations to accommodate each and every schlong. So, always choose wisely.
2. Stick to body-safe materials
I know this should be a no-brainer, but it's crucial to know about the materials and quality of whatever you're putting your dick in.
Because, really, even when some like it dirty, you don't want any nasty stuff on your johnson. Plus, the materials your toys are made from can also play an important role in your satisfaction.
For those who have sensitive skin, always opt for silicone models as they're the safest to use. When in doubt, you can also use a condom. But I have to warn you, expect the sensations to reduce a bit when covered in rubber.
Overall, avoid porous materials as they can cause infection. Also, don't buy anything that contains phthalates and latex as they have allergens and can even cause cancer!
3. It's what's on the inside that truly counts
While you may be more drawn to buying a milking toy that looks good or is advertised by a well-known brand (or adult actors), remember that what truly counts is on the inside.
Concentrate on the tube as it's mostly in there that's going to make you feel good. Have a feel on its texture, and even look for removable sleeves and interchangeable canals.
Some may resemble a lifelike vagina and some have unique ridges that can stimulate better depending on your preference.
4. Know the features that suit your needs
Not all features are for everybody. So, it'd be wise to think of the specific things you want your toy to have or you'll drown in the number of choices even before you get a hold of anything!
For starters, you can ask yourself whether you want it to pulsate and vibrate or you're more into suction and tugging.
Some masturbators also don't have adjustable speed settings and suction so you have to keep an eye on those.
If you're most likely to use it in the shower or tub, you may want to buy one that's waterproof. There are also models that have motion sensors that can synchronize its pounding rhythm with the music.
If you're techie, you can also check those with Bluetooth connectivity, VR compatibility, remote controls, and even downloadable apps.
Take advantage of these and find out what functionalities seem most enticing to you.
5. Keep in mind the level of discretion
This is very important especially if your housemates have prying eyes and you want it to be kept hidden.
Before you rush to purchasing anything, know that there are toys that offer special discreet cases for easy storage and there are those that don't, which can definitely encourage ogling eyes regardless of their overall size.
You also have to take into account its loudness. While there's definitely no masturbator that's totally silent, there are toys that are less noisy than others.
So, if you don't want to disturb your housemates and get into embarrassing situations, better check the manufacturer or read customer reviews regarding this.
6. Consider your budget
As much as we want to buy the best toys for our peens, there are other far more important things to consider to keep your little buddy happy but still be in good shape. So, be sure that whatever you buy is within reason.
Your member deserves a good milking machine, but you wouldn't want to get ripped off your hard-earned money at the same time. Find the one that will suit your taste and budget.
So, think long and hard (pun intended, obviously) about this investment and spend every pinch of dough wisely.
FAQ
Here are some common questions that we have come across when people choose their cock milking machines.
Q1: How do you use a cock milking machine?
To be honest, most cock milking machines require a bit more effort to set up than other toys. However, trust me when I say that it's worth it.
First things first, always read the instruction manual to set up. If it's battery-powered, make sure it's fully charged or else you're risking it to stop halfway through your pleasure time.
When you're good to go, apply water-based lubes as they won't damage the sleeve regardless of its materials.
Most of these masturbators come with a removable sleeve, so you can try out first what best fits.
Now, as you start up the machine, begin with the lowest speed and length of stroke. And then move your way up to your preference after.
When you're done, remove the sleeve and clean every nook and cranny. However, remember to never submerge any mechanical parts to water unless they're waterproof. Wipe gently with a cloth to dry and store.
Voila! You just had your first cock milking experience!
Q2: Are cock milking machines safe for users?
Short answer, of course! As long as you find the right size, know its features, and get body-safe materials, you should be fine.
Again, it's extremely important to read the manual thoroughly to avoid any misuse and accidents.
One vital thing to also remember is to put enough lubricants. Without it, the magic of this machine will be gone. So, lube up!
Generally, as long as you don't try to do anything outside the sex toy's guidebook, you're in safe hands err toy canals.
Q3: How can I make these cock milking machines last me longer?
There's no one rule in taking care and maintaining cock milking machines. Generally, of course, you have to clean, dry, and store it after every use.
Certain materials may call also for more attention than others, but most toys can be easily washed with gentle soap and warm water. My take? Always read the instruction manual to precisely know what your toy needs.
If you're planning to use your masturbator regularly, you should take into account first its durability. Make it a habit to check if its materials and construction are reliable too, well, ensure longevity.