What's the best prostate massager? Scroll below for both vibrating and non-vibrating top prostate toys for men. 
In our male g-spot guide you've learned about prostate massagers and how they can help you experience your first prostate orgasm, also called "super O".
Of course like most blokes you probably started stimulating your prostate with your fingers and that makes sense. It's less intimidating and it's free.
But then you always get to a point (maybe the day you forgot to cut your nails and scratched your asshole) when you realize that fingers aren't comfortable enough and accept the idea that some people have designed prostate toys to perfectly fit a man's anatomy and stimulate prostate and perineum beautifully.
A lot of sex toys companies have had this idea, so good for you, the market is flooded with prostate massagers with Aneros being the big leader. Beside Aneros there are other brands, sometimes unknown and a lot of options (hands-free, vibrating, non-vibrating, etc.) to help you in your prostate orgasm quest.
I'm going to assume that if you're reading this article you've finally won they typical man's fear of becoming gay by trying a prostate massager (in our poll at the bottom of this Aneros review you can see how a big percentage of men are still very scared of trying prostate massagers) and are ready to choose the right one for you.
So sit back, relax and find out which of these prostate toys is best for you according to your size, experience and wilderness.
What Is A Prostate Massager?
In case you have no idea what I'm talking about and are too lazy to read our male g-spot guide, it's probably a good idea to explain what exactly a prostate is and what prostate massagers are.
Prostate massagers, also known as plugs, anal dildos, and P or male G-spot massagers are men's anal sex toys which were developed from medical instruments used to stimulate the prostate gland.
The prostate gland itself is the organ which produces fluid that carries and protects sperm. It's located a few inches inside the anus, and although it can feel good when stimulated, it can be difficult to reach with fingers.
Prostate massagers have been developed so you can reach your prostate with ease. When used well, the stimulation they provide can lead to a non-ejaculatory orgasm, a prostate orgasm, which most guys call the 'Super O'. It's widely accepted this is the most amazing feeling on Earth.

Vibrating VS Non-Vibrating Prostate Massagers
For convenience we have separated the 15 best prostate massagers into two groups: vibrating and non-vibrating.
In each mini review we have described the pros and cons, and then tabled which massager would best suit who. However, bear in mind that all people have different physiques, and have differing personal preferences, so the list is not written in stone. Play with a few and find out which you prefer – it's hardly going to be a chore!
Non-Vibrating Prostate Massagers
Aneros MGX Classic
The Aneros MGX Classic is a firm and fairly wide prostate massager from Aneros. It's one of the originals, and many men find that this is still the best despite numerous new models on the market.
The MGX Classic has a ribbed stem with a solid round head that has no give in it whatsoever. Some men report that the ribbed stem is irritating and distracting in the anal canal, but others enjoy the extra stimulation. The Classic also has a perineum massager. Perineum massagers are included on some toys, and people tend to think of them as simply extras – don't dismiss perineum stimulation though, as this provides a whole new world of pleasure. It's easy to forget about it when the main event of anal insertion has distracted you.
Overall the MGX Classic represents solid middle ground and is a good choice for beginners with some experience due to the width. It's also popular with those who like their retro classics.
Aneros Helix Classic
The Aneros Helix prostate massager is described as 'more aggressive' than its Aneros counterparts. This is because it is more angular and has a larger round head, which puts immediate pressure on the prostate. This means that you may get a stronger sensation in a shorter amount of time. This makes it a good choice for beginners who are not used to the time it takes to get good sensations from a prostate massage. The Helix Classic is also more focused with a larger head. The body of this prostate massager is made from medical grade plastic which adds to the firmness.
Some guys say that the stimulation from the Helix Classic is too strong and over-whelming for beginners, but overall it needs less practice and time to achieve results, and is popular for that reason alone.
Aneros Helix Syn
Medium in size the Aneros Helix Syn, is based on the original Helix model, but the Syn is silicone coated for extra comfort. A thick layer of silicone padding makes this massager gentle, yet it will still stimulate the prostate because the inner core is rigid. Relaxation is paramount when using a prostate massager, so if you're uncomfortable with the hardness of other massagers, the Syn is the perfect choice. The perineum massager is also gently rounded, silicone coated and named 'the comfort tab.'
Overall the Syn is about extra comfort and allowing the user to relax.
Njoy Plug – Medium
The Njoy Plug – Medium prostate massager has a large head and is best used by those with some experience of anal play. It's made from stainless steel and looks very stylish.
The bulbous head is perfectly smooth for easy insertion, and its stem is tapered and curved to easily reach the prostate.
The Njoy plug can be heated or cooled to enhance the experience. If you're a beginner it is worth heating the massager to body temperature before use, as some men say that stainless steel is cooler to the touch than other silicone coated plugs. It may give you a bit of a shock at first if you aren't aware of that.
Njoy Fun Wand
The Njoy Fun Wand is a multi-tasking prostate massager. One end is a rounded head that can stimulate the prostate, whilst the 'handle' end is a series of graduated anal beads ranging from ¾" to 1". This toy is for men and women and works well for both sexes. It's a good choice for beginners as the width is relatively small, but experienced anal players shouldn't dismiss the Fun Wand because it's so versatile. Those bumps can stimulate in all kinds of places.
The Fun Wand is made of stainless steel which enables temperature play. It's very versatile and is popular as a result. It also looks stylish and cleans up easily.
Aneros Progasm Classic
The Aneros Progasm Classic is a big prostate massager that will appeal to those looking to further their anal adventures. Aneros says that although the Progasm Classic is their largest model, it is still fully mobile. Users recommend getting some anal experience before moving onto this model, and even starting a session with smaller massagers before working up to accommodate the Progasm's size.
The Progasm Classic has a rounded perineum tab and also a Kundalini tab or 'K'tab which massages a point on the lower spine in place of the usual curved handle.
It's said to provide a 'robust' massage. It's a favourite with experienced converts to anal play and prostate massage.
Which is For Me?
| Non-Vibrating Prostate Massager | Experience Level | |
| --- | --- | --- |
| Aneros MGX Classic | Beginner/Intermediate | Get it! |
| Aneros Helix Classic | Beginner | Get it! |
| Aneros Helix Syn | Beginner | Get it! |
| Njoy Plug Medium | Beginner/Intermediate | Get it! |
| Njoy Fun Wand | Beginner | Get it! |
| Aneros Progasm Classic | Intermediate/Experienced | Get it! |
Vibrating Prostate Massagers
Vibrating prostate massagers are generally bigger in girth than standard massagers because they need to incorporate a battery source. If you're an anal play beginner you could start with a non-vibrating model as they are less intimidating in girth and length! We don't want you put off before you've even started your fun!
Nexus G-Play – medium
The Nexus G Play- medium is a vibrating prostate massager that can also be used as a G-spot vibrator for women, making it a good buy for couples. It is silicone-based, and non-threatening in size.
There is no handle to this toy, but there is a flat end to prevent any accidental loss. Some men have found that the lack of handle makes it difficult to correct if it slips sideways and away from the P or G spot, particularly when hands are covered in lubricant.
There is one vibration setting which is limiting, but that said, the G-Play – medium is a good price and a very popular way to introduce further anal play. If you're a beginner you may be more comfortable with the smaller size.
Rocks Off Rude-Boy
The Rocks Off Rude Boy is a prostate massager that looks different to other offerings. This C-shaped massager is designed so you can rock back and forwards on top, and achieve a firm hands-free prostate and perineum massage. The Rude Boy is a little bigger than average beginner toys, and the stem is the same diameter along the length, rather than tapering to a small circumference. This can provide more sensation in the anal canal, and makes it preferable if you like a stretched, fuller feeling.
Some people complain that the C-shape makes the Rude Boy slip out, especially during sex, whereas others love the curved experience as it is more flexible and makes it easier to sit on.
The Rude Boy has a practically silent vibrating bullet which rests against the perineum and has seven speed settings to suit most tastes. It's 100% waterproof too.
Rocks Off Naughty Boy
The Rocks Off Naughty Boy is a male vibrator model that's based on its Rude Boy cousin, but is constructed in a less
curved shape, and has a thinner circumference. Rocks Off say this design change makes a perfect fit for P-spot and perineum massages, and is especially good for beginners. The Naughty Boy is designed so you can rock back and forwards on it when sitting down, and is made of flexible silicone to suit this motion.
The RO-80MM Power vibrating bullet has seven speeds and rests against the perineum. If you're a beginner tempted by the famous Rude Boy, you may be better off starting out with the Naughty Boy, as it is reported to be an easier fit and is smaller in girth.
Rocks Off Cheeky Boy
The Rocks Off Cheeky Boy is a flexible prostate and perineum massager that is based on the 'C' shape design of other Rocks Off products. Unlike the other products it has three anal beads below the prostate massaging head. Men like these beads as they give anal stimulation either before or during prostate play. As Rocks Off products are designed to move (or rock) back and forwards on, these anal beads can provide a good deal of pleasure.
Some blokes complain that the stem is too flexible and does not apply enough pressure to the prostate, but for some beginners and intermediate users, the moveable stem is welcome as it bends with the body and does not give heavy and overwhelming prostate pressure.
The vibrating bullet has seven speeds, and presses against the perineum, but it is reported to have slighter vibrations than other Rude Boy models.
Rocks Off Butt Boy
The Rocks Off Butt Boy is also a curved C shape, based on the original Rude Boy, but this one has a butt plug instead of the usual rounded prostate massager. It's designed to be used in the Rocks Off fashion of rocking back and forwards with no hands. It has a perineum massager and vibrating seven speed bullet for good measure too.
A lot of dudes say that the plug shape takes some getting used to, and that it's very large and sometimes difficult to insert, although once in place, it is firmly there because the tapered end prevents accidental escapes.
It takes patience to use this toy, and it's an acquired taste, but once used to it many men say it offers unrivaled pleasure. It is best suited to more experienced users as the wide plug and the forceful design can be uncomfortable to begin with. Oh, and it comes in red too which is a nice touch.
Tantus Prostate Health Butt Plug
This prostate massager is advertised as a health aid, rather than a sex toy, but it's still excellent for pleasure. Tantus Prostate Health Vibrating Butt Plug massages the prostate and is said to teach the muscles to relax. Tantus says that as a result the risk of prostatitis, which causes problems with urinating and sexual health, is reduced.
The shaft is flexible, of a small to medium width, and made from medical grade silicone that is so hardy it can be bleached.
There is no perineum massager, as might be expected with a product aimed more at the health market, but there is a thumb grip which makes it easy to hold and insert. The vibrating bullet is removable for cleaning too.
Some people say that the vibration is on the weak side, but that it provides a very good prostate massage that is gentle and firm. This is a great starting out point if you are new to vibrating anal stimulation.
Aneros Vice
The Aneros Vice is a big toy, and will clench your butt cheeks with either fear or anticipation.
Aneros developed this prostate massager to meet consumer demand from lovers of vibrating anal play. The Vice is ergonomically shaped to reach the prostate with ease, plus the Aneros perineum massager is in place. There are three vibration patterns on the Vice, with three levels of intensity that cater for all tastes. To ensure gentleness on the prostate the Vice is silicone-covered.
Most guys say the Vice is big (sometimes unnervingly so) and that the different vibration settings are all very different. It is more expensive than other vibrating prostate massagers, but the consensus is that the Vice is worth the money due to its comfort and vibrating speed patterns.
Rocks Off Bad Boy
The silicone Rocks Off Bad Boy model is made especially for the more experienced user. It has bumps and contours along the length to provide a fuller feeling on insertion, plus the length is fatter than other prostate massagers in the Rocks Off range.
As with all Rocks Off massagers, it's designed to sit on and rock away, leaving you with both hands free.
Some men complain that the last bulb can be difficult to insert, but with the vibration on and lots of anal lube and patience, it's worth the effort. It's a toy for the more experienced, and possibly one to graduate to if other Rude Boy's leave you wanting more.
Rocks Off Big Boy
The Rocks Off Big Boy is a seriously big anal toy for experienced users.
It has three large bulbs for a full feeling and extra stimulation on insertion. As with other Rocks Off models, the Big Boy is nicely curved for sitting on, and rocking back and forth. The firm perineum massager is powered by a vibrating bullet, which is easily removed for cleaning.
The top bulb on the Big Boy is slightly angled to give a firm prostate massage which guys appreciate. Some complain that it is too difficult to insert the final bulb, but with a good deal of lube it is achievable. There is a tendency for it to slip out without the final bulb inserted, so it's worth trying a little harder.
At its widest the Big Boy measures 5 inches, so it's not for the faint hearted or tightly clenched.
Which Is For Me?
| Vibrating Prostate Massager | Experience Level | |
| --- | --- | --- |
| Nexus G-Play | Beginner/Intermediate | Get it! |
| Rocks Off Rude Boy | Intermediate | Get it! |
| Rocks Off Naughty Boy | Beginner | Get it! |
| Rocks Off Cheeky Boy | Beginner | Get it! |
| Rocks Off Butt Boy | Experienced | Get it! |
| Tantus Prostate Health | Beginner | Get it! |
| Aneros Vice | Intermediate/Experienced | Get it! |
| Rocks Off Bad Boy | Experienced | Get it! |
| Rocks Off Big Boy | Experienced | Get it! |
Choosing the best prostate massager can be difficult, especially if you're new to the world of anal play. It's a good idea to buy a few and experiment because the prostate gland can be located in slightly different areas in a man's body.
Read reviews, try them out and enjoy the experimentation, but whichever model you chose, there is always one constant – there should always be too much lube. You can never have enough during anal play, because the anal canal does not produce any natural lubrication, and without it friction and soreness can be a problem.
If you are looking for a prostate orgasm (the Super O) you should start slowly, become accustomed to the new sensations, and above all relax – don't get uptight and worried about any feeling that you need to urinate or defecate. Some sensations you'll receive from your prostate massage can make it seem like you've got to go. Use the bathroom before you begin playing just to be sure, but if you've done that, then just breathe through the feeling and you'll be fine.
For most, the price of a good prostate massager is an investment worth making. We all need more pleasure in our lives.
What is a Prostate?
The prostate is an essential part of the male reproductive system, as it produces semen. The prostate can be a source of pleasure for men when stimulated, either through anal sex or with a prostate massager.
Many people believe that the prostate is the male equivalent of the female G-spot (but in this case they call it the P-Spot), and that it can provide intense sexual pleasure when stimulated.
Male prostate toys come in a variety of shapes, sizes, and styles and can be used for both solo and partner play. When choosing a prostate massager, it's important to consider your own anatomy and comfort level.
Unlike dildos, men's prostate massagers are slightly curved and that helps you target and discover the prostate more easily. Dildos and vibrators aren't always built with the anus in mind, but prostate massagers are ergonomically designed to help you find and stimulate that special area inside your bunghole.
Where is the prostate?
The prostate gland is roughly the size of a walnut and is located about an inch or two inside of your anus.
Nestled on your pelvic floor, the prostate surrounds the urethra and is pretty much right in between the bladder and the base of the penis.
However, although it's part of the male reproductive system, the prostate isn't technically found in the penis or in your testicles.
So how exactly do you get to this little guy?
How do you find the prostate?
To find the prostate, you'll need to stick a finger or toy into your, or your partner's, butt and feel around for it.
Yup, you heard me right! Your butt!
The prostate is located about an inch or two inside the anus, up towards the underside of your perineum, and it'll feel just like a small bump, rough like the outside of a walnut shell.
If it's your first time looking for your, or your partner's prostate, just be sure to use plenty of lube, take your time, and be gentle.
And if you're not into the whole finger-in-the-butt thing, there are plenty of anal toys and prostate massagers that can help you hunt down that elusive P-spot.
Why Stimulate And Massage Your Prostate?
You should stimulate your prostate if you're looking to experience a P-spot orgasm, which is pretty much just a normal orgasm, with the main exception that it can be brought on without even touching your glans, shaft, or balls.
So mainly you should massage your prostate if you're looking for more intense, full-body orgasms.
But that's not the only thing prostate massage is good for! Massaging your prostate can also be good for your health!
It can help reduce swelling and inflammation associated with conditions like prostatitis or BPH, help men who are having trouble getting it up, and some studies have shown that it can lower your risk of prostate cancer.
Talk about good reasons to try prostate massage for the first time!
What is a prostate orgasm?
A prostate orgasm is pretty much just like any regular orgasm in the fact that it'll cause your pelvic floor muscles to contract and you will likely ejaculate.
But it's far more intense and will send a flood of pleasurable sensations gushing through your whole body.
Some men have described it as a full-body explosion of pleasure that starts in their butt and radiates outwards into every fiber of their being.
Uh… sign me up, please!
The reason, however, why most guys have never experienced a prostate orgasm is that you've got to be willing to explore some often uncharted territory (aka your butt), and maybe even use a prostate massager, which is a male sex toy that a lot of dudes are scared of.
But if you can get over that, and if you're willing to play around with a prostate massager, prostate play will be well worth it, once you reach that magical P-spot orgasm.
Is the P-spot real?
Yes, the P-spot is 100% real. P-spot is simply a term used to describe the prostate gland, which is a play on the term G-spot, the elusive Grafenberg spot found inside the female vagina.
However, while when it comes to the female anatomy there exists a lot of controversy over whether or not the g-spot exists, for men the P-spot is undoubtedly a real organ that every healthy man is born with.
So when you hear anyone talking about the P-spot, know that they're simply talking about the prostate gland itself, which, I assure you, is 100% real!
How Often Can I Massage My Prostate?
As long as you're healthy and in good shape, you should be ok to massage your prostate as often as you want, so long as your body can tolerate it and you don't experience any pain.
Some men, especially those with more experience, may be able to endure prostate massage for longer and more often than men who are just exploring prostate play for the first.
Either way, each man's body is different and tolerance to prostate play will vary from one dude to the next.
I should also mention that you should never be rough. Always be gentle when exploring your prostate, especially if it's your first time. And do cut your nails!
Remember that a prostate massage should never be painful or uncomfortable.
Being too rough or aggressive with your prostate can actually cause injury to surrounding tissue, and damage to your nerves, which can lead to severe pain and potential erectile difficulties in the future.
And because you'll be penetrating your anus, there's also the risk of tears and infection if you're not careful.
So as long as you're not hurting yourself, or your partner, massaging your prostate often, even if it's a handful of times per week, can be beneficial for your health!
And the best part? It'll feel good too!
How long does a prostate orgasm take?
It generally takes a man anywhere from 5 to 20 minutes to orgasm from prostate stimulation.
However, some men can orgasm quickly, while it will take a lot longer for others to get there.
So the time it takes to orgasm from a prostate massage really depends on the person, their experience, and the level of stimulation they're receiving.
But let's be real here… When it comes to orgasms, who's counting time?
As long as it feels good, it should be all about the journey, and the pleasurable sensations that come along with it, not the destination.
Although, the destination is pretty damn great too!
So, my advice to you is to take your time, don't rush it, experiment, play around, and enjoy the ride.
Don't put too much pressure on yourself to orgasm quickly, or even at all.
Just focus on the sensations and let your body do its thing.
Types of Prostate Massagers
There are a wide array of prostate massagers on the market. Most include vibrations, but many don't, and these can be used to stimulate the prostate manually. As with everything in sex, it's a matter of preference. We've broken prostate massagers down into four main categories; silicone, vibrating, metal/glass and textured.
Silicone Prostate Massagers
As with many other male sex toys, silicone is a very popular material to use for prostate massagers. That's because it does the job well.
There are many advantages of using a silicone prostate toy. First, they are made of a smooth, body-safe non-porous material that is gentle on the body and more likely to create a pain-free experience. Silicone has a soft and pleasant squishiness which is perfect for subtly arousing the delicate and sensitive tissues of the anus (when supplemented with the appropriate water-based lube).
Second, silicone anal massagers are designed to fit snugly and comfortably in the anus, making them ideal for men who are new to prostate stimulation.
Third, they are easy to clean and care for. Finally, they are often less expensive than other types of prostate massagers for men.
Vibrating Prostate Massagers (or Prostate Vibrators)
Prostate massagers with built-in vibrations tend to be the most popular and they come in a wide variety of shapes, sizes and styles. Many of these toys come with multiple vibration settings, so you can experiment to find what feels best.
Some even come with a remote control, so you or your partner can control the vibration intensity to your liking. You will find that a good number of prostate vibrators include a remote control or app connectivity for hands-free usage.
Vibrating prostate massagers can be used to stimulate the prostate in numerous ways as well. Most commonly, you'd use a prostate massager internally by inserting it into your rectum.
But you can also use these toys to do prostate play externally by stimulating the perineum (located between the scrotum and the anus). Some units are designed to simultaneously massage the perineum while pleasuring the prostate internally.
Metal and Glass Prostate Massagers
Metal and glass prostate massagers are definitely some of the most popular options out there. And there are a few reasons for that. For one, many users describe their preference for the heavier sensation of metal or glass. For example, some folks don't like vibrating prostate massagers because they can create an unpleasant numbing sensation sometimes.
Another advantage is that metal massagers are temperature responsive. So you can cool or heat your toy to create unique sensations that aren't possible with vibrating massagers. They also don't depend on battery life, and will never need to be charged or recharged.
Glass and metal prostate massagers are also popular because they are non-porous and therefore very easy to clean. Unlike other materials, glass can be sterilized quite easily. This is important because you definitely want to make sure that your male prostate massager is clean before you use it.
Finally, glass prostate massagers tend to be very aesthetically pleasing. They can come in all sorts of different colors and designs. This means that you can find one that really fits your personal style.
Textured Prostate Massagers
These p-spot toys feature ridges, nubs, or other textures that can add new dimensions of sensation to your experience. Some men find that the added texture helps them to better locate and massage their prostate, while others enjoy the added sensation that can help them to reach new levels of pleasure.
The type of texture you choose is a matter of personal preference. Ridges and bumps can provide additional stimulation, but some men find them to be too intense. Smooth, curved massagers are more gentle and may be a better choice for those who are new to prostate play.
You'll have to experiment with different textures to find the one that feels best for you. You may even want to try a few different types to see what kinds of sensations you enjoy the most.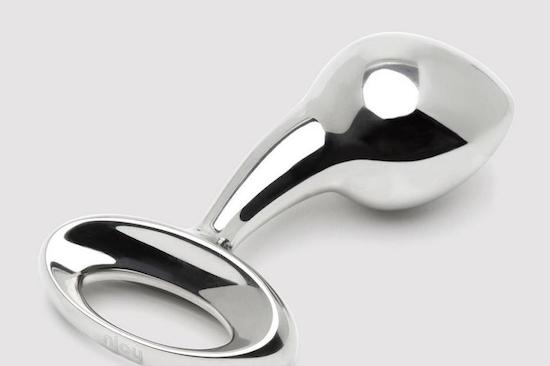 How to Choose the Best Prostate Massager For You
Lots of factors can come into play when making your choice. Here are some common considerations to keep in mind when picking out the best prostate massager.
1) Pick a small prostate massager if you're a beginner
If you're new to prostate play, you'll want to start with a smaller, more beginner-friendly toy. As you get more comfortable, you can move up to larger sizes and more intense vibrations. If you're a newbie, it's best to get a toy with a wide tip. It makes it easier to find your prostate if you've never done it before. Those who are more experienced and confident in their abilities can use a toy with a smaller tip to achieve more nuanced and controlled orgasms.
2) Stick to body-safe materials
Prostate massagers are insertable toys, which means they need to be cleaned before and after each use. Choose a toy made from body-safe materials that can be easily cleaned with soap and water. When you stick anything inside your butt, it's always important to do a thorough cleaning, and this can be time consuming.
3) Know how much you're willing to spend
Prostate massagers range in price from around $20 to $200. You don't need to spend a fortune to get a good quality toy, but keep in mind that the more you spend, the more features and customization options there will be.
4) Remote control is better for couples
If you're planning on using your prostate massager with a partner, look for a toy with a remote control. This will make it easier for your partner to control the toy during sex.
5) Buy waterproof for shower play
Lots of folks enjoy prostate stimulation in the shower. If this is you, make sure the unit you order is waterproof. You should be fine with most silicone, glass or metal units but not many vibrating toys are waterproof.
6) Buy with an extra appendage for perineum stimulation
Some prostate massagers include a small extra appendage designed to stimulate the perineum and the prostate at the same time. Not everyone loves this sensation, so choose a toy that has the features that suit you best.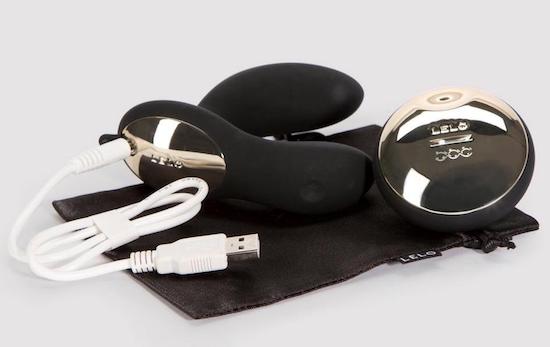 What to Look For in a Prostate Massager
You've made the decision to take the plunge and buy a prostate sex toy. Now you need to know which units are the best. Look out for the following.
Non-porous and body-safe materials are always best when it comes to prostate massagers. A toy made from non-porous material will have a longer shelf life and easier cleanup. Porous materials can accumulate microscopic bacteria, even with a thorough cleaning. Not worth the risk. The best non-porous materials for prostate massagers are silicone, metal (stainless steel), and glass. In addition to health risks, porous materials like latex and PVC will break down quickly and easily.
Brands like Aneros, Lelo, NJoy, Fun Factory
Buying a prostate massager from a trustworthy brand is absolutely essential. The most popular prostate massagers on the market come from brands like Aneros, Lelo, NJoy and Fun Factory.
Vibrations are a matter of preference. Some swear by the weighted feel of a glass or metal prostate massage, but most find that they need motorized vibrations to properly stimulate the prostate.
Make sure your massager has a flared base. Achieving prostate orgasm can make you shake all over. Your muscles contract, and with the slipperiness of the lube, a toy can easily get pushed deep inside of you, becoming impossible to pull out. This will never be an issue if your toy has a flared base.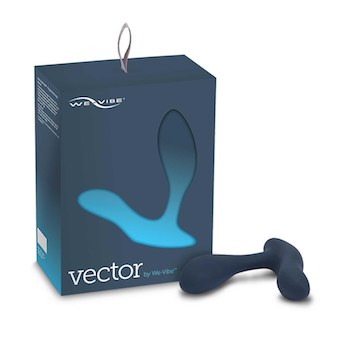 How To Use a Prostate Massager
If you are using a prostate massager for the first time, it is important to start slowly. Begin by getting your hands on some good anal lube, then lubricating the massager and your anus. Insert the massager into your anus slowly and carefully. Once it is inserted, you can begin to experiment with different strokes and speeds. Pay attention to your body and what feels pleasurable. Prostate stimulation can lead to intense orgasms. If you experience any pain, stop immediately and consult a doctor. Here are the steps broken down for you:
1) Lubricate
Maybe it's obvious, but it cannot be stressed enough. Lubrication is absolutely vital for most sex play. And when it involves the ass, if you are without lubrication things can get very painful. Unlike a vagina, the ass does not produce a natural lubrication. It is only endowed with a thin, protective layer of mucus. Without lube, the protective lining is quickly damaged and that can result in painful rips and tears to your precious tissue.
So before getting started, invest in some good lubrication. If you are using a silicone massager, you can't use silicone based lubes. Water-based lubes are generally great for silicone sex toys. Oil based lubes can also do the trick.
Start by putting a healthy amount of lube both on your toy and around your anus. This way, the lube will spread as you insert the toy. The most difficult task is penetrating the sphincter. Once your massager is inside, it should go the rest of the way fairly easily.
2) Relax and Find Your Position
Ensure that you have privacy and won't be easily disturbed. Get yourself aroused. You can watch porn, and touch your penis. Whatever works to get you in the mood. Then it's time to get into position, which can be easier said than done. You need to find the right position, one that will be comfortable to stay in for an extended period of time; as much as 30-60 minutes.
You could try pulling your knees up to your stomach as you lie down on your side. Or you could lie on your back with your legs lifted in the air. You want to create an environment which allows your massager to go inside of you as easily as possible.
You will need to experiment to find what feels best for you.
3) Insert the Massager
It's important to relax your muscles and take your time inserting the toy.
Getting your toy to make contact with your prostate rarely happens in one seamless move. It may take a little wiggling and adjusting to get things just right. Again, the most important thing is to relax and go slowly. Insert the toy a little bit at a time, letting your body get used to the sensation.
How can you tell if you've reached your prostate? You'll know either when your toy is fully inserted or when you begin to feel a tingle. This tingle happens when the end of your toy begins to massage your tissues and stimulate the prostate. You may feel as though you have to defecate or urinate. Worry not, it's perfectly normal and as long as you emptied yourself before starting you should be fine.
4) Slowly Move it Back and Forth and Experience Pleasure
Now that you've taken your time and contact has been made with your prostate it's time to turn on its vibrations (or not, if it's a non-vibrating model). Now, you can slowly begin to move your toy back and forth.
Pay attention to your body and what feels pleasurable. You may need to experiment with different speeds and angles. Some people like to use a good amount of pressure and find that this is what helps them achieve orgasm. Others like to use an up-and-down motion.
Experienced users go hands-free and learn how to clench the muscles inside their anus to achieve orgasm. If this is your first time, don't give up. It can take several tries and several toys to find pleasure in your P-spot. But trust us, it's worth it!
How To Give A Prostate Massage
To give a proper prostate massage, you'll need to insert a finger or toy into your anus, locate the prostate gland, and then begin gently massaging the P-spot back and forth, or side to side, whichever feels best.
Of course, you'll want to start by making sure your hands and your prostate massager are clean and well-lubricated.
And I always recommend foreplay before diving into any type of penetration!
Then, you can gently insert your finger or male sex toy into the anus and feel around for the prostate.
It should be located about one or two inches inside the anus and feels just like a little bump the size of a walnut.
Once you've found the prostate, you can start to apply a bit of gentle pressure and massage it in a circular, side-to-side, or back-and-forth motion.
You can also try experimenting with different levels of pressure and speed to see what feels best.
Just remember that you don't want to go in there like a jackhammer.
The key to a good prostate massage is to be gentle and patient and to listen to your body.
Or, if you're giving a prostate massage to a partner, make sure you're communicating with them and regularly checking in on how they're feeling just to make sure they're enjoying it.
What's the best position for a prostate massage?
Two of the best positions for prostate massage are doggy style, with your hips and anus tilted up toward the sky, or missionary, with your knees up and legs spread.
However, the best position really depends on what's comfortable and works best for you.
Ideally, if you're giving yourself a prostate massage with your fingers, you'll want to choose a position that makes reaching your backside as easy as possible, like doggy style or missionary.
But if you're getting a prostate massage from a partner, or if you're using a hands-free prostate massager or vibrator, then there really are no limits as to what positions will work best.
Just make sure you're comfortable!
The truth is that prostate stimulation can be a bit of a trial-and-error process, so what works for one guy may not work for another.
So don't be scared to play around and try different positions until you find your favorite!
The classic is lying on your back with your legs in the air. But if you're feeling adventurous, you can try all sorts of different positions too.
You could try getting on all fours, like a dog in heat (hey, no judgment here), which can be extra hot if you and a partner are into pet play.
Or you could experiment with standing up and leaning over a surface, adding a bit of extra stability to your massage routine.
Some guys even get a kick out of having their prostate massager "plugged in", and going about their day as if nothing was happening at all.
Meanwhile, their prostate is screaming pleasure the whole time!
So, our advice to you is to have fun with it, try different positions, see what feels good, and don't be afraid to get a little creative.
Do I need a partner to massage my prostate?
No, especially if you're using a good prostate massager, you can give yourself a prostate massage entirely on your own.
However, it can be more fun, and a bit sexier if you have a sexy companion to massage your prostate for you.
Benefits of Using Prostate Massagers
Using a prostate massager can have its pros and cons. Let's explore them here:
A simple and fun way to spice up your sex life
Solo play can be more varied and fun with a toy
Can help you experience new sensations in erogenous zones you've never utilized before
Some men find that using a prostate massager can help them to reach orgasm more easily.
Ergonomically designed to stimulate your prostate, more effective than fingers
Disadvantages of Prostate Massagers
Should not be overused, no matter how great it feels
Must be thoroughly cleaned before and after each use
Vibrating units must be charged and recharged repeatedly
Vibrations can create a numbing sensation in some users
If not used properly (without lube for instance), can cause injury
More Prostate Massagers
Roundups

Aneros
Aneros alternatives
Reviews

Aneros Device
Aneros Progasm
Aneros Vice 2
Aneros Progasm Junior
Aneros MGX
Aneros Eupho
Aneros Helix
Aneros Maximus
Guides
Prostate Massager FAQ
There are a few common questions that people ask about prostate massagers. Here are a few of them.
Should I use a vibrating or non-vibrating model?
It's really up to your preference! Some people can't live without vibrations, others find them mildly numbing (which is no good for achieving orgasm). Sometimes the non-vibrating models can take time and energy to get acquainted with, but once you do they are life changing.
For some pro users, the vibrating prostate massagers aren't intense enough. So they've reported using a non-vibrating model from Aneros in combination with a traditional vibrator sex toy to maximize their pleasure.
How do I use a prostate massager?
Prostate massagers can be used in a variety of ways. The most common method is to insert the massager into the anus and stimulate the prostate gland with the device. Some massagers can also be used externally, by applying pressure and stimulation to the perineum (the area between the anus and the scrotum).
Should I play with my penis while I massage my prostate?
If you are able to, then go for it. People report that it's amazing. Unfortunately, not everyone has the coordination to do both at once. But don't fret! Just keep in mind that extremely satisfying sexual experiences are possible without even touching your penis.
If you're working with a partner, stimulating both your prostate and penis at once is obviously far easier. Some toys can be used hands-free as well. So there are options for every situation.
Should I use lube with my prostate massager?
Yes, you should always use lube with your prostate toy, no matter the style! For your safety, comfort and pleasure, it's best practice. If your toy is made of silicone, water-based lube is best.
Is a prostate massager different from a dildo?
Regular dildos are designed for vaginal or anal penetration, but a prostate massager is designed specifically for stimulating the prostate. Prostate massagers are usually curved in order to better target the prostate, and they often have a flared base to prevent them from getting lost inside the body.
What are the proper maintenance procedures for my prostate massager?
Each toy will come with its own set of care and maintenance instructions. To clean a prostate massager, you will need to use warm water and a mild soap. Make sure to rinse the massager thoroughly to remove all soap residue. It is of the utmost importance to clean your toy before and after each use.
What Else Should I Know About Prostate Massagers?
A few other things to know about prostate massage and using a prostate massager is that you'll need to take a few steps to prepare yourself or your partner for the act, that prostate play is generally safe unless you've been told otherwise by a doctor, and that you'll always want to clean your fingers or your toys after giving yourself or your partner a prostate massage.
But there might still be a few unanswered questions or topics that I haven't covered in detail.
So, in case I missed anything, let's take a look at some frequently asked questions about prostate massagers and prostate play.
Is prostate massage messy?
No, prostate massage isn't necessarily messy. But it can be if you don't take the time to prepare.
On the other hand, if you take the time to prepare properly, use plenty of good anal lubricant, and take your time, then, prostate massage shouldn't be messy at all.
If you've emptied your bowels and cleaned your anus beforehand, prostate massage can often be a clean, enjoyable experience for all parties involved.
However, as with anything involving the butt, there's always a risk of some messiness and unexpected accidents.
As you might have guessed, whenever you're playing in the vicinity of the anus, there's always a chance of coming into contact with fecal matter.
This is why preparation and cleaning yourself up (before and after) are so important.
So before you dive into your next prostate massage, make sure you've had a bowel movement and cleaned yourself thoroughly.
Some men may even consider using an enema or taking a shower beforehand to minimize the risk of any unwanted messiness.
Then, after you're done with your massager, make sure to clean up properly.
Use plenty of soap and water to clean your toys and hands, and consider taking another shower just to be safe.
Are prostate massagers safe?
Yes, prostate massagers are considered safe to use as long as you're a healthy individual, and your doctor has not told you otherwise.
If you're using a good-quality prostate massager, made from body-safe materials, and you've made sure to prepare and clean yourself accordingly, then yes, using a prostate massager is perfectly safe.
In fact, prostate massage is sometimes recommended by doctors as a way to relieve pain and swelling associated with prostatitis or BPH.
So not only is using a prostate massager safe, but it can actually be beneficial for your health!
Of course, as with any type of sexual activity, there is always risk involved.
But as long as you're using a high-quality prostate massager and taking the proper precautions (like using plenty of lube and cleaning your massager before and after use), you should be just fine.
How often should I clean my prostate toy?
You should clean your prostate toy after any time it's been inside your or your partner's butt.
I mean, think about it, you wouldn't reuse a fork that's been up someone's butt without washing it first, would you? (At least, I hope not.)
The same goes for your prostate massager.
In fact, even if it hasn't been up a butt, it's still a good idea to clean it after every use if it's been in contact with your or your partner's genitals, or any type of bodily fluids, including blood, saliva, or semen.
Cleaning your prostate massager after every use not only keeps it hygienic but can also help maintain and extend the life of your toy too!
Are vibrating prostate massagers worth it?
Yes, vibrating prostate massagers are worth it if you're looking for intense, full-body, mind-shattering orgasms that won't stop until you turn the toy off or pull it out.
However, that doesn't mean that they're necessarily better than manual prostate massagers.
They're just different!
But when you upgrade to a vibrating prostate massager, you'll experience a world of pleasure that manual massagers just can't offer.
Most vibrating massagers have a range of vibration settings, so you can go from a gentle buzz to a full-on earthquake at the touch of a button.
And if that's not enough, some vibrating prostate massagers are even remote-controlled, which means you'll have the ingredients for the ultimate hands-free P-spot orgasm within the palm of your hand!
So if you've got the cash to spare, a vibrating prostate massager is definitely worth the cost!
But that doesn't mean they're any better than a regular or manual prostate massager!
How much do prostate stimulators cost?
Prostate massagers cost anywhere from $10 to a few hundred dollars, depending on the brand name, quality, and features of the product you choose.
However, Aneros, one the leading names in prostate massagers, has an extensive lineup of excellent, high-quality prostate massagers that range in price from $50 to $150.
So again, the price really depends on what kind of prostate stimulator or massager you're looking for.
If you're just starting out and want a basic massager, you can probably find one for about the same price as a fast food combo meal.
But if you want to experience the full-on pleasure of a high-end, luxury prostate stimulator, you'll need to dig a bit deeper into your bank account.
Are all prostate massagers hands-free?
No, not all prostate massagers are designed to be used hands-free.
Some require good ol' fashioned manual stimulation, like the Fun Wand by nJoy, which means you'll have to use your own two hands to move the toy around and get the job done.
But hey, manual stimulation can be kind of hot, especially if you're doing it to, or having it done to you, by a partner.
They might not be as fancy as a hands-free massager that vibrates or comes with a remote control, but they can still get the job done.
What's The Best Prostate Massager?
In my opinion, the best prostate massager is the Aneros Vice 2. It's thick and has some weight to it, has a total of 18 different vibration patterns and 4 different speeds, and can be controlled remotely for an added touch of hands-free fun.
But really, the best prostate massager for you is the one that boasts the features you want, and suits your needs, your anatomy, and falls within your desired price range.
So there's really no cut-and-dried answer as to which prostate massager is best.
After all, everybody has different sexual tastes and desires.
That being said, Aneros is one the leading names in the world of prostate massagers.
They make one of the most versatile lineups of prostate massagers, which means they have something for everyone!
Let's take a look at just some of the best prostate massagers they have available for beginners, intermediate, and advanced users.
Beginner prostate massager suggestions
If you're a beginner in the world of prostate massage, you probably don't want to start with something too big or too intense.
Instead, you'll want something that's a little more beginner-friendly, with a bit of a smaller size and skinnier girth.
One of the best options out there for beginners is the Aneros Helix Syn.
It's not too big and not too small, with a comfortable shape that's easy to insert and maneuver.
The Helix Syn V is a great option, but Aneros has other beginner-friendly prostate massagers too, like the Eupho Syn Trident, and the classic Eupho Trident, which are slightly smaller, and more affordable options.
Intermediate prostate massager suggestions
If you're an intermediate prostate massage enthusiast, you might be ready to take things to the next level with more features.
While you may have started with a basic beginner-friendly option, you may now want to explore more advanced features, like remote-controlled massagers and more intense vibrations.
One great option for an intermediate user is the MGX Syn Trident.
It's designed to be slightly more advanced than their beginner options, with a somewhat thicker profile and an exciting curve for a touch of added pressure against your prostate.
It's also ribbed, and designed to stimulate a total of 4 erogenous zones at the same time.
On the downside, the MGX Syn Trident doesn't vibrate or come with a remote control.
But as an intermediate user, you'll probably want to look for massagers that have multiple vibration settings or other customizable features, like adjustable angles and different textures or designs.
The key is to find an intermediate prostate massager that offers the right level of stimulation for you, while still being comfortable enough and easy to use.
Advanced prostate massager suggestions
Advanced users are usually looking for a prostate massager that can take them to new heights of pleasure.
They want a massager with more size, girth, and other features to provide more intense stimulation.
One of the best options for advanced users is the Aneros Maximus Classic, the Vice 2, or the Progasm Black Ice, which are all thicker, and girthier compared to the beginner and intermediate models I've mentioned, making them ideal for users who want a more intense prostate experience.
But as an advanced user, pretty much any type of prostate toy or massager will make a good addition to your collection!
So be sure to shop around, check out all the different models available from the leading manufacturers, and find something that you'll be proud to own!
Additional Useful Resources