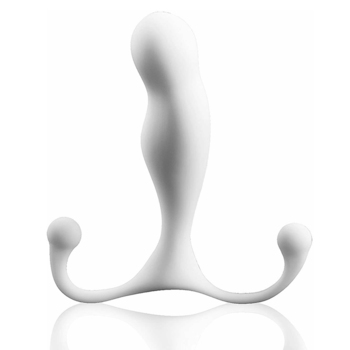 The Aneros Maximus Trident is one of the best prostate massagers I've used. But, before I talk about my experience with it, let me give you a little backstory.
The first time I found out about prostate massagers, I was a bit confused and intrigued at the same time.
I mean, I've had anal sex before, and if you do it right, it's really not as bad as it sounds. However, I wasn't on the receiving end when I did it.
The idea that a silicone object, when inserted into the rectum, could arouse me, was, I'm not going to lie, baffling at first. I went out and bought some random prostate massager and gave it a shot.
Keep in mind that I hadn't informed my girlfriend about it as yet because I didn't know how she'd take it.
Anyway, my experience wasn't all that the device claimed it would be, but I did feel enough to understand that it's not all poppycock. And oh boy, was I right.
I began doing a bit of research about different prostate massagers and stumbled upon Aneros.
Aneros, for those who don't know, is one of the leading companies that offers an extensive range of prostate massagers.
Why I Chose the Aneros Maximus Trident
As I began to read more and more about prostate massagers, I realized just how big of a difference simple design elements can make.
For instance, if you go through their product line, you will realize that Aneros primarily focuses on non-vibrating prostate massagers.
I think the company has just one or two prostate massagers in its entire lineup that vibrate.
All others are static and work using the motion of your kegel muscles.
Keep in mind that prostate massagers aren't just for arousal; they also offer a bunch of health benefits.
Pretty interesting, eh?
Like a veteran online shopper, I began going through reviews about their products on different forums and realized that I was ready for my first Aneros. I didn't want to go all out and opt for their premium Syn Trident line, so I decided to play it safe and go for the Maximus Trident.
It's one from their Trident line (check latest price). I was a bit confused at first, because I could have gone for a vibrating prostate massager for the same price range. As it happens, I only realized the pricing difference once I received it in my hands.
Opening the Box – Ooh la la!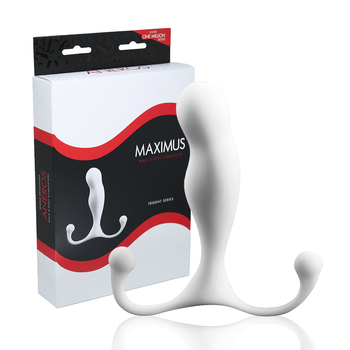 Keep in mind that I was still hiding this from my girlfriend. She's a freak in bed, and I know she would have jumped at the idea of thrusting a plastic device inside my rectum to make me cum. I wasn't having any of that until I was comfortable with the Aneros first.
It came in a fairly discreet box, so kudos to Aneros for taking privacy seriously. Once I removed the discreet packaging, this is how the Maximus Trident's box looks like:
Fairly simple, eh? That's what I thought.
And I get it. I dig the whole minimalistic vibe, and I love the fact that this thing is white. My girlfriend has several dildos of an inverse color, and I didn't want her to think that this was something similar.
Well, it kinda is, technically, but hey.
On the back of the box, you have the instructions, like:
What's it made of
Dimensions of the Aneros Maximum Trident
What sets the Trident line apart
The first word that came to my mind as I took it out of the box was: this thing is utilitarian.
It's not the hottest looking prostate massager in the world, but it's also not the worst. It's not overly sized, and it's also not the smallest. For a guy like me (5'11"), this thing seemed just right.
The Aneros Maximus Trident's Design – Freeki Stuff
You should know that this thing doesn't look like an actual trident. LOL.
Well, it does have three prongs (they are not actually prongs!), but one of those is longer than the others. Oh, and it doesn't have any handle, something that you would expect on a trident.
I was confused a bit about those tiny tabs on either side, so I did a bit of reading. Turns out the company calls them the P & K tabs. P for perineum and K for Kundalini.
Confused? I was too. Initially, I thought this thing was all about preventing the massager from getting sucked all the way in.
I know, I was stupid.
But, that's not true. In fact, this thing has a functional purpose, and it's to maximize your sensations. You see, the perineum tab works by stimulating the perineal region, which is the small piece of skin between your ass and your balls.
As a man, I have to say, it feels good.
The Kundalini tab, on the other hand, enhances the sensations at the base of the spine, just where your hips connect with it.
Remember when I mentioned that this thing sells on par with other vibrating massagers? I realized now that the attention to detail is what makes it such an excellent prostate massager.
Instead of just throwing in a vibrating bullet, Aneros went to work and designed a prostate massager that actually feels good inside of you. How about that?
What's This Baby Like?
Before I get into my experience, let me get the more specific stuff out of the way.
Length: 3.5 inches
Tip width: 0.96 inches
Mid-range width: 1.0 inches
What Does This Mean?
If you are new to prostate massagers, these specific measurements might seem a bit confusing. However, to put it simply, this means that the Maximus Trident is ideal for people between 70 and 100 kgs.
It's not overly big nor too small. It sits right in the middle when compared with other prostate massagers, and that's one of the main reasons why I decided to go for this one.
My Solo Experience With the Aneros Maximus Trident – Erotic Heat
The Aneros Maximus Trident is made of ABS plastic and it feels silky smooth to touch. I do remember reading that this is different from the company's proprietary velvety silicone material, but even then, this thing feels really good.
Armed with the knowledge that I had scoured from the internet before giving this bad boy a try, I set about creating the mood. I chose a lazy Sunday afternoon because I knew nobody would disturb me.
First off, I dimmed the lights to my room and drew down the shades (duh!). From what I had gathered, the aim was to get aroused and remove all distractions. I have a banging 75" LED right in front of my bed that I use mainly for video games and a good wank before sleep.
I put on some porn and I settled in with my Aneros. The threesome in front of me, coupled with the excited that I was feeling, gave me a throbbing hard-on within minutes.
Go time, I thought.
I lubed the Maximus Trident up using a pleasure gel and got to work. I inserted this thing as gently as I could and embraced for that tinge of pain as the rectum expands. Surprisingly, there was none.
The Aneros slid in effortlessly without me having to apply any kind of additional force. I realized it later that the grooves and curves on the Aneros Maximus Trident are designed with keeping the shape of the rectum in mind.
Here's a quick biology lesson: your rectum doesn't run straight; it moves in a curved manner, much like a tall S. The tip of the Maximus Trident has a bend on it, which is what allows this Aneros to move in so easily.
Okay. First step done.
The Pelvic Disco Begins!
Now, as per the instructions, I was to move my kegel muscles (the muscles on your pelvis) to stimulate the prostate gland. Exercising your kegel muscles actually has a lot of benefits. Aneros' marketing team has made a big deal out of this: they really want you to know that this thing is hands-free.
And honestly, I can't imagine myself using my hands for this either. It's just not ergonomic.
And so, I went to work with my kegel muscles.
At first, it didn't feel much. And then, it started.
I was laying down on one side, holding me left knee close to my chest, when I felt a wave of pleasure take over me. It emanated from my prostate gland, and it was so powerful that I had to stop a moment to catch my breath.
The Penultimate Orgasm
This felt better than any orgasm I had ever had before. I decided to forge on, and before I knew, this thing had me spellbound.
The frequency of these pleasure waves continued to reach until I reached my climax, and with a loud crescendo, I let go.
As I looked down after I was done, I realized something strange: there was no cum.
Side note: Prostate orgasms don't always result in discharge. Less messy overall!
I mean, if I had to quantify it, that first wank was worth the price. My whole orgasm lasted for around 45 minutes, so it was pretty great.
There are a few things I'd like to point out though:
You need to lube the Aneros Maximus Trident after every 15-20 minutes.
It feels different, so you have to be open to new things. Embrace your sexuality and let it go. It's worth it, trust me.
The P&K tabs must be positioned correctly to work. Yes, they do actually enhance the sensations!
The Duo Experience – Sex Ain't Never Been Better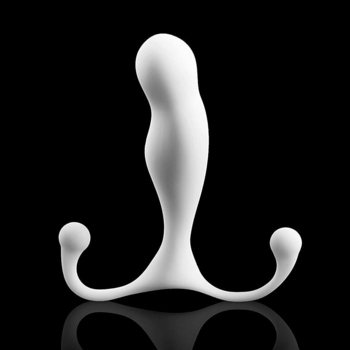 Once I knew how this baby works, I was all excited to try it out. I had already told my girl about my experience with the prostate massager, and she was more excited than me to see how it would work. We hadn't used male sex toys before during sex, so keep that in mind.
We got funky in bed one night, and we both decided it was time to experiment. She took it out, lubed it up with a mixture of her saliva and the pleasure gel, and inserted it gently in me.
Now, keep in mind that this thing doesn't have any handles, so it's not a conventional sex toy that you can manipulate using your hands. But, once it was inserted, she decided to put her tongue to good use on my cock, and then get on it.
The Aneros Maximus Trident works by pelvic thrusts, and in missionary, that's literally all you do.
OH. MY. GOD.
As she jumped up and down my pecker, I could feel those waves taking over me. I was overcome with the pleasure to the point where I could feel tears swelling up in my eyes.
You ever had sex so good that it made you cry?!
Raises The Bar for Sex
Well, I did. My girlfriend realized that I was enjoying every minute of it, and she continued to alternate between using her pussy and her mouth to devastating effect.
Our sex lasted for a good 50 minutes until I was spent, both literally and figuratively. We had to reapply the lube from time to time, but that's alright. It gave me a much-needed break, something my partner absolutely didn't want.
By the time we both finished, we were absolutely knackered. She had taken out the prostate massager and decided to blow me off, so it was kind of a win-win situation for me.
It pushed my body to the extremes and blew my mind. However, it took me almost 10 minutes to find feeling in my legs again. My girlfriend was equally spent.
This Aneros raised the bar for sex for us, and I have a strong feeling that it will do the same for you.
I cannot wait to buy the more expensive ones and see how they work.
The Bottom Line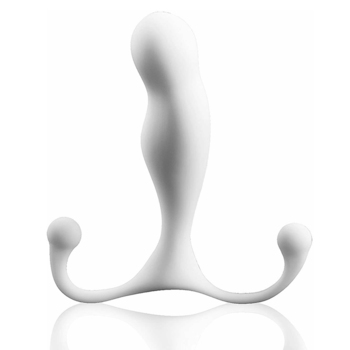 The Maximus Trident is one of the best prostate massagers I have used. Granted, I haven't used many and I am still experimenting with different ones, but this one is by far the crown jewel in my humble collection.
The Maximus Trident does everything that you would want it to. It's great for solo play, and it's unbelievable when used with a partner. For such a low price, can you really ask for more?
I am going to be buying quite a few more Aneros massagers and my girlfriend and I can't wait to try them out as well.