With readers all over the world, we decided it might be fun to list some of our favorite world wide sex-shops. Each of them colorful in character, boundary-breaking or a little quirky and some of them all of the above. Here they are listed alphabetically… If you go visit some, let me know!
1. Awakening Boutique – Denver, Colorado
A little newer on the scene…operating since 2018, The Awakening Boutique is a beautiful plant-filled, female-owned store. The entire staff regularly writes, contributing to the websites Queen City Stories that talk honestly about their personal sex-lives and experiences.
It provides a relaxing and comfortable place to shop which the owners say is "founded on mutual trust, respect and orgasms"! It is pretty different from a lot of stores and the women that run it pride themselves on being the first sex-positive sex store in Denver.
With a young and progressive demographic and a large and flourishing LGBTQ community, Tory Johnson and Rose Kalasz cater to their erotic needs and well-being. In addition to your average sex-toys, they stock hand-made lingerie and hold sexual health workshops.
Address: 2936 Larimer St, Denver,
CO 80205
Phone: (720) 279-4311
Website: https://www.awakeningboutique.co/
2. Babeland – Seattle, Washington
Babeland was another pioneering store in terms of a positive feminism-centric ethos. The store is a little more modern and plastic than the plant-filled awakening boutique but still have a modern attitude and promote inclusion.
The store has warm lighting and an inviting atmosphere. The staff makes you feel right at home without intruding on your personal space. They are referred to by the company as SESA's an abbreviation for Sex Educator and Sales Associate. Each is well-trained and very knowledgeable in their field.
The store offers a book corner packed with informative sexual health reads as well as erotic fiction. It is a non-taboo environment with their sex-toys proudly on display. Employees will assist you in testing them on the backs of hands or noses and explain how to use some of the more confusing modern models.
Address: 707 E Pike St, Seattle,
WA 98122
Phone: (206) 328-2914
Website: https://www.babeland.com/
3.Basement Specialist – Auckland, New Zealand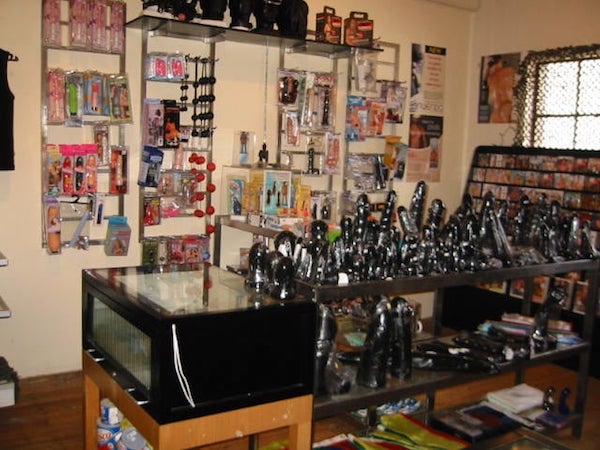 With a store logo that literally underlines the men in the word basement, the Basement Specialist is an Auckland based sex-store that caters mainly to gay men. With a naughty reputation as a BDSM sex-club, loud parties, and cruises on offer they have made a name for themselves in New Zealand.
Impudent and unashamed, the owners are well-known within the local BDSM Scene and are not afraid to put it all out on display. They stock a huge variety of clothes, although they invite customers to shop naked on special advertised occasions. They sell a huge selection of fetish-wear, BDSM accessories and an armada of toys that complement the lifestyle including a range of male chastity products.
Address: 12 Canada Street, Newton
Auckland CBD 1010
New Zealand
Phone:+64 9 302 2250
Website:https://basementnz.com/shop/
4. Early to Bed – Chicago, Illinois
Address: 5044 N Clark St, Chicago, IL 60640
Phone: (773) 271-1219
Website: https://early2bedshop.com/
5. Eclectica – Moskow, Idaho
Eclectica is a small part of Safari Pearl comic books, that offers a very personal service. One of the oldest stores in Moskow (Idaho) and very reputable. The stores' owner Kathy Sprague has worked to maintain a fun and accepting, private space for an eclectic clientele, many being nearby students.
Eclectica has a great social media presence and support a tonne of worthy causes and spread a positive message of nondiscrimination. They are in full support of LGBTQIA, the staff are very friendly, informative and discreet with a wicked sense of humor.
If it is local to you or has sparked an interest you might be interested in reading this column on the creator.
Address: 660 W Pullman Rd, Moscow, ID
83843
United States
Phone: +1 208-892-9100
6.Harmony – London, England
Harmony has been trading for a long time in London's notorious Soho area. With a high-end agenda that took some of the sleaze out of Soho. They sell upmarket sex toys like these ones and aim to provide a luxury shopping experience providing an extensive variety of adult and intimate personal products.
Staffed by a team of enthusiasts, trained for the task at hand the store has an open-minded approach. They promote inclusion and deliver a high level of customer service. The vibe on the shop floor is friendly and very non-taboo, so you can shop in a relaxed manner.
With so many products and genuine passion for their work, Harmony has branched out introducing a new erotic boutique in Oxford street and an online store for customers who live further afield. After 20 years in the industry, they have worked hard to build a trusted brand. They also have a blog full of interesting reads.
Address: 103 Oxford Street, Soho
London W1D 2HF
Phone: +4420 7734 5969
Website: https://www.harmonystore.co.uk/
7. Japi Jane – Chile
Address: Av. Luis Thayer Ojeda 059,
Providencia, Región Metropolitana, Chile
Phone: 56-2-2234-4917
Website: https://japijane.cl/
8.Kisme – Buenos Aires, Argentina
Located in the beautiful Argentinian capital, Kisme has over a decade's worth of experience and staff who take their time helping customers find the right product for their needs. With an open attitude, Kisme provides a personal feel that isn't overbearing.
With a classy look and an upmarket feel, the shopping experience is very professional. The store is pretty discreet, shielded from the public eyes on the high-street.
They specialize in lingerie and adult toys, offering a range of exclusive realistic dildos. They have a good range of costumes on display and even stock a mixed selection of saucy DVD's. They have a customer-orientated focus and the employees are knowledgeable and attentive.
Address:Florida 681, galeria Arax Ciudad Autónoma
Buenos Aires
Argentina
Phone: +54 9 2395 43-3183
Website: https://sex-shop-kisme-florida681.negocio.site/
9. Los Placeres de Lola – Madrid, Spain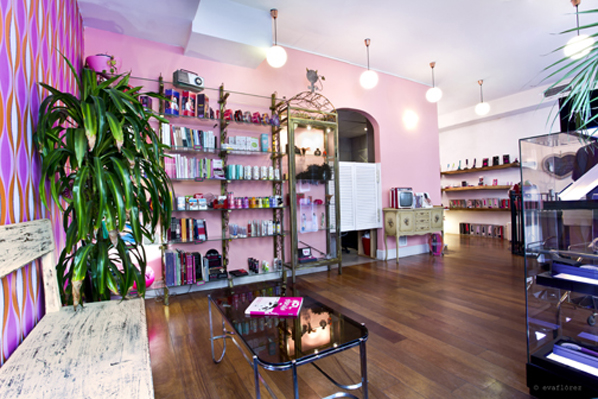 Los Placeres de Lola is another store spreading sexual positivity in Spain They have a friendly boutique vibe where customers are treated as guests and are even offered free tea to drink surrounded by the erotic art on the walls.
It is very laid-back and welcoming, the store itself is pristine and beautifully decorated. Toys are on full display, and they stock a selection of exquisitely hand-crafted, designer dildos. They also have a lot of erotic novels authored by women.
They are extremely supportive of feminism and have a range of porn specifically created to be less misogynistic. They aim to promote "sexuality, without elitism, for everyone" in their mission statement.
Address: Calle del Dr. Fourquet, 34, 28012
Madrid, Spain
Website: http://www.losplaceresdelola.com/
10. LuvLand – Johannesburg, South Africa
Trading since 1993, LuvLand just outside of Johannesburg is another store that has managed to create an upmarket experience. Gone are the days of secretive sex-stores with buzzer entry and sleazy employees.
Luvland was one of the first South African adult stores to start exploring sex with modern open opinions. They now have nationwide stores, so the attitude must have worked. They take pride in their business and aim to sell only the highest quality products. They stock just about everything you can imagine and have a dedicated, LGBTI selection of goodies.
They are proud of their trend-following, informative and professional service. The staff are well-trained, their products are varied and the company pride itself on their discretion in-store and online.
Address: Mpumalanga 116 Mandela St, 1035,
Emalahleni
081 528 5400
Phone: +27 11 728 1856
Website:https://luvland.co.za
11. M's Pop Life – Tokyo, Japan エムズ
As the biggest Sex-store in Japan built over7 levels M's has plenty in store to offer. The aisles are narrow and jam-packed with toys each section brandishing a crude but to the point name. The toys go from tame to insane, with rows of regular dildo's soon escalating into monstrous super-sized options that make you wonder who could possibly be using them.
If you are a fan of role-playing, they have 2 entire floors to cover all of your dressing up needs, from the typical French-maid or school girl fantasy to the downright peculiar.
With so much space, M's can provide just about any kink on the planet with dedicated areas for lube, handcuffs, anal-beads, dolls and even panty-sniffing.
It even has a mysterious 7th floor that is reserved for Japanese residents only. If your curiosity has the better of you then head over to GapYear to read one student's experience.
Address: Japan, 〒101-0021 Tokyo,
Chiyoda City, Sotokanda,
1 Chome−15−13 太平堂ビルB1F-6F
Phone: +81 3-3252-6166
Website:https://www.ms-online.co.jp/
12. Nauti NZ – New Plymouth, New Zealand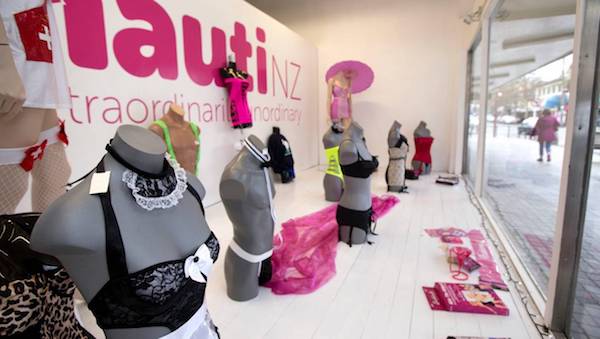 Address:48 Devon Street East,
New Plymouth 4310,
New Zealand
Phone:+64 6-758 3066
Website: https://nauti.nz
13. Other Nature – Berlin, Germany
Other Nature is an eco-friendly sex shop on a mission to promote gender equality with a feminist attitude. Promoting positive sex-lives, they actively seek products that are sexy but sustainable.
Owner Sara Rodenhizer and her team come from all walks of life have built a beautiful store and managed to keep a multi-moral compass. You won't find any leather in their bondage section or anything toxic. They sell all the vegan-friendly sexual accessories you could ever want in your life and also promote discussion and awareness.
They hold regular workshops that range from gender and sexual diversity to tough topics such as reproductive choice, female empowerment and consent. Theydisplay thought-provoking artwork in their exhibitions and they are pretty brazen in order to fight the stigma surrounding sex and sexual diversity.
Address: Mehringdamm 79,
10965 Berlin
Germany
Phone: 030 20620538
Website: https://other-nature.de/
14. Passage du desire – Paris, France
Address: 23 Rue Sainte-Croix de la Bretonnerie,
75004 Paris, France
Phone: +33 1 42 76 03 45
https://www.passagedudesir.fr/
15. Peaches n Cream – Auckland, New Zealand
Address: 247 Archers Road,
Glenfield, Auckland 0627,
New Zealand
https://www.peachesandcream.co.nz/
16. Rainbow Station – Chelsea, NYC
The Rainbow station as the name suggest is a liberal little sex shop with a non-discriminating code of conduct in the heart of Chelsea, NYC. It is flamboyant, fun-loving and stocked with an armada of accessories for all kinds of lifestyles.
Although they aim to provide the best adult products for men they have a glorious array of underwear that covers every gender. They have a focus on fetish and BDSM, for couples and despite their main emphasis is on male-toys, they pride themselves on catering to a varied client base.
Staff are customer-focused, love a bit of banter and well-educated promoting sexual health and positivity. They have a large selection of lubes and condoms as well as DVD's to check out.
Address: 203 8th Ave, Chelsea, NYC
Phone: (212-206-7259)
Website: rainbowstation.nyc
17. Self Serve – Albuquerque, New Mexico
Address: 3904 Central Ave SE, Albuquerque, NM 87108
Phone: (505) 265-5815
Website: https://www.selfservetoys.com/
18. Sh! Women's Erotic Emporium – London, England
Sh! Is another London based store with a long history. They are a little different as they operate with a little bit of a gender-bias. When the first opened they were a strictly no men permitted style of shop, now the women-only is restricted to a small number of their workshops instead.
It is a liberal store where toys are once again in full display and customers are encouraged not to be hesitant about touching. The staff are friendly and non-judgemental which adds to the open-minded shopping experience. They sport a large range of goods to choose from and are full of information should you have any doubts.
Address: GWG8+VG Hoxton, London, UK
Phone: 44-20-7613-5458
Website: https://www.sh-womenstore.com/
19. SheBop – Portland, Oregon
Address: 909 N Beech St suite a, Portland, OR 97227
Phone: 503-473-8018
Website: https://www.sheboptheshop.com/
20. Smitten Kitten – Minneapolis, Minnesota
Address: 3010 Lyndale Ave S, Minneapolis, MN 55408, USA
Phone: 612-721-6088
Website: https://www.smittenkittenonline.com/
21. Spilly Willie and the Jade Wand – Moskow, Russia
Moskow is bursting at the seams with sex-shops but many of them feel a little strange to visit. Lots of people find them uncomfortable to browse in. Some have stale atmospheres, some are stuck in the nineties and others are romantically aimed and a little 'vanilla' but that isn't the case with Spilly Willie's.
The hip team behind the counter has made their store playful,modern and fun. With vibrant décor and consultants that talk candidly, they hope to break down barriers between partners and have even developed their own app and a variety of their own informative videos. Bottom-line they want to get everybody having pleasurable sex.
Address: Verskaya Zastava Square, 2
Moskow, Russia, 125047
Phone: +7 (906) 011-00-77
Website: https://shpi-vi.ru/
22. Sugar – Baltimore, Maryland
Sugar is a lovely, lesbian-owned adult entertainment store based in Baltimore. With an ethos tailored towards helping their clients "experience their own unique sexuality with shameless joy and passion"-Sounds great.
They do this with a fun, sex-positive attitude, educating and advising as well as selling a plethora of sex-toys for all tastes. They hold regular celebratory workshops and fundraisers to spread their message. They raised 3,309.60 for Planned Parenthood last year.
With a firm belief that sex should be healthily discussed and celebrated diversely, they keep their values entwined with their enterprise. They are also working towards sustainability and trying to source responsibly.
Address: 1001 W 36th St, Baltimore, MD 21211
Baltimore Maryland
Phone: (410) 467-2632
Website: http://www.sugartheshop.com/
23. The Art of loving – Vancouver
The art of loving is a Vancouver based shop which has a very health orientated attitude. They stock a wide-variety of sex-toys, from your more subtle to the downright kinky. They stock many sexual health products, books, and educational DVDs and host regular workshops.
The staff have a great attitude and are specifically trained to tackle sensitive issues such as erectile dysfunction, menopause & dryness, vaginal atrophy, premature ejaculation, pelvic muscle strengthening, penis extensions, and painful sex. They hold physio-style clinics and have a no-shame rule.
Address: 369 West Broadway
Phone: 604-742-9988
https://www.artofloving.ca
24. The Pleasure Chest- West Hollywood, California
Phone: (323) 650-1022
Address: 7733 CA-2, West Hollywood, CA 90046
Website: https://thepleasurechest.com.
25. The Toolshed – New South Wales, Australia
Address: The Toolshed Australia Pty Ltd
PO BOX 534, Darlinghurst
New South Wales 1300, Australia
Phone: +61 2 9557 0122
Website: https://www.toolshed.com.au/
26. Traveling Tickle Trunk – Edmonton, Canada
Address: 9923 82 Ave NW, Edmonton,
AB T6E 1Z1,
Canada
Phone: +1 780-469-6669
Website: https://www.travelingtickletrunk.com/index.html
27. What a Gyrl Wants – NYC
Address: 3490 Merrick Rd, Seaford,
NY 1178
Phone:(516) 809-9270
Website:https://shopwhatagirlwantsli.com