This is a very long guide on the best sex machines. You may want to bookmark this page to come back later on as a reference point.
If you're reading this, I'll assume that you're thinking about buying a sex machine, or you already have one, and you want to know how to use it better. Or it could be another completely different reason. What it all boils down to, though, is that you want know-how on buying and using a fuck machine, and I aim to please.
Top 3 Sex Machines
HiSmith Automatic (Best Overall) – Discount code: LTS10
The best sex machine is this HiSmith thruster. It is made to be as gentle as possible while maintaining its powerful force. It also remains stable while being rocked a lot. Perfect for a vigorous fuck. You'll surely enjoy using it.
The Cowgirl Premium (Best Saddle)
I love that the Cowgirl Premium Remote Sex Machine is made for both individual and couples' use. Our second best sex machine of 2022 is sturdy, and its vibrator has a lot of power. It also comes with several attachments and an app, so it's perfect for those who want all the bells and whistles.
Hismith App Controlled (Best Thruster)
This thruster allows for a wide range of attachments. It works by thrusting in and out at various speeds. It's wireless, app controlled, amazingly easy to use and has an excellent recharge time.
What is a sex machine?
A sex machine is something we've probably all heard, read, or dreamt about (no judgment here, folks). People define sex machines in many ways, depending on the person. If you're talking from an engine or motor perspective, vibrators and some powered sex toys can be labeled as sex machines. But those aren't the sex machines that you're here to talk about.
A sex machine is a BDSM toy, yes, but it is ordinarily more substantial than a vibrator or any other handheld device or masturbator. It has motors and mechanical parts that allow it to move in grinding, vibrating, thrusting, etcetera motions. Typically, they're built for women, and some come with their dildos and attachments to prove that men and non-binary people can use them to achieve orgasmic bliss as well.
What are the benefits of using a sex machine?
Now we're getting into the meat of things (pun intended). Why would anyone want to use a machine to fuck? What's the draw? Well, I'm here to educate, so here are a few benefits:
✅Sexual exploration of yourself: Discover your inner kinkazoid with a sex machine. What do you like? What don't you like? What makes you scream or gasp for breath? Is your clit sensitive? What about your rim? Explore your body and find out what techniques rate a  'meh' and which ones are fucking fantastic.
✅Practice for sexual encounters: This ties in directly with sexually exploring your body. Practicing for actual sex is like a sweet consequence of using a fucking machine. I mean, there are lots of things you will discover about your likes and dislikes while using a sex toy or machine. Imagine a real-life partner with multitasking hands hitting all your newly discovered hotspots simultaneously. Damn!
✅Control and convenience: But apart from not having multitasking hands, a sex machine is a damn good play partner. It doesn't whine about not being in the mood, and it listens when you tell it how hard, fast or powerful you want to enjoy your experience. You can also position it in any type of way you like. It also never gets tired. If your house has power, it's ready 24/7. Perfect for those who can go time and again!
✅De-stresser: I don't care what anybody has to say about it: Sex is a perfect way to de-stress. After a long day at the job, or just basically getting your ass kicked by life, you can hop on your sex machine, dial it up, and let it take you off to enjoy/experience orgasm-land.
✅Something different: If you're in a long term relationship, it is possible to get tired of fucking the same partner time and again. It doesn't mean you're unfaithful or anything; it's just that your sex life needs a little extra oomph. Just like BDSM, a sex machine can let you and your partner have a good time with each other with a new and pleasurable experience.
✅Can help maintain sexual closeness in long-distance relationships: Long distance relationships are great for some people. But for others, it's hard to keep that feeling of sexual closeness and compatibility, especially if the couple had been continuously intimate in the past. Some sex machines can be remotely controlled, and using them can make you and your long-distance partner feel closer and more connected. There have even been studies that say couples who play with sex toys keep the spark in their relationship longer.
22 of the best sex machines
I can't just let you go off into the sex machine world half-cocked, so I've lined up 22 of my favorite fuck machines. These machines also have some great reviews and ratings, so you know I'm not just talking out my ass. Let's get right into the best sex machines of 2022.
Shockspot Sex Machine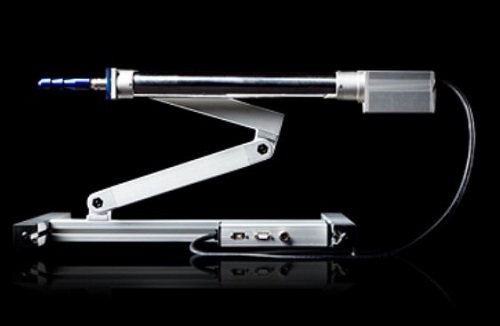 I got another thruster for you, but this one is the master of deep thrusts. It has been given additional length to enhance the length and depth of its thrusts further. It's also a smaller than average machine but easily adjustable to fit many heights. It has a powerful force, so it is advisable to start slowly and build up the power as the sensations build. It's more substantial than a machine its size should be, but it's made of solid steel, so that's to be expected. You can control it quickly as it even comes with its own software.
Specifications
Function: Thruster
Weight: 23lbs
Length Insertable: 12 inches
Controller: Handheld push-button control
Speed: 23.62 inches/sec
Cowgirl Premium Sex Machine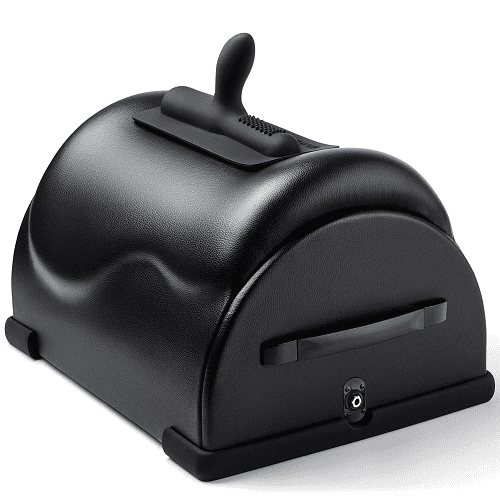 This adult machine is all prepped to give you the ride of your life. I'm amazed at how the inventors managed to think of absolutely everything a client would want. This riding machine is comfortable and set up to vibrate in six different patterns, which can be controlled with a wired push-button device. Your favorite settings can be locked, so you don't accidentally change them when you're shaking from your orgasm. It comes with two different attachments. A compatible dildo with a rotating head and a Rawhide, which is more for clitoral and labial stimulations.
The material is made of medical-grade silicone, and it can handle up to 400lbs of weight. Your partner can also get in on it with an app that allows you to play with the controls from miles away.
Specifications
Function: Saddle
Weight: N/A
Length Insertable: 3.5 inches
Controller: Handheld remote control
Speed: 1200 RPM
HiSmith Supermatic Sex Machine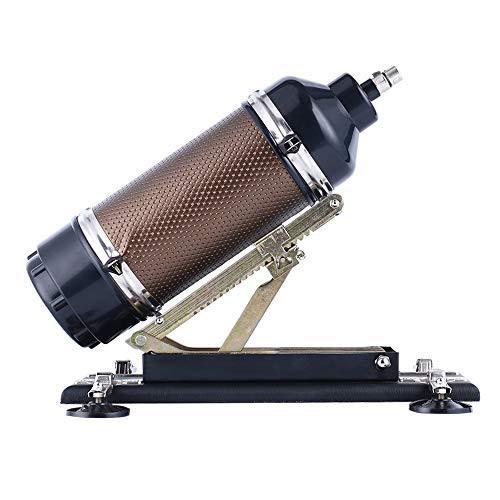 The Supermatic Sex Machine is a thruster that's angled for maximum pleasure. You can position facing forward, downwards or upwards at an angle or raised and pointed straight. The ease of positioning also gives some great depth to an already deep thrusting toy. This toy comes with suction cups for extra grip and stability. The tempo is alterable and boy, can it get pretty fast very quickly.
The machine is lightweight, but you may need some tools for the locking mechanism. It's also not completely quiet. It's certainly not as loud as some other fuck machines, but it's not dead silent neither.
Specifications
Function: Thrusting
Weight: 8.45lbs
Length Insertable: 7 inches
Controller: Handheld push-button control
Speed: 240 strokes/minute
The Cowgirl Premium Remote and App Controlled Riding Sex Machine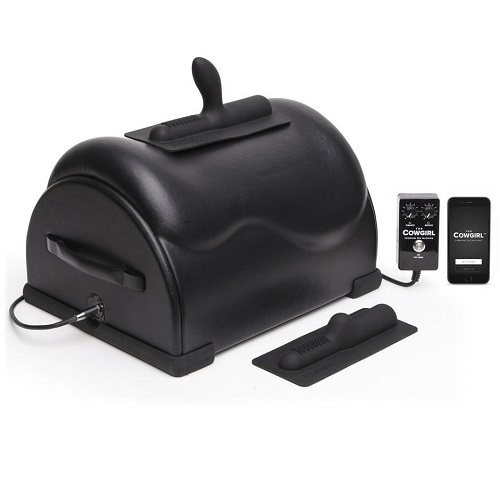 The Cowgirl Premium Remote Sex Machine shares a lot of features with the Cowgirl Premium Sex Machine. It still comes with two different attachments and six different vibration patterns. The vibration can reach some pretty intense levels. There are two ways to control this toy. You can use the push-button controller and its three-meter cord. Or you can download the app and set up controls on your smartphone. But it'll only work if you're within thirty feet of the device. You also have color options for attachments
For couples fun, let your partner control the push-button controller or share your app settings with him. It'd make for a damn hot show!
Specifications
Function: Saddle
Weight: N/A
Length Insertable: 4 inches
Controller: Handheld push-button control
Speed:1200 RPM
Lovense Sex Machine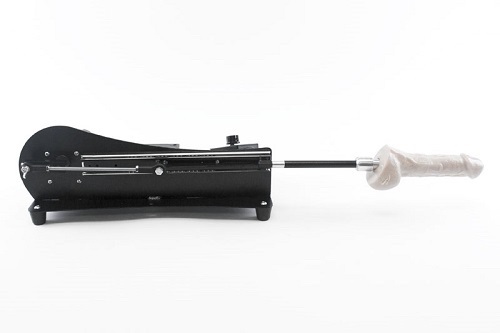 The Lovense sex machine may be small. It may not have the motor that other, bigger machines have. But it does pack a solid punch. It's adjustable, and while it's excellent for missionary style, it can be used for other styles as well. It comes with two attachments, and it allows a wide range of vac-u-lock dildos.
Use the handheld controller to adjust the speed of the machine. Despite its size, this machine can go as fast as 300 strokes per minute. You can use the knob to deepen the depth of your stroke from 1-4 inches.
Specifications
Function: Thruster
Weight: 27.5lbs
Length Insertable: 4 inches
Controller: Handheld push-button control
Speeds: 300 strokes/minute
The Shockspot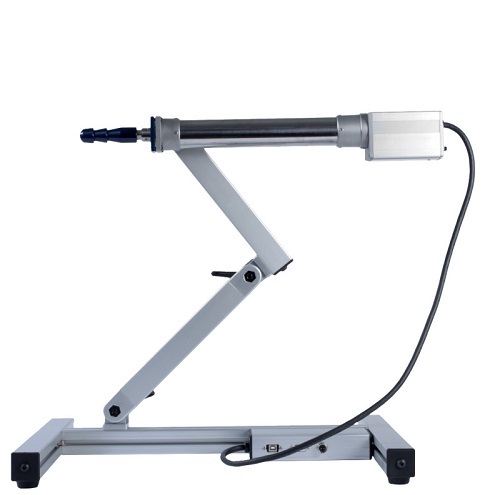 The Shockspot is a set of high-quality sex machines that cater to every kind of kinky need there is. There are three models of Shockspot: the double penetration dual thruster, the 12-inch, and the 8-inch. The major difference between the Shockspot models is the depth of the strokes and the double penetration. All three are very adjustable and easy to set up, with long cords for easy handling. The settings are also easy to figure out. The Shockspots pack a powerful force within them, so it's advisable to slowly increase the tempo until you're comfortable.
The Shockspot models don't come with any attachments, but any vac-u-lock dildo or toy should work fine. You can also get additional accessories from their website. It's easily disassembled, so you can shove it under your bed when not in use.
Specifications
Function: Thrusting
Weight: 23lbs
Length insertable: It varies
Controller: Handheld push-button control
Speed: 250 strokes/minute
Robo Fuk Adjustable Unisex Thrusting Sex Machine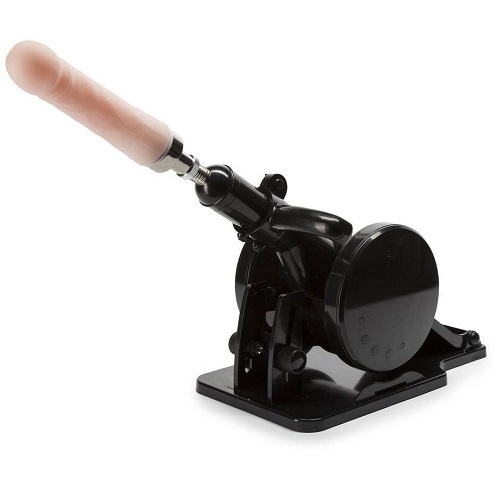 The Robo Fuk Machine is a unisex machine. It should not be mistaken for a couple's machine because you can't use the device at the same time. It comes with a dildo and a masturbator, but only one can be attached at a time. It can rotate one hundred and eighty degrees, so you can fuck it or get fucked in a variety of positions. It comes with suction cups that hold it in place quite steadily. It's light but sturdy with powerful enough force to frantically hammer away at your hole or move along your dick.
It comes preassembled, and with all the parts you'll need (except water-based lube). When in use, it's not astonishingly loud, nor is it completely quiet – the sound can be drowned out with some music. It's also easily disassembled for quick storage.
Specifications
Function: Thruster/Stroker
Weight: N/A
Length insertable: 7 inches/9.5 inches
Controller: Handheld push-button control
Speed: N/A
F-Machine Pro 3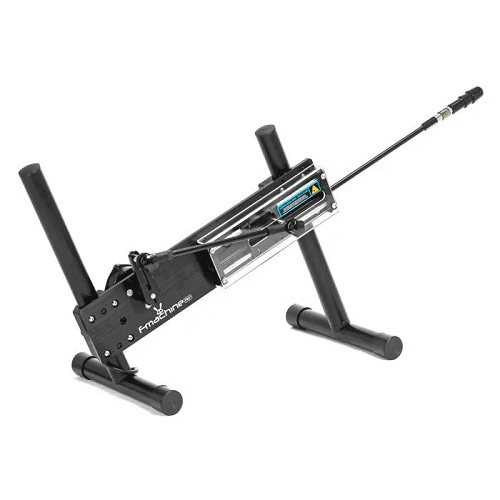 The F-Machine Pro 3 is one of the cheapest fuck machines on this list. It's also a great value because it's not expensive (for a sex toy or machine), and it gives a lot of bang for your buck. This machine comes with a carry-on bag, and the consensus is that it's effortless to assemble. On top of all that, it has a vac-u-lock that's compatible with any attachment.
Pro 3 is versatile and really sturdy as well, but you can buy a suction cup from the company if you have a tiled floor. You can bounce as much as you want on this device. It's not going anywhere.
Specifications
Function: Thruster
Weight: 12.6kg
Length insertable: Eight inches
Controller: Handheld remote control
Speed: 280 RPM
Sybian Package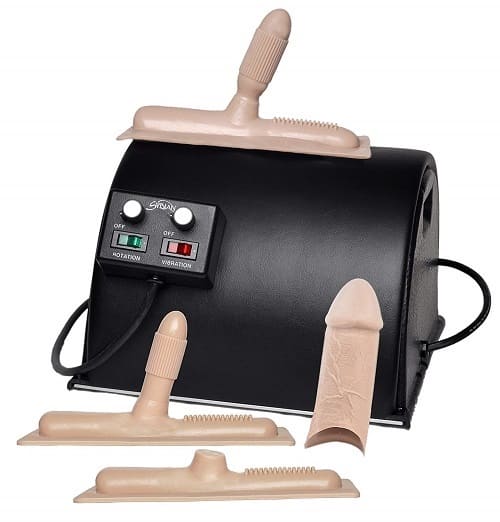 There's always a Sybian somewhere in any best sex machine list. The Sybian Package contains all you'll ever need to achieve orgasm while riding a mechanical bronco. It comes with vibration powered up to 6500rpm and rotations of up to 120RPM. So, you've got a powerful stallion on your hands. It also comes with four different attachments ranging from dildos to clitoral stimulators. This fuck saddle is comfortable and made from skin-friendly TPE. Also, it is handcrafted and checked extensively before shipping. It also comes in some pretty colors.
The Sybian can handle up to 500 pounds of weight and is incredibly stable. There's also a five-year warranty on all the parts, and you can purchase a lifetime warranty. But if you live with your parents or a roommate, you might need to wait till you're home alone to saddle up and play, because this Sybian is not a quiet toy.
Specifications
Function: Saddle
Weight: 22lbs
Length insertable: N/A
Controller: Handheld push-button control
Speed: 120 RPM (rotation), 6500 RPM (vibration)
Furniture Mate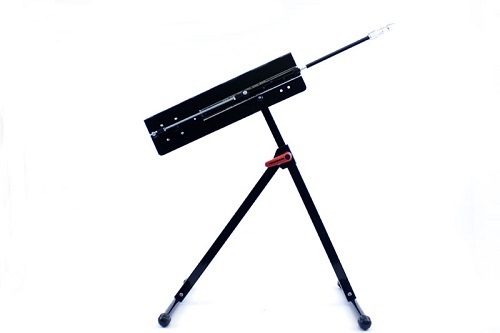 Our next best sex machine isn't huge, which makes it great for handling and storage. It fits neatly into a closet corner. The Furniture Mate is set up like a stand, and it's best used in a position where you're lying back, or you're on your hands and knees. It comes with a vac-u-lock so you can attach any of your favorite vac-u-lock dildos. This device is great if you want a slow fuck. It is also capable of giving you the feels if you want to be fucked faster than is humanly possible. The max thrusting tempo is 250 strokes per minute, and it is, of course, adjustable with a handheld adjuster.
The machine is made of quality, solid steel with a safety lock joint system, so you don't have to worry about it falling apart mid-stroke. It's especially great for those who want to have pussy quality fun but don't have a lot of space for a huge tool.
Specifications
Function: Thrusting
Weight: N/A
Length Insertable: 10 inches
Controller: Handheld remote control
Speed: 1/12th horsepower
The Plow Fucking Machine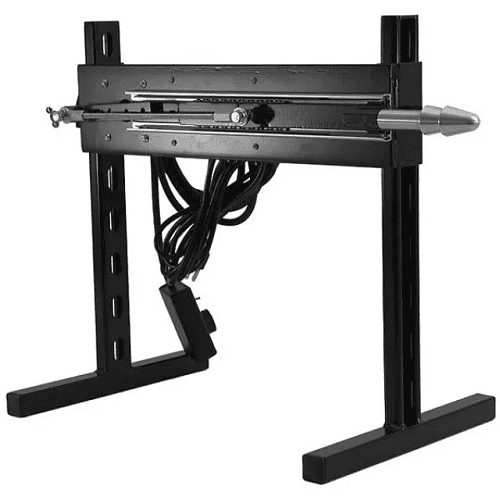 This is another standing sex machine. A design thruster in every sense of the word. It's basically a motor thruster mounted on top of a shelf-like pedestal. Only, said stand allows the motor to move up and down and into some other positions I did not expect. This piece of bondage furniture is great if the user is in a laid back or doggy style position. It's also fantastic for deeper thrusts. The push-button controller and plug have ten-inch long cords for more effortless mobility when using the thing.
It doesn't come with instructions, but as it doesn't have lots of parts, assembling it doesn't take time at all. It also breaks into three sections for easier storage. The Plow Machine has two cons. It doesn't come with dildos, which is a bummer, and the lock systems for the attachments could be better. These don't take away from the awesomeness of the machine, though, because they're quick fixes. For its price, it's practically a steal.
Specifications
Function: Thruster
Weight: 20lbs
Length insertable: N/A
Controller: Handheld remote control
Speed: 250 strokes per minute.
Love Glider Sex Machine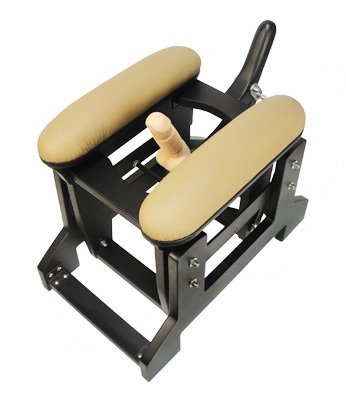 The Love Glider Sex Machine comes already assembled, which is a joy for those who prefer not to agonize over parts. It has two padded cushions for your thighs and comes with two dildos. One is ribbed for your vagina, and the other is tapered. Both are made of PVC, which is not a favorite toy material for some people. You can easily swap it out for another vac-u-lock dildo.
This dildo isn't remote operated, so your orgasm is solely reliant on the depth and angle of your thrusts. This machine is quite heavy and stable, so you can go wild on it. You can also pleasure your partner while using it because your hands are free.
Specifications
Function: Saddle
Weight: 30lbs
Length Insertable: 5.25 inches
Controller: Handheld push-button control
Speed: N/A
Motorbunny (Latest Edition)
The Motorbunny is not for the faint of heart. Seriously, if you aren't ready for maximum power and you're not a big fan of vibrators/vibrating toys, I do not recommend this machine. But if you are, then you're in for the orgasm of your life with this bad boy. The Motorbunny also comes preassembled and with three attachments, four rods for the attachments, a power cord, and a controller. The vibrator has an incredible amount of power, so we recommend you start slow and build up the intensity slowly.
Oh, and it's big and noisy. Put on some music before you hop on, and you'll be good to go. It's built to withstand 600lbs of force, so you can actually hop on. But, you know. Carefully.
Specifications
Function: Saddle
Weight: 33lbs
Length insertable: N/A
Controller: Handheld push-button control
Speed: N/A
Fuck Machine 3.0
This machine is amazingly light and easy to store. It's also compatible with over forty different dildos, though it doesn't have a vac-u-lock. The Fuck Machine is high-powered to deliver great thrusting power and tempo. Though it is a bummer that it only provides short thrusts, it makes up for it in power and adjustability. Man, is it adjustable. You can take the Fuck Machine up to its full height for a standing fuck, or you can lower it for a more informal arrangement. It is absurdly stable for being so small and can take a lot of pushback, so don't be afraid to get a little wild. It's also really quiet, so it's apartment-friendly.
Specifications
Function: Thruster
Weight: 6lbs
Length insertable: N/A
Controller: Handheld push-button control
Speed: 200 strokes per minute (SPM)
The Tremor
The name for this device is enough to make you shiver with fear or delight. The Tremor is another sex straddle from Sybian, and it's designed to make you feel comfortable in your pleasurable experience. The seat is a silicone comfort pad. It is removable and dishwasher-friendly. It comes preassembled with everything you need to get rocking right away. The controller is deliberately made for one-handed use, and the frame is designed to be durable but easy to move so you can concentrate on the sensations. It's made of skin-safe plastic, so it's easy to move as well. It's quite noisy, though, so take precautions before use.
Specifications
Function: Saddle
Weight: 13.5lbs
Length insertable: N/A
Controller: Handheld push-button control
Speed: N/A
Quickshot Launch
I did say that not all sex toys are sex machines. But some are, and this machine falls into the categories of masturbator and sex machine. The Quickshot Launch is built to provide you with a completely automated experience. It has a ribbed interior to give maximum pleasure. It controls the length of your strokes and the tempo to give you a completely hands-free experience.
It comes with water-based lube, a smartphone mount, a power cable, and an instruction manual to set you up — all you need to enhance your pleasure.
Specifications
Function: Stroker
Weight: N/A
Length insertable: N/A
Controller: Touch control system
Speed: 250 strokes/min
Versa Cock
This small device is one I'd recommend for individuals or couples just delving into the world of fuck machines. The Versa Cock is a device that maintains its non-threatening look while still managing to meet every need of the user. You can be penetrated while in missionary style with the machine on its bottom, or doggy style with the machine on its side. But when you add the adjustable stand that comes with the device, you get a whole new range of positions. All you need to do is adjust it by using the knob, position yourself, find a setting you think you'd like, and get on the road to a fantastic orgasm.
Specifications
Function: Thruster
Weight: 16lbs
Length Insertable: 6 inches
Controller: Handheld push-button control
Speed: 250 strokes/minute
Monster Cock
I don't really see the Monster Cock as monstrous. It just has additional everything. More adjustability, more force, more settings, and a little bit more weight than others in its price range. The Monster Cock can be adjusted in almost any direction, even straight up. You merely loosen the knot, adjust it, and tighten it again without the use of any tools. This device can go as fast as 240 strokes per minute and as deep as you want. Simply adjust for the depth you want. It comes with an IronClad Lifetime Warranty, and it has a simple handheld controller. Your partners can take charge of your experience by handling the controller, and leave you to just blank out from the pleasure. Attachments don't come with the Monster Cock, but you can buy the necessary accessories alongside your sex toy or machine.
Specifications
Function: Thruster
Weight: 24lbs
Length Insertable: 6 inches
Controller: Handheld push-button control
Speed: 240 strokes/minute
HiSmith Handheld Sex Machine
This machine is great for people who want to have a little fun while they're traveling or on the go. The HiSmith Handheld Sex Machine is portable and designed to stay on the move with batteries that can last for one full hour of use. It's a thrusting toy, but it also vibrates in ten different patterns to maximize clitoral and G-spot sensations. It's made from skin-safe silicone, and the batteries are rechargeable. It also has a warming function that makes the slightly bendy silicone feel nearly life-like.
With all these electrical functions, you'd think it wouldn't be able to stand the wetness of an aroused body. But it is waterproof and durable as well.
Specifications
Function: Thruster
Weight: 13.4lbs
Length insertable: N/A
Material: Silicone
Controller: Device is handheld
Speeds: N/A
The Velvet Thruster Mini Teddy
The Velvet Thruster is small, powerful, and surprisingly durable. It comes with suction cups at the bottom for stability, so you can attach it to any surface and fuck on it, hands-free. It's made of silicone, which is skin-safe, and it has a bit of a bend to it. You get over five inches of insertable length with six adjustable stroke speeds at up to 125 strokes per minute. All this in the form of a nine-inch dildo, you can shove inside your bag.
This hands-free machine is rechargeable with up to 2.5 hours of use on a full charge. So, you can keep using it for a few days without charging it. It comes with a year's warranty, but if you pour water on this baby, your warranty's gone. It's not waterproof, so you'll have to wipe it down after use.
Specifications
Function: Thruster
Weight: N/A
Length Insertable: 5 inches
Controller: Device is handheld
Speeds: 125 strokes/minute
Bitch Tamer Package
This rather generous package is ideal for those whose partners who need a little…" education." The Bitch Tamer Package comes with a Pro Stockade for strapping down your bitch. You have three options: the Standard Furniture Mate, Standard Sneaky Pete, or Sneaky Pete Maxx. Each device has its pros and cons, so choose wisely.
The Bitch Tamer Package has ergonomic adjustable features that are easily disassembled for easier storage. You can get your Bitch Tamer Package with restraints for an extra fee, or you can just get it as it comes. Get the right fucking machine with this, and you'll have to gag yourself while you're using it.
Specifications
Function: Thruster
Weight: N/A
Length insertable: It varies
Controller: Handheld push-button control
Speeds: It varies
FULLfilled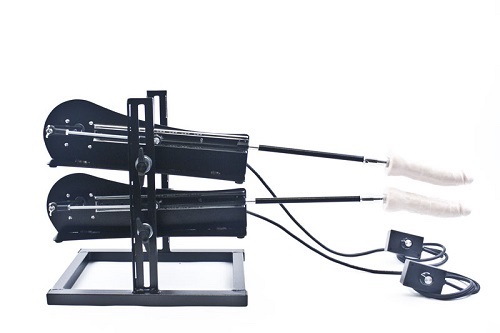 Now, this is a toy straight out of some wild fantasies. A lot of us have dreamed of being double penetrated before, and the FULLfilled is here to make your dreams come true. The FULLfilled has two different independent thrusting machines. These two machines have adjustable angles and adjustable speeds, so you can position them for double penetration. Or you can place them for penetration in one hole— dual penetration.  Each machine can go up to 250 strokes per minute.
Even with all these features, the FULLfilled is still quiet enough to run in an apartment. This doesn't come with attachments, so you'll have to get your own vac-u-lock dildos to start living this fantasy.
Specifications
Function: Thruster
Weight: 28lbs
Length Insertable: 2-5 inches
Controller: Handheld push-button control
Speeds: 250 strokes/minute
The 6 Best Sex Machines for Different People ?‍♂️
Best Small  – Hide-a-Cock 5.0
Best Saddle  – The Cowgirl Premium
Best Thrusting – The Plow Fucking Machine
Best High-End Model – Shockspot Sex Machine
Best Male Stroker – Quickshot Launch
Best Cheap – The Velvet Thruster Mini Teddy
A Complete Buying Guide to Sex Machines
I listed out some of the best sex machines out there, but I still can't leave any beginner sex machine user to rough it alone. There are lots of things to know when using a sex machine or even just thinking about using a sex machine. While they are sex toys and are engineered for pleasure, not knowing how to properly use a fucking machine can lead to awkward situations at best and injuries at worst. So let's take a look at a few things you should know about these machines.
DIY or ready-made sex machine?
When you read some reviews for these sex toys and devices, you may be shocked at the innovations people build to enhance their experience. Some individuals go as far as making a complete sex machine with a motor, some wood or a pipe, and a thrusting dildo. This is just for illustration, as some DIY sex machines are actually quite sophisticated.
However, I would not recommend it. Especially if you're just the average tinkerer (like so many of us), a fucking machine has components (e.g. dildo) that will be going into your body. All sex machines are run through vigorous tests on dummies during production and before shipping to ensure they're safe. As a tinkerer, you probably don't have anyone to test it on except yourself. This can lead to dangerous consequences and serious injuries.
I'll repeat it. PLEASE DO NOT TRY TO MAKE A SEX MACHINE AT HOME. Please.
But if you're looking to buy the best sex machine for you, what exactly should you search for?
Things to look out for in a sex machine ?
Materials: As I said above, a sex machine will be going inside your body. Or in the case of a masturbator, around your body. It's enormously important that you make sure that the material used to create a sex toy is safe and hypoallergenic. If it's a saddle type, the whole machine has to be made of skin-safe materials.
Extra features: What additional features does it have? Does it match up to what you want in a sex machine? Does it have suction cups for more stability? Does it have an option for both men and women?
Thrusting Power: Is the thrusting speed high enough? How many strokes does it deliver per minute? This is important because a low thrusting speed means you might not be able to get off as easily as you want. Under this, it's also necessary to check the controller. If you have a sex machine with a high thrusting power, your controller needs to be functional to adjust the speed.
Motor: How much power does the engine have? Does it have enough powerful force to satisfy you? The motor is a part that's much overlooked when buying a sex machine. But, in my experience, a shoddily built motor won't put enough powerful force behind the machine. This can lead to weak thrusts or disappointing vibrations, and consequently zero sensations.
What is your budget: How much can you safely spend? What's your price range? Always know what you can afford before looking at fucking machines. This also ties into buying from reputable sources because they usually cost a bit more. But the guarantee of quality makes a huge difference.
Storage and discretion: Do you need a toy that can be discreet? Do you have enough space to store a more massive machine? Are foldable devices better suited? Are your type of walls thick enough to cover up some noise? If you don't live in a big apartment or your family comes over a lot, a large sex machine is probably not for you. Depending on your living conditions, you might need something a bit quieter, that can be hidden away in the bedroom. Or you might want to show it off.
Can I return it?: Does it have a return policy? How long does its warranty last? When buying from any source, it's vital to have an idea about their return policy. Because if you choose a sex toy that's not working correctly, you'll want to have options for refunds.
NB: Always read the reviews. They're an excellent indication of quality.
How to use a fucking machine for the greatest pleasure ?
Knowing how to use your sex machine to maximize your enjoyment is mostly dependent on you, your likes and dislikes, and what type of device you're using. For example, if you enjoy deeply penetrative sex, you'll need a tool built for that (the machine must be compatible with any type of dildo), and you'll need to set it accordingly. If you're more a fan of clitoral stimulation, a machine that has bumps or riders would be best. A vibrating bump or rider would be even better. There are several options for vibrating sex machines.
To maximize your pleasurable experience while using a fucking machine, it's best to take your time to learn the settings. Determine what setting or angle you prefer. This learning curve is essential for beginners. Too many people don't take the time to sync the body and machine and figure out all the options. It's too bad because there are some epic orgasms/ sensational feels for those who do.
A Few Safety Tips
⚠️Only buy from trusted sources. Then, you can rest assured of quality.
⚠️Lube it up before dipping it in.
⚠️If you're going to share, use condoms.
⚠️Don't buy or use toys made of porous materials like rubber. They absorb bacteria and are tricky to clean.
⚠️Get the right cleaning products. If you're new to cleaning sex toys, here's what you need to know.
⚠️Make cleaning before and after use a habit.
⚠️Store properly in not too hot and not too cold places.
Types of sex machines
Sex machines can be divided into three broad categories:
1) Saddles: Saddles are sex machines that you have to get on top of and ride. Some individuals call them riding machines as well. Saddle machines usually come with a dildo and a textured layer for clitoral and labial stimulation. The first saddles are the Sybian line of toys. There are now different brands, but saddles are not for everyone. They have really powerful vibrators (too powerful for some) and can make a whole lot of noise.
2) Thrusters: These sex machines come in many different shapes and sizes from handheld to seventeen inches tall. A thruster is a fucking machine that moves in a fucking motion, that is, backward and forwards, though some vibrate as well. If you love penetration, this is thetype for you. But you have to be careful with the settings. Most thrusters, even the handheld ones, can go fast. If you'd like to get a thrusting sex machine, invest in loads of water-based lube and use the controller carefully.
3) Strokers: Strokers, also known as masturbators, are male sex toys designed to create pleasure by simulating a mouth, vagina, or anus. They're mostly handheld and are have a hollow hole where you can stick a dick in and be stimulated. Strokers usually have textured insides, and some even have materials such as beads to stroke up and down and simulate movement without the user moving an inch. Most strokers are portable, less expensive, and easy to store.
Where to Buy the Best Sex Machine?
Amazon – You can find almost anything here, and the reviews are plainly stated.
Lovehoney – Always well stocked, and they have great prices.
Ken's Twisted Mind – If you can't find it anywhere else, Ken will have it and with discounts.
Shockspot – They have some great products of their own making with good discounts on packages.
Kiiroo – A sophisticated online sex store.
Adameve – Lots of great individual and couples' sex toys.
Sex Machines FAQ
Q1: Are plug-in sex machines safe?
Yes, they are entirely safe. The manufacturers create them in such a way that the chance of an electric shock is nil. If you are still not sure, you can read the reviews to check for any complaints. You can even ask customer care on the official website for the brand you want to buy. They're almost sure to leave a reply.
Q2: Can I customize a sex machine?
Several companies allow you to customize certain aspects of their products, such as Sybian and Shockspot.
Q3: What if the attachment gets stuck?
This is a common fear, but it happens a lot less than people imagine. Many times, if a thrusting dildo or toy gets stuck, it'll come out on its own.
Q4: Can you buy an AI sex machine?
Yes, you can. There are some sex dolls you can chat with, but they can't move. The Shockspot models, however, have some preprogrammed and customizable routines that will most likely meet your needs.
Interesting Read: