Home? Bored?
Missing a juicy sexy lady to take care of your needs?
Tired of using your hands, aren't you?
**Male strokers enter the chat**
My dead dude, welcome to the magic world of male strokers. A God-sent invention designed to take care of you as long as you take care of it (wash it) and splurge a few bucks today.
I feel you're about to skip this introduction so let's get to the point.
This essential male stroker guide is your very own golden ticket to find the best stroker for you.
Best Male Strokers That Feel Better Than The Real Thing
1) Fleshlight Flight Pilot Male Stroker
Fleshlight makes some of the best nut busters in the world. One of their fanciest male strokers is the Fleshlight Pilot.
One cool feature about the Pilot is that it doesn't look like a vagina. It's got an extremely stealthy, discreet, and sleek design.
What about the stimulation? It's super realistic. You might feel like you're cheating on your partner.
But a word of advice, if you've got a big junk, you're better off not buying it. The stroker sleeve is only 6 in long and has a width of 2.76 in.
Buy the Pilot stroker if you want something stealthy.
2) Fleshlight Quickshot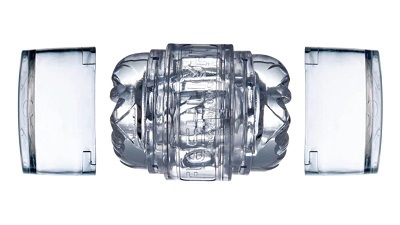 In case you haven't heard about Fleshlight Quickshot, get ready to be absolutely floored, my dude!
This Fleshlight doesn't require any batteries. And because of its small size, you can use it on the go.
You can make it even tighter by taking the stroker out of the case.
It's a 2-in-1 stroker. You have two different textures to rub your penis. Yes, it's reversible.
For my fellas with smaller shlongs, good times await. Why? Quickshot is designed for you. The internal sleeve is 3.5 in long, while the stroker has a length of 4.4 in.
If you're well endowed, you can still give it a shot (no pun intended) but don't say I didn't warn you. Just be ready to empty up multiple tubes of water-based lube.
Buy this male stroker if you're looking for a small toy.
3) Tenga Flip Zero EV
In all honesty, you're not going to find waterproof silicone strokers like Flip Zero easily. Tenga really outdid itself (not that anyone's complaining!).
The Tenga Flip Zero EV has an internal sleeve that's made of high-quality silicone. The inside chamber has bumps, ripples, and nubs that'll surely get you up and running looking for tissues. It's about 6 in long and has a flip design that you can use even when your penis is flaccid.
Once you attach Flip Zero to your ding dong, it's game over for you! Leave your cock throbbing and nut away.
Want a quick tip? Try not to move it too much. And keep a big bottle of lube ready. You're going to need it.
Oh, and also, you won't be getting full strokes with Flip Zero. But don't worry, you won't be needing it anyway. The suction is pretty strong and may suck the load out of you quicker than you can say "ohhh".

4) Blowmotion Stroker
So now, let's talk about the Blowmotion. The silicone stroker is rechargeable and measures about 6 in long with a 2 in the deep canal.
Here is a stroker that offers you fantastic, warm, realistic BJs. Try blindfolding yourself and imagine a super-hot woman blowing you off.
Blowmotion isn't really a "Eureka!" type of stroker, but it's got sass. It's waterproof, flexible, and has different levels of vibrations.
You're going to take some time getting used to it. So be patient and relax. Give it some time to warm up. It'll be worth it.
Although the warm sensations do fade away after some time, the vibrations are enough to get you off.

5) Hot Octopuss Jett
Ever wondered what the combination of a male stroker and a cock-ring would look like? Yeah, you guessed it.
The sleeve of this silicon-based toy has three holes. Two holes are for the bullet vibrators.
These holes are removable. The last hole is for the guest of honor, your penis.
You have to wear the Jett around your frenulum. In case you don't know where that is, it lies under your penis head. Basically, it's like wearing a band around your wrist.
Hands-free orgasms? We're all for it.

6) Hummer Hands
If ever there was a male stroker that would come close to replacing your partner's warm and wet mouth, it has to be this technological miracle.
In one minute, this blowjob machine produces up to 180 suction impulses. The sleeve has a width of about 2.9 in and is 6.5 in long.
The most remarkable features of this BJ machine? Fully automated with 8 auto modes, 6-speed modes, and 10 vibration modes. Weighing 1.5 pounds, you'll find it to be quite handy.
If that doesn't sound like a "wet dream" already, are you sure you're into BJs? Just kidding!

7) Classic Pink Lady Fleshlight
It's quite apparent that Fleshlight products are pretty expensive. I mean, they're not really hiding it.
But then again, does that really matter? Intense orgasms vs. a few hundred bucks? I thought so.
Although the Classic Pink Lady Fleshlight might just be the exception.
The 2.5 in wide and 10 in long stroker has a heavily ribbed sleeve tighter than most Fleshlight products. So, without having to say it out bluntly, it's clear that your orgasms will be…
What else? It disassembles after usage making the cleanup process easy.
Use the cap on the rear end to regulate the suction. You can even warm it up using water. Here are some tips on how to use a Fleshlight in case you need them.

8) Satisfyer Heat Masturbator
The best thing about this penis stroker has to be its realistic features. The masturbator gives off heat through the sleeve.
You get an incredibly realistic and comfortable feel through 3 warmth levels. It produces as much as 104 degrees Fahrenheit heat. It also has 7-speed levels and 10 vibration modes.
Looking for some shower action? Psst… It's waterproof.
How long does the battery last? One whole hour. So, unless you're watching an entire documentary, you'll be fine.
If you've got a big shaft, go for other alternatives. It falls on the smaller side (only 5.5 in length).
The small size makes it easier for you to store this male sex toy and be hush about it.

9) Tenga Geo
Tenga Geo makes sure to cut through all the BS. It offers what you deserve: a great, sexy, and wet experience.
It doesn't try too hard to feel or look like a mouth or a vag. Tenga Geo has an extraordinarily soft and supple interior texture that measures about 6.5 in. But overall, the stroker has a width and diameter of 3.43 in each.
Tenga Geo uses excellent quality soft plastic for their male strokers. Cleaning it up isn't that big of a deal either since you can simply flip it inside out and wash it.
Depending on who's holding it and how hard their grip is, you can choose to intensify the sensations at will.
Also, it literally looks like a decorative ornament or a cute and tiny play toy. You can keep it on your bedside table for the world to see, and chances are, no one will even take a second glance.

10) MysteryVibe Tenuto
Do you believe in the saying "Sharing is caring?" Because this sex toy quite literally takes it to the next level.
It's among the most popular wearable vibrators. Not only does it make your penis rock hard, but it also turns on your partner at the same time.
Didn't I say so? Next level.
Tenuto weighs about 0.4 pounds and is about 4 in long and 2.5 in wide. It requires batteries which are already included in the package when you buy it. The stroker's made of top-quality, body-safe silicone.
At first, Tenuto can be a little tricky to use. So take your time figuring it out without getting overwhelmed. Because what awaits you and your partner is definitely going to be worth it.
Your penis quite literally transforms into a live vibrator for your mi amor. Talk about dedication…

11) TENGA Egg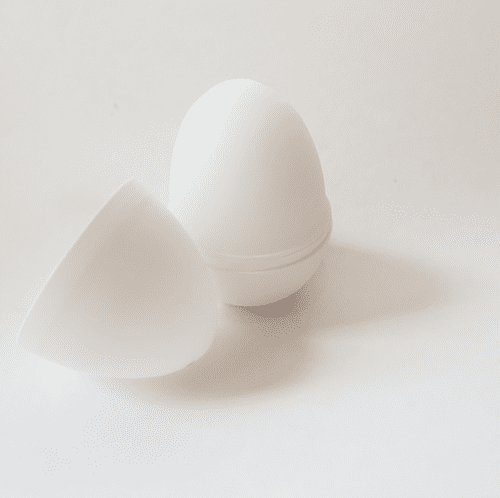 As the saying goes, "the best things come in small packages." These compact eggs are pretty good if you just want to strictly beat your meat. It's super stretchy, squishy, waterproof, and jelly-like.
You don't need any batteries or power for these eggs. It's all about that physical grind. So get to work, dude.
Its ribbed texture is excellent for experimental play and foreplay and will get your penis throbbing in no time.

12) Hot Octopuss Pulse III Duo
The "Duo" is there for a reason. What reason might that be, you wonder?
Hot Octopuss Pulse III Duo gives out extremely powerful controlled vibrations through its infamous PulsePlate technology. The WOW factor is up there with this toy.
It's well made and has a very smooth texture, and yes, it's waterproof.
The stroker comes with rechargeable batteries. But these batteries don't last long, and charging is a pain because it takes ages.
That's not a problem, though, since you will probably be cumming before the power runs out.
The stroker itself measures 4 in on the interior and is pretty heavy. So you don't expect a hands-free experience.

13) Lelo F1S
Well, now we're talking… If you're a fan of the feel of organic masturbation minus tired forearms, this is it for you.
Hats off to the packaging. You receive the stroker in an extremely elegant and luxurious box.
This 5.5 in long F1S stroker uses expensive and well-built materials that aren't only waterproof but also free of allergens such as phthalate and latex.
With a diameter measuring 2 in and a 4.5 in the sleeve, the interior of the stroker makes use of stretchy and soft silicone that assumes the shape of your penis, tightly embracing it. The design looks super cool and sleek, but most importantly, it's discreet.
You can leave it out anywhere. Most people will pass it off as sexy-looking bluetooth speakers.
Rather than a sex act, you'll feel more like you're getting a sensual massage. The F1S blends the deadly combo of vibrations, sonic waves, and silicone ridges.

14) Fleshlight Turbo Thrust Blow Job Stroker
Fleshlight Turbo Thrust review
Thrust feels kinda like a blowjob. Now, I would be lying to you, and you wouldn't believe it anyway if I were to tell you it feels identical to a blowjob. It feels kinda like, but different.
Imagine an artificial blowjob. You're catapulted in the year 3021, a thousand years from now when AI robots are ruling the world, the metaverse is real, and you date a nice sexy robot-ess… Now that's how this feels.
The sleeve of the stroker is 8.5 in long and has a width of 3.5 in.
A couple of tips:
For a warm and moist experience, pour some warm water in the sleeve… let it soak a bit… then empty it and have fun. Make sure the temperature is not too hot, like body temperature or a little bit hotter.
Fleshlight Thrust won't abandon you. It's designed with premium materials that last.

15) Keon by Kiiroo Interactive Male Masturbator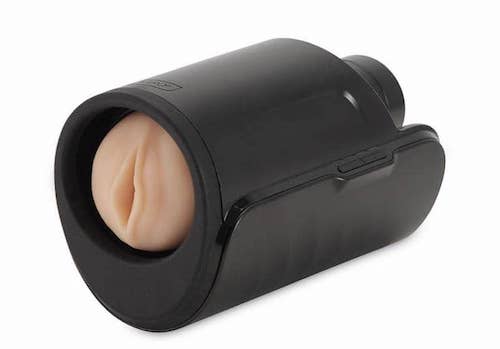 Ever watched porn and wanted to feel the exact sensations? Consider your wishes answered with Keon.
How? Sync Keon to whatever "wildlife-action" video you're watching.
The inside has spiraled ridges that are made of the softest and fluffiest silicone. I mean, if that isn't a royal treatment for your dearest penis, I don't know what is.
I wouldn't recommend this rechargeable masturbator to you if intense and hardcore strokes aren't your cup of tea. In a matter of a minute, Keon can blow your penis as much as 230 times.
And that's one minute. Imagine getting stroked non-stop for up to two hours!

16) Main Squeeze Virgin Masturbator
We respect your privacy. If you're someone who's not really comfortable sharing your kinks with others, this stroker becomes all the more important for you.
Your very own stress-reliever, Main Squeeze Virgin Masturbator, helps you be discreet and keep a low profile.
This 3 in wide and 8.5 in long male stroker does not really have what you call realistic styling. So don't go judging its shape, design, or anything of that sort.
There's no branding on it, so even if somebody stumbles upon it, rest assured, Google's got nothing on you.
The interior is made of TPE that feels fleshy and soft. It used ABS plastic for the outer layers making the stroker highly durable, long-lasting, and waterproof.
The ULTRASKYN build is comfortable and feels realistic.

17) BASICS Clear Textured Male Stroker
It's a no-brainer that this toy is among the best male strokers. Any surprises? None.
Unlike a hand, it's got an added texture that helps stroke your penis. This waterproof stroker is free of Phthalate and Latex.
The toy doesn't require any batteries and is pretty versatile when it comes to penis sizes. So don't worry about that.
Since it's open-ended, this penis stoker can fit a variety of sizes and shapes. Be it the tiny meats or the well-endowed, everybody can have a go at it.

18) Arcwave Ion Penis Stroker
The Arcwave Ion is made of ABS Plastic and CleanTech silicone. The innovative material not only gives the stroker a cushiony texture but it's also hypoallergenic.
Is it waterproof? Absolutely.
The stroker is designed so that you'll feel the sensation mostly around the tip of your penis.
Arcwave is made up of two parts. That is the plastic base and the silicone sleeve. The 2 in wide and 3.5 in long internal sleeve sits on the plastic base. Separate them when you clean it.

19) Shower Stroker Pussy
Turn on the AC! Things are getting hot here.
You're going to love this waterproof stroker if you're into a bust-for-you action or shower playtime.
The interior of this 2.5 in wide and 6 in long stroker is the real deal. When the stroker gets wet, it becomes ultra-slick, soft, and slippery. Why? Because the stroker is made of Thermoplastic Elastomer, which has a fantastic skin-like sensation (warm and squishy).
Wet the stroker, put your shaft in, and get jackin'. That's it! And you don't even require batteries for it.
3 Types of Male Strokers You Should Know
Before you take a leap and decide to invest in these toys, I've prepared a small section on the four primary types of male strokers.
Handheld penis strokers
Handheld strokers do not require batteries. These strokers do not vibrate either. Instead, your hands do all the work. They're generally cheaper too.
What they do possess is their ergonomic design and sleeves with ribbed linings. Realism is key when it comes to handheld strokers. It's like masturbating with a vaginal case enveloping your penis.
Some of the best-known handheld strokers are Fleshlight Flight Pilot and Tenga Geo.
Automatic penis strokers
These strokers usually look like a pussy. They have ridges and lumps lined within the interior.
Unlike handheld strokers, you don't need to hold these badasses. Let them stroke you while you lay back and hold the tissues instead.
You can find many of these strokers based on your preferences. For instance, the Keon stroker is capable of producing 230 strokes in sixty seconds.
Some of my favorite automatic strokers are Keon by Kiiroo and Hot Octopuss Jett.
Realistic penis strokers
These strokers are imitations of female genitals. You can even find realistic strokers based on the vulvas of your favorite pornstars.
Some offer an anus with narrower openings, while others resemble a pussy. You can even find multiple strokers that resemble a mouth.
To give you a gist, Classic Pink Lady Fleshlight and Main Squeeze Virgin Masturbator look and feel like natural vag.
Take Care of Your Male Strokers and Wash Them!
I can't stress enough the fact that you need to keep your stroker clean. Washing your toys after you use them is not only vital but also hygienic.
And don't be scared of experimenting! Columbus didn't discover America by sitting at home. Venture out and have fun!