A male vibrator is a relatively new type of male sex toy that targets a man's glans, testicles, shaft (these are called penis vibrators) and in some cases prostate (prostate vibrators), with pleasurable vibrating motions.
Who would have thought, just a few years back, that someone would have invented vibrators for men? Can you imagine the look on your grandpa's face if you told him about it?
Nevertheless, men can now buy penis vibrators and prostate vibrators, both under the more general umbrella term: male vibrators.
Top 10 Best Male Vibrators in 2022
Male Vibrator
Price
Information
Blowmotion
Best male vibrator

Check price
Allergens: Latex-Free, Phthalate-Free
Features: Rechargeable, Travel Lock
Internal Length: 3 inches
Material: Silicone
Run Time: 60 minutes

Debbie
Best vibrating stroker

Check price
Batteries: 2 AA batteries (sold separately)
Length: 7.5 inches
Material: TPE
Width: 6.25 inches

Hot Octopuss
Best penis vibrator

Check price
Allergens: Latex-Free, Phthalate-Free
Waterproof: Submersible
Run Time: 40 minutes
Length: 4.5 inches
Material: Silicone
Headmaster

Check price
Allergens: Phthalate-Free
Power Type: Batteries (included)
Canal diameter: 1 inches
Circumference: 7.5 inches
Internal Length: 2.5 inches

Cobra Libre

Check price
Internal Length: 3.5 in
Material Silicone: Silicone
Allergens: Latex Free, Phthalate-Free
Waterproof: Submersible
Power Type: Rechargable
Lovense Diamo
Best vibrating cock ring

Check price


Material: Silicone
Power Type: Rechargable
Run Time: 65 mins
Allergens: Phthalate-Free
Waterproof: Submersible
Helix Syn V
Best prostate vibrator

Check price
Insertable Length: 4 in
Diameter: 1 in
Height: 5 in
Material: Silicone, FDA Approved Plastic
Waterproof: Yes
Manta

Check price
Canal diameter: 1.5 inches
Circumference: 6.75 inches
Length: 7.5 inches
Waterproof: Submersible
Allergens: Latex-Free , Phthalate-Free
Fleshlight Vibro

Check price
Length: 8.5 in
Width: 3.5 in
Power Source: Battery Operated
Material: TPR
Waterproof: Yes
Satisfyer

Check price
Power Type: Rechargable
Run Time: 60 mins
Length: 4.6 in
Waterproof: Submersible
Material: Silicone
What is a Male Vibrator?
Male vibrators come in a wide variety of styles, and each style has its own unique features and quirks. One simple way to define male vibrators is: a sex toy that aids orgasms using motor-based vibrations.
So, whether you are a hetero Joe with a 'No Entry' tag for the ass, or someone with a little more adventurous outlook, there are options available.
Unfortunately, navigating the complex world of men's vibrators can be a daunting task. But fear not, this article will give you a helpful and brief introduction to the world of male vibrators and provide you with the basics.
Whether you are gay, straight, single or taken by the sexiest woman on earth you can utilize one of these electronic beauties and achieve some utterly electrifying orgasms.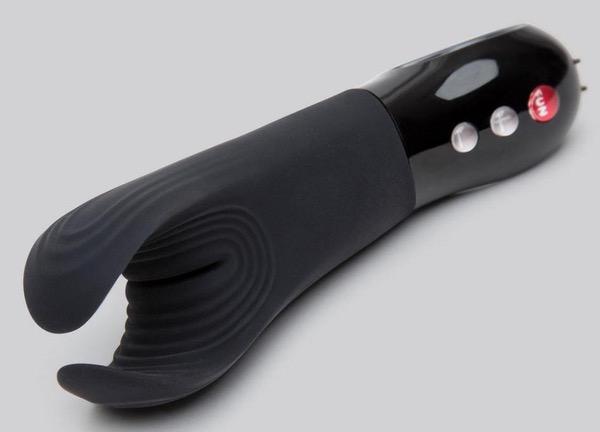 Types of Male Vibrators
Vibrators for guys can be categorized into two main groups – internal and external.
External male vibrators, also called penis vibrators, can include:
Vibrating glans/testicle stimulators
Vibrating cock rings
Vibrating strokers
Internal vibrators for men include both prostate vibrators and anal vibrators:
Prostate wands/massagers
Vibrating butt-plugs
Anal beads
The motors for each operate the same way. The style that suits you best is down to preference and comfort. Let's take a look at each of these in detail, so you know exactly what you're getting when making your choice.
External Male Vibrators: Penis Vibrators
External male vibrators, or cock vibrators, target your glans, your balls or your shaft. Some of them, like the glans stimulators are a little bit strange to use at first and you will have a tendency to thrust into them (our basic instinct will pop up) but if you just relax and let them do their work it will feel awesome.
Vibrating cock rings and strokers are more common than a glans stimulator but offer similar sensations, let's take a look at each of these vibrators for guys.
Vibrating glans/testicle stimulator
Applying vibrations to the head of the penis (glans) or testicle region can be an amazing way to enhance masturbation or sex. Some men are able to orgasm simply from the sensation of having vibrations applied to these areas.
Men have used female vibrators on their glans and testicles to achieve great orgasms during both sex and masturbation, but there are also good options on the market which are ergonomically designed for the male anatomy. Products like the Cobra Libre are designed to stimulate the head of your penis.
Another fun advantage of these stimulators is that some can be used hands free. Other stimulators even advertise their efficacy in training men to last longer in bed. While there may be some truth to these claims, it seems like opinions are mixed on whether they can actually be used effectively in this way.
Vibrating cock ring
Cock rings work by constricting the blood flow to your penis and therefore aiding in achieving harder, stronger erections. Vibrating cock rings provide vibrations which can also help create powerful orgasms during masturbation or partner sex.
When cock rings vibrate, they can also bring additional stimulation to your partner's clitoris during sex. Do keep in mind that since cock rings are often placed at the base of the penis, women report that clitoral stimulation from the vibrator is only achieved at the exact moment of each thrust.
As with non-vibrating cock rings, you should only place the ring over your penis when you are flaccid, not while you are erect.
Vibrating strokers
These devices mimic the motions of sex by allowing you to thrust into them, or by stroking your penis. Some call them pocket pussies or Fleshlights. This is a broad category of devices and traditionally these were not male vibrators, but some companies are making vibrating strokers now.
Often male strokers come in the form of textured partial sleeves or shafts. Sometimes you can fit your entire penis in them, other times your head is still exposed. If you're looking for a hands-free male sex toy, a vibrating stroker won't work. You need to use your hands.
Not all vibrating strokers are made from silicone, but the ones that are will last longer and feel better. Usually the penetrable models will provide vibrations to the entire shaft of your penis.
Some non-vibrating strokers can be loaded with a bullet vibrator, a modular tool that allows you to add vibration. Investing in a bullet vibrator can be a great way for you and your partner to save some money by sharing a supplement for your toys. It's worth noting that fully penetrable strokers can be tricky to clean up after you ejaculate inside of them.
Popular male vibrators like the Manta can be utilized as a stroker, or can be held in place during solo or partner sex to vibrate a specific area of the shaft. The Manta is particularly popular in supplementing oral sex. Hold it on your shaft to feel the pleasurable vibrations while your partner stimulates the head of your penis with their mouth.
Internal Male Vibrators: Prostate Vibrators and Anal Vibrators
Prostate Wand/Massager
The prostate is a gland you can find just below the bladder. It can be stimulated by pressing the rectum. Many men have discovered the incredible potential of prostate orgasm.
Keep in mind that stimulating this specific part of the male anatomy takes time and patience. You need to be able to fully relax and invest at least 15-30 minutes into achieving a prostate orgasm. And men vibrators designed specifically for the prostate are absolutely essential for making this happen.
Vibrating Butt Plug
Butt plugs are anal toys that can be enjoyed by both men and women. They're ergonomically shaped to penetrate the sphincter and have a wide base to keep things safe. They're also great for both masturbation and partnered sex. Vibrating butt plugs can enhance anal pleasure and can help you achieve prostate orgasms.
There is some debate as to whether vibrating butt plugs have much advantage over traditional butt plugs. If you know you love butt plugs, then investing in a vibrating model can be a no-brainer. But if you're a newbie and have never tried one, it might be best to start with a non-vibrating or cheaper model, just to see if it's for you.
Vibrating Anal Beads
Anal beads consist of a series of gradually larger spheres which one can place in their anus to stimulate the muscles of the sphincter as they move in and out. Add vibration and the sensation can be further enhanced. Some say they it's hard to recognize the full potential of anal beads without using vibrating anal beads.
Keep in mind that you don't need to use the entire string of beads… just what you're comfortable with. It should also be noted that butt plugs and anal beads are totally different. Butt plugs are meant to stay inside you, while the pleasurable sensation from beads is achieved by the motion of putting them in and taking them out.
How to Choose the Best Male Vibrator For You
Obvious factors that will affect your decision include portability, whether you want something realistic, whether you want your balls, shaft, head or all three stimulated and whether you intend to use it alone or with a partner.
1) What's your preferred use?
Since male vibrators fall into many categories, the first decision to make is which area you're planning to stimulate. If you're planning to use this on your own to give yourself some well deserved self-pleasure after a hard day at work, a glans stimulator or a prostate massager (if you're into that) may be your best option. If you want something that you can share with a partner, your decision may be different.
2) Remember you have to clean it later
Let's face it, some toys like vibrating prostate massagers or strokers can be a pain to clean. When you ejaculate into penetrable devices or stick anything inside your butt, it's always important to do a thorough cleaning, and this can be time consuming. Cock rings and testicle stimulators, on the other hand, never come near the head of your cock, so getting them messy with semen isn't an issue.
3) Consider your budget
Male vibrators can cost anywhere from just a few dollars to several hundred. Obviously, the more expensive units typically have more sophisticated features and ability to be customized. But if you're a beginner, trying out a cheaper unit may be a good way to get started to see if you like vibrators.
4) Do you need something discreet?
If privacy is important for you, keep in mind that some male vibrators are made with discreet use in mind. They might be smaller, or supplemented with an anonymous looking case. The Desire Luxury Rechargeable Male Vibrator, for example, includes a discreet case with a small, secret hole for charging your device without anyone knowing what's inside the bag.
What to Look For in a Male Vibrator
Ok, I've decided to buy a men vibrator but there are so many online, how do I know which ones are the best? What should I look out for?
Male vibrators come in different materials, but as with other sex toys, the best ones are often silicone. Silicone is a great material for sex toys because it is non-porous, body-safe, and easy to clean. Silicone toys are also hypoallergenic, making them a great choice for people with sensitivities or allergies. There are also great products made from TPE, but it is generally less durable than silicone.
Fun Factory produces two of the most highly regarded male vibrators, the Manta and the Cobra Libre. They produce top notch toys. Hot Octopuss produces some interesting and technologically sophisticated products.
Vibrating strokers come in different sizes. Depending on the size of your member, you may want something smaller or larger. Make sure to check out the dimensions before making your purchase. If you want to try an internal male vibrator for the first time, you may want to start small. You're unlikely to tolerate huge vibrating anal beads at first, so it's best to practice with smaller options.
How To Use a Male Vibrator
Since there are so many types of male vibrators we would need to write a guide for each type and that would be too long, instead I'm just gonna give you some general usage ideas.
Enjoy!
1) Get in the mood
Some men have libido on an endless loop, some might need coaxing. If you are buying this for your man, be rest assured that the vibrator will yield a response from him. It's also a great foreplay tool during sex.
You can also try mutual masturbation, with both parties using their own toy. Mutual masturbation can create a great bond.
2) As an edging device
Edging is basically pushing yourself to the edge of orgasm, and choosing not to cross over the line in a jiffy. Being able to take yourself to the brink and holding back can be really erotic. It can also have a positive effect on your sexual stamina.
Male vibrators can be incredible edging tools because they often apply very subtle stimuli to your erogenous zones. Achieving orgasm this way takes time and patience, and may need to involve some stroking. But if you can resist stroking you stand to experience an incredible orgasm.
Sometimes there is nothing better than knocking out a quick one, but if you have time to yourself, you might as well enjoy it for a little longer.
Find a feature-length video you have only watched highlights of. Try to make it through the entire thing without orgasming. Tease yourself until you run out of patience or your internet does.
3) A surprise happy ending
Sometimes, you get tired of your own damn hand and really wish you had 'The Arms of Hercules'. I completely understand the pain and that's why I recommend vibrating strokers.
Having a stroker with vibrating capabilities is better than the old-school strokers. You can lube one up and play around with its intensity for a happy ending.
Benefits of Using Male Vibrators
Using a male vibrator can have its pros and cons. Let's explore them here:
Strong powerful orgasms without thrusting – This can be especially important for people with mobility issues.
A simple and great toy to spice up your sex life
Can be used to make solo play more varied and fun
Vibrators can help you experience new sensations in erogenous zones you've never utilized before
When used methodically, can help improve stamina
Models with variable speeds are perfect for edging
Disadvantages of Male Vibrators
Can become addictive
Annoying to clean, especially penetrable strokers
Must be charged and recharged repeatedly
Some users report that vibrations make almost no difference to their sexual experience
Male Vibrators FAQ
Should I use lube with my male vibrator?
Yes! For your safety, comfort and pleasure, it's always best practice to use lube. If your toy is made of silicone, water-based lube is always best. Most male vibrators will require you to supply your own water-based lube, but some have self-lubricating cores that you can activate with water. Either way, it never hurts to have a good lube on hand.
How do I use a male vibrator with a partner?
Many male vibrators are perfect for mutual play. Vibrating cock rings, for example, are designed to pleasure both men and women simultaneously. Your partner can also use vibrators designed for testicle or shaft stimulation on you while they give you oral sex.
How safe are male vibrators?
Male vibrators are safe as long as they are used as directed and with plenty of lubrication. Internal male vibrator toys are ergonomically shaped for safe anal play. Most will have a flared base to make sure they don't get stuck. This is why it's always safer to use a toy than an object you find around the house (a cucumber, for example). The flared base will prevent you from hurting yourself.
Is a male vibrator different from a female vibrator?
When it comes to the engineering of motors, male and female vibrators are essentially the same. The package they come in is different.
As mentioned previously, it is possible to use female vibrators to stimulate your glans or testicles, and many men have done this. But male vibrators are designed with the male anatomy in mind and may be capable of more thoroughly pleasuring people with a penis.
Some anal toys are unisex, such as butt plugs. Others are more male-specific, like prostate massagers.
What are the proper maintenance procedures for my male vibrator?
Each toy will come with its own set of care and maintenance instructions. Generally, it is recommended that you clean your toy after each use with warm water and a mild soap. If the toy is waterproof, you can also clean it under running water. Avoid using harsh chemicals or abrasive cleaners on your toy as this could damage the material. Some toys have more specific cleaning procedures, and these will always be provided by the manufacturer.