Lay one of these best male vibrators on your bedside table. You will start your day with a smile. As soon as you wake up… Bzzzzz…. it's game on.
Male vibrators are here to break the stereotype that sex toys are meant to please women alone. I mean, why should women have all the fun?
Here we believe in equality. And hell yeah, men deserve equal treatment when it comes to scoring quick goals in the masturbation game.
Trust me, it doesn't matter whether you are gay, straight, single or taken by the sexiest woman on earth; you need these electronic beauties for some electrifying orgasm.
To make your life easier, we have shortlisted 5 best male vibrators that can change your perception about male sex toys.
The 5 Best Male Vibrators
Male vibrators come in a range of forms for internal or external use. I tried to pick a good mix of vibrators, so that you can explore the different kinds and choose what's best for you.

1) VibrOMan Screaming O kit
Now, I know what some of you're thinking. Some cock-rings can be a huge disappointment – rolling their way along your shaft before conking off into oblivion.
Fear not! This triple-threat kit from Aneros keeps itself locked at the base of your penis, leaving you or your partner free to stroke or suck away to glory.
Alongside the cock ring, you get a finger-tip vibrator and a tongue vibrator. Each vibrator sleeve has a unique texture for different sensations.
All three mini vibes are powerful and deceptive. You can use them to stimulate each other for foreplay and go beyond the mundane world.
Ideal for couples, it creates vibrations that can raise the bar of both clitoral and perineal stimulation.
It is a stretchy, one-size-fits-all deal that accommodates testicles too. The vibe helps keep the blood flow exactly where you want it to be.
Key Features
Trio of insertable vibrators
High quality
Easy to use and clean
Specifications
Material: Non-toxic SEBS
Removable vibrators
Washable
Pros
Good for oral sex, masturbation and penetration
Cons
The tongue vibrator is sometimes a hit or miss for the wearer

2) Head Master Vibrating Blow Job Stroker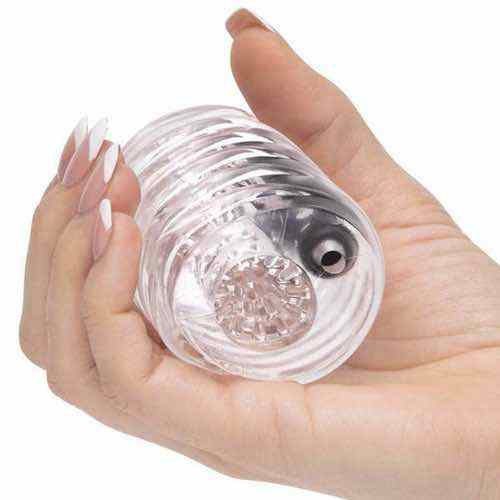 Be a good student of the Head Master and it will reward you with some head-over-heels orgasm.
The open-ended male masturbator harbors a tiny but mighty bullet vibrator. It kicks things up a notch if you are bored of bursting out quickly on a regular basis and feel like you know yourself too well.
Like the cock-ring above, it can also add dynamism to a couple's foreplay. The sleeve is palm-sized and easy to keep a hold on.
The material is stretchy and the textures feel awesome even without the vibration switched on. The sleeve is see-through, which might be a bit of a 'turn on' itself.
The tunnel is pretty tight and needs a generous amount of lube to get you ready for your flight. Okay, don't kill me if your are quarantined and miss taking flights. I feel you!
Despite having just one speed, the vibrations can be pretty intense. Once you have mastered the technique, use it to pound alone or leave it to buzz around your base. Next, let your partner go to town.
Key Features
See-through textured stroker
Small but powerful, removable bullet vibrator
Palm-sized and open-ended for a variety of uses
Specifications
Phylate free
Splashproof
Single-speed
Pros
Great for solitary sessions or couple-play
Cons
Splashproof but not submersible, so the hot-tub is off limits

3) Waterproof Prostate Massager
If you are looking for a buzz that's closer to your core, this prostate massager may be a perfect fit.
Just relax if you are on a bold new venture! Being a little slender, it's a good beginners' tool. The bulging tip tapers and all it needs is a lot of lube and a little push of faith.
The whole shaft vibrates but it's the angled tip that hits the spot and creates immense sensations. It is firm, easy to control and waterproof (bonus point!).
The speed dial lets you take things one step at a time. So, the neighbors are unlikely to hear any midnight yelps that you weren't expecting.
If you have a helping hand or can master the art of a two-handed front-and-back attack, then you are in for a real treat! I challenge you not to blow your load in an instant!
Key Features
Tapered firm vibrator with an angled head
Multi-speed with an easy-to-use twist-base control
Waterproof for a hot-hot shower
Specifications
Battery operated
7.0 inches length
0.75 inches width
Pros
Intense range of vibrations aimed straight at your sweet spot
Cons
An unpredictable battery life

4) Cobra Libre II Luxury Rechargeable Male Vibrator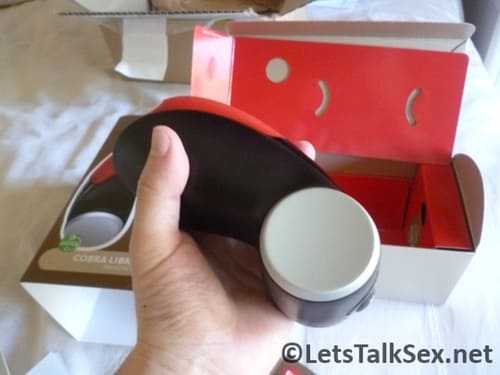 The Cobra Libre is a beast from the Mars (I assume because men are from Mars. No? Okay, just a poor joke!).
The vibrations target your frenulum and glans. This offers an intensity that you might not be able to handle to start with, so be wise and use in small doses.
The product has been marketed for bored bachelors. But you don't need to be bored to buy this. Rather use it as a borewell that can pump your fluids up in no time.
Having said that, I will still suggest you to use it creatively if you aren't in a hurry to cum. The device is, thankfully, pretty quiet but there is a good chance that you won't be! So, just crank up your music or wait for everyone to sleep.
This one has different vibration patterns as well as speeds, so you won't get tired of it anytime soon. It is fully rechargeable and totally waterproof (hallelujah!).
Key Features
Multi-speed masturbator
Ergonomically curved
Fully submersible for underwater fun
Specifications
Rechargeable
Silicone inside
3.5 inches internal depth
Pros
The patterns and speeds keep things fresh and interesting
Cons
Pricey piece of kit to invest in

5) Fleshlight Vibro Lady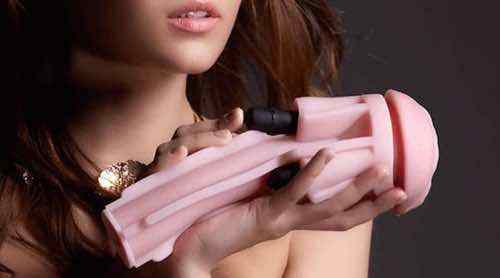 Our last toy to try is another stroker but probably something you are more familiar with.  A household name with a few upgrades – three to be exact. This Fleshlight is an offspring of the Vibro series.
They have remodeled the Fleshlights' sensual SuperSkin. It now has space for three bullet vibrators – a triple delight, yay!
Pleasuring yourself with a Fleshlight can be a little monotonous at times. Especially if you have owned one for a long time. Many resort to warming them for a little authenticity and a more erotic release.
Adding the bullet vibes to the touch-texture sleeve creates a different experience altogether.
They ooze surprising sensations that you will absolutely love. So, I guess it's time you shake up your routine and let your flesh do the talking.
Key Features
Fleshlight with bullet inserts
Three removable vibrators
Textured sleeve with a gun-metal sleeve
Specifications
Battery operated
Removable silicone insert
8.5 inches internal depth
Washable
Pros
An awesome fleshlight upgrade with three bullets
Cons
Only available with the original vaginal and anal skins at the moment
Male Vibrators Buying Guide
These five toys are indeed amazing tools for men (if you are looking for cheaper options you may look into men's health guide). But let me enlighten you a little more with a few facts on male vibrators that may set you on the path to sexual emancipation.
What is a male vibrator?
What is classified as a male vibrator can be a little confusing. Many men picture a traditional female vibrator and that, of course, is not a turn-on at all.
Male vibrators have a variety of styles and they are popular for their motor-based vibrations as opposed to suction.
So, whether you are a hetero Joe with a 'No Entry' tag for the ass, or someone with a little more adventurous outlook, I bet there is plenty to explore.
Types of male vibrators
There are many types, but we categorize them into two groups – internal and external. Internal vibrators for men include vibrating butt-plugs, anal beads, and prostate wands/massagers.
External can be handheld open masturbators, rings, cages, partial sleeves and penetrable devices. The motors for each operate the same way. The style that suits you best is down to preference and comfort.
How to use a male vibrator
Whether you are going to use a vibrator for solo play or in the presence of a partner, determines the way you will put it to work. Usage also varies with the type of vibrator you choose.
If you are using it alone, there is no wrong way as such, as long as safety measures are adhered to.
Masturbation is a surefire way to explore your own body and learn about what turns you on and how. Even the most experienced users can accidentally stumble upon something completely new.
And if you are a newbie, let me welcome you to the party and tell you 3 fun ways of using a male vibrator. You can thank me later.
1) Get in the mood
Some men have libido on an endless loop, some might need coaxing. If you are buying this for your man, be rest assured that the vibrator will yield a response from him. It's also a great foreplay tool during sex.
You can mutually masturbate too with a toy each. Mutual masturbation can create a great bond.
2) As an edging device
Edging is basically pushing yourself to the edge of orgasm, and choosing not to cross over the line in a jiffy. Being able to take yourself to the brink and holding back can be really erotic. It can also have a positive effect on your sexual stamina.
Sometimes there is nothing better than knocking out a quick one, but if you have time to yourself, you might as well enjoy it for a little longer.
Find a feature-length video you have only watched the highlights of. Tease yourself until you run out of patience or your internet does.
This can apply to partners as well. If you don't mind a light bit of bondage, why not tie him up and tease him? The journey is half the fun and the consequences might be more rewarding.
3) A surprise happy ending
Sometimes, you get tired of your own damn hand and really wish you had 'The Arms of Hercules'. I completely understand the pain and that's why I recommend masturbators.
Having one with vibrating capabilities is better. You can lube it up and play around with its intensity for a happy ending.
Male Vibrators FAQ
How do I get my girlfriend onboard?
It sounds like a perennial problem, doesn't it? Well, the best way to solve this is having a proper communication.
If she is someone with a drawer full of toys, you can always pitch in to include one more for your fun. It is not a competition. Just make her understand, the more the merrier it is for both of you.
But if she is not already introduced to toys, be gentle on her. Maybe you can gift her one as well while buying for yourself.
Don't worry about rejection. It is important to be sexually satisfied for a healthy relationship.
For example, if you dream of ass-play and have never discussed it with her, you better open up about it or else you will regret it for a lifetime.
Make her understand that a toy is not her replacement. Take her into confidence that the addition is just to increase the fun factor in your life. Now, if you are a bad communicator, God save you!
At the end of the day, most partners, male or female, want to see each other happy. It is exciting as hell to see your partner aroused and turned on like never before. So, discuss, experiment and enjoy.
Is a male vibrator different to a female vibrator?
When it comes to the engineering of motors, they are essentially one and the same. The package they are provided in is different.
Internal male vibrators are all for anal use so they will be ergonomically shaped for safe anal play. Most will have a flared base to make sure they don't get stuck.
Some anal toys are unisex such as butt-plugs. Others are more male-specific, something like a prostate massager. Every male vibrator is designed keeping the male anatomy in mind.
External models are very different. You could use a regular vibrator on yourself but a male-specific model is better equipped to accommodate the penis.
Penetrable models usually have a generous length to fit most sizes. The vibrations start at the base, so even if you are on the smaller side, you will still feel the effects.
They target the most sensitive areas of your body, including the sensitive tissues of the male G-spot.
External types focus on your perineum, balls, glans and frenulum. Most provide waves along the entire shaft if they are penetrable.