In this buying guide to the best anal lube, our Julia will show you how to pick a safe anal lube, anal lube types, and the difference in between men and women lubes for anal sex, as well as compatibility with anal toys.
Once a taboo subject- now embraced by many, anal sex and ass play, in general, is a much more mainstream topic than ever before. It isn't new, men and women have been exploring their bodies sexually since the dawn of time, it just hasn't been openly discussed as much as it should be.
With no natural lubrication of its own your back passage obviously needs all the help it can get and it really isn't something you should skimp on. Given that the epithelial layer is 3-times thinner than the vaginal epithelium, there is a lot to consider when looking for anal lube.
Our Anal Lube Top Picks:
1) Gun oil – Best Lubricant For Bareback Backdoor (Anal) Sex
Beautifully slick and suitably thick for an easy entry and glorious glide, Gun Oils new hybrid formula is long-lasting and it sells in large amounts!
2) Doc Johnson Golden Girl Anal Jelly – Best Anal Lube For Beginners
Oily and thick with desensitizing properties, this one is a good introduction for relaxed ass play. Compatible with most toys (not latex-based) it is ideal for beads and plugs, perfect for prepping and new ventures.
3) The Butters – Best Anal Lube For Vegans
Ethically produced with 100% natural, vegan-friendly ingredients which are also edible if you are into rimming. It can be used fairly sparingly and gives a lavish thick coating to keep things comfortable.
How to Choose the Best Anal Lube for You (Buying Guide):
Think about your needs
What type of lubricant to choose boils down to whether you are playing with toys/pegging or in a relationship. Certain lubes are non-compatible with some toys and some can't be used with condoms either.
Your experience
If you are a complete beginner then you will need something very long-lasting and thick to help facilitate the process. You may even want to seek out something with a relaxant. Those more familiar with their bodies will be more relaxed.
Read the ingredients
You might be surprised by some of the inclusions in your lubricants, where possible avoid any alcohols. They are added to prevent infection but an initial burning ring of fire will only make you clench your sphincter.
Note:
Generous helpings are encouraged, so be greedy. Whether you are a total novice or a champ
lube
is an absolute necessity, not an accessory, sure some of us have a penchant for pain but anal sex should be well prepared for and eased by any means.
Anal Lube Types
Water Based Anal Lubes
Silicone-based lubricants have a consistency that allows them to last far longer, they are non-toxic and cause fewer reactions. They tend to be pricier but given the delicate nature of your ass, you should afford it some luxury.
Oil Based Anal Lubes
Oil-based lubricant naturally repel water and leave a slick residue. Perfect for anal pleasure but a pain in the ass to clean-up. They can't be used with condoms so they won't help combat STI contraction.
Silicone Based Anal Lubes
Water-based lubes are safe to use with condoms and tend to be cheaper but they are quickly absorbed. Using them in your ass means a slippery entry that soon dries, so be prepared to re-apply.
Anal Lube for Women VS Anal Lube for Men
Although our anatomy is a little different, our chemical levels and biological systems are matching. So whether you have or lack a G-spot in your ass, your lubrication requirements are completely the same.
There are many products on the market which are marketed towards one gender or another and others that simply blur the lines. In truth, many are essentially the same formula in a different package or under a different name to appeal to different demographics.
Some women's products have a scent added, this can be an irritant for some, so again be vigilant and read the details.
Top 14 Anal Lubricants Reviewed and Compared
1. Gun Oil Silicone Lube
A thick but not buttery great silicone anal lube
First up, an infamous lubricant in its newest form, most pro's will be familiar with the original Gun Oil a firm favorite on the gay scene but their silicone hybrid version far surpasses the original and is condom ready.
Despite its men-focused marketing, it is great for any gender with an ache for anal stimulation. Made with the companies slick silicone formula, enriched with Aloe Vera and Vitamin E it errs on the natural side of things despite its synthetic base.
It isn't greasy, the team behind it seem to have got the consistency figured out for a ride that doesn't require any reapplication. It is thick but doesn't have a feeling that detracts from the action. Being silicone-based it is again a little prone to staining the bed-sheets so you might have to have a few throw-away linens stored specifically for the dirty deed. It comes in a 32oz bottle so you'll have plenty to play with.
Things We Liked:
Thick but not buttery which can be off-putting.
No need for constant reapplication for uninterrupted romping.
Proven formula with natural hypoallergenic ingredients.
Advertising is inconspicuous if someone found it- the cat probably isn't out of the bag.
Things We Didn't Like:
Can't be used with silicone toys so you might have to mix and match if you like to play before you fuck.
2. Wet Uranus Silicone Lubricant
Natural feel anal water based lube
Next, a modern silicone lubricant from Wet who've been lubing up lovers for over 3 decades with their water-based wonders. This silicone version is aimed for anal use as the humorous name suggests.
It is far thicker than their other products even their Wet Platinum which was favored by anal lovers before Wet Uranus came onto the market. You might like to know that it is also FDA approved as a medical-grade device, reassuring for some of our more reluctant readers.
Wet Uranus has enhanced the bedroom behavior of the last few generations with next to no complaints. It needs no reapplication, a little lasts a long time and it sells as a 9 fluid ounce bottle. Which is handy because it is water-resistant so if you can take your shenanigans to new depths.
The large molecules mean it doesn't become sticky which is never fun with as-sex but it is a little on the messy side so be sure to lay down a few towels before you go to town. It wipes off off the skin relatively easily with a wet-wipe so don't be put-off.
Things We Liked:
Fun marketing 'Wet Uranus' *snicker*
Great consistency, if you apply enough in advance you won't need to stop.
Can be used in a hot-tub.
Feels more natural than some silicone products.
Things We Didn't Like:
Takes a while to clean up afterward.
The regular bottle is leaky so we suggest getting the pump bottle!
3. Wicked Anal Jelle
Easy to clean anal lube
The Wicked Anal Jelle lubricant is the brainchild of an award-winning team (2018 AVN Ward for Best Lube Manufacturer), super popular with the ladies. It comes in a small package so you might have to buy a fair few and it could get pricey but if anal is on the menu then you should treat your princess.
It is a water-based lubricant so it can be used with condoms and toys galore a great one if you are introducing the world of anal play into your sex lives. Being able to use it without thinking about the compatibility of its composition is completely liberating. The viscosity is also hit with the public, as is its discreet design which could be mistaken for hand-cream.
You get an 8oz tube with a sensible flip cap top and a tube-type packaging, you don't have to worry about spillage. Fragrance and paraben-free, it can be used generously without any worries about reacting unexpectedly. The gel-like nature makes it feel more like a silicone option but you don't have to worry about staining. The sheets can be washed with hot water and you are good to indulge all over again.
Things We Liked:
Thicker than most water-based lubes.
Can be used liberally with just about anything you might want to shove where the sun doesn't shine.
Easy to clean-up.
Leak-free package.
Things We Didn't Like:
Does need reapplying for comfort, so be sure to communicate.
Doesn't warm to body temp as quickly as some lubes.
4. Pjur Back Door- Best For New Sensations.
Epic long-lasting anal lube (I've been using this for a decade)
If anal is regular practice then you have probably come across the Pjur range before, for those less in the know it is a European best-seller that has several anal brands under its belt, some are actually the same product marketed for different demographics.
Pjur Back Door is aimed at men whilst Analyse me is for the women though each of them has the same ingredients. It is a Silicone based oil and the company sells a relaxant spray to use with it should you wish.
It doesn't need excessive-application, it comes in a 100ml bottle in its smallest quantity and most find that a liberal dollop is plenty. It has a dry oil consistency with good viscosity which makes it easy to apply it doesn't run to other areas. Being silicone-based you might want to prep an area for use as it isn't so easy to wash away.
It features a jojoba extract which is known to be a natural muscle relaxant so it may help with setting the mood with an anxious anal partner. Most find extra pleasure in the additional ingredients others find it has no real effect for them. So don't bust this one out on an unwilling partner and expect them to be at complete ease.
Things We Liked:
Slicker than some silicone options, you don't feel over-lubed and sickly slick.
Easy to apply and the container is well-designed.
A little goes a long way.
Things We Didn't Like:
The jojoba adds to the experience but can take some by surprise to make sure they are prepared for the sensations ahead.
5. Boy Butter- Best For an Easy Application
Natural body-safe lube
Okay, so the naming of this one is pretty tongue in cheek. You would be forgiven for thinking it is solely for the lads but stay open-minded ladies. With natural ingredients, this oil-based hybrid silicone lubricant is as slick as it gets. With no pussy to penetrate you can be sure the boys know best when it comes to oiling up your anus, so rest assured it is perfect for the job.
The coconut oil at its core has a pleasant natural scent. The silicone is organic and it is one of the most highly-praised products for anal available. There is less to be said about the mess that comes with it but you are going to appreciate the easier entry regardless of the tonne of towels you might have to fling down.
With a very buttery consistency it can be inserted and just like regular unrefined coconut oil it warms to your temperature melting from within so less is more and it lasts. It sells in 2-9oz tubs or a squeeze-bottle for easy application. Perfect for a steamy friction-free session with it will lather-up your love-holes for him. You will have to go bareback with this one because its no good with condoms.
Things We Liked:
Super long-lasting, will leave your insides coated until the morning.
Natural body-safe ingredients.
Natural coconut scent.
Melts as you play.
Things We Didn't Like:
Not advisable with silicone toys, so maybe look for some glass for your ass?
Can only be used without protection, committed couples cream-up and enjoy.
6. Sliquid Organics Natural Silk Hybrid Lubricant- Best for Massage and Foreplay
Vegan friendly lube for anal sex
It doesn't get any slicker than Sliquid Silk, with an infusion of silicone and natural ingredient it creates a creamier texture than most. It is aloe-based which gives it a delicious thickness, and there's a whole host of other botanical additions to give your delicate skin a little extra care. These include vitamin E and even a green tea extract coveted for its calming effects.
Great for massaging intimate areas with the right viscosity to keep you well-lubricated from start to finish. Available in a 4.2fl oz bottle, you can use it pretty sparingly especially with a lube-shooter to help get it into the right places. It gives you a great sensual feeling which adds to the passion and certainly makes things a little easier from the get-go.
Sensibly priced and packaged in a reliable bottle, the application is simple enough but again the silicone can be a little trickier to mop-up. Priding itself on its vegan composition and cruelty-free production, you will only have to question the morals of buggery and nothing else.
Things We Liked:
The creamier texture feels like natural bodily fluids.
Has a smell of its own but it isn't unpleasant.
You can feel it on your skin after action which can keep the mood going if you're a trooper.
Vegan-friendly and cruelty-free, so you can fuck like an animal safe in the knowledge that none were harmed.
Things We Didn't Like:
Not everyone enjoys the creamier texture.
7. ID-Glide-Best for Protected Sex
Condom friendly anal lube (full comparison table below)
If you love a silicone dildo or are practicing safe backdoor sex then you have fewer options. This next one is another water-based lube for those of you who love to toy with your ass. With a thickened formula for anal exploration, it lasts a lot longer than most. Praised by the general public and doctors alike for the lubricating longevity it provides and available in large quantities it is a no-brainer for the anally active.
Safe to use with condoms and just about any toy on the market, it promises pleasure without limitations. In spite of its long-lasting effects, you will need to be pretty generous because it will absorb. 4.4 fluid ounces doesn't cost you the earth so buy a few. The osmosis levels are much lower than some of the other leading water-based anal lubes available so you can relax knowing you won't be doing any damage.
It comes with an effortless cleanup and won't stain so you can collapse in a post-orgasmic daze.
Things We Liked:
Gives your toys a comfy glide.
Body-safe ingredients.
Can be used with condoms.
Easy cleanup job.
Things We Didn't Like:
Does need to be used pretty liberally so maybe buy in bulk.
8. The Butters
Vegan, cruelty-free lube for both anal and oral
With coconut oil being one of the most talked-about anal lube in modern times, The Butters is another great go-to lube. The oil provides the thickness that you need for a pleasurable ride but the Aloe Vera stops it from feeling completely greasy. The consistency is less thick to begin with than the Boy Butter and it sells in an 8oz tub that will last.
The Hygienics Co. has struck a beautiful balance with their product that renders it a reliable booty-lube. It has a great temperature, so you won't be in for any nasty shock and feels great so you will probably be tempted to play a lot longer. It can be used with an array of ass toys but you should steer clear of latex- that rules out the condoms too.
Ethically conscious, it contains no palm oil and is environmentally friendly, 100% vegan and cruelty-free. The all-natural nature makes it safe for oral as well.
Things We Liked:
Feels as natural as the ingredients used.
Provides a generous barrier to keep friction at bay.
Warms to the body in an instant.
Doesn't have a greasy texture like some oil-based lubes.
Things We Didn't Like:
High-price tag that comes with the ethics
9. Fifty Shades Of Grey At Ease Anal Lubricant
For a lubricant lifted straight out of fiction, the official Fifty Shades of Grey At ease anal lubricant is a sexy little number. Another favored by beginners for its erotic S&M affiliation it is a water-based option for those who use protection.
It is a 4.3floz tube that is a little runnier than we'd like and being water-based you may need a lot more to keep things running smoothly. For some, the act of drizzling it on during the deed is a huge turn-on so who are we to judge.
It is formulated with aloe vera which gives it a longer-lasting effect and helps to make it a little more jelly-like. It has ingredients to calm soothe the skin so it can be a sensual option for anally-oriented foreplay.
The bottle is non-spill and comes with discreetly designed girly branding. It is easy to wash-away, although it leaves you feeling pretty sexy and will dissipate so you may want to enjoy the sensation for a little longer before you shower.
Things We Liked:
Thicker than a traditional water-based lube.
Feels very sensual to be covered with.
Won't stain your sheets and ruin your good-girl reputation.
The non-spill bottle is a bonus.
Things We Didn't Like:
Needs applying slowly to toys or it will drizzle.
It has a few harsher ingredient so it isn't one for regular use, just occasional surprises or introductory ass-training.
10. Doc Johnson Golden Girl Anal Jelly
Another good introductory anal lube is Golden Girl anal Jelly. A jelly-like lube provides a lot more of a barrier for delicate tissues. It Is oil-based rather than water-based as the majority of gels seem to be, this ensures it isn't absorbed and sticks around long enough to do the trick. It is almost as thick as petroleum (which we now know we shouldn't be using in the bedroom!) so it lasts and little goes a long way although it only sells in a smaller quantity of 1.4oz.
It has desensitizing properties that we are a little wary of, but the offending ingredients are proportionately low and its so thick you won't need lashings of the stuff. It is a real hit in the bedroom with newbies for its low-level numbing sensations that will have you squirming from the start.
The oil can spoil your sheets so you may want to prepare something especially for it but when trying anal out you should be making an effort anyway.
Things We Liked:
Toy friendly and great for beginners
Incredibly thick.
Very easy to apply stays on your fingers and can be smeared.
A little desensitizing but not enough to numb a cock and spoil the fun.
Things We Didn't Like:
Does not wash out of fabrics- be warned.
11. B.Cumming Elbow Grease- Best for Heavy-Handedness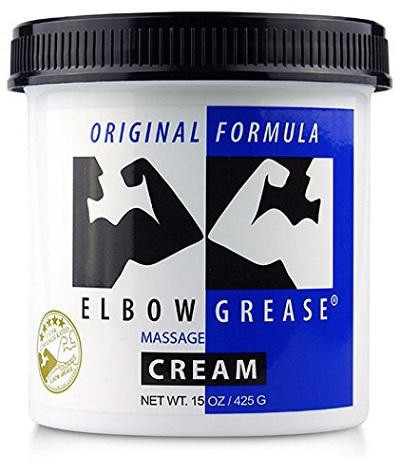 An oldie but a goodie Elbow Grease has been on the market since the late seventies and really hasn't changed much. With its 'If it ain't broke don't fix it' attitude it is one of the proven go-to greasers on the market which give a thick enough coating for a rougher ride. Popular with extreme penetration fans and fisting couples you can be certain it will satisfy the average anal lover.
It has a waxier texture to begin with, this makes it easier to manipulate and play with, so if you favor longer foreplay sessions with your anal then that is a big bonus. It as a mineral-oil base, so it is pretty different from a lot of lubes on the market but it is very long-lasting. A word of warning it takes a lot to get out of fabrics, so again you will probably want to prepare an area for intimacy with it. It sells in a whopping 15-ounce tub to keep you lubed for days.
Things We Liked:
Reliable and long-lasting.
Gives a generous coating.
Easy to manipulate.
Great for hands-on use.
12. Anal-ese
Anal-ese as been essential for many so you may be wondering why it is so low on our list. Though many swear by it, in recent years it has been trumped by brands with a better balance of ingredients. In essence, it is a numbing cream rather than a lubricant so you may also need something additional.
Boasting, analgesic properties with its benzocaine, it helps many to relax. Available in a 1oz tube with a range of flavors it is marketed as edible but you will find it numbs tongues as well as anuses so beware. This extends to penises as well so givers should probably wrap-up.
It is certainly a fun product which provides a sensation all of its own but some may find it can irritate the area and being an intimate affair you should err on the side of caution. That said, Anal-ese is well worth a mention especially for those who need a little encouragement or distraction to get past the tip.
Things We Liked:
Iconic anal lube.
Ideal for those who need help relaxing.
Great for getting a larger plug in place for later.
Edible.
Things We Didn't Like:
Doesn't provide much lubrication and can't be used liberally.
13. Uberlube- Best for an All-over Body Experience
Uberlube is a newbie lubricant that holds its own against the competition. It is also pretty different, with its marketing aimed at a much wider range of activities. In-use in top salons as a hair serum, you may actually get away with leaving this one out on display to your guests. The PH levels are perfect for internal use and it is physician recommended with some OBGYN's utilizing it routinely.
The consistency is pretty premium it leaves you feeling velvet-smooth and makes insertion a doddle. It is a silicone-based lube and has wide compatibility, allowing for protection to be worn and most toys to be catered for. It stays slick during motion and only really starts to dissipate once it is left alone. So it is ideal for the task at hand and you won't have to constantly top it up the bottle contains 3.4 fl oz of fun.
Things We Liked:
Versatile all-over body lubricant.
Ass stays lubricated whilst you are active.
No odor.
Discreet product.
Things We Didn't Like:
Comes with a premium price tag
14. Astroglide X Silicone lube.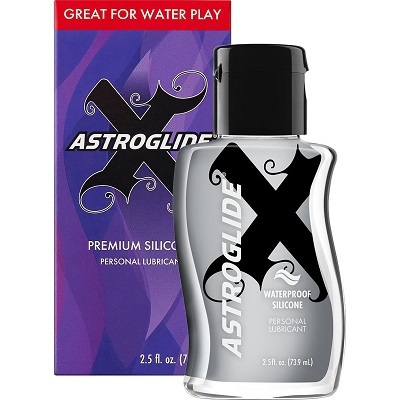 The water-based version has been a household name for decades and this silicone rendition should probably be renamed ASS-tro-glide because it is another ideal solution. The mixture makes entry effortless and it provides a prolonged slickness that never gets sticky. It sells in a 2.5oz bottle but larger quantities are available.
It is fragrance and hormone-free the balance is just right for sensitive areas and it keeps things well-oiled throughout. Smaller servings satisfy most users so you won't go through it too quickly unless you're a complete fiend. It is a little runnier, fun to massage in and has a sensual texture to it.
Great for glass, and skin to skin sessions you will find it suits most needs as long as you are up for unprotected sex. The clean-up is less problematic than some silicone brands but it is water-resistant. Good news if you fancy some extra-curricular fun in the shower or hot-tub but bad news for bed-sheets but screw it… It doesn't get much slicker than this!
Things We Liked:
Great for sensitive skin.
Waterproof for getting steamier in the tub.
You can be pretty frugal with it.
Safe with most toys.
Things we didn't like:
You will have to go-bare-back or source some sheepskin condoms.
| | Base Ingredient | Silicone toy compatible | Latex Condom Compatible | Size of bottle |
| --- | --- | --- | --- | --- |
| Gun Oil Silicone Lube | Silicone & Aloe Vera Hybrid | No | Yes | 32 oz |
| Wet Uranus Silicone Lubricant | Water & Silicone Hybrid | No | No | 9 fluid oz |
| Wicked Anal Jelle | Water Based | Yes | Yes | 8 oz |
| Pjur Back Door | Silicone based Oil Hybrid Jojoba | No | Yes | 100 ml approx 3.4 fluid oz |
| Boy Butter | Oil based Silicone Hybrid | No | Yes | 9 oz |
| Sliquid Organics Natural Silk Hybrid Lubricant | Silicone, Vitamin E & Green tea extract | No | No | 4.2 fluid oz |
| ID-Glide | Water Based | Yes | Yes | 4.4 fluid oz |
| The Butters | Coconut Oil, Shea Butter, Aloe Vera | No | No | 8 oz |
| Fifty Shades of Grey at Ease Anal Lubricant | Water based, Aloe Vera | Yes | Yes | 4.3 fluid oz |
| Doc Johnson Golden Girl Anal Jelly | Oil based, de-sensitiser | Yes | No | 1.4 oz |
| B.Cumming Elbow Grease | Mineral oil based | Yes | No | 15 oz |
| Anal-ese | Water based, cherry flavour, Benzocaine | Yes | Yes | 1 oz |
| Uberlube | Silicone based | No | Yes | 3.4 fluid oz |
| Astroglide X Silicone lube | Silicone Hybrid | No | Yes | 2.5 oz |
How to Pick a Safe Water-Based Lube for Anal Sex
If you decide on a water-based lube then avoid alcohol and glycerine, opt for a balanced PH level and low osmolality.
Our insides are pretty neutral, so try not to upset the delicate balance. Re-application throughout longer sessions over regular use can strip the lining of the epithelium, if the osmolality is high.
Read the ingredients thoroughly sometimes they contain alcohol which will give a burning or stinging sensation. They can also be guilty of using glycerine to help thicken the solution up. None of these ingredients are all that natural water-based sounds perfectly innocent so make sure you scan for any nasty surprises.
Other Lubricants
There are a few hybrid options that blend the base ingredients, you will also find warming lubricants as well as flavored lubricants although they aren't particularly recommended for anal, there are some manufactured for exactly that.
Given the sensitive nerve endings, we would steer clear of anything that hots-up unless you are a hardcore fan of figging. Some people can have allergic reactions to the extra ingredients in fanciful lubricants so if you are curious enough to try be sparing until you know what you are in for.
For anal sex, there are also several desensitizing lubes available, which aim to numb the area a little during use. Most take around 5-20 minutes to start working and they don't work for everyone. So if you have had a few painal experiences or are looking for a quick solution, we are sorry to say there isn't one.
Anal sex takes preparation, the sphincter muscles down there aren't actually built to be in a state of relaxation but like any other muscle, they can be worked. For a good beginners' guide why not visit this link to Cosmopolitans article on how to prep for anal
More often than not, these 'desensitizing' lubricants function in a similar way to warming ones. They don't particularly numb the are so much as provide a new sensation which can distract for some of the pain associated with anal sex. They can cause reactions and for many, they desensitize the penis as well as the ass which can kill a boner in a heartbeat.
A Little on Lube History …
Lubricants have played an important role in our sex lives since way before the common era. Given that the Greeks were notorious for their amorous tolerance, you won't be surprised to learn that we can trace the earliest records of natural lubes back to them. Olive oil was a staple because it grew in abundance.
With their promiscuity recorded, we know they were engaging in anal antics before the calendar had been agreed upon. This wasn't reserved for male homosexual exploits either the women were just as exploratory.
Being open-minded as our history divulges, it is tough to imagine how we became so secretive. There are a lot of issues around anal sex that make it taboo, such as hygiene and safety,
Anal Lube Buying FAQ
Best Lube for Anal Sex?
Most people agree that silicone-based options are a better solution because safe sex is pretty paramount and they can be used with a range of toys so long as they aren't silicone-based themselves.
They are often a little messier but sex can be a dirty affair in general anyway. If you prefer a natural approach we suggest oils but they can't be used with condoms so regular check-ups and long-term relationships may be key.
Water-based lubes are pretty much a free-for-all in terms of hat you can and can't do so many people do use them for anal. They will dry out which can be a real pain in the ass…

Best Lube to Use with Anal Sex Toys?
There is some cause for concern with a few of the newer toys on the market, likewise with a few of the newer lubes. If you are using silicone toys for ass-stretching, anal play or pegging, then you must use a water-based lubricant or the toy will deteriorate.
Silicone doesn't mix well with silicone, so just like you need to store your toys separately you need to keep your silicone lube the heck away aswell. Some silicone lubes are safe with ABS materials and others aren't so make sure you do a little digging.

What Lubes are Gay-Guys Using?
A lot of women are often curious about what the men are lubing with. Although it is a common misconception that anal is always on the table, men are having far more anal than women even in our modern culture.
Again the answer is subjective. For a quicker, cleaner option some favor a water-based lube- so long as is thick enough. With more safety awareness in the midst of what can be a very promiscuous scene, they are seen as a necessary, condom compatible route.
Many guys opt for a silicone-based option if they are in a committed relationship. The thicker qualities provide 'more cushion for the pushing' but they do tend to stay in the system longer.
More often than not, coconut oils are touted as the best but again you can't wear protection. Some of their favorite brands are Boy Butter #5, Pjur Backdoor #4, and Astroglide #14.
What Lubes are Porn-Stars Using?
If you want to take it in the ass like a pro then you might be curious about what the pros are using. Surprisingly the answer is the same as the average jo…Coconut oil has a big reputation within the industry as does olive oil.
Other than the natural routes most are once again using jellies or silicone lubricants. Some of the current favorites are the Wicked Jelle #3 and Gun Oil #1. If you fancy learning more head to bustle where they spill the beans.

Anal Hurts, Should I Buy Desensitizing Lube?
The biggest worry with a desensitizing lube is that if it works too well, you won't be aware of any damage being caused. Rough anal can cause fissures and even bleeding and when engaging in anal activities you should always be aware of what is going on.
We recommend staying away from numbing agents and sprays and have tried to include calming lubes which are free of lidocaine. With the exception of Anal-ese #12, we have rounded-up mild at best calming/stimulating rather than numbing options.
The only way anal becomes less painful is through careful preparation. You should never rush into it.

Where To Buy Anal Lube?
You can shop for natural lubes in a grocery store Walmart sell coconut and olive oil in unrefined forms. If you are looking for a silicone based-lube you will have to go to a sex-toy store or shop online.
Some people are concerned with discretion despite the stigma around lubricants being less of a concern these days. Most online stockists ship pretty discreetly and they don't share your information. The products we have reviewed today come from sites who are happy to help keep your sex-life on the down-low.
If you are concerned about discretion, then consider the branding of the product some are a little blunter than others. A bottle of Gun Oil or Uberlube may be a little subtler than Pjur Backdoor or Wet Uranus!
How Much Lube Should I Use?
There is no real limitation on how much lube you can use unless you are using glycerine or particularly acidic concoctions. With the exception of water-based lubes which you might have t think about the osmolality of you should never be afraid to use as much as you need.
There is no such thing as too much lube unless it's squirting on the ceiling with every thrust. Never be stingy or try to save buying another bottle or you'll regret it.
This is one situation that definitely defies the 'less is more' vibe. Many anal lubricants will stick around as they are manufactured to do so. This can leave some feeling a little mucky or unhygienic so you just have to know and trust your own body, listen to partners and try to figure it out like anything else.

3 Final Tips:
1) Lube Doesn't Mean You're Good to Go…
Anal sex is very different to vaginal, the walls are not built a thickly. With a lot of lube in place, it is sometimes more tempting to rush in. Medical professionals say that a big concern is that being very lubricated can mean couples are quicker to let-loose but with anal especially, things need stretching out. You should always ease into it no matter how friction-free you are feeling.
2) It's Okay to Throw Away …
If you hate a lube, cut your losses and throw it out. Don't try to get your money's worth! Donate it to a friend (what doesn't work for one may work for the next) but be frank with them about what you didn't like. If you experienced burning sensations then bin-it.
If you have a bad reaction do not be embarrassed to seek medical advice. Reacting to a lubricant is on the tame side of things to most professionals and they know their way around a butt-hole, so never sit on a secret to save face.
3) Try Something New…
Even if you have a lube you love, there are new lubes making waves so you can always experiment. If you still haven't found the perfect fit then our best advice is to try plenty.
This can be a fun inclusion in the bedroom for couples and solo-exploration. If you are completely new to anal the chances are you won't have your heart set on a lube yet and you will need plenty of time playing with the possibilities and training your tush so the 2 can go hand in hand.
Some lovely lube companies will even send samples. You can try the Astroglide Silicone before you buy and many others are willing to tempt you with a freebie too. So get googling…
What is Anal Lube?
Anal lube is any sexual lubricant specifically designed for use with anal sex.
Anal lube is different from regular lube in a few important ways. First, it 's often thicker and more viscous, which helps to create a long-lasting and pleasurable cushioning during anal sex. Second, it's usually formulated to be extra slippery, since the anus doesn't self-lubricate like the vagina does.
Types of Anal Lubes
You can find anal lubes which are water-based, silicone-based, oil-based or hybrids. Some anal lubes also feature added ingredients to relax the sphincter or to create a slight numbing sensation.
Silicone
Silicone is an incredible lubricant for many kinds of sex, but it's especially useful for anal play. This is because it's longer-lasting than water-based lube and doesn't require repeated re-application. Having a long-lasting lube is important for avoiding discomfort.
A small amount of silicone anal lube will go a long way. Just a few drops should last for an entire session. It's also waterproof, so perfectly suited for having fun in a shower sex session. Just be careful not to spill any on the shower floor, as it's quite slippery and could lead to a dangerous fall.
Oil-Based
Oil-based anal lubes are similar to silicone in that they are super slippery and long-lasting. However, they are not compatible with latex condoms, which is a major setback. Oil-based lubes are unique in that they will naturally begin to heat up with increased movement and friction. The downside is that oil-based anal lubes can be really tricky to clean up.
Water-Based
Specially formulated water-based anal lubes will tend to be thicker than standard water-based lubes, while providing the necessary wetness, slipperiness, and cushioning.
Water-based anal lubes also have some major benefits; they're great for use with silicone sex toys and latex condoms, and clean up is much simpler than oil or silicone-based lubes. Water-based lubes are typically going to cost much less than silicone.
Unfortunately, water-based lubes are not waterproof, so you won't be able to use them in the shower.
Hybrid
Hybrid anal lubes are usually a combination of water-based and silicone lubricants. Hybrid lubes represent the best of both worlds, as they will have the thickness and stickiness of silicone lube, but the easy cleanup of water-based lubes. Hybrid lubes are fine to use with latex condoms, but unfortunately not with silicone toys.
Anal Easing/Warming Lubes and Creams
Another type of lube specifically targeted towards anal practitioners offers either numbing or warming sensations.
Anal easing creams are super thick and can be based in silicone or oil. There are also anal easing lubes which are of a normal consistency and can be water-based.
These products are designed to make anal penetration as smooth and painless as possible, so they also have tiny amounts of either natural or chemical numbing agents which will reduce pain and discomfort. These numbing agents typically take 10-15 minutes to take effect.
And while they may seem like a perfect solution for the discomfort that can be associated with anal sex or pegging, the truth is that they can create their own issues. Over-use of numbing agents can reduce sensitivity to pain and make you unaware of a potentially serious injury during sex. The reduction in sensitivity may also make you less likely to achieve orgasm.
Anal warming or tingling lubes use chemical or natural ingredients to create new sensations in both the ass and penis. While some love the novelty of these lubes, other people find them painful and say the feeling is comparable to burning.
It really varies from person to person, but if you're curious about a sensation-inducing lube you should dab a small amount on your hand and wait to see how it feels. If you like it, try administering a small dose during a sexual session. Just make sure to test it out in moderation to avoid pain.
How to Choose the Best Anal Lube For You
If you don't know what kind of anal lube to get, here are some things to keep in mind:
1) If you're using sex toys, water-based anal lubes are best
Many of the most popular anal sex toys like prostate massagers, Aneros, butt plugs and anal beads are made of silicone, so it's important to use a water-based lubricant with them. If you use a silicone-based lubricant, it will break down the silicone, making the toy less effective and potentially damaging it over time.
2) If you're using a condom, avoid oil-based anal lubes
Oil-based lubes can break down latex, which means your latex condom may not properly protect you from STDs. While oil-based lubes can be absolutely fantastic for anal, if you're using protection you'll want to go for silicone or water-based.
3) If you want the longest lasting anal lube, silicone is your friend
Silicone has a reputation for its long-lasting slipperiness and friction reducing ability. If you buy a silicone-lube formulated for anal, it will also be nice and thick, perfect for the tightness of anal penetration. Re-applying lube in the middle of a hot session can be annoying. When using silicone, your initial batch of lube should last you the whole time.
4) If you want to minimize discomfort, try a numbing anal lube or cream
If you enjoy anal sex (or are new to anal play) but want to minimize any discomfort that may come with it, using a numbing anal lube or cream can be a great option. These products work by temporarily numbing the area, which can help reduce any discomfort or pain that may occur.
5) If you're a beginner, try a thick anal cream
Some anal lubes are thinner and more watery than others. The best cushioning for her rectum will be provided by a thick, viscous anal lube. The thickest options are usually referred to as anal creams. These products are very thick and sticky and come in a jar. They can be formulated from oil, water or silicone (or a combination of all three). Some even include numbing agents. These products are the best anal lubes for beginners because they're designed to make the anal experience as smooth and painless as possible.
6) If you want an easier clean up, try water-based or hybrid
While silicone and oil-based lubes have incredible endurance for long-lasting sex, water-based and hybrid lubes will be far easier to clean up and won't leave permanent stains.
What to Look For in an Anal Lube
A few features to look out for when making your purchase:
Anal lubes can cost as little as a few dollars and up to about $70 for a single bottle. Water-based lubes will always be cheaper than silicone.
Trustworthy brands like Pjur, Doc Johnson, System JO and Master Series
Trusted brands that make anal-specific lubes will have reliable functionality and all the expected thickness and slipperiness. Pjur makes a product called Backdoor which is a high-quality silicone lube infused with all-natural jojoba to relax the sphincter. Doc Johnson produces a popular desensitizing anal lube called Rear Entry. If you're looking for an anal cream, Master Series produces a potent super-thick and numbing product called Invade.
Thickness and consistency
Anal lubes come in a wide variety of thicknesses, from watery all the way to jelly-like. Your preference will dictate which to get for yourself. But for anal purposes, thicker will usually mean longer-lasting and more cushioning.
Oil-based and silicone lubes are usually waterproof. If you love water play, look out for anal lubes that advertise it on the label.
How To Use Anal Lube
Lubricant is absolutely essential to the anal experience. Here are some tips on how to put anal lube to use:
1) Apply a generous amount of lube to her sphincter
Start by gently rubbing a good amount of lube on to the receiver's sphincter using your fingers.
2) Lubricate the rectum
Next you'll want to lubricate the inside of her rectum. Remember that you'll want her rectum, sphincter and the penis or toy you're inserting to be thoroughly lubricated. When it comes to anal, there's no such thing as "too much." Safety and comfort should be your top priority.
To lubricate her rectum, you can stick a well-lubricated finger or toy inside them. You can continuously rotate a toy to ensure the lube is evenly distributed inside.
Another option is to use a 'lube shooter' device or an anal lube injector. The device consists of a tube with a plunger, and a small nozzle attached to the end of the tube. The lubricant is placed in the tube, and the plunger is used to push the lubricant through the nozzle and into the anus.
3) Penetrate and thrust
Make sure to start slow. If at any point your partner experiences pain or discomfort, apply more lube. Not using enough lube can lead to painful tears in her tissue which can also make both of you more susceptible to STIs. So never hesitate to use as much as you need to feel comfortable.
3) Clean up
Water-based lube won't stain sheets permanently and can be washed off with water. If you are using silicone or oil-based anal lube, you might consider putting down a towel to avoid staining your sheets.
Otherwise, it's best to treat stains before they dry. You can try rubbing the stain with dishwashing detergent before running it through the washing machine. Make sure the stain is fully gone before drying your sheets.
Benefits of Using Anal Lube
Anal lubes have a lot of great benefits:
Can make anal sex more comfortable
Effectively reduces friction during anal sex
Decreases the likelihood of breaking a condom
Can help make sex toys more safe and pleasurable
Thicker and longer-lasting than normal lube
Some formulations include numbing agents to reduce pain and discomfort
Disadvantages of Anal Lube
Anal lubes can have a few downsides:
Some can be difficult to clean
Can have harmful additives
Can be pricier than generic lube
Silicone anal lubes can't be used with sex toys
Numbing lubes can decrease sensitivity to pain and make you unaware of a serious injury
Oil-based lubes can't be used with condoms
Anal Lube FAQ
Can you use normal lube for anal sex?
Yes, you can use normal lube for anal sex. However, using a lube that is specifically designed for anal sex can make the experience more pleasurable and reduce discomfort. The anus is an extremely sensitive area. Anal lubes are designed with this in mind and are typically thicker and more viscous than normal lubes.
Can I use condoms with anal lube?
Yes, it is always recommended to use lubricant for anal sex with or without a condom. If you are using a condom, keep in mind that you should avoid using oil-based lubes as they can break down latex, rendering your condom ineffective.
Are anal lubes waterproof?
Some anal lubes, specifically those which are silicone and oil-based are waterproof. This means that they can be used in the shower or bath without washing away.
How do I wash anal lube off of my body?
Water-based anal lube should come off with water. Silicone and oil based lubes might require a shower with warm water and a bit of soap to thoroughly remove.
What type of lube is best for anal sex?
There is no definitive answer as different people have different preferences, but silicone is generally considered a champion in the world of anal sex due to its long-lasting nature and its sleek, slippery feel.
References: