The best penis extenders are:
Phallosan Forte. I tested this extender the first time in 2013 (see documented review below). We re-tested it as our editorial team grew and still rank it #1.
SizeGenetics Lightweight, comfortable, and proven.
Penimaster PRO High quality materials. Not so fancy as others, but a solid option.
I have tested and reviewed penis extenders for 10+ years. Most of the reviews you will find online are fake, I challenge you to find photos like mine showing an hand-written website name to prove ownership.
I have tried countless penis extenders and finally come up with the list of the best penis extenders in the world right now.
Disclaimer:
Penis extenders are medical devices. Results can vary greatly from person to person depending on a number of variables. You should not use a penis extender unless recommended by your doctor. We advise that you speak to your doctor before using one.
The Best Penis Extenders
Following the points explained above, we've done our best to pick out the chaff from the wheat in the world of penis enlargement.
Our team created a pool of well-reviewed cock stretchers and painstakingly appraised each one. Let's check them out.
1) Phallosan Forte. Best Overall.
A comfortable penis extender you can wear while you sleep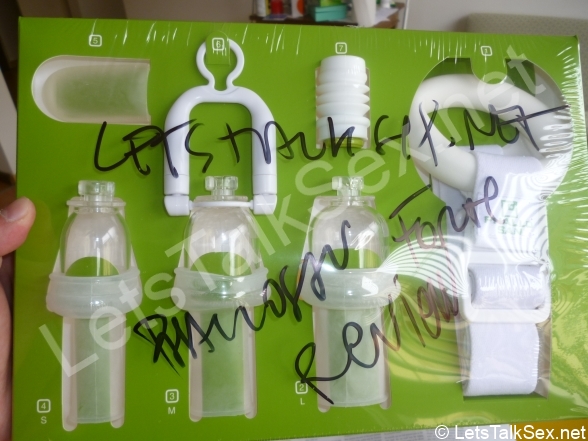 Read my first, popular and famous Phallosan review
The Phallosan forte extender is a staple of comfort. It comes with a belt and uses vacuum powered tension to provide the traction needed to enlarge the penis.
It uses a belt and a suction bell, which comes in three different sizes: S, M, and L. You have to measure your prick to find out which size fits you best.
The suction ball has a 3-way valve to suck out the air from the suction bell. A protector cap protects the delicate skin of your dick head from any irritations or strong tension.
With Phallosan forte, you can set the tension level yourself as with many extender device. But not many give such an artful and visible measurement as Phallosan's belt.
It as a small indicator that glows green when tension is light, yellow when it's medium and red when it's quite high. With an estimated 3kg of force hidden within this device, you'll need it.
Phallosan only has one package, and it's $339. You have to pay an additional $25 shipping if you're buying from the USA, totaling up to $364.
Once you figure out how to put the device on with the instructions, you're all set.
There's no need to change your routine around when and where you can wear the Phallosan Forte. The elastic belt and soft hypoallergenic silicone allow you to move whatever way you wish.
The manufacturer has even given the okay to wear it to sleep.
Phallosan is a result of over eighteen years of study, and it reflected in the results. A recommended 1,000 hours is needed to achieve worthwhile results. It takes loads of consistency, a few hours per day, but it's doable.
Performance: Our tester wore his for around 1,330 hours, give or take, and he gained a solid 2.1″ on his cock. His gains took him from 5.2″ to 7.34″ in length. He also gained an extra 0.9″ in girth.
Because of the extraordinary comfort of the device, it's okay to wear it for a long time. And as you well know, when extending, longer is better. I want to point out their customer support is amazing
Specifications
Warranty: Two years warranty on spare parts
Time recommended: From six hours up
Length extendable: No official length limit, but it's been reported to be uncomfortable on penis' above six inches.
Highest amount of tension: 3000g
Average percentage increase in size: N/A
Safe for sleep: Yes
What we liked (Pros)
Can be worn to sleep
Can be used for penis enhancement as well as treatment of Peyronie's disease, erectile dysfunction, and erectile tissue training after operations.
Has an app that's downloadable from the Apple Store and Google Playstore. It gives information on any product news and provides pro tips for your Phallosan Forte.
The sleeve is durable and can expand to accommodate erections.
It grows girth as well as length.
What we didn't like (Cons)
Not the best extender for dicks above six inches.
Not easy to clean.
Not waterproof.
2) SizeGenetics. Best for Comfort.
Read my complete SizeGenetics review.
SizeGenetics has been around since the 1990s, which should give you a general awareness of how effective their products are.
They originally went into building devices to correct Peyronie's disease (penile curvature) but found that their machine worked well in enhancing the length and thickness of the penis'.
SizeGenetics penis extender has been clinically tested and verified by doctors in the field of urology and plastic surgery, as well as by male sexuality experts.
This company has four options: the Sizegenetics Ultimate system, the Comfort system, the Value Pack, and the Peyronie's & Curvature edition. Their prices range from $200-$300 depending on the models. We did tell you that you might have to splash a little cash to get the reward you want.
The SizeGenetics' Value Pack contains the bare necessities; the SG device, a comfort strap, pad, and two bars. Unless you're strapped for cash or a complete beginner at penis enhancing, we do not recommend this package.
The Comfort system is much better equipped with SG's 58 Way comfort system and different sizes of elongation bars plus everything that comes with the Value Package.
The SG Ultimate System gives all the comfort of the Comfort Package but it's designed to give you faster results. With the adjusters found inside the SG Ultimate package, you can wear your device under your clothes, and no one will notice a thing.
It also comes with a luxury case, a travel case, a silicone tube, eight elongation bars, a comfort strap, a protection pad, Traction Plus powder, Revita cream moisturizing lotion, etc. A few extras were added for a difference of $50 to the price of $250 for the Comfort system.
All SizeGenetics packages come with a full one year warranty, which struck us as very generous. SG claims to be able to add an extra 29% of cock to anyone. After personally testing the SizeGenetics Ultimate System within our team for six months, we re-measured.
From an erect penis size of 6.3″, our dude was able to add an extra 1.8″ to make a total of 8.1″. He also reported a stamina boost, one big enough to excite him and his girlfriend. One we've heard enough about.
Specifications
Warranty: One year
Time recommended: 4 – 6 hours
Length extendable: Up to 10″
Highest amount of tension: 2800g
Average percentage increase in size: 29%
Sleep: No
What we liked (Pros)
Comes with no-slip protection.
Waterproof.
Great customer service.
Officially recognized as a medical solution.
Customizable
What we didn't like (Cons)
Kind of challenging to assemble.
Difficult to clean and maintain.
More expensive than other extenders.
3) PeniMaster. Best Materials.
Read my comparison PeniMaster Chrome VS Penimaster PRO. Both tested and reviewed.
The PeniMaster has two brands under its name: the PeniMaster Classic (former "Chrome") and the PeniMaster Pro.
The PeniMaster Classic relies on the same system of traction device as SizeGenetics or Quick Extender Pro. It's the traditional traction rod extender process, which places tension on your cock by way of springs and extension rods.
It's made of hypoallergenic reinforced glass fiber. It applies to penis sizes from 2″ to 11″.
The PeniMaster Pro's design is a lot different than the Classic. Instead of just rod extenders, the Pro uses a combination of vacuum, adhesion, and positive-locking fit. It can be used with either belts or rods.
The PeniMaster Pro rod expander system is basically a combination of PeniMaster Classic and PeniMaster Pro Basic.
It uses the weighted rods with the automatic adaptation of the vacuum to your glans to create a symmetrical, traction-grown penis. The device has a tension indicator that measures the tension applied from 200g to 1150g.
The Belt Expander is yet another elongation tool from PeniMaster but the most comfortable yet. You can wear the belt on your hips, shoulders, or knee. With this kit, it's the pulling of the belt as you go about your daily activities that exercises enough pressure to elongate your penis.
And finally, the PeniMaster Pro Weight Expander. Using the design of the Basic system and mountable stainless steel weights (125g, 250g, 500g), the Weight Expander uses this to create the force needed for traction.
Or you can just buy the complete set. The whole set comes with the Basic system, the Belt Expander system, and the Rod Expander system. We found this set to be much more economical overall. It doesn't hurt that shipping is free, either.
Our PeniMaster Pro came in discreet shipping and according to our tester, it was not easy to install. It took a while before he was able to hook it upright, even with the instructional DVD. But, once it was on, this device was comfortable as hell.
Taking it off and putting it back on later was much easier, and it could be used under regular clothes, which was a shocker. Our tester followed the recommended guidelines of no more than 1200g of tension, but he wore it for around ten hours, five days a week.
At the end of seven months, he re-measured and noted a 1.4 inch gain in length and 0.6 inch gain in width.
What we liked about this product are its painless gains and fantastic comfort. It was easy to get used to.
Specifications
Warranty: Three years
Time recommended: Up to 12 hours a day
Length extendable: Without rods, 11″. But with rods, there's no maximum length.
Highest amount of tension: 7600g
Average percentage increase in size: 30%
Safe for sleep: Not recommended
What we liked (Pros)
Very comfortable
Can be used to treat a variety of sexual health problems.
The belt system can be worn in different styles.
Lightweight
Not obvious under clothes
Gains may come faster because of how easy it is to wear.
Easy to clean
What we didn't like (Cons)
A bit expensive
Hard to set up at first
4) Quick Extender Pro. Best for Speed.
Top-selling extender with hordes of raving fans
Read the full QuickExtender PRO review
The Quick Extender Pro has remained a giant in the penis enhancement industry for over a decade now. The company manufactures its products using only the highest quality hypoallergenic materials and aluminum.
The Quick Extender Pro is your best bet if you want a fast and easy slide into penis enlargement.
The Quick Extender Pro brand comes in four packages to suit any budget. There's the Quick Extender Deluxe Limited Edition, their most expensive package.
The deluxe limited comes with all the bells and whistles, including DVDs, the Quick Extender (of course), DSS system, Smart Tension self-adjusting springs with an industry-leading force of 4000g.
It also comes with three free boxes of Rizer XL male enhancement supplements and a pump to further increase your results, although we don't recommend you to use a pump. There are spare parts included, a mahogany box, a travel bag with a lock, and memory foam.
The standard deluxe edition comes with all the same things as the deluxe limited edition but in lower quantity and without the mahogany box. The Rizer supplements are just enough for a month, and the limit of the spring tension is 3500g.
But it's much more economical and fits nicely within the average person's budget. Though the value package is cheaper, most people prefer to start off with the standard edition.
We chose to test the deluxe standard based on two things: the reviews and the fact that the pricing is low enough for the common man.
Performance: One of our team tried it for seven months, starting off at four hours a day for the first month and then increasing to six. He reported back that while it was uncomfortable for a week and took some getting used to, it rarely got painful.
After a month, he reported back that his dick had grown about 0.8″. After four months, it had gone from 6.2″ to 7.9″. By the time he took it off just shy of seven months, he was at 8.16″.
So, as you can infer, as you use the extender, your results should be rapid for the first few months. Then, they begin to slow and plateau.
All the same, you might expect around 28% increase in your cock if you wear this correctly and follow instructions. If you have any questions, the fine people at Quick Extender are patient and professional.
Specifications
Warranty: Six months to a year, depending on the package bought.
Time recommended per day: 4 – 6 hours
Length extendable: Up to 16″
Highest amount of tension: 4000g
Average percentage increase in size: 28%
Sleep: No
What we liked (Pros)
Comes with lots of items.
Best value for money.
Has a package for all budgets.
Has a package for Peyronie's and erectile dysfunction correction.
Customer service is excellent.
Fast delivery.
Warranty of six months to a year.
DSS system.
Comes with Rizer supplements.
Discreet packaging.
Accommodates penises of up to 16″.
What we didn't like (Cons)
Can be challenging to assemble.
5) Male Edge. Best for Larger Penises.
The Male Edge penis extender is a device, which we put on this list for its modern design and simplicity. The penis extenders themselves are manufactured in Denmark.
The Male Edge penis extenders come in three packages, with prices ranging from $130-$170. These prices make it one of the more affordable machines on our list.
The kits are the Male Edge Basic, which comes with the device, a measurer, a product box, a travel bag, a Male Edge program brochure, two Male Edge rubber straps, and a My MaleEdge Training Diary.
The only edge the Male Edge Extra has over the basic package is an extra rubber strap and a protection pad. The Pro version has five rubber straps, two protection pads, and a piece of cohesive gauze, a much better deal for the difference of $20.
The Male Edge Extender promises a growth average of 29% and 19% for length and girth, respectively. But you must follow the program outlined in the brochure that comes within every pack.
If you don't follow it, they can't guarantee your results. Male Edge has been doing penis growth research for over a decade, so we think it makes sense to defer to the experts.
The program increases the tension of the device and the hours worn every week. We noted that once you get all the parts assembled correctly, it is comfortable to wear.
You can document your progress online when you register with their online community. If you've followed your program and used the penis extender for over a thousand hours without results, you can ask for a refund.
Here's the kicker: Male Edge will not only pay back your money, but they'll double it.
"I did not do daily measurements, but after the three months, I found that I had my missing inch back and another one for good measure. To say that I am pleased with the results would be a massive understatement, I am very glad to have made the investment."
Specifications
Warranty: One year
Time recommended: Depends on the program
Length extendable: 11″
Highest amount of tension: N/A
Average percentage increase in size: 29%
Sleep: No
What we liked (Pros)
Has a range of 2 to 11″
Waterproof
Can wash it in the dishwasher
Made with hypoallergenic materials
The more you use it, the better the results.
Only 13 parts, so not too tricky to assemble once you've got the hang of it.
What we didn't like (Cons)
The first time assembling might cause a bit of swearing and sweating.
Not the most comfortable device for uncircumcised men.
Have to be utterly flaccid before putting the Male Edge on.
6) Jes-Extender. Best Luxury.
The Jes Extender has packages and prices for budgets ranging from average to very wealthy. The lowest-priced Jes-Extender product is $200, and the highest raises the roof at $1000. The Jes-Extender was initially created to assist with post-op penis treatment.
Apart from extending the penis, this penile stretcher can still be used for post-op treatment and a solution for Peyronie's.
The Jes Extender has six products; the Jes Extender Light, Jes Extender Original, Jes Extender Titanium, the Jes Extender Silver, the Jes Extender Gold, and the Jes Extender Platinum. All these extenders have a limit of 9.1″ except the Jes Extender Light, which is the smallest product.
The first or beginner version consists of one Basel unit (extender), one dual-function front piece, one silicone tube, one comfort strap, one protection pad, two 1-inch elongation bars, two 2-inch elongation bars, and a Quick Guide.
The Light version has a limit of 6.7″ and a one year warranty. The other versions don't really differ much from the basic except for more of certain accessories.
The Jes-Extender is CE certified. This means that the product has gone through rigorous testing to make sure it's safe by European Union standards. Jes-Extender is already classified as a Type 1 medical device.
The extender uses hypoallergenic, transparent silicone on its less expensive products.
The Jes-Extender Original arrives in a mahogany box discreetly and won't torture you when combining all the parts. It is pretty easy to figure out.
The installation is quick too. The manufacturer gave an average of 24% increase in penis size after following the program, but some people use the device longer and therefore, see better results.
We quickly found out that the Original is a basic set and is pretty simple to install. The manufacturer gave an average of 24% increase in penis size after following the program.
Our tester came back with results of a 24.5% increase from 5.3″ to 6.6″ in six months. Actually, he hasn't stopped using the Jes-Extender.
He sometimes wears it to work under loose pants, and the only reason the team knows it's there is that he's told us.
Specifications
Warranty: Varies according to package
Time recommended: Depends on the program
Length extendable: 6.7″ or 9.1″
Highest amount of tension: N/A
Average percentage increase in size: 24.5%
Safe for sleep: No
What we liked (Pros)
Long warranties
Lots of variety in the price range
Gives a level of luxury to penis enhancing
Double money-back guarantee
Can be worn under loose clothing
Medically tested
Improves blood circulation and, therefore, gives better erections.
What we didn't like (Cons)
Price is relatively high compared to other PEs.
Somewhat difficult to clean
7) ProExtender. Best Gentle Traction.
This cock stretching device is so good and so effective that at a point, you needed a medical prescription to get one. Of course, all that changed when they realized the average dude also wanted a few extra inches to play with.
Those with Peyronie's don't want to have to go explain to a doctor that they need a machine for their penis. The ProExtender might be on the more expensive side, but there's no denying that it's really effective.
There are two versions of the ProExtender up for sale. The Original ProExtender and the Deluxe ProExtender. You can quickly tell the difference between the two because the Original comes in a Cardboard box, and the Deluxe comes in a metal case.
The Original ProExtender includes ProExtender device with adjustable bars, a silicone nose, one set each of long and short add-on bars, some padding, DVD instructions, and a manual. The ProExtender is made of light and hypoallergenic materials.
Assembling this product is extremely straightforward, and the instructions are unambiguous. The instructions are also on the company's website, which is an excellent backup for users.
The device is easy to wear. The traction bar highlighted the amount of force being used. The ProExtender is comfortable and made so by the padding that came with it.
It's light, and you can wear it for hours. The traction weight is not too high at 1200 grams, so you may need to wear this device for hours to start seeing results in a few months.
It sounds like a lot, but that's just the level of comfort the device provides. The ProExtender guarantees your money back if you don't see results after a thousand hours of use or 187 days.
Specifications
Warranty: N/A
Hours recommended: 1 – 12 hours
Length extendable: N/A
Highest amount of tension: 1200g
Average percentage increase in size: 29%
Safe for sleep: You can try, and if it's uncomfortable, stop at once.
What we liked (Pros)
Medically tested
Easy to assemble
Instructions are both in print and digital.
Gentle traction
Comfortable
Hypoallergenic materials
Suitable for other post-op penis tissue training
What we didn't like (Cons)
Relatively expensive
Not waterproof
Why Buy a Penis Extender
For some of us, we didn't want a bigger penis till our partner let it be known that yes, we were on the small side. The average man's penis is around four to six inches. But even our blessed six, seven, eight, and nine-inched brothers crave another inch or two.
What dude doesn't want to take his pants off in the bedroom and have their partner's jaw drop? Remember how the boys in gym class whispered about that one guy's massive schlong in the gym showers? Remember the automatic reverence and respect just having a big dick got him?
It might be crazy, but that's the current society we live in. There's the famous argument that "It's not the size, it's what you do with it." Half of that sentence is bullshit, and it's the size part. But not to worry. If you want an extra inch or two, there's a legitimate, scientifically proven way to get some.
A penis extender is a device constructed to add length and girth to your penis without invasive surgeries.
Years ago, our forefathers used to do all sorts of dumb shit to add an extra inch or so to their dicks. A quality penis extender can give you those extra inches for a price ranging from $250-$500. Pretty special, considering surgery to lengthen your dick goes up into the thousands.

How do Penis Extenders Work?
Penis extenders use the science of traction to grow your member. By traction, we mean that these devices steadily stretch your penis slowly and farther. Not gonna lie, this can be uncomfortable sometimes.
But all of us dudes on the team that had to try it to write this guide noticed that while it does get uncomfortable, it doesn't cross the line into actual pain. The awkward feeling does fade after a while.
Contrarily to a penis pump, a penis extenders stretch the penis slowly. Most manufacturers will advise you to wear the product for four to six hours a day. You have to do this over six months and beyond for the best results.
The reason for this is that penis extenders stretch your pecker, and the penis cells stretch with it. This leaves small cellular spaces. Your body automatically creates new cells to fill those spaces. You get more comfortable with the stretch? That's your body playing fill in the gap with your cells.
As you continue to increase the pressure on the extender, the cells continue to grow and voila! You got yourself a longer schlong after a few months. Penises that are extended this way have actually been proven to have better erection quality than a surgically lengthened penis.
In normal speak, that means your organically grown pecker might be harder than that dude's who went to get his on the operating table. Your months of wearing a penile brace won't be in vain.
The knowledge and science of cock extenders have continued to spread, and more people are trying it nowadays. And, as consumer demands increase, so does the production.
Because of this, more and more manufacturers are promoting their penis extenders with the knowledge that their contraption won't do jack squat for you. Substandard, quack devices can actually cause serious problems for you.
An improperly constructed extender worn over a long period can give you ejaculation problems or worse. It can also cause bruising, chafing, and wounds. Not something you want to mess with. So, what should you look out for when buying a penis extender?

What to Watch Out for When Shopping for a Penis Extender
Here are a few things to keep in mind when searching for a capable penis extender:
Motive: When looking for the best penis extender for you, you've got to consider what exactly you want to gain from it. Do you want more width or length to your penis? Or you need a cock extender to provide relief for your penile curvature.Any of these reasons could be your motive, but you have to look at the features and pick an extender to help you achieve your gains.
Comfort: As I said before, most manufacturers will advise you to wear the penis extenders for four to six hours a day for six months. That's about one-sixth to a quarter of your whole day.Definitely not a length of time you want to be uncomfortable for. Some people choose to wear theirs while at home, breaking the allotted time into two or three bits when they'll be at home. But sometimes, for some people, wearing it in public is unavoidable.In these instances, a good penis extender should come with a variety of ways to wear it, including bands, belts, straps, fabric, rings, etc.Consider the size and shape of the device before you buy it and compare it to the clothes you usually wear. Some extenders are small enough to be used underneath clothing.
Material: Make sure that whatever extender you buy is made out of hypoallergenic products. Please. We cannot stress this enough. This contraption is going to be strapped to your penis for thousands of hours, literally.If you know you have sensitive skin, this is doubly important. You might even want to get checked out for any skin allergies you might have before buying.It is that serious. If your extender is made out of any material you're allergic to, you can get an outbreak of rashes, hives, eczema, and swelling (not the good kind).
Good reviews: This ties directly with the usefulness and safety of the product. Bad extenders can cause many problems while wearing. It can even stop blood circulation to your penis. Use tried and tested extenders.Always read the reviews. People don't hesitate to leave scathing remarks for any product that doesn't meet their expectations. They'll also leave glowing reviews for those that do.
Cost: The highest priced penis extenders come in at over a thousand dollars. Those are the big leagues, but as I said before, you can get a great cock stretcher for between $250 and $500. This may seem like a lot of money to you, but it's worth it if you want those few inches grown right.
The Science of Penis Extending
We've looked at the best penis extenders, but now, we'll sate your curiosity a bit. Men have been trying for centuries, or even millennia, to add some more size to their penis. It's been a topic amongst men for as long as we knew what it was used for.
Some scientists and experimenters have tried all sorts of means, from the weird to the painful, to the downright crazy. But it was only in the late 80s to early 90s that a way to enlarge your prick through traction was discovered.
The science behind traction is based on the fact that the penis is basically just a heavily nerved piece of skin with lots of blood vessels.
This means that, like every other piece of skin that is stretched out for an extended time, it stays that way. It is a process that encourages cell growth called cytokinesis. But the result is the more extended skin.
Research has discovered that the penis, when stretched, creates micro-fissures, invisible to the naked eye. You won't be able to feel them, either. When there are a lot of these microscopic tears, your body starts to heal them, by creating new cells in the gaps left by the tears.
This is the process of cytokinesis. As the stretcher continues to stretch your cock for hours, day after day, your dick continues to have micro-tears.
When this goes on for an extended period, your body begins to go into overdrive and creates new cells at a rapid rate. This circumstance is the fast growth spurt your penis undergoes within the first few months of your extending program.
After a while, the development plateaus for a while. Some men wear extenders for up to two or three years and grow up to three inches.

Clinically Tested Penis Extenders VS Untested Extenders
In some of the reviews above, it's noted that some cock extenders have been clinically tested. What does being clinically tested mean?
When a penis extender has been clinically or medically tested, this means that it has been verified by doctors in related fields (such as urology), to do what it claims to do. It is kind of like an official stamp of approval.
Think of it in the same way the FDA checks the claims of fold and drugs brought into the States. When a company is able to put that "FDA approved" logo on its product, it's announcing itself. It's going, "Hey! Hey, I'm trustworthy. Even the authorities agree."
While clinical testing does give credibility to a penis extender, the lack of testing should not discredit any penis extender companies. There could be various reasons why a company that makes penis extenders might not bother with medical testing.
Maybe they don't yet have the resources. Maybe they feel that their loyal customer base and hundreds of good reviews speak well enough for them. It could be some other reason other than these two.
But rest assured, a good penis extender always goes through some tests to ensure the safety of customers. And as we said before, it's also important to read the reviews on any extender you want to buy.
Men that try these devices and wives or girlfriends of those men are very, very vocal about what works for them. Especially on a topic such as penis extending where everyone wants to tell or show off their gains to other members.
It is, after all, a thing of pride to say you enlarged your penis all by your lonesome.
So, a clinically tested penis extender may not necessarily be better than one that is not. But when looking for the best penis extender for you, read the reviews and compare anyway, just to make sure.

Frequently Asked Questions (FAQs) about Penis Extension
Is enlargement the only benefit of penis extending?
No, it is not. Many customers report straighter penis' in the case of Peyronie's disease. Men with erectile dysfunction report better, stronger erections after using a penis extender.
But even healthy men who're just in it for the enlargement report harder erections and better stamina after extending. This happens because the stretcher works by applying tension to stimulate cell growth.
This process also enhances blood flow to your dick, resulting in better stamina and reduced erectile problems.
Are there any age limits to penis extending?
You have to be at least 18 years of age to buy any penis extender, so no underage penis extending. But that's just about the only limit. We recommend you to speak to a doctor before using a penis extender.
Are all penis extenders the same?
Most penis extenders are the same in the sense that they all use the science of traction to help you achieve your aim. But that's where the similarities end. Some penis extenders use a noose, strap, or vacuum as a part of their device.
Medical professionals have evaluated some. The materials used are different. Some are just for enlargement, while some can be used for post-op treatment, chordee, erectile dysfunction, and Peyronie's disease.
What if I want to get longer than the device I'm currently using?
An easy fix for that is to get longer rods or whatever your device uses. Your penis extender should be adjustable, but if it is not, you might have to invest in another.
Are there any side effects of PE?
If you use your penis extender correctly and follow the program the manufacturer provides (if there is one), you won't have any adverse side effects. Some people have indeed had some problems with their pricks after using a penis extender.
But in all those cases, it was found that the penis extender wasn't worn properly or as indicated. There could also be the chance of discovering a new skin allergy when using a penis extender. This is why you have to make sure your extender is completely hypoallergenic materials.
Or make sure that you do not have an allergy to whatever material the manufacturer uses.
Can I have sex while using a PE?
Of course, you can! Wearing a cock extender shouldn't stop you from going at it whenever you want. Many men have even reported that they have better stamina and better erections.
The only slight drawback is that it does present a bit of a challenge to remove when you just want to strip and go at it.