We have tried and tested plenty of butt plugs. Here's our list of the best butt plugs in the world. Yes, don't even think about it, you can't use a dildo for your ass.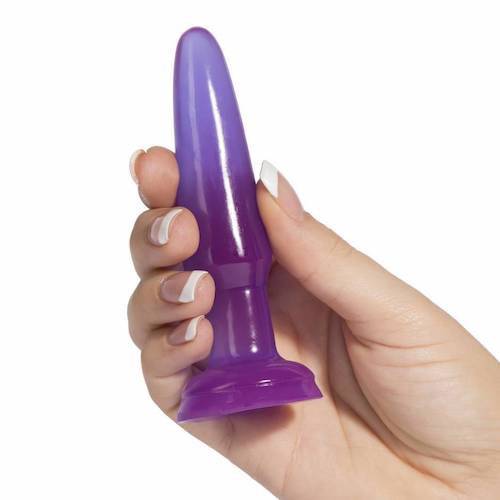 What is a butt plug?
A butt plug is a sex toy used for anal penetration both for masturbation, during sex or for anal training (in preparation for anal sex).
Contrarily to dildos and vibrators, butt plugs are specifically designed to go in the ass, and to stay there.
For this reason they all have a thin entrance part looking kinda like a reverse cone, followed by smaller part, designed to help lock the butt plug in your sphincter, and a flared base (important to make sure you don't lose it inside you).
Top 3 Butt Plugs
Lelo Hugo – Best butt plug for men.
Training Kit – Great budget option. Three sizes, easy to get started.
Ignite 20 – Vibrating, beautiful and made of super soft silicone.
We've reviewed 26 more amazing butt plugs.
How to Choose the Best Butt Plug for You
When you're shopping for butt plugs, especially when you're buying your first butt plug (which is probably what took you here today) it is important you keep in mind a few basic principles:
Surface
You want a butt plug with a smooth surface without ridges or sharp angles. It can be latex, vinyl or silicone (or even glass – although we don't recommend glass for beginners in case you break it inside and then send me an angry email from the emergency room).
If you're allergic to latex, just go for a silicone anal plug.
Consistency
It could help you to choose a butt plug that is firm but soft as well. Some silicone plugs are like that. It will be hard enough that you can slide it in, but also soft enough for you to accommodate your anus.
Size
If you're a beginner you don't necessarily have to take a small plug. Sometimes small butt plugs are actually too small, so they will slip out of you (especially if you use them during sex, in the heat of the moment you will shoot them across the room from your ass).
On the other hand, if you want to go for a small plug, it's ok, but make sure to clench your pelvic muscles (kegel muscles) while wearing it. If you want more on idea we discussed how to use a butt plug a few weeks ago.

The 26 Best Butt Plugs
Whatever you're into, we've researched, compared, and completely immersed ourselves into the world of anal plugs. We've laid it all out for you, all you've got to do is take your pick and you'll never walk the same again.
Best anal plug for starters featuring cute hearts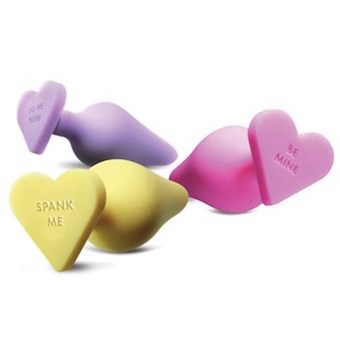 Trying to think of a creative way to introduce the idea of anal play to your partner? Then this adorable plug could be the way to get your sexy message across.
Each plug has it's own special message to choose from – "Spank Me", "Be Mine", and "Do Me Now"- and the pretty pastels make it perfect for sweet and sexy bedroom play. Being 1.5" at its widest, this is definitely a good introduction to backdoor play.
My own introduction to anal was a little more aggressive, and well… girthy… and that worked for me. But if your partner needs a bit of gentle coaxing then this little delight is one of the best butt plugs to start with and it might be just right for you.
If you're bored, this is the best butt plug for you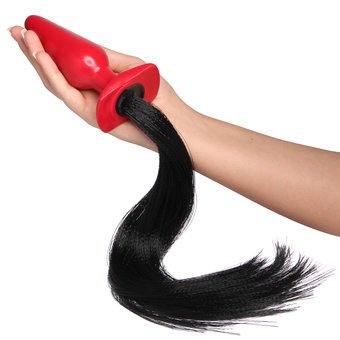 The greek philosopher Aristotle is famous for many things, one thing he may not be as famous for is the legend that he was fond of being ridden around like a pony – while wearing an ancient version of a toy just like this – a butt plug with a pony tail.
Yes, one of the greatest minds in the western world seems to have been just as dirty as mine. I have to admit that as much as I love a good cowgirl ride, the fun of being ridden is just something special.
Once in place this plug's silky horsetail can be used to gently tickle your thighs or whip your butt. A surefire pleaser for horse and rider, oops I mean tops and bottoms alike. No matter how you use it, it'll leave you in a lather.
A kit of anal plugs of different sizes

Have you ever been getting pounded and thought, damn, if this were just bigger? Or maybe you've gotten started with a modest toy and been overwhelmed with the feeling of more, oh dear God, MORE. As with any endeavour one has to start somewhere, and quite honestly, anal play can be intimidating.
More than one of my friends has said they are just too scared that anal might hurt to even give it a try. My arguments don't help because they know my tastes run large.
So this is the set of toys I point them to. This set of 3 starts small and grow to incrementally larger butt plugs, just like your appetite for size will grow as you get used to the wonders of being full…
They start so perfectly innocently, 3" long and 1" wide and work their way up to an eye-bulging 5" long and 2" wide. And all of them with a perfectly flared and phallic head to fill you up just right and maybe prepare you for 'the real thing'.
Great butt plug to start with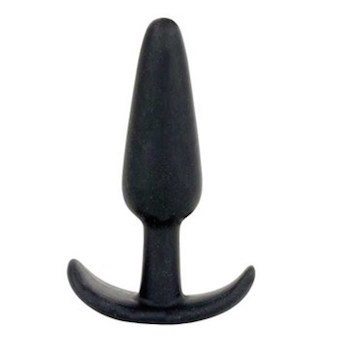 This plug is perfect if you have no idea what you are doing. It is a respectable girth – so you'll feel it – but isn't going to rip you apart. It's easy retrieval handle is there to help you out when you're done but is discreet enough that I can sneak around with it all day without anyone being the wiser.
Best of all, it comes in 2 sizes, so once again you can start small and make way for larger when your modesty gives way to 'more please!'
A 4 inches long butt plug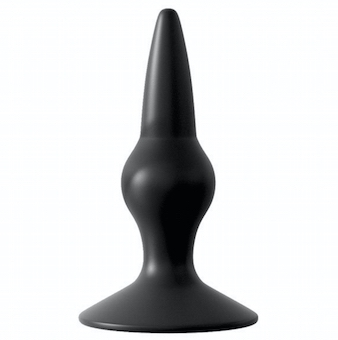 The Anal Fantasy Starter Plug is comfortable and stimulating for both veterans and novices alike at 4" long and 1" in width.
A key feature though, and one that helps make it a great toy is its suction cup that attaches to any smooth surface-such as hardwood floor, shower wall or chair seat, maybe even the hood of your car – don't you just love destination adventures!?).
Need warming up to the main event? This comes with an a goodie bag stocked with finger condoms, lube, anal eaze, and even toy cleaner. It's like they read your dirty little mind!
Phallic realistic cock looking butt plug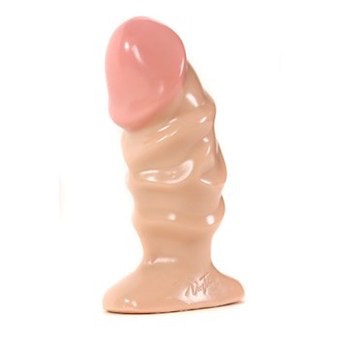 This cock-shaped plug is going to fill you up. Ridged with life-like veins and phallic head, this 1.5" thick plug is not going to leave you asking "is there anything in there?"
Recommended for intermediate ass-players, and those like me who prefer their toys on the more realistic side, this is going make you groan all night long.
A beautiful glass plug that comes in 3 different sizes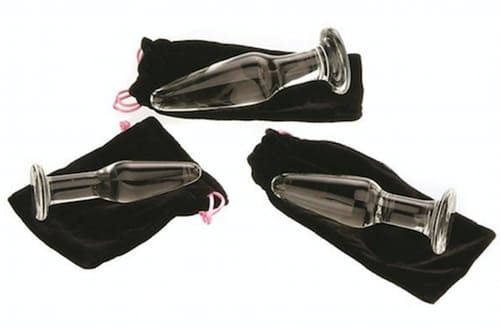 If you're trying to get some skin in the game and you don't know where to start, this three-piece anal toy training kit is for you.
Personally I had to get over my fear of glass toys before I could really enjoy these things. I mean what if it breaks inside me!? Its texture though is both smooth and completely safe and slips in easily, perfect for exploratory play.
The 3 different sizes, ranging in width from 1.15" to 1.55" means that not only will these slide in smoothly, but there is room to grow as your enjoyment of anal play grows. All that, and the glass makes them really pretty too, and very easy to clean.
An anal plug with tail for those who like it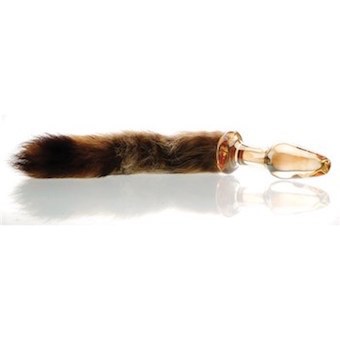 If you're looking to excite your most carnal needs, this glass tail plug is for you. The sizeable plug will keep you stimulated while the foxtail will make you look and feel like the animal inside. RAWR.
There are so many different kinks that can be accommodated with a toy like this, and the 1.5" girth will make sure you feel full while fulfilling those desires!
Spaceship looking plug for anal sex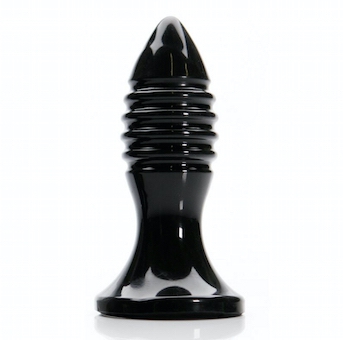 I love the spaceship look of this plug! I could shoot for the moon on this toy – or at least land in the stars. It's not a choice for a day when you're feeling wishy-washy, though.
That gorgeous silicone head swells out to its full 1.35" pretty damn quick, making me think that you'd already be stretched deliciously by the time you hit the deep ribbing down the main shaft.
Lube this rocket ship up and I can imagine losing a whole evening exploring the unknown depths of inner space. Dear God… it vibrates too. And it's waterproof. It's like these Tantus people don't want me to do anything productive, ever again…
An anal plug set for training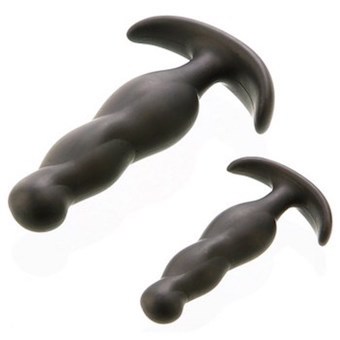 This set is made for people who are learning what they are doing or just into less-extreme anal play. I'm not always into marathon sex sessions (anyone else here have a day job?) but this set covers the bases with solid good design.
There are two different lengths in this one so you can enjoy different levels of penetration. But the real star of this show is cork-screw designed that is guaranteed to make you wail with pleasure.
Anal Plug with a wide head

The Hitch, they call it. LIke a trailer hitch on a truck, and now I can't see one on the highway and not think of this! There is no starting taper on this beauty at all, though it feels a little softer than the jelly type plug.
It will still take lube and patience to work it into place, and a little while to get used to the rubbery smell.
Once you get there though (and isn't the journey part of the fun?) the delightfully wide head is secure enough to leave in place for hours of play. This thing seriously is not a novice ride, but if you can work your way on to it it's so worth the effort.
A big huge large anal plug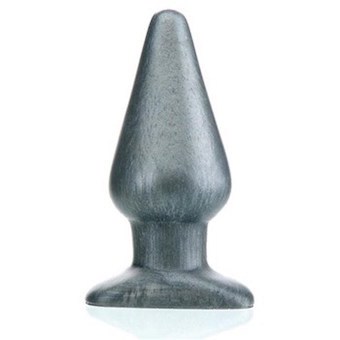 Let's get this out of the way right from the start, this plug is simple and huge. It is not for beginners at all, and I dare say not for the intermediates either.
You really have to like it large to make this work. I do like it large and it still took a few tries to get this inside me, but the pain and intense pleasure induced orgasms that were worth the extra work.
If you're looking for a challenge, this plug will fill you up and will keep you screaming for hours. I can be loud to begin with, but on a scale of 1 to 10 this sent me to 11.
This butt plug is inflatable… and it vibrates too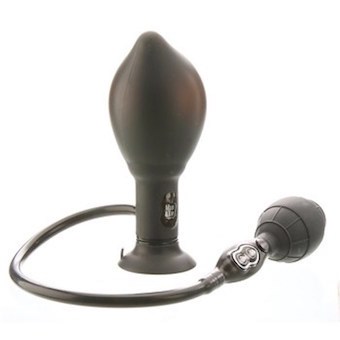 Inflatable butt plugs are great for those who don't want the immediate strain of getting a plug inside but still want the epic prostate massage of a lifetime.
While my feminine anatomy has many delights, seeing what this one does to my partner makes me wish I had a prostate! This one goes from under 2" to 5" in a few pumps. Oh, did I mention it vibrates too?
This is probably my favorite toy to take my man for a ride. While I may embarrass him with this, as much as I like big, I've got nothing on him. So I'll confess that my experience with this one comes completely from the voyeuristic side and from that viewpoint I can give this two thumbs up.
Sometimes I starting off slowly increasing the width with a pump or two, other times I just want to make him squirm with pleasure.
Either way, being in control of just how much my partner gets to take just gets me wet. Wow….seeing his eyes roll back in his head when I give this baby a squeeze and make it ever so much more for him to take. Fun, fun, fun…
An anal plug not for beginners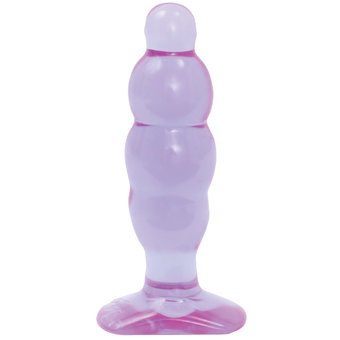 Looking for a challenge that'll build you up, over and over again? The Doc Johnson's Spectra Gel Anal Stuffer starts off deceptively easily, with a seductive small rounded nub that will tease your bottom and whet your appetite.
Before you know it, that modest head has swollen into multiple fat expansions that incrementally fill and massage those incredible nerve endings. An eye-opener of an experience, and one best suited for at least intermediate users.
This butt plug is more of a prostate massager

This anal plug has a mini massager, which makes it all the more exciting. It isn't TOO large (1.2" thick), so it is stimulating without being too difficult to actually get inside.
Added bonus: it is perfectly bent at the end, which makes for some extra prostate stimulation (sharing is caring, after all – just be sure to clean it well before your partner takes a ride).
Stainless steel butt plug



And now for something a little different…though not strictly a butt plug, the Tempo is a hybrid of that and anal beads. Love temperature options with your backdoor rumpus? Stainless steel is just the thing.
I love that this company makes such powerful but relatively tiny tools (3-¾" insertable, with a ⅝" wide top knob). They take an almost organic approach to anal sex- a view I can totally respect. 'Be kind to your behind', indeed.
Nobbed butt plug for an ecstatic feeling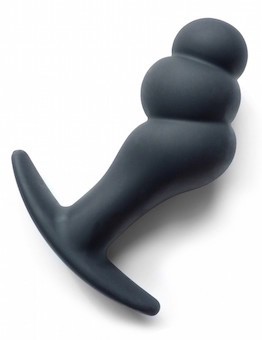 Can't decide between anal beads and a butt plug? Fun Factory has all your bases covered (and stuffed)! Their velvety-smooth, oddly knobbed Boosty Plug spreads and stretches your ass in ways that will feel new even to those experienced in anal play.
No matter if you wear it facing forward or backward, for a few minutes or for hours at a stretch it'll keep continuous pressure on your P-Spot or G-Spot.
Big butt plug trainer kit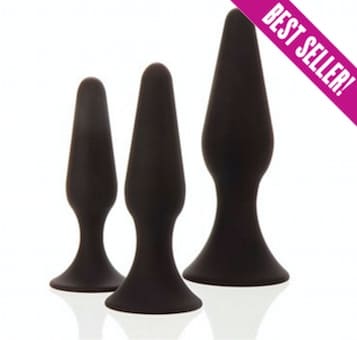 This best-selling anal trainer kit is not to be missed. It is simple yet totally effective with three different sizes to chose from and and functional base for ease of use. Though some say that the third is a little TOO big for a beginner, you can work your way up to it.
We were all beginners once, weren't we? Besides, who doesn't like a challenge? And isn't the point of a set for beginners that by the time they are done they aren't beginners any more??
4 inches head steel butt plug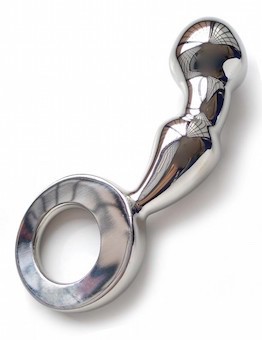 Polished stainless steel and meltingly smooth curves make the Drang Steel Anal Plug look more like a fancy keychain or an upscale gardening tool. And at 0.85lbs, it might be a bit unwieldy for one person to both drive and enjoy.
In fact it's the weightiest plug on our list and not for the novice fan of fanny play. Since it is such a heavy toy it is one I'd suggest trying with a partner.
It starts with an initial 4" circumference head that is fun in itself. That is followed up with a taper and then swells again to a secondary sensational bulge (OH!) for an intense build up as you are slowly filled up.
For your safety, we recommend you to not wear a butt plug for more than 20 minutes at a time. Keeping it for longer it may damage the delicate tissues of the anal canal.
Rather you are like me and just enjoy toys with a bend, or are looking for a clever curve to hit that P-Spot this won't disappoint.
Where this toy really stands out though are the games you can play with temperature. Submerged in hot water for a few minutes makes this toy feel almost as warm as 'the real thing'. Alternatively, a few minutes in the fridge can produce a slight chill to send shivers right through you.
This anal plug vibrates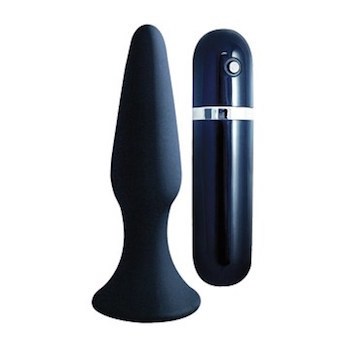 This is a great toy for a beginner to anal play who wants the added bonus of being an anal vibrator. At 1" wide it's not for those who need a broader experience, but it definitely finds a niche on our list and is an absolute gem for beginners.
It slides in easily, and then goes to work with 10 different vibrating settings. While not a toy for those looking for more of a challenge, I can see it being a favorite of the adventurous beginner.
Top-selling butt plug with beautiful design and easy to clean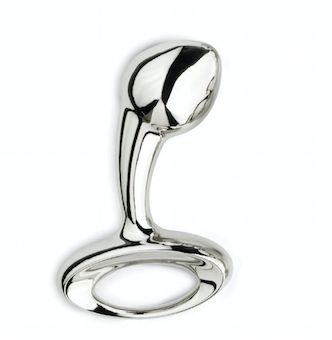 This metal butt plug is designed to stimulate you at home and during all-day wear. Similar to glass plugs, this steel plug will slip right inside with ease. Its circular handle helps make sure it won't get lost during bedroom rumpus time.
And being stainless steel, cleanup time is quick, efficient, and super easy. While Fleshlight is more widely known for its line of masturbators the fact they sell other toys too one made me really appreciate their versatility.
Butt plug that looks like a real dick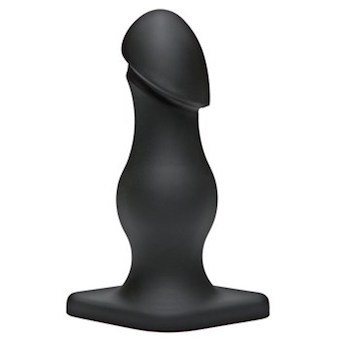 Have I mentioned that I like my toys big, and shaped like real cocks? Well, this delight does NOT f*ck around. I absolutely get off on the feeling of a thick head spreading me, and this one finds a way to give me that feeling twice with a second bump.
Even more experienced anal players might have trouble with this one…but oh, that perfect, perfect head! At 2" wide it can be a lot to deal with, but for me the size and shape were damn near perfect and had me out-of-my-mind worked up.
If you want to push yourself, get about a quart of lube and relax, this is going to take some serious effort.
A silky silicone plug
Perky and purple, and yes, bendy, the Booty Buddy's delectable curve slips in easily and hits the spot right away. Just. Like. That. It doesn't matter if you're a man or a woman, if you're just scratching the surface of anal play or delving to the depths, you may fall in love with this toy.
The silky silicone makes it very comfortable once in place. You'll find yourself planning all sorts of devious little field trips with this Booty Buddy. Let everyone try to guess why you're so smug today- they'll never figure it out.
Red devilish naughty anal plug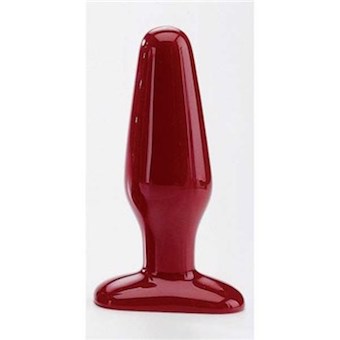 This is an absolute classic of form and function. The red devil butt plug is not only totally effective, it's sinisterly beautiful as well. It's high-gloss red is something I was just naturally attracted to, it's just that simple.
Like high-end sports cars, red ones are just…sexier. Though it isn't a complete anal excursion, it's comfortable size makes it that 'just right' go to toy.
This is a beautiful anal plug that should be in a museum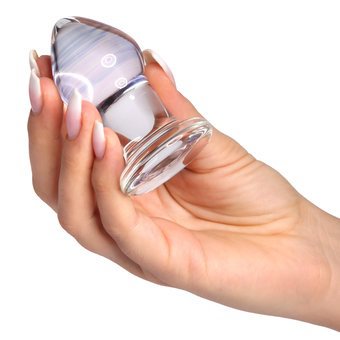 Once I overcame my fear of them, I've come to think of glass toys as just classy. They're unique and elegant. When checking these out I've had the devilish thought of having one just to leave out on the living room table as a 'work of art'.
Looks aside, the 4.75" circumference of this bulb will fill you up. The glass just seems to makes the effort of absorbing the size that much easier.
Perfect size butt plug

If you're seeking the 'Baby Bear' option (not too big, not too small), Tantus Holt is just right. It's modest- 4" of insertable length, only 1.25" wide- but this is a sexy workhorse.
It's silky in tough platinum silicone- so boil or bleach it (10% bleach/ water solution) to get it super clean, and it'll still last a lifetime. It's also small enough for vigorous thrusting if you get really enthusiastic. I'm inclined to trust Tantus, they've not lead me wrong yet.

Help Me Choose the Best Butt Plug for Me!
If you're still not sure exactly what you're looking for, we've broken down what plugs are going to satisfy your specific needs. Your ass is your business and you need to know all of your options before you put anything in there.
While potentially daunting at first, and maybe a little taboo, it can also be a beautiful experience. Owning your whole body and the pleasures it contains is something to be proud of. You deserve no less.

Best Butt Plugs Anal Trainer:
A&E Booty Boot Camp Training Kit
Simple and to the point, this kit will get you ready for a lifetime of ass-play.
Best Butt Plugs For The Pros:
Like we said before, this plug is the real deal. The second bulge is not going to just simply slip inside you. Hitting all the spots you never knew you could, this one is not going to disappoint even the most daring assholes.
Best Butt Plugs For The Novelty Anal Player:
If you're not trying to become an expert at anal play, these sweet little plugs are for you. More for looks than anything else, you can totally hide these pastel beauties in plain sight.
Bonus: Aneros Helix Syn
Though it is not technically a butt plug, the Aneros Helix Syn is not to be missed. This award-winning prostate massager is perfect for pretty much any man.
Its highly functional design stimulates all of your key O-zones both inside and out. This Aneros toy is hands free so you can get down to whatever else you're into while still keeping a firm grip on your most sensitive spots.

Additional Tips
If you're looking to invest in any of these there is something you are going to need: Lube. Lots of lube. You pretty much have two types of lube to choose from: silicone and water-based.
A quick rundown of each: Silicone shouldn't be used with silicone toys because it can corrode the toy, but it stays wet probably all night.
Water-based lubes are going to be safer to use with all toys, but often require more frequent application because they dry up faster. However, you should be using a silicone toy for most of your anal-play, so go for an anal lube to keep everything slippery forever.
Now you have everything you need to keep your backside satisfied for many nights to come. Whether you are alone or with a partner – or a few (!) – you have no excuses to not explore what the fuss is all about. Get to it!