Silicone lubes are quickly becoming the new norm, so I thought it might be about time that I spilled the beans on some of my favorites. With a quick online search for the best silicone lube, it is overwhelming to see how many companies are trying to provide you with a better glide.
When there are tonnes to try it can be difficult to pick the best silicone-based lube apart from the rest but we are going to try to give you the low down.
Silicone lube is totally hypoallergenic and won't cause any embarrassing reactions that you'd rather not share with your GP. It is also water-resistant which means hot-tub antics are on the menu, fun if you dream of a devious dip and most are safe to use with condoms too. With so many positives, silicone lube is a great alternative to water-based lube see this video for a side by side comparison.
Contents:
How to choose a silicone-based lube:
Texture
Silicone-based lube is pretty slick and leaves your skin feeling smooth but the consistency does vary. Being such a personal thing peoples opinions tend to differ on how thick they prefer it. Silicone lube is thicker than water-based lube, so it does leave you with a noticeable coating. Many people find this quite sexy which can lead to prolonged or repeat activities…who's complaining?
Lifestyle
Think about how you're going to use it and if you own a sex toy think about what kind. Silicone-based lubes can't be used with a silicone sex toy but are perfect for plastic vibrators or glass dildos. They are known for being a little harder to clean-up which might not suit a spontaneous couple. If you bust out the lube for a quickie you'll have to be prepared for the consequences. If you enjoy long-lasting sessions and hate stopping to reapply, then get something thicker and forget about the dirty aftermath.
Front or Back
Vaginas are self-lubricating, especially if you're doing it right, but lube can always lend a helping hand. Chances are you won't need a lot and something smooth and thinner feels sexier for women. If you enjoy or want to try anal sex then trust me you'll want to find a silicone lube with a thicker consistency preferably designed with anal sex in mind to help slip it in.
Oral
Many lubricants taste awful (except this bacon flavored lube), typically silicone lubes are tasteless (and odorless too) but some have additional ingredients. Silicone lubes are generally organic and though I don't recommend that you go and chug a bottle you can still safely engage in oral.
Cost
The best silicone lube is one with a smooth feel and lush ingredients. Natural ingredients such as aloe or vitamin E are popular with women. They can be pricier but you won't need to use much and it doesn't require reapplying. There are some luxurious options that will leave you gloriously glistening. A premium lube is worth the extra cash for a better overall experience.
The Best Silicone Lubes:
1.Gun Oil
Versatile option for liberal lovers.
We are starting with a drizzly, silicone lube, an industry favorite that was once oil-based. Gun Oil silicone has a sloppier thickness than the original oil. It can be smeared just about anywhere-this earned it a top place in our best anal lubes article. Gun oil keeps you well-coated and ready for anything. Sex toys slide straight inside and stay slick until you're sick of them.
With a bottle that's built to prevent spills and a honey-like texture that ensures it won't drip down your legs, it's a good lube for anyone impatient that fancies a quick romp. Promising a smooth experience whether you give or receive it is top of our list for the best silicone lube. It can get a little messy, so make an effort to find a few towels and let loose.
Like honey but nowhere near as sticky.
Perfect for both holes.
The name gun oil probably won't rouse too much suspicion.
2.Wet Platinum Silicone Lube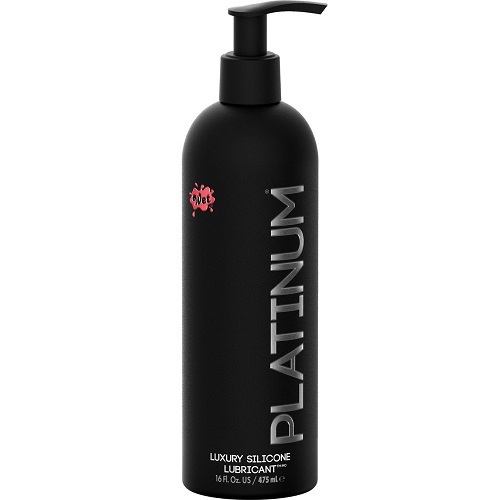 Perfect for High Libidos – a notorious silicone lube.
One of the oldest lubes on the market, in a super-sized sixteen ounce bottle Platinum from Wet is perfect for people with a high sex drive. If you are keen on spontaneous activity, then the pump applicator will help keep things easy for you- just pump and enjoy. It has a good texture and won't spill from the palm of your hand as you pump, so it is a little less messy than some other silicone lube options.
It keeps things oily whilst you're soaking wet, awesome for covering yourself in before you take a dip and keep things slippery. The bottle is heavy-duty too so you can warm it up before you use it and avoid a cold and unpleasant surprise. Virtually compatible with everything except your silicone sex-toys, it's another great choice to consider.
Decent sized bottle so you'll always have lube at hand.
Pump nozzle reduces the risk of spillage and makes it easier to access.
Silky silicone texture feels great for masturbation.
3.Uberlube Luxury Lube
Best silicone lube to spoil yourself rotten with.
Whether it is for athletic use, keeping your frizzy hair suitably tamed or taking to the tub for a cheeky rub you have got to try Uberlubes Luxury silicone lube. It's in high-demand despite the price tag and can be used literally everywhere for literally anything… No seriously…check out what happened when MensHealth tried to see what it was like to wear lube for a day
It has a richer texture, similar to a serum that gives a generous coating to any area of skin. This helps when you want to get it into all the right nooks. It's kind to sensitive skin and okay to ingest, if you like to mix things up in then bedroom then you will be happy to know that the taste doesn't suck.
Smooth sexual feel.
Can be used anywhere you want to moisturize.
Sexy silicone lube to shower with.
4.Wicked Ultra Warming Lubricant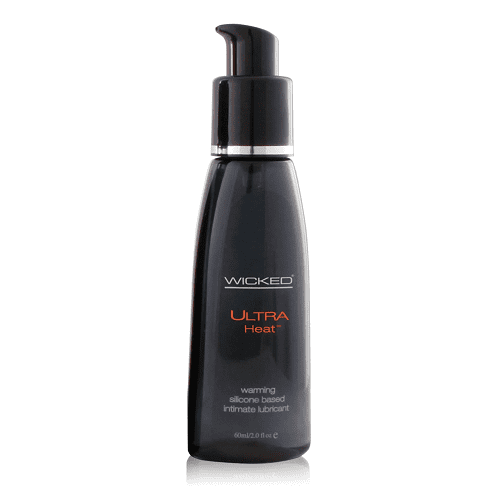 A stimulating tube of naughtiness to keep you warm at night.
Lighter and gel-like with extra sensations on offer, Wicked Ultra is a much more interesting personal lubricant. If you are a little more adventurous then go ahead and give this one a go. It is definitely different from most silicone lubes.
Five minutes in and the tantalizing stimulation arrives in waves from the cinnamon extract, aloe and other natural additives. Warming lubes aren't a hit with everyone but thousands have been turned-on by the tingle of this Wicked little tube.
Wonderful for women who enjoy a wider-range of arousal techniques or couples with a boring bedroom schedule. Something else fun to try with this one is controlling its effects. You can vary the intensity by blowing on the area it is applied and changing the force of your breath. It comes in a pump-top bottle, dispensing a decent dollop. The best silicone lube for anyone who enjoys trying something new.
Stimulates subtly, some warming silicone lubes are too intense and can sting your clit.
Easy to apply and stays exactly where you want it.
Fast-working, ideal for those who hate to wait.
5.Swiss Navy Premium Silicone Lubricant, MD Science Lab
Reliable go-to lube for lads and ladies alike.
Swiss Navy is another old favorite within the personal lubricant industry. Medically approved and used by OBGYN's in over 40 different countries. It's suitably slick, the texture is pleasant and makes touching yourself or each other all the more tempting. Giving everything a glistening layer, it is perfect for selfish pleasure or generous foreplay but you may want to warm the bottle up before you begin.
Helpful for the hands-on it is pretty self-gratifying. With is medically developed background it can safely be used anywhere, it is great for kinky ass-play although if you like things on the rougher side they make a thicker silicone lube version. It has a pump applicator to make it easier to use with slippery hands. Best for discretion, the bottle doesn't give the game away. It is so nondescript that one buyer even remarked that their parents thought it was for his air gun -I guess that's what we are calling it these days!
Pump bottle lubricants are a blessing if you get intensely passionate.
Medically-approved status is reassuring.
Great for skin on skin stimulation or toys in the water.
6.Pjur Light Silicone Personal Lubricant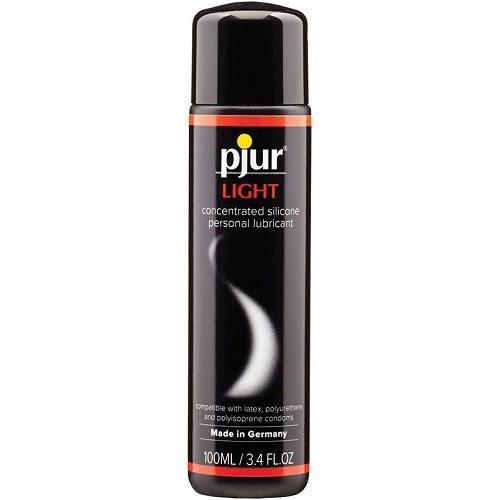 Easy to clean European best-seller.
Another lighter option that stays wet whilst you wiggle is Pjur light. As silicone lubes go, it's a little drippier so you may have to pay a little more attention when you douse yourself. Comparable with a water-based lubricant it would make a good silicone lube for those who have never tried one. The viscosity makes it ideal for sex toys or energetic romps and being thinner equals less mess- hoorah
Featuring medical-grade ingredients to keep your mind at bay, you can fantasize in peace. This one is superb for taking some personal time, making things wetter whilst you enjoy a video.
Pjur can be used with latex condoms unlike some silicone lubes.
Lighter lubricant that makes less of a mess and enhances a speedier sex session.
Reasonable price per oz so you can be really self-serving with your servings.
7.System JO Massage All-in-One Silicone Lubricant
Subtle enough, no one will notice it on display.
If you need something less obvious, then a bottle of All in one Sensual Massage silicone lube from System JO might be best. With a classy bottle design that doesn't scream "I love to lube my love-holes" to the landlord if they visit, you can plonk this product in the bathroom.
It can, as the name suggests, be used for massage, so it's great to unwind with. The lube texture leaves your skin with a smooth coating. An awesome silicone lube if you're not in any sort of a rush. You can get close and enjoy plenty of foreplay before sex and it's great for going solo with your sex toys.
It has natural ingredients and vitamin E so there won't be any unpleasant shocks. It's condom compatible so again… no unpleasant shocks and it is vegan-friendly if you were wondering.
Can be used with condoms.
Discreet design- you can get a kick out of leaving it in full-view.
Vegan-friendly and cruelty-free- you can keep your mind in the gutter without the guilt.
8.Ride Bodyworx Silicone Lubricant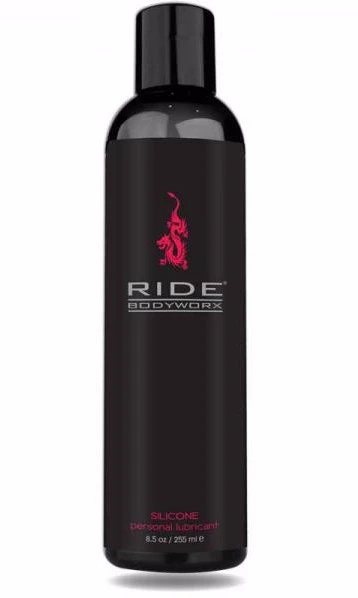 A satisfying slip and slide.
Suitably named, Ride will grease the wheels and facilitate your fantasies. Bodyworx has incorporated Sliquids best lube into their new heavy-duty product. With a raunchier bottle design and a thicker slickness, Ride won't leave you high and dry during sex like water based lubricants. Genuinely smooth, it doesn't get sticky or congregate in one spot. The bottle pours, perfect if you love to watch it trickle all over each other.
Condom safe and awesome for backdoor sex it delivers a versatile silicone lube to drizzle all over. Once again waterproof, it gives the skin a barrier before you get wet that keeps you oiled for entry. It doesn't dry-up out of the tub either. You can use it sparingly so an 8.5 oz bottle lasts a while.
Very erotic quality to it.
The new thickness expands its erogenous uses.
Can be poured.
9.ID Millennium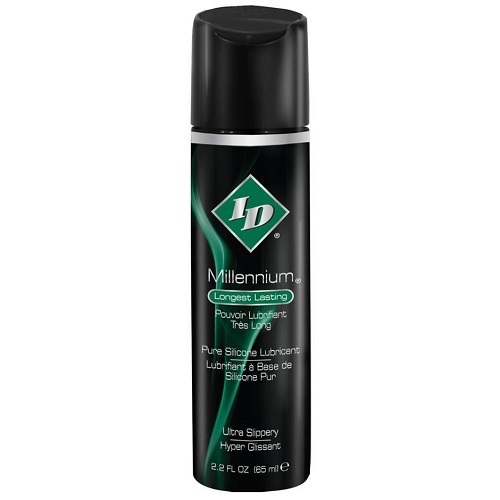 Be as adventurous as you like.
The Millenium version of ID silicone glide is well worth a look at. The company makes lots of lubricants but this one is their longest-lasting silicone lube formula. Thicker than many on the market a little goes a very long way.
Stainless, it encourages your wilder side. You don't have to think about laying down any towels and can jump right in. Thicker than many on the market a little goes a very long way. It coats you and enhances the action between the sheets or indeed, under the water. The thick texture keeps it easy to apply, hotting up hand-jobs and letting you slide whatever you like inside, for a pleasurable time.
It's a squeeze bottle, so you're in control of where it goes and it seems solid enough not to leak everywhere. You can kiss friction goodbye and indulge in hours of fun. It's super-concentrated and super-safe for slow and sordid stimulation and can keep up with monster appetites.
No sex stains of shame.
Long-lasting silicone lube- you'll give up before it gives up.
Great for close contact.
10.Astroglide X Silicone Liquid Personal Lubricant – 2.5 OZ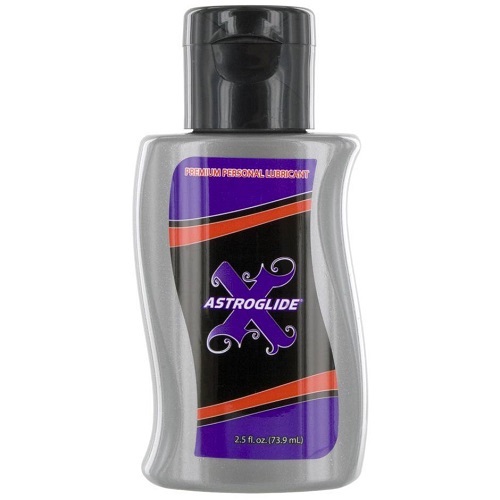 Long-lasting silicone lube that's sexy to apply.
One of the most notorious lubricants on the market, we have given Astroglide our best for newbies crown. The X Silicone version of this household name provides extra thickness and is less gloopy than the Astroglide of previous generations. It sells in a smaller quantity but you can find it in larger amounts if you get gluttonous.
With no gratuitous features like warming ingredients hidden within the formula, it is a good starter lube. Paraben-free, with natural organic silicone it is reassuringly safe for anyone new to silicone lubes. It lasts long enough for prolonged sex, you can apply it early in the day for later on and wander around the house with it between your thighs.
It feels very sensual to apply and is quality for erotic massages. If you're unsure you can pick up a free sample with a quick email to the company and see if it is the best silicone lube for your needs.
Safe for most sex toys, not as thick as Pjur and not as messy as Gun Oil silicone lube.
Keeps you ready for spontaneous long-lasting sex.
Will wash out of sheets.
11.Pjur Back Door
Easier anal, better entry, pleasant sensations.
With a name like Back Door Anal lube, it's probably no surprise to know that this silicone lube from Pjur offers a little more than the light version we have also chosen to include. Comparably thicker than most silicone-based lubes to give your ass the additional oiling it needs. We recently took a look at it in our 14 best anal lubes list.
Pjur contains jojoba as an additional ingredient, a pleasant surprise no matter where it's applied. Many find the stimulation of the aloe and jojoba extract helps to relax the area and adds to the intensity. Some find it eases anal sex a little making it more enjoyable.
Pjur forms the best barrier between your delicate skin and doesn't get sticky or form a paste in your ass. It's long-lasting and you get 8.5 oz and you can re-hydrate it a little with water- great for the hot-tub.
Generously thick and long-lasting silicone mixture.
Stays in place and makes anal sex less difficult a feat.
Pjur backdoor advertising might put the more prudish out there off it is definitely one to hide from the in-laws unlike these unlucky brits when they sent home their holiday snaps.
Our best silicone lube tips:
Treat yourself and your sex partners, try a range of silicone lubes to find the best silicone lube for you. Have a Luby Tuesday, Friction-less Friday or a Sunday Soak-a-thon. Try one or two a week until you are satisfied you have found your match. There are silicone hybrids if you prefer your lubricant water based, others offer aloe or vitamin E aftercare.
If you're taking your lube to the tub, then remember silicone lube doesn't mix well with silicone. So if your bath or shower has silicone sealants, be cautious of contact. It's important to remember you can't use silicone lube with silicone sex toys either.
Being water-resistant silicone lubes can leave telltale stains.
My Favorite 3 silicone-based lubes:
1- Uberlube – Best Premium Lube.
Uberlube silicone lube has a range of applications, it leaves you with a glossy feeling and it is not just for the women either. The silicone is thick enough to slather wherever you like. So you can lube up your lover's body with no-holes-barred. It is sensual, silky and perfect for sensitive skin, definitely a contender for best silicone lube.
2 Wet Platinum – Best for the Insatiable.
Providing higher quantities Wet Platinum will keep you wet, no matter how big your appetite. With 4 decades in the industry, Wet has perfected and tweaked the best silicone lube for any sex imaginable, with a range of silicone-based personal lubricant products dominating the market. Their Platinum silicone lube is high on our list.
3 Wicked Ultra Warming Lubricant – Best For Fun.
This hot tube of silicone lube helps set the mood and enhances foreplay and solo-play. Super sexy and sensibly priced it adds a little spice and keeps things fun but I wouldn't recommend it for your booty nor for sensitive skin.
Note: If you get a burning sensation from non-warming lube you could have a yeast infection or even be allergic to it.
Gun Oil Silicone lube and Pjur Backdoor also deserve a special mention.  With our advice out in the open, it's time to have a look at some of the best silicone lubes available. We have tried to rank them subjectively, with a focus on how they feel, how they rate in the real world versus their marketing spiel and of course, value for money.