Meet your definitive guide to finding the best penis pump on the market in 2020.
According to research, 50 percent of men wouldn't mind an upsize to better-endowed equipment.
If you feel an increase in penis length, girth, erection hardness or stronger erections would be an advantage between the sheets, penis pumps can be the best option to increase size, stamina and maximize performance.
Do Penis Pumps Work?
Broadly, regardless of your chosen brand or type, vacuum erection pumps will all work on your penis along the following lines:
When placing your flaccid penis inside the tube of your chosen pump and holding the device's seal base against your pubic area no air can get inside creating a vacuum.
When pumping, vacuum pressure draws blood into your penis to counteract the change in pressure in the tube as air (or water) is pushed out. This encourages blood flow producing an erection and increases penis health through improved oxygenation of penile tissues.
Over time, working out your penis through repeated negative pressure (pressure pulling out as opposed to pressure pressing in) results in a stretching and enlargement of your penis.
Are Penis Pumps Safe?
Used sensibly: almost entirely safe.
Disclaimer: For safety, always talk to your doctor before using a penis pump.
Removing the pump too quickly, causing rapid pressure changes, is an example of unsafe use.
It's important when purchasing to ensure your device has a quick, fast, and easy to use release valve to guard against any damage from sudden, dramatic pressure changes.
Being too hasty in releasing pressure from the release valve after a workout can lead to your penis becoming bruised and in some cases, permanent damage.
Selecting your penis pump, take into consideration how the release valve mechanism fits your fingers and how easy it is for you to use, not how easy it is claimed to be generally by the manufacturer.
Being able in a panic to release the pressure valve is essential, and the alternative, a discomfort easily avoided with careful consideration on purchase.
Quality of the penis pump cylinder should also be a factor for thought to ensure the plastic doesn't break due to pressure whilst in use and your penis still inside the pump's tube. How easy your penis pump is to clean is also vital.
Keeping your device clean is important as warm, moist penis pump tubes can have high bacterial growth.
One of the most common ways penis pumps can cause tissue damage is by over-pumping and overuse, too often, or in sessions of too long a duration.
Here it is important to follow the manufacturer's guide and instruction as well as the advice of more experienced users on how much pumping is enough pumping.
The exception to minor precautions is if you take warfarin, another form of blood-thinning anticoagulant, have sickle cell anemia or any form of a blood clotting disorder. Under these circumstances, penis pumps are not generally considered safe for use and it is best to consult with your doctor before purchase.
What Do Penis Pumps Do?
Gains in penis size and girth. If you're aiming to size up for the bedroom, with regular use, penis pumps are an evidence-based tool that can drive your journey to enlargement, similarly to penis extenders.
Penomet, one of the best brands of penis pump available, have over 10 years research and independent testimonials into the effectiveness of their vacuum penis pumps in enlargement.
In a 2020 survey by Bathmate Hydropumps, of 12,000 customers, 81% reported better erections, 70.6% longer and as much as a 30% increase in length and girth over 6 months.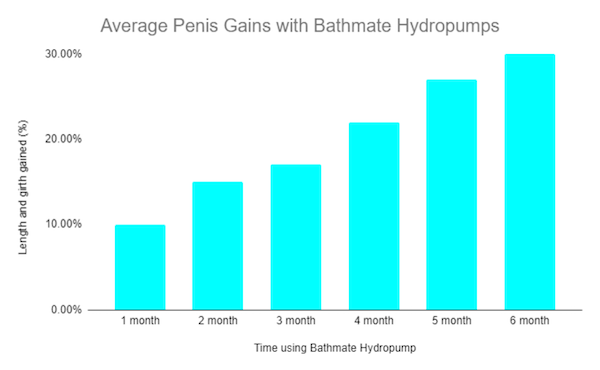 Remember, for penis gains to be permanent you need to keep up a routine of 3 to 6 sessions weekly of a total of 15 minutes use for as long as you aim to maintain or increase your size.
Like a fitness journey to gain muscle, if you don't keep up a regular pumping routine, training and bulking up your penis, your results will fade quickly.
Erectile Dysfunction. 80 to 90 percent of men with erectile dysfunction who use vacuum penis pumps achieve a rigid erection. They can both be used immediately before sex to achieve an erection or with a regular routine can improve natural erections by improving blood flow, oxygenation, and overall health of penile tissues.
Premature ejaculation. Maintaining an erection inside the tube of a vacuum penis pump without bringing yourself to climax allows you to train your penis to stay erect for extended periods of time.
Penis pumps can also be used with cock rings by placing the ring on before pumping, pumping to gain an erection, and then leaving the ring in place before sex. The ring limits blood drawn into the penis from leaving as quickly allowing the erection to be maintained longer.
Rehabilitation. Doctors support the use of vacuum penis pumps in prostatectomy patients to protect against nerve damage, penile shrinking, and the development of fibrous tissue. In recovery, 92% of men using a vacuum penis pump had greater scores for erection hardness maintaining preoperative penis length.
Peyronie's disease. Vacuum penis pumps can be used as an effective treatment for Peyronie's through the breakdown and reconstruction of plaque leading to a straightening of the penis curve and a reduction in pain via improved oxygenation of tissues.
Masturbation and foreplay. Penis pumps give a sucking sensation not dissimilar to oral which can be used in masturbation, as foreplay in domination, and through their use on erogenous zones.
Dick Pump and Cock Pump Technologies
Air-Based Penis Pumps
Air pumps tend to be more basic, require less set up (other than lubing up liberally) and therefore exist at the cheaper end of the market.
A good option for men with a micropenis they're also lighter on the wallet and so a better entry option for beginners starting out and who feel apprehensive or uncertain if they'll benefit.
With an air-based penis pump you can tailor the details of a workout which works best for you trying out different pressures, weekly routines, understanding how your body responds and how the pump feels before (or during) sex.
Manual, air-based pumps involve the use of a handball or trigger to pump up a vacuum pressure.
If using an air-based pump as a starter kit, getting a feel for the right pressure will initially mean some trial and error, so remember the importance of that quick-release valve to release pressure once you've hit your level, guard against the possibility of over-pumping and bear in mind these valves can be absent in older models.
Handball Pump
This is the more common and cheapest sub-type available and is characterized by the use of a ball pump which you squeeze. The tighter you squeeze the ball, the more pressurized the vacuum. When considering this model of manual air pump look for one which comfortably fits your palm.
Trigger Pump
Trigger pumps have a more comfortable mechanism than handball pumps allowing you to pump for longer without cramping. Trigger pumps also give more control and power over the pressure inside the pump tube, creating more effective vacuums for harder erections faster.
With air pumps, it's necessary to use lube to keep the penis tissues supple for stretching.
Applying a hot towel to your penis for several minutes before using an air pump will warm tissues, increase natural blood flow, and will have a conditioning effect on nerves preventing any pain.
The drawback to keep in mind when considering an air-based penis pump is that there is no cap on the maximum pressure inside the pump tube.
When pumping, if you ignore the pressure gauge, air will continue to compress inside the tube. This can result in excess pressure on the penis from uneven air distribution, subcutaneous bleeding, tiny red spots on the penis, the risk of bursting a blood vessel, and blistering.
Electric (Air) Penis Pumps
Hands-free, with the press of a button electric penis pumps, increase, release, or pre-set the pressure within the pump tube.
Often with a seal shaped like a vagina or lips if your aim is to use your pump as a sex toy, automation allows you to focus on sensation and many come with vibrating options for pleasure as well as enhancement-based pumping.
Electric pumps make the process of pumping simpler with less set up than manual penis pumps. They're also considered safer than traditional air pumps as electric penis pumps are designed to stop after reaching a certain pressure level.
Drawbacks of electric pumps include noise, the need for batteries or chargers, and difficulty getting up to full pressure.
Hydro (Water) Penis pumps
Manual, water-based penis pumps use warm water to increase blood flow, lubrication and soften the penis tissue when stretching.
At the higher end of the market, water-based pumps offer the best certifications, evidence backing, durability, and results.
Designed to be taken in the bath or shower water pumps evenly distribute their suction, blanketing your penis from the base, through the shaft, and into the tip eliminating the side effects of air-based pumps.
To use a water-based penis pump, fill the chamber with warm water in the bath or shower and start pumping.
Hydropumps have a one-finger valve that will immediately release the pressure if you over pump and with a limited water capacity have a pressure cap by design allowing for unrestricted pumping and max gains without risk.
One side effect of water-based pumps not found with other varieties is fluid retention. This is when the vacuum which has drawn blood into the penis has also drawn in fluid resulting in a donut swelling at the base of the penile glans.
Fluid retention should disappear after 24 hours and can be avoided by spreading sessions of 15-20 minutes into smaller 4-5 minutes sessions.
The 9 Best Penis Pumps in 2020
The better build quality, comfort, and long-term durability you will be able to expect from your penis pump will increase the further towards the higher end of the market you decide you can commit to.
Manual penis pumps, either trigger or handball, are generally the cheapest ($20-$50). The cheaper the device, the lower quality its components.
These pumps are more appropriate for beginner pumpers. For those interested in long term use for maximum gains, pumps at this end of the market can lose suction rapidly and so shouldn't be considered an investment for your pumping journey.
Mid-priced penis pumps ($50-$200) provide a more authentic level of quality than cheaper pumps and promise average potential penis gains.
Unlike cheaper alternatives which are regularly single sealed units, mid-priced penis pumps can be disassembled and as a result, carry a lower risk of harboring bacteria.
High-end penis pumps ($200-$400) will have superior quality, comfort, durability, and a satisfaction guarantee. These pumps are normally water-based and boast manufacturing standards certificates with components made of medical-grade composites and have undergone rigorous procedures for safety testing.
Best Penis Pump
Bathmate HydroXtreme7 (from the HydroXtreme series)
Incorporating the addition of a handball set to maximize pressure and give 35% more suction the HydroXtreme series is for experienced users looking for maximum gains faster.
Bathmate offers 5 models in the HydroXtreme series including the HydroXtreme Wide Boy (for men with a starting girth wider than 6.5 inches) and each comes with a free accessory kit including cleaning tools.
The product line ranges in size from the HydroXtreme5 to the HydroXtreme11, the world's largest penis pump.
Bathmate's addition of a handball pump allows pressure to be increased in small tension increments allowing for precision whilst increasing the device's safety.
The HydroXtreme is simple to use and comes with a detailed manual of instructions where Bathmate recommends sessions of no longer than five minutes.
The Bathmate HydroXtreme is powerful, living up to its branding. Know your pressure limits when using the Bathmate HydroXtreme series because this device is designed to push them.
Also note that the Xtreme series isn't appropriate for micropenises, with the HydroXtreme5 not efficient in men who measure under three inches erect.
If purchased directly through the official Bathmate website all Bathmate hydropumps come with a 60-day no-questions-asked return option, a 2-year warranty and free delivery.
Bathmate have dispatch warehouses worldwide meaning most orders will be received within 5 working days.
Penomet Premium Package
With over 10 years of testing and receiving the 2014 Venus award for best new product and Best Male Enhancement device in 2012, the Penomet is one of the best vacuum penis pumps a man can get.
Penomet is a vacuum pump which can be used in the shower, bath or as a conventional air penis pump. Results using the Penomet vacuum penis pump, based on 6 months of use with 6 sessions per week, gave up to a 20% increase in length and a 30% increase in thickness.
When used as a water-based pump, Penomet uses an AquaPressure system to deliver optimal vacuum pressure and pumps are customizable, made from polycarbonate plastics.
Penomet makes 5 different gaiters made of medical-grade silicone that each have their own suction strength.
Purchasing a Penomet with all 5 gaiters allows you to use the same pump from first-time use to several years of penis enhancement down the line meaning you rely on only one model in your training or rehabilitation journey.
Penomet devices come in the Force 60, 65, 70, 75, and the Extreme Force 80 and X85 Monster Gaiter for when you need to size up.
Penomet offers a 60-day money-back guarantee and a three-year warranty.
Best Affordable Penis Pump
Bathmate HydroMax Series
With over 1 million customers and an average increase in penis size of 2-3 inches up to 5 inches, Bathmate's HydroMax vacuum penis pumps dominate the male enhancement industry.
The HydroMax series is one of the best mid-priced penis pumps available and offers the unique "Wide Boy" model.
The Hydromax series of vacuum penis pumps have a satisfaction rate of 92% and are the world's most popular line of penis pump. This is a pump for experienced users looking for gentle but dramatic gains.
A hydropump, there's no need for lubricant and the Hydromax product line goes from the Hydromax3, which Bathmate claims as "the world's first micropenis pump," to the Hydromax9.
Each model has a number, for example, the HydroMax3, HydroMax5, and HydroMax7.
If your original penis size is that number of inches or lower when erect, this is the model of that product best suited for you.
Sinclair Endow Power Pump
The Sinclair Endow Power pump has a unique dual system with two operating modes, a trigger manual pump, and an electric pump.
It comes with 4 different constriction rings (0.5 inches to 0.75 inches) to help maintain your erection for up to 30 minutes post pumping, 2 pumps with a quick-release valve, removable gasket, and connecting tubes.
This penis pump is compatible with water-based lubes and is not recommended to be used with silicone lubes.
Some users have noted that the electric-pump can break spontaneously so ensure you take note of your order details. Sinclair offers both hassle-free returns and a 100% satisfaction guarantee when purchasing directly from their website.
The Sinclair Endow Power Pump features a 10 X 2-inch cylinder meaning the chamber is thinner compared to other models and wouldn't, therefore, be a good option for men with a particularly large girth.
The electric component is also battery powered and batteries are not included which is somewhat inexcusable considering its price.
FleshPump Penis Pump
With over 12 million sold, the FleshPump Penis pump by Fleshlight uses an automatic vacuum system, is operated with two simple buttons to pump and release, a quick release safety valve, donut sleeve, USB charging cable and 2oz. of FleshPump Lubricant.
The FleshPump can be disassembled for easy cleaning with the main chamber detaching from the electric pump, the donut sleeve provides a comfortable experience.
The device offers a maximum insertable length of 8 inches, meaning whilst suitable for most intermediate pumpers, this pump may not be for advanced pumpers or men of an exceptionally large size.
The vacuum pressure is both consistent and strong, the device has a 2 hours charging time and Fleshlight offers discreet billing and free shipping on orders over $99.
PipeDream Pump Worx Max
Pump Worx Max-precision Power Pump is an air pump with an EZ-Grip pump trigger, analog pressure gauge, and a pump tube which can accommodate up to 7 inches (when erect) with a measurement scale on each side.
The Pump Worx penis pump comes with a single pump sleeve, a restriction ring, and the package includes tubes of toy cleaner, thickening cream, and body lotion.
PipeDream has over 40 years of experience in the male enhancement industry, has been awarded over 70 industry titles, and has over 35 penis-enhancing devices in a range of model types, colors, and materials all at an affordable price point.
The PipeDream Worx Max pump can be disassembled for easy cleaning.
The trigger lacks padding and can be uncomfortable with prolonged use, is on the larger side, and therefore better for bigger hands, but creates a good amount of pressure quickly and the release trigger allows for gradual, controlled reduction of pressure.
Connecting the hand trigger to the pump tube is a length of rubber tubing measuring a good 23 inches.
The PipeDream Worx Max pump is a white label product, a product produced by one company that other companies reuse to make it appear as if they had made it, meaning the pump is generic, not uniquely designed by PipeDream and can be spotted elsewhere on the market used in products of a similar price point.
With a maximum of 7 inches erect it should be noted that although the PipeDream Pump can be used effectively in increasing the blood flow necessary to produce an erection prior to sex or in erection training, this is not a pump for those looking to enlarge beyond a 7-inch erection.
Dr. Joel Kaplan Stroking Power Pump
The Dr. Joel Kaplan Stroking Power Pump is the love child of Dr. Joel Kaplan, a world-leading authority in male enhancement, erection enhancement therapy, and erection health, and California Exotics, who specialize in penis pumps with over 20 years experience.
The Dr. Kaplan stroking pump is an electric, vibrator penis pump.
It has a stroker pump featuring different, multi-speed vibration levels, a controller featuring two dials, one to control vibration and the other stroke intensity, and a quick-release valve.
The Dr. Joel Kaplan Stroking Power pump boasts a powerful robotic stroking action and a soft Thermo-Plastic Elastomer (TPE) sleeve inside the pump tube with a lip-shaped entrance which closes tightly around your penis.
TPE lasts longer than alternative plastics and doesn't contain latex or phthalates which have been linked to allergies, serious health issues and banned from children's toys in the EU.
The Dr Kaplan Stroking pump also has a manual option so you can pump to your preferred level of suction.
The pump's vertical stroking element, which can be used together with its vibrating mode, can also be set to speed preference.
Faster speed settings have been designed to feel like a woman's vagina during sex. The pump has been designed to focus sensation on the shaft and head of the penis, rather than the base.
The controller takes 4 x C batteries and cleaning should be carried out with care as the device is not waterproof and there is no way to remove the inner sleeve after you've finished.
Best Budget Penis Pump
Paloqueth All IN ONE Vacuum Pump
An electric, hands-free vacuum pump with 4 adjustable suction levels, Paloqueth has a 4.5-star rating and 247 reviews on Amazon.
The All in One comes with a transparent pocket pussy masturbation sleeve designed to fit into the pump, the suction tube features a ruler and has a quick-release valve to instantly release pressure.
Not exclusively a manufacturer of penis pumps, Paloqueth sells sex toys which, though at the cheaper end of the market, are good value for money.
An electric pump, it is convenient with no assembly or need for water. The Paloqueth All in One is charged via USB and cleaned by unscrewing the main chamber from the electronic section of the device.
The 4 adjustable suction levels of the Paloqueth All in One reach less than what can be achieved with a trigger or handball manual pump.
This means that although the pump was designed for, and is sufficient in helping, sufferers of erectile dysfunction achieve an erection, although marketing claims would suggest otherwise, with limited suction it is not normally strong enough to produce the stretching necessary for penis enlargement.
The All in One also does not come with lubricant, which as an electronic pump, should be applied liberally both to ease the stress placed on the penis and to help when removing the device.
Some users have also noted it can make a fair amount of noise so may not be the best choice if discretion is a priority for you.
Tracey Cox EDGE Pump
Endorsed by Tracey Cox, author, and acclaimed sex expert, The Edge is a beginner's handball penis pump.
The Edge has a silicone sleeve, a quick-release valve, can be fully dismantled for cleaning, and comes with a 1-year warranty.
A nice advantage of the Tracy Cox Edge pump is its use of silicone which is non-porous and unlikely to continue to harbor bacteria after sterilizing compared to rubber.
Silicone is also hypoallergenic and one of the safest options for direct contact with your penis. Not many penis pumps use silicone as it doesn't have a lot of stretch and regularly those with sensitive skin types are forced to purchase universal silicone sleeves to fit their pumps.
The cylinder itself is made of ABS tinted plastic which is thin yet durable. The handball pump, whilst small, is easy to compress and the quick-release valve is easy to use.
Boasting a 30% improvement in erections within 3 months of regular use, the Tracy Cox Edge penis pumps is a good starting point when evaluating what a penis pump may offer you.
Get Hard Automatic Penis Pump
The Get Hard automatic penis pump has 3 different suction intensities, a silicone base donut seal which is flanged to maximize vacuum pressure, comes with a 1-year warranty, has a quick-release button to cut off pressure instantly and an imperial and metric measurement chart on the side of the plastic cylinder.
This pump is designed to create a strong seal in seconds and allows you to vary the speed you want the vacuum to increase at. The Get Hard Automatic is wireless, comes with a controller, has non-slip grip design on the outer tube, and requires 3 AAA batteries which are not included.
Sources
Drogo, KM. Nonpharmacologic Treatment of Erectile Dysfunction. Reviews in Urology, 2002 4(3): S9–S16.
Engel, JD. Effect on sexual function of a vacuum erection device post-prostatectomy. Can J Urol, 2011 Jun; 18(3): 5721-25.
Oderda, M, Gontero, P. Non-invasive methods of penile lengthening: fact or fiction? BJU International, 2011 107: 1278–1282.
Raheem, A, Garaffa, G, Raheem, TA, Dixon, M, Kayes, A, Christopher, N, Ralph D. The role of vacuum pump therapy to mechanically straighten the penis in Peyronie's disease. BJU International, 201 106(8):1178-80.