In this review of the best pussy pumps, you will learn:
The best pussy pumps in 2022 (ok that's what you came here for, right?)
How to choose a pussy pump
Vaginal pump tips and much more…
Clit suction and stimulation is the new trend and by enlarging your clit, you can increase sensitivity and have more intense orgasms.
By using a pussy pump, you can do all this and more.
A pussy pump is basically a gateway drug into some more hardcore BDSM toys and is a great way to add a little spice to the bedroom without getting too weird. Having been around for ages, you can find toys that are manual and toys that are automatic. There's even pumps out there which combine vibrations to really send you over the edge.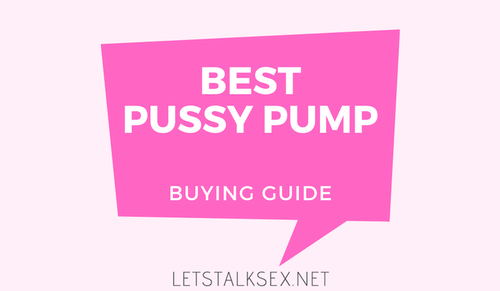 What Should You Keep In Mind When Choosing A Pussy Pump?
There are several factors that you can't forget about when choosing the device you'll be taking home:
Material – While silicone is always going to be our favorite material for sex toys (it's the safest, most hygienic, and most pleasurable), many pussy pumps aren't made of it. Its soft nature makes it much harder to get a strong seal on the vulva, so sex toy designers frequently use plastic instead.
Safety – Seeing as you're going to be suctioning a very important part of your body, make sure you're buying toys that aren't going to cause you any unwanted harm.
Suction – Beginners and sensitive users will want to look for a device with more mild suction. It'll help you get used to the strange sensation and avoid any potential injuries. Some toys can have extremely strong suction, which can be great once you've worked up to it.
Extra Features – Does it vibrate? Can you use it on other body parts? These are the questions you should be asking yourself.
Top 11 Best Pussy Pumps
1. Fetish Fantasy Extreme Pussy Pump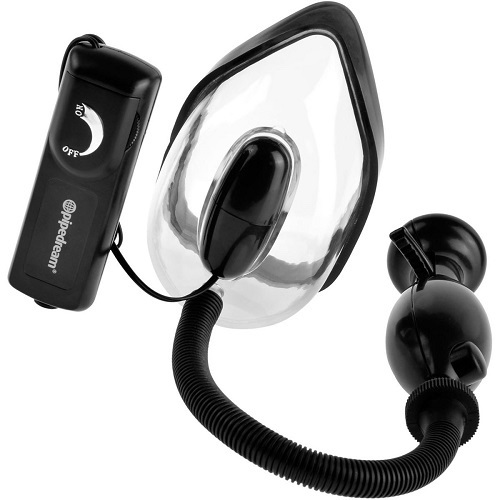 The Plaything With The Most Intense Vibrations And Sucking
If you're going to purchase a pussy pump, you may as well get one with all the bells and whistles. Fetish Fantasy has combined the go-to vibrator with their pussy pump to up your stimulation. Somehow this makes the device both more familiar and more extreme.
Why Is This Great?
It has multiple functions and can be used all over your body.
You're able to control the suction and vibrations separately.
Why Does This Suck?
It's hard to go handsfree.
2. Automatic Vibrating Pussy Pump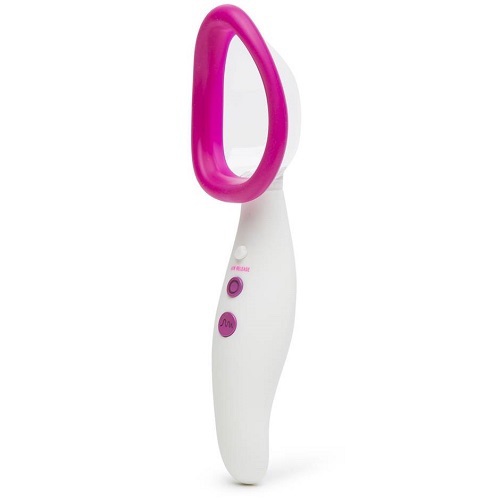 The Pussy Pump That Keeps Your Hands Free
For the most part, pussy pumps require you to manually pump the toy to create a vacuum around your vagina. However, that's not the case with this gadget. You can sit back and relax because this vaginal pump is completely automatic and it's designed to suction itself to your pussy so your hands are free for other activities. The sucking sensation paired with intense vibrations should increase blood flow to your vagina and have your pussy throbbing in no time.
Why Is This Great?
It's completely hands-free.
There are 7 vibrations and 3 sucking functions to choose from.
Why Does This Suck?
It's noisy as fuck.
The vibrations aren't focused on the clit.
3. Size Matters Vagina Pump
The No Fuss Pink Pussy Pump
Simplicity is sometimes key when it comes to sex toys. Because the Size Matters Vagina Pump is manual, you won't ever need to worry about replacing the batteries or having it die mid-play. It's as easy as correctly positioning the device over your labia and pumping away to create an intense sensation.
Why Is This Great?
It's one of the most straightforward you can buy.
Its chamber fits all vaginas, giving pleasure to all.
Why Does This Suck?
It's very basic which some more experienced users may find boring.
4. Magnum Clitoris Pump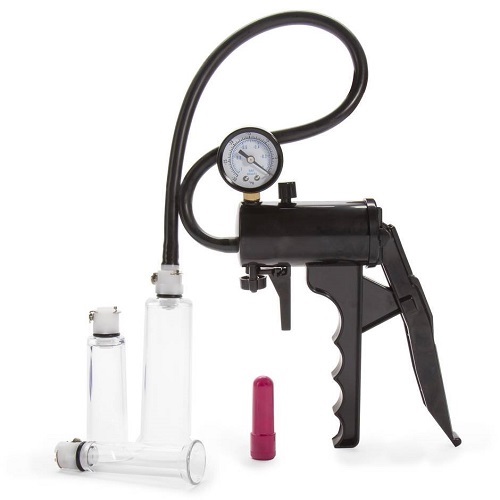 The Pussy Pump That Focuses On Your Clit
There's a fuck lot of parts to this toy, but don't let that intimidate you because you're going to love what it can do for you. This one specifically focuses on enlarging your clitoris and increasing sensitivity. However, I wouldn't let your boyfriend walk in on your using this contraption. I mean it almost looks like a torture device, but it's going to bring you more pleasure than pain.
Why Is This Great?
This clit pump comes with a bullet vibe to continue the fun with your pumped up pussy.
It comes with multiple attachments to fit any clit, so people of all shapes and sizes can test it out.
Why Does This Suck?
It's expensive but looks cheap.
The pressure valve is pointless.
5. Calexotics Intimate
The Pump That Remembers What Gets You Off
Smart sex toys are making waves this year, so why not extend that to your pussy pump and get one that remembers exactly how you like to use it. That's right, this pussy pump knows what settings you use to hit your climax and won't let you forget them. With its 12 different vibration patterns and 3 sucking functions, this memory feature is actually useful as fuck. Paired with the "teasing ticklers" (otherwise known as ridges) in the cup, this device is a real womanizer and people pleaser.
Why Is This Great?
Its biggest perk is that it remembers which sensation you love to use.
It's made of silicone and is totally waterproof.
Why Does This Suck?
It works better for women who have a larger clitoris.
6. Doc Johnson Pussy Pump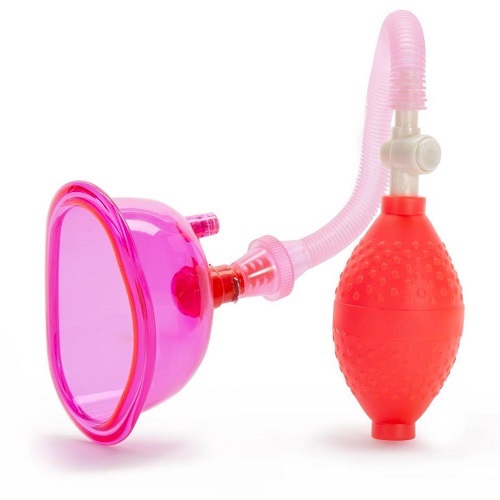 The Pussy Pump That's Super Easy To Use
Yes, we know this thing looks like an oxygen mask, but instead of pumping air into your system, it'll be sucking the air out. When used correctly, it won't matter that this pussy pump lacks any vibrator or high-tech features. You're going to love the sensation of this sex toy sucking at your vagina.
Why Is This Great?
The transparent cup allows you and your boyfriend to watch your pussy grow.
Super easy to use, even beginners can get the hang of it.
Why Does This Suck?
The hard plastic rim can make this not very comfortable after longer use.
7. Twisted Triplets Clit & Nipple Sucker Set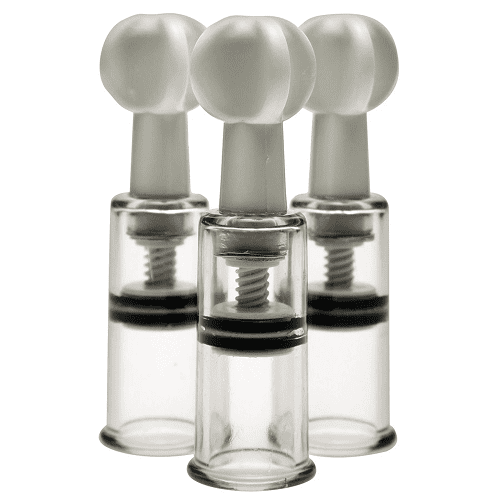 The One That Includes Nipple Play
This simple instrument is going to make you one happy customer as it doesn't only stimulate your clit. That's right, this set comes with three parts to increase blood flow and sensitivity in your nipples as well. The only downside is that its manual and twisting each sucker is way too time-consuming for foreplay. Take a look at our BDSM guide for more ideas.
Why Is This Great?
It includes nipple suction as well as pussy suction for you to enjoy.
It can be used by both men and women.
Why Does This Suck?
Suction is a lot milder than other pussy pumps.
8. Vibrating Clit Super Suck-Her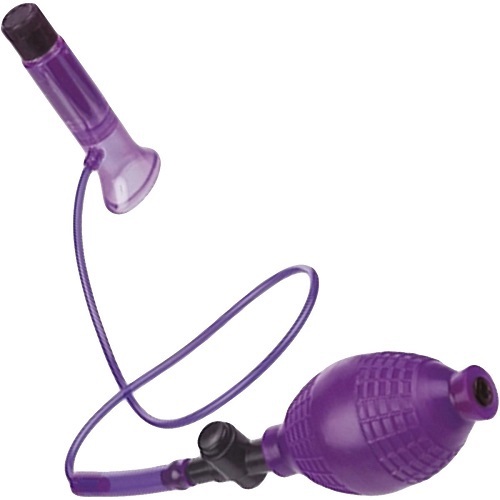 The Waterproof Clit Pump That Vibrates, Pumps, And Sucks
Craving some clitoral stimulation? Then this clit pump is going to be your new best friend. It isn't hard to use and the pressure it creates on your pussy may bring you some great orgasms. For best results, turn on the vibrations, place the cup on your clitoris, and suction out the air until the cup is stuck in place. Before long you may end up squirming in your bedsheets with pleasure, trying not to scream.
Why Is This Great?
The paired suction and vibration is a perfect combination for arousal.
Why Does This Suck?
Suction is less intense than other pussy pumps.
9. Supreme Sensation Pussy Pump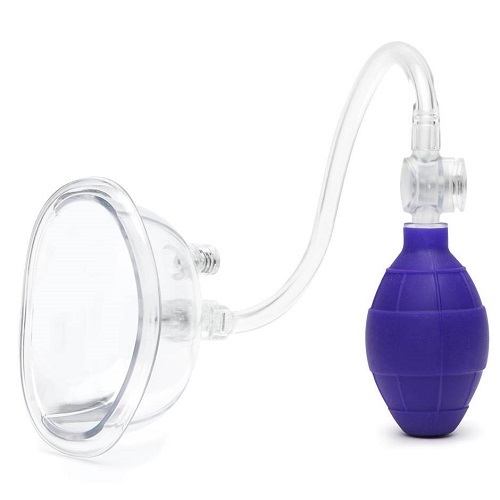 The Pussy Pump With A Removable Hose
This is one of the easiest pussy pumps to use with your boyfriend as the suction cup can detach from the hose with ease. You'll be able to avoid getting tangled during foreplay while still making your pussy as plump and sensitive as possible. Once all the vaginal pump has increased the blood flow in your pussy you can easily release the suction with the second valve. Even when compared to a more modern sex toy like the Womanizer, we'd pick this pussy pump any day.
Why Is This Great?
The two valves allow you to remove the hose while you continue your foreplay.
It shows that you don't need a lot of fancy features for a great pussy pump.
Why Does This Suck?
The hard rim of the cup can makes this slightly uncomfortable to use.
10. Kink Rechargeable Vibrating Pussy Pump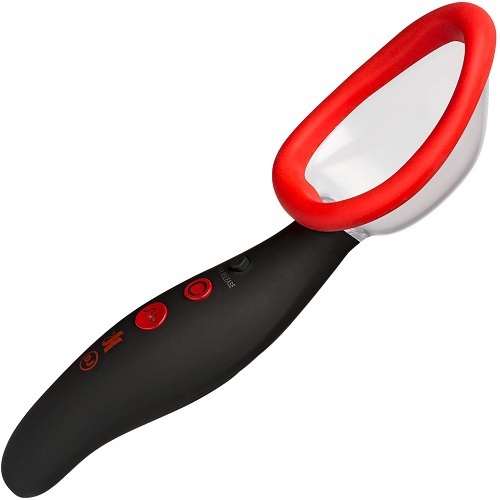 Automatic With 7 Vibrations
Because this pussy pump is automatic, you're going to have less control over the suction and pressure it has on your vagina. But that isn't necessarily a bad thing depending on how you look at it. The multiple vibration patterns may have you in a full body orgasm within minutes and leave you wanting more. There's no doubt that this product feels amazing and women everywhere should be adding it to their wish list.
Why Is This Great?
Not only does it have 7 vibration speeds, but it also has three levels of suction.
The power lock makes it travel-friendly.
Why Does This Suck?
The vibrations are very noisy and can be distracting.
FAQ

How do I use my new pussy pump?
Firstly, you'll need to lubricate the rim of the chamber in order to create an airtight seal. Without lube, it's unlikely that the cup will suction to your vagina and can easily fall out of place. Once you've got the toy all lubed up, place the cup on your vagina or clit (depending on the pump's intended purpose). Start performing small pumps when it's in place until it creates a seal. Then, sit back and relax as you pump away. You'll soon notice your labia swelling in the chamber and it's going to feel weird as fuck, to begin with, however, it shouldn't cause any pain. When you're unable to go any further and find your skin pressed against the chamber, you can release the valve or gently pull at one side of the cup until you break the seal. Explore and enjoy your pulsating swollen vulva and notice its increased sensitivity.

How can I get the most stimulation from a pussy pump?
To increase the stimulation you get from a pussy pump there are a few things you can do. You can start by ensuring you're using a water-based lubricant to create a tight vacuum while using the toy. Without it, the suction won't be as powerful or it can disengage while you're using it. You can also boost the sensation of your pussy pump by making sure all of the air is sucked out and your vagina is left flush against the walls of the chamber. If you enjoy it and want even more, you can always wait a few moments, then go back and pleasure yourself again.

Is it safe to use a pussy pump?
It is safe to use a pussy pump, however, there are a few precautions that need to be taken. For instance, you should never use one of these devices for longer than 10 minutes at a time. Overuse can cause damage to your genital tissue and that will hurt like a mother fucker.

Why should I use a pussy pump?
Using a pussy pump is great for women who have trouble hitting their climax as it increases blood flow to the vagina and therefore the pussy's sensitivity. Including a pussy pump in your nighttime activities is going to heighten and elevate your feelings. It can also be super arousing to have a partner watch your pussy grow inside of the suctioned chamber.
It's a device that people place over the vulva (or just the clitoris) and use to create a vacuum. This vacuum is created by pumping the air out of the chamber and it causes the vaginal tissue to swell. It also increases blood flow to the area which makes your pussy highly sensitive. The pussy pump's entire purpose is to enhance sexual arousal and pleasure, enlarge the clit and vulva, and encourage additional stimulation.
Warnings And Tips
While it's completely safe to use a pussy pump, you do need to have some idea of what you're doing before pumping or you'll be bound for disaster. To ensure you don't have an unfortunate experience you should probably follow some of the tips below:
Always use lube – It doesn't just help with creating an air-tight seal for your pump. It can actually prevent any harder materials from digging into your soft genital skin and causing damage. You'll also need to liberally apply lube after using the pump if you plan on having sex or flicking the bean as the vacuum can cause a lot of dryness.
It shouldn't hurt – If you're feeling any pain or discomfort while using a pussy pump, stop pumping and immediately remove the device. You should enjoy it, not be forcing yourself to endure it.
Don't over pump – Too much pumping can lead to injury and could potentially tear up your soft genital tissue. 10 minutes of pumping is the maximum amount of time recommended to avoid this. It can also break the pump itself, so don't push the limits.
Start slow – No need to rush into things if you're new to pumping. Start slow and steady to allow yourself time to adjust to the new sensation and gradually build up your endurance and intensity.