Oh Anal toys… The holy grail of ass lovers. The symbol of sexual freedom. The great…. ok whatever. That thing you put inside your asshole.
Whatever your reason for being here, we have been testing, reviewing, trying, masturbating with a countless number of anal sex toys over the past few years and came up with the most complete list of the best butt toys on the planet.
Feeling naughty? Bored of quarantine? Maybe seeking new sensations?
Top 3 Anal Toys
 We-Vibe Vector – Remote controlled prostate anal toy for men
 Booty Camp – Budget anal toy kit
 Helix – Epic prostate massager for anal beginners
I've reviewed many more amazing anal toys below!
I got you.
You may be into anal play already, or maybe… you've never tried it and are curious about it. And what better way to try anal sex that with an anal toy, in the secret of your room…
Some of you sneaky things are planning to have anal sex with their girlfriend and are just here to buy a small toy to slide inside her butt during sex, to get her ready for "more".
The 10 Best Anal Sex Toys
Different strokes for different folks, or so they say. This applies to anal sex too- so if one toy doesn't make your toes curl, there are a multitude of delightful options to try instead.
Whichever toys interest you, remember to go slowly, use lots of anal lube, and (most importantly) relax. Anal sex is awesome- but only if you let it be that way.
1. nJoy Pure Plug
This plug is just plain classy. It's hard to pass by, being just so damn shiny. Stainless steel will do that, especially in the pared- down, elegant design in this toy. nJoy has a fantastic line of products, and this one is a fine example of their craft.
They even take into account changing tastes and abilities, as this particular butt plug is available in three different (yet manageable) sizes. And despite being steel, it's still rather affordable. Nice.
2. Aneros Helix SYN
Science and kink have a very sexy lovechild in this beautiful prostate massager. Seriously, the Aneros Helix Syn looks like it's from outer space. Use it right, and it will send you into orbit. This Aneros sex toy is a bit of a mid-range challenge, so it's a nice fit whether you're just beginning or if you already know and love anal.
The silicone coating on this baby makes it velvety soft to the touch, but the harder core really gets down to business. Yum.
3. Tantus Little Flirt Butt Plug
Slim and reasonably sized, the Little Flirt is the perfect way to introduce yourself (or someone special) to the joys of anal. Platinum silicone just feels good against your skin.
With a decent length (3.75") and a nicely flared base, this plug is substantial enough to rock your world, yet petite enough for a novice to handle. A great balance of the taboo and the accessible, all in one sweet little package.
Anal Dildos and Dongs
These two are almost the same thing. A dildo has balls; a dong doesn't (but both words are often used interchangeably). Both work well in anal sex, with or without a partner to help. They come in all sizes, from very modest to truly improbable and in a lot of different materials.
Anal dildos are sometimes used with a strap on harness for a woman to wear. This can be a lot of fun either with two women or another woman 'pegging' a man. This is a good time for everyone and lets you flirt on the edge of BDSM without going overboard all at once.
4. Crystal Jellies Anal Starter
Jelly (a firm yet resilient plastic polymer) makes for terrific anal toys if you like a really firm sensation. This one is a manageable 1" in diameter and has 5" of insertable length- a great size for shallow teasing or bottoming out in someone's ass.
You can find jelly toys just about everywhere, both online and in shops- usually their bright colors make them stand out. Not everyone likes jelly toys, but they're particularly nice if you want a solid feeling of fullness without the weight (or price) of steel.
5. Fun factory Amor Dildo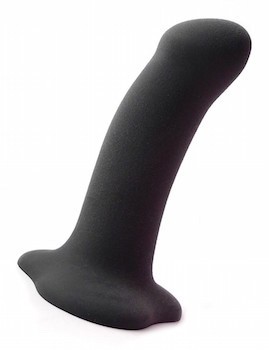 Silicone is fantastic. It's just that simple. It feels good, it looks good. This sweet toy is the Little Black Dress of the anal dildo world: always a great fit, and appropriate for many occasions.
This one is particularly versatile, being appropriate for vaginal or anal use. Being subtly curved, its design allows it to hit the G- spot vaginally or the P- spot anally. If only everything in life were this well designed.
Anal Beads
Anal beads can be a terrific first step into sexy backdoor adventures. They can be arranged either on a string or along a flexible rod, and usually increase in size toward the base.
If you are intrigued by the sensation of being lightly stretched, filled, and relaxed over and over again anal beads might be just the thing for you. Learning to use anal beads is very simple, pleasurable, and straightforward. Plus, they're a lot of fun.
Beads can be particularly amazing if you pull them out slowly just as you begin to orgasm. The feeling of being opened while your pelvic floor is crushing down hard is enough to make your head spin.
6. Waterproof Silicone Anal Beads
Beads are fun. It doesn't matter if you just like a little tease or a whole lot of fullness- anal beads can do both. This set in particular has a couple awesome features that keep drawing my attention again and again.
The beads themselves are slightly cone shaped, making insertion a tiny bit easier and withdrawal a little more stimulating. They're silicone, so they're velvety smooth to the touch. And they're just kind of pretty.
Visual appeal is important in a toy, and these ones are both innocent and naughty looking in sweet powder blue.
7. Fun Factory Bendy Beads
Slightly oval in shape, these beads are arranged slightly offset from each other on a firm rod. Being slightly stiff, you can play with these a little like you would a dildo but they offer the graded increase in size that is the advantage of anal beads.
Whether you choose to insert a few or many, these anal beads are easy to use and adjust to, and make a terrific warm up for bigger challenges.
8. Icicles Gold Edition No. 9
If you're mining for anal gold, this might be where you strike it rich. Though metallic gold in color, these stiff beads are actually shatterproof glass. Looking for something that gives a lot of stimulation in a compact package? Glass is perfect.
It's super smooth and only gets more so when it's lubed up. It has a nice weight to it. There's no give, so you know when you're full. And the big O- ring handle on these make using it on yourself or other people a no- brainer.
Vibrators
Any of the above toys can be enhanced with an anal vibrator. Some have multiple speeds and pattern settings, which gives you a lot of ways to get your rocks off.
Some people love vibration, and others find it just makes them numb. It varies between toys, but there are some great products out there that are worth trying even if you don't think that vibration is your thing.
9. Double Fun Beaded Vibrating Double Penetrator
This may very well be the Swiss Army knife of the sex toy world. Anal stimulation, check. Flexible silicone beads arranged on a shaft let you get that sweet, repetitive filling sensation. Partner play, check.
This set snugs around a partner's cock and balls and gives them a genius hands- free DP opportunity. This heavenly little gizmo is even fitted with a powerful bullet vibrator to push you both over the edge.
This might not be a reasonable choice for first time anal players, but for those who know what they and their partners want, it can be a freaky good time.
10. Rocks-Off Cheeky Boy
Don't let the external appearance fool you. This might look like the handle to a massive piece of industrial equipment. In fact, it might be about as much pleasure as you can handle.
The steep C- curve on this features a series of seriously challenging bumps that slowly fill you up til it snugs up tight to your prostate. While sitting perfectly in place, the wide, smooth base sits flush against your perineum- where it houses a tiny but tooth- rattling bullet vibrator.
One way or another, this tool gets the job done- and it won't take no for an answer.
You might have flirted with the idea of anal sex. Your might have tried a thing or two and are still trying to figure out why you waited so long to experiment. Perhaps you're just a lifelong fan of really incredible, intimate sex.
It doesn't matter- but there does come a time when you're ready (mentally and physically) for the next big step. This is all part of the fun- the joy is in the journey, so to speak. But it would be remiss to not lay out some suggested 'advanced studies' for those who are intrigued.
Buckle up, Buttercup. There's a whole big sexy world out there!
11. Peridise 2 Pack
Hot damn. If you thought having one anal toy in your relationship was hot, two is going to make you sizzle. This his-and-hers set of anal toys are intelligent in design and downright diabolical in impact.
Aneros Peridise use your natural, instinctive peristaltic muscle contractions to stimulate the thousands of nerve endings inside your bum. The result is explosive orgasms…and possibly a new obsession. Shared passions and hobbies are good for pair bonding, after all.
12. Frisky Fox Tail Anal Plug
Sometimes you feel like an animal in bed. Why not embrace it? This firm plastic plug is shaped to stay in place not matter how you move, and the 14" tail is long enough to tease and tickle while you hunt for your mate.
From a sheer sensation standpoint, fur is a joy against bare skin. We've already established that good anal sex will turn you into a boneless, satisfied heap. Pair the two up, and Presto! Instant wild good times.
13. Inflatable Butt Plug
Not everyone out there is a size queen, and that's okay. There are also those of us out there with a greater capacity for love, shall we say (ahem). This is also very cool. Finding the right increments can be tricky- but with an inflatable butt plug you can literally adjust the amount of fullness on the fly.
Using the same kind of valve used in a blood pressure cuff, this toy starts modestly and expands to the perfect fit. With a simple twist of a knob, the air is released. Big love has never been easier.
Best Anal Toys by Personality?
If You...
...Then Try
Like the idea of anal sex, but are a little cautious
Tantus Little Flirt Butt Plug
or
nJoy Pure Plug
Want to experience the male Super- O, or maybe just work on your prostate health
Aneros Helix SYN
or
Rocks-Off Cheeky Boy

Have great couple energy, and want to explore that more deeply
Peridise 2 Pack
or
Double Fun Beaded Vibrating Double Penetrator
Might just like external stimulation, or just a little bit of penetration
Waterproof Silicone Anal Beads
Love, love, love anal sex. Maybe just a little bit more, though?
Rocks-Off Cheeky Boy
or
Inflatable Butt Plug
Are curious about using a strap on, and are looking for a good toy to fit
Crystal Jellies Anal Starter
or
Fun factory Amor Dildo
Embrace your wild nature and animal passions
Frisky Fox Tail Anal Plug
Like different sensations or temperature play
Icicles Gold Edition No. 9
or
nJoy Pure Plug
Need something easy to use, either on yourself or a partner
Fun Factory Bendy Beads
Best Anal Toys Materials
The stuff that your toys are made of affects how you use it and how it feels. Luckily, we live in incredibly civilized times where you can get sex toys made from a truly astonishing number of perfectly safe materials. Woohoo!
Figuring out what your kink is helps a lot when deciding on what kind of toy you want. Do you like a little give and some softness? Does a slickly smooth surface sound intriguing? Do you like temperature play, and want to vary between warm and cool sensations?
As part of choosing the right material for your toy, keep in mind the effort required in cleanup. Some anal toys are ready for storage after washing in soap and water; others need a little more care. They're worth it, but if you're reluctant to put in the maintenance, something simpler might be a better choice.
What lube you prefer plays into this too. In general, the best overall choice is a water based lube. These vary in thickness and slipperiness, but they all wash off with soap and water.
They also don't interact badly with any materials. Silicone lubes are available and are very pleasurable for anal sex- but they will melt silicone toys. Sad.
Think about the sensations you want before you invest. It makes a difference if you fantasize about super smooth penetration or a softer, more flesh like feel. They are all good in their own way- and experimenting can be a hell of a lot of fun.

| Sex Toy Material | Advantages | Disadvantages |
| --- | --- | --- |
| Stainless Steel | Very hard, durable, and smooth. Good for temperature play and has an awesome weight. Easy to clean. Works with any lube. Hypoallergenic. | Can be very cold to the touch. Absolutely no give whatsoever. Heavy for the size. Quality stainless steel can be expensive and prohibitive for a first time toy. |
| Glass | Tempered glass is safe and shatterproof. Aesthetically very appealing. Super smooth to the touch. Easy to clean, and can handle any type of lube. Good for temperature play. Hypoallergenic. | Glass- no matter how safe- can worry some people. Smooth surfaces can be very slippery when lubed up, making it easy to fumble. Some pieces can be expensive. |
| Silicone | Soft and flesh- like to the touch. Warms quickly to skin temperature. Very smooth. Very popular with most sex toy manufacturers. Hypoallergenic. | Water based lube only. The softer material sometimes means that silicone toys will wear out and need regular replacement. |
| Plastic (ABS,PVC) | Very hard,durable, and easy to clean. Cheap and easy to find in all kinds of anal toys. | Can have rough edges or seams. Sometimes cheaply constructed. Weird plastic smell. |
Anal Toys For Men: Butt Plugs VS Prostate Massagers
While there is some crossover between the two, there are some distinct differences between butt plugs and prostate massagers. Generally, plugs tend to be short and cone- shaped with a flared base. Prostate massagers feature a curve to specifically stimulate the male prostate gland (though both toys do this).
Butt plugs can be left in place (the flared base keeps them from slipping) while other interesting things are going on, like masturbation or penetrative sex.
Both men and women use them for the pleasure they give, and also as a useful warm- up to prepare the anus for larger toys or an actual penis. Mmm, penetration.
In some circles, prostate massage is thought to be an effective way to avoid prostate cancer. While the jury is still out on this (in Western medicine, anyway), prostate massagers can stimulate intense orgasms- sometimes without ejaculation.
Fans of this call it the 'Super-O', and claim once you've had one, you'll never be the same.
Adventure Time!
In the end there are so many ways to get the best orgasms possible. It's a wicked good time finding what you and your partner like. Be sure to take your time and explore all the options safely- anal sex shouldn't hurt.
When it's done right, it can become a bit of an obsession for both of you. From there, the sky (and maybe your spare time) is your limit!
More Anal Sex Toys
Roundups
Butt plugs
Anal beads
Anal vibrators
Large butt plugs
Inflatable butt plugs
Metal butt plugs
Anal Lube
Product Reviews
Aneros Peridise
Aneros Tempo
Crystal Minx Tail Plug
Tantus Vibrating Beads
Guides
How to use anal beads
How to use a butt plug
Sex Studies and Statistics
Resources: