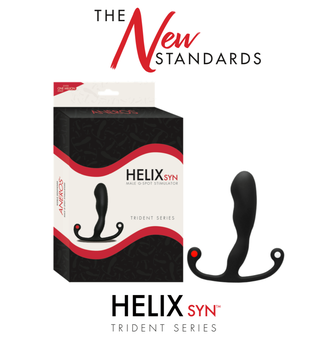 If you are into prostate massagers, you might have already heard about the Aneros Helix line. If you haven't, then you are missing out. I have used a few prostate massagers before, but I haven't really found any that could really live up to the expectations.
I've read all about the amazing orgasms one can get with a prostate massager, but I had yet to try anything that could come close. That is, until I came across the Aneros Helix Syn Trident and the Helix Trident.
It may not have the best name in the world for a prostate massager, but goddamn, it works. The Helix Syn Trident and the Helix Trident have subtle differences, which I will talk about in this review.
Aneros is a popular brand when it comes to prostate and anal toys, having built themselves up from literally the bottom up (ha!). And, having tried both the Helix Syn Trident and the Helix Trident, I have to say, these guys live up to their reputation.
These guys understand anal pleasure, and their massagers deliver lots of it.
Starting Off…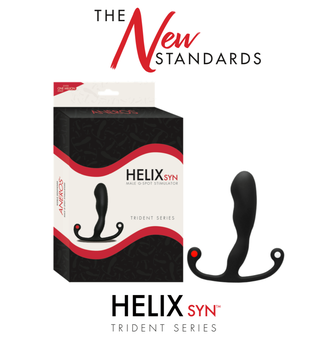 The Aneros Helix Syn Trident is basically a slightly enhanced version of the Helix Trident, which is a best-selling prostate massager in itself.
The only difference between the two is that the Aneros Helix Syn Trident comes with a thick silicone coating, which makes it all the more comfortable to use. I'm a sucker for good packaging, and for something that has premium pricing, I had high hopes for the packaging.
I wasn't disappointed. The packaging is really well done, with the company paying close attention to detail to subtle elements, like the soft cardboard box.
If you want something that best suits your size, check this buying guide.
Once you remove the cardboard box, you are left with a gift box inside, that's locked with a magnetic flap. Flip that up, and the Syn is revealed in all its true glory.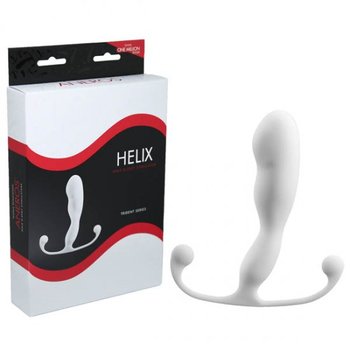 The Aneros Helix Trident's box has a slightly different color scheme, but the packaging is the same otherwise. It's got the white color hues just like the Trident.
4 Inches Doesn't Seem All Bad
Let me tell you this right off the bat: the Helix Syn Trident is smaller than it looks. Despite all the pictures that you might have seen online, it's just not as big.
It's roughly around 5 inches (4 insertable), with a circumference of 3 inches. That's actually not a bad thing, because you don't want big and thick devices for anal play. For the novice user, this is just the perfect size.
If you want a bigger one, go for the Progasm.
It is by far one of the smallest devices that I have used, but it actually reaffirms my belief that you don't need a large device to get off. However, for people who want the "full feeling" a la anal plugs, this might not be the best replacement. It might be a small device, but I have to say, it's incredibly well-built.
The quality of the materials and the construction easily mean that it's going to last you for years.  
There's a firm plastic arm with a rounder tip that rests around the perineum when you are going at it. There's a material difference between the two, however.
The Helix Trident, the more affordable version, is made of ABS plastic instead of the premium-grade velvet touch silicone. The difference is obvious, but so is the price.
Aneros Helix Looks – Velveteen Pleasure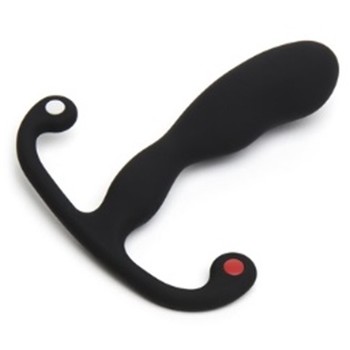 The use of black and red all around the Aneros Helix Syn Trident gives it a very masculine feeling.
I have to say, the silicone used on the business end of the device is certainly not the same soft and silky one that I have come to expect from most silicone toys – it's high quality and does its job well.
So, my first impressions were really good.
The plug is designed to stay fixed in position once you insert it. You have to be gentle with the insertion, and once it's in around the 30% mark, just let your sphincter muscles bring it in.
You don't even need to use your hands to use the device – just let everything go and focus on maximizing your pleasure.
The devil is in the details, and the anatomic design of the stem will ensure that it rubs gently against your anal walls. If you are new to anal play, this is the canal you want to focus on, because there are literally millions of nerve receptors here.
And, the Aneros Helix Syn Trident hits every one of them once it's inserted.
It's like a pleasure orchestra being held inside your anal cavity. The tip of the toy is angled a wee bit, and cuddles up neatly to the prostate. That's what it was designed for, anyway.
The Tabs – More Important Than You Might Think!
Then, you have the two tabs. Not only do they improve the aesthetic appeal of the toy, but they also serve a functional purpose.
The red tab is the standard handle, which you will use when pulling the toy out. The black tab is also known as the P-tab. The small black ball rests up against your perineum, adding a bit of pressure to further enhance your experience.
It's not all that pronounced, and you might not even notice it unless you explicitly tune out everything else and try to focus on that.
Honestly, I couldn't notice it much; I was too busy focusing on the other wonderful pleasures that were coursing through my nether regions. To round it up:
A very well-built massager
It feels fantastic on your prostate
The value for money is excellent
What About the Aneros Helix Trident?
The Helix Trident may look similar at first, but there are some key differences.
First of all, the size of the tabs is smaller. They are not as curved as the Helix Syn Trident. This makes a huge difference in terms of perineal stimulation.
Secondly, the mid-range width is 0.04 inches smaller. This is obviously minuscule, but you will notice it if you have been using the Helix Syn Trident too often. Spec-wise, both are quite similar. Let me break it down for you in this chart:
| | | |
| --- | --- | --- |
| Measurements | Helix Syn Trident | Helix Trident |
| Tip-width | 0.98 inches | 0.97 inches |
| Mid-range width | 0.88 inches | 0.86 inches |
| Stem to perineum distance | 1.65 inches | 1.75 inches |
| Insertable depth | 4 inches | 4 inches |
Tips for Using the Helix Syn Trident and the Helix Trident
Unlike the conventional vibrating toys available, the Helix Syn Trident and the Helix Trident were manufactured to be used in a slightly different manner.
You don't have to apply any sort of thrust or move the toy in and out using your hands. Instead, you are required to make use of your pelvic floor muscles to aid in the toy's movement.
People use prostate massagers in different ways, so it's really up to you. Basically, in order to make it work, you have to first insert the massager.
Then, when you "clench" your muscles, the massager will be pulled further in, and will begin to massage your prostate ever so gently.
For those who haven't had a prostate massage before, you need to understand that it requires a bit of training. You have to focus on all the wonderful sensations emanating from your prostate.
It's one of the reasons why most people don't have a good experience on their first try. However, if you are patient and really want to see what the hype is all about, I suggest you continue practicing.
Within a short while, you will be writhing with pleasure. Because these are both relatively small devices, you won't have to worry about the insertion part.
But, I still recommend that you keep plenty of lube handy.
I always recommend water-based lubes; they are just a better choice. You can either use it while keeping your legs up, or you can use it by lying on one side of the bed, and lifting one leg up.
My Experience with the Helix Syn Trident – Spoil Your Prostate!
You have to slowly insert the Helix Syn Trident or the Helix Trident inside, and once your muscles take it in the rest of the way, move your hands off. Now, you just have to flex your pelvic muscles and relax them.
You might feel as if you are about to urinate, but you won't. Stop and start again and wait for the prostate massager to do its thing.
When I used it, my focus was on making sure that I get no other physical stimulation. I wanted to hone in purely on the pleasure that the Helix Syn Trident was giving me.
It's quite difficult to put into words just how the Helix feels when you clench your sphincter muscles. You get the "oooh" feeling right away, and that's when you know that the toy is worth the money.
With the passage of time, the speed of movement is going to increase. After a couple of weeks of use, I was really into it. I would shake my hips backwards, and the intensity of orgasms improved as well.
We all know what an orgasm feels like, but the ones I got from the Helix Syn Trident were so much more, intense. The
Orgasmic Heaven with the Aneros Helix
My entire body was shaking. I had not felt such pleasure before. It took me a half hour at the very least to muster up the energy to get off the bed and clean myself up, and since then, I have cherished my time with the Helix Syn Trident.
I know I have called it a "prostate toy," but I don't think that's the right term.
I didn't notice any difference in the amount of semen I was ejaculating, but we all act differently. Who knows, you might end up with a cum fountain down there!
Think of it as a trainer of sorts; a tool that is designed to really help you unlock the pleasure that you can get with a prostate massage. Again, it's not something that's going to work overnight; you will have to spend some time with the device to really get the hang of it and figure out just how it works.
The tingly buzz that it provides, coupled with the incessant stimulation offers a mind-blowing experience.
Trying Out the Helix Trident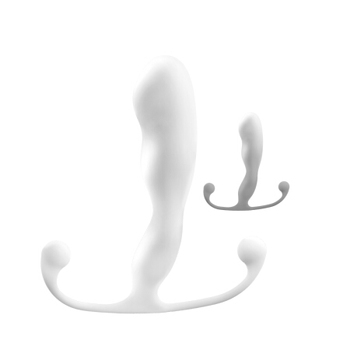 It's frankly amazing just how big of a difference the material can make. The Helix Trident is good, but it's just not as good as the Helix Syn Trident.
This one is missing the velvety feel, and let me tell you, that's worth the money. The Helix Trident requires you to apply copious amounts of lube. It gets absorbed so easily!
In terms of pleasure, the relatively flat curvature of the tabs also plays a role. These are not as defined as the ones on the Helix Syn Trident, and that has an effect on performance.
Once I'd gotten used to the Helix Syn Trident, I just couldn't have fun with this one. That one just doesn't look good, it definitely delivers.
That being said, this one is a bit more affordable. If you don't want to spend any more, this is a great choice for you. It's also ideal if you are just starting out.
Basic Cleaning and Maintenance for Your Aneros Helix
The Aneros Helix Syn Trident really excels in this department: it is incredibly easy to clean up.
All you have to do is to wash it with tap water, and use any standard sex toy cleaner. It's just that simple. The matte silicone on the device doesn't attract dust as much, but that doesn't mean that you leave it out in the open.
I usually wash it and let it air dry, before popping it back in its tray.
Before usage, it's customary that you wipe it with a standard wipe to ensure that there's no residual dust on it. However, know that the velvety silicone absorbs the liquids.
Over time, it may start smelling, no matter what you do. This hasn't happened to me yet, but I'm sure it will.
The Helix Trident is ABS plastic, so it's also easy to wash. Any kind of anti-bacterial cleaner will do the trick.
As a rule, I wash all my prostate massagers right after use and let them dry afterwards. It's just good practice.
The Bottom Line
Both the Helix Syn Trident and the Helix Trident are good prostate massagers. However, the former is Aneros' flagship and it soon becomes apparent. It is made from premium materials and is the newer version of the two.
If you can afford it, I'd recommend it hands-down. If you are just starting out and don't want to spend over the top, go for the Helix Trident. You won't be disappointed.