Whether you're looking to ease your way into anal play or are looking to amp things up in the bedroom, a metal butt plug can be the way to go.
With a little patience and a whole lot of lube, metal butt plugs prepare your rear end for some pleasure play.
Top 3 Metal Butt Plugs
nJoy Fun Wand – Stainless steel. Designed to hit all the right spots…
AE Gem – Aluminum. Cheap, beautiful, in 3 sizes.
LH Jeweled Metal – Metal. Nice weight feel to it.
Find more great metal butt plugs below.
The 10 Best Metal Butt Plugs
We've rounded up a list of the 10 best metal butt plugs that may be exactly what you're looking for to sizzle up your sex life and bring newer possibilities in the bedroom.
Not everyone is an expert, so we've compiled the list keeping in mind your butt plug experience level.
1) Crimson Tied Scarlet Heart
I personally love me some bling-bling and I see myself using this for its oh-so-gorgeous jewel design. The cute jeweled heart sticking out of your butt or your partner's butt is sure to turn you on.
I know I would be.
This anal plug can be used by first-timers without having any problem with inserting it. Of course, a large amount of anal lube is involved.
The zinc alloy metal plug has a tapered tip that's easy to slide in. The weight on the crimson heart anal plug is enough to be worn all day (you kinky thing, you) or for a short time.
You don't need to worry about the plug slipping out while engaging in sexual activity as it has been designed to stay put. The build has a sturdy feel and will probably last you a couple of years.
However, the jewel does tend to fall off after a couple of uses.
This is more of a beginners' toy and if you're a pro at butt play, this may not be the right choice for you since the end flange is kinda small causing it to slide in your butt and then… Huston we have a problem!
Key Features:
Easy to slide in
Small tapered tip
Jewel heart design
Specifications:
Width: 1.25 inches
Length: 2.75 inches
Material: Stainless steel
Pros:
Great option for beginners
Cons:
2) nJoy Pure Metal Plug
Here's a fancy lookin' stainless steel butt plug that could easily belong on your vanity or proudly flaunted in your living room.
The nJoy metal butt plug has been designed to hit all the right spots to give you the utmost pleasure.
The 2" diameter can be a little difficult to get in and you may find yourself clenching your muscles to apply pressure and relaxing again to let the toy in gently for a few minutes.
But when it does slide in, your butt swallows the toy and the flared, ring-shaped handle can be manipulated to find your right-there spot.
Once it's in, it settles comfortably and can be used for a long long time.
The removal takes some time as well since this is a large butt plug. Whatever you do, for god's sake, do not yank it out.
That's gonna be the most painful thing you experience in par with getting kicked in the balls!?
Well… maybe not that bad, but pretty bad.
Be patient, relax and gently, super gently, pull it out. Given its size, we would deem this to be perfect for experts at booty play and may not be suitable for beginners.
Key Features:
O-ring design
Big diameter
Stays put all day
Specifications:
Width: 5.75 inches
Length: 5.5 inches
Material: Stainless steel
Pros:
Cons:
3) Jeweled Metal Butt Plug
Another jeweled butt plug on our list coz' duh! I like my jewels right where I can see them.. or right where I can't see them but my partner can. Wink.
The jewel is a nice sexy touch to this plug that has an insertable length of just 2.5 inches and so is perfect for beginners.
Newbies are going to love its smooth texture that slides right in without stretching out their rear end.
While used in conjunction with dildos or during sex, many people have had their sexual experiences heightened to a whole new degree thanks to this toy.
If you're a little concerned about the weight being a struggle, don't be. The unit is designed that way to enhance your pleasure.
It might feel foreign at first but in a while, you may begin to feel the pleasure rush to your senses.
Don't worry about the jewels digging into your butt cheeks either, they won't. Because it's so non-invasive, you could actually walk around all day with it on and no one would know…
…Except for your partner and that could be your 'naughty' secret.
Key Features:
Jewel design
Easy to insert
Great for beginners
You may fart rainbows…
Specifications:
Width: 3.75 inches
Length: 3 inches
Material: Stainless steel
Pros:
Cons:
4) Faux Fox Tail Plug
Let your wild side come out on the bedroom with this faux fur tail butt plug. Aren't we all animals after all? We might as well look the part.
The stainless steel butt plug has a good weight and the fox tail is bushy and nice. The insertable length is just 3 inches and can be used by beginners and experts both.
Once inserted, the plug isn't going anywhere, which means you can wag your tail as much as you want and it ain't coming off.
The tail isn't extremely flexible but is soft to touch and the material doesn't shed when brushed.
Cleaning the plug with soap and hot water is easy, although, drying off the tail will take some time.
The tail doesn't interfere with any sexual activity: you can enjoy oral sex or vaginal penetration with it on and this can serve to heighten your pleasure.
The bushy tail can even help give both of you newer sensations as it tickles both of your bodies in a sultry manner.
The Faux Fox Tail is a nice addition to your sex life if you're into role play and visual stimulation. Just seeing the tail sticking out of your partner's butt may turn you on quite a lot if you are into that kind of things…
Key Features:
Faux fox tail
Great for role play
Soft fur
Specifications:
Width: 3.75 inches
Length: 14.5 inches
Material: Stainless steel
Pros:
Faux fox tail for role play
Cons:
5) Pure Fun P-spot
The nJoy Pure Fun P-Spot metal butt plug has been specifically designed to hit the male P-spot but women have tried it on as well and deemed it to be an omnisexual toy. Hurray!
This one isn't an insert it and forget it kinda plug.
You will feel it throughout, given its shape that resembles a sexy, curvy woman with a bulbous tip and tapered waist with a slight bulging hip.
Because of its curvy structure, insertion is a little difficult as you will need to find a relaxed and comfortable position for it to gently slide in.
When it's inserted, rotating the handle to get the tip to press against the prostate is easy.
Pro tip: Lie on your side and squeeze your kegel muscles to milk out this metal butt plug's true potential (pun intended).
Doing so may get your body to take over automatically providing you with sensations that can't be described in words.
The curved unit may be a little too much for a beginner but will go well with people with experience in butt play. Beginners reading this could try an inflatable butt plug instead.
You may not be able to wear it around all day since it does tend to slip off but with tight undies and jeans, you may be able to pull that off.
Key Features:
Perfect for experts
Omnisexual toy
Specifications:
Width: 3.5 inches
Length: 5 inches
Material: Stainless steel
Pros:
Curvy design to hit your P-spot s
Cons:
Difficult to insert and remove
6) Rose Anal Plug
For the delicate little flower that you are, here's a metal butt plug that complements your style. Let's start with the dainty rose sticking out of the plug, shall we?
These ceramic roses are available in two colors: red and black and add so much class to your metal toy. What an elegant way to show your partner that you're both nice and naughty!
These plugs are available in three sizes and you can pick the one that you think will suit you the most.
While some users like to heat the plug before insertion, some love the feel of cold steel against their skin.
Because the rose is ceramic, it may feel sharp and uncomfortable around your butt cheeks to wear around all day or sit on it. It's best worn for a shorter amount of time and while having sex with your partner.
It could also poke your partner when engaging in vaginal penetration, especially during doggy style, so you may both need to be a little careful around the plug.
But, hey, what's a rose without a few thorns?
Key Features:
Ceramic rose design
Easy to insert
Easy to clean
Specifications:
Small: 2" insertable length x 1" width
Medium: 2.5" insertable length x 1.3" width
Large: 3" insertable length x 1.6" width
Pros:
Gorgeous ceramic rose design
Cons:
The rose tends to poke your skin
7) Rabbit Fur Tail Plug
Hey, you pretty little thing on my butt. How cute are these pink fluffy bunny tailed metal plugs? Even looking at it gives me a major Bridgett Jones vibe.
Remember her with her bunny costume on? Or is it just me?
Anyway, these come in a pack of three in three different sizes so you can gradually go up the plug ladder while lookin' cute and adorable like a bunny.
The plug has a nice weight to it and inserts comfortably after a generous helping of lube.
The fluffy tail resembles a stuffed ball with a ball of sponge in the center and surrounded by soft fur throughout. The tail is soft to touch and play around with but cleaning it is a little difficult since the tail won't come off.
After washing it with soap and water, the sponge absorbs a lot of water and takes a really long time to dry off. It might take you a good two days to get the tail to dry completely.
Also, the tail tends to get matted due to the lube but the mats are washed away during cleansing. Good news is the tail doesn't shed and will stay nice and furry even after a couple of washes.
Key Features:
Rabbit tail fur
Pack of three plugs
Fluffy tail
Specifications:
Size S Length: 5.3″, Plug Diameter: 1.06″
Size M Length: 5.7″, Plug Diameter: 1.34"
Size L Length: 6.2″, Plug Diameter: 1.57″
Pros:
Cons:
8) Tempo Anal Simulator
The Aneros Tempo anal stimulator is a shiny stainless steel toy that on first sight looks attractive like a sexy mantelpiece and feels quite heavy.
The size isn't too big and even though it has a good weight on it, it does feel exquisitely delicate and looks non-threatening, like something a first timer would love using and wouldn't be intimidated by.
Tempo has been designed in such a way that it slides in easily when lubed up and may not be difficult at all even for newbies. This is a unisex toy that couples can enjoy together or separately.
Some people love how the stimulator pushes the area between the anus and the floor of the vagina while having vaginal intercourse with it on. Some have even been able to experience a hand-free orgasm with this Aneros model while flying solo.
There might be a slight learning curve for beginners using the Tempo, especially if you are aiming for that hands-free orgasm but once you get the hang of it, you're gonna have some fun.
Key Features:
Anal massager
Easy to use
Exquisite looks
Specifications:
Width – .9 inches
Length – 4 1/4 inches
Material: Stainless steel
Pros:
Perfect size for beginners
Cons:
Slight learning curve for use
9) Akstore Metal Anal Plug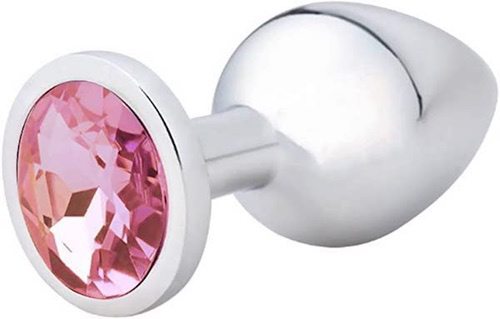 Here are some uber-cute butt plugs that won't break the bank. The Akstore super quality metal butt plug comes with a jewel on its rear end available in a wide range of colors.
The ability to pick out their own jewel color is important to many people, including me, (love the green stone btw) and no wonder this plug has so many rave reviews on Amazon.
Also, when the color of the jewel flatters your skin tone, it just adds to your sex appeal, you know? Like red lipstick. Or piercings!
Anyhow, the medium size may not bode too well with beginners but if you have a bit of anal sex experience you may appreciate its weight and functionality.
Once it's in, the Akstore plug won't budge and you may be able to wear it around all day in high paced scenarios where you're required to walk, sit or squat.
That's right. You could actually hit the gym with it on and do a hundred squats without it budging. Even with its cheap price tag, the metal body is made with sturdy materials.
However, the jewel does tend to fall off after a couple of washes. So, you need to be careful with the jewel and not rub it off too vigorously while cleansing.
Key Features:
Jewel design
Choose your own color
Easy to use
Specifications:
Width: 1.3 inches
Length: 3.35 inches
Material: Stainless steel
Pros:
Cons:
10) Doxy Aluminum Butt Plug
Finishing off our list of the best metal butt plugs is the Doxy smooth aluminum butt plug that looks intriguingly simple and effective.
It screams luxury with the metal engravings and the mirror finish, shiny metal body.
With an insertable length of 4", this might not be an amateur's cup of tea but will fare well with you if you have a bit of butt play experience.
The smooth body has been designed to slide in beautifully and just the movement of the toy getting inserted in your rear end slowly and smoothly may be more than enough to give you a pleasurable stretch.
The Doxy has a good weight and you will feel it throughout its wear. You may be able to wear it all day given its design with the bulging body and the tapered thin neck.
These plugs are a great way to warm up your anal area for some penetrative sex and will stretch you enough just right for the sex to be non-invasive.
Having vaginal sex with it may be incredibly satisfying to both of the partners as the walls of the vagina change shape when Doxy is inside, and this could provide a whole new sensation.
Key Features:
Easy to use
Thin tapered neck
Extra smooth
Specifications:
Width: 4.25 inches
Length: 4.5 inches
Material: Aluminum
Pros:
Very smooth plug for easy insertion
Cons:
Not suitable for beginners
How to Pick The Best Metal Butt Plug for You
Here are some facts to consider while getting yourself a metal butt plug.
Ease of use
Metal butt plugs are a top substitute for the penis and can assist in providing hands-free orgasm to the wearer.
While there are several top butt plugs out there, that are made with various materials such as glass, stone or silicone, metal butt plugs are the most sought after material for their ease of use.
Most metal plugs are made of incredibly smooth and shiny stainless steel that when lubed up properly, slides right in your rear end without causing pain.
Removal is super easy as well, thanks to the mirror-smooth finish on the plugs that make it possible for users to experiment with larger butt plugs for a fuller sensation.
Look
We're in love with how incredibly luxurious they look with their supreme craftsmanship. Metal butt plugs look like they could be shown off on your living room shelf with their smooth finish.
Weight
These plugs have a good weight on them that may engage your anal muscles more than other materials do.
The weight can, however, be a little too much for some people and for that reason we recommend you start with a small plug.
Temperature play
Did we mention how temperature play is possible with these butt plugs?
Adding some 'heat' in your sexual life comes easy with metal plugs that are typically cold to touch in normal weather.
However, you may not appreciate the cool metal feel, so if you want to enjoy a warm plug immerse it in hot water first.
For an extra cold sensation, the metal plug can be put on the freezer for a few minutes.
Metal Butt Plug FAQ:
1) What is the best way to choose a butt plug?
Start small. If you're new to play with metal plugs, it is safest to start with the smallest size possible. Get well-acquainted with that particular size and slowly work your way up.
It is possible to enjoy sex with a small size but may be incredibly uncomfortable if you start with a medium or a large size right away and that may end up discouraging you from engaging in anal play completely.
As with all sex toys, it's best to experiment. Little differences in the size or the girth of the toy may provide a big change in your senses.
So, if you're up to it, get yourself a few sizes and designs to really understand what works best for you.
2) How to clean butt plugs & anal toys?
Metal butt plugs are loved for the fact that they are incredibly easy to clean and are highly sanitary for use. Unlike other materials, a metal butt plug can be cleaned thoroughly with soap or water.
For proper disinfecting, immerse it in hot water and you will get it thoroughly sanitized.
No matter how tired you get after sex, make sure you clean your metal butt plugs thoroughly before storing them away. We cannot stress this enough.
Pop you metal butt plug in the dishwasher after use for thorough cleaning and if that doesn't make your life easy, I don't know what will.
3) Can I wear a butt plug in public?
Absolutely. You can wear them to work or when you're running errands without it interfering with your movement.
Some people love the feel of the plug in their bodies all day and wear it absolutely everywhere, even to the gym.
4) So how long is too long to wear a butt plug?
Although there hasn't been any research done on how long you could wear a butt plug, the answer varies with each user.
Some prefer to wear it only when they're engaging in sexual activity while others wear it all day long.
We recommend you wear it for as long as you don't feel any discomfort. If you feel any kind of discomfort, pain or bleeding, you need to take the plug out right away.
5) What is the best lubricant for a butt plug?
Metal butt plugs are compatible with all kinds of lubricants since they are made with non-porous and non-corrosive material that doesn't absorb the lubricant.
So you may opt for a silicon-based lube, water-based or oil-based lubricant based on your preferences. They can even be used with natural lubes such as coconut oil since metal butt plugs are latex-free and won't break down.
While there are several pleasurable nerve endings on the anus, there are several pain receptors too and inserting a butt plug without lubing up the rectum properly may be one of the worst pains you've ever experienced.
6) How do I use a metal butt plug?
We have written an illustrated guide on how to use a butt plug.
But here is a quick answer: always apply a hefty amount of lube before inserting a butt plug in your rectum. Despite what porn teaches you, spit is not lube and it doesn't work.
Relax your body and find a comfortable position for you to slowly insert the plug in your rear end. When removing it, take it extra slow as well and practice caution.
Never yank or pull out your anal plug.
7) Are metal butt plugs safe?
Most metal butt plugs are made of stainless steel that is non-invasive to the human body. Some toys are also made with aluminum or titanium which are safe for use as well.
However, some companies disguise their chrome-plated toys by marketing them as body-safe metals and that's where you need to apply due diligence.
Make sure to check the legitimacy of your seller before investing in a metal butt plug.
Unlike glass toys, you won't have to worry even if you drop your metal butt plugs for it won't crack.
However, if it has a big fall where it alters the shape of the plug, you may want to consider not using it again.
8) What are the disadvantages of using metal butt plugs?
The biggest disadvantage of using metal butt plugs is their expensive price tag. Body-safe metals are expensive and the purchase of these plugs is sure to put a dent on your wallet.
However, they do last you a long time when taken care of properly and might be worth it in the long run.