Wait, the best tongue vibrators? And here you thought vibrators were for your clit. You didn't get it wrong – tongue vibrators are still meant to make your clit buzz. Or your ass. Or your nipples. Or your balls…

…you get the idea.
Ok, but what ARE the best tongue vibrators?
Tongue vibes can actually refer to two different types of toys.
Tongue-Like Vibrators
The first category is vibrators that are meant to simulate the movement, sensations, and effects a tongue would generate on your clit, and they're sometimes even shaped like tongues. They are essentially oral sex simulators, and lemme tell ya, they're the best thing since cunnilingus.
On-Tongue Vibrators
The other kind is a vibrator that actually goes ON your tongue. That's right, now vibes don't only go on your fingers and on your cocks, but also on your tongues.
"But what's the fucking point, then?", you may ask. "Surely if you're gonna use your tongue, it's better to just go with oral sex".
Yeah well, why just enjoy a good lick, when you can enhance the sensation?
Don't get me wrong, a gal likes some tongue play, but if you could get a VIBRATING tongue to lick your pussy, wouldn't you prefer that? Well, now I'm giving you a chance to figure it out.
And if your partner ever gets jealous of your new favorite tongue, there are only two steps you need to follow:
Reassure them that their oral skills will always be better and you prefer their tongue to the plastic ones (even when it isn't true).
Offer to let them use your little toys and introduce them to the world of pleasure an extra tongue can bring to your sex play, whether we're talking about pussies, cocks, balls, nipples, or assholes. Everyone can use an additional tongue.
Vibes FOR the tongue
First up in the blue corner, offering intense and unique sensations for the tongue and clit, there are the vibrators that you strap onto your tongue!
Yep, just like a cock ring, only it's a tongue ring, and it serves much of the same purpose: it offers some vibrating pleasure to your favorite sex friend and their clit, dick, ass, taint, balls, nipples, etc.
That's its intended use and purpose, anyway, but no one will stop you from using it on its own. However, that pretty much defeats the purpose, doesn't it? If you want a solo play toy, keep an eye out in the section above – those will serve you nicely.
What it's good for:
Partnered play – Not that anyone will ever get bored of good ol' cunnilingus, but it's nice to shake things up from time to time, right? You can spice up your sex life through the simple act of strapping a plastic vibe to your tongue and going to town on your partner, either between their legs or in other places.
Oral sex enhancement – If your partner is not the most skilled lover in the oral department, that can be a very uncomfortable conversation to have. Suggesting a vibrating enhancement like this can broach the topic casually, and without hurting their feelings. Plus, it can make them more enthusiastic about improving.
1. Tongue Teaser

Why you should try it: The Tongue Teaser is pleasantly shaped just like a tongue, so it can fit on top of your real one as seamlessly as possible. Pink, pointy, and packing quite a bit of power, this toy can enhance your sexual experience with your partner.
I'm not entirely convinced by that shape, but I guess they were going for mimicking a tongue, and they did a good job.
I don't know if this will replace oral sex, per se, in your sexual arsenal, but that's not the point, really. The tongue is nice and smooth, so it should provide for pretty realistic sensations.
The tech stuff:
Length: 2 inches
Width: 1 inch
Batteries included
2. Tongue Star Pleasure Vibe

Why you should try it: I LOVE this one! It's so kooky. Ok, so the way this works is that it kind of looks like a mouth guard that attaches to your teeth, and it has a little vibrating motor that sits under your tongue.
That makes your tongue vibrate, and you can only IMAGINE what kind of sensations that can produce on a sensitive clit. Cool sex toy for couples.
Real talk: you're going to look like a fucking dork, but I like the fact that there is no actual tongue to this vibe. It really actually only enhances a real tongue by lending it its vibrations. That's a feature I've yet to see in other toys, so it gets a big ol' thumbs up from this bitch!
The tech stuff:
Dimensions (mouth guard): 2.5 inches x 1.75 inches
LR41 batteries included
3. Screaming O Ling-O

Why you should try it: The Ling O, on the other hand, is another tongue ring vibe, and while this also makes your tongue vibrate, for enhanced pleasure, it also has the little nubs all over it to add some traction and extra pleasure.
Now, to me, that would make it superior to the smooth ones, because the texture definitely adds to the experience, but that's definitely going to depend on your personal preference and sensibility.
You might find the vibration to be too much, coupled with the texture, so I'd go for a milder or stronger stimulation based on what I know about my own clit. After all, you know it better than anyone, right?
The tech stuff:
Length: 5.7 inches
Width: 3.7 inches
Batteries included
Vibes offering a tongue-like sensation
Aaaaaaand in the red corner, long, thin, short, bulky, and not always anatomically correct, we have vibrators that mimic tongues. They may or may not be shaped like a tongue, but they promise all of the pleasure and delight of one.
What they're good for:
Solo play – If you're single, or just enjoy… taking matters into your own hands (that may be the worst masturbation innuendo ever, sue me), you don't have to forgo the pleasures of oral sex.
Why rub away until your fingers go numb, when you can use a gadget especially designed to allow you to close your eyes and imagine someone's face pressed all up in your privates? (Note to sex toy makers: please don't make toys that have faces, thanks.)
Pleasure enhancer during sex – I joke about people refusing to give oral, but at the end of the day, we've all got limits and preferences, and some people will not enjoy giving oral pleasure.
That is their choice and their right and we have to respect it – especially since you can all but replace a real tongue with a plastic one that may even do the job better.
Or perhaps your partner's mouth is otherwise occupied with other parts of your body, but you still crave that oral sensation – voila! Plastic tongues lapping at your clit. Isn't the world we live in great?
I recently wrote a guide to the best vibrators in the world.
4. Incredible Oral Tongue

Why you should try it: Now, this giant pink tongue (super attractive, right?) makes an apparent effort to be anatomically correct by making smart use of the tongue's taste buds to turn them into "ticklers" that will stimulate your clit.
They're good even just rubbed up against your pussy, but when the tongue is also vibrating… watch out!
Plus, this toy is kind of dual purpose, because you could jam the tip of the tongue up your vag to play with your G-spot if you really wanted to. Although I recommend something specifically designed for that (the best g-spot vibrators do the job), maybe with a curved shape.
But hey, better than a cucumber. Don't hurt yourself, kids!
The tech stuff:
Width: 1.5 – 2 inches
1 AA battery, not included
Waterproof
5. Utimi G-Spot Tongue Vibrator
Why you should try it: You guys, this is literally a gigantic tongue. Shaped like a tongue, has the color of a tongue – it's kinda cool. But surprisingly, that's not the most distinctive feature of this toy. No, the reason this should intrigue you is that this is actually insertable, and serves a dual purpose.
Yes, you can absolutely use it on your clit and pretend you're being eaten out by a giant (hey, I'm not one to kink-shame you), but because of its curved shape, you can also shove it up your vag and stimulate your G-spot.
Now, if that's not efficient, I don't know what is. In fact, this may be the toy that is better than oral, because after all, the one thing a partner can't do, is lick your G-spot. But this thing can. I'm not saying you should dump your boyfriend, but…
The tech stuff:
Length: 6.3 inches
Diameter: 1.3 inches
Waterproof
USB charged
6. O-Zone Tongue Vibe

Why you should try it: You know that one LMFAO song that goes "WIGGLE WIGGLE WIGGLE"? That's exactly what this vibrator does. The tongue will wiggle to hell and back to make you scream, just like a tongue would.
The vibrating patterns are especially designed to mimic the movements of a tongue during oral sex, so expect your pussy to be licked, teased, tickled, and flicked in like, 10 different ways. Does your sex partner have 10 different patterns in their oral arsenal? Somehow, I doubt it.
This one has a remote control as well, so you can be the sole master of the vibrating patterns, if you wish. Or you could relinquish control of your pussy and hand the remote over to your partner, so they can satisfy you with some smart use of tongue… even if it's made of silicone.
The tech stuff:
Length: 3.25 inches
Width: 1.5 inches
Cord: 27.5 inches
USB charged
7. Power Buddies Clitoral Tongue Vibrator

Why you should try it: The contraption is… interesting, to say the least. It somehow manages to look girly, confusing, and dangerous, all at the same time. But what it really is, at the end of the day, is a pink, vibrating tongue with a handle.
Groundbreaking? Maybe not. But it should make for some good times, solo or with the help of an eager and willing partner.
This one is also on the smaller side, so if you're not into a giant monster cock with a tongue sticking out of it, this more discreet version may be more up your alley, girl. The thing to keep in mind is that there is only one speed to enjoy, so that may or may not be enough for you.
The tech stuff:
Length: 4.25 inches
Circumference: 1.5 inches
Waterproof
4 x LR44 batteries (included)
8. 10 Speed Wireless Female Vibrator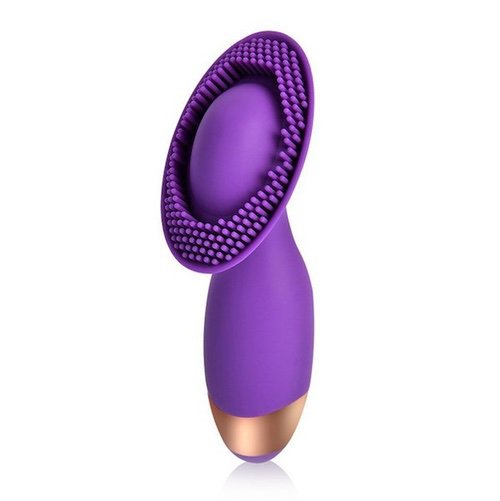 Why you should try it: The most different toy on the list may very well be this one. If you take a look at it, it's easy to see why. Compared to most of the other vibrators we have here, this one is the most unique. Plus, unlike the others, there is no actual tongue to speak of here… not even a little one.
What we do have, however, is a stimulating "egg", surrounded by dozens of vibrating little nubs, meant to enhance your masturbatory experience and push it to the next level.
Together, these design features are meant to provide you with a realistic, authentic sensation of having your pussy licked by an eager and willing tongue… and the good news is that you can "lick" yourself at 10 different speeds. Who said masturbation is sad and lonely?
The tech stuff:
10 speeds
Waterproof
USB charged
9. Fun Factory Volta Flickering Tongue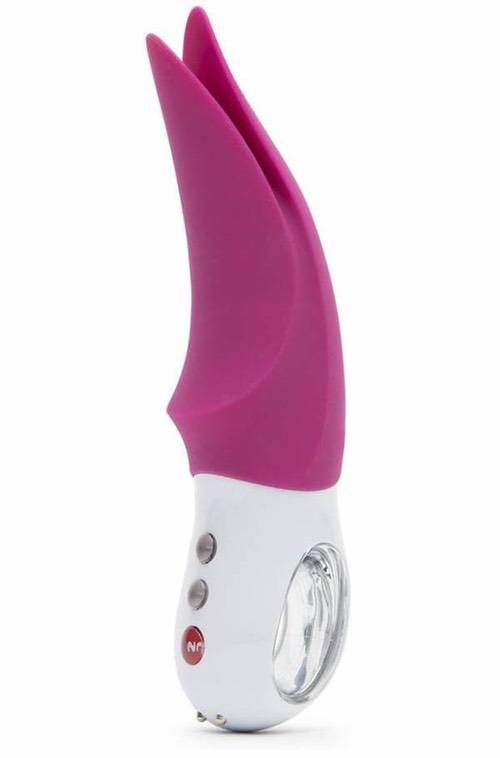 Why you should try it: Now, this is one of my favorites, I will admit, because it looks like it would feel INSANE. What you will notice about this is that it doesn't just have one pointy tip, but two of them, kind of like two tongues.
Pinch your clit in between these babies and let it rip to have them flutter alllll over your most sensitive parts.
The original design of this toy can make it feel like a tongue is actually moving up and down your clit and you're being licked for real. I'm a stickler for the real thing, but this is something I can be persuaded to try, because who doesn't want a USB-powered pocket tongue, right?
The tech stuff:
Length: 7.5 inches
Circumference: 5.5 inches
Waterproof
USB charged
10. Clit Kisser Vibrator

Why you should try it: You may think that "vibrating jelly tongue" says it all, but ohhh no, you are not prepared for all of the WTF aspects of this little toy.
If you take a good look at it, you will notice that instead of having the good sense of just attaching a tongue-like piece of silicone, the manufacturers had the tongue stick out of a mouth. That's right, there are lips on this baby, and it's as creepy-looking as you imagine. Take a look, if you don't believe me.
That being said, the toy itself is interesting and does its job. What is different about it is that the disembodied mouth is just a jelly sleeve on a regular remote-control bullet vibrator.
That means that a) you can use it without the sleeve if you want to, and b) you can put the sleeve on a different vibrator, if you think you have one that lends more power to your preferred tongue flicking.
The tech stuff:
Length: 7 inches
Multiple speeds
2 x AA batteries
11. Power Play Flickering Tongue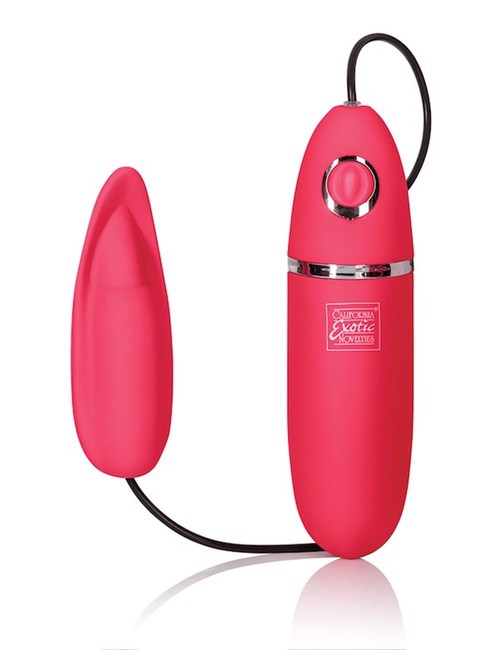 Why you should try it: Have you ever wished you could control your partner's tongue to get it to flick however you want, without needing to explain, or otherwise shove his face harder into your pussy?
If you're anything like me, you're going to fucking love this silicone tongue, because it's a) flexible, and b) comes with a remote control.
You don't even have to limit yourself to using it on your clit, you can enjoy it on your nipples, or you can use it on your partner's balls or taint, you can engage in some assplay, etc.
The tech stuff:
Length: 4 inches
Width: 1.5 inches
Cord: 24.5 inches
4 AAA batteries, not included
Waterproof
12. Red Hot USB Flickering Tongue Vibrator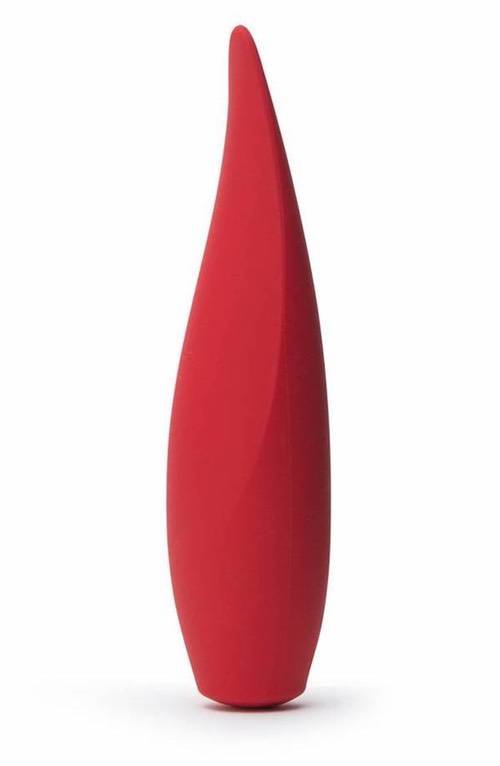 Why you should try it: I'm just gonna come out and say it: it looks like a pepper, which is probably why it's called the Red Hot Flickering Tongue. That in itself is kind of hilarious, but you know how I feel about shoving stuff that's shaped like fruit, veggies, or animals up against my cooch.
It sounds like it would give you hella yeast infections.
Anyway, the red pepper has the pointy tip that we're familiar with from other similar toys, made out of silicone, and very flexible, to help with the moving and the flickering once it starts vibrating. Press it against your clit and it should feel like you're being licked by a pepper. Sorry, a tongue.
*Warning: Please don't masturbate with peppers, y'all. It's gonna BURN, I promise.
The tech stuff:
Length: 5 inches
Width:
USB charged
13. Dr Joel Kaplan Throbbing Powerful Flickering Tongue Vibrator

Why you should try it: First thing's first – this thing is kind of massive, and can look very intimidating. I like to think nothing can phase me anymore, but this… big, black, pointy tongue does not look pleasurable, I will admit.
But when people talk about not judging a book by its cover, THIS is what they were talking about. Well, probably not, but this is what we're going to talk about.
The name is telling no lies, ladies, because this vibe is throbbing, alright, and it'll make your clit throb with it. You can expect a lot of power with this one, so strap yourself in and go along for the ride.
The tech stuff:
Length: 9 inches
Circumference: 5.2 inches
Waterproof
3 x AA batteries (not included)
14. Rotation Tongue Vibrator

Why you should try it: It looks like the dual-purpose toys have an edge, although this one is kind of cheating. It's basically a dildo, but it also has a fan-like component that mimics the movements and feeling of a tongue lapping up at your clit. But still, cheating or not, we can't ignore its handy features.
You can enjoy some hearty penetration, if that's what your after, but also benefit from the delightful pleasures of getting your pussy licked with the help of this water mill. Err, lapping tongues. Sorry, can't get that imagery out of my head now.
The double stimulation can go a long way towards making you orgasm, if you're one of those hard-to-cum folks.
The tech stuff:
10 vibrating modes
Waterproof
12 x 12 frequency vibration