Hold onto your clits babes! Because today we're talking about clitoral vibrators.
Like men and their dicks, they come in all shapes and sizes, but unlike them, they can a) actually find your clitoris, and b) get you off.
I'm gonna spare you the years of heartache and frustration I went through. I'll tell you right now that apparently, as many as 70% of women need serious clitoral stimulation in order to orgasm.
I spent years of my life thinking I was to blame, when it was them, this whole time! The men who won't go on a sexual expedition to discover your clit.
But that's ok, because you don't need a man to stimulate that shit – I've got you covered with an extensive selection of the best 22 clitoral vibrators, of all types and in all price ranges.
Top 3 Clitoral Vibrators
Womanizer Pro 40 – Featherlight clit suction that will have you shaking in no time
Satisfyer 2 – Replicates the sensation of cunnilingus
Magic Wand – Powerful, powerful, powerful clitoral vibrator
But let's back up for a second, here – what is a clitoral vibrator, how can you recognize it, and most importantly, why do you need one?
What's a Clitoral Vibrator?
Check out the name – a clitoral vibrator is a vibrator especially designed for your clit. Duh. Gone are the days when women needed to rely on household appliances for those good vibrations (washing machine on the spin cycle, anyone?).
How Does a Clitoral Vibrator Look Like?
Because they're meant for external use and clitoral stimulation, clitoral vibrators are generally smaller than say, G-spot vibrators. A lot of them are bullet vibes, or of course, the ever popular rabbit vibe.
But in recent years, the market has exploded with new and improved clitoral vibrators. They come in different shapes, refined for maximum pleasure and ease of use. Some of them are USB-chargeable, or remotely controlled, or hands-free, or synced to your phone, oh my!
Why you need one: Fingers are great and all, and men try their hardest, bless their hearts, but if you find it hard to orgasm, you need a toy. Plus, they can enhance couple play, as well!
Why I Chose These Clit Vibes
I've chosen a wide variety of the best of the best clit vibes to please all pussies, desires, and price ranges. If you're the proud owner of a clitoris, you will find something on this list that appeals to you, mark my words.
| Best Clitoral Vibrator | For You IF: | |
| --- | --- | --- |
| FingO Nubby | You have slippery hands | |
| JimmyJane Form 2 | You want it powerful | |
| Basics Powerful Pocket | You want it portable | |
| Power Play Tongue | You need a tongue in your pussy right now! | |
| Doc Johnson Tryst | You're reading the wrong article | |
| We-Vibe Tango | You like it cute and pink | |
| Mimi Soft | You want something that doesn't look like a vibrator | |
| Hitachi Magic Wand | Just BUY THIS FUCKIN' TOY NOW | |
| Original Venus Butterfly | You're too lazy to touch yourself | |
| Embrace Foreplay | You're a cheapskate and plan to use it on your nipples as well | |
| Sqweel | You REALLY love oral | |
| Touch by We-Vibe | Elegant is your last name | |
| MUZE | You're discreet | |
| Silicone Pleasure Orb | You get bored easily | |
| Bang Bang | Are you into rabbits? | |
| Eva by DAME | Hands-Free. Nuff Said. | |
| Womanizer W100 | You're into futuristic shit | |
| Satisfyer Pro 2 | You like your clit sucked like there's no tomorrow | |
| We-Vibe Unite | Your neighbors are spying on you | |
| Lelo Nea 2 | Luxury is your standard | |
| Power Bullet | Your underwear are asking for one | |
| Life by Leaf | You are a nature lover lol | |
Full reviews of the best clitoral vibrators below:
The 22 Best Clitoral Vibrators
22) FingO Nubby

What's so special about it? I remember the first few times I used clit vibes and how they would ALWAYS slip out of my hands. You could almost never hold in place for long enough to build up an orgasm. However, that problem is solved swiftly and cleverly with this toy.
It's a clit vibe you put around your finger, so that you can hold it in place exactly where you want it, with no effort at all. No slipping and sliding when you're in the throes of passion; just a tight grip and a nubby texture that is meant to enhance your orgasm. Sign me the fuck up.
The tech stuff:
Length: 2 inches
Width: 1 inch
Waterproof
Battery operated
21) JimmyJane Form 2 Clitoral Vibrator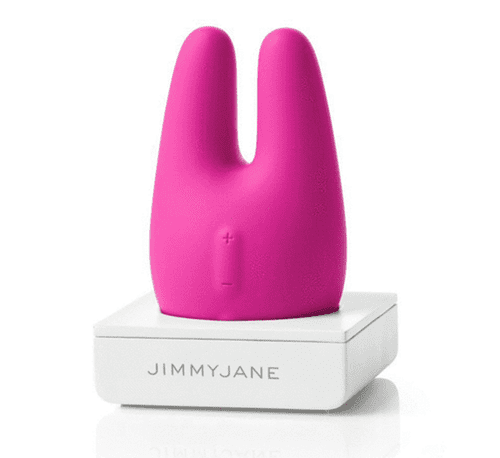 What's so special about it? Now, this one looks funny. Imagine a pair of legs upside down or a pair of bunny ears; it's two-pronged. But I challenged myself to look past the way it looks. This thing promises to be more powerful than anything on the market of its size.
Plus, it doesn't have one motor, but two. Twice the power, baby, so you can fuck yourself with…these pink bunny ears. Okay, maybe I can't get past its appearance, but the power alone promises to make up for it.
The tech stuff:
Length: 3/2 inches
Width: 1.9 inches
Waterproof
4 hours runtime
20) Powerful Pocket Clitoral Vibrator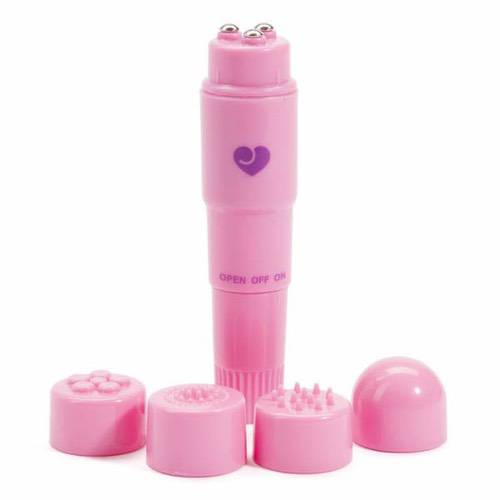 What's so special about it? If you didn't know, you might think this is a toothbrush. Or a mini flashlight. Or a tiny Barbie microphone. While others are all sleek and futuristic looking, this might as well have been hiding in a cereal box or in a Polly Pocket.
But what it lacks in size it makes up for with 4 different heads you can swap out for different stimulation patterns. For whatever your pussy feels like on that particular occasion. Plus the size means it's highly portable.
The tech stuff:
Length: 4.1 inches
Circumference: 3 inches
Waterproof
AA battery
Built-in controller
19) Power Play Flickering Tongue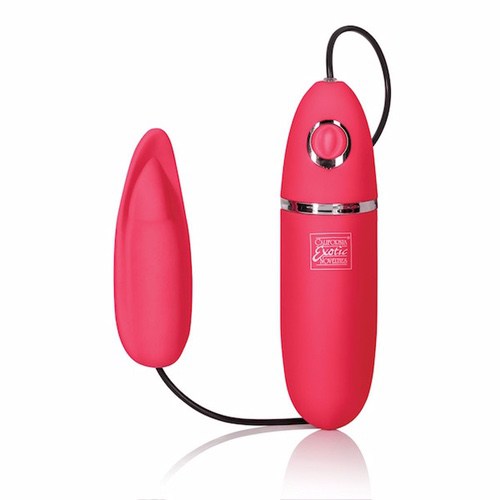 What's so special about it? From experience, I can tell you that nothing feels better than a tongue in your pussy, ladies. If you don't agree, then maybe you're not getting the right kind of oral pleasure from your partner.
I say every woman should be properly licked. If there isn't a real tongue available willing to do the job, then you'll just have to find a suitable replacement, won't you?
This tongue vibrator simulates a real tongue in its movements and the sensations it offers and it will never complain about the taste or strain. Win-win.
The tech stuff:
Length: 4 inches
Width: 1.5 inches
Waterproof
4 AAA batteries (not included)
18) Doc Johnson TRYST

What's so special about it? I'm gonna cheat for a second, here, and introduce you to something that isn't specifically a clit vibrator. It can stimulate it just the same, though, along with other parts of your body, including G-spot, or even a partner's dick.
It has two arms that you can set apart to use for internal and external stimulation or "pinch" your clit, nipples, etc. You know, just like you would do with the toys that have "ears".
The tech stuff:
Length: 5.4 inches
Width: 2.2 inches
Water resistant
Internal + external stimulation
USB rechargeable
17) We-Vibe Tango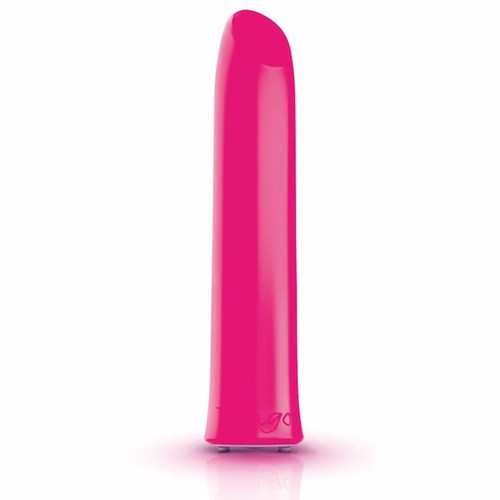 What's so special about it? If you look at the picture of this toy, you might think it's a dildo and wonder what the hell it's doing on a clit vibe list. Well, it's not. It's certainly phallic-shaped, but it's way too small to be a cock. I personally prefer something girthy for insertion purposes, but to each their own.
Anyway, this is for clit stimulation only and it vibrates something fierce, so don't go shoving the tiny dick up your pussies, ladies. I could make a very cliché joke about good things coming in small packages, but we all know that's not true. You're gonna have a bad time.
The tech stuff:
Length: 3.8 inches
Width: 0.7 inches
Waterproof
Built-in controller
Rechargeable
Runtime: 2 hours
16) Mimi Soft by Je Joue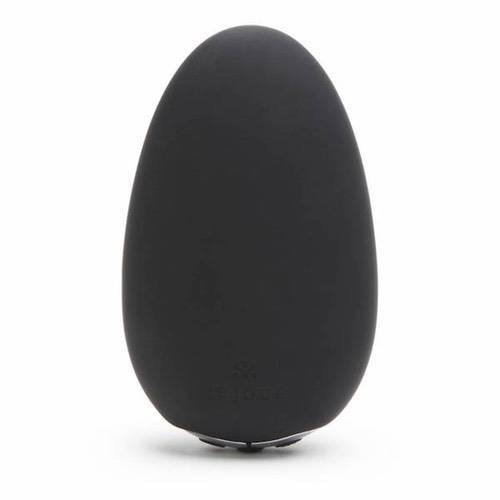 What's so special about it? This one is described as a "pebble" vibrator, which, I admit, does not sound very enticing. Who wants to rub a pebble all over their clit? Ew. However, this one's made of silicone, and it vibrates, so I'll give it a pass.
Plus, clitoris connoisseurs will know that each clit is different and some need precise, head-on stimulation. Others do well with a broader, all-over kind of touch. This toy does both, which explains the pebble shape.
The tech stuff:
Length: 3.5 inches
Circumference: 5 inches
Waterproof
Built-in controller
Rechargeable
15) Hitachi Magic Wand Massager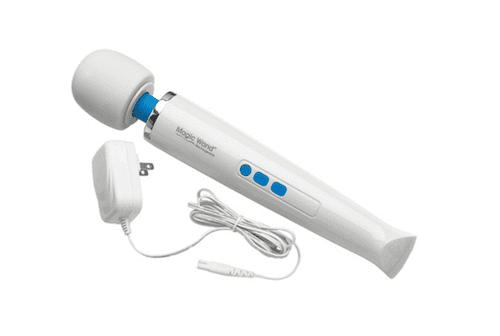 What's so special about it? The Hitachi Magic Wand is coming at you live and unplugged. If you've never heard of the Hitachi Magic Wand, I don't know what to tell you, except that y'all need Jesus. The Magic Wand is a classic sex toy and the seemingly innocent gateway drug to the world of pleasure.
Technically a "massager", the Hitachi didn't start out marketed as a sex toy, but women quickly discovered that this thing is a fucking bulldozer. I mean, it used to plug into the wall; expect some serious power. Try it and your clit will thank you over and over and over again. Mine did.
A word of caution, though: you need to work your way up with this one, otherwise, you can desensitize your clit. I know it sounds like an urban myth, but it happened to me and I have my misspent youth to thank for that. I suggest wrapping it in a towel or something and see how it goes.
The tech stuff:
Length: 13 inches
Diameter (head): 2 ¼ inches
Rechargeable
14) The Original Venus Butterfly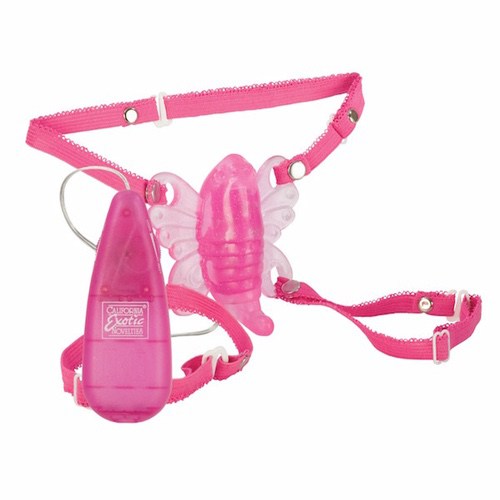 What's so special about it? This is a strap-on, but not in the way you think. The Venus Butterfly isn't a strap-on cock, but a strap-on clit vibrator, and yes, it's shaped like a butterfly, with little wings and everything. It's pink, glittery and cutesy, so if that's your kind of aesthetic, you might want to get this for Christmas.
The nifty strap-on is good because it keeps the toy in place, and close to your body, whether you're playing alone, or you have company. Let the butterfly hump you and send your clit flying.
The tech stuff:
Length: 3 inches
Width: 3 inches
2 AA batteries
Adjustable straps
13) Embrace Foreplay Clit Massager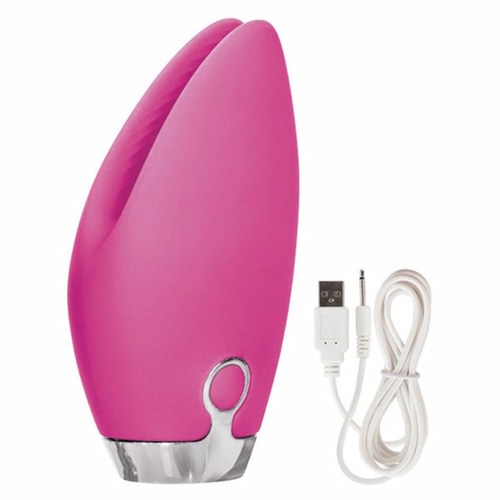 What's so special about it? Another popular one with ears (they're described as "ticklers" on this one. Yikes.), so I'm guessing they must be onto something with this design. They can be used head-on to "tickle" your clit, or you can pinch it between the two ears for a different sensation. Perhaps I've underestimated the ticklers.
It goes without saying that you could also pinch your nipples with the ticklers, for example, for some extra special stimulation. It's basically like a classic "rabbit" vibrator, as popularized by Sex And The City, only with a more discrete design.
The tech stuff:
Length: 3.5 inches
Width: 1.75 inches
Waterproof
Rechargeable
Runtime: 2 hours
12) Sqweel Go USB Rechargeable Oral Sex Simulator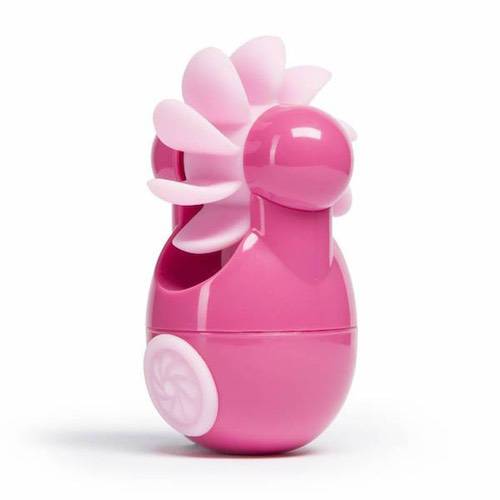 What's so special about it? Having your pussy eaten is one of the best things about sex, but it's also one of the acts that men are most scared of, for some reason, or just not very good at. Or is it just the men I pick? Can you tell I'm bitter about it?
Like most things in life, if you want it done right, do it yourself. Or allow this thing to do it.
This toy is an oral sex simulator, and those little paddles are meant to simulate the movement of a tongue flicking over your clit. I've gotta be honest, this kind of looks like a water mill and I'm low-key scared of it, but also intrigued.
The tech stuff:
10 silicone tongues
Waterproof
USB rechargeable
Runtime: 1 hour
11) Touch by We-Vibe

What's so special about it? When they talk about the "scoop" on this toy, they're talking about the ergonomic design that allows this to press perfectly against the curves of your body. Who says soft things can't be super powerful?
It's purple, it buzzes, and you can turn it around and use it on different sides, depending on how much stimulation you want, or how intense you want it to be.
I, for one, can't take the head-on, targeted stimulation, so I'd stay the fuck away from the pointed tip. The more rounded bit, however, would provide a less "aggressive" kind of stimulation that won't make my clit cry in pain. You decide which one is better for you.
The tech stuff:
Length: 3.9 inches
Width: 1.8 inches
Waterproof
USB rechargeable
1 year warranty
10) MUZE Multifunction Bullet Vibrator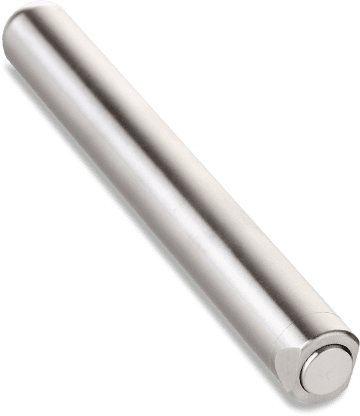 What's so special about it? This is literally the most unassuming bullet vibe you're ever going to see. Or that I've seen, at least.
A 4-inch steel bar could be many things, but I bet no one would ever guess it's a sex toy. You could literally whip it out in public and no one would know. I just wanted an excuse to say "whip it out".
If you're not into the cutesy "Teehee I'm a girl so my sex toys are pink and look like tiny animals!" thing, then this might be your guy. Or your guy replacement, I should say.
The tech stuff:
Length: 4 inches
Width: 0.5 inches
Built-in controller
1 AAA battery
Runtime: 8 hours (!!!)
9) Silicone Pleasure Orb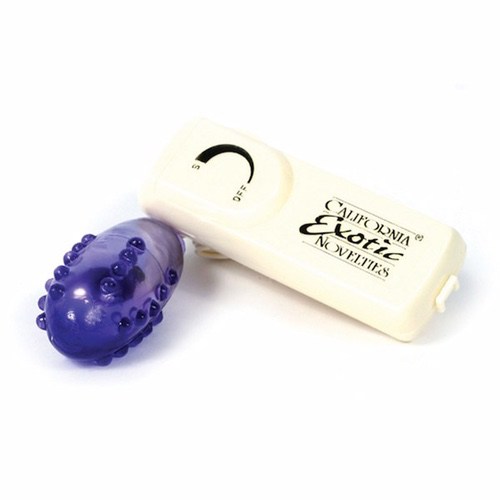 What's so special about it? Imagine a beaded zeppelin meant to buzz the fuck out of your clit. That's exactly what this little Pleasure Orb is and it should provide some fun hours for you and your little friend.
But my favorite thing about this is that the silicone nubby part is actually just a sleeve. This is your typical bullet vibrator, only it's all dressed up. And the best part is that you can take the fun sleeve off and put it on any of your other bullet vibes to increase the fun.
I like to think of it like a jazzy party outfit that you put on to make you feel great.
The tech stuff:
2 AA batteries (not included)
Remote control operated
Includes nubby silicone sleeve
8) Bang Bang Bunny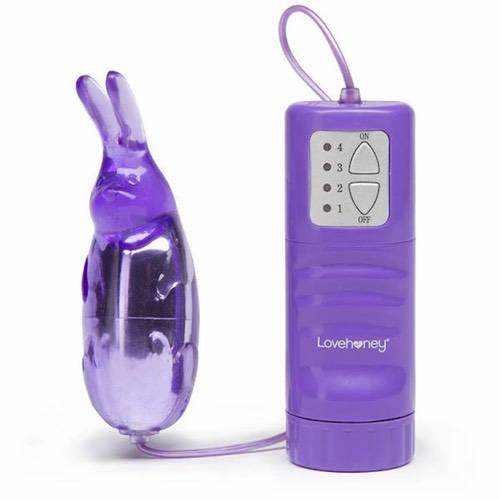 What's so special about it? Remember what I was saying earlier about rabbit vibrators? Here it is, complete with ears attached to an actual, honest-to-god rabbit.
I don't know how I feel about having a bunny rabbit shoved all up in my cooch to get myself off. Surely it counts as some sort of animal abuse? Don't send PETA after me.
Regardless of the weirdness of the fact that this thing has a face, the ears actually do a good job of stimulating your favorite body part. No rabbits were harmed in the manufacturing of this article.
The tech stuff:
Length: 4 inches
Circumference: 4.25 inches
Waterproof
Remote controlled
2 x AA batteries
7) Eva by Dame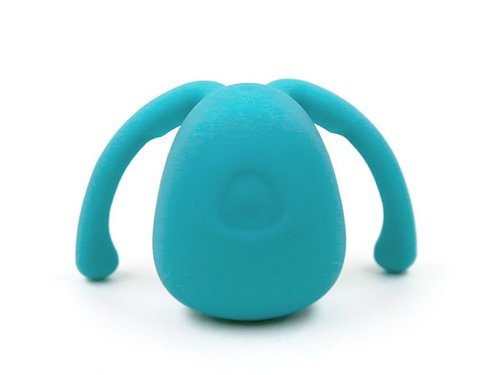 What's so special about it? Some people say that sex is like an exciting hug. Well, this toy is going to hug your clit and hump it. First, technology brought us hands-free mobile communication.
That way, we can talk on the phone while driving and not die in the stupidest fucking way ever. Now, you can also do something else hands-free while driving: masturbate.
No, but really, do not try this at home, kids.
The little arms nestle neatly in between the lips of your vulva, allowing the vibrator to press against your clit. Voila: completely hands-free stimulation! Extra points for using it with a partner.
The tech stuff:
Length: 2.4 inches
Width: 1.7 inches
Water resistant
Rechargeable
6) Womanizer W100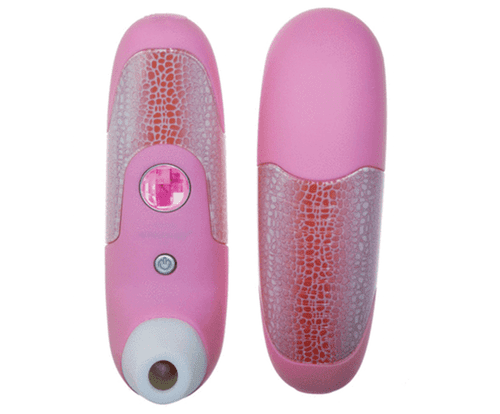 What's so special about it? Ok, so maybe Womanizer isn't the least cringe-y name in the world, but it's a super popular option with a highly interesting concept, so I had to include it. (Just ignore the fact that it reminds you of an inhaler)
Listen to this: this toy stimulates your clit and gets you off…WITHOUT ACTUALLY TOUCHING IT.
That's right, it works through the power of suction (and we all love a little suction action, don't we, boys and girls?) and pulsating vibration. There are several models of the Womanizer to choose from if you want to experience the pleasure of futuristic clit play.
The tech stuff:
Length: 6 inches
Width: 2 inches
USB rechargeable
1 year warranty
5) Satisfyer Pro 2 – Next Generation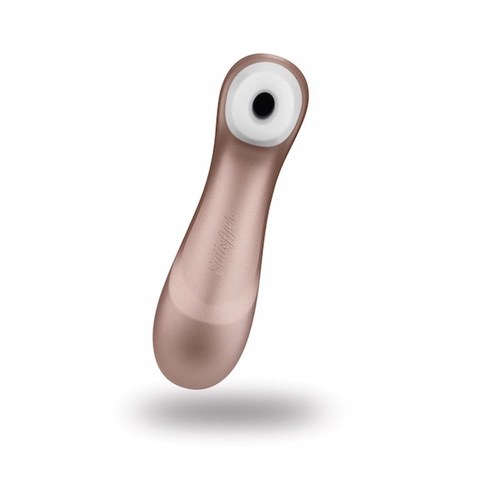 What's so special about it? Coming at you from the other corner of the boxing ring, it's the Satisfyer Pro 2… using the same suction technology as the Womanizer. Uh-oh! The same deal applies: no direct touching, just sucking and blowing air on your clit to give you that oral sex experience.
I don't know about you, but I'm more than happy to give my fingers a break and receive oral for once in my life without having to give head for half an hour, first. You scratch my back, and I scratch yours, sure.
But when I "scratch your back" for so long that my jaw starts to hurt…I'd rather just have the toy, thanks.
The tech stuff:
Length: 6.5 inches
Width: 1.5 inches
Waterproof
USB rechargeable
4) We-Vibe Unite

What's so special about it? Another one that you can use with a partner, this vibe has a special shape. Before you do, make sure you read up on some ways how to use a vibrator during sex.
But back to our toy, it's bigger than most of the other ones I mentioned, and it kind of looks like a fish, or maybe one of those carnivorous plants. It's less threatening than that, I promise. It makes a point of stating that it's not dong-shaped so it won't threaten your partner's fragile male ego.
But other than that, it stimulates your clit during sex, and it's super quiet. You wouldn't want your sexy moans to get drowned out by the lawn mower or chainsaw-like sounds your vibrator makes. Not that I'm talking from experience.
The tech stuff:
Length: 2.93 inches
Width: 1.79 inches
Girth: 1.16 inches
Water resistant
USB rechargeable
2 year warranty
3) Lelo Nea 2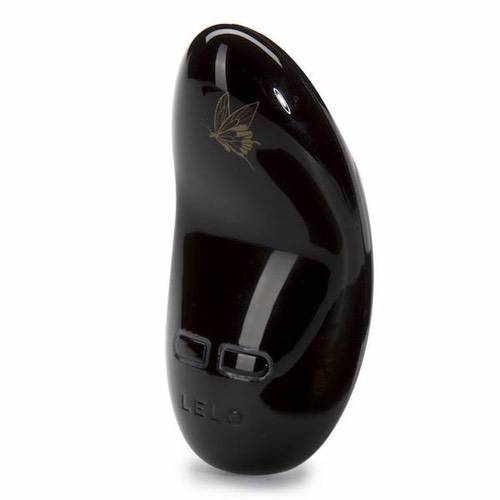 What's so special about it? Black, smooth, and shiny, this vibe is almost too pretty to use. But let me tell you, it's not a cheap piece of plastic. If you're gonna spend money on it, you better put this baby to work, because your clit is worth it. Treat yourself, girl.
The big thing about this one is that it is said to offer some very precise stimulation thanks to its narrow, rounded tip. Plus, the dip in the middle makes it really easy to hold – user friendly for you or for your sex friends.
The tech stuff:
Length: 2.9 inches
Width: 5.2 inches
Waterproof
Built in controller
Rechargeable
2) Power Bullet Mini Vibrator
What's so special about it? It's a bird! It's a plane! It's the silver bullet! No, not the comic book superhero, but the clitoral vibrator. So much more exciting.
Like most bullet vibes, this thing is teeny tiny, but it packs a real (and hopefully orgasmic) punch. And it's cheap as chips, so anyone can get one. Not to get all Marxist up in here, but pleasure shouldn't be a luxury limited to the upper class.
The benefits are obvious – the size makes it ideal for traveling, or for hiding away from nosy roommates, parents, or partners. Most importantly, you can wear it in public, and get off on the fact that you've got a secret in your panties – and it's buzzing.
The tech stuff:
Length: 2 inches
Width: 1 inch
Waterproof
Built in controller
3 watch batteries (included)
1) Life by Leaf Clitoral Vibrator


What's so special about it? In a world of weirdly shaped vibrators, this one is almost quaint – Life by Leaf is, predictably enough, shaped like a leaf. So, it's good for all you environmentalists and nature lovers. Hey, at least this one doesn't have a face.
When you do what I do for a living, nothing fazes you anymore.
What it does have, however, is pointy, rounded ends that help provide that precise, intense, targeted direct stimulation your clit craves.
Plus, I feel like this one is fairly innocuous, because while it may be confusing (why would you have a giant plastic leaf?), it doesn't scream I AM A SEX TOY, HEAR ME ROAR BUZZ.
The tech stuff:
Length: 4.1 inches
Width: 1.6 inches
Waterproof
Run time: 4 hours
Rechargeable
So Vhat did We Learn From This?
Most importantly of all, we learned that now there is a way to reliably simulate oral sex with a toy. That means we are that much closer to a female dominated world, as men become more and more redundant.
I'm only half kidding.
Second of all, we learned that if you want your clit to be treated right, you need to rope in some expert help, or a tool to do the job, and with so many options to choose from, your clit will be buzzing with anticipation.
And if you need some inspiration for female empowerment, allow your fellow ladies to sing to you allll about rubbing yourself to the ultimate pleasure. Lady Gaga has quite the catchy anthem about "dancing in circles", if you know what we mean.
Credits for Le Clitoris video: lorimalepart-clitoris.tumblr.com