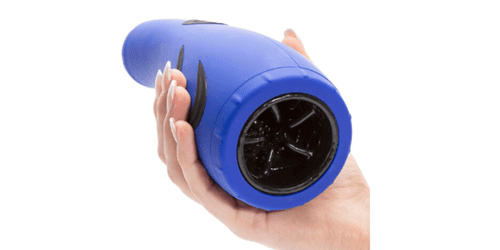 Tired of using your hand? Got a forearm like Rafa Nadal? It's time to look at best hands-free male sex toys and give yourself a break, while also enjoying the best orgasms of your life! 
If you're even so lazy to read this whole guide here are some of the hands-free sex toys for men you should take a look at the very least:
Top 3 Hands-Free Male Sex Toys
Autoblow AI – Brilliant toy. The name says everything.
Keon – Automate your masturbation…
Helix Syn Trident – If you came here for "prostate" hands-free toys
We've reviewed more hands-free toys for men below.
Hands-free male sex toys are designed to make you orgasm without having to "manually" use your hands to make the toy work.
Depending on where and how you want to be stimulated, there's a wide range to choose from: you can have automatic male masturbators, prostate massagers, or even lifelike sex dolls.
These are the 11 best hands-free male sex toys
To help you choose, I listed some of the best hands-free male sex toys that you can find on the market. You can write down key features and specifications that you love as you read through it and decide later on.
Fleshjack Quickshot Launch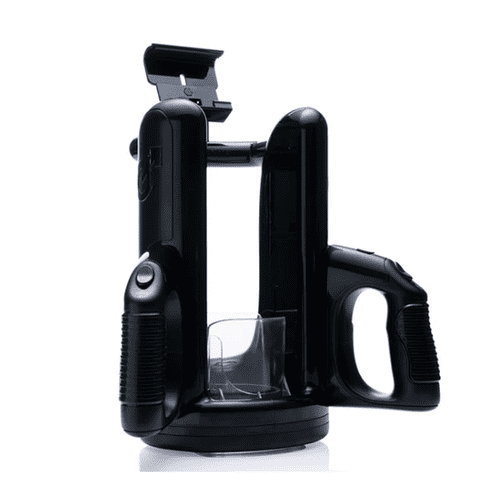 The Quickshot Launch is Fleshlight's latest pride and honor. This easy-to-use penis rocker allows you to adjust from four variable stroke lengths and stroke speed to suit best your preferences.
This powerful machine may feel light but it sure does pack a punch, plus it's easy to use. You can choose from three different pleasure zones: base, shaft, and tip. The adjustable stroke speed could stroke as fast as 250 times per minute either with longer or shorter strokes.
The included universal mount will hold your smartphone for you so you can watch videos or video chat while pleasuring yourself.
Coated with gloss and bead blast finish, it is designed for better grip and convenient use. Fully charged, it can run for up to 60 minutes.
Its only real downside is that it's only compatible with Quickshot toys, so it can be a pretty hefty investment for some.
Key Features:
Adjustable stroke speed that could stroke to as fast as 250 times per minute.
Watch videos on your smartphone while pleasuring yourself with the included universal mount.
Specifications:
Weight: 3.7 pounds
Length: 14 x 11.5 x 7.5 inches
Material: PC, ABS, and silicone
Pro:
Powerful yet lightweight machine will surely satisfy your needs.
Con:
Only compatible with Quickshot toys.
Autoblow AI
Have you experienced artificial intelligence in your sensual escapades? If not, then the Autoblow AI can be a good addition to your male sex toy collection.
This powerful machine uses a heavy-duty motor with 10 stroking modes and 10 speeds per stroke. No need for batteries, just plug into any outlet and this masturbator will give your manhood full strokes like a real-life fellatio.
It uses interchangeable mouth sleeves which are reusable and easy to clean. Simply remove the sleeve after use and wash with soap and water, then apply renewal powder. The machine comes with 1 mouth sleeve but there are 3 to choose from.
Though they complain that the machine is quite big, it is 50% quieter than the Autoblow 2, but 3 times much more powerful.
Pro tip: Want that deep throat AI experience? Try the "surprise mode" setting then press the "edge" button to pause the motion to prolong the enjoyment. You're welcome!
Key Features:
10 stroking modes with 10 speeds per mode
Full stroke with mouth sleeve for a realistic oral stimulation
Specifications:
Weight: 1.5 pounds (machine) 0.46 pounds (sleeve)
Length: 8.2 x 7 x 3 inches
Material: Silicone
Pro:
Just plug in an outlet and play with 10 stroking modes
Hummer BJ Machine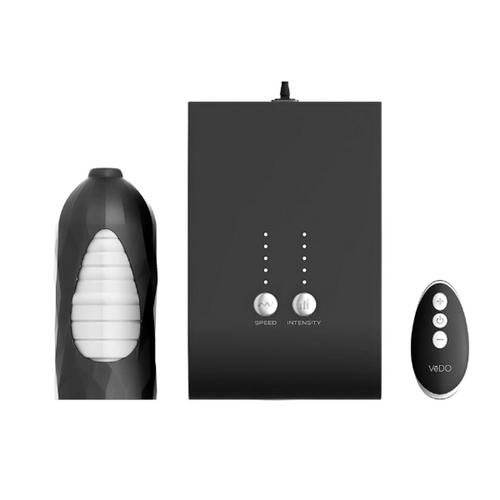 If you want a hands-free sex toy for men that lets you customize your dream oral lovemaking, you can try this Hummer Hands-Free BJ Machine. This stroking machine is made to imitate the sensations of oral sex.
They also call it an "Oral Sex Menu" because you can choose the intensity and speed that you love from start to finish.
The 2.9-inch wide sleeve gives the feeling of someone's deep throat, while the sucking action actually feels like you are getting a real mouth and tongue action.
Switch between 25 different fellatio styles through an attached remote control. You can also change it with up to 5 intensity levels and 5 speeds separately.
The sleeve measures are just right for an average-sized penis but might be too short and tight for the well-endowed.
The Hummer weighs 1.5 pounds, which makes it portable to use wherever you feel like it. It is made of high-grade silicone for safety and comfort.
Key Features:
Sleeve opening gives you the sensation of a deep throat
5 intensity levels and 5 speed options
Glow in the dark
Specifications:
Weight: 1.5 pounds
Length: 6.5 x 2.9 inches
Material: High-grade silicone
Pro:
Has multiple pleasure modes
Con:
Electric-powered, you still need a place with outlet available
Pipedream F*ck Me Silly 2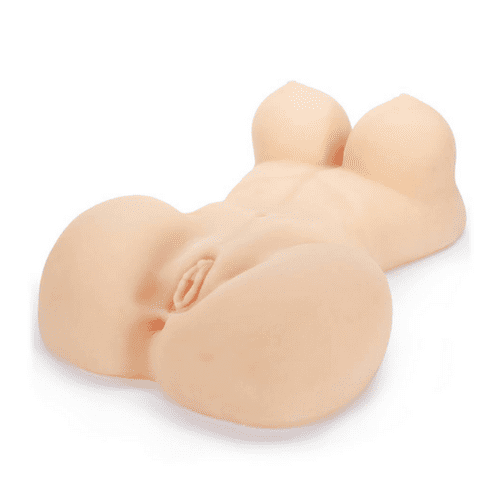 F*ck Me Silly is back with another great product. If you love both vaginal and anal sex (and who doesn't!), you might want to try this sweetheart.
It is a sex doll that feels (almost!) like the real deal. Just close your eyes and let your imagination go wild as you feel her silky smooth skin.
This realistic sex doll comes with firm breast that can be pinched, squeezed, and nibbled. The waist is made real tight so you can hold the doll while pleasuring yourself.
Pro Tip: Place her on 3 small firm pillows on the bed so she sits up so you can bang her and play with her breast at the same time.
This torso doll is made with hypoallergenic soft Fanta Flesh material. It has an almost authentic skin-like feel to it, which is why it is a bit pricey.
Key Features:
Ribbed and textured vaginal and anal holes with a realistic feel
Phthalate and Latex-free
36DD bust
Specifications:
Weight: 12 pounds
Length: 20.5 x 12.5 x 6.8 inches
Material: Hypoallergenic soft plastic
Pro:
Hypoallergenic and soft material feels very realistic
Con:
A bit expensive compared to other torso sex dolls
Fleshlight Launch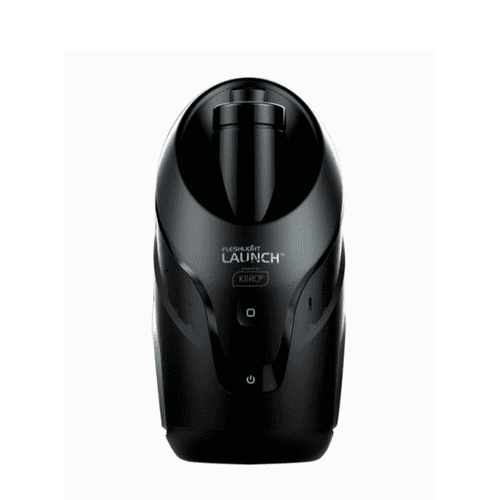 If you want to upgrade and automate your manual Fleshlight, you may want to look for a Fleshlight Launch. It can turn your manual Fleshlight into an automated masturbation machine that gives a realistic feeling.
You can connect your phone with Bluetooth to watch FeelMe videos. I also recommend you to use VR goggles for a better experience. It's perfect for men who love some tech in their toys.
I must say it is a bit big, so it is kind of awkward to hold in certain angles and you can't just use one hand. But other than that, it gives you a fast and smooth stroke that you can control. It is also portable and includes a built-in rechargeable battery.
Going at 180 strokes per minute, Launch can help build your stamina for a longer-lasting performance. The inner wall is made from top-quality RealFeel thermoplastic rubbers which mimic the feel of the real deal.
Key Features:
Pairs with your favorite VR goggles
Helps build your stamina at 180 strokes per minute
Specifications:
Weight: 1500 g without Fleshlight; 2000g with the Fleshlight attached
Length: 320 x 157 x 167 mm
Material: PC ABS, PU Coating; non-porous, chroming, silicone.
Pro:
Wireless connectivity via Bluetooth
Con:
Charging time takes 6 to 9 hours for just 2 hours of use
Apollo Hydro Power Stroker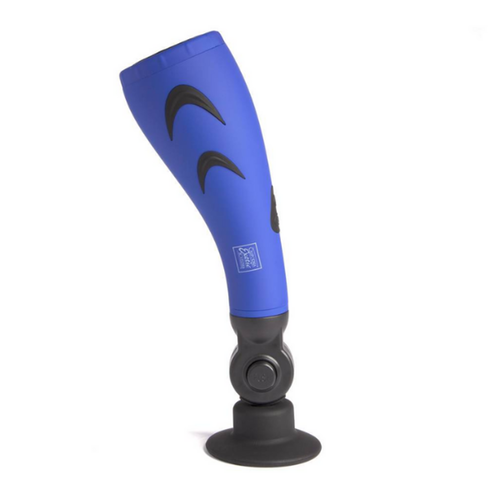 The Apollo Hydro Power Stroker is one of the toys you'd probably think twice before buying, but let me tell you why I put it among the best hands-free male sex toys.
This masturbator isn't just relying on vibrations to work to its advantage, but also on its textured chambers. These long, squishy soft, and flexible fronds act as little cushions designed to mimic a deep throat.
Another great thing about this vibe is the microchip that saves the last setting you used, so you can just turn it on next time and you'll still have the same settings.
Thinking that Apollo Hydro Power Stroker has a whopping 30 vibration modes, I'm pretty thankful for the microchip.
Some people find the vibrating sound a bit annoying, but I don't think it should be a deal-breaker considering the things it can do.
If you're going to use this in the shower, I recommend using plenty of lube to make it slippy for a little while.
Key Features:
30 intense vibrating settings
State-of-the-art memory chip which resumes to your last vibration mode
Specifications:
Weight: 1.2 pounds
Length: 13.5 x 3.5 x 4.5 inches
Material: Plastic covered with a thin layer of silicone
Pro:
Advance memory chip with 30 vibration settings
Con:
Not rechargeable (4 AAA batteries needed)
Fleshlight Liberator: Top Dog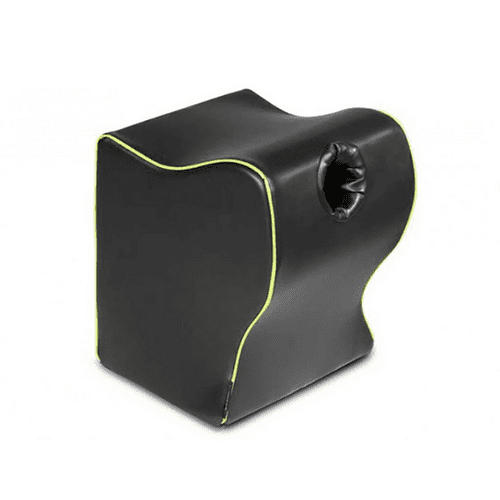 The Fleshlight Top Dog mount is a collaboration between Fleshlight and Liberator to help free your hands while you reach your fantasies.
This innovative sex toy mount is designed to be humped doggy style together with your favorite Fleshlight products.
With its sleek faux leather design, it can pass as furniture in the bedroom without anyone batting an eye. Its use is pretty straightforward.
Just put your Fleshlight in the hole and you now have a great mount to exercise your superiority. Strength training, technique building, think of all the possibilities this little furniture can do for you.
Others complain of the whooshing sound while thrusting, and the height and angle might be too high or too angled for some, but I think it's just little things that can be remedied with simple adjustments, so I'd still recommend it.
Key Features:
Sturdy inner foam core
Slot or hole for your favorite Fleshlight toy
Specifications:
Weight: 2.5 pounds
Length: 14.5 x 12 x 11.8 inches
Material: Faux leather
Pro:
Can be used as a mount for other similar toys
Con:
Whooshing noise while thrusting
Helix Syn Trident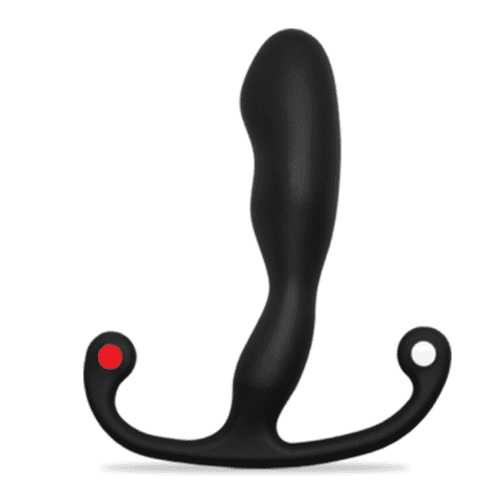 Aneros Helix Syn is different from anything you have tried before. This prostate massager is designed to help you achieve your first hands-free orgasm.
It won't happen the first time, you surely need to practice with it.‌ But if you are patient and willing to learn, your first, awesome, intense Super O is within reach.
The good thing about the Aneros Helix Syn is its beginner size that can stick easily in your ass.
Although there are many positions in which you can use this toy, which we covered in our male g-spot guide, I recommend you to try for example lying with a pillow under your back in bed, wearing an eye mask and putting some nice relaxing music, and really focus on your sensations. Let the tingle slowly build, feel that fullness, and without touching your penis you may achieve your first dry orgasm.
The Aneros Helix Syn is made of premium silicone, its tip's width is just 0.98 inches. The Stem is thin and has 1.75 inches distance from the perineum. If you haven't yet, you may want to add the Helix Syn in the list of things to try before you die.
Key Features:
It is very small so it sticks easily in your ass
Totally hands-free so you can just let it do its thing alone
Specifications:
Weight: 3.52 ounces
Length: 5.5 x 7.7 x 2 inches
Material: Silicone
Pro:
Simple to use and you don't need any batteries to charge
Con:
It is very small, some are having a hard time getting off with it
Rookie Prostate Massager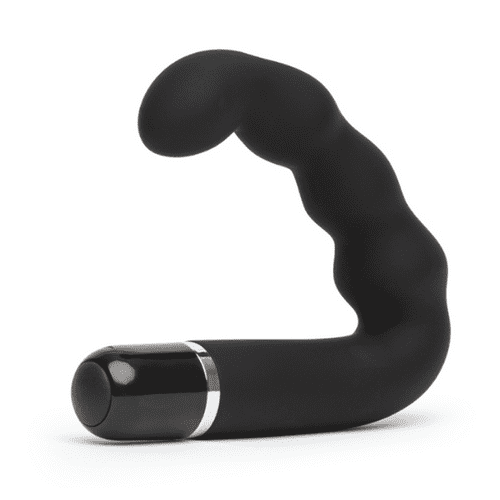 Though Rookie by name, it's not rookie by nature at all. If you are in for a new bum adventure, then this prostate massager is a good addition to your hands-free sex toys.
The massager's ergonomic curves can provide extra grip and a nice, soft tickling sensation, which adds an extra dimension to the adventure.
I recommend that you use a lot of lube so it slips right in comfortably, especially for your first few times. If you're playing with a partner, try letting them move the Rookie in a slow, circular motion while inside your ass so it brushes with your P-spot, then adjust the vibe setting to get to the intensity you find pleasurable.
Others find it a bit noisy, however, considering its 10 levels of vibration and ease of use, it makes up for it and it is great to play with.
With the Rookie's decent size and girth, it's a good toy for prostate play even for the inexperienced. The Rookie can provide a great workout to boost your strength and performance.
Key Features:
Undulating curves for grip and extra sensation
10 powerful vibrating modes
Specifications:
Weight: 0.44 pounds
Length: 3 X 4.5 inches
Material: Firm but flexible hard plastic
Pro:
Ergonomic curves and 10 vibrating modes
Con:
Battery operated (AAA battery)
Progasm Jr.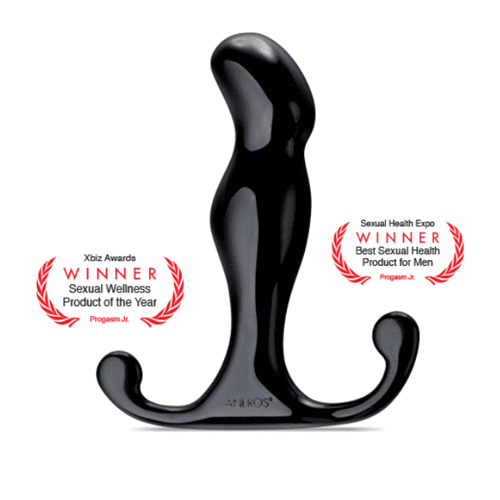 The Progasm Jr. is the smaller version of the Progasm Classic and is ideal for regular use. It comes from the makers of the only patented device of its kind, Aneros.
If you are new to prostate massage, then this baby is a must-try for you. This petite prostate massager has a 3.5-inch circumference tip that can satisfy, but not intimidate, beginners.
The secret to a successful P-gasm is relaxation. Try lying back, then lube up and gently insert the Progasm Jr. You can also try it lying on your side too.
Pro tip: If you want to make your prostate friend more pliable, try dunking it in boiling water.
The Progasm Jr. is not about ejaculatory orgasm, but about a more intense experience, even more than the "dry orgasm." The internal natural vibrations help with conditioning.
Every vibration will make you feel close to shivering waves of sensation, helping you reach multiple Super Os.
Key Features:
Perineum and Kundalini tabs for external massage
Smooth and tapered tip for smooth insertion
Specifications:
Weight: 1.9 pounds
Length: 3.95 x 1 x 0.92 inches
Material: ABS Plastic
Pro:
Small size is good for beginners and no batteries needed
Con:
Gradual manual intensity may not be for everyone
3 Point Prostate Massager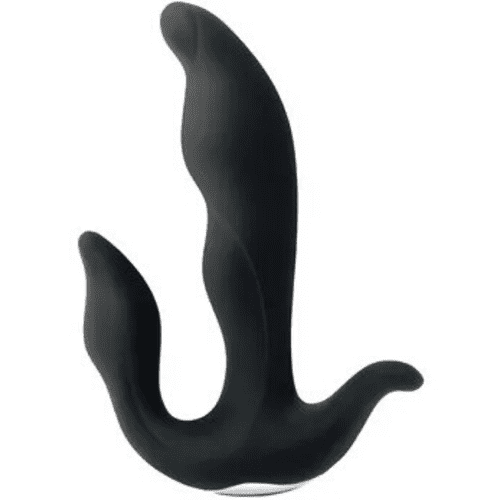 One of the pinnacles of great sexual experience is through prostate massage. For me, hitting the Big O from the P-spot is a little bit more challenging than orgasming from the front.
This is when the hands-free 3 Point Prostate Massager from Adam & Eve comes to the rescue.
Unlike the Progasm, Jr., this prostate massager is a bit on the bigger side, so it might be a bit intimidating for beginners.
It might be better for those of you who already have enough experience with prostate massagers, but oh boy, does it hit the right spots, especially the first hump!
You can also customize the experience by choosing from 10 functions of vibration, pulsation, and escalation for your endless pleasure until you come big.
A lot of people rave about how long the battery lasts. I'm sure anyone who prefers long P-spot massage sessions can appreciate this. It's also rechargeable so you can just plug it in when it runs out of juice.
Key Features:
Using the on/off button, you can choose between three speeds of steady vibration and seven settings of pulsation.
Covered in supple silicone, a simple water-based lube is enough to smoothly glide inside the anus.
Specifications:
Weight: 0.65 pounds
Length: 6 x 2 x 2 inches
Material: Silicone
Pro:
Well-designed for safe and ergonomic use.
Con:
May be hard for beginners to insert due to the size.
How to choose the best hands-free male sex toy for you
Even with this list of products, choosing the right hands-free toy for you can still be overwhelming. Not to mention how uncomfortable it could be to ask in sex shops and talk about all your bed mischiefs just to be labeled as that "creepy guy".
But hey, I've been there too. As a first-timer, I had to learn things the hard way because it seemed weird to ask.
5 things to keep in mind when choosing a hands-free male sex toy
So, to save you from that and to ensure you'd get the right fit for you, here's a list of the things to consider when choosing a toy.
1. Pay attention to your kinks
This, I personally think, is by far the most important thing to start with. We all have different types of things that can get us going.
So, when choosing your hands-free toy, think about what arouses you and what's your goal in getting one.
Are you a vanilla kind of guy and would just like to keep things familiar? Then try starting with something that's not too off the wall like, perhaps, a Fleshlight. Are you into some "unconventional" stuff?
Well, don't be embarrassed, you're not alone. Go ahead and prepare for a crazy playtime with those out-there models.
Whether you're planning to keep it simple or you want to grow in your sexuality, there is almost always an option to fit your dong's needs.
Whatever the case, it's always a good idea to think about your personal preference first before going all loco with buying sex toys. No shame in that.
2. Know the materials used to ensure quality
I know this should be a no-brainer, but it's crucial to know about the materials and quality of whatever you're putting your dick in or whatever it is you're putting in your ass.
Because, really, even when some like it dirty, you don't want any nasty stuff on your johnson and in that asshole.
So, I tell you; pay extremely close attention to what your sex toy is made of. I highly recommend medical-grade silicones but any body-safe would be fine, too.
If you're on a tight budget, thermoplastic elastomer (TPE), polyvinyl chloride (PVC) and a patented polycarbonate blend are also decent alternatives.
Now, if you don't wanna get your dick (or butt) hurt, buying any toys made with latex and/or phthalates is definitely out of the question. They're potential allergens and the latter can even cause cancer. Nope.
If it's not clear what the toy is made of, do your cock a huge favor and put that back on the shelf! Better safe than sorry.
3. Sex Toy Size Matters!
For those who like penetrating, you should look for a masturbator that fits the size of your penis. While most of these have an opening that's "one size fits all", you should still keep in mind the perfect level of tightness you prefer for maximum satisfaction.
To know exactly how wide the toy is, simply look for the details of its inner diameter.
You should also think of the relative size of the sex toy itself. Do you plan to bring it while you travel? Can it lie around your house? Or do you have housemates with prying eyes so it has to be kept hidden?
Whatever your setup is, take into consideration your storage space not only for discretion but also to be able to take good care of your fun machines.
4. Choose your preferred features
Trust me when I say that there is a ridiculous variety of features available to keep anyone up and going. So, it'd be wise to think of the specific things you want your toy to have.
For starters, you can start by asking yourself whether you want it smooth or textured. Do you want it to pulsate and/or have surging vibration patterns? Do you want to be able to manually control its speed or have one that's touch (or music) sensitive?
The list goes on and on. It can drown you in the abyss even before you get a hold of anything!
So, you have to focus on these important things: power source, waterproofing, ergonomics, and compatibility.
Even if you're a truly simple man and just want something basic, these should be the firsts in mind so you won't have to pay for features you actually aren't going to use.
5. Consider your budget
Ahh, yes, here comes the elephant in the room: the cost. As much as you'd want the best for your schlong, there are other far more important things to keep you alive. So, be sure that whatever you buy is within reason.
You don't want to get ripped off but your member also deserves a good toy. So, think long and hard (pun intended, obviously) about this investment and spend every trickle wisely.

FAQ
Here are some common questions that we have come across when people choose their hands-free male sex toy.
Will any of these hands-free sex toys hurt my sack or desensitize my penis?
There are two things you have to keep in mind to avoid hurting your dick: always follow the directions in its manual and use a healthy amount of lubricants. If you don't try to do anything stupid, everything should be fine.
However, using them too much for masturbation can actually cause your dick to go limp. So, it'd be wise to exercise a little caution with this. Thing is, "too much" is subjective and there's no exact right number of times to ejaculate. As long as it doesn't affect your daily life negatively, there shouldn't be much of a problem.
What kind of lube should I use with it?
It's safe to assume that high-quality water-based lubes are compatible for most, if not all, of the toys available in the market. So, I recommend you use that. Should you experience any chaffing or skin irritations, this is probably because you're not using enough of it.
How can I make these toys last me longer?
There's no one rule in taking care and maintaining sex toys. Generally, of course you have to clean, dry, and store it after every use. Certain materials may call for more attention than others, but most toys can be easily washed with gentle soap and warm water.
My take? Always read the instruction manual to precisely know what your toy needs.
Is it alright to use them with someone?
Of course! A lot of these toys are even designed to ignite passion for couples. Just make sure you choose the right toy for your specific needs. There's always room for creativity, and using toys is a great way to spice things up in the bedroom.
Again, just don't forget to refer to the manual for guidance to avoid getting hurt.