I was genuinely excited in a long while to receive a new toy. However, for the first few months of its release, the Kiiroo Keon was sold out. I got my hands on it finally, so it's time for our review!
Once I received my Keon I spent about 3-6 hours per day masturbating with it and testing all its features over the course of 4 months. I played with Keon alone, with a partner, and I compared it side by side with all my other masturbators and pocket pussies.
Kiiroo Keon is a powerful automatic male masturbator designed to elevate the standards of interactive sex. Kiiroo Keon is the company's attempt at infusing technology into one of the classic male sex toys on earth, the pocket pussy.
Kiiroo Keon Masturbator
If you haven't kept yourself in the loop with the latest on pocket pussies and male masturbators, you'll be surprised by how far we have come. Gone are the days of manual stroking!
We have now entered a new era of automatic interconnected and interactive realistic masturbators.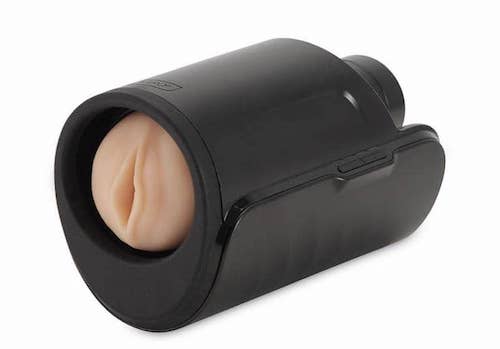 You can simply connect Kiiroo Keon to your partner's device (even from a long distance), and it will simulate their movements when they use their toy. Your Keon will replicate this in real-time to help you feel like your partner is just right there with you.
If you don't have a partner you can use it in connection with your favorite porn star.
Want to sync it to porn? Keon will help you. Kiiroo Keon is designed to simulate the action in the porn you are watching in the strokes you feel.
Unboxing My Keon
The Keon by Kiiroo comes in a discreet, well-packaged box covered with brown paper. There's no name on it and it's shipped with a great deal of care. I took off the brown packaging, and it was fully wrapped in bubble wrap to avoid any kind of accidental damage.
Here's what's in the package:
The Kiiroo Keon
Kiiroo Feel Stroker (both the sleeve and the casing)
120 ml toy cleaner
60 ml water-based warm lube
60 ml water-based lube
Here's a bit of advice if you're interested in connecting your Keon to your partner's toy or to porn: make sure you download the FeelConnect app for your mobile store. This is Kiiroo's primary app and it's available for both iOS and Android. Without the app, you won't be able to use it to its maximum potential.
Kiiroo Keon uses Bluetooth for connectivity, so make sure you hook it up before you power it up.
First Impressions of The Kiiroo Keon
First, let's talk about the specs for this bad boy.
Material: ABS + Silicone + PC
Size: 8.66 x 5.11 x 5.75 inches
Total weight: 4.2 lbs (Keon + Feel Stroker)
Speed: 6-230 strokes per minute
Use time: 30 minutes to 2 hours depending upon speed
Charge time: 4 hours
Stroke length: 0.8 – 2.56 inch
Now, the hawk-eyed readers will probably have figured out that this is a "one-size-fits-all" solution by Kiiroo. This means if you have a huge member, it's going to be a bit difficult for you to squeeze it all in.
The build quality is solid, as you would expect from a silicone and ABS blend. It's got a glossy finish to it, and when closed, it doesn't look like a masturbation toy at all. You can easily leave it around the bedroom without anyone being the wiser.
Kiiroo Keon + Fleshlight Compatibility

See It
Now I know a lot of you will have this question at the back of your minds: since Kiiroo no longer partners up with Fleshlight, will a Fleshlight toy work with the Keon? If you look at the casing and the dimensions I have given above, it's definitely not a smooth fit.
However, it does fit just right.
Most Fleshlight cases out there are slightly bigger, but once you insert yours in the Kiiroo Keon, it's really not going to make much of a difference. Obviously, the company has stopped advertising their partnership or support of Fleshlight, but if you have several Fleshlights, it would be a shame to let them go to waste.
Yes, they are going to work just fine with the Kiiroo Keon.
The Kiiroo Feel Stroker
Kiiroo wants you to focus on their Feel Stroker. On its own, it's just a simple stroker, but insert it into the Keon, and it takes a whole new life. This is a classic texture sleeve that feels just awesome.
The Feel Stroker is also sold separately but you can actually already buy it with the Keon. Besides the original Keon + Feel Stroker combo, there are several porn stars versions as well.
The tiny bumps create a very realistic sensation. It's like when you are completely relaxed as a girl rides you gently towards a mind-blowing orgasm.
I could barely deal with the 2/4 setting. I'm pretty sure if I maxed out the settings on the Keon, I'd be done in under 20 seconds. Not. Even. Joking.
The Kiiroo Keon Interactive Mode
Now, in this section of my Kiiroo Keon review, I'm going to focus on the different modes of this automatic male masturbator. There are two modes to choose from: manual and interactive.
Manual Mode
Manual is easy. It's divided into two further settings: stroke depth and speed. There are four buttons on the side. You can press them up or down to get maximum control over your Keon just the way you want it.
I love the manual mode because it gives me maximum control over the Keon. But, let's not focus on this for too long. The interactive mode is probably what's going to tickle your fancy.
Make sure you have the app, and it should connect almost immediately. Once you are hooked up, you will see three options:
Website: you can hook the Keon with a VR headset to access the interactive adult content that Kiiroo has to offer. There's also the 2D mode, and the interactive webcams.
Partner: you can connect the Keon with other Kiiroo toys and sync them with your partner's (once they do the same). You just need an internet connection. It can be fun for long-distance.
App Control: there is a touch control and additional buttons in the app that allow you to control the Kiiroo masturbator. You can make it move in sync with the music you are listening to, or create your own ideal stroke from scratch.
Interactive Mode
Interactive mode is not flawless. I mean, the technology is still getting better, and it still blows my mind thinking about what we can do with this sex toy today. There are many videos that play beautifully and precisely, but there are a few that just feel out of sync.
Considering the amount of technology that's packed into the Keon, it's understandable that you are going to face a few hiccups along the way. The interactive mode is definitely fun to play with and offers a truly hands-free male sex toy experience.
However, I still prefer the manual mode most of the time. Sure, every once in a blue moon I like to let the tech take over, but as I've become more accustomed to the controls, I have realized that I can replicate the movements in the videos better with the manual control.
In the interactive setup, it sometimes feels that the action runs a bit too fast. After all, I didn't pay this much money for a quick session. I like to enjoy it for as long as I can, and that's what manual mode gives you.
My Experience With Kiiroo Keon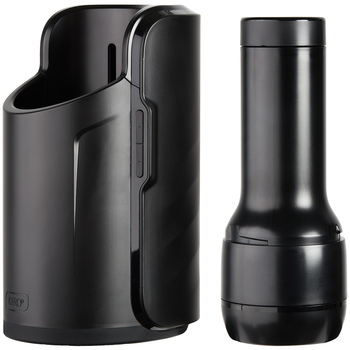 My Kiiroo Keon review won't be complete without me telling you about my experience, which was actually quite fantastic. My girlfriend was quite curious about my decision to buy this: she wanted to know why I had chosen the Kiiroo Keon.
She's absolutely open to the idea of me using male sex toys. She says it's better those than actual women when she's not around. So, like I told her, I'm going to write the same here: it feels downright great.
Now, let me answer the one question everyone always asks me: how close does this feel to actual intercourse?
Comparing it to actual intercourse would be a disservice to both: the intercourse and the sex toy itself.
Since I've gotten the Kiiroo Keon, I have completely gone hands-free. I love using it on the couch, on the bed, or even on my recliner. You just prop up a couple of pillows, and get going.
The app makes it easy to set the speed and thrust, so there's really no reason for you to touch the Keon.
Kiiroo Keon VS Fleshlight Launch
Let's compare Kiiroo Keon to another automatic male masturbator, the famous Fleshlight Launch.
Interestingly, for those who might not know, Fleshlight and Kiiroo have once collaborated and together, creating the Fleshlight Launch. This partnership has ended for some years now and production of the Fleshlight Launch has been stopped.
It's no longer being sold and this news shocked a lot of people. The good news is Kiiroo has decided to take matters into their own hands and finally created a worthy alternative, the Kiiroo Keon.
Let's Set Things Straight First
I, personally think that the Kiiroo Keon and Fleshlight Launch can't be compared face to face. It's totally unfair since Kiiroo has a major advantage having been launched only years after the Launch. Keon had a chance to iterate and fix the most common challenges found in the Launch.
The sole purpose of my comparison is to set expectations especially of those who've previously owned the Fleshlight Launch and wanting to know more about the Kiiroo Keon. Also, of those who've heard of the Launch or who's done their bit of research on the device and are curious of the Kiiroo Keon as well.
Kiiroo Keon – An Upgrade of Fleshlight Launch?
There are too many exciting good things to say about the Kiiroo Keon. Pardon me if I get carried away somewhere in this post but I have no intention to defame the Fleshlight Launch.
The Keon is a lot more well-researched and well-developed. The design is a total badass. It looks sleek, premium, and ultra-masculine. But not only that, it feels ergonomic too.
A Lightweight Device with Premium Materials
The Keon is certainly a lot easier to use and hold because it's more compact and less straining to the hands compared to the bulky Fleshlight Launch.
The Fleshlight Launch weighed at least 3 lbs without the stroker or sleeve. Kiiroo Keon weighs drastically less at only 2.4 lbs total. Being more compact, the Keon doesn't really get in the way when you're having too much fun unlike the Fleshlight Launch did.
You Have Total Control
Kiiroo Keon completely improved the controls. They are much more responsive and a lot easier to reach. They strategically placed them in the device so you don't need to constantly reach out for the buttons while you're totally in the zone.
When I said the Kiiroo Keon felt ergonomically designed, it's true! You will notice that the frame of the device is not perfectly circular. It's not fully curved but has some kind of edges on both sides where your hands would lay. These allow for a better grip of the toy even when it's moving fast. You'll get it once you try it.
What Is The Kiiroo Keon Masturbator?
The Kiiroo Keon is one of the absolute best high-tech male masturbator sex toys for men that allows for a totally hands-free and interactive masturbation experience.
Although Kiiroo has created a lot of products, the Keon is by far one of the most popular toys sold by the company.
It features a sleek design, realistic sleeve, and advanced technology that allows users to sync it with compatible adult content, such as virtual reality or webcam performers.
Through the FeelConnect app, partners can even synchronize their toys together for a more intimate experience that can bridge any distance!
So, if you're looking to take your solo or long-distance partnered play to the next level, the Kiiroo Keon might just be the gadget you need to add to your bedside drawer!
Is Keon the most powerful automated masturbator for men?
Although the company does describe Keon as "ridiculously powerful," in terms of actual power, no, Keon is probably not the most powerful male masturbator on the market. If I were to pick the most powerful masturbators I would say buy a Shockspot + Fleshlight attachment.
But Keon is an extremely well-designed product, and its interactive app-based compatibility really does make it an innovative, one-of-a-kind masturbator.
So let's just say that the Kiiroo Keon is definitely up there with all the other greats, like Autoblow and Fleshlight Quickshot Launch.
With its advanced design, ergonomic grip, and its innovative and interactive technology, the Keon can provide some seriously intense sensations that are sure to blow your mind (and hopefully, other things as well).
How does Kiiroo Keon feel and look?
Keon boasts a sleek and modern design that looks somewhat like the old Fleshlight Launch but with a slightly more high-tech design.
In fact, you newbies reading this may find interesting to know that years ago Fleshlight and Kiiroo were actually in a partnership. Once they broke up and each went their own way they both created similar variations of the same automatic toy the were working together on, which became respectively the Fleshlight Launch and the Kiiroo Keon.
I still remember those days, ah… time goes so fast!
Anyway, there are basically two parts to this product:
First, there's the actual Keon.
Keon is the exterior device that you'll use to control the settings. It's the mechanism that moves the Feel Stroker back and forth, allowing the device to stimulate your penis back and forth, like if you're having sex with a real girl.
Secondly, there's the Feel Stroker, which looks a lot like an actual Fleshlight case and sleeve. Just like a Fleshlight sleeve, the inside of Keon's stroker sleeve is complete with a series of bumps and ridges, designed to simulate the sensations of being inside a real vagina.
When I first saw the Keon in my house, its overall design sent my imagination running wild.
As I already mentioned Keon is capable of delivering an intense 230 strokes per minute, and you can adjust the length of each stroke.
How long does it take the Kiiroo Keon to charge?
Keon needs usually about 4 hours of charge before you use it for the first time.
The device may come with a bit of a charge, and the indicator light may flash green after only a few minutes of charging. In my case it was ready after 2.5 hours, but I let it there to rest and reach the 4 hours mark.
The last thing you want is to experience how great Keon feels, only to have it die within a few minutes of getting your penis inside it.
Keon is equipped with a rechargeable battery that can provide up to two hours of continuous use on a single charge (depending on the settings you use – the wilder you go the less it lasts).
Can I use Kiiroo Keon while charging?
No, do not use your Keon while it's charging. While Keon is safety tested, using the device while charging exposes you to the risk of electric shock, which is something that I promise you never want to experience with your penis.
Is Keon loud?
The Kiiroo Keon masturbator is designed to operate quietly, so as not to disturb your privacy or draw attention to your sexual endeavors while you're trying to keep things covert.
But it is a motorized sex toy, which means there will be some noise generated during use, especially if you're using it aggressively.
I think it's loud. I expected it to be quieter than it really was.
Plus, honestly believe this toy feels so freaking good that you won't be able to keep yourself from moaning out loud anyway. Just kidding! Sort of…
But if you're concerned about noise while trying to have a little "me time", use it under a blanket or pillow to muffle any sounds.
How do you turn Kiiroo Keon on?
To turn on the Kiiroo Keon masturbator, you need to first make sure that it is fully charged.
Once it's charged, locate the power button on the side of the device near the bottom.
To turn on the Keon, simply press and hold the power button for a few seconds until the LED light turns on.
The Keon will now be in standby mode and ready for use.
To activate the motor, simply press the power button again, and then use the buttons on the device or the Kiiroo app to select your desired intensity and vibration patterns.
If you're having trouble getting your Keon to work, I recommend checking the instruction manual carefully, to ensure that you're operating it correctly and safely.
How long does the Kiiroo Keon last?
With a full charge, Keon lasts anywhere between 30 minutes to 2 full hours, depending on the settings you use.
For example, when I was using Keon at full speed and with a maximum stroke, then the motor used to eat up my battery life in no time. On the other hand, when I was using a slower speed, the device's battery would last a lot longer.
As for the life of the device itself, Keon is designed to provide you with many, many hours of sexual pleasure and satisfaction over its lifespan.
They also offer a 1-year warranty (at the time of writing), but if you purchase Keon (or any of their other products) from third-party vendors, such as Amazon or eBay, they will not honor the warranty.
Like any electronic device, the Keon's lifespan depends on how well you take care of it and how often you use it.
Update: I have had it now for over a year and it's completely fine still.
If you use it regularly and don't give it the proper TLC it deserves, it might not last as long as you'd like.
On the other hand, if you treat it with care, don't overuse the motors, clean it regularly, and store it in a cool, dry place when you're not using it, Keon should last you for many years to come.
Can anyone use the Kiiroo Keon?
Yes, as long as you've got a penis, and a hankering for some high-tech, interactive masturbation, anyone can use Kiiroo's Keon male masturbator.
Kiiroo's Feel Stroker has a total length of 8.6 inches and an opening slit that's about 0.8 inches in diameter.
So unless your dick is longer than that, or skinnier (which I hope it isn't), you shouldn't have any trouble using or fitting yourself into this awesome toy.
Additionally, Keon can be paired with other toys, so you can use your toy with anyone else who has a Kiiroo or FeelTechnology-enabled sex toy for a more interactive way to play.
Cleaning and maintenance for Keon & Feel Stroker
To clean your Kiiroo Feel Stroker, simply rinse the inside out with warm water and clean the surface with a bit of mild soap.
Make sure to also clean the outside of the sleeve, as well as the plastic case, to remove any bodily fluids, semen, or lubricants.
As for cleaning your Keon, or other Kiiroo devices, because they're electronic, I don't recommend submerging them or rinsing them under the faucet.
Instead, use a damp cloth to wipe the surface, making sure to remove any bodily fluids or lubricants that may have been left behind after your last session.
Then, simply pat the device dry with a clean, lint-free towel, and store your toy in a cool, dry place until next time!
By taking the time to clean your Keon after each use, you'll not only protect your personal health and hygiene, but you'll also ensure that your toys remain in tip-top condition for all the romps to come.
Does Keon Work With Fleshlight Sleeves?
Yes and no.
Keon is designed to be used with its own proprietary sleeves, but it's also possible to use it with any full-size Fleshlight.
The Feel Stroker case is slightly shorter than classic Fleshlight cases, so the end of your Fleshlight sleeve will protrude a bit.
When I tried, it felt a bit strange, so I stick with the normal Feel Stroker sleeves. Although sometimes I do remove the Fleshlight sleeve from the case and stick it inside the Feel Stroker case. It isn't perfect but it works for a change.
What is the Feel Connect app?
As a leader in teledildonics, Kiiroo's Feel Connect app is designed to enhance your experience when using Kiiroo masturbation toys.
Once paired with your smartphone, iPad, or tablet, the app allows you to control your Kiiroo toys remotely, either by yourself or with a partner, and provides a range of features and functions to customize your experience.
With the app, you can create custom vibration patterns, control the intensity and speed of your Keon, or even sync it to videos and interactive content for a truly immersive experience.
But the app isn't just for solo play!
It also allows you to connect with other Kiiroo users for virtual, interactive sex and intimate online experiences.
So, whether you're looking to explore new fantasies on your own or connect with others for a shared long-distance experience, the Feel Connect app is definitely the way to go.
What is Feel Me AI?
Feel Me AI is a subscription service by Kiiroo that allows you to instantly turn any online adult content into interactive content that can be paired with your Keon.
When using Feel Me AI, you'll get to feel what you're looking at in real time, which can create an even sexier, and more interactive masturbation experience.
That said, Feel Me AI is only compatible with three of Kiiroo's award-winning products: the Onyx+, the Pulse Solo Interactive, and the Keon & Feel Stroker.
Final Thoughts
Kiiroo has truly done a wonderful job with the Keon. It's what many people have been dreaming of and wishing for. They are now the leading brand when it comes to teledildonic devices and interactive sex toys. If you've owned a Fleshlight Launch, Kiiroo Keon is worth the upgrade.