Kiiroo Keon is a powerful automatic male masturbator designed to elevate the standards of interactive sex. Kiiroo Keon is the company's attempt at infusing technology into one of the classic male sex toys on earth, the pocket pussy.
I was genuinely excited in a long while to receive a new toy. However, for the first few months of its release, the Kiiroo Keon was sold out. I got my hands on it finally, so it's time for our review!
Kiiroo Keon Masturbator
If you haven't kept yourself in the loop with the latest on pocket pussies and male masturbators, you'll be surprised by how far we have come. Gone are the days of manual stroking!
We have now entered a new era of automatic interconnected and interactive realistic masturbators.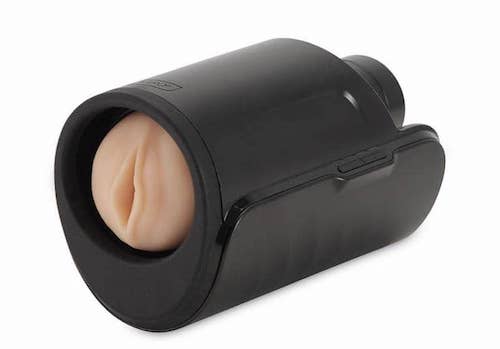 You can simply connect Kiiroo Keon to your partner's device (even from a long distance), and it will simulate their movements when they use their toy. Your Keon will replicate this in real-time to help you feel like your partner is just right there with you.
If you don't have a partner you can use it in connection with your favorite porn star.
Want to sync it to porn? Keon will help you. Kiiroo Keon is designed to simulate the action in the porn you are watching in the strokes you feel.
Unboxing Keon
The Keon by Kiiroo comes in a discreet, well-packaged box covered with brown paper. There's no name on it and it's shipped with a great deal of care. I took off the brown packaging, and it was fully wrapped in bubble wrap to avoid any kind of accidental damage.
Here's what's in the package:
The Kiiroo Keon
Kiiroo Feel Stroker (both the sleeve and the casing)
120 ml toy cleaner
60 ml water-based warm lube
60 ml water-based lube
Here's a bit of advice if you're interested in connecting your Keon to your partner's toy or to porn: make sure you download the FeelConnect app for your mobile store. This is Kiiroo's primary app and it's available for both iOS and Android. Without the app, you won't be able to use it to its maximum potential.
Kiiroo Keon uses Bluetooth for connectivity, so make sure you hook it up before you power it up.
First Impressions of The Kiiroo Keon
First, let's talk about the specs for this bad boy.
Material: ABS + Silicone + PC
Size: 8.66 x 5.11 x 5.75 inches
Total weight: 4.2 lbs (Keon + Feel Stroker)
Speed: 6-230 strokes per minute
Use time: 30 minutes to 2 hours depending upon speed
Charge time: 4 hours
Stroke length: 0.8 – 2.56 inch
Now, the hawk-eyed readers will probably have figured out that this is a "one-size-fits-all" solution by Kiiroo. This means if you have a huge member, it's going to be a bit difficult for you to squeeze it all in.
The build quality is solid, as you would expect from a silicone and ABS blend. It's got a glossy finish to it, and when closed, it doesn't look like a masturbation toy at all. You can easily leave it around the bedroom without anyone being the wiser.
Kiiroo Keon + Fleshlight Compatibility

See It
Now I know a lot of you will have this question at the back of your minds: since Kiiroo no longer partners up with Fleshlight, will a Fleshlight toy work with the Keon? If you look at the casing and the dimensions I have given above, it's definitely not a smooth fit.
However, it does fit just right.
Most Fleshlight cases out there are slightly bigger, but once you insert yours in the Kiiroo Keon, it's really not going to make much of a difference. Obviously, the company has stopped advertising their partnership or support of Fleshlight, but if you have several Fleshlights, it would be a shame to let them go to waste.
Yes, they are going to work just fine with the Kiiroo Keon.
The Kiiroo Feel Stroker
Kiiroo wants you to focus on their Feel Stroker. On its own, it's just a simple stroker, but insert it into the Keon, and it takes a whole new life. This is a classic texture sleeve that feels just awesome.
The Feel Stroker is also sold separately but you can actually already buy it with the Keon. Besides the original Keon + Feel Stroker combo, there are several porn stars versions as well.
The tiny bumps create a very realistic sensation. It's like when you are completely relaxed as a girl rides you gently towards a mind-blowing orgasm.
I could barely deal with the 2/4 setting. I'm pretty sure if I maxed out the settings on the Keon, I'd be done in under 20 seconds. Not. Even. Joking.
The Kiiroo Keon Interactive Mode
Now, in this section of my Kiiroo Keon review, I'm going to focus on the different modes of this automatic male masturbator. There are two modes to choose from: manual and interactive.
Manual Mode
Manual is easy. It's divided into two further settings: stroke depth and speed. There are four buttons on the side. You can press them up or down to get maximum control over your Keon just the way you want it.
I love the manual mode because it gives me maximum control over the Keon. But, let's not focus on this for too long. The interactive mode is probably what's going to tickle your fancy.
Make sure you have the app, and it should connect almost immediately. Once you are hooked up, you will see three options:
Website: you can hook the Keon with a VR headset to access the interactive adult content that Kiiroo has to offer. There's also the 2D mode, and the interactive webcams.
Partner: you can connect the Keon with other Kiiroo toys and sync them with your partner's (once they do the same). You just need an internet connection. It can be fun for long-distance.
App Control: there is a touch control and additional buttons in the app that allow you to control the Kiiroo masturbator. You can make it move in sync with the music you are listening to, or create your own ideal stroke from scratch.
Interactive Mode
Interactive mode is not flawless. I mean, the technology is still getting better, and it still blows my mind thinking about what we can do with this sex toy today. There are many videos that play beautifully and precisely, but there are a few that just feel out of sync.
Considering the amount of technology that's packed into the Keon, it's understandable that you are going to face a few hiccups along the way. The interactive mode is definitely fun to play with and offers a truly hands-free male sex toy experience.
However, I still prefer the manual mode most of the time. Sure, every once in a blue moon I like to let the tech take over, but as I've become more accustomed to the controls, I have realized that I can replicate the movements in the videos better with the manual control.
In the interactive setup, it sometimes feels that the action runs a bit too fast. After all, I didn't pay this much money for a quick session. I like to enjoy it for as long as I can, and that's what manual mode gives you.
My Experience With Kiiroo Keon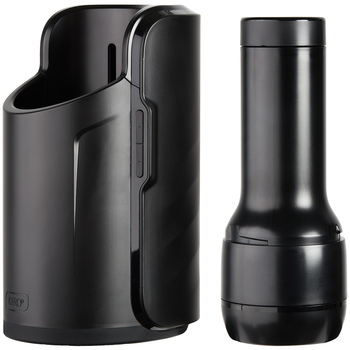 My Kiiroo Keon review won't be complete without me telling you about my experience, which was actually quite fantastic. My girlfriend was quite curious about my decision to buy this: she wanted to know why I had chosen the Kiiroo Keon.
She's absolutely open to the idea of me using male sex toys. She says it's better those than actual women when she's not around. So, like I told her, I'm going to write the same here: it feels downright great.
Now, let me answer the one question everyone always asks me: how close does this feel to actual intercourse?
Comparing it to actual intercourse would be a disservice to both: the intercourse and the sex toy itself.
Since I've gotten the Kiiroo Keon, I have completely gone hands-free. I love using it on the couch, on the bed, or even on my recliner. You just prop up a couple of pillows, and get going.
The app makes it easy to set the speed and thrust, so there's really no reason for you to touch the Keon.
Kiiroo Keon VS Fleshlight Launch
Let's compare Kiiroo Keon to another automatic male masturbator, the famous Fleshlight Launch.
Interestingly, for those who might not know, Fleshlight and Kiiroo have once collaborated and together, creating the Fleshlight Launch. This partnership has ended for some years now and production of the Fleshlight Launch has been stopped.
It's no longer being sold and this news shocked a lot of people. The good news is Kiiroo has decided to take matters into their own hands and finally created a worthy alternative, the Kiiroo Keon.
Let's Set Things Straight First
I, personally think that the Kiiroo Keon and Fleshlight Launch can't be compared face to face. It's totally unfair since Kiiroo has a major advantage having been launched only years after the Launch. Keon had a chance to iterate and fix the most common challenges found in the Launch.
The sole purpose of my comparison is to set expectations especially of those who've previously owned the Fleshlight Launch and wanting to know more about the Kiiroo Keon. Also, of those who've heard of the Launch or who's done their bit of research on the device and are curious of the Kiiroo Keon as well.
Kiiroo Keon – An Upgrade of Fleshlight Launch?
There are too many exciting good things to say about the Kiiroo Keon. Pardon me if I get carried away somewhere in this post but I have no intention to defame the Fleshlight Launch.
The Keon is a lot more well-researched and well-developed. The design is a total badass. It looks sleek, premium, and ultra-masculine. But not only that, it feels ergonomic too.
A Lightweight Device with Premium Materials
The Keon is certainly a lot easier to use and hold because it's more compact and less straining to the hands compared to the bulky Fleshlight Launch.
The Fleshlight Launch weighed at least 3 lbs without the stroker or sleeve. Kiiroo Keon weighs drastically less at only 2.4 lbs total. Being more compact, the Keon doesn't really get in the way when you're having too much fun unlike the Fleshlight Launch did.
You Have Total Control
Kiiroo Keon completely improved the controls. They are much more responsive and a lot easier to reach. They strategically placed them in the device so you don't need to constantly reach out for the buttons while you're totally in the zone.
When I said the Kiiroo Keon felt ergonomically designed, it's true! You will notice that the frame of the device is not perfectly circular. It's not fully curved but has some kind of edges on both sides where your hands would lay. These allow for a better grip of the toy even when it's moving fast. You'll get it once you try it.
Final Thoughts
Kiiroo has truly done a wonderful job with the Keon. It's what many people have been dreaming of and wishing for. They are now the leading brand when it comes to teledildonic devices and interactive sex toys. If you've owned a Fleshlight Launch, Kiiroo Keon is worth the upgrade.