Stoya Destroya Fleshlight offers what is probably the most realistic Fleshlight experience. That is her main draw, and what you're basically paying for.
What the sleeve lacks in terms of variety it makes up for in intensity and extremely stimulating textures. However, the intensity may be too much for beginners.
It's a great product to work yourself up to, if you can, but one that may not be universal, if you're above or under average size.
Meet Stoya
The porn world's sweetheart, Stoya is unlike most stars that grace your screen. Having started out as a so-called "alt model", she is tall, with a waifish figure and a kind of alternative sex-appeal that was much needed in the adult entertainment industry.
But perhaps the best thing about Stoya is her defying attitude and enthusiastic embracing of a sex-positive mindset, in a world where many hide behind false prudishness. That alone makes her one of the freshest stars in the industry over the last few years.
Twitter handle: https://twitter.com/stoya
Instagram: https://www.instagram.com/stoya/
Eye Color: Hazel
Bust: 32B
Waist: 25"
Hips: 34"
Height: 5'7"
Weight: 120 lbs
Pros:
The diverse chambers work together to offer a complete experience in a way that other Fleshlight sleeves are found lacking. I can identify 4 distinct, textured chambers with tight transitions that ensure that you're not getting bored using this.
You are practically guaranteed an orgasm with this sleeve. I personally don't take that for granted, and I appreciate that this male sex toy has a lot going for it to enhance your orgasm, from the texture to the quality of the silicone, and the ability to mess with the suction.
Without a doubt, realism is the most exceptional thing Stoya Destroya has got going for it. The outer silicone is soft and fleshy, with an incredible attention to detail when it comes to folds and intricacies, and the inside can almost fool you. Warm it up and fill it with lube, and you can't tell the difference.
Cons:
Her intensity can also be her downfall, if you're inexperienced or just sensitive. They weren't joking when they put those textures in, and they can go form pleasure to pain really quickly if you're not "trained".
This is made to fit most men, but if you're thicker than 5 inches (good for you!) or shorter than 8 inches, then you may not be able to fully enjoy the full texture or the very last chamber fully. It will be tight, but variety will be lacking.
If I were to be super nitpicky, I'd say that the screw-cap at the bottom can be fiddly to work with – especially if your hands are slippery from lube – but I'm just being bitchy at this point.
Do I Recommend It?
Stoya Destroya is one of the best – if not THE best Fleshlight girl. The realism of this toy is its most acclaimed feature and that puts it right up in the Hall Of Fame of plastic pussy. It's also intensely textured, to the point where you may find that you don't even make it to the end.
I also want to point out an interesting and unexpected perk – if you experience trouble lasting as much as you'd want in the bedroom (or outside it), this can actually help you. I'm not saying it's a medical device, but according to my research, this is intense enough to desensitize you and allow you to enjoy yourself for longer. How's THAT for a selling point?
But – all his hinges on you being average-sized and not super sensitive. Too big, and you won't feel the textures. Too small, and you get to experience it until the end. Sensitivity can be a problem, especially after cumming. That being said, this is still an excellent pocket pussy that I recommend.
Getting to Know Stoya Destroya
Name: Stoya: Destroya
Length: 9 inches
Circumference: 0.28 – 0.6 inches
Colors: Flesh-toned
Materials: Soft Plastic
Category: Realistic Vagina
Orifices: Vagina (Destroya), Butt (Epic)
Waterproof: Yes/Submersible
Stoya Destroya has a tremendous amount of hype behind it, it's a cult product and thousands of men swear that it's the best they've ever had. That's what we're putting to the test.
This is a sleeve, meaning it can be taken out and replaced with a different one. That makes cleaning easier, and it also means that the sleeve can be swapped out, depending on your mood.
Supposedly, this is an exact replica of Stoya's pussy. I haven't seen that in person to tell you if it's 1:1, but people seem to dig it. Either way, it's got nothing to do with the actual function of the toy, but I guess it's a neat gimmick?
This is not the only sleeve from Miss Stoya; this is the vagina replica, known as Destroya, and called a Lady Sleeve. She also has a Butt Sleeve called Epic.
The shtick with this is that while it looks all smooth and fleshy on the outside, it's aggressively textured on the inside.
First Impressions: What Does She Look Like?
When you take Stoya out of the package and take a good look at her, she won't be particularly impressive, I'm not gonna lie.
Objectively, she's pretty much a pink, rubber tube with a fake molded pussy on one end. When she's not in action, she's not sexy.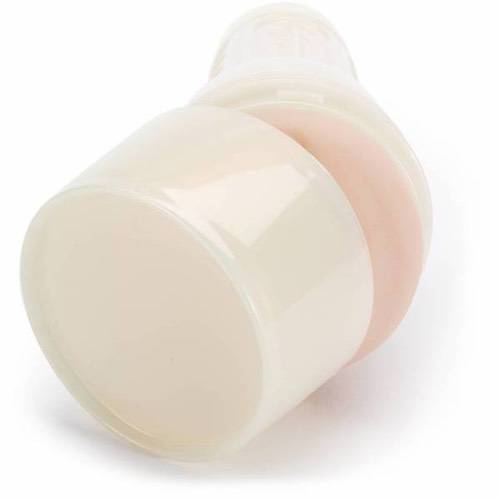 HOWEVER, the first thing I noticed looking at it up close and handling it is that you can tell this is a high-quality piece of merchandise.
The silicone is nice and smooth, that fake pussy doesn't look as creepy and horrifying as those cheap ones do, the color is nice, and it's nicely finished, overall. No edges left unfinished, and no weird holes that shouldn't be there. And yes, that has happened to me before.
In fact, the outside texture is so nice and fleshy, and the molding is so well-done, it…kind of feels and looks real? Look, I'm not saying you're going to mistake this for your wife in the dark, but what I'm saying is that I'm actually impressed at the quality.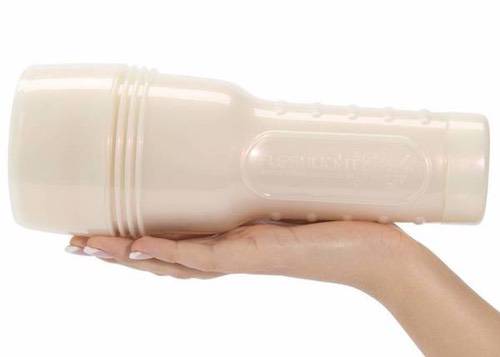 It felt comfortable in my hand and a good fit, overall. Not too thick to hold, and not too weighty. What I will point out, however, is that the toy overall is bigger than you'd expect. This doesn't seem like a huge problem, until you realize that you need to leave it somewhere to dry and then store it.
What I consider a particularly great feature on these toys is that there's a suction control cap at the bottom that you can screw and unscrew as tight or loosely as you want in order to personalize you masturbatory experience. And personalize, it will.
Let's See What's Inside
Now, let's take a look at the inside. The only way you can see what she looks inside is if you cut her in half, which I don't recommend you do. Thankfully, the site offers a cross-section image so that you can marvel at the beautiful engineering of this thing.
As you can see, it has around 4 main chambers of pleasure. Try not to throw up in your mouth when you read "chambers of pleasure".
Without going into too much detail, you can see that there is a good variety of textures and that they didn't just slap on some ridges and called it a day. One of the fortes of the Fleshlight girls series is this variety of textures and the fact that each girl offers you a different sensation.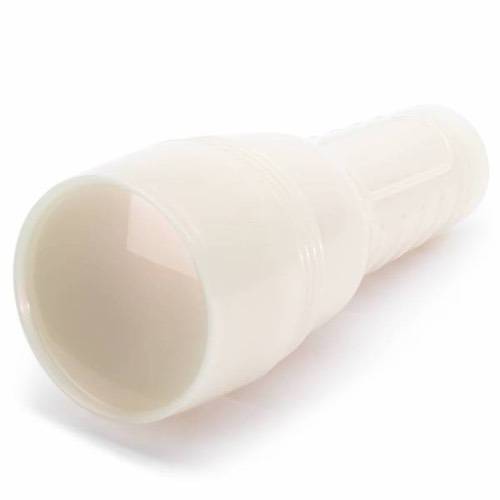 Some are milder, but Stoya looked intense, even without having tried it yet, you can see that it starts out and finishes up incredibly tight, with some pleasurable torture in the middle. It looks fun, but you can't tell until you try it.
How to Use Stoya Destoya
Since you're here reading this article, I assume that you know what a Fleshlight is, and that it's basically a plastic tube that you fuck.
Yes, it looks like a flashlight. Yes, that's the joke.
For detailed instructions, we wrote a guide on how to use a Fleshlight.
Here is how you use her:
The first thing I recommend you do is actually warm up the sleeve. Everyone seems to have a good experience with warming it up in hot water (but not too hot!), so that's something you know works. You could also put it on the radiator, but I wouldn't do that honestly.
Then, you squirt a good amount of lube inside. I'll tell you a secret and a bit of a spoiler – the warmth and the lube are the secrets to achieving that realism so many rave about. If you put your finger inside, you should be able to tell if it's warm and wet enough. You need a lot of this, to facilitate movement and comfort. Without it, it will be too aggressive and even overwhelming.
Obviously, now you just stick it in. As I said in the beginning, there's actually a twist cap at the bottom that allows you to adjust the suction. That can really add variety and comfort to the experience. I will say, though, that seeing how I'd just put lube inside it, trying to twist the cap full of lube was a tad difficult. But it's a small inconvenience. You also have to make sure you secure it tightly.
The way you use it is you move it up and down along the shaft, as slow or fast as you like. I can't dictate your preference, but I CAN warn you that you won't last as long as you think you will, so proceed with caution.
How Does She Feel?
When you first put your penis in, Stoya starts out really tight (0.4"!), and you're thrown into a nubby bit right away, so there's no time to get used to the sensation. It's a "beginner" section, but not without intensity, so put your seatbelt on – you're going for a ride, boy.
Next, you've got a painful-looking part with sharp nubs. This is the roomiest part of this sleeve, but it sure as heck won't feel like it when you've got your dick inside it. It's the nubs that get you, mark my words. They look scary, but they actually feel incredible grazing against you.
Then, you push into a longer bit with long fangs that will tug at your weenie mercilessly as you dive back and forth. The only problem with this one is that come orgasm time, you might be too sensitive for the way this feels, inching closer to discomfort. If you're not dead yet, you can advance to the final chamber.
A full third of Destroya is this final area, that doesn't LOOK super exciting – to the untrained eye, it's just a ribbed tunnel. But connoisseurs will know that you're likely to blow your load here because of how tight it is. I've got to say, other masturbators have disappointing finish lines, but this one gives you the push you need, while also giving you some room.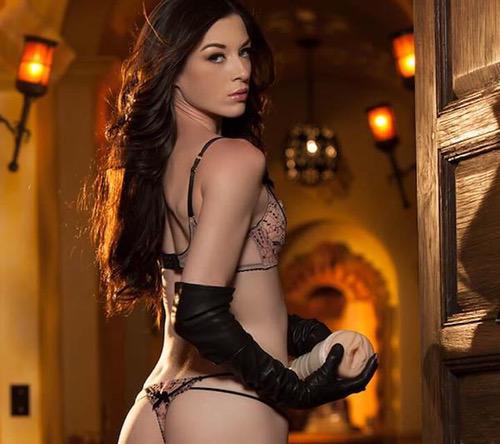 You Will Like it If:
You're an average-sized guy. If you fit a 9 inch long sleeve with a 0.28 inch diameter, you're golden.
This isn't for the faint of heart, so if you have a hard-wearing dick that can take a pulling, this is for you.
A seasoned pro or otherwise a guy who's used toys and Fleshlights before is more likely to enjoy this
You Won't Like it If:
The sleeve is 9 inches long, so if you're much under that, you won't get the full experience, as you won't reach the last chamber properly.
It will handle big boys well enough, as it's flexible, but again, I'd say you're looking at a 5" circumference max for the "full" experience. Any thicker than that, and you'd lose some of that texture as the nubs and teeth won't really function in the same way. You just end up feeling that it's tight, but you don't get to experience the changing textures, which kind of defeats the purpose.
If you're a beginner or have a very sensitive penis, this may be too much for you and you may want to try something else, first.
Stimulation: 5/5
Stoya is not lacking in stimulation. The different textures are the first to spring to attention – from that initial 360-degree pleasure dome to that never-ending tunnel – fangs and nubs and ribbing – oh my!
They're not as varied as other Fleshlight girls, but they do their job so well, that you're not really missing more. It's easy to attribute all the stimulation to the textures, but the tightness is actually underrated. Together, they create an intense, orgasmic, and realistic experience, but we'll talk about that next.
Realism: 5/5
This is where Stoya shines – most men who've tried this agree that it feels the most realistic out of all the male masturbators they've tried, including other Fleshlights. In fact, I've seen it described as "creepily realistic".
The realistic aspect actually includes both the outside and the inside. That fleshy exterior is incredibly well-done, and with the addition of some warm water and lube, the interior can feel familiar as well.
Variety: 4/5
Stoya Destroya isn't actually that varied, in terms of chambers and sensations. There's like, 4 main sections with different stimulants, but that's nowhere near the diversity other sleeves have. So, if that's what you're looking for, I'm sorry Mario, but your princess is in another castle.
I will say that the sleeve does a very good job of building up momentum almost immediately, so it's not wasting any of that previous 9" on "warm up". You won't miss the variety.
Lube Usage: 5/5
Lube is extremely important, here, because it enhances the experience with this toy. It's critical to achieving the realistic feeling and experience people are raving about.
But even without that, lube is necessary. If you treat this toy well, it will treat you well. That means using lube for Fleshlight with it. You don't need to use Fleshlube (although it's guaranteed to be compatible), you can go for something cheap, as long as it's water-based.
Cleanup: 3/5
No one wants to think about this part. Right after you've fucked it, and now it's a plastic tube full of dried up lube and your own spunk.
The good news is that cleaning it isn't a huge chore. We wrote an entire detailed article about it – the most important part is to clean both the actual Fleshlight and the sleeve.
The bad news is that it requires an extensive drying time. Because of the intricate texture inside, it needs to air dry.
Slowly, really slowly.
That means that you need to have this huge plastic pussy out in the open somewhere, which a) isn't very discrete, and b) is inconvenient if you'd like to use it in the meantime.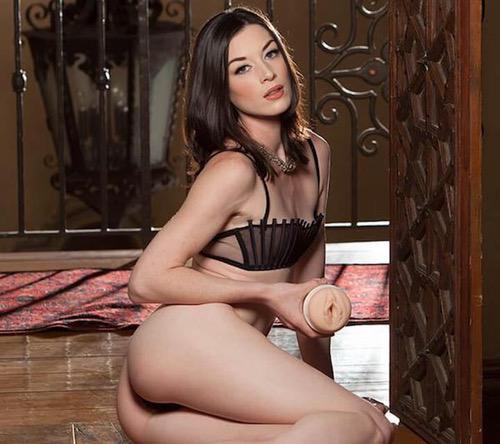 Overall Satisfaction: 4.4/5
Overall satisfaction will, of course, depend on each dude that sticks their dick in this. There's no Satisfaction Guaranteed ™, this isn't the Shopping Channel and I'm not selling ShamWows.
That being said, the textures are very well thought out, not only in terms of shape and function, but also in terms of order and placement. I can't see anyone not enjoying this. You might think it's overrated maybe, but not that it's a bad product.
The realistic feel and intense orgasm are definitely the most impressive things this toy achieves, and all in all, considering you are almost guaranteed to finish, it's pretty close to an ideal woman toy.
Stoya Destroya VS Riley Reid Comparison
| Stoya Destroya | | Riley Reid |
| --- | --- | --- |
| | Specifications | |
| 9" | Length | 9" |
| Yes | Waterproof | Yes |
| Fleshtoned | Color | Fleshtoned |
| | Ratings | |
| 5 | Intensity | 4 |
| 5 | Stimulation | 4 |
| 5 | Realism | 4 |
| 4 | Variation | 5 |
| 5 | Suction | 5 |
| 5 | Orgasm rating | 4 |
| 5 | Lube usage | 5 |
| 3 | Dry speed | 3 |
| 4 | Clean up | 4 |
| 5 | Overall satisfaction | 4 |
| WIN | | |
Stoya Destroya VS Lisa Ann Comparison
| Stoya Destroya | | Lisa Ann |
| --- | --- | --- |
| | Specifications | |
| 9" | Length | 9" |
| Yes | Waterproof | Yes |
| Fleshtoned | Color | Fleshtoned |
| | Ratings | |
| 5 | Intensity | 3 |
| 5 | Stimulation | 4 |
| 5 | Realism | 3 |
| 4 | Variation | 2 |
| 5 | Suction | 5 |
| 5 | Orgasm rating | 4 |
| 5 | Lube usage | 5 |
| 3 | Dry speed | 3 |
| 4 | Clean up | 4 |
| 5 | Overall satisfaction | 4 |
| WIN | | |
Where Can I Buy My Soulmate Stoya Destroya?
Well I gave her a lovely build-up, so I bet you wanna know where you can buy the Destroya:
The best place to get any Fleshlight products is right on the official Fleshlight website. Stoya Destroya is an absolute best-seller, so you'll find it in stock more often than not.
Lovehoney is one of the legitimate sex shops that carry genuine Fleshlight products. You can find both of Stoya's sleeves here. And sometimes, you can even get them on sale!
PS: No dicks were harmed in the making of this review.