Realistic butts are male masturbators specifically designed for those who just love butts with their heart and soul. Like me.
If you just can't have enough of butts and love them more than anything else in the world… then keep reading… The following realistic butts are designed to deliver an intense feeling very close to the real thing.
But hey, don't buy into the bullshit that these are better than a real ass! A real ass is always a million times better.
The following toys are ideal for butt lovers and can be used both alone or in couple play. They are kitted out with textured canals, soft skin, firm breasts (sometimes), yielding flesh, and ripe ass cheeks ready for spanking.
In this review, we'll look at the best realistic butts available on the market today, including twerking machines, and masturbators molded into lusciously rounded rears.
Ok, I got enough of this introduction! Just show me the butts!
What Is A Realistic Butt?
So, is it like a pocket pussy? Some can be, like the Fleshlight Girls range with butt orifices, who resemble a traditional, cylindrical male masturbator. Some are more like half sex dolls instead.
Realistic butts however come in a range of shapes, sizes, and materials with many making for a playground of possibilities. Some include upper thighs or even breasts, and torso.
In whatever form, these toys are tailored to satisfy your desire for anal sex whenever you want, wherever your want. Both alone and with your partner in a fantasy threesome.
If you are a total ass freak, you gotta get one of these!
Imagine the possibilities. Imagine sliding into these delicious asses anytime you want, without any foreplay and without wasting time talking. Stack them against the wall, throw away all your furniture, and make your house an ass paradise!

These are the best realistic butts cash can buy:
For all models, ensure you fully lubricate your lady before diving in, not only does this make for a slick and smooth pounding but it also prevents any chance of discomfort as realistic butt masturbators tend to lean towards the tighter size. Yum!
1) THRUST Pro Elite Alana
Alana is a life-size realistic butt with both a vagina and butt masturbator. Unlike other realistic butts, Alana has two distinct ribbed canals to plunge into. The vagina canal is 0.5 inches wide and butt is very tight with only 0.1 inches in width, it's your choice which one to take first. I would go ass first.
Key Features:
Material: Realistic Feel
Anal Canal: 0.5 Inches and Textured
Waterproof: Submersible
US Dress Size: 6-8
Contains Phthalates: No
2) Fleshlight Girls Butt Eva Lovia
Fleshlight Girls offers custom-built butt orifices designed to match the exact measurements of your favorite porn stars, additionally improved with tight tunnels of massage beads and ridges. Eva Lovia's Butt Spice Texture features a long ridged, tight canal designed for the ultimate anal experience.
Key Features:
Material: SuperSkin (Soft Plastic)
Anal Canal: Textured
Waterproof: Submersible
Contains Phthalates: No
3) THRUST Pro Xtra Taylor
The Thrust Pro Xtra Taylor is designed to simulate the butthole and vagina (with two distinct tunnels). It completely invites you into doggie styling these round butt cheeks. Both ass and pussy canals are textured to spice up your sensations. Taylor is made from TPE, a form of plastic, designed to feel like real skin.
Key Features:
Material: Soft Plastic
Anal Canal: Textured
Waterproof: Submersible
Contains Phthalates: No
4) THRUST Pro Elite Alicia
Alicia is a medium torso with life-sized breasts, slim waist, and two distinct, textured vagina and ass canals. Her vagina measures 5 inches in length, and her anus is 5 inches in length, and a tight 0.3 inches in width. Both should be used with water-based lubricant only.
Key Features:
Material: Realistic Feel
Anal Canal: 0.3 Inches and Textured
Internal Length: 5 Inches
Waterproof: Submersible
Total Body Length: 19 Inches
Contains Phthalates: No
5) THRUST Pro Elite Tamara
Tamara is made from real-feel TPE and molded into an up-propped, rounded rear. She comes with a remote control, bullet vibrator to be slipped inside her with ten distinct vibration modes for hands-free fun, and has two distinct, textured tunnels (vagina and anus) with an internal length of 6 inches for her vagina and 5 inches for her ass.
Key Features:
Material: Realistic Feel
Run time: 55 minutes
Anal Canal: textured
Waterproof: Splashproof
Openings: Vagina and anal
Contains Phthalates: No
6) CyberSkin Elite Twerking Butt
The CyberSkin Elite Twerking Butt is a hands-free, life-size realistic butt which "dances just for you", warms to body temperature, multi-speed vibrates and is remote-controlled via app and Bluetooth. CyberSkin Elite includes VR goggles compatible with most smartphones (iPhone 6 and up) to use your twerking butt whilst watching 3D videos for the next-level in realistic masturbation.
Key Features:
Material: Realistic Feel
Anal Canal: 0.25 Inches and Textured
Waterproof: No
Vibration Speeds: 6
Contains Phthalates: No
Power Type: Mains Power
7) THRUST Pro Elite Tiana
An all dark chocolate beauty lifting her perfectly rounded cheeks up for entry, Tiana is ready for you. With a realistically detailed vulva, this butt has a snug vagina and tight anus engraved with two distinct textured canals. Tiana should be used with a water-based lube. She apparently wears a US dress size M panties, in case you want to buy her a birthday present next year.
Key Features:
Material: Realistic Feel
Anal Canal: 0.5 Inches and Textured
Waterproof: Submersible
US Dress Size: 6-8
Contains Phthalates: No
Internal lengths: 5.5 Inches (anal) and 7.5 Inches (vagina)
8) THRUST Pro Elite Katya
Katya has life-like squeezable butt cheeks on display as she arches her back in a downward-facing position. With two distinct canals, she is all nubs, grooves, and ribbing inside. Her vagina width measures a tiny 0.25 inches and yet her even more petite anus has only 0.1 inches in width.
Key Features:
Material: Realistic Feel
Anal Canal: 0.25 Inches and Textured
Vagina Canal: 0.1 Inches and Textured
Waterproof: Submersible
Contains Phthalates: No
9) Dirty Talk Interactive Realistic Ass Masturbator
This motion-activated realistic butt responds to your thrusts with moans of pleasure. It has two tight, textured, and ribbed canal entries for vagina and anus. Her vagina measures a tight 0.75-inch width and her anal canal a 0.25-inch width.
Key Features:
Material: Soft Plastic
Interactive: Motion Activated and Talking
Included: Headphone Jack and USB Rechargeable
Anal Canal: Textured
Waterproof: Splashproof
Contains Phthalates: No
Openings: Vagina and Anus
10) THRUST Pro Ultra Coco Ribbed and Dotted Ass Cup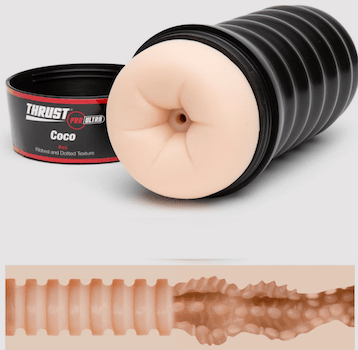 Meet Coco, a discrete realistic butt with a lifelike, tight ass entrance leading to a ribbed and dotted inside canal. Coco has fully adjustable suction control, is best used with water-based lubricant, and comes in at a total of 5 inches of enjoyable length.
Key Features:
Material: TPE
Openings: Female Butt
Anal Canal: 5 Inches length and Textured
Waterproof: Submersible
Contains Phthalates: No
What Type Of Realistic Butt is Right For Me?
Go with your instinct! Which one you find more attractive? Just go for that!
If you don't have an instinct, no problem, I got you covered.
Choose depending on the features which are most important to you. Whilst all realistic butts are designed to offer the same level of stimulation as anal with your partner, some also offer the visual of full butt cheeks, ripe hips, and the sensation of supple skin.
Perhaps a full lower torso is too great an initial outlay. Do you intend to travel with your butt masturbator? In this case a Fleshlight will give you the satisfaction of anal sex whilst being the most discrete option. If traveling isn't a problem but you'd like a model which is easy to handle, a smaller, cheeks and anus model might be best.
Do you prefer bigger butts and you cannot lie? In this case, a replete lower torso may be the better option with many models offering different tightness, skin colors, and levels of curvaceousness from Riley Reid all the way to Kim K.
There's no test drive on realistic butts so "know thy kinks" ahead of time and check out our review of the ten best listed in this article.
What To Consider When Purchasing a Realistic Butt
How much are you willing to pay?
Realistic ass masturbators vary in price from $70 to $700. Like any other product, how much you are willing to invest in your realistic butt will depend on your finances, how much use you estimate getting out of her and where your realistic butt falls on your list of important lifestyle investments. Here is someone who created a business out of them.
What's the experience you're looking for?
If you want the feeling of skin beneath your fingers then you'll need a different model than if you only care about the inner friction and you intend to travel with your toy.
Some realistic ass masturbators are "spineless" meaning they can wobble. Others are pre-molded into the upwardly propped doggy or spread thighs like in missionary.
A good idea when considering this question is to scroll down to customer reviews. Product descriptions may tell you diameter and height but only a verified user can let you know if Alicia needs three pillows and a block of memory foam to prop her up for entry.
How To Choose The Right Size Realistic Butt?
Realistic butts are available in a variety of sizes from a standard 5 inches length and tight 0.3 inches width up to mega masturbator realistic butts which include voluptuous rumps and very tight canals.
We recommend beginners start with smaller sized realistic butts with a medium tightness as opposed to full torsos with breasts, waist, and thighs. For experienced users, who know what they like, anything goes.
Always though, the right size is the one that best fits your body, storage options, discretion needs, and aesthetic requirements.
How To Decide On Your Butt's Material, Shape, and Texture?
Like any other sex toy, this will be down to personal taste. At the higher end of the market, realistic butts are commonly made with Cyberskin, which has a realistic, smooth texture and is soft to the touch.
At the more affordable end of the market, many are made out of rubber, silicone, and TPE, a form of higher-end plastic. Realistic butts made out of rubber, silicone or plastic can be rigid and harder to penetrate. Far from a downside, many prefer a more rigid butt as the tightness can simulate anal with a woman and further intensify masturbation.
How To Use Your Realistic Butt
Read the instructions! All realistic butts require lube, which will normally be water-based. On first use, lube up liberally (both you and her) and start with slow, gentle strokes to warm her up. Once you're in and she's ready to go, you can let rip at whatever thrust and speed you like.
Ensure that you read the accompanying leaflet carefully and keep her clean at all times. Some realistic butts will have a drain hole at their back where they can be filled and flushed with water and others flip inside out. After each use, make a quick check to ensure she isn't damaged and if possible store her in the original box or a lint-free towel in a place free of extreme heat or humidity.