Sex dolls have come a long way since they were just pieces of plastic – now we have realistic sex dolls and even sex robots!
Dolls are no longer just simple open mouth toys; these days sex dolls offer realism and companionship to men and women who may feel lonely, or just want to have some fun.
You can have as much sex as you want with your doll, how and when you want it.
In this article, I will show you the best realistic sex dolls in 2022. They are so similar to real women that you will want to buy one right away. At the end of the article I will also give you a short and handy guide to help you make a more informed decision.
Top 3 Realistic Sex Dolls
Realistic Sex Doll
Price
Information
See Price
Height: 5 ft 1 in
Weight: 75 lbs
Bust: 37 in
Hips: 37 in
Material: Silicone
See Price
Height: 5 ft 2 in
Weight: 62 lbs
Bust: 26 in
Hips: 30 in
Material: TPE
See Price
Height: 5 ft 5 in
Bust: 31.9 in
Hips: 33.1 in
Weight: 72 lbs
Material: TPE
The Best Realistic Sex Dolls
A sex doll is no longer as taboo as it once was, but it remains an object of desire for men and women who want to have some fun.
Owning a realistic sex doll has always been my dream, so I want to share with you everything I have learned from my experience.
Look at my list and the characteristics of the dolls included. Also check out the guidelines at the end of the article.
The best realistic sex dolls are: Willow, Quinn, Elena, Anastasia, Lara and Auburn.
1) Willow Realistic Sex Doll
Features
Tight, toned legs and busty chest
Athletic physique
Luscious red hair
Specifications
Silicone
Weight: 75 lbs
Height: 5 ft 3 in
Willow is a smoking hot gal who loves to stay in shape. She's got an incredible body, with long, toned legs and a tight ass. Her yoga pants always look great on her, accentuating her curves. And when she's not working out, she loves to spend time in bed with her lucky man.
Willow is made of a silicone material that feels just like real skin. And her body is perfectly proportioned, with just the right amount of curves. Dress her up in workout gear and you'll be dying to grab her ass. Go ahead! She won't mind.
Willow is endowed with a  steel skeleton so you can pose her however you want, and she'll stay in place. Then you can have your way with her. Enjoy missionary, doggystyle, reverse cowgirl… or any of the other positions of the Kamasutra.
She's got a removable vagina with a depth of 7 in. But don't worry, sex with Willow isn't limited to vaginal. She's ready for both anal and oral as well.
And she can be customized in almost any way imaginable.
Willow is always down for a good time, and she's always up for a workout… at the gym, or in the bedroom.
2) Elena Realistic Black Doll
Features
Soft curly hair
Seductive look
Proportionate and realistic
Specifications
TPE
Weight: 57 lbs
Height: 5 ft 1 in
Light, proportionate and seductive are Elena's watchwords. If you are looking for a beautiful ebony skinned girl then she is for you.
Elena is a realistic black sex doll, excellent for men who want to try something different. She has a sweet face, and is looking for a man to love her.
She is not just a sexy stripper, but also kind, and a real beauty who doesn't want to miss out on some good fun.
Elena is made of TPE and has a steel skeleton, three holes for vaginal, anal and oral sex, and all movable joints.
She is very proportionate and very light, thanks to her petite breasts and the materials from which she's made. She is probably best suited to someone looking for a young looking doll, because she is definitely not a MILF on the hunt for a new husband.
If you don't like afro curls, you can still customize any aspect of Elena, to make her the doll of your forbidden dreams.
3) Quinn Realistic Sex Doll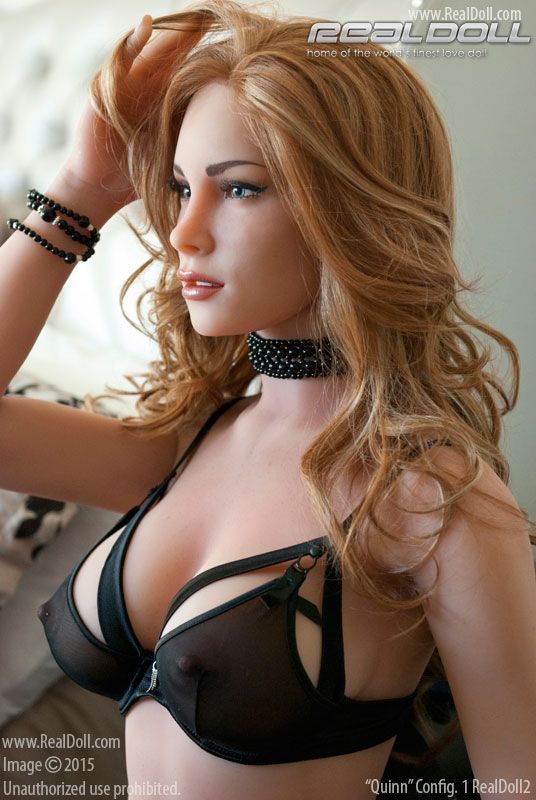 Check Price
Features
Long red hair
Huge perky tits with pierced nipples
Petite, curvaceous figure
Specifications
Silicone
Weight: 75 lbs
Height: 5 ft 3 in
Quinn is an horny office worker. She's always flirting with her co-workers and she loves being fucked. She's got seductive eyes but no one at the office knows that her huge perky tits are supplemented with pierced nipples.
Her fiery and luscious red hair is the stuff of dreams. She loves to dress up in sexy lingerie and she always looks hot as hell. Quinn is a great lay. She's always ready to go. She loves to be penetrated hard and fast, and she always has an orgasm.
Quinn is also a lot of fun to play with. If you're looking for a wild time, Quinn is the girl for you.
Quinn's soft, lifelike silicone skin is almost indistinguishable from the real thing. She's always horny and she digs anal sex. But also loves being taken in her pussy and her mouth. She has a removable vagina that can be easily washed between uses.
Her skeleton is made from steel and has moveable joints so you can do it to her in any position imaginable. When you meet Quinn, she'll show you a good time.
4) Anastasia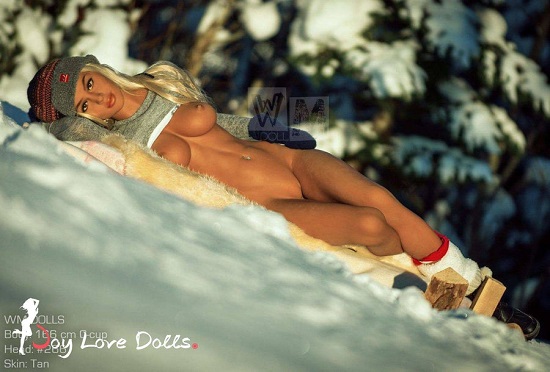 Features
Great quality / price balance
Any type of customization possible
Sexy and sweet
Specifications
TPE
Weight: 99 lbs
Height: 5 ft 5 in
Anastasia is a beautiful, sweet, sexy, but above all extremely realistic doll. You can dress her up however you like, she looks good in anything.
She has a toned physique and nice firm breasts. Her TPE exterior makes any part of her body pleasant to the touch. She has a flexibile steel skeleton with movable joints.
You can really put Anastasia in any position you want. Her neck moves forward and to the side, her torso can be arched, and her fingers are also flexible. If you want her to stand upright, though, you need to buy the right feet.
You can buy her in different formats, but each of them will have suitable proportions to make Anastasia attractive and exciting.
This realistic doll is ideal for anyone looking for a petite girl, with sexy and customizable lingerie. You can change her hairstyle and hair color as well.
In addition, you will be able to choose whether to add some more realistic details, such as voice and body heat.
Anastasia is the girl next door, someone to have a chat with while taking out the trash.
5) Tanya
Check Price
Features
Big, luscious, kissable lips
Perfectly contoured ass and tits
Athletic toned abs
Specifications
Silicone
Weight: 75 lbs
Height: 5 ft 1 in
Tanya is a sweet and shy European girl who is new to the world of sex. She is still a virgin, but she is eager to learn and experience everything that sex has to offer.
A beautiful girl with big, luscious lips, brown eyes and a tight, toned body, Tanya is a literal dream come true. She has an athletic build, with strong abs and a pert ass. Tanya is the perfect girl next door. She is quiet and shy, but she is also incredibly sexy.
She is eager to please, and she is very responsive to touch. Her soft skin is a delight to feel, and her big lips are perfect for kissing. Tanya is the perfect partner for a gentle and passionate encounter.
You can do it with Tanya in any way you like. Thanks to her steel skeleton she can be posed in any way imaginable. You can have sex with her pussy, her ass, or her mouth.
If there's anything you don't like about Tanya, it's not a problem. She's fully customizable. You can adjust her hair color, eye color, skin tone, along with a host of other attributes.
6) Lara
Features
Similar to Lara Croft
Perfect physique
Breast cup C
Specifications
TPE
Weight: 72 lbs
Height: 5 ft 1 in
Sexy, adventurous, with breasts ready to be caressed, Lara is waiting just for you. She's a Scottish beauty not to be missed, waiting to venture into your life.
The realism of this doll is something rare, thanks to the height and proportions she's endowed with. Being with Lara is like being with a real girl, beautiful and athletic. And with the curves in the right places.
Her angelic face is on par with her firm ass. Her vagina, anus, and mouth are functional and deep enough to penetrate. She's a companion for life who will always be ready for you.
Lara will satisfy you without ever holding back and will be ready to submit to any of your fantasies. Her movable joints make her perfect for any sex position.
She has a steel skeleton and her skin is made of TPE, a realistic looking material that heats up easily when in contact with human skin.
The base price includes the doll presented in the photo, but you can customize to your liking by changing her hairstyle, eyes or skin color. And of course dressing her any way you like.
If her amber complexion doesn't satisfy you, you could opt for pure white or turn her brown hair into blonde hair.
7) Auburn
Features
Slim and sensual
Curly red hair
Breast cup B
Specifications
TPE
Weight: 61 lbs
Height: 5 ft 1 in
From the first look at Auburn, you will see that she exudes class and style. She is a realistic and customizable sex doll who allows you to create the role-playing game of your choosing.
She was designed with a modern metal skeleton to provide a sturdy posture, and movable joints for luxurious comfort.
Auburn loves sex, so be ready to enjoy her company in any way you want. You can put her in your favorite positions and have fun.
The add-ons you can buy will make her the doll of your dreams, although I find it hard to imagine that you'd want to add anything more to her.
This lifelike sex doll has B cup breasts and the perfect structure for easy movements.
Auburn is the perfect doll for those looking for pleasure and spice.
8) Alara
Features
Breast cup N
Perfectly proportioned
Sexy
Specifications
TPE
Weight: 92 lbs
Height: 5 ft 1 in
Alara is the dream doll for men who love big, soft breasts to touch, cuddle, and hide in.
Do you ever meet any real girls with an N cup? Sure we're talking about plastic here, they're fake boobs, but to the touch they feel extremely realistic.
I am sure you will be mesmerized by Alara's charm. She's a doll born and built to satisfy the desires of men like you.
Alara is a TPE doll, created by skilled designers who aimed at achieving elegance. Alara is endowed with a unique sensuality you can take to bed. She's ready to please you, just like a real woman.
Just looking at her, you can tell she likes to dominate in bed; and that she gets even more aroused when she is dominated. You can immerse yourself in hot sex with her and it will all feel extremely real.
Her measurements are every man's dream. Her bust is 38 in and hips 33 in. The temptation is overwhelming and her 7 in vaginal depth can satisfy even the most gifted men.
Her anus and mouth are also waiting to be explored and Alana wants nothing more. With her you can have fun in a thousand different ways.
The only downside is her weight: 92 lbs. For a 5 ft 1 doll, this  makes her a little heavy, but it also increases the realism while you have fun.
9) Katia
Features
Small and manageable
Perfect for those looking for high quality
Possibility to choose an extra wig included
Specifications
Made of silicone
Weight: 55 lbs
Height: 4 ft 11 in
Katia is a lifelike Japanese sex doll who is elegant, sophisticated, and very realistic. She's a sex doll with reduced size and weight, suitable for those who do not want to work hard while having fun.
With Katia you can pretend to be in an exotic oriental country where you have bewitched the most beautiful girl in the village, perhaps dressing her with a nice kimono.
Katia is a geisha who wants to satisfy your every desire. She is waiting for nothing more than to be at the service of a man like you. In fact, you could buy her some typical clothes and enjoy some role-playing games.
Her high cost is because of her silicone skin, a coating that makes her resistant and easy to clean, but a little harder to the touch than a TPE doll.
The skeleton is metallic and the joints are completely movable, so that you can place them into any position you desire.
Katia has a C cup breast, and is fully customizable in several ways. You can change the color of her eyes, hair, decide to give her pubic hair or even order a support system to make her stand upright.
Katia is so realistic that you could take her to a restaurant and most people wouldn't immediately notice that she is a doll.
10) Sai
Features
Seductive Asian eyes
Juicy round ass
Petite and voluptuous figure
Specifications
Silicone
Weight: 70 lbs
Height: 5 ft 1 in
Sai is a voluptuous and irresistible Asian girl who is dying to be taken to bed. Her curvaceous figure is matched only by her gorgeous face.
Her plump, juicy ass and shapely thighs are complemented by her perfect, petite tits. An evening of sexual abandon with Sai is not something to be missed. And once you try her, you'll keep coming back for more.
Sai's soft, pale skin is made from the highest quality silicone. She has a steel skeleton with movable joints. You can put her in any position you want and she'll stay there and let you have your way with her.
Changing any of Sai's attributes is a breeze! She is fully customizable. You can choose her hair style, skin tone, eye color, makeup, and pubic hair. Sai comes with freckles, but if you don't want them it's no problem. You can even customize the shape of her labia. Her removable vagina is 7 in deep.
Sex with Sai isn't limited to vaginal penetration. You can also penetrate her pretty mouth or her big ass. Take your pick. Sai is relatively lightweight compared to other sex dolls, so she won't be challenging to handle.
Take a ride with Sai and prepare to be blown away.
11) Amanda
Features
Sinuous body
Big breasts and butt
Customizable
Specifications
TPE
Weight: 94 lbs
Height: 5 ft 1 in
Amanda is one of the most popular and best-selling realistic sex dolls thanks to her big, soft and well-proportioned butt and breasts.
Don't be fooled by her innocent expression and appearance, focus on the monstrous voluptuousness of her form. That would get anyone excited.
Making love to a woman with her curves is something amazing. One glance is enough to understand that she is a completely perfect doll.
She has blonde curls that frame her face, a metal skeleton that gives her support and movable joints so you can position her however you like.
The TPE with which she was designed makes her easy to manage, although cleaning must be done consistently and very carefully. Her extreme realism also makes her very delicate.
For some she may be heavy, but overall she's a very balanced doll in size, weight and height. This makes her even more realistic, but possibly too cumbersome for some.
Amanda is the perfect doll for anyone who is looking for soft curves and an ass that can twerk.
12) Scarlett
Features
Specifications
TPE
Weight: 61 lbs
Height: 5 ft 1 in
Scarlett is the classmate that all men would have wanted in high school. Sexy and exciting.
School bores her, so she enjoys other activities, which include taking off her clothes to showing off her beautiful body.
This is the perfect doll for role playing and having some serious fun, perhaps playing the role of the bad teacher who has to punish his student.
Scarlett is a TPE doll with a toned and curvy body and sweet B cup breasts. If you are looking for huge breasts then she is not for you.
She has a narrow waist and a tall butt, long legs, and soft blonde hair. She loves to ride, especially guys.
Her measurements make her a rather light and easy to handle doll, perfect when she stands upright.
The only downside is that she doesn't come dressed as a schoolgirl, so you'll have to buy the appropriate clothes if you want to try this exciting role-playing.
13) Marion
Features
Realistic toned and tanned body
Breast cup C
Perfect measuraments
Specifications
TPE
Weight : 116 lbs
Height: 5 ft 5 in
If you are looking for a bad girl, Marion is the doll for you. Skinny and tan, she looks like a typical big city stripper.
Her measurements are perfectly balanced, with long legs, C cup breasts and a nice firm butt.
Marion is a TPE realistic sex doll with toned legs and no inhibitions who will love you just the way you are.
She's the perfect doll for those who love wild sex and a curvy body to dominate.
She has a metal skeleton and movable joints, so you can put her in any positions you like. Also, if you don't like her face, you can choose a completely different one.
This realistic sex doll is entirely customizable; you can change the color of her skin, hair, or eyes. Or you can give her practical features such as a removable vagina or the option to stand her up straight.
With Marion, sex is in your hands and like any hot woman, she will always be ready at any time of day.
14) Wendy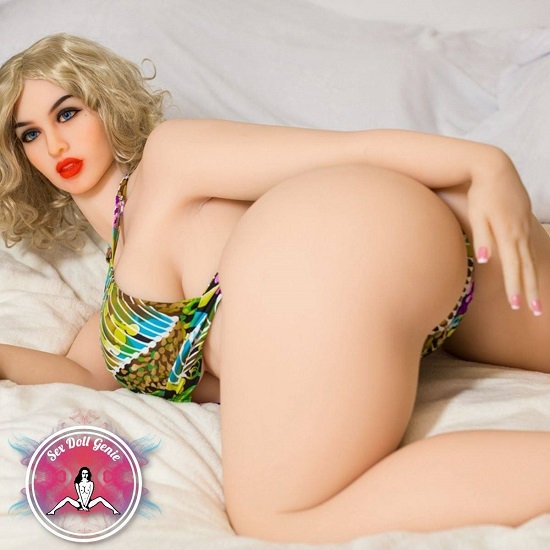 Features
Breast cup H
Exaggerated form
Customizable
Specifications
TPE
Weight: 119 lbs
Height: 5 ft 6 in
Wendy is a voluptuous and curvy doll. Her skin is made of TPE, which makes her extremely realistic to the touch. You can immerse yourself in her welcoming embrace and her body will also warm up when it comes into contact with yours.
If you're looking for soft flesh and not just a firm, gym-marked body, then she's perfect for you. Here you have something to squeeze, handle and, perhaps, customize.
Wendy was built with a metal skeleton that supports her. One downside, however, is her weight. She is heavier than other, similar dolls.
This is obviously creates a greater realism, but also adds difficulty in moving her around. She is perfect if you are used to lifting a considerable amount of weight.
15) Star
Features
Seductive green eyes
Perfectly shaped tits and ass
Curly blonde hair
Specifications
Silicone
Weight: 60 lbs
Height: 4 ft 10 in
Star is a dirty little dame who loves nothing more than to be taken hard and rough. Her freckled face and slim, petite body are begging to be fondled. She has big, seductive green eyes that communicate her boundless carnal appetite. Star is a bit of a nympho, and she likes doing it all the time.
Her perfectly shaped tits and tight, toned ass are just begging to be played with. And her dirty little mouth is perfect for giving and receiving blowjobs. Her curly blonde locks accentuate her curvy figure. Star's body and face ooze sexuality.
Star is made from a high quality silicone that mimics the look and feel of real human skin. She has a metal skeleton so she can be posed however you like. Doggystyle, missionary, cowgirl… the possibilities are endless and limited only by your imagination.
If you want to be naughty with Star, it's no problem. She can be penetrated vaginally, anally or orally.
Star is relatively lightweight compared to other dolls, so she won't be challenging to handle. Give Star a chance. You won't be disappointed.
16) Nova
Features
Beautiful latin face
Petite body with perfect little tits
Long black hair
Specifications
Silicone
Weight: 60 lbs
Height: 4 ft 10 in
Nova is a hot latin diva who loves nothing more than partying. She's got big full lips, long black hair, and small petite tits. What she really loves is to get sexed hard by the right guy. She's always down for a good time and she loves nothing more than getting her pussy pounded by a big cock.
Nova is also a lot of fun to play with. If you're looking for a wild time, Nova is the girl for you. She's willing to try just about anything.
Nova is constructed from high-quality silicone that resembles actual human skin in appearance and feel. She has a metal skeleton and may be posed in any way you like. The options are infinite and restricted only by your mind. Doggystyle, Missionary, Cowgirl. It's your call.
You can do her in her pussy, her ass or her mouth. She has a removable vagina so cleanup is a breeze.
You can dress her however you like and make Nova into the perfect girl of your dreams. You can even customize her when you place your order and change almost any of her attributes.
With Nova,  you will never be bored in the bedroom again.
What is a Realistic Sex Doll?
Realistic sex dolls look almost like a real human being. In fact, the sex doll industry has gotten a lot more sophisticated in recent years.
Some of the best-selling dolls may look like real girls with big tits and asses.
These dolls are designed to give you the most realistic feeling. That is why their orifices, their skin and other parts of their bodies seem almost human to the touch.
Usually, the more realistic the doll, the higher the price will be.
How to Choose Your Lifelike Sex Dolls
Have you decided to buy a sex doll, but you still don't know how to choose the right one for you? A realistic sex doll usually has a higher price tag and features that set her apart from the rest of the market.
We understand how important it's for you to satisfy your sexual desires. First of all, you shouldn't spend too much on a sex doll that doesn't suit your interests.
That said, if you are ready and determined to get the best realistic doll on the market, there are a few things you need to carefully consider.
Budget
This is the first hurdle when buying a realistic love doll. Before you think about anything else, you should clearly establish the maximum price you are going to spend.
Really cheap dolls can't be realistic. Usually they are the inflatable ones made from latex or vinyl, or those that are only offered without limbs.
To find quality realistic dolls, you should go for at least a medium range budget, starting from $800. In this range there are both excellent TPE torsos that are easy to store and small size dolls.
The best and cheapest love dolls are those above $1700, an investment to consider if you want to have some serious fun with a beautiful girl and her vagina, mouth, and ass.
They are ideal masturbation toys, which you can find in both silicone and TPE. Odorless, full of gadgets, in this budget range the dolls that you can take home are only the ones already predefined.
Finally, dolls over $2500 are part of the high price range. They are made of silicone, can be customized, integrated with heating and audio systems and there are very resistant. These are hygienic products and easy to clean.
The Most Realistic Material: Silicone or TPE?
As we mentioned earlier, the two types of sex dolls that have hit the market most recently are those made from silicone and TPE, or thermoplastic elastomer. Other materials include CyberSkin and latex.
Both silicone and TPE have their pros and cons. The main advantages of using TPE over silicone is that it is both a soft and cheap material.
So, if you are one of those people who love a soft body doll then TPE is your choice.
Silicone, on the other hand, is heat resistant and much more durable than TPE. Finally, we have found that sex dolls with silicone skin are more realistic, despite being tougher.
The primary differences are: how realistic they look and feel and ease of cleaning. TPE is a porous material, it's more complicated to wash than silicone, so you should be more careful.
Physical Aspect
You should carefully evaluate the weight and size of the doll you wish to purchase. Miniature dolls, for example, are much easier to store and manipulate than life-size dolls.
If you are buying a doll for the first time, you may want to choose a doll in the range of 30 kg to 40 kg. These are comfortable and highly realistic, especially for beginners.
Also, you have to ask yourself how you intend to store your doll. Small dolls are easier to hide. Therefore, if you have limited storage space, one of these is better.
But if you have enough space to keep your doll or if you always want her with you in bed, then the full size ones are the best!
Finally, don't underestimate what turns you on, the physical characteristics you have always dreamed of seeing in your doll.
Big boobs or a tight ass? How about a girl with a curvy body? Are you looking for a Japanese or black sex doll?
On sex doll sites there is something for every taste, so go ahead customize the doll however you like.
How to Use a Realistic Sex Doll
Are you tired of choosing a doll and want to start enjoying her? Buying a sex doll was the tough part, now get ready for some fun.
Let's see what the steps you need to take for satisfactory use of your new purchase are, because I know very well that it was an investment.
You want a realistic experience with a beautiful doll and you want to exploit the full potential of your new purchase.
Once you have taken the doll out of its box and prepared the scenario that excites you the most, it's time to explore her vagina, mouth and anus.
Realistic dolls typically have a metal skeleton that you can place in any position you want, you will have your hands free and you can start having fun.
The joints allow you to position the doll lying down, kneeling, or in a sensual position. You may also want to seat her over a romantic dinner.
If perfumes excite you , you may want your doll to have a good one, but remember not to apply it directly to the skin, as you may stain it. Instead, sprinkle some on her clothes.
Dress or undress the doll, take her to bed and be pampered. The TPE will heat up perfectly adapting to your body temperature when you touch her.
When buying, keep in mind a couple of basic points:
Weight: don't buy too heavy a doll if you want to play crazy games with her
Hair: order a few extra wigs so you can easily change the look of your new partner.
How to Clean And Store a Lifelike Sex Doll
After a crazy night with your new realistic love doll, duty arrives.
Your doll needs care so that you can enjoy her repeatedly and for a long time, but cleaning varies depending on whether she's a silicone or TPE doll.
As we have already said, TPE dolls are less expensive and are more easily damaged. Furthermore, their skin, being more porous, can get dirty more often. A lack of hygiene in a doll facilitates the accumulation of bacteria.
Silicone dolls cost more, but dry more easily and are easier to maintain, so the initial investment would pay off in the long term.
The essential kit for proper cleaning of your realistic sex doll consists of:
Hair comb
Mild liquid / antibacterial soap
A shower head
Soft cloth
Towel
Starch powder
Skin oil
Vaseline
To take care of your doll, give her a shower at least once a month, with lukewarm, not hot water.
Do not immerse your doll's head or hair in water, otherwise it may rust. Instead, clean it with a microfiber cloth.
Keep her metal parts dry, but most importantly, clean the orifices well. These should be cleaned after each use to prevent bacteria from growing and to save you from annoying infections.
The removable orifices are easy to clean with an antibacterial soap and can be dried with a clean towel. You can only put them back into the doll once they are completely dry.
If her orifices are not removable, you should proceed with a complete shower and let her dry independently, dabbing with a microfiber cloth.