Cheap sex dolls are not just a flight of fancy: they actually exist!
Sure, they won't be the most complete or of the best quality, but they're an affordable starting point for exploring the sex doll world.
You can find anything on the market, sex dolls are no longer taboo. However, the most realistic dolls are built with expensive materials, so not everyone can afford them. Fortunately, someone in the sex toy industry has thought about the penniless; access to fun and sexual pleasure should be everyone's right!
In this article, I'll list the best cheap sex dolls you can buy to get a feel for the experience, or just to have some low-cost fun without obligations.
Top 3 Cheap Sex Dolls
Cheap Sex Doll
Price
Information
See price
Height: 5 ft 7 in
Material: PVC
Opening: Vagina, Butt
Vibration speed: Multiple speeds
See price

Promo code: LTSVIP - 10% OFF

Connects to VR porn
230 strokes per minute
Customizable
see price
Height: 15 in
Weight: 11 lbs
Opening: Vagina, Butt
Material: SkinPerfect, TPE
The 6 Best Cheapest Sex Dolls
Among the best cheap sex dolls there are PVC dolls, and the classic inflatable dolls. Sometimes these products are used for fun at bachelor parties and the like.
Typically, they have holes to insert your penis into, but don't expect much more. It always depends on what you are looking for and what you need.
In addition to these budget options, there are also some slightly more expensive, but still wallet-saving solutions. There are unique, life-sized, realistic body parts (realistic vaginas and realistic butts). I will also show you mini cheap sex dolls.
When you buy a cheap doll always read the reviews carefully, because you could end up getting ripped off. Maybe she only has one hole, or not even that.
1) Shy Camilla – The Best Cheap Sex Doll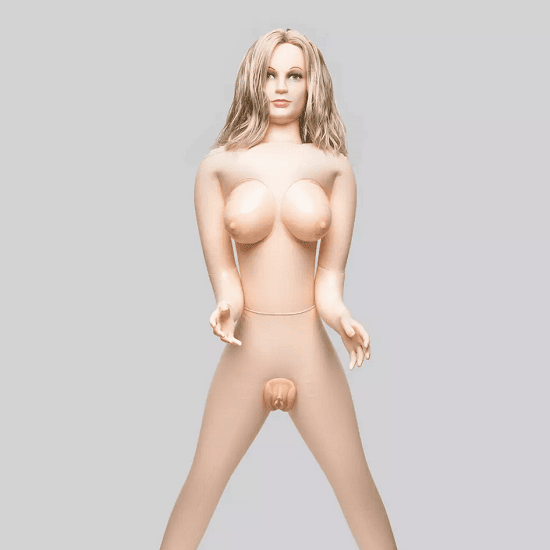 Features
Economic
Two holes to have fun with
Realistic
Specifications
Made of PVC
Realistic where it's needed
3D face and stitched hair
Camilla is one of those cheap inflatable dolls I was telling you about. Exactly what you expect to find when you search for the word "sex doll".
She's made from PVC, with a raised face, sewn-in hair and a few additions that make her palatable enough to be used to have some fun in bed. She's equipped with two holes for vaginal and anal sex.
Camilla is the best choice to start with because she has realistic sexual apparatus and a vibrating add-on that makes everything more enjoyable.
The downsides are her absence of mobility, the delicacy of the material and the need to always use a lubricant for penetration.
However, she's the perfect low-priced doll for anyone who is just getting into this world. She's a good starting point and you wont need to spend excessive amounts of money. With all her pros and cons, you'll still have a fun budget companion.
2) Mini Economy Sex Doll
Features
Budget friendly
Convenient to use and store
Customizable
Specifications
TPE
Weight: 8 lbs
Height: 2 ft 1 in
There are some cheap sex dolls on the market suitable for those who want to spend little, but are still looking for realistic features.
Mini inflatable dolls are made for those who want a doll, but don't know where to store it, and don't want to just buy a torso.
This doll is 2 ft 1 in long, perfect if you have little space, but don't want to give up on a complete doll.
She has two working holes and the ability to customize her vagina. You can render her exactly as you need, even with these small proportions.
However, this small-sized bargain doll does not lack charm. She looks like a Japanese woman who just got out of college.
Innocent and sexy, a mini doll is very similar to her larger counterpart, except made to be affordable and smaller in shape.
If you want a removable vagina, then you'll have to give up on the anus, but I don't think you'll be disappointed without an asshole.
You can also customize hair color, eyes, skin and type of pubis.
For the price, TPE skin and realistic proportions, this affordable doll is worth it.
3) Alana – Vagina and Ass Only (Low-Cost)
Features
Optimal relationship between quality / price
Easy to manage
Two usable holes
Specifications
TPE
Proportions 1:1
Realistic
Lovehoney offers several ways to buy cheap dolls for under $ 400. However, to have something realistic you will have to settle for only one part of the body.
This budget doll from Lovehoney is made of TPE, with an internal metal structure and two penetrable holes. Both anus and vagina are faithfully reproduced.
With this affordable doll you can have fun wherever you want, especially if you intend to use her as a test to see what it would be like to have a realistic sex doll at home.
The material this toy is made from is realistic to the touch, since TPE is a porous material. However, I recommend that you use a lube for penetration.
If you don't mind the absence of a body attached to these genitals, then a pelvis is the compromise for you.
You can easily manage it, wash it, store it and no one will ever know about your passion. Plus, it's still functional for what it needs to do.
4) Cheap Sex Doll Torso
Features
Easy to use and reasonably priced
Two penetrable holes
Realistic bust
Specifications
TPE
Weight: 11 lbs
Height: 15 1 in
If just a pelvis does not satisfy you, then you can opt for a cheap sex doll torso, so that you also have two boobs to squeeze whenever you want.
The torso is in TPE, porous and soft to the touch and will give you the likeness of a real woman with all her curves in your hands.
TPE is perfect for mimicking human skin because it absorbs temperature when it comes in contact with your body heat.
This cheap torso has everything you need for total fun. Use the hole vaginal hole or the anal cavity. Both perfectly reproduce the female anatomy.
The sex doll has a metal skeleton that you have to be careful not to spoil. After each use you will need to clean the doll, as TPE tends to accumulate bacteria. But her weight of only 11 lbs will make it easy for you to handle.
The torso that I am recommending has an advantageous price, firm breasts and a realistic 3D shape. Her nipples are small and pink and her skin is smooth to the touch.
5) Mari (Cheap and Realistic)
Features
Budget friendly
Includes cleaning tools
Customizable
Specifications
TPE
Weight: 26 lbs
Height: 3 ft 3 in
Mari is one of the few under dolls under $1500 that I can recommend. She's a beautiful blonde woman with a petite body and a light weight, just 26 lbs.
This doll is perfect if you are looking for something realistic, inexpensive, but don't want to completely give up on the quality of a full doll.
She's one of the best-selling Japanese cheap mini dolls. She has long blond hair, a sweet face and a seductive shape.
Mari will arrive at your home including underwear, vagina cleaning tools, repair glue and even lipstick.
This economic doll is made of TPE, a realistic and non-toxic material. Her skeleton is metallic and her joints are flexible so you can put her in all the positions that excite you the most.
Her vagina faithfully reproduces a real vagina, and you can also choose to add pubic hair if you like. Alternately, Mari will arrive without any hair.
This doll is fully customizable. You can change the color of her eyes, skin, or even put a completely different head on her fairytale body.
The cup of her breast is also modifiable, from smaller measurements up to larger dimensions.
Finally, you can choose between a fixed and a removable vagina and whether to buy the upright posture option, which is advisable unless you are a foot fetishist.
6) Ree Cheap Sex Doll
Features
Huge breasts
Crazy curves
Cheap price
Specifications
TPE
Editable
Height: 2 ft 1 in
Ree is an inexpensive and almost pocket-sized sex doll, given her size. Of course, with her curves it would be difficult to fit her in your pocket.
The market now offers more and more mini sex dolls to satisfy even people with little space at home who do not want to spend too much.
Ree costs about $ 700, for a complete doll, so I'm talking about a real bargain here.
A bouncy doll can help you have fun in bed in many ways, besides laughing at it when you feel like it.
She's made of TPE skin and she's both realistic and well proportioned. The material is porous and must be washed carefully to avoid the accumulation of bacteria, but it is absolutely not toxic.
Ree will always be there for you.
Her huge breasts are soft and her bust has a circumference of 15 in. Her pelvis also reaches 16 in. She's perfectly proportioned.
Ree is editable and customizable with regard to hair color, eye color, and even pubic hair.
In short, dealing with Ree is like dealing with a high-end doll. She's cheap and within reach of any man who wants to try this experience.