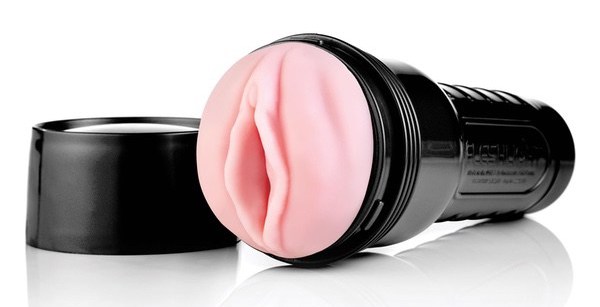 Fleshlight Pink Lady is the one Fleshlight that started it all back in 1995.
The Fleshlight Pink Lady features hyper-realistic suction and tightness and is made from patented SuperSkin material inside a black, cylindrical case.
Considered the first male masturbator in recent times (after the sock), in this Pink Lady review you'll find out why the Fleshlight Classic line is still one of the top-selling Fleshlight after more than 25 years from its launch. That's crazy.
Fleshlight Pink Lady Original is smooth and soft and features an incredibly realistic feeling. Its internal sleeve is flat and ribbonless making it a great fit for sensitive people, beginners and those with an above-average girth who cannot fit comfortably in more textured sleeves.
Fleshlight Pink Lady Orifices Selection
With a quarter-century of experience under its belt, Interactive Life Forms LLC, the parent company behind the Fleshlight brand, has progressively innovated its male masturbator.
Fleshlight now offers a variety of spin-offs from the first Pink Lady Original design.
You have three orifices to choose from: lady, mouth, and butt depending on your taste. The mouth orifice is now difficult to find, while the butt orifice can be purchased only on the official website.
Fleshlight Original includes a black case, the original texture sleeve (smooth, slightly wider than average, and very close to the real thing), Lady or Butt entrance lips, and instructions. Learning how to use a Fleshlight is not complicated: warm up the inner sleeve, pour in some Fleshlube and you're good to go!
The Fleshlight Classic Pink mouth sleeve is perfect if you want to enjoy the pleasure of oral sex, the Classic Pink Lady for the intense pleasure of vaginal sex, and the Pink Butt and Pink Cheeks Sleeves (ah those Pink Cheeks make me smile), are great for exploring your deepest fantasies and your most erotic desires.
Regardless of the orifice you choose, Fleshlight Pink Lady features a tight entrance that will snuggle around your penis and will give you strong sensations and incredible orgasms.
Pink Lady Fleshlight Materials and Design
Fleshlight sleeves are made from the patented SuperSkin™ material which is proudly produced in Austin, Texas contrarily to the great majority of pocket vaginas that are imported from China on a mass scale.
SuperSkin™ gives you a sensation very close to the real thing, is durable, and has a "memory" property allowing the sleeve to return to its original shape after use, without stretching out and losing its form.
Remember, Fleshlight Pink sleeves should only be used with water-based lubricant, Fleshlight offers bottles in 100ml and 250 ml: the Fleshlube water.
The most recognizable feature of the Classic Pink Lady is the sleeve canal with a 1-inch diameter, an insertable length of up to 9 inches, and a perfectly smooth texture. The Classic Pink sleeve is soft, pliable and with twenty-five years innovation it aims at replicating the sensation of penetrative sex.
If you place the Fleshlight's pink sleeve into warm water before use it creates a warm, soft, and supple feeling for heightened realism.
The Classic Pink sleeve is perfect is you are sensitive, want to make your solo sessions last longer, or for training, as the Classic Pink sleeve mimics penetrative vaginal or anal sex so closely it can help you improve your stamina and help you last longer in bed.
Fleshlights are easy to clean and designed to last, making purchasing a Fleshlight a proper investment.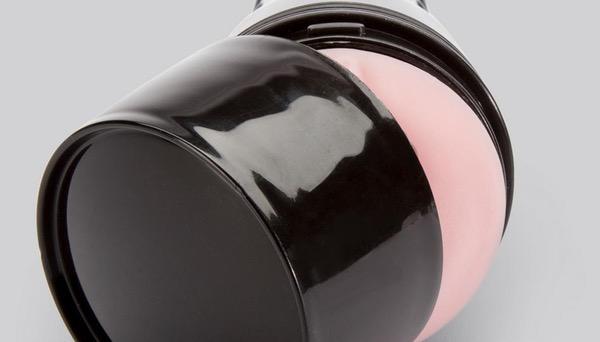 Fleshlight Pink Lady Case – Adjust the Suction
The Fleshlight Original Pink Lady comes with a black Fleshlight case with an adjustable end cap. The Fleshlight case helps keep an ideal amount of pressure around your penis allowing the sleeve to stretch and press on the case during stimulation.
Be aware that tighter suction means more intense sensations but it also means more noise! Keep that in mind if you share your house with others.
You can regulate the amount of suction you are getting by rotating the cap at the smaller end of the case, which by acting on the built-in "vents" gives you more control over your sex toy and the power to enjoy a variety of intense sensations.
The tighter the cap, the more suction you'll feel and therefore hear. If you are concerned about disturbing family or roommates, you can reduce noise by loosening the small cap at the end of the case, letting some air in, and enjoying a lighter suction.
The Fleshlight Pink Lady can be purchased with a range of add-on accessories and upgrades. The Fleshlight shower mount allows you to experience hand-free pleasure whilst under the warm jets of your morning or evening shower.
The Fleshlight Renewing Powder has been designed to help you maintain the Pink sleeve of your Classic Fleshlight elasticity and softness. Without Fleshlight Renewing Powder sleeves can become sticky with repeated use, whilst this doesn't necessarily mean a loss of elasticity or damage, the Fleshlight Renewing Powder is a nice product to keep your Fleshlight in the best shape possible. Fleshlight Wash is a 100% safe sterilizing spray to be spritzed after first rinsing out your Fleshlight's removable pink sleeve.
The Fleshlight Classic's case and sleeve are robust and waterproof, perfect for the tub and the shower.
The Pink Lady Original Sleeve Is Not For Everyone
The Fleshlight Pink Lady is characterized by a flat, ribbon-less sleeve which is slightly wider than average, which means unless you have a penis with an above-average girth the sensation offered by the Pink Lady sleeve can lack intensity.
The diameter of the Fleshlight Original Pink Lady sleeve is 1" (2.54cm). It can accommodate you if you're up to 9″ (22.86cm) in length and as said before, its internal sleeve is completely flat and smooth.
Fleshlube is often included in the purchase of Fleshlight Pink Lady and that does make a big difference! Warm up the inner sleeve, pour some Fleshlube and you are good to go!
If you have an above-average girth you need a little more lube when using other varieties of Fleshlight sleeves to slide inside more comfortably. With Fleshlight Original, you're eliminating any chance of discomfort.
The Original Pink Sleeve allows you to masturbate with minimal lube for an experience extremely close to the real thing.
If you have an average girth you might find the Fleshlight Original Pink Sleeve to fall short, with the lack of internal ribbons giving you a too delicate experience that just isn't intense enough.
The Original Pink can be a great choice if you have average girth and a very sensitive penis or if you want to enjoy longer sessions masturbating for extended periods of time.
Fleshlight Original Pink Lady Full Size
Compared to disposable masturbators, like the Tenga Egg, the Original Fleshlight Pink Lady is a full unit, and therefore if you're using the Original Fleshlight Pink for the first time, you'll notice that she is big, heavy and handling her can take some practice (you'll enjoy it).
The case comes in at 4" wide and 10" long, the Pink Lady sleeve is 9" in total length, and the inner canal, as mentioned has a 3/4″ diameter.
If discretion is a concern for you, make sure to hide her well at the bottom of your bedside table or cover her in a towel when packing your suitcase. Even better, take a look at the Fleshlight Flight for a portable alternative.
Beyond the Fleshlight Original Pink Sleeve, there's a collection of Fleshlight sleeves that you can enjoy with the Fleshlight Classic case if you find the Pink Lady sleeve isn't for you.
Some of them include "Heavenly", "Super Tight" with an untextured, ½" (13mm) diameter canal, "Vortex" with four spiraling chambers, and "The Bi-Hive" a resistance sleeve with a labyrinth of enhanced pleasure points designed to help build-up sexual stamina.
The different textures and patterns of these sleeves allow for a more heightened masturbation experience, perfect if you're looking for an upgrade to the Classic Fleshlight.
Is the Fleshlight Pink Lady Classic Your Best Option?
The answer will depend on your level of experience, penis girth, and personal taste.
The Fleshlight Classic Pink Lady is ideal if you have a wider than average penis girth since her length allows you to sink your penis in up to your balls. The Classic Pink Lady sleeve is famous for its lack of ribbons and for the incredibly smooth sexual experience it gives you.
Some may find that the Original Fleshlight Pink sleeve gives only limited sensations and is simply not tight enough. Though masturbating with the Original Pink Sleeve has been noted by some users to be perfect for stamina training, if a textured sleeve is important to you consider purchasing a separate sleeve or a different Fleshlight or Fleshlight Girl.
The Fleshlight Classic can also be a great choice if you have an average girth and high sensitivity, want to start slowly, or enjoy longer edging solo sessions.
If you have a penis with average girth but are interested in making your first investment in Fleshlight, Fleshlight's "Build Your Own" can be a great option for you.
The Fleshlight Pink Lady is a unique, popular toy, and a must-have if you're seeking a very realistic feeling.